Bali is one of the most popular island destinations in the world, welcoming millions of visitors every year. Coined as the Island of the Gods, Bali is brimming with natural wonders, from its mountain ranges to rice terraces to underwater reefs to stunning beaches. This Indonesian gem also has a wealth of cultural attractions, from its traditional crafts to its spiritual temples to its delicious food.
Every corner of this Indonesian island is hemmed, lined, and adorned by fascinating sites, as though the gods took a little bit more time weaving it together.
Here are some of the best places to visit and best things to do in this one-of-a-kind island paradise. Under some items, we also included links to Klook, where you can book tours or entrance tickets.
Important! If you're booking two or more tours, it's best to compare the stops first to check if there are repetitive items. You probably wouldn't like to visit the same spot twice.
WHAT'S COVERED IN THIS GUIDE?
Ubud and Central Bali Tour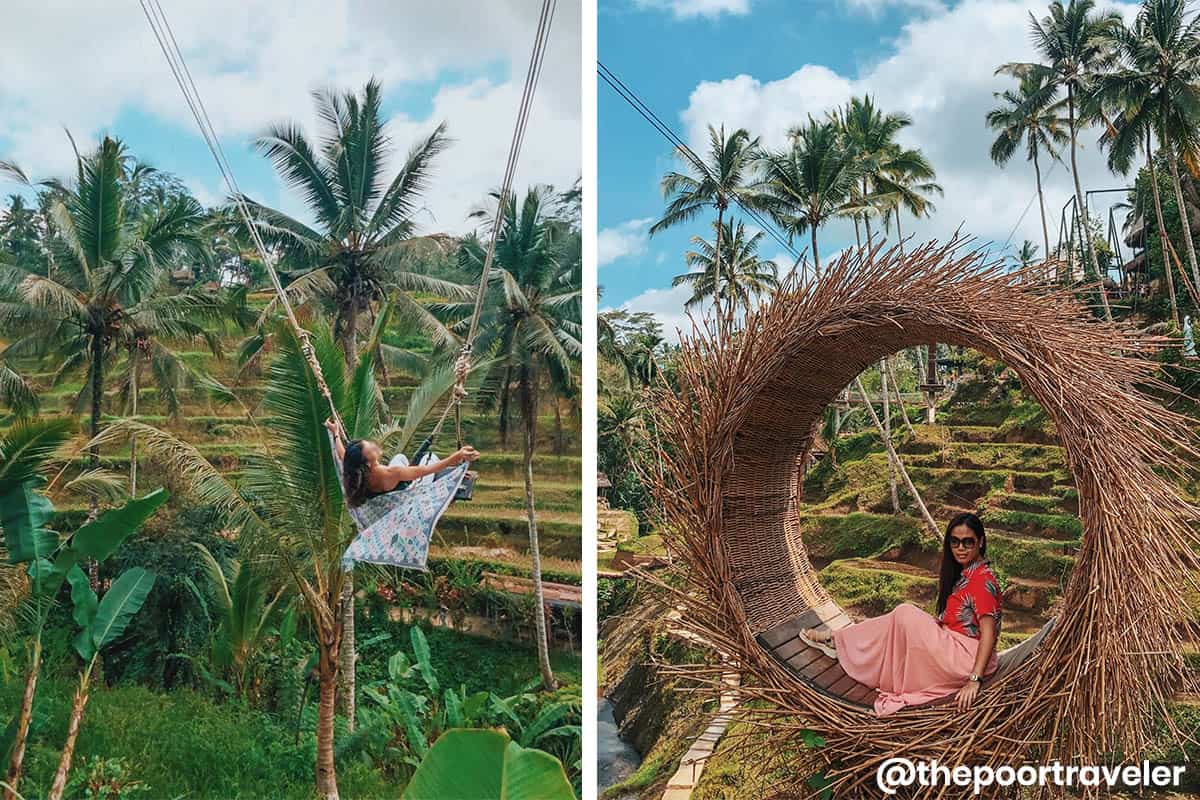 Ubud is the heart and soul of Bali. Although it has become busier as more tourists flood in over the years, it remains the island's cultural core. It has a lot to offer: breathtaking scenery, nature, more temples, and a quieter, more traditional atmosphere.
Although it is possible to stay in Ubud, most tourists visit only on a day tour. Klook has a lot of Ubud offers, but the two with the best itineraries are the following: a join-in shuttle service and a private tour package.
JOIN-IN SHUTTLE SERVICE. This is a transportation service (with driver) only. It does NOT include entrance fees to each attraction and hotel pick-up/drop-off. But it will take you to key spots in Ubud.
PRIVATE TOUR PACKAGE. A private tour that includes hotel pick-up/drop-off, admission fees, and a bottled water. It has two more stops than the join-in shuttle service.
Here are the usual stops.
Tegenungan Waterfall
Tegalalang Rice Terrace (optional jungle swing experience)
Ubud Monkey Forest
Ubud Art Market
Elephant Cave (not included in the join-in shuttle service)
Tirta Empul Holy Springs (not included in the join-in shuttle service)
✅ BOOK THE JOIN-IN SHUTTLE SERVICE HERE!
✅ BOOK THE PRIVATE TOUR HERE!
---
Uluwatu Temple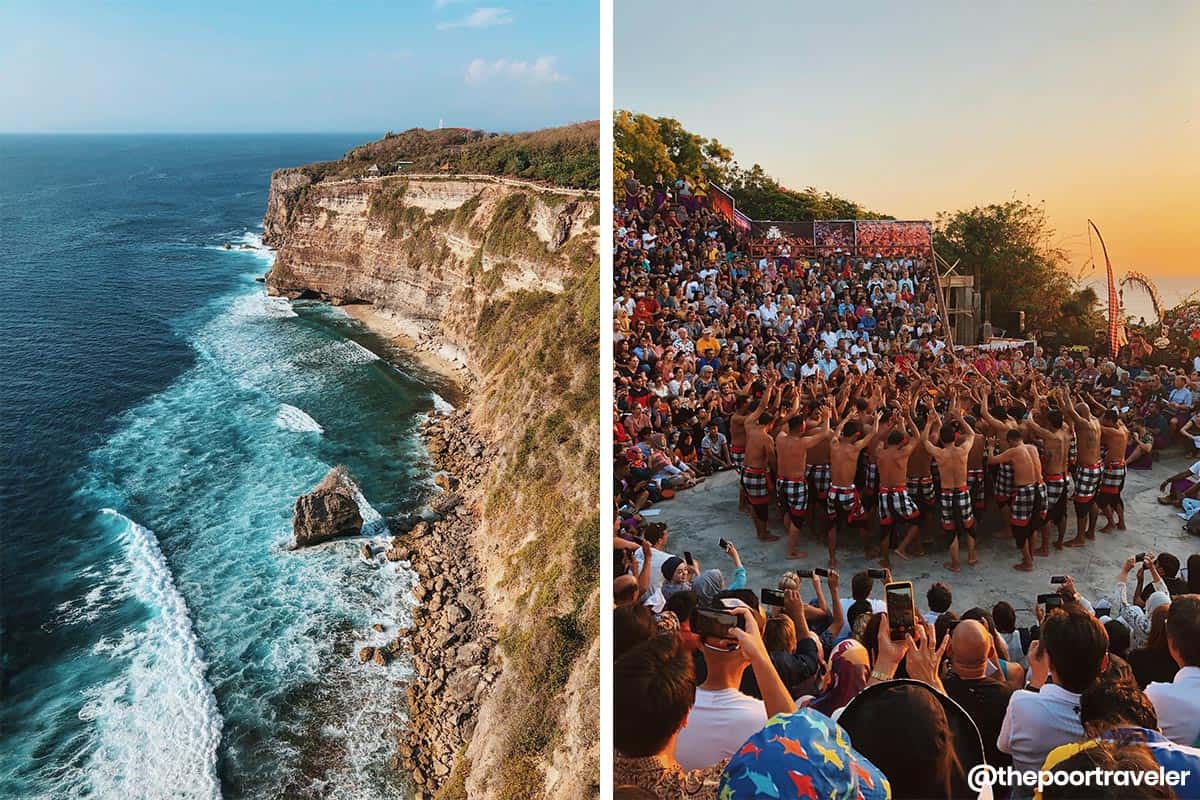 Pura Luhur Uluwatu is a Hindu sea temple that sits atop a cliff. It is one of the six key temples that make Bali's spiritual pillars. The main temple is open only to worshipers. However, visitors are treated to a spectacular view of the sea from outside the temple.
The temple ground is visited by monkeys dwelling in the forest that surrounds it. These monkeys are known to snatch things from visitors so take care of your belongings, especially your accessories like sunglasses. There's a cliffside pathway also that gives visitors different viewing points of the Indian Ocean, the tides, and the sunset. You need to wear sarong and sash to enter the temple ground. These are provided at the temple for free. The best time to go is early afternoon, just before the crowd thickens, as it is one of the best places to see the sunset on the island. In fact, the famous Kecak Dance, a Balinese art form, is performed daily starting at dusk, affording the audience to watch two beautiful masterpieces — the dance and the sunset.
At around 6 PM, Kecak (pronounced "ke-chak") Dance is performed daily on a cliffside open-air venue within the temple grounds of Uluwatu Temple. It is based on the epic Ramayana, focusing on how Rama and his brother rescued his abducted wife, Sita, with the help of the monkey king and his troops.
Kecak Dance is characterized by the chanting and dancing of 75 men while the performers re-enact some of the scenes from the epic tale. It is recommended to go there early at least an hour ahead to secure a good spot. You can purchase your ticket in advance too.
Admission Fee: IDR 30,000
Kecak Dance Fee: IDR 100,000
Opening Hours: 9:00 AM – 7:00 PM; 24/7 for worshipers
Kecak Dance Schedule: Starts at 6:00 PM daily
Location: Uluwatu Temple, Pecatu, South Kuta, Badung Regency, Bali
Lines can be too long. But you can book your ticket in advance through Klook. You can also join a tour which includes a Kecak Dance ticket via Klook. The tour package includes roundtrip transfers (hotel pick up and drop off) and tour driver.
✅ GET KECAK DANCE TICKET ONLY!
✅ BOOK ULUWATU TOUR + KECAK DANCE TICKET!
---
Lempuyang Temple and East Bali Tour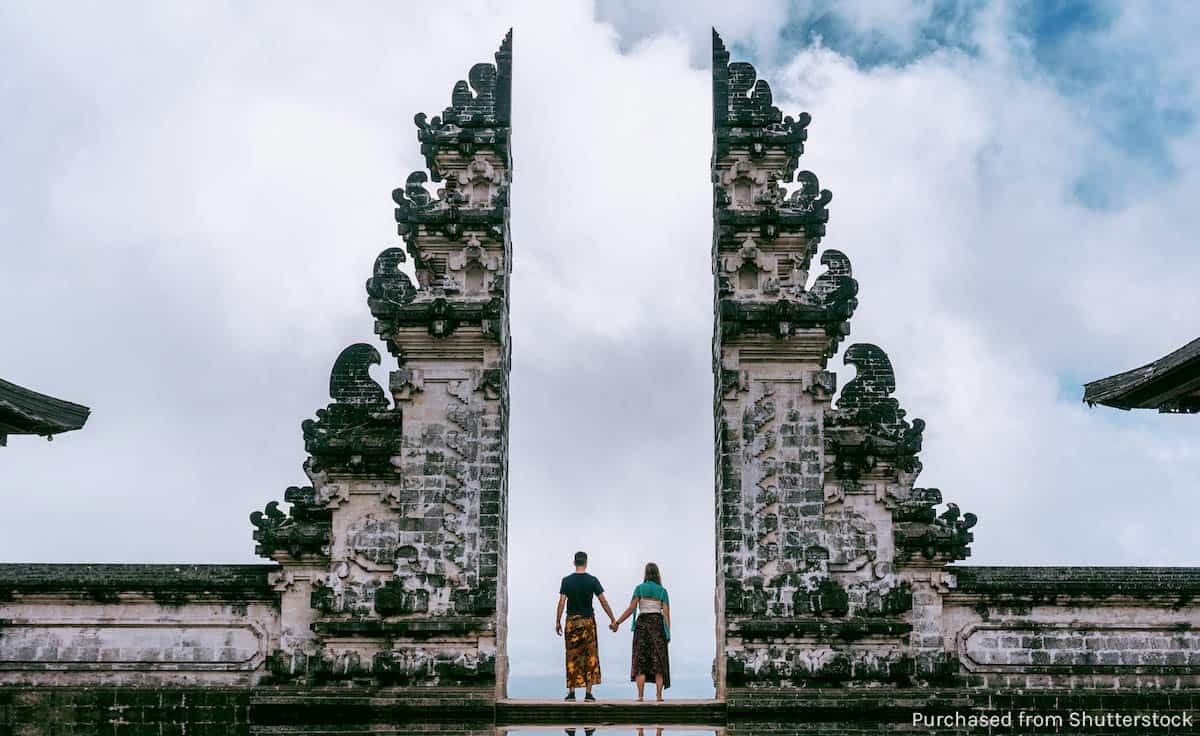 Lempuyang Temple has been a favorite among Instagrammers because of its iconic Gate of Heaven, which frames the majestic Mt. Agung in the background. But this temple, more formally called Pura Penataran Agung Lempuyang, is definitely more than just a selfie spot. Standing on the slope of Mount Lempuyang, it is one of the six holiest places in Bali, which are believed to maintain the spiritual balance in the island.
If you want to take the photo at the Gate of Heaven, prepare to wait for a long time, unless you're visiting early. You can book a private SUNRISE TOUR on Klook, which also includes a stop at Virgin Beach and Asah Hill. Sunset tour is also available.
If you're not the early morning type, you can also book a regular DAY TOUR with stops at Tirta Gangga and Taman Ujung water palaces. Join-in and private options are available for this.
Important! If you're also going to book the BALI INSTAGRAM TOUR (see next item), these tours might feel repetitive because they both make a stop at Lempuyang Temple. It's best to choose just one.
✅ BOOK A SUNRISE/SUNSET TOUR!
✅ BOOK REGULAR DAY TOUR!
---
Bali Instagram Tour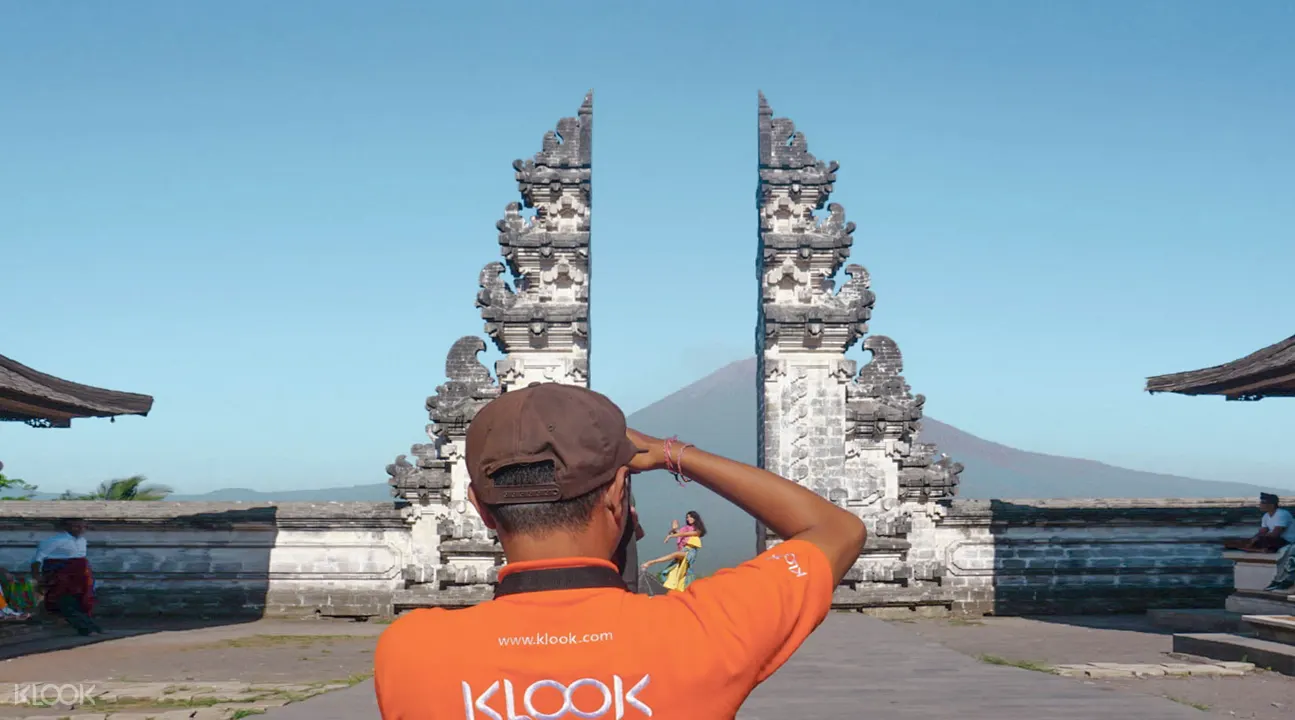 For Instagrammers, Bali is a gift that keeps on giving. Every corner is bursting with IG-worthy attractions.
Klook offers an Instagram tour, which lets you see and be photographed at the island's most picturesque spots. You will be joined by an experienced photographer who knows the best spots and angles! The tour package includes hotel pickup and drop-off, English-speaking driver, entrance fees, parking fees, and service fee for the photographer. You can choose between BALI IG TOUR, NORTH BALI IG TOUR, and UBUD IG TOUR.
That said, please take some time to appreciate the attractions that you will visit fully by learning more about them. At the end of the day, Bali is rich in culture and history, and is definitely more than just a backdrop.
✅ CHECK ITINERARY or RESERVE A SLOT HERE!
---
Alas Harum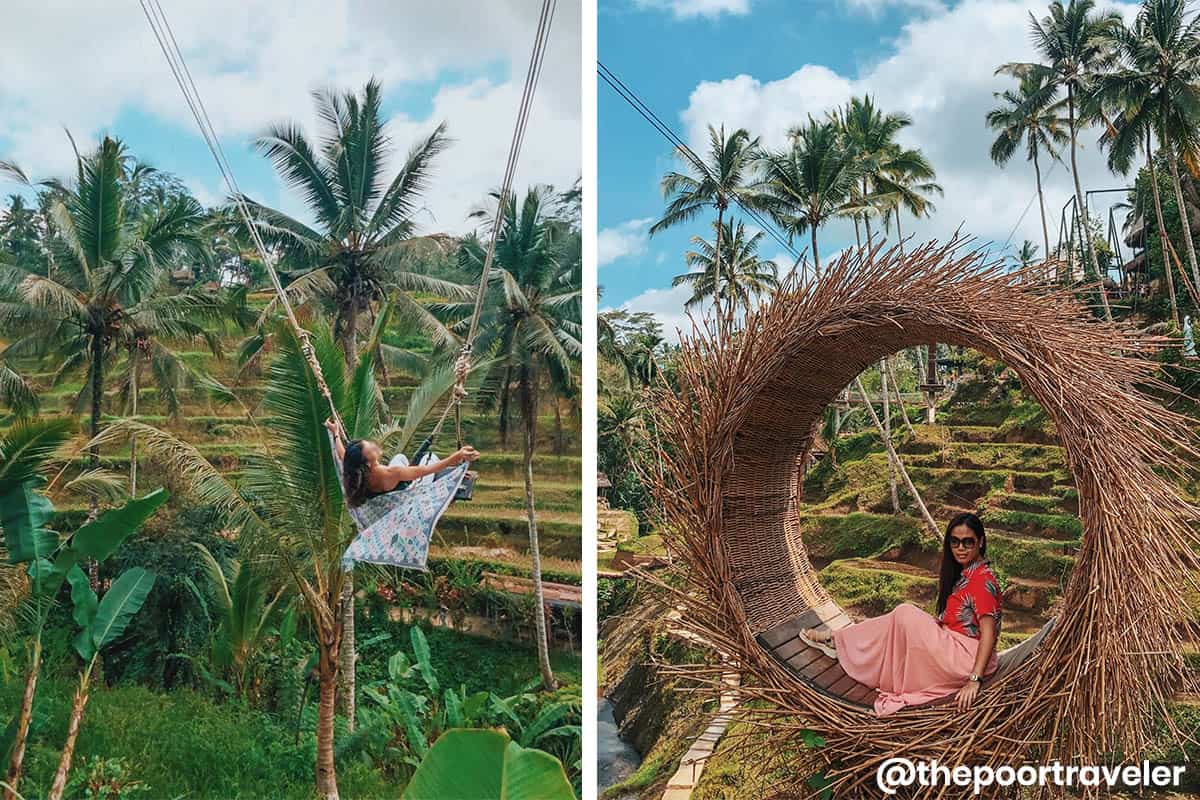 The town of Ubud is hemmed by dense forest and rice paddies. Aside from being the cultural and art center of Bali, incorporating agriculture in tourism has become popular in the central region. Alas Harum is one of those places that promote agro-tourism. The place offers coffee experience — coffee testing and coffee store — and extreme activities.
The super extreme swing took my breath away! There are three types of swings: super extreme swing, super swing, and couple swing. Other activities are flying fox and sky bike. Note: As of writing, flying fox (zip line) is under maintenance. If you want to try the swing, you will be strapped in safety harness so it's better to wear pants or shorts. For photo aesthetic, you can rent a wrap-around train skirt or wear kimono-type outerwear.
Aside from the adrenaline-pumping activities, the whole place has various Instagram-ready spots.
Admission Fee: IDR 50,000/pax
Opening Hours: 9:00 AM – 6:00 PM
Other Services: IDR 150,000/pax (Extreme Swing); IDR 200,000/pax (Super Extreme Swing); IDR 300,000/couple (Couple Swing); IDR 150,000/pax (Sky Bike); IDR 300,000/couple (Couple Sky Bike)
Location: Jalan Raya Tegallalang, Tegallalang District, Gianyar Regency, Bali
You can combine Monkey Forest, Alas Harum, and Tegalalang Rice Terraces in a day trip through Klook. This includes roundtrip transfers to/from Kuta.
✅ BOOK THIS TOUR HERE!
---
Ulundanu Berata Temple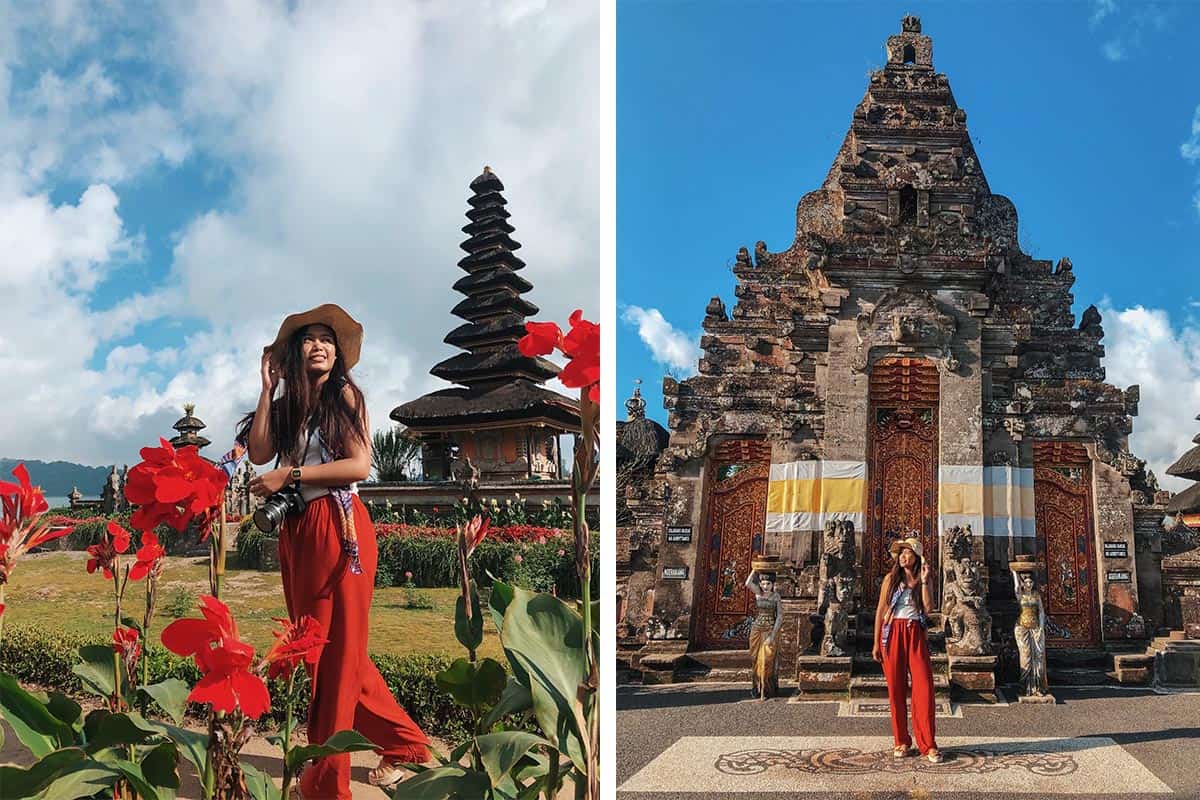 Located on the shores of Lake Bratan in Tabanan, Pura Ulun Danu Bratan (or simply Pura Bratan) is a major Hindu Shaivite water temple. Just like the other water temples Uluwatu and Tanah Lot, Ulun Danu Beratan offers a dreamy tableau when the tide is high and the lake water borders the temple on all sides. The usually foggy Bedugul mountain range gives it a mystic vibe. But unlike the two sea temples that are characterized by roaring waves, Pura Bratan is a picture of calmness and serenity.
Aside from admiring the temple, you can also appreciate the garden and the beautiful blooms dotting the temple grounds. There are also areas that are perfect for photo sessions. If you want to go beyond the temple grounds, you can rent a speedboat or paddleboat to explore the lake.
Admission Fee: IDR 50,000 (Adult); IDR 25,000 (Child)
Opening Hours: 8:00 AM – 5:00 PM; 24/7 for worshipers
Other Services: IDR 35,000/30mins (Water Duck Bike, 2 pax); IDR 75,000/30mins (Paddleboat, 5 pax); IDR 150,000/round (Speedboat, 5 pax)
Location: Danau Beratan, Candikuning, Baturiti, Tabanan Regency, Bali
If you want to visit Ulundanu Berata and see the sunset at Tanah Lot, Klook is offering a tour (private or join in) that has them in the itinerary. You will also get to visit a UNESCO Cultural Heritage Site — Jatiluwih Rice Terraces.
✅ BOOK YOUR SLOT HERE
---
Garuda Wisnu Kencana
This vast cultural park, simply called GWK, is dedicated to the Hindu god Vishnu and his mythical mount Garuda. The development of other facilities and attractions inside the park is still ongoing, but visitors will still be treated to architectural wonders like the most prominent statue in the park — the Garuda Wisnu Kencana statue.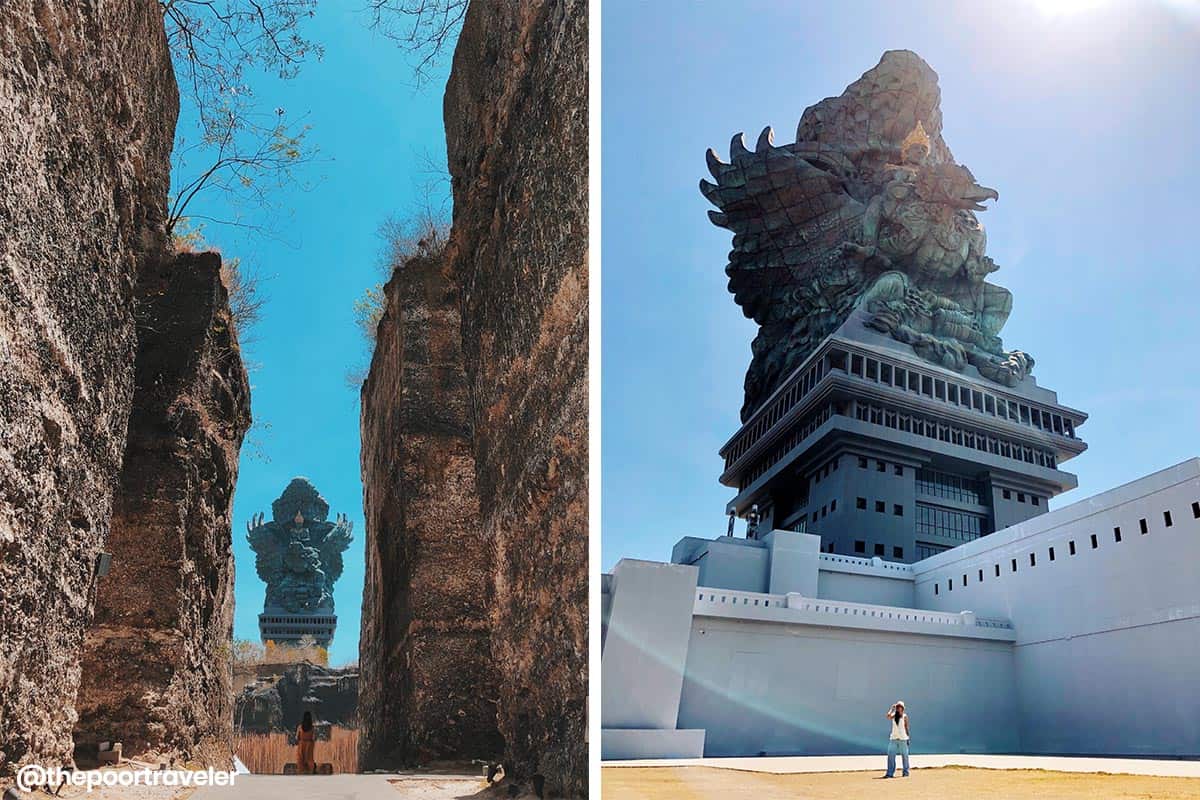 The gigantic statue of Vishnu with Garuda is designed by Nyoman Nuarta and was completed in July 2018 and launched in September of the same year. Towering at 121 meters, it is about 30 meters taller than the Statue of Liberty. The masterpiece is perched on a building that is planned to house a museum, a restaurant, and a viewing gallery.
The park is huge, about 60 hectares. If you are pressed for time or if you just want the experience, you can rent a bicycle or ride a golf cart. Electronic scooters and segways are also available.
Park Admission Fee: IDR 110,000-125,000
Going Up GWK Statue: IDR 150,000
Opening Hours: 8:00 AM – 9:00 PM
Other Services: IDR 20,000/hr (Bicycle Rent); IDR 60,000/30mins (E-Scooter Rent); IDR 60,000/15mins (Segway Rent)
Location: Jalan Raya Uluwatu, Ungasan, Kuta Selatan, Badung Regency, Bali
You can book your ticket in advance with Klook!
✅ GET YOUR TICKET HERE
---
Tanah Lot Temple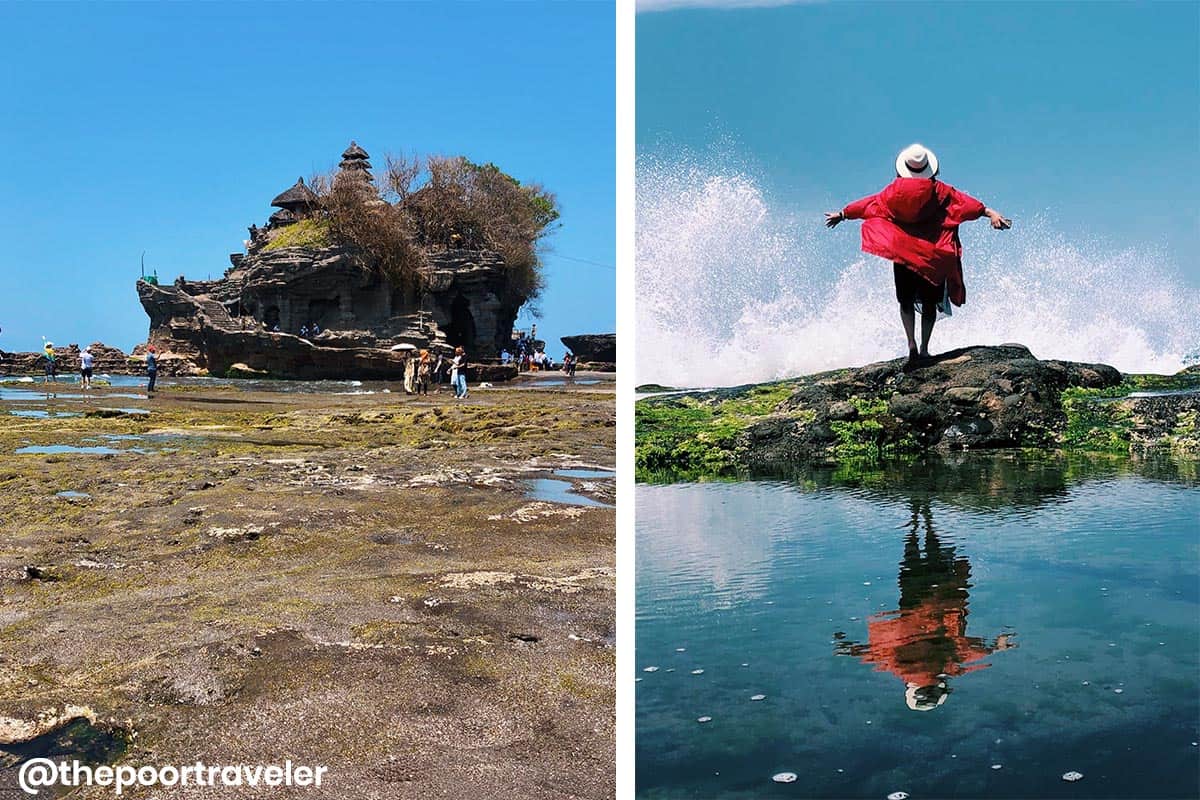 Tanah Lot means "Land in the Sea". The temple is perched on an islet, 300 meters off the coast of Beraban, Kederi in Tabanan. Pura Tanah Lot is one of the most iconic images of Bali. It is also said to be the most photographed one. It is regarded highly, being one of the seven sea temples hemming the coast ob Bali, particularly the southwest coast. The temple is open to worshipers only, but visitors can enjoy the scenic setting of the temple.
Just like Uluwatu Temple, it faces the Indian Ocean, providing a breathtaking view of the sunset. A lot of tourists flock to the place during this time. The most peaceful time to go is early in the morning and during high tide. At low tide, you can go near the temple and snap some photos, go to the Holy Spring, and see the Holy Snake (sea snakes). The streets leading to the temple are lined with souvenir shops and restaurants.
Admission Fee: IDR 60,000 (Adult); IDR 30,000 (Child)
Opening Hours: 7:00 AM – 7:00 PM
Location: Beraban, Kediri, Tabanan Regency, Bali
If you want to view the sunset at Tanah Lot, you can join a group tour that includes roundtrip transfers (hotel pick up and drop off). Aside from Tanah Lot, you will make a stop at Taman Ayun Temple and Alas Kedaton.
✅ BOOK THIS TOUR
---
Taman Ayun Temple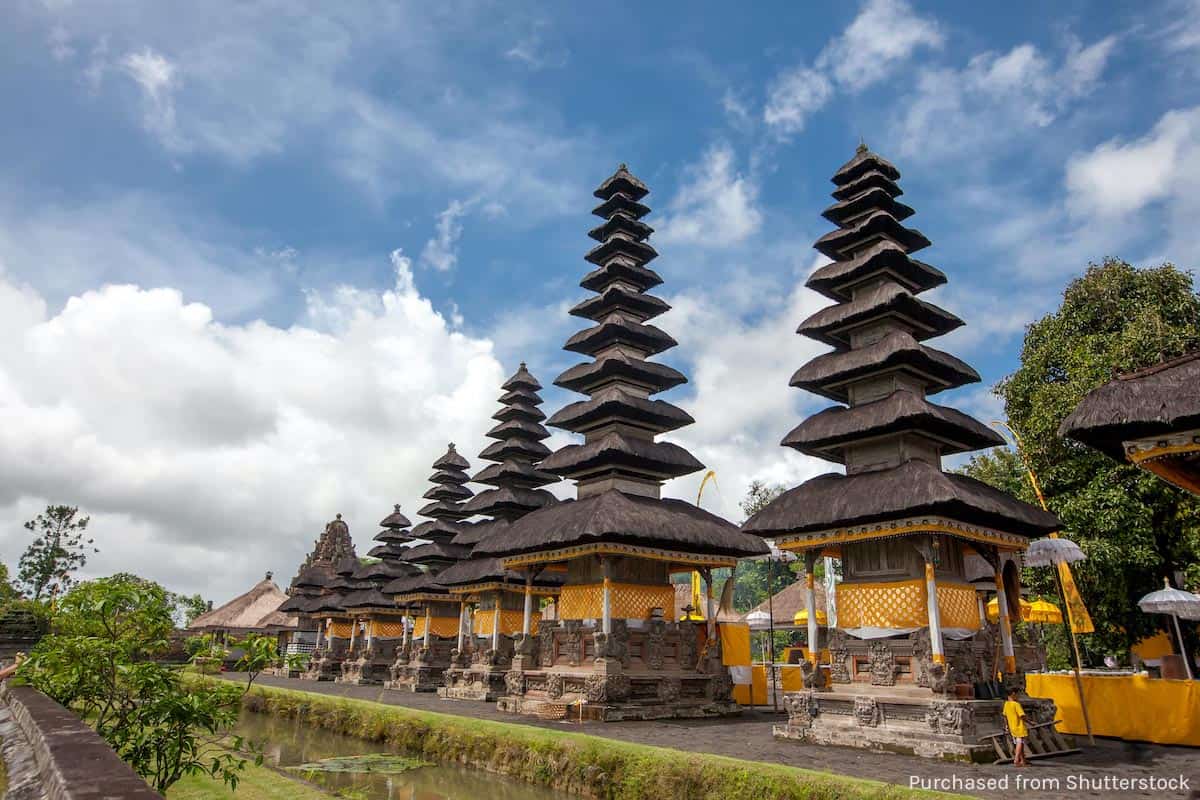 Pura Taman Ayun is one of the most popular temples in Bali. Locals and foreign tourists alike are drawn to its collection of beautiful temples marked by water features. Taman Ayun means "Garden Temple in the Water". The living legacy of the Mengwi Empire, this family temple is also one of the six royal temples in Bali.
Admission Fee: IDR 20,000
Opening Hours: 9:00 AM – 5:00 PM (Daily)
Location: Jalan Ayodya No.10, Mengwi, Mengwi, Badung Regency, Bali
If you want to include Taman Ayun Temple, Jatiluwih Rice Terraces, Ulun Danu Beratan Temple, and Tanah Lot in your day trip itinerary, Klook offers a package that covers all of them, including a tour guide and roundtrip transfers.
✅ BOOK THIS TOUR HERE!
---
Sacred Monkey Forest Sanctuary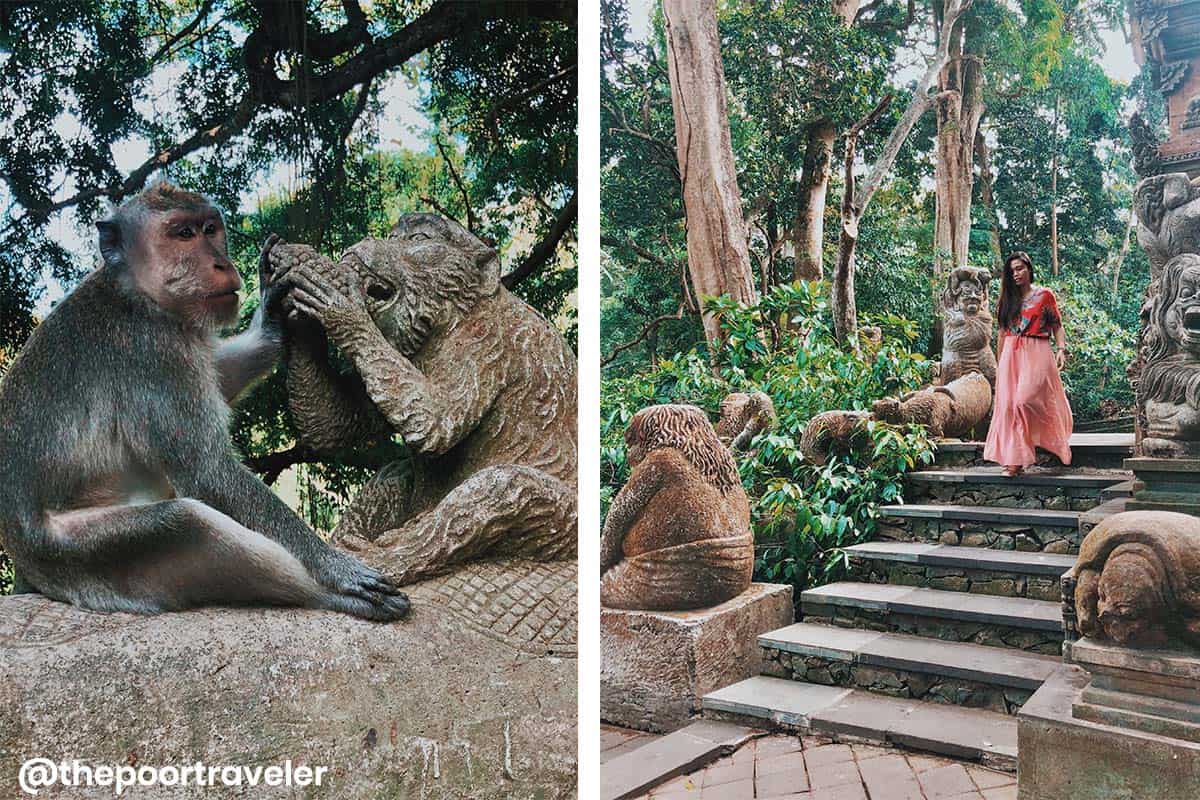 This is a natural forest sanctuary for and the natural habitat of over 1000 Balinese long-tailed monkeys in Ubud, Bali (as of April 2019). These monkeys are divided into 7 different troops: Temple Group, Selatan Group, Cemetery Group, New Forest Group, Central Group, Michelin Group, and East Group. They roam freely and are not aggressive as long as you don't provoke them or trigger them. Avoid touching them, giving direct eye contact, and moving abruptly; they might interpret these actions as a challenge or threat.
Pura Dalem Agung is one of the three Hindu temples inside the sanctuary. It is the main temple. The other two are Pura Beji and Pura Prajapati. The forest sanctuary is very accessible as it's located near the town center.
Admission Fee: IDR 80,000 (Adult); IDR 60,000 (Child: 3-12 y/o)
Opening Hours: 8:30 AM – 6:00 PM
Location: Jalan Monkey Forest, Ubud, Ubud, Gianyar Regency, Bali
You can combine Monkey Forest and Tegalalang Rice Terraces in one half-day trip through Klook. This includes hotel transfers.
✅ BOOK THIS TOUR HERE
---
Saraswati Temple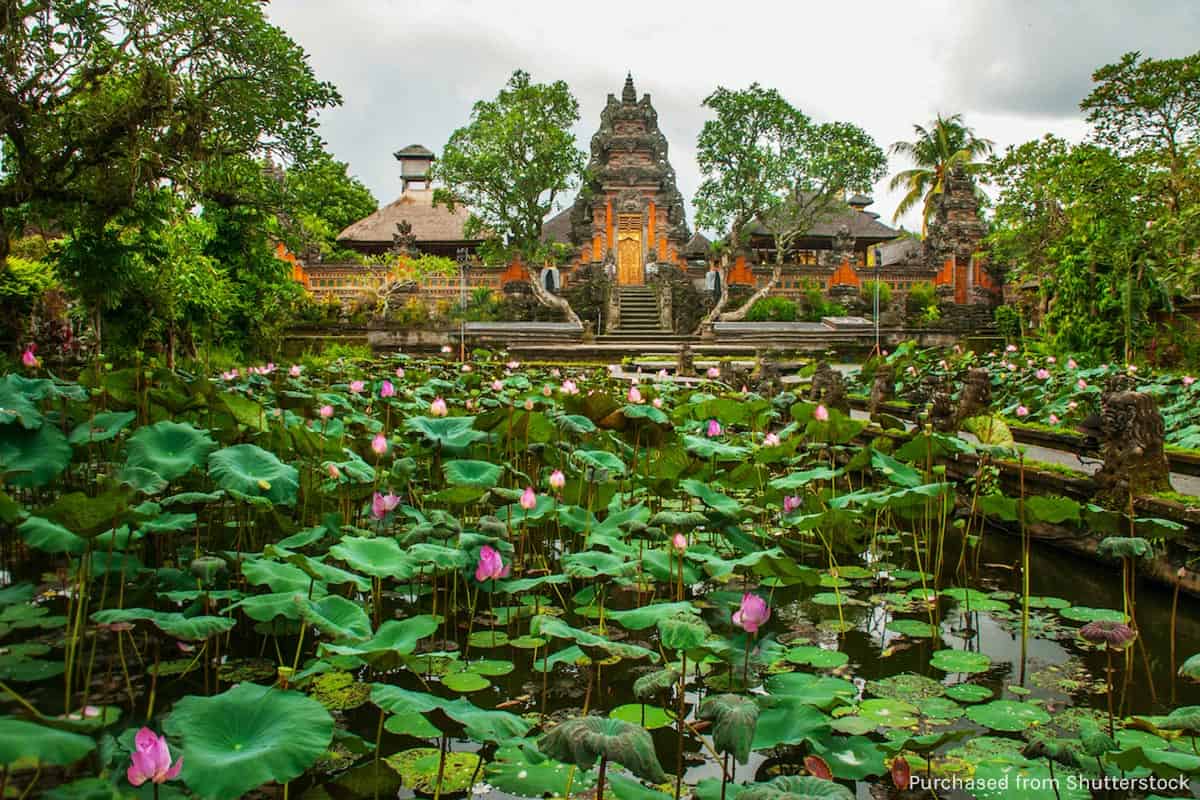 Also located in Ubud is another Hindu water temple — Pura Taman Saraswati. The most prominent feature is the foyer with lotus ponds. During the evening, a traditional dance performance is held at the open stage. There's a café inside the temple grounds that gives diners a good view of the lotus pond and the open stage. You can explore the temple grounds, but you cannot enter the temple unless you are there to worship.
Admission Fee: FREE
Dance Performance: IDR 80,000/pax
Opening Hours: 8:00 AM – 6:00 PM; 7:30 PM (Dance Performance)
Location: Jalan Kajeng, Ubud, Ubud District, Gianyar Regency, Bali
---
Kuta Beach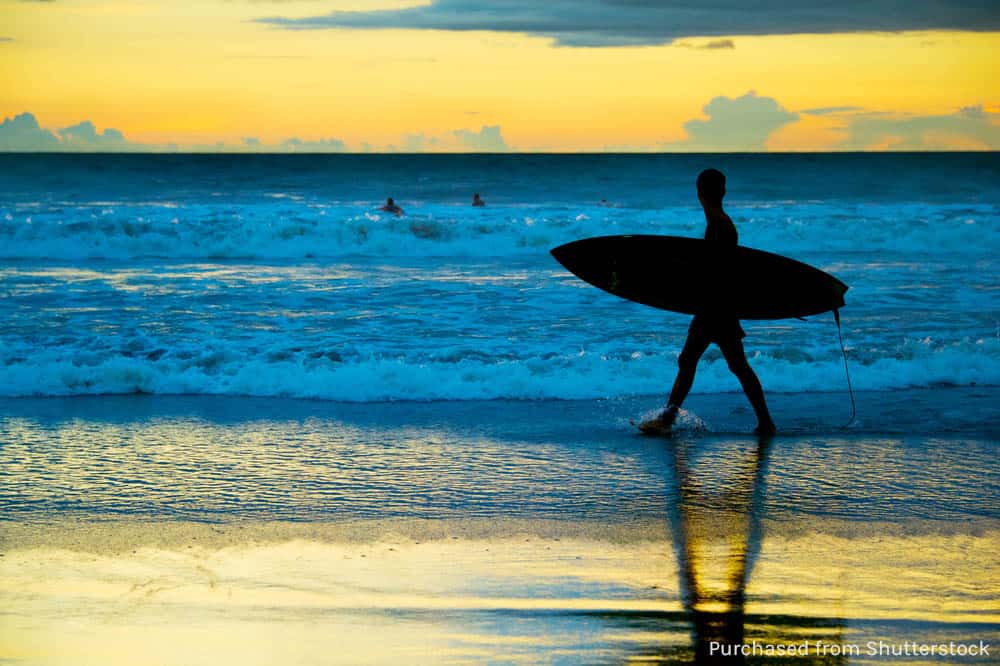 If you're seeking a picturesque where you can relax, Kuta Beach is not for you. Let's get that straight. It is busy and buzzing with tourists. You won't find peace and quiet here. If that's what you are after, there are a lot of better options in Bali. Sometimes, you don't even have to go far. Seminyak, for example, offers a better, prettier, calmer experience.
But if you want to learn surfing or avail of surfing lessons, you'll find several affordable options here. After all, Kuta first rose to fame as a surf spot.
Kuta is one of the areas in Bali where tourism first blossomed. This former fishing village, together with Sanur, underwent development ahead of the others. However, Sanur retained its tranquility despite the developments that happened there. While Sanur is referred to as Sunrise Beach, being on the eastern side of the peninsula, Kuta Beach on the western side is called Sunset Beach. It has cream-colored sand where you can laze around or enjoy a drink while watching the sun go down.
Another reason to visit Kuta is its vibrant nightlife. If you're the type who likes to party, welcome to your beach.
Admission Fee: FREE
Location: Kuta Beach, Kuta Town, Kuta District, Bali
---
Seminyak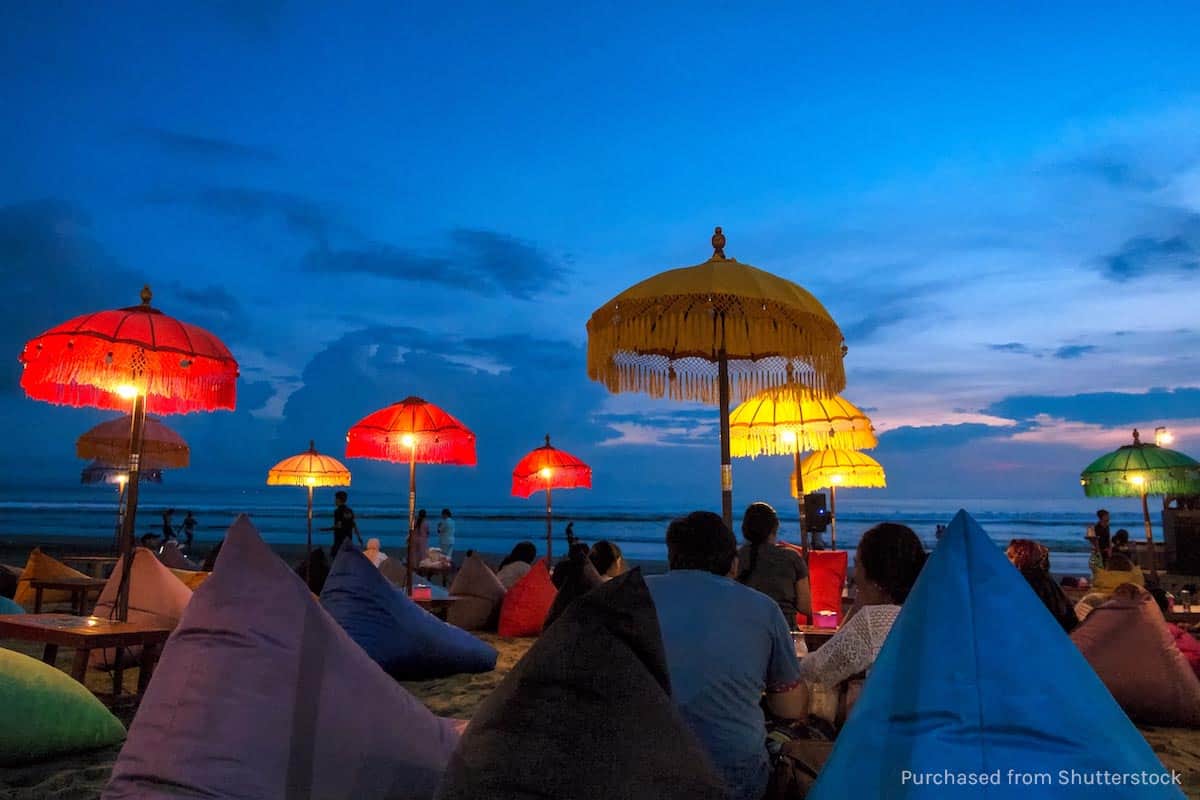 Kuta is not for everyone. In class, Kuta is that pupil who is always busy, often rowdy, has lots of energy and gets most of the attention. Seminyak is Kuta's less popular but cleaner, calmer and classier seatmate. It is lined with plenty of luxury hotels, villas, and spa resorts, along with fine-dining restaurants, high-end shops, chic bars, and trendy spots.
Like Kuta, it is a surfer's paradise. It's also located along the same coast, so they share the same view of the sunset. And it's also pretty accessible from the airport, albeit a little bit farther.
---
Nusa Penida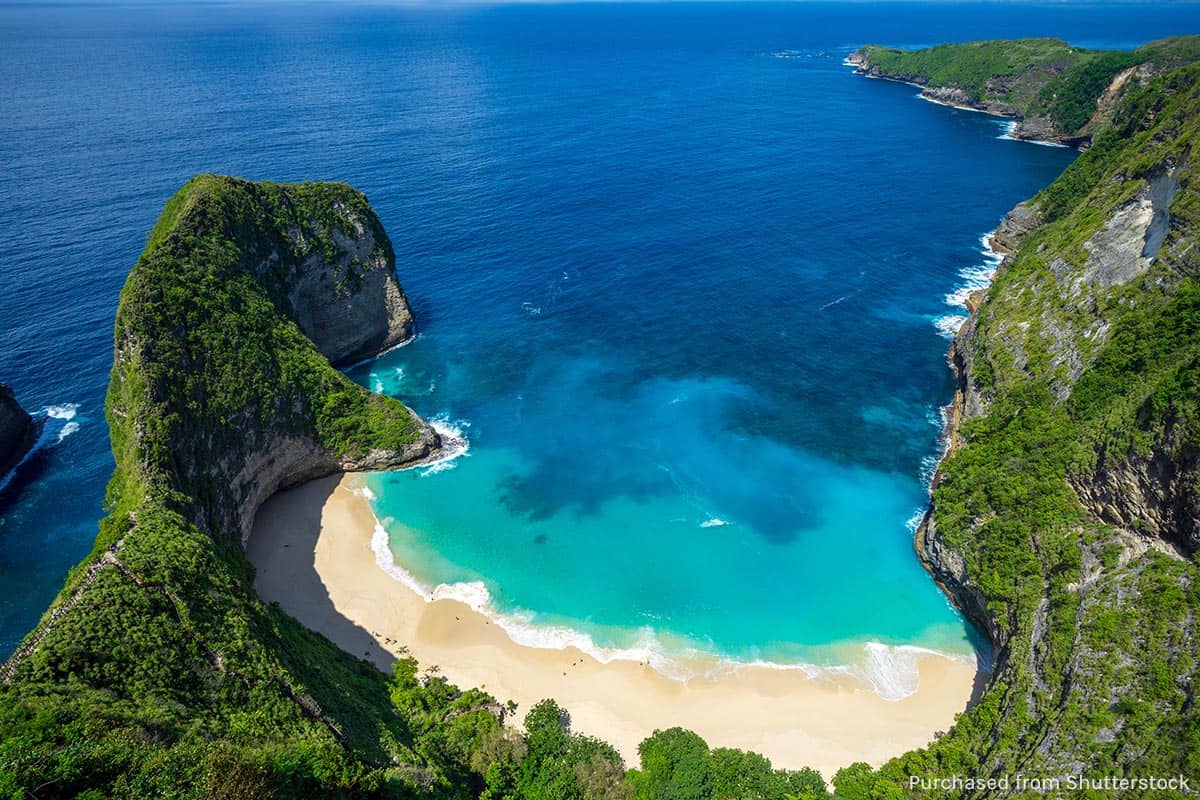 Nusa Penida is a breathtaking island off the southeastern coast of Bali. It is best known for the dinosaur-shaped Kilingking Beach, which is just one of its many spectacular sights. Kilingking Beach, Angel's Billabong, Broken Beach, and Crystal Bay are some of the notable tourist attractions on the western part of the island. Teletubbies Hills, Thousand Island viewpoint, Tree House, Diamond Beach, and Atuh Beach dominate the eastern portion, while Tembeling Beach and Banah Cliff are found on the southern coast. There are many travel agencies and tour operators that offer a day trip to the southeast islands.
If you don't know how to drive, you have two options. You can travel on your own to Sanur Harbor, where you'll catch the boat to Nusa Penida. Schedule: 8am, 11am, 4pm. Once on the island, you can charter a private car with driver. You can book with Klook. See link below.
The second option is to join a group tour from your hotel in Kuta, Denpasar or Seminyak. They will pick you up at your hotel, transfer you to Sanur Harbor, get you on the boat to Nusa Penida, tour you around the island, and take you back to the hotel at the end of the day. It's more expensive but hassle-free because you don't need to worry about anything.
If you do know how to drive and you have a license, you can also rent a motorcycle or car on the island.
✅ BOOK A CAR WITH DRIVER HERE!
✅ BOOK A TOUR HERE!
---
Jatiluwih Rice Terraces
Rice terraces are not unique to Bali. Vietnam, China, and the Philippines have their own. But there's a reason why these rice paddies are popular among tourists — they are both captivating and mind-blowing. They also says a lot about the culture and genius of the communities that built them.
In Bali, you'll find several sites featuring these terraced hills, but the Jatiluwih Rice Terraces is one of the best representations of Bali's Cultural Landscape, which was inscribed as a UNESCO World Heritage Site.
---
Pie Susu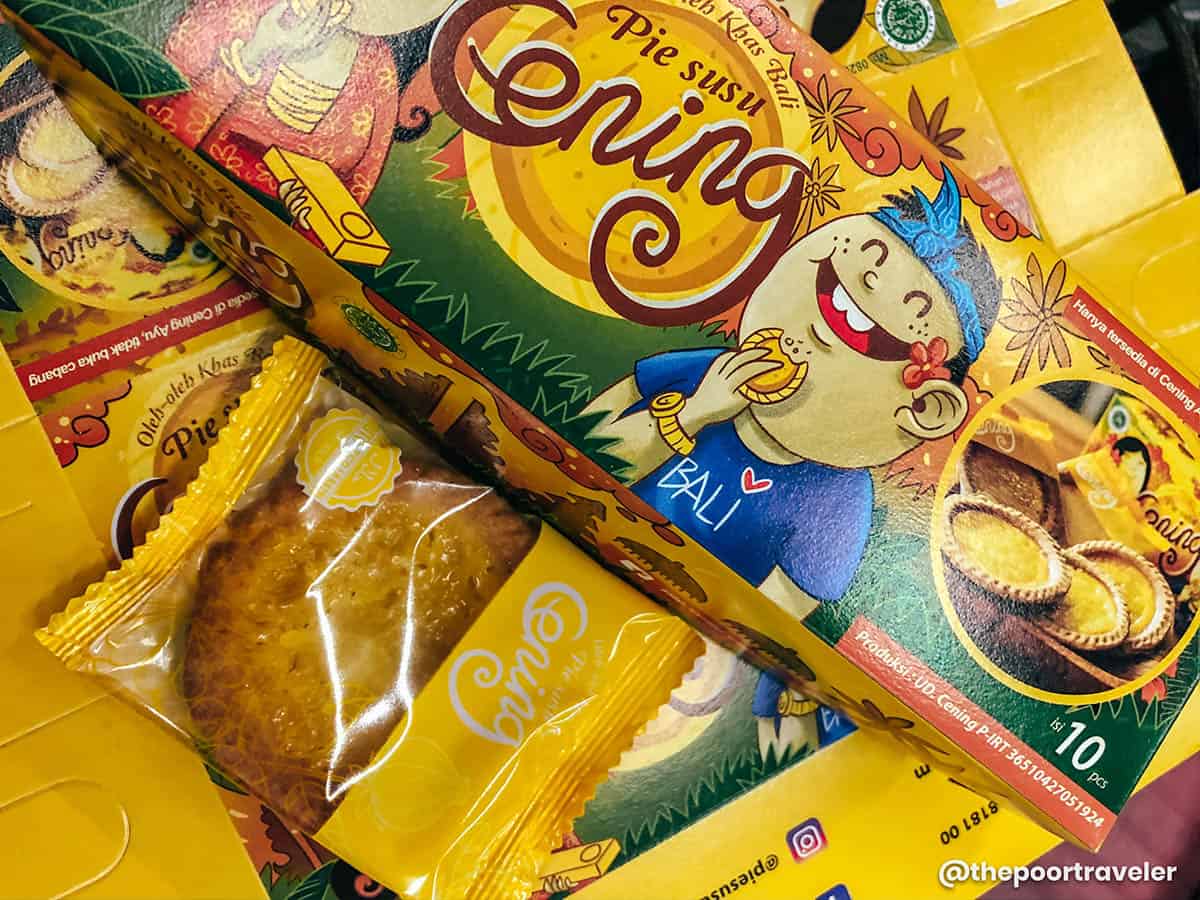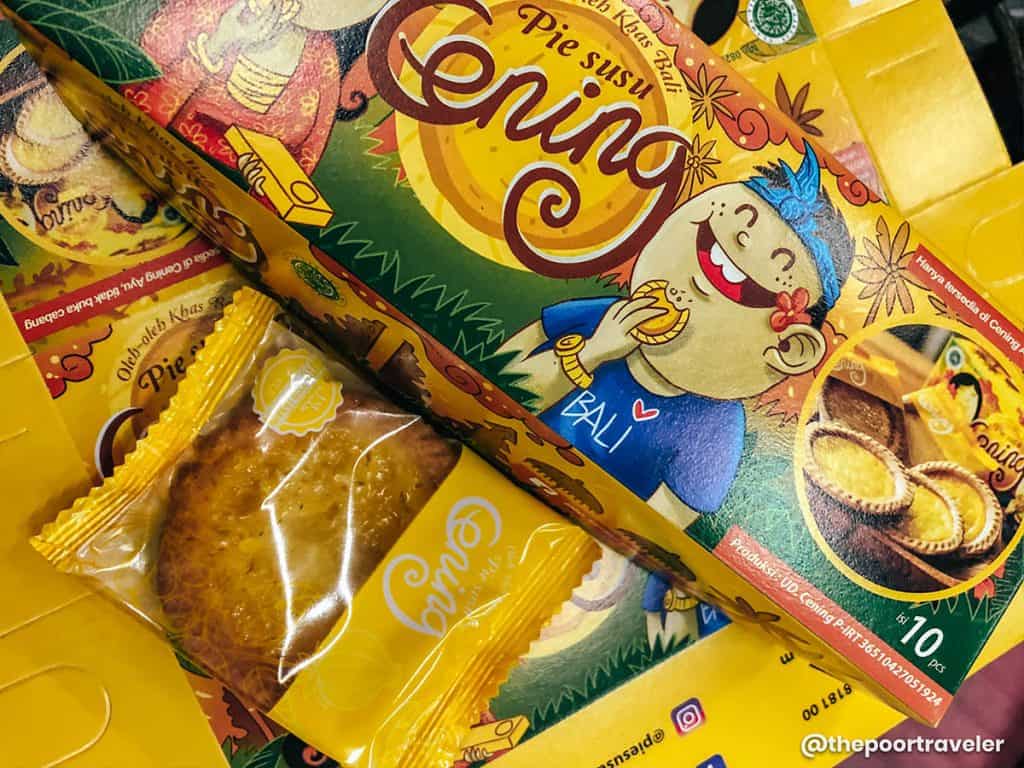 Pie Susu is a favorite Balinese snack. It literally means milk pie. It's like egg pie (or tart) but much thinner and, well, milkier. Cening Ayu is one of the places that produce milk pies in Bali. It also sells other Bali local products aside from pie susu. I brought home three boxes, each box containing 10 pieces, and my family LOVED it! All of them. It's a good idea for pasalubong.
Price: IDR 25,000/box of 10 pieces
Location: Cening Ayu, Jalan Raya Celuk No.6X, Celuk, Sukawati, Gianyar Regency, Bali
---
Bali Coffee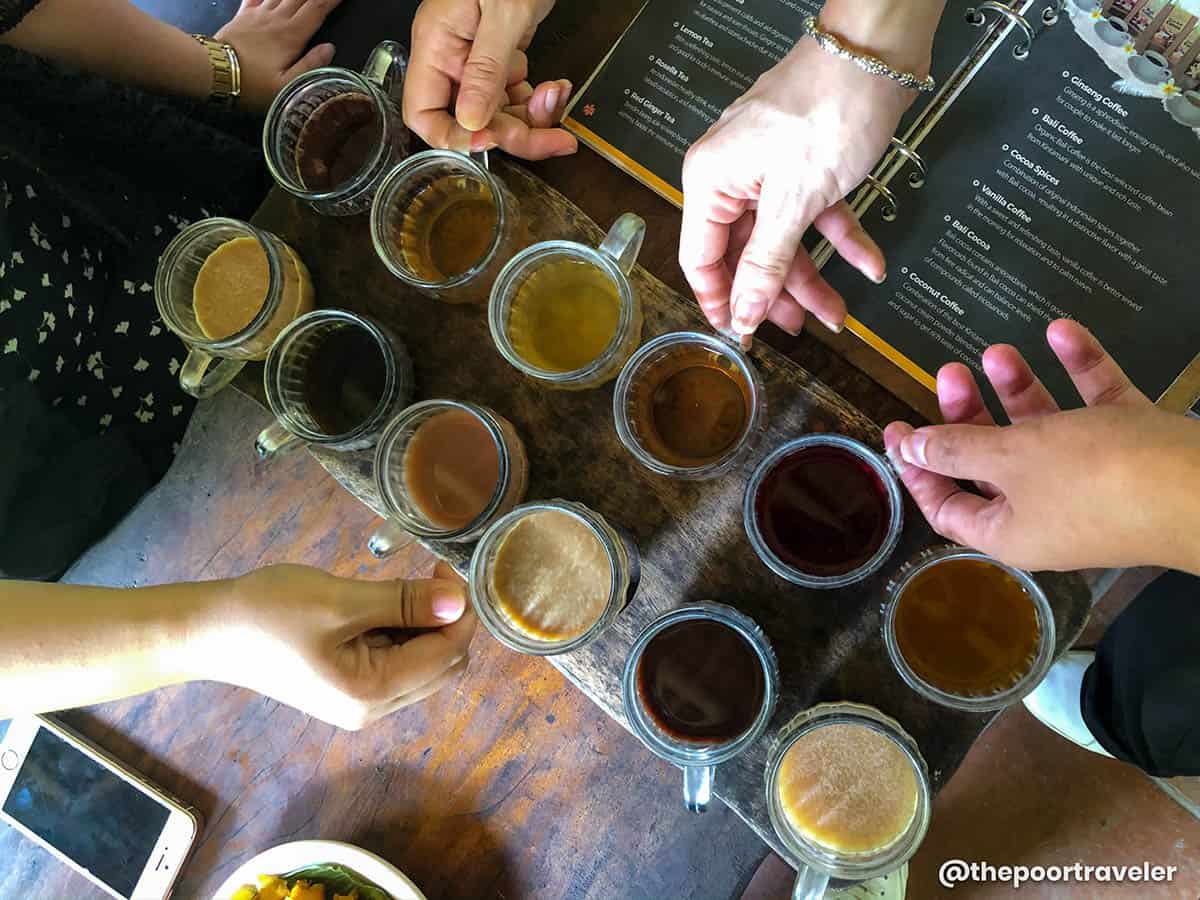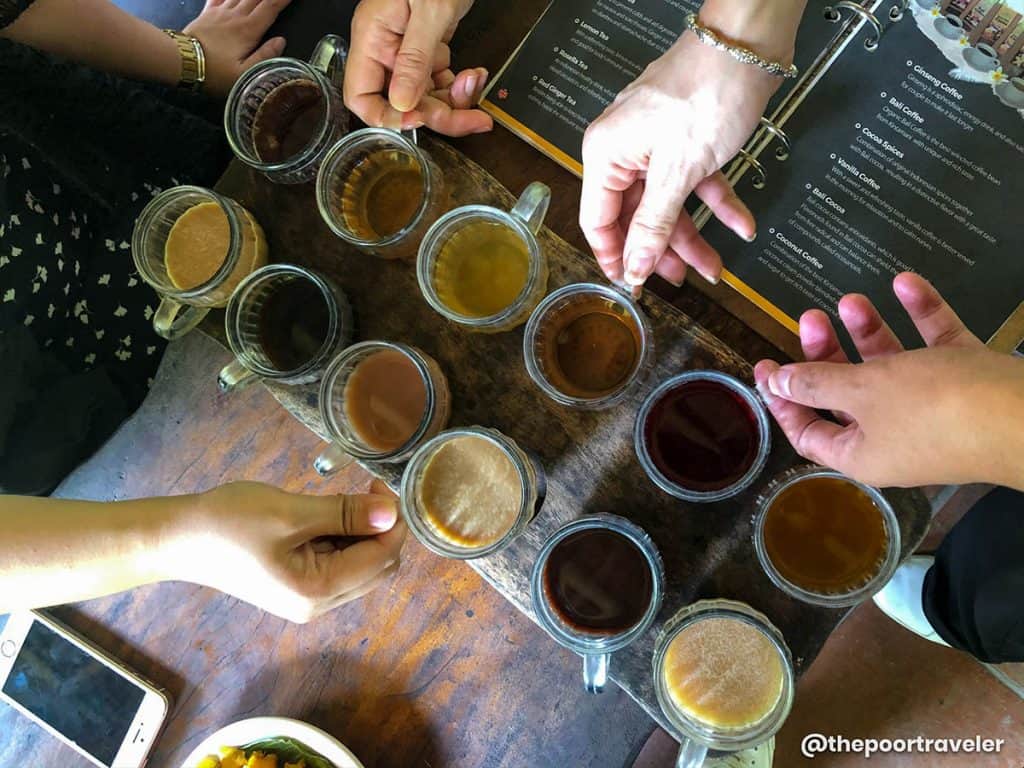 Bali is also famous for its coffee. We went to Taman Ayu where we get to learn the process of coffee production including sun-drying, roasting, and grounding. We also tried different kinds of coffee and tea. My personal picks are Bali cocoa and Rosella tea. Other coffee products are ginseng coffee, Bali coffee, vanilla coffee, and coconut coffee. For tea, they also offer mangosteen peel, lemongrass tea, ginger tea, lemon tea, and red ginger tea.
Opening Hours: 8:30 AM – 6:30 PM
Location: Taman Ayu, Sukawati, Batubulan, Sukawati District, Gianyar Regency, Bali
---
Di Kubu Strawberry Picking
In the mountainous and cold region of Tabanan Regency, agriculture and fruit farms offer activities that tourists can enjoy. Di Kubu Strawberry will let you pick your own strawberries. The place also has a relaxing ambiance and presents a view of the lake too, adding camping and picnic to the list of things you can do here.
Opening Hours: 10:00 AM – 9:00 PM
Location: Jalan Denpasar-Singaraja No.KM. 51, Candikuning, Baturiti, Tabanan Regency, Bali
---
Balinese Batik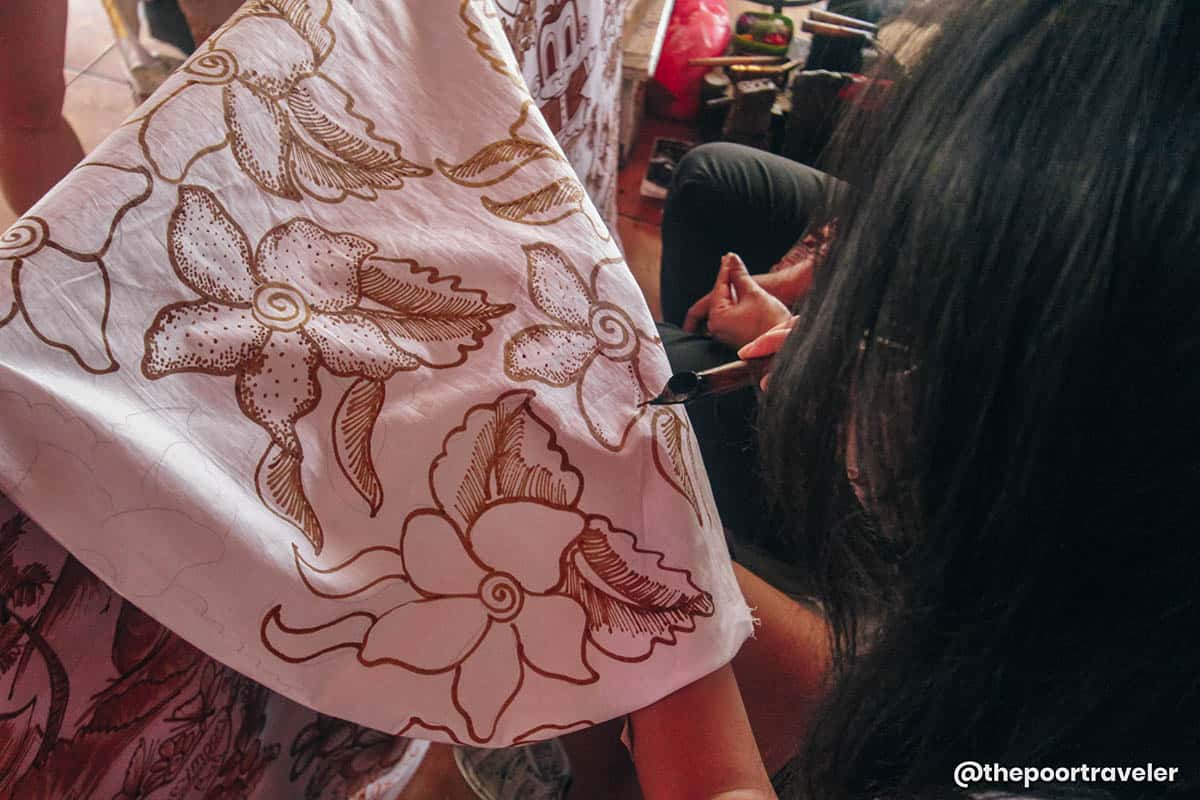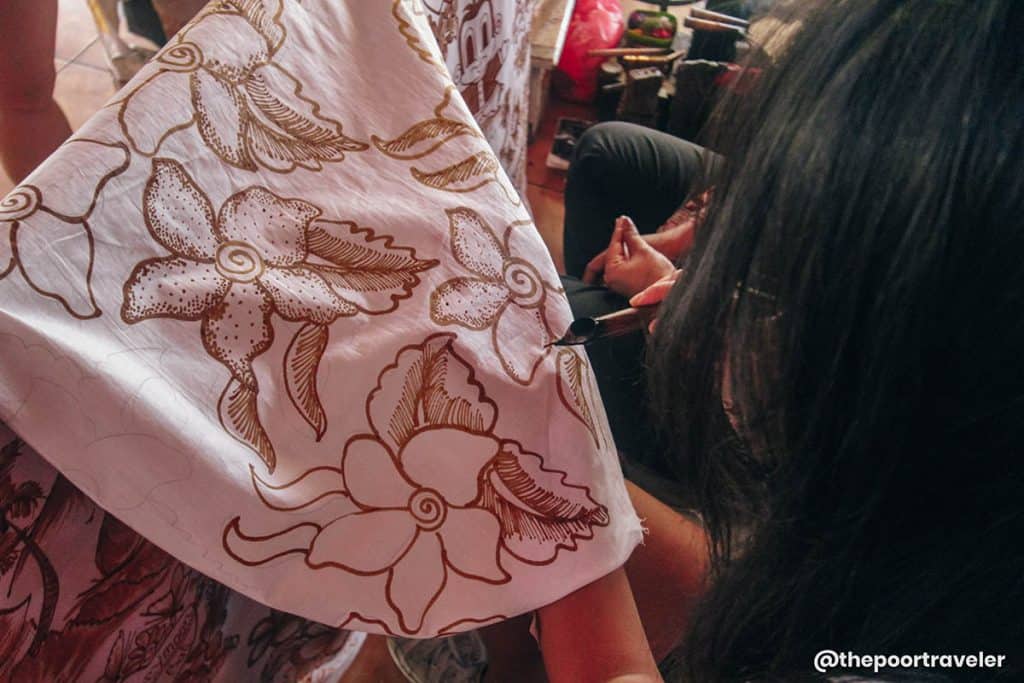 Unlike the Javanese Batik, Balinese Batik is relatively new. The designs are contemporary and are inspired by nature. I've seen quite a lot of floral patterns; however, the Balinese batik embraces modern designs too. We've visited Bali Bidadari Batik where we get to see some of the processes of making batik textiles. The place also has a spacious store offering different items made of batik fabric.
Opening Hours: 8:30 AM – 6:00 PM
Location: Jalan WR Supratman No.343, Kesiman Kertalangu, Denpasar, Denpasar, Bali
---
Shopping for Souvenirs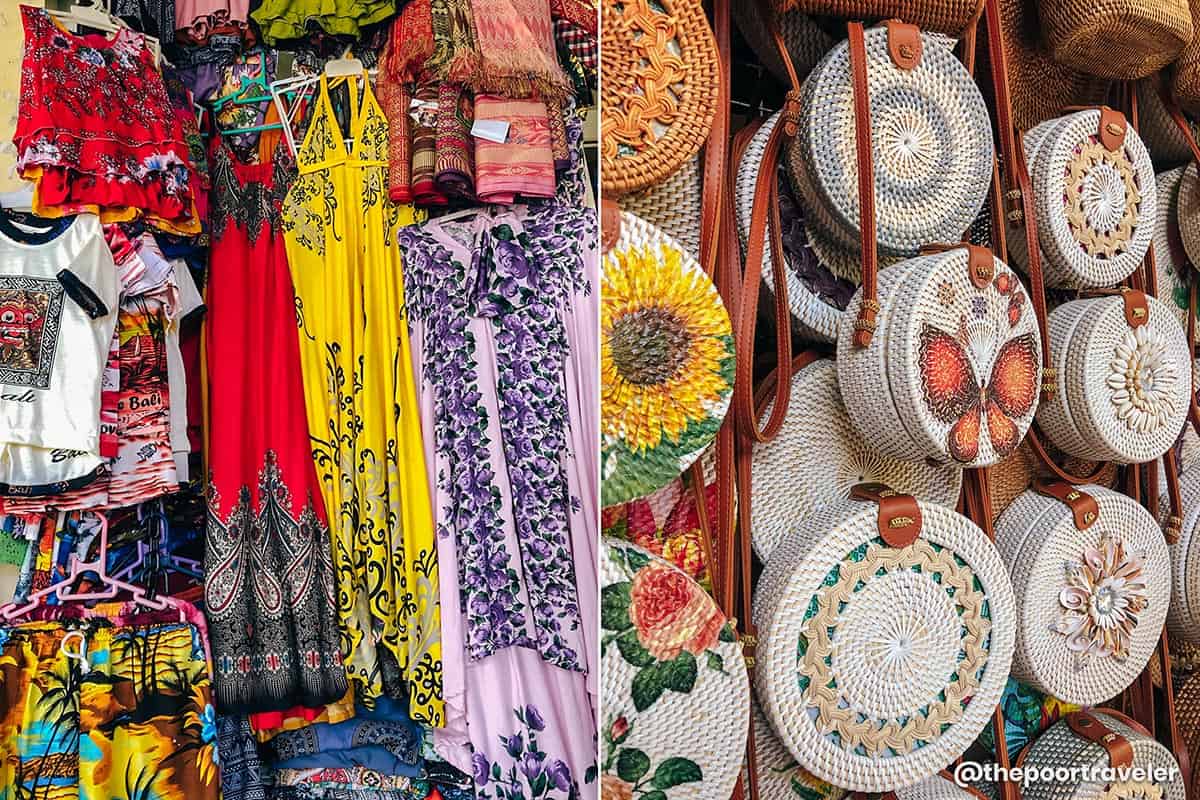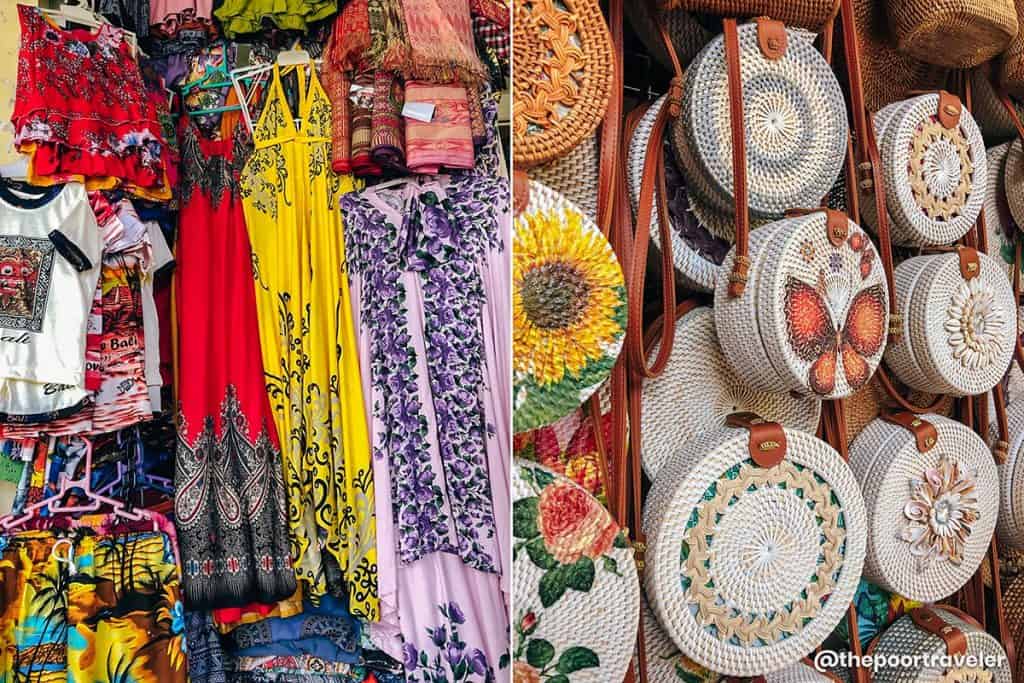 Bali is known for its arts such as painting and wooden sculpture. Other art items can be found in art markets. During our Bali trip, we were able to stop at one of them — Sukawati Art Market, locally called Pasar Seni Sukawati. It is said to be the most established. It is where both locals and tourists shop; locals for their everyday needs, tourists for souvenirs. If you want to bring home distinctly Balinese stuff, you may find handmade products and handicrafts. Since tourists also shop here, you can make "tawar" (discount), which can go as low as 50-60% off the first price mark. You can walk away if you don't get the deal that you want. From my personal experience, they ALWAYS give me the price I want when I'm about to leave to go to another stall. :P
Opening Hours: 6:00 AM – 6:00 PM
Location: Pasar Seni Sukawati, Jalan Raya Sukawati, Sukawati, Sukawati District, Gianyar Regency, Bali
---
Balinese Cuisine
One of the ways to immerse yourself in a new place's culture is through the local cuisines. Most Indonesian foods are spicy; Bali is not an exception. Since Bali is very accustomed to tourists, the restaurants and menus serve both western and Indonesian dishes. For the local dibs, here are some of Bali's notable dishes: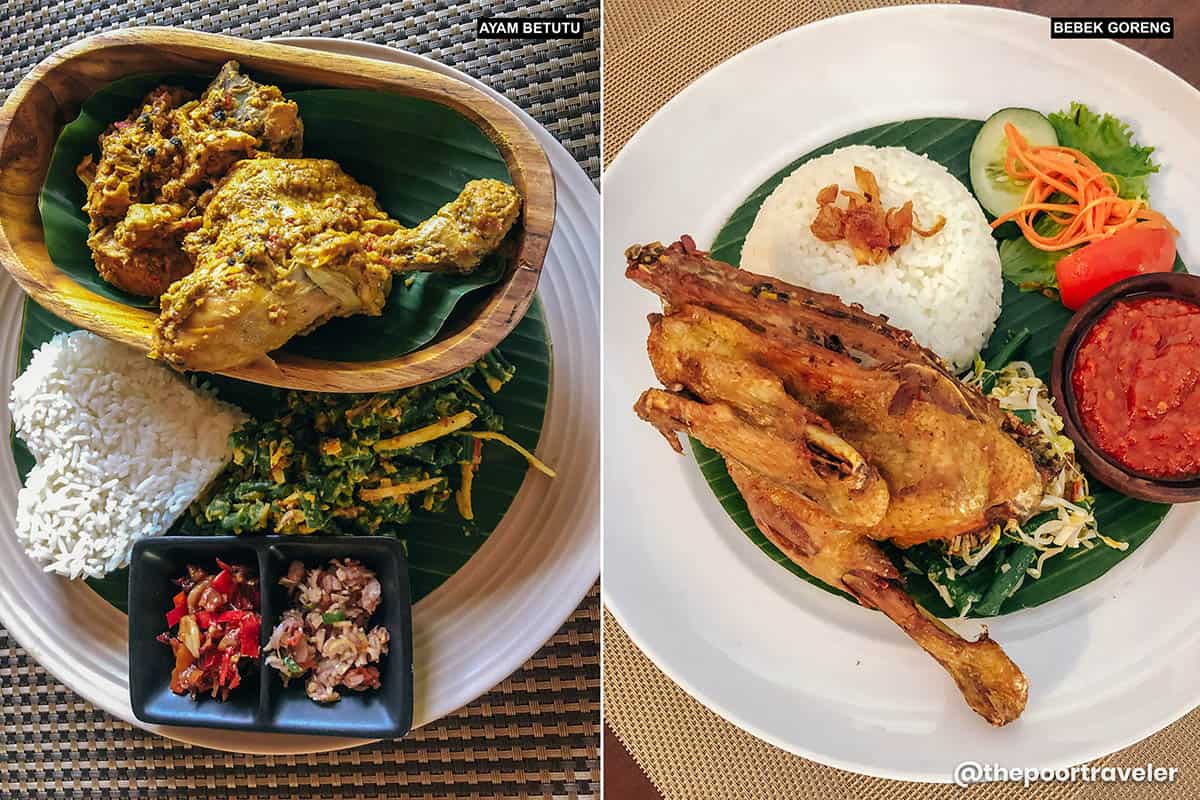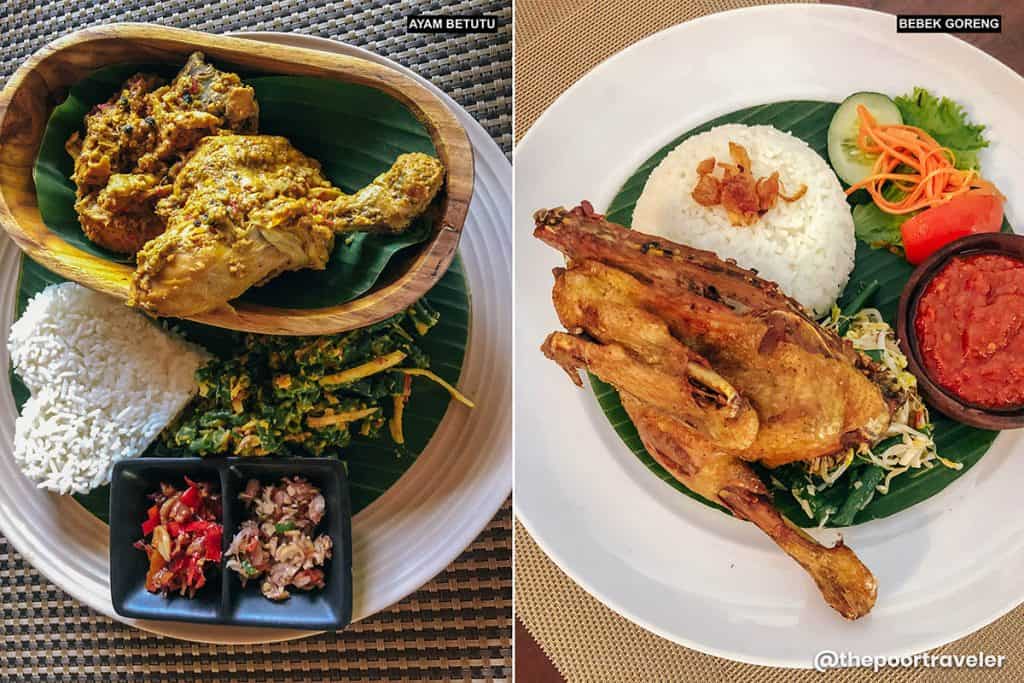 Ayam/Bebek Betutu. This is a spicy smoked chicken or duck seasoned with bumbu betutu (spicy paste) served with mixed veggies, rice, and sambal.
Bebek Bengil/Goreng. This is a crispy duck marinated in Indonesian spices, then steamed, and finally fried.
Sate Babi or Sate Ayam. Balinese pork satay or chicken satay served with veggies and rice.
Babi Guling. This is like Philippine's lechon. Also called Balinese suckling pig, Babi Guling is usually served with stewed vegetables, rice, crispy pork skin, and pork sausages. The pig is seasoned with local spices so it's spicy.
---
Important Reminders
Wearing sash and sarong inside the Hindu temples. These are normally provided by the temple management.
Strict observance of Nyepi Day. Nyepi Day or Day of Silence is an important public holiday in Bali, celebrated every Saka New Year. It is observed by fasting and meditating and doing less or nothing at all. The observance period is 6AM – 6AM (the next day). During this time frame, locals AND tourists are expected to follow the restrictions such as no working, no lighting of fires, no lights (or used rarely), no traveling, and no entertainment. For some, they can even go with no talking. Even Bali Airport is closed the entire day. No one is allowed outside the streets except the security people and when there's an emergency. Nyepi Day usually happens in March.
Galungan. It happens twice per year (every six months). It is characterized by bamboo poles with offerings attached at the end.
---
Top Budget Hotels in Bali
---
2️⃣0️⃣1️⃣9️⃣ • 1️⃣2️⃣ • 1️⃣5️⃣