Tourism has transformed Bali's fishing villages into resort towns. Because it has become the primary source of income for locals, Bali has undoubtedly mastered the art of hospitality management. It has the widest selection of accommodations in Indonesia, from budget to luxurious options. Many of these properties take pride in excellent amenities and friendly service, so it is not hard at all to find a place to stay. If anything, there are too many choices.
But what is the best area? Well, that depends on what you're in Bali for — your travel style, preferences, and itinerary. Every corner has its own pros and cons. It's important to be familiar with the geography of the island.
Bali is composed of eight regencies and one city, Denpasar. But for tourists, you can simply split the island into four regions:
South Bali. The southern portion of Bali is the island's tourism hub. The majority of the accommodations, restaurants, cafes, bars, shopping areas, and attractions are found in the south. There are several surfing spots that draw adventurous travelers to the area. Tourist hotspots: Kuta, Legian, Seminyak, Canggu, Jimbaran, Uluwatu, Nusa Dua, Benoa, Sanur, Denpasar, and the southeast islands — Nusa Lembongan, Nusa Penida, and Nusa Ceningan.
Central and East Bali. The central and eastern portions are mountainous and are perfect for agriculture and coffee production. East Bali is home to the massive active volcano, Mount Agung, the mother mountain. Ubud is situated a little bit north of Denpasar. It is the arts and culture hub of Bali. Other attractions are dive spots from Amed and Tulamben and a ferry port to Lombok in Padangbai. Tourist hotspots: Ubud, Amed, Tulamben, and Padangbai.
North Bali. The northern coast of Bali offers beaches, but the shores have dark to black sand. Also a jump-off point to certain dive spots. Tourist hotspots: Lovina and Singaraja (the old colonial capital).
West Bali. The western portion also offers both water and mountain activities. The shores here, like the northern area, have dark to black sand. Medewi is good for surfing, while Menjangan Island serves as a diving spot option. West Bali National Park is perfect for those who love to hike and trek. Tourist hotspots: Medewi, Pemuteran, and Menjangan Island.
Here's a simple tourism map of Bali.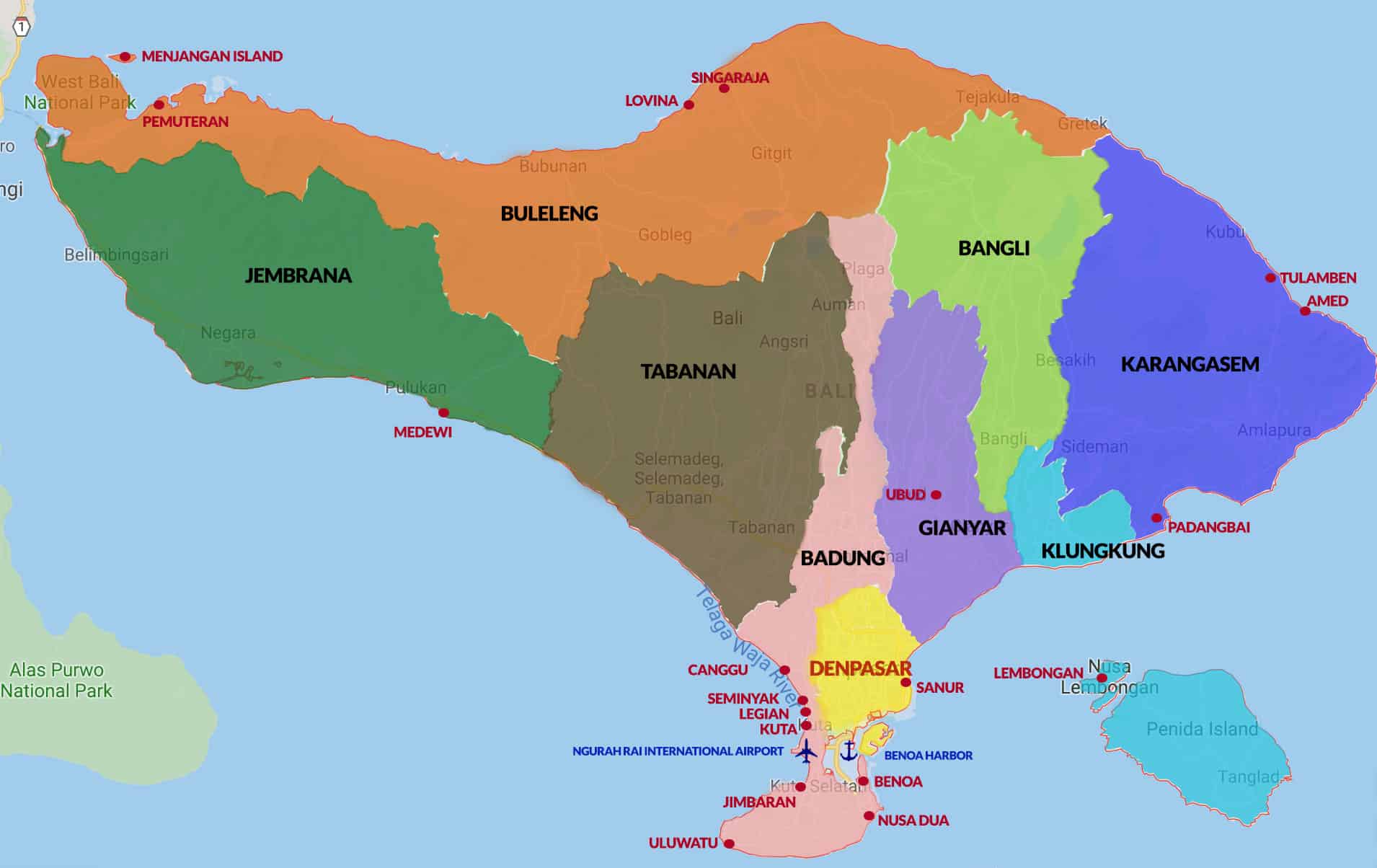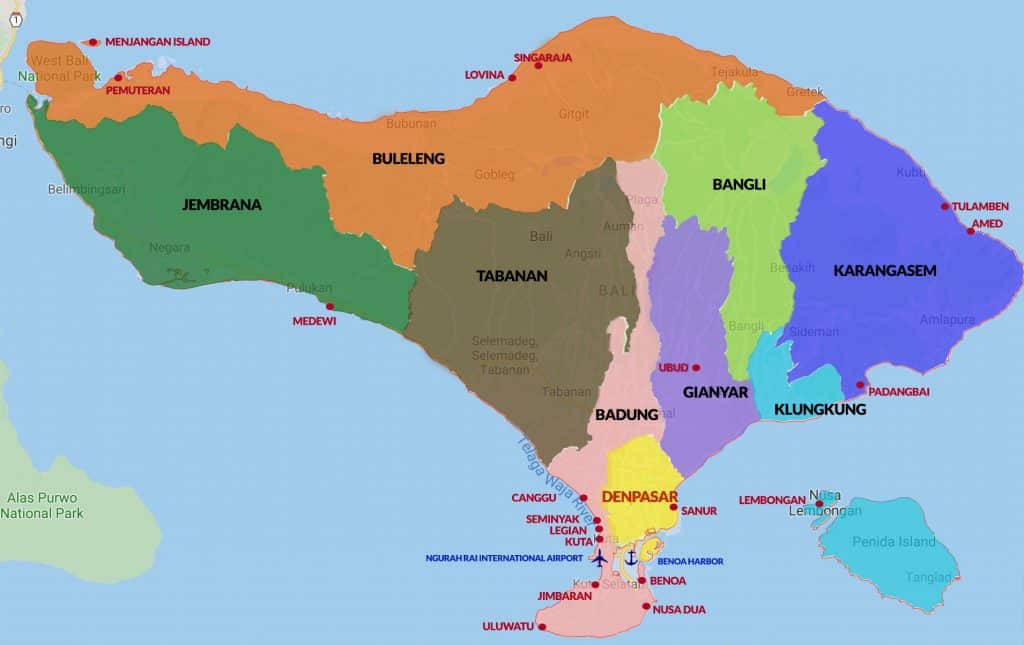 The red-labeled places on the map are the key tourist areas in Bali. As you can see, most hotspots are located along the southern edge of the island, particularly in the Badung regency. Kuta, Legian and Seminyak are all within this area. Even the islands airport — the Ngurah Rai International Airport, which is often called Denpasar Airport, is actually in Badung and not in Denpasar.
If you are still stuck in figuring out where to stay in Bali, let's break down the tourist hotspots in Bali. We also added the top affordable hotels in each area, as rated by Agoda users.
---
WHAT'S COVERED IN THIS GUIDE?
Kuta
Best for: Budget travelers, backpackers, party animals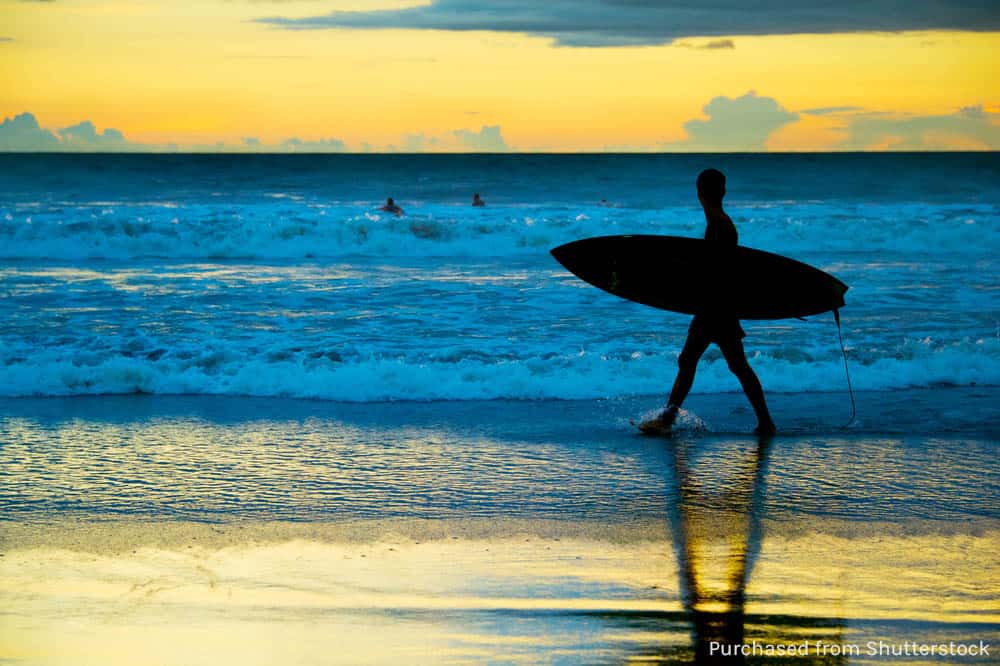 Kuta District in Badung Regency has the highest concentration of accommodations in Bali. Although there are high-end hotels here, the town is known for its budget- and backpacker-friendly accommodations.
Kuta is the most popular among visitors. There's a reason for that. The location is very convenient because it's along the main road and in the town center. You'll easily find almost everything that you might need here — ATMs, money exchange kiosks, banks, convenient stores, shopping places, restaurants and bars, tour agencies, and motorcycle rentals. It is also the home base of many tour agencies and operators. Many tour packages also start here.
Kuta is best known for its beach, where many surfers flock to ride the waves. This place put Bali on the map of international tourists. It is also famous — or infamous, depending on how you feel about it — for its vibrant, energetic nightlife.
It is important to also know that Kuta is crowded and very busy. If you're after some peace and quiet, Kuta is definitely NOT for you.
Top Hotels in Kuta
---
Seminyak
Best for: families, travelers with bigger budget, those who love all the good things Kuta has to offer but hates big crowds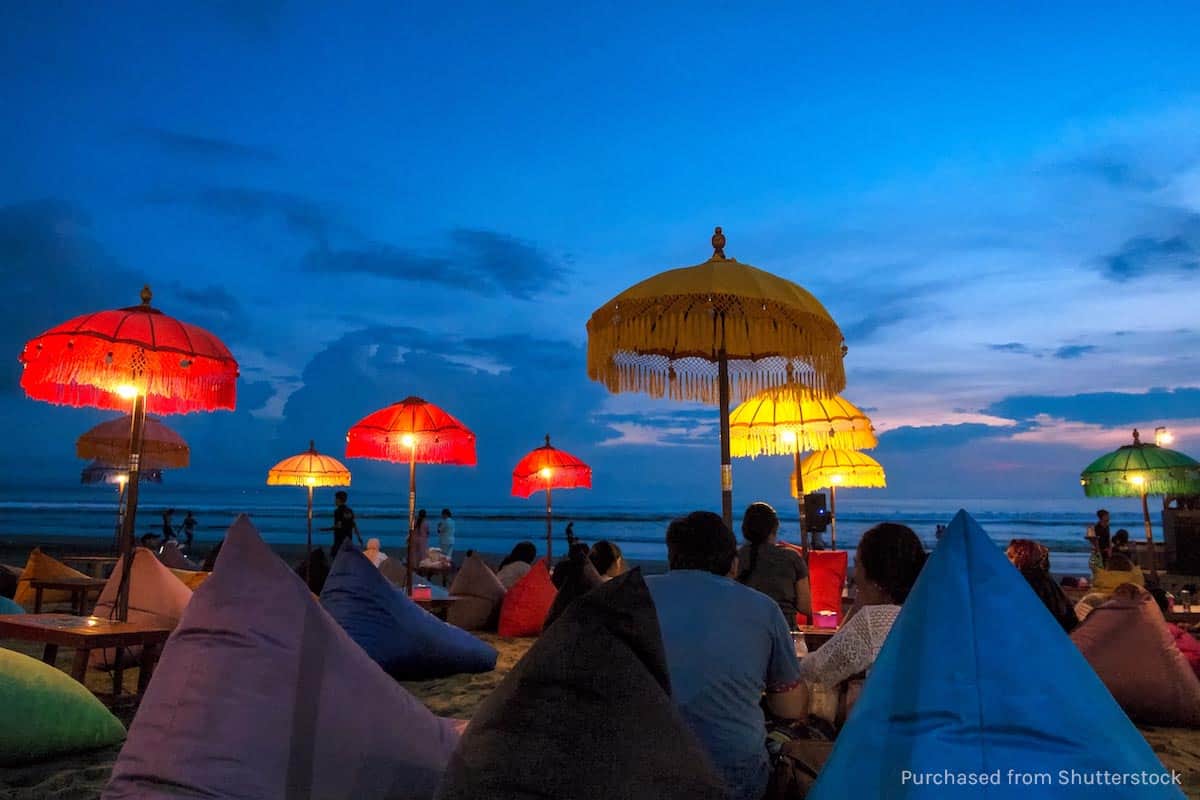 Seminyak is Kuta's less popular but classier stepsister to the north. When it comes to lodging options, think of it as the high-end version of Kuta. It is lined with plenty of luxury hotels, villas, and spa resorts. Many of them also cater to families and big groups. There are also several fine-dining restaurants, high-end shops, and chic bars, and trendy spots.
Like Kuta, it is a surfer's paradise. It's also located along the same coast, so they share the same view of the sunset. And it's also pretty accessible from the airport, albeit a little bit farther.
Top Hotels in Seminyak
---
Legian
Best for: travelers who want the best of both worlds (Kuta & Seminyak)
Situated between Kuta and Seminyak, Legian is a suburb that offers the best of both worlds. Locals joke that it is best for people who want to experience Kuta but don't want to stay there and who want to stay in Seminyak but can't afford it. But on a serious note, because both districts are accessible from Legian, it really offers a great balance. It's quieter and less busy than Kuta, but it's less expensive and chic than Seminyak. But it is quieter compared to the two.
Top Hotels in Legian
---
Sanur
Sanur was once the tourist hub in Bali. Together with Kuta, in the early days of Bali as a tourism juggernaut, Sanur underwent development ahead of the others. However, Sanur retained its tranquility despite the developments that happened there. While Kuta is sometimes called Sunset Beach, Sanur is often referred to as Sunrise Beach because it faces east.
Sanur is a good place to swim and relax by the beach and offers family-friendly accommodations.
Top Hotels in Sanur
---
Ubud
Best for: travelers seeking some peace of mind and cultural experience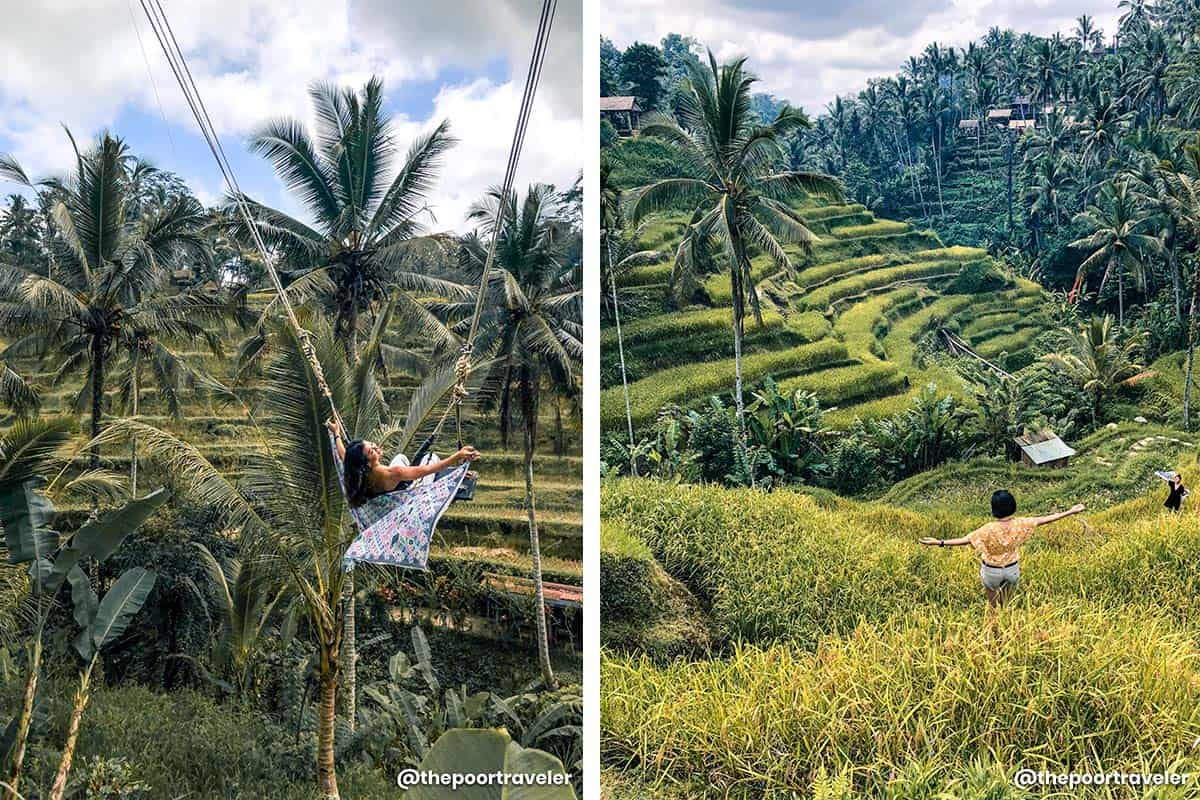 Ubud is the heart and soul of Bali. Although it has become busier as more tourists flood in over the years, it remains the island's cultural core. Most visit Ubud only on a day tour. But it has a lot to offer for those who want to immerse in the rural, spiritual side of the island. Staying here means you get easy access to breathtaking scenery, nature, temples, and the traditional Balinese way of life.
Top Hotels and Guesthouses in Ubud
---
Other Areas in Bali to Consider
Top Hotels in Canggu
Canggu is another resort village north of Seminyak. The surrounding rice paddies make for a scenic backdrop for traditional villages. It also caters to both small and big groups.
---
Top Hotels in Jimbaran
Located south of Ngurah Rai International Airport. It is also a small fishing village and beach town but with calm waters. It offers some peace and quiet to those who would like to escape from the hustle-and-bustle of the main tourist roads. This area is known for the seafood restaurants lining its coast.
---
Top Hotels in Uluwatu
These southernmost coastal towns are rising tourist hubs. Uluwatu accommodations range from budget to luxury, while Nusa Dua has a good number of five-star resorts.
---
Top Hotels in Nusa Dua
---
Top Hotels in Nusa Penida
If you are not really into nightlife and just want to escape to the islands, you can opt to book your accommodation in a hotel on one of the southeast islands. Nusa Penida, Nusa Lembongan, and Nusa Ceningan reward you with a serene and picturesque backdrop as you explore.
---
Top Hotels in Nusa Lembongan
---
Top Hotels in Nusa Ceningan
---
---
2️⃣0️⃣1️⃣9️⃣ • 1️⃣2️⃣ • 1️⃣4️⃣