It's easy to imagine Bali as a tiny tropical island. When it gets featured in the media, they usually show the same popular spots. But in reality, this Indonesian tourism is quite huge. The truth is, most of what we see on TV, movies and magazines are the busy areas in the southern nooks of the island.
The southern part of Bali — including Kuta Beach and Denpasar — is used to throngs of visitors. The bad news is, you can expect the roads to be congested during rush hours and peak seasons.
The good news is, it has established tourist facilities that helps travelers to navigate around. That said, as you move farther away from the touristy south, you will find it quite challenging to get around the rest of the island.
If you plan on seeing much of what Bali has to offer, here are your options.
---
WHAT'S COVERED IN THIS GUIDE?
Joining a Group Tour
Most tourists prefer to join group tours to get to famous attractions, which are grouped together. These tours are offered by hotels, travel agencies and tour operators. Here are some examples of tour packages offered, curated by Klook. You can book a tour ahead of time online through Klook.
If you decide to take this option, check the itinerary first and the inclusions before you book your slot.
---
Private Charter with Driver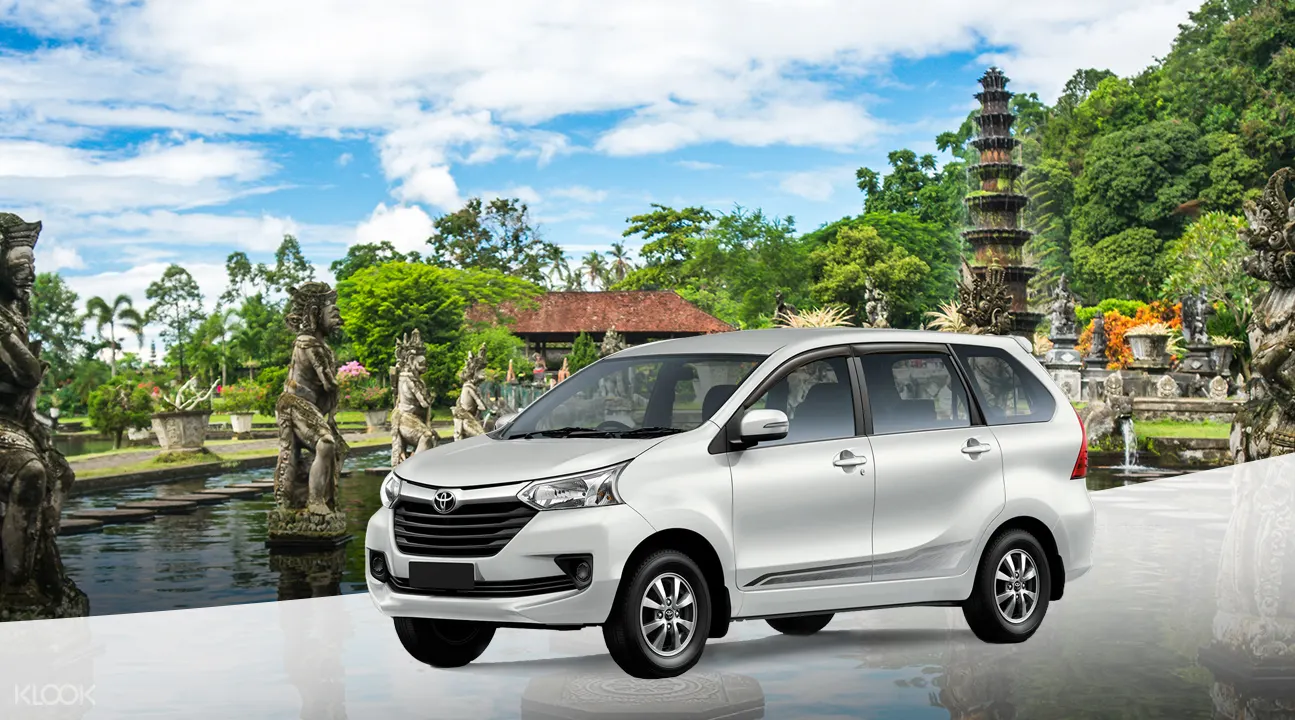 This is our recommended option if you're part of a group (with friends or family). This way, you have total control of your time and itinerary for 10 hours. This usually includes an English-speaking driver, gasoline, and driver meal. You just need to discuss it with your driver if your itinerary is feasible.
You can book your private charter online too. Klook offers several private car charter services. Some of them offer drivers speaking in other languages like Korean, Japanese, Chinese, etc.
✅ CHECK PACKAGE OPTIONS HERE
---
Tourist Shuttle Buses
Well, from the name itself, this option is more tourist-friendly than the regular public buses in Bali. These shuttles cover the main tourist destinations in Bali. Kura-Kura Bus and Perama Bus both are popular among tourists. Both serve big groups and individual travelers. Here are the contact details:
Perama Bus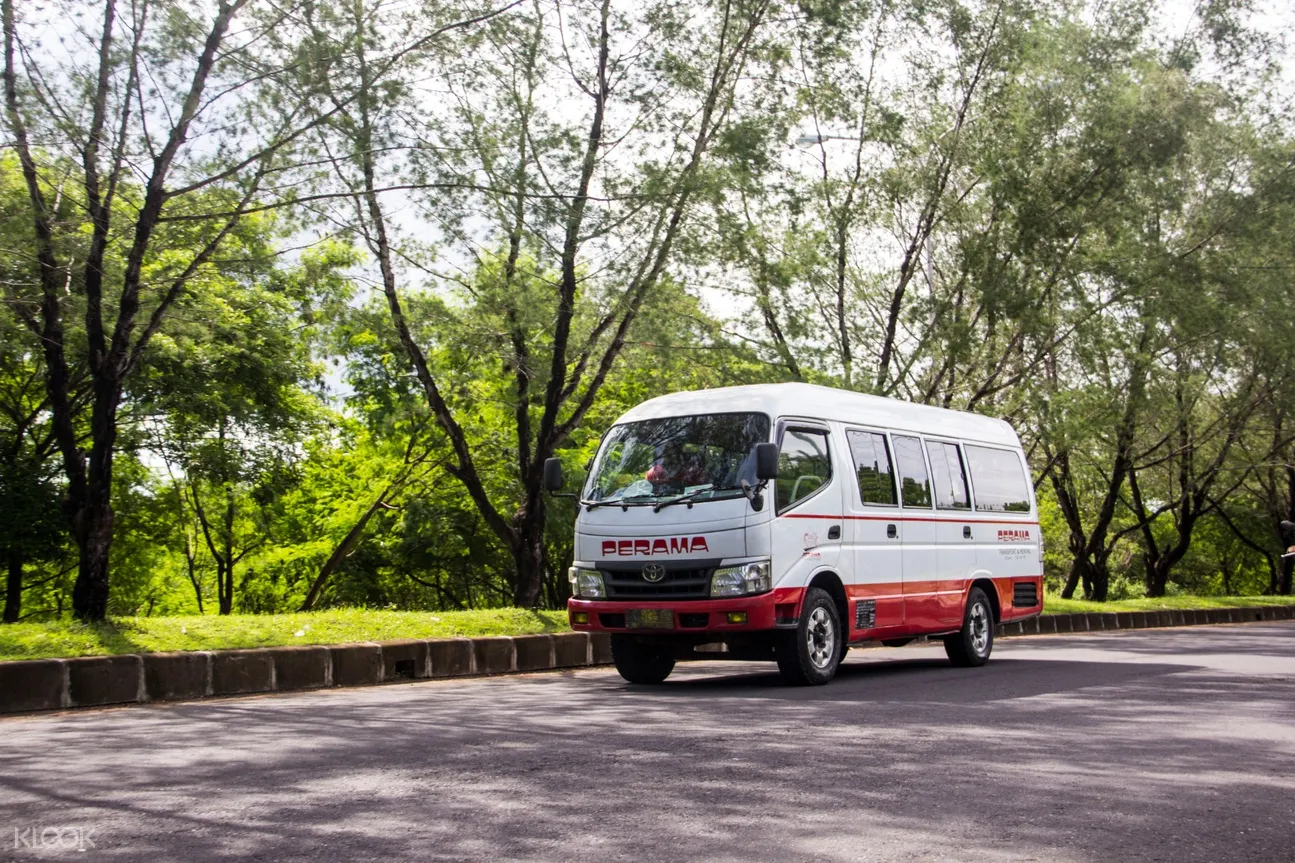 Website: www.peramatour.com
Facebook: Perama Tour & Travel
Head Office: (+62) 361 751875
You can also reserve a seat via Klook!
✅ RESERVE YOUR SLOT HERE
Kura-Kura Bus
Website: www.kura2bus.com
Facebook: Kura-Kura Bus
Head Office: (+62) 361 446 4749
You can get your Kura Kura Day Pass Ticket via Klook too!
✅ CHECK RATES HERE
---
Regular Bus
Trans Sarbagita is Bali's bus rapid system that serves mainly Denpasar and the southern Bali area. It has fixed routes but no fixed schedule. The fare is around IDR 3,500 (PHP13/USD.25/EUR.22).
Other regular buses normally cover long-distance routes. The fare depends on your destination. However, this is not recommended to take if you are pressed for time because you might spend time waiting for most, if not all, of the seats to be occupied.
---
Bemo or Angkot
These are local minivans. They are normally open and non-airconditioned. They look like vans but they work like the Philippine jeepneys. This mode is not usually favored by tourists. If you don't mind the hot humid weather and have no problem with tight spaces, you can be adventurous and travel like a local with this mode of transportation.
---
Taxi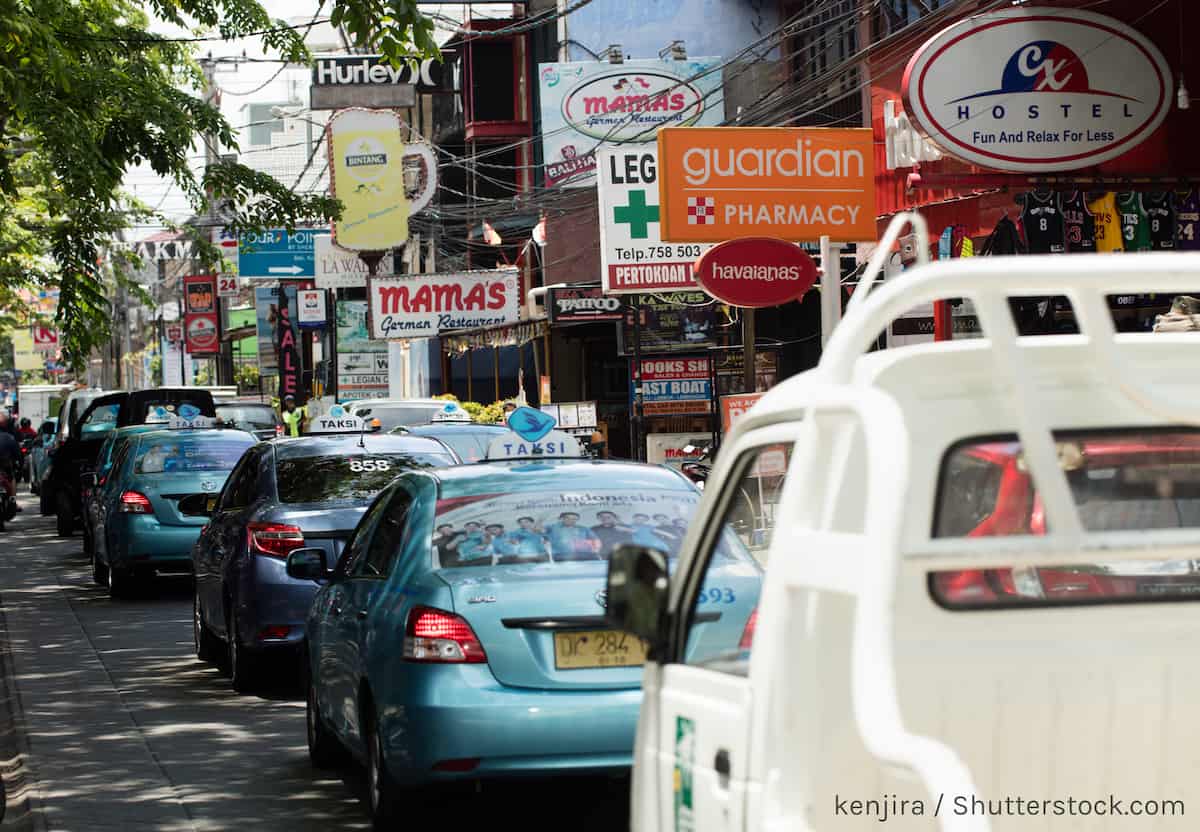 For short-distance travel, tourists hop on a cab. Taxis are relatively cheap in Bali compared to other countries. The meter starts at IDR 7,000 (PHP25/USD.50/EUR.45) and IDR 6,500 (PHP24/USD.46/EUR.42) per succeeding kilometer. As a rule of thumb, always insist on using the meter. If it's peak season or if you are coming from (or going to) remote places, negotiate with the driver. Only get in the taxi AFTER both agreed on an amount.
The Bluebird Taxi company is the most recommended.
---
Grab or GoJek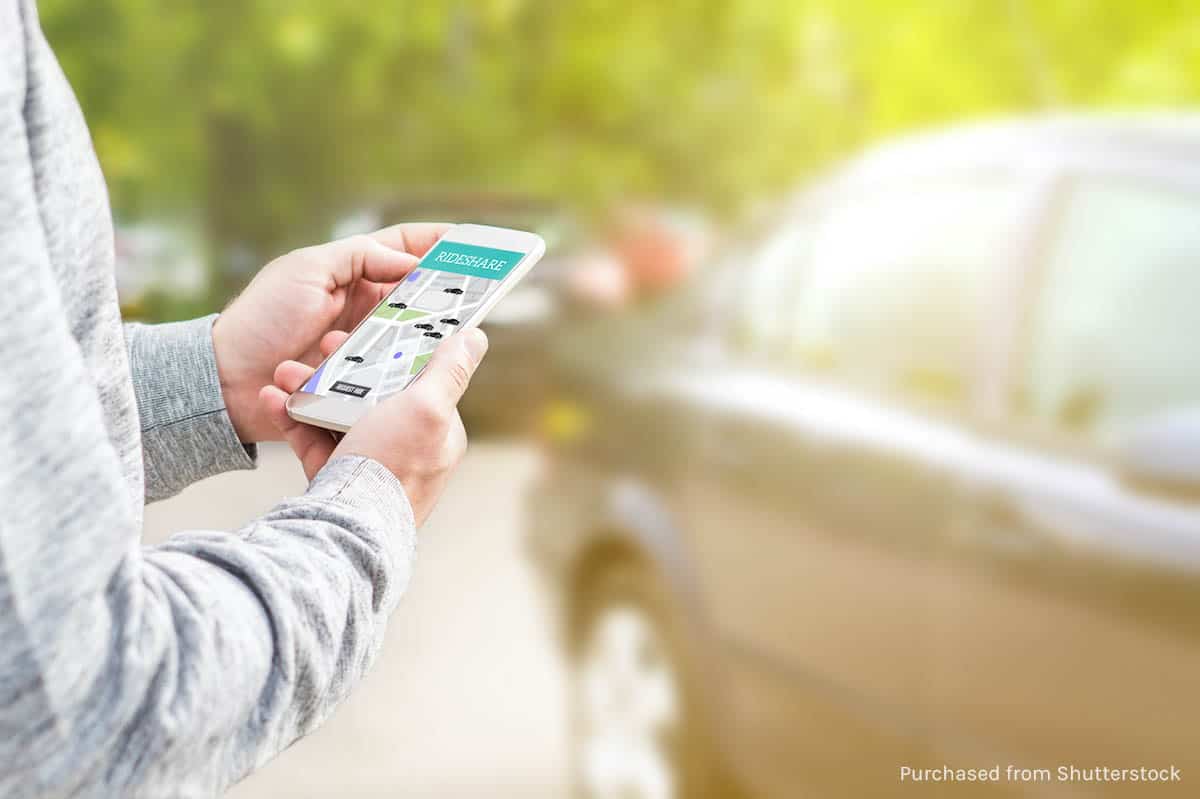 This should be a very convenient option especially if you're used to using a ride-hailing app in other countries. But it's a bit tricky to use them in Bali. There are certain streets that don't allow these vehicles to pass and certain hotels that discourage their guests from hailing a ride using the app.
For example, ride-sharing vehicles are not allowed to operate in Ubud.
---
Motorcycle or Car Rental
Some travelers who like to be in total control of their time and itinerary opt to rent a car or a motorcycle. Renting a car is not a popular choice and not really recommended for tourists because booking a private car with a professional driver is usually cheaper and more convenient.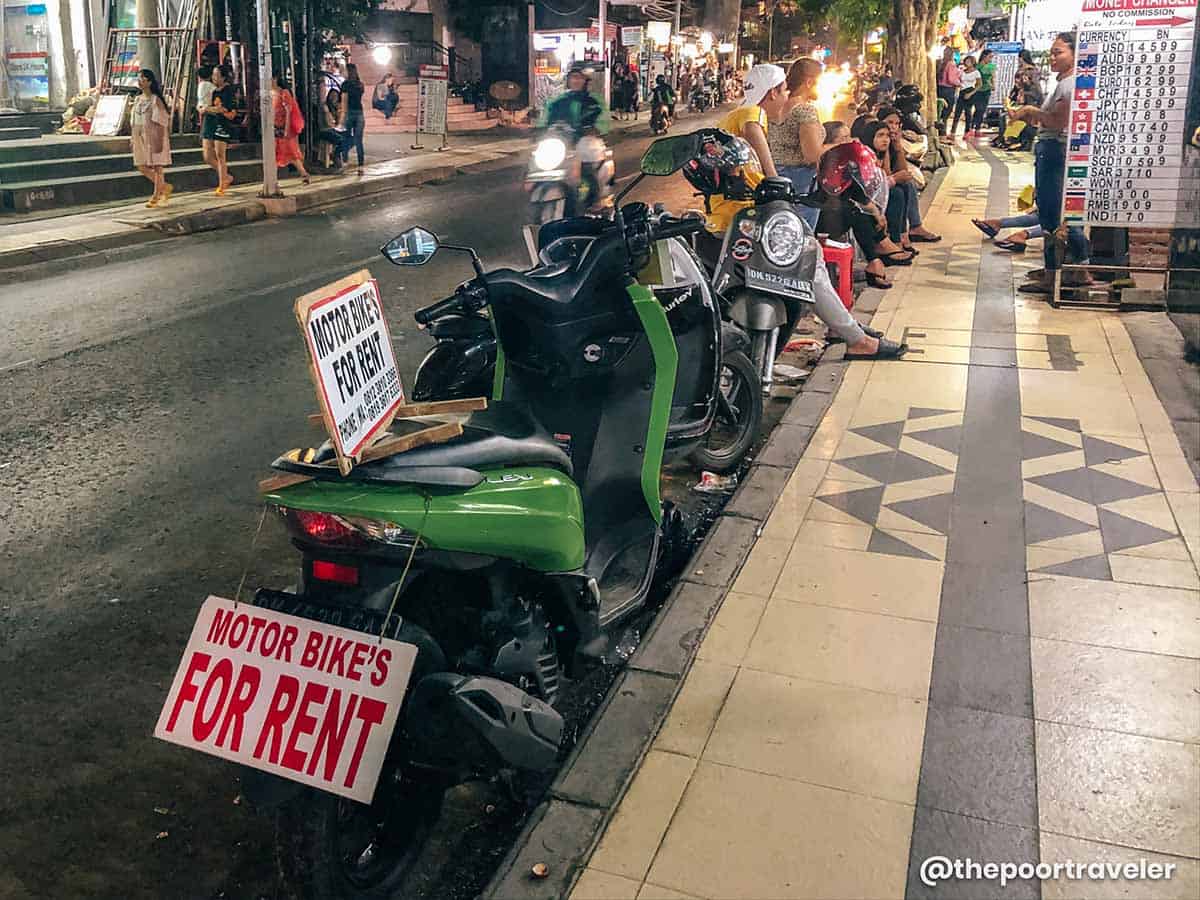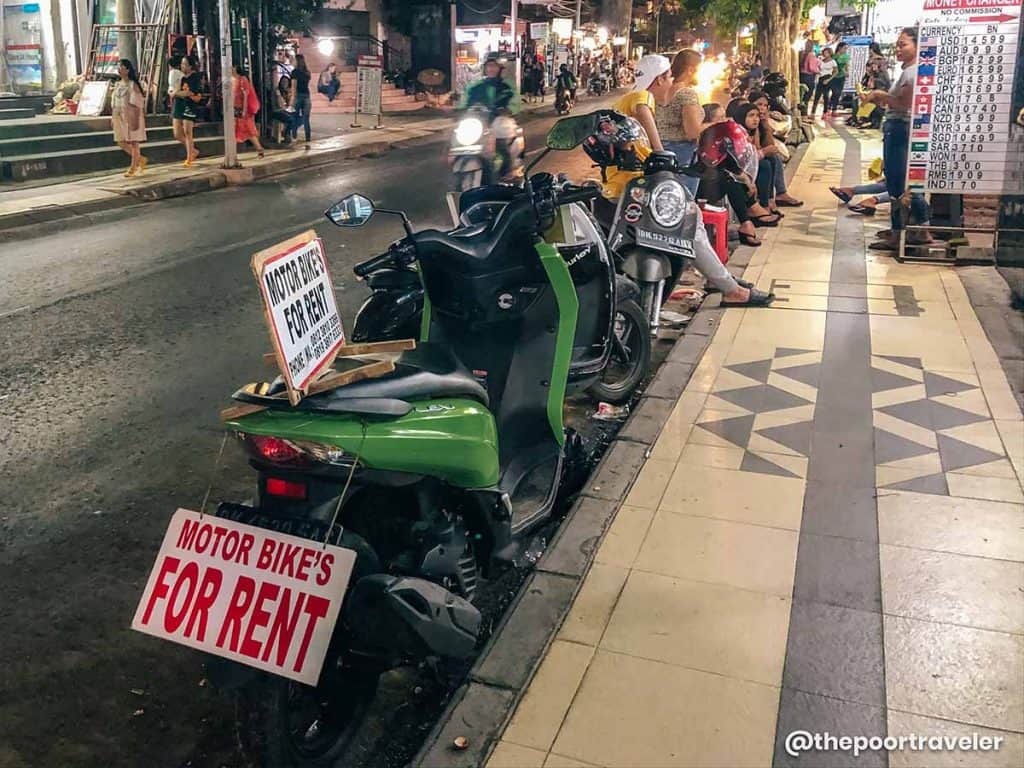 A motorcycle is the main mode of transportation used by both locals and tourists. I've noticed the streets of Kuta lined with lots of motorcycles. The tourist hubs are also bombarded by lots of motorcycle-for-rent ads/signboards. The rental rates range from IDR 70,000 (PHP250/USD5/EUR4.5) to IDR 150,000 (PHP540/USD11/EUR10) per day, depending on the type of motorcycle.
Reminders!

If you really want to rent a motorcycle or car, you:

Need to secure a special driver's license or international driver's license before you can drive around Bali on your own.
Must be aware that policemen do regular checks, especially for tourists driving motorcycles and cars. And they charge fines of IDR 140,000-425,000 (PHP500-1,500/USD10-30/EUR9-27) for violating traffic rules and regulations.
Must wear a helmet with a strap.
Must honk to let the other drivers know your presence or when overtaking.
Must wear proper footwear. Closed shoes as much as possible.
Should purchase travel insurance.
---
Top Budget Hotels in Bali
---
2️⃣0️⃣1️⃣9️⃣ • 1️⃣2️⃣ • 1️⃣8️⃣