There was a bonfire in the far end of the Jungle Bar, where guests were gathered around. Selina, a British lady I met on the road, pulled a chair, invited me to sit beside her, and introduced me to the rest of the group. The bonfire was providing the warmth on that chilly evening, but a different fire sparked within me as our conversations went on. For the first time ever, I was able to break out of my bashful bubble and make friends with other travelers on my own.
That alone sealed Kang Travelers Lodge's position on my Most Memorable Hostels list. Before this, I had never traveled alone and never made an effort to befriend other travelers. But the hostel fostered an atmosphere that facilitated creations of new bonds between guests. That bonfire was just one of the many things that made it possible. The bar that cradled it was another. And there were many others.
Location. Also known as Daniel's Lodge, Kang Travelers Lodge sits hidden on the quieter side of Tanah Rata Town Center. While most hotels and hostels are located just along the main road, Kang is a five-minute walk away from it. This ideal location adds to the charm of the hostel. It looks isolated, but it isn't. It's "far" enough to give guests some peace and quiet but close enough to make all the other establishments easily accessible from here. By the mouth of the alley leading to the hotel are a series of restaurants and a convenience store. The bus terminal is also just around the corner.
Not to be confused with Kang Travelers Hotel, which is located along Jalan Besar, the main road of Tanah Rata. (Same owner, though.)
Cost. We paid USD 11 per bed. And at that rate, we were very luxurious compared to the other guests. We booked a Private Double Room with en suite bathroom for USD 22 per night. Rates might have changed since then, but I'm pretty sure it's still affordable.
Room. The room assigned to us has 1 single bed and a double deck, which makes the room good for 3 people. (But we only paid for 2.) The size of the room was just right; it wasn't spacious but it did not feel cramped either. The bathroom was bigger than I expected. The only comment that I can think of is that in my room there wasn't a safe or locker that I can put my valuables in. They say there's a luggage area but I never got to use it. Nevertheless, the room was clean and the beds comfortable.
Common areas. A restaurant fronts the hotel, but I never saw anyone order anything other than drinks. To many guests, it was a great place to read books, work on their laptops, smoke, or meet other guests. A whiteboard, hanging by the entrance, caught my attention. It had F*CK LONELY PLANET written in bold letters on it. I don't know the backstory but it seemed to me that it wasn't getting stellar reviews at the travel site. Positive testimonials written by actual guests supported the angry declaration. I, too, found the lodge very delightful. I have no complaints.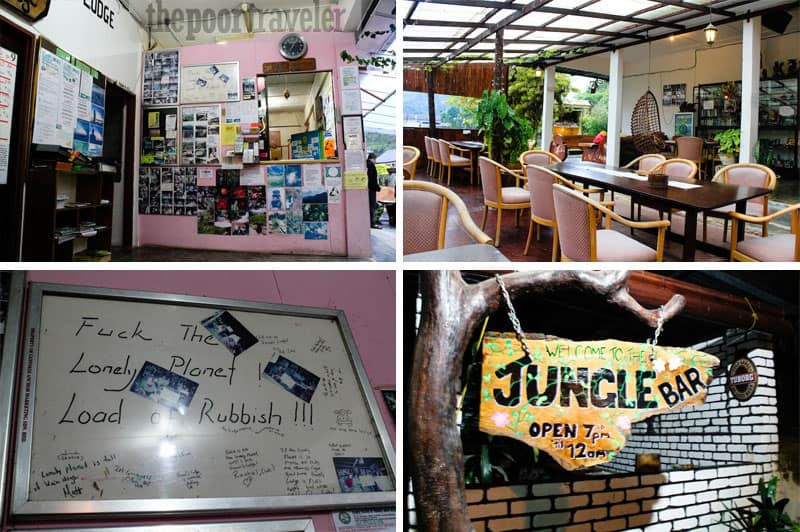 The Jungle Bar. Just beside the hostel is the Jungle Bar, where guests can chill and have a drink or two at night. They offer cheap beers (although still expensive in Pinoy standards) and another opportunity for travelers to make friends. I was reading a Haruki Murakami book when Selina, a British traveler I met in Langkawi, "dragged" me to the bar. "Stop being so shy," she ordered. "Come on, I'll introduce you to everyone." Three bottles of beer later, I was a non-stop talker! I was sharing stories with the others.
Service. The staff, especially those assigned at the reception, were friendly. They were easy to talk to and were very generous with tips and other information. One of them was even concerned about me not talking to anyone else but my companion. She was encouraging me to make friends with other guests after telling her that I had always been very shy. It was also funny how every time I would drop by the reception since then, she would ask me if I had befriended anyone yet. For the first two days, the answer was always negative.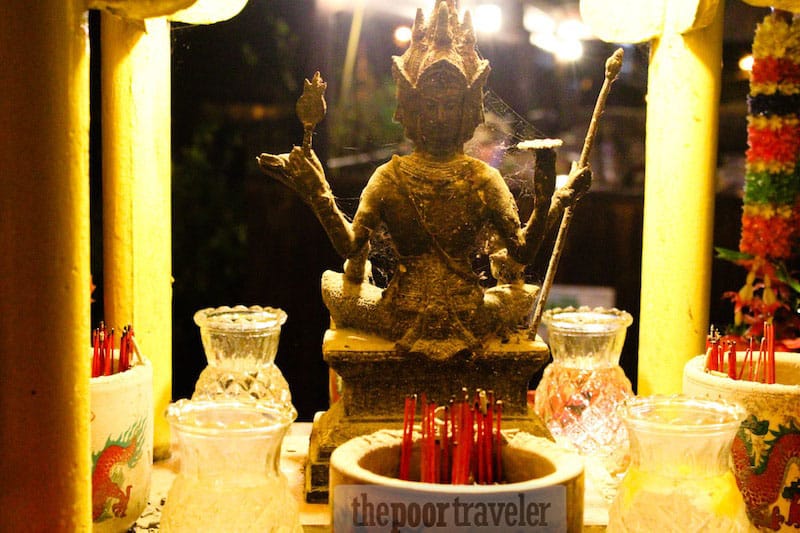 On my last morning in Cameron Highlands, she asked me yet again as I was checking out.
"Yes," I replied. "Finally."
"Don't worry. It's the start," she assured me. "As you go along, you'll be more and more comfortable. You'll meet more friends on the road."
And she was right.
Kang Travellers Lodge
No.9, Lorong Perdah, 39000 Tanah Rata, Cameron Highlands, Pahang, Malaysia
Email: danielslodge@hotmail.com
More Tips on YouTube ⬇️⬇️⬇️