I had never been on a cruise ship before. I'm not even sure if I had seen one before. I had been on a ferry a number of times but many of them were short trips. I had spent a couple of days on a ferry once, when I was young, to General Santos City but there was nothing remotely luxurious about the trip. We did not even have a private cabin and there was nothing I could do but watch the horizon. A cruise ship complete with entertainment facilities and buffet dining? Nah, never experienced it before. It was also my first time in Malaysia. That's why this trip is so special for me. It gave me many first times. I was beyond thrilled.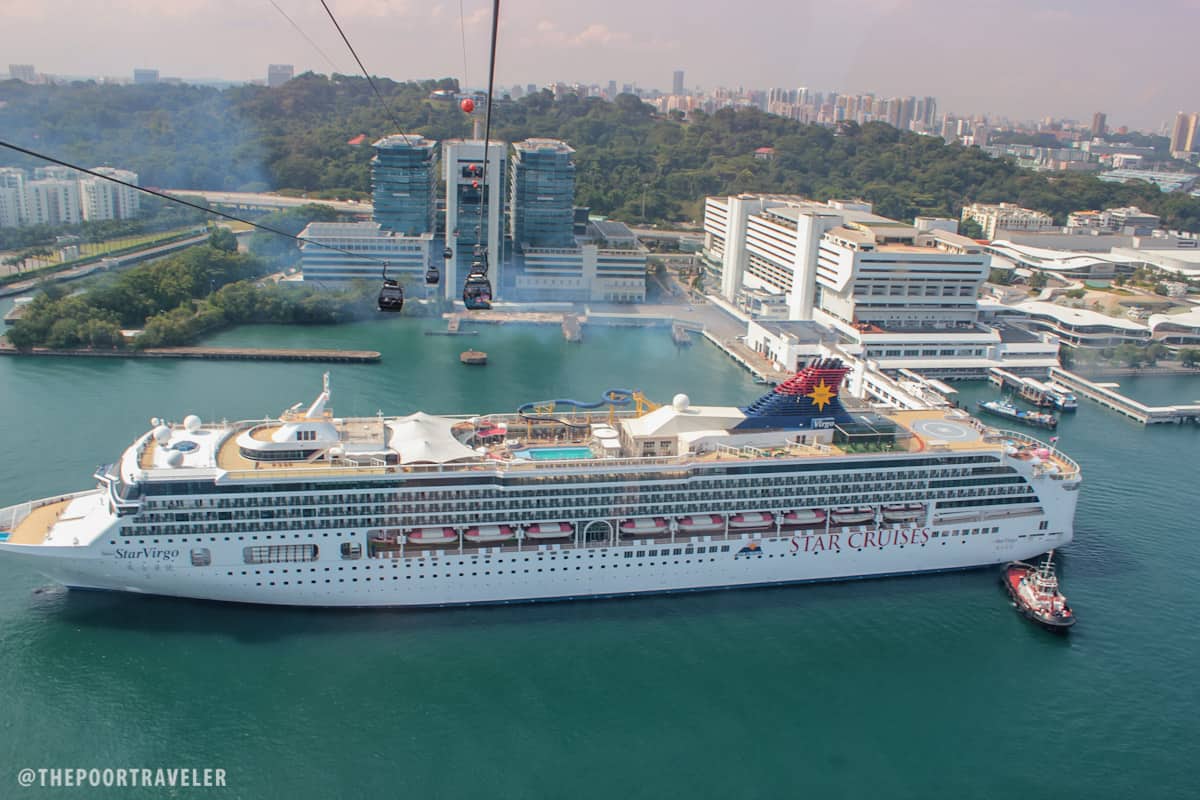 WHAT'S COVERED IN THIS GUIDE?
Boarding the Cruise Ship
When the clock hit 4pm, we all gathered at the HarbourFront Centre. While some bloggers had just completed hours of shopping at VivoCity, Winston and I came from a brief visit to Books Kinokinuya in Orchard Road. We arrived just in time to check in our baggage.
After giving us our baggage claim stubs, we proceeded upstairs to line up for boarding. It was a long queue. Thanks to my iPod and blogger friends, I was saved from boredom. When we reached the end of the queue, we approached the Immigration Counters and our passports were stamped. (Yass! Another stamp!)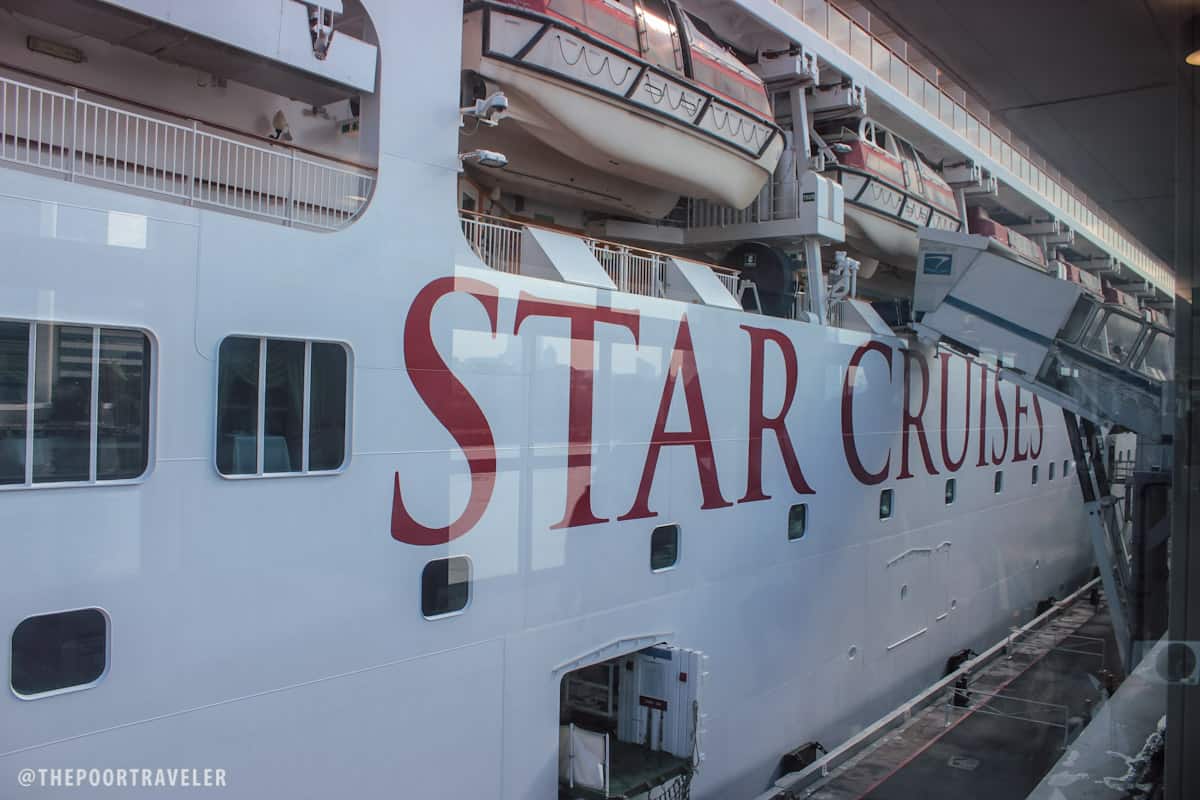 Afterwards, we walked all the way to the ship's entrance. We had a few photo-ops with Star Cruises' mascot's along the way. Before stepping into the ship, our passports were collected. We would not see our passports in the next couple of days.
The Cruise Card
I call it "the Cruise Card" but I don't know what it is called really. It serves as your ID and passport while on the ship. It looks like your ordinary credit card and it acts like it, too. On the cruise, we didn't have to whip out cash. All we needed to do was flash this card and we were good. Everything we would buy or pay for would be charged to this card, to be settled before leaving the ship. Thankfully, everything we needed was included in the Airphil Express package so I did not spend anything on the cruise.
The Cabin: Compact but Clever
The room assigned to us was an Ocean View Stateroom on the 5th level. As the name suggests, it has a window and provides a view of the outside. The outside being the ocean most of the time. LOL.
There were four of us sharing the room. The moment I entered the room, I wondered how four people could fit as there were only 2 single beds. It was such a relief when we discovered that there was a pull-over bed on one side of the room and that the sofa sitting in one corner could magically transform into a bed. It was very, very clever! The room was arranged in such a way that could accommodate up to 4 people comfortably even within the limited space.
One of the first things that I did when I entered our cabin was check the restrom. It was fantastic. Like the room, it was compact but set up in a smart way. The sink was at the center and the first to greet the user. To the left was the toilet which makes this scarily loud flush. It was like a really loud gulp and I felt like I'd be taken to another dimension via the toilet in an instant. (I have a vivid and quite ridiculous imagination.) And to the right was the bathroom equipped with hot/cold shower.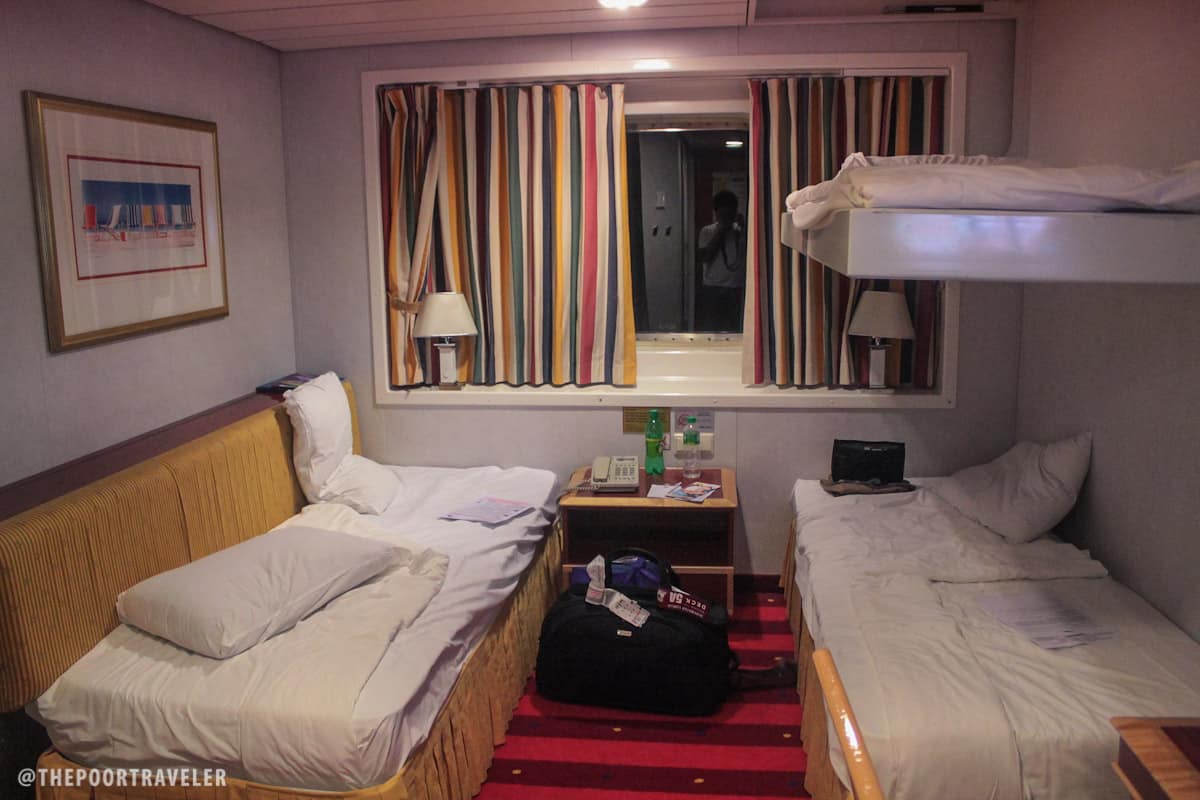 Oh, by the way, there was cable TV with several channels although none of us in the room were interested to use it. All of us were RARELY in the room. We were just there to sleep because there was so much — SO MUCH — that we could do outside. But there were 10 channels or so including HBO. Nice.
The only problem I encountered was that there were only a couple of outlets and there were four of us sharing a room. All of us had phones, cameras and iPods. We had to take turns.
The Amenities
What blew us away was the number of amenities inside the ship. It's a floating hotel! A StarCruises officer offered to give us a tour of the ship and show us around to take a look at the facilities on board.
The Grand Piazza. After freshening up, we left the room and took the elevator to the Grand Piazza on the 7th floor. The Grand Piazza is the ship's main lobby where events are held and where the main reception desk is located. The main reception desk is like the Passenger Central coz this is where you avail of the several tours they offer, where they can help you with your concerns, and where you check out.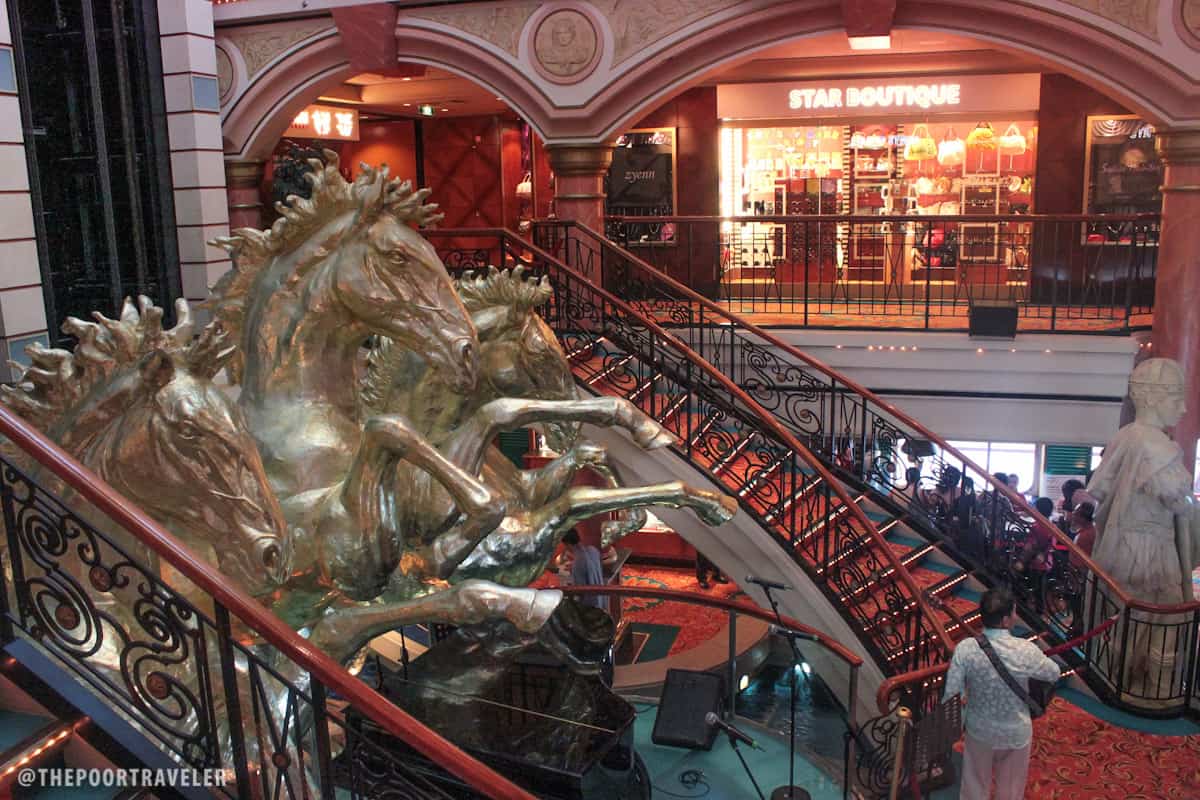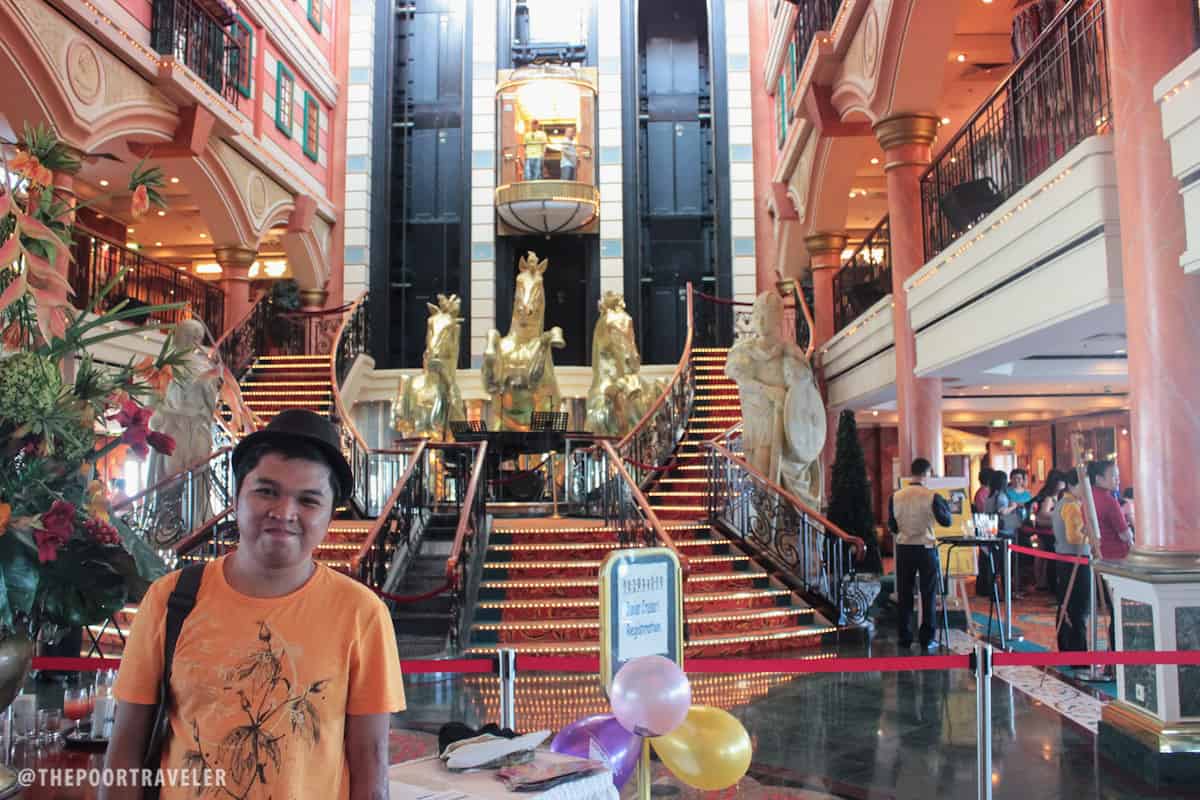 On the other side of the piazza was a stage with a statue of three horses. Around the piazza were several establishments — restaurants, shops, and more. On our second night on the ship, the pre-pageant for Miss Resorts World Manila was held at the Grand Piazza.
 The Parthenon Pool. On the topmost level lies an outdoor swimming pool called the Parthenon Pool. This was where we would go whenever we felt bored and wanted to take a good look of the islands. Aside from the fact that it's very near the Mediterranean Buffet (which I loved so much but that's for another post), it also offers an amazing view of the ship and from the ship. There were also jacuzzi units here but we never tried using them.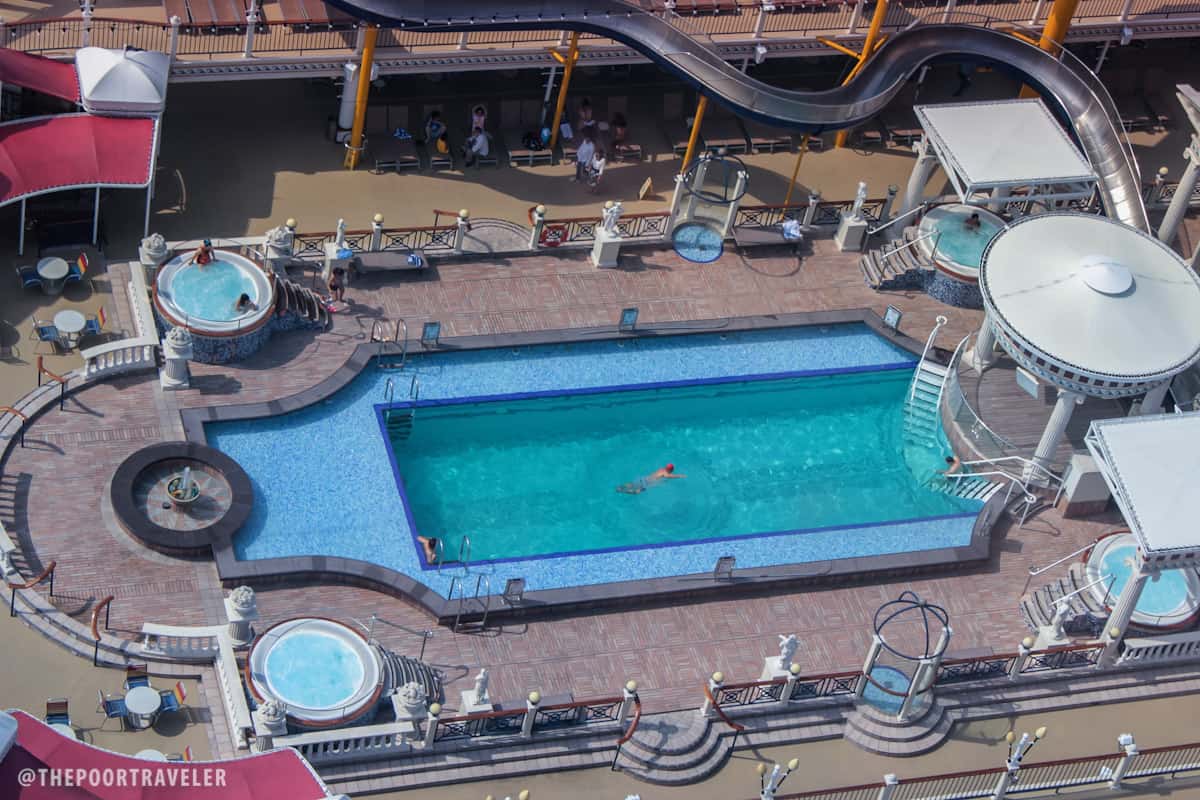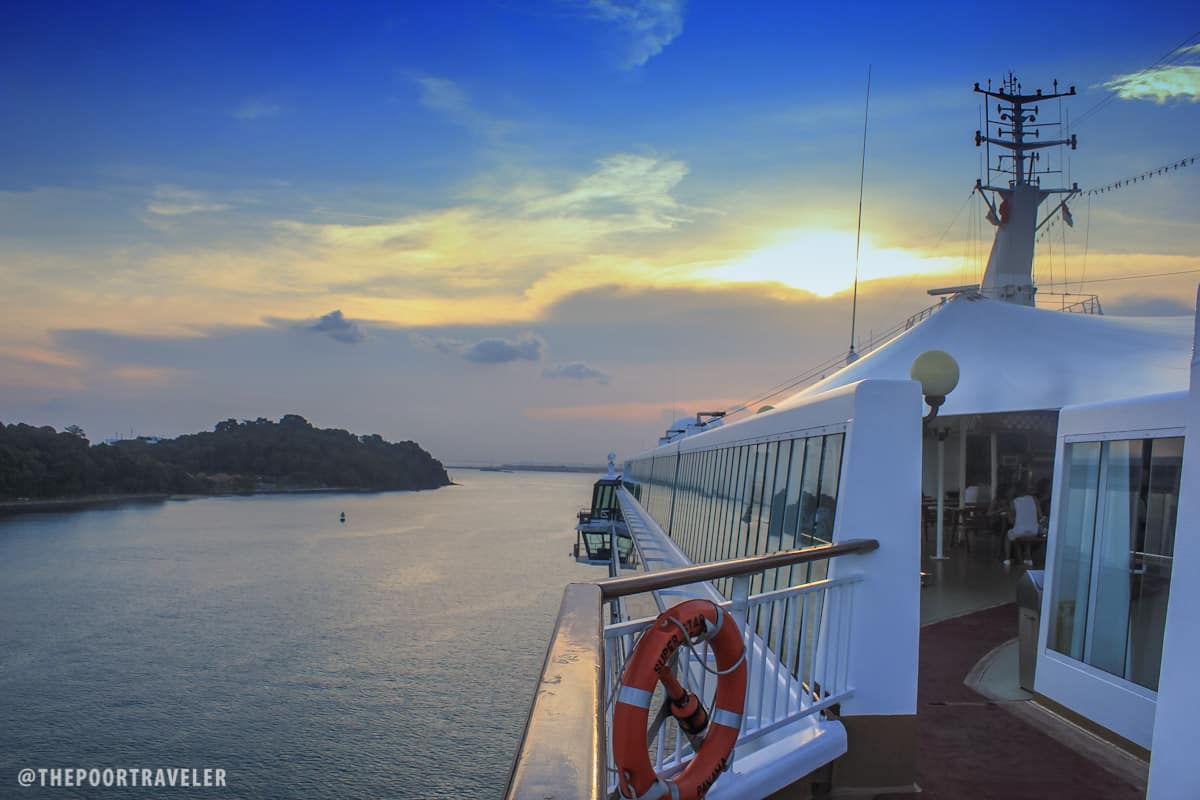 On our first night, there was Barbeque Buffet and it was a fantastic experience. There was also a bar on the upper deck of the area.
The Universal Gym and Health Club. This surprised me. I didn't think there'd be a gym on board. Although I never had the intention to use it, I still think that it was a good feature. In fact, some of our companions used it on our first morning on board. They also have Aquaswim here, which is a jet current exercise pool.
The Library. Another thing I didn't expect to see inside a cruise ship. I was expecting casinos and theaters and a ton of restaurants but NOT a library. But I super liked the idea! They even had chairs by the window. Staying here was very relaxing and it was an oasis amidst the very busy activities outside. They have wi-fi here but I didn't catch the rates.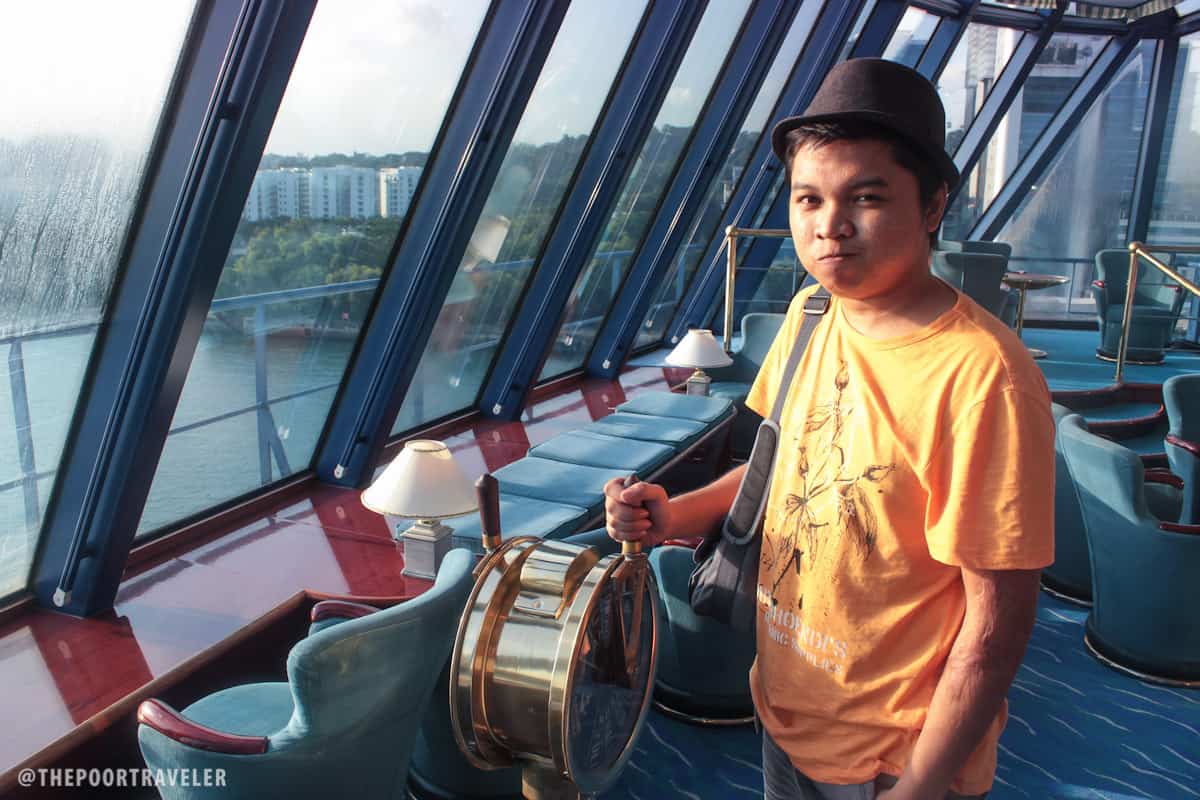 Other Facilities. There so many other amenities that this ship offers. They even have a Mahjong Room! They have salons, computer centers, video arcade, child care center, and many others. On my next post, I will discuss the food and entertainment on board. The ship also houses all sorts of restaurants offering international cuisines! They also have a theater.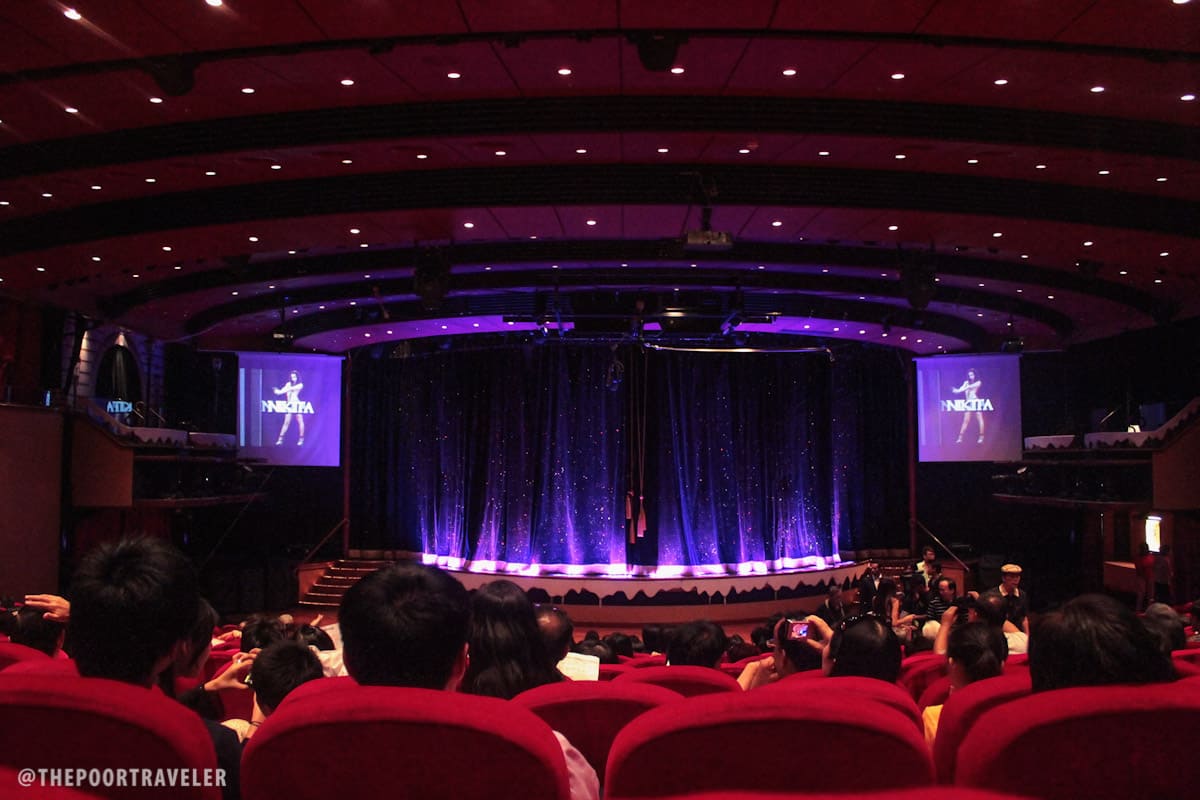 Dining
Eating. Probably my favorite activity in the world. And it's even more enjoyable on cruise! On board the SuperStar Virgo from Singapore to Port Klang, Malaysia, I found myself eating most of the time! To hell with my tummy, I would indulge in the many gastronomic delights aboard this lovely cruise ship!
SuperStar Virgo houses several restaurants serving a variety of international cuisines. From fine dining to buffet restos, you'll find something that caters to your taste. The Airphil Express Fly and Sail package comes with free meals from three restaurants — Bella Vista (international), Mediterranean Buffet (halal certified), and The Pavilion (Chinese). This means that you won't be charged if you eat at any of these three restaurants.
It was Barbeque Night on our first night on the cruise and they set up a barbeque buffet by the pool! Awesome! Perfect for gluttons like me! Among the many dishes were grilled beef, squid, and sausages, and steamed corn among others. Dessert and soup were also overflowing; it was indeed a pig-out moment for me. LOL. For a moment, I declared that day (and the next 2 days) my cheat days from my non-existent weight-loss diet.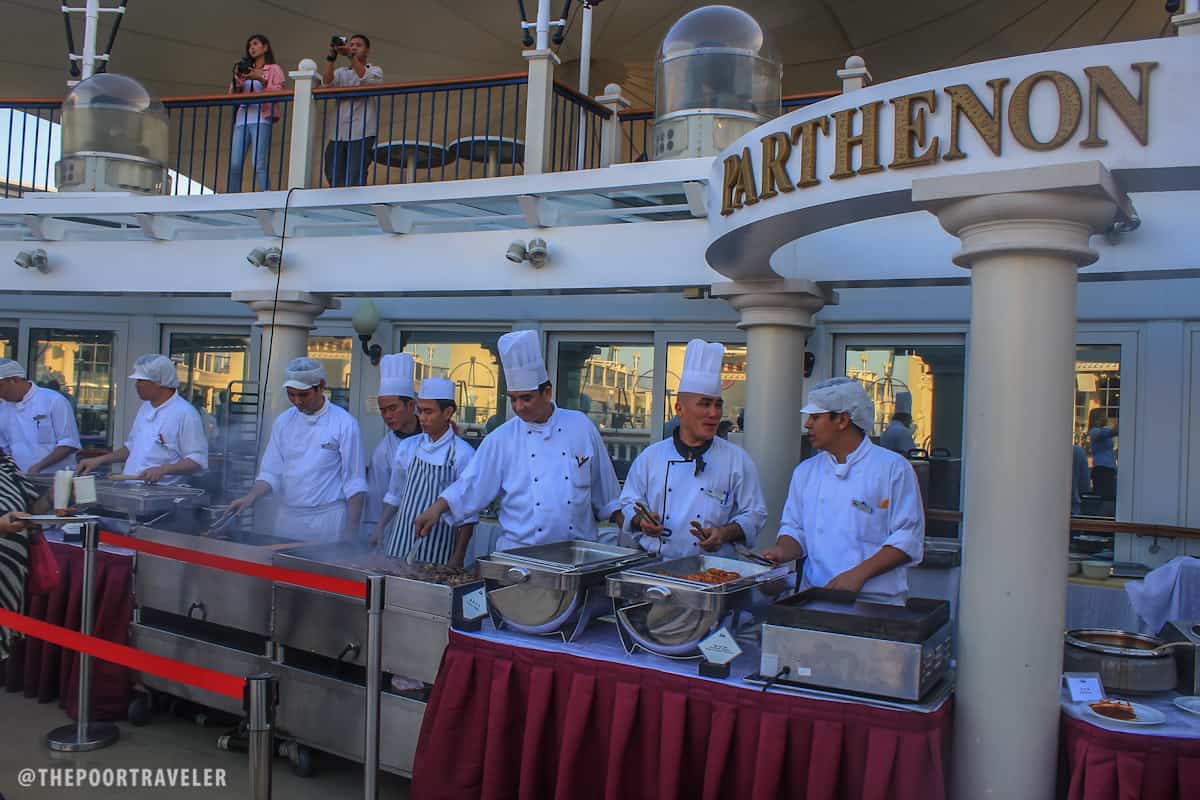 When we arrived from the tour the next day, we headed to the Bella Vista for dinner. There was a dress code (smart casual/semi-formal). They served a five-course dinner, which was part of the package. Here are some snapshots of what I had for dinner that night!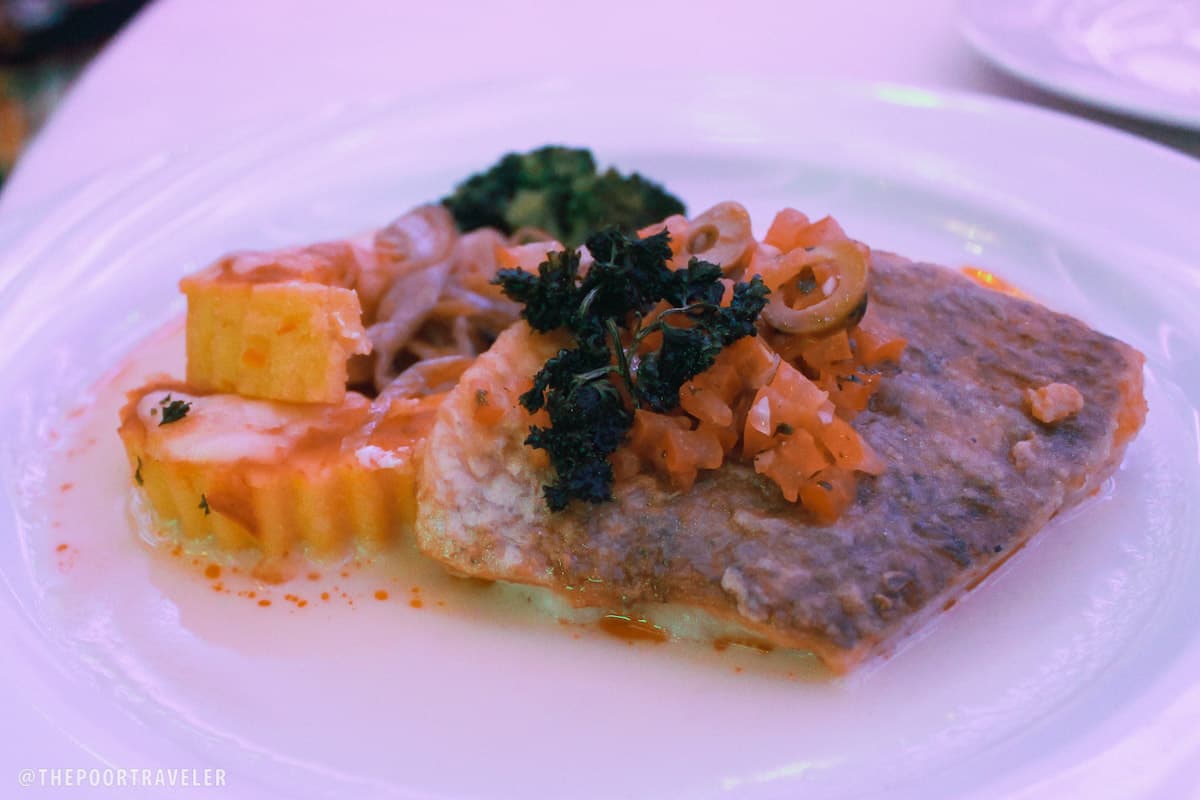 Aside from the Mediterranean Buffet and Terrace, the Pavilion, and Bella Vista, here's a list of the other restaurants on board.
Noble House (Chinese cuisine, fine dining)
The Taj (Indian buffet – halal)
Samurai Restaurant (Japanese food)
Blue Lagoon (Southeast Asian food)
Palazzo (Italian fusion restaurant)
The Taverna (Snack bar)
Bellini (Liquor bar)
Café Gelato (desserts!)
I can't say anything about them coz I wasn't able to try what they had to offer.
There was a beauty pageant happening at the Grand Piazza — Miss Resorts World Manila. But since we weren't into pageants, Hannah, Winston, Marcos and I chose to return to the Lido Theater for another free show. This time, it was a magic-slash-comedy-slash-magic show. It was cool. Especially when Philipart, the magician-slash-comedian-slash-singer-slash-host was allowed us to have a short photo-op with him. :D
After the show, we returned to Mediterranean Buffet for supper (midnight snack). Again, the meal was part of the package so we weren't charged extra for this.
Posted: 2011 • 9 • 18