2011 • 10 • 10
Quarter-life crisis. I guess it's starting to kick in. Almost every night since my 25th birthday I would just lie in my bed at night and think about my childhood. When I close my eyes, I try to relive the days when I would just spread my arms wide open and pretend to fly. I try to remember the day when I first rode a bicycle. I try to imagine climbing a nearby hill just so I could see the beach and feel the wind on my face. Many times I would even dream about it. Unfortunately, unless time travel becomes a reality, all I can do is remember.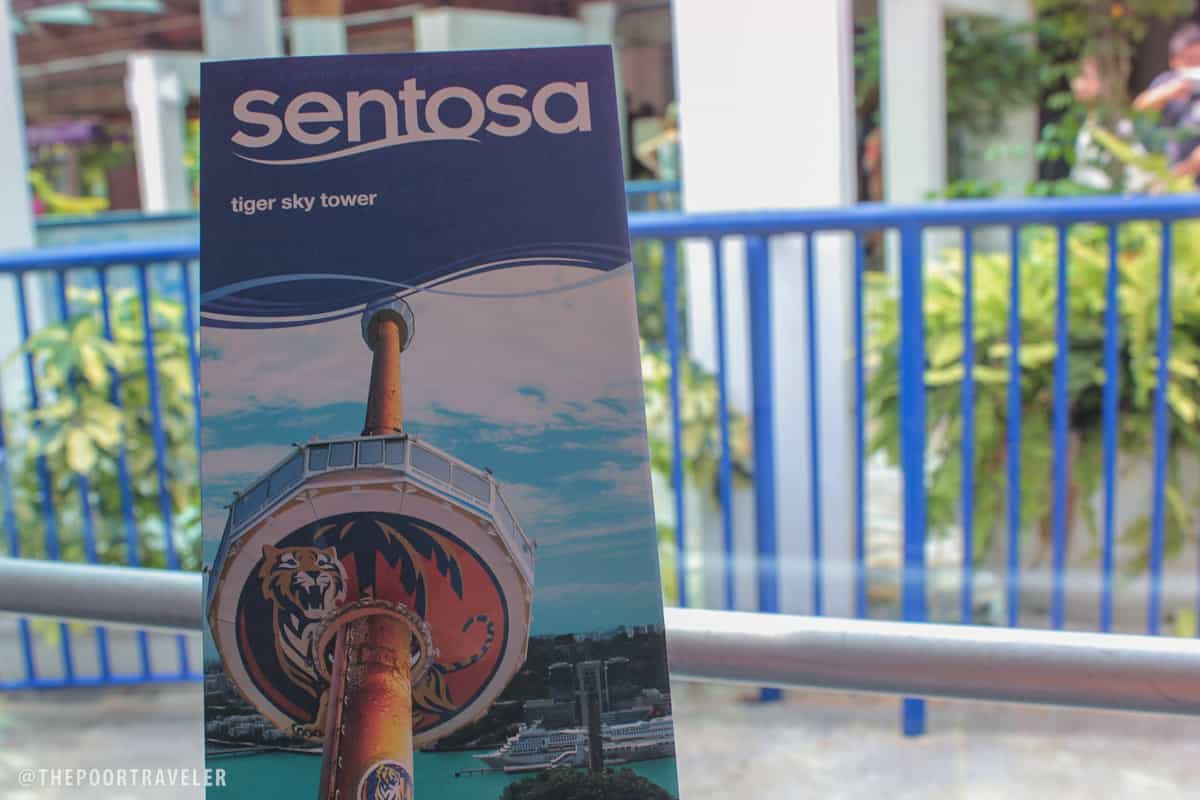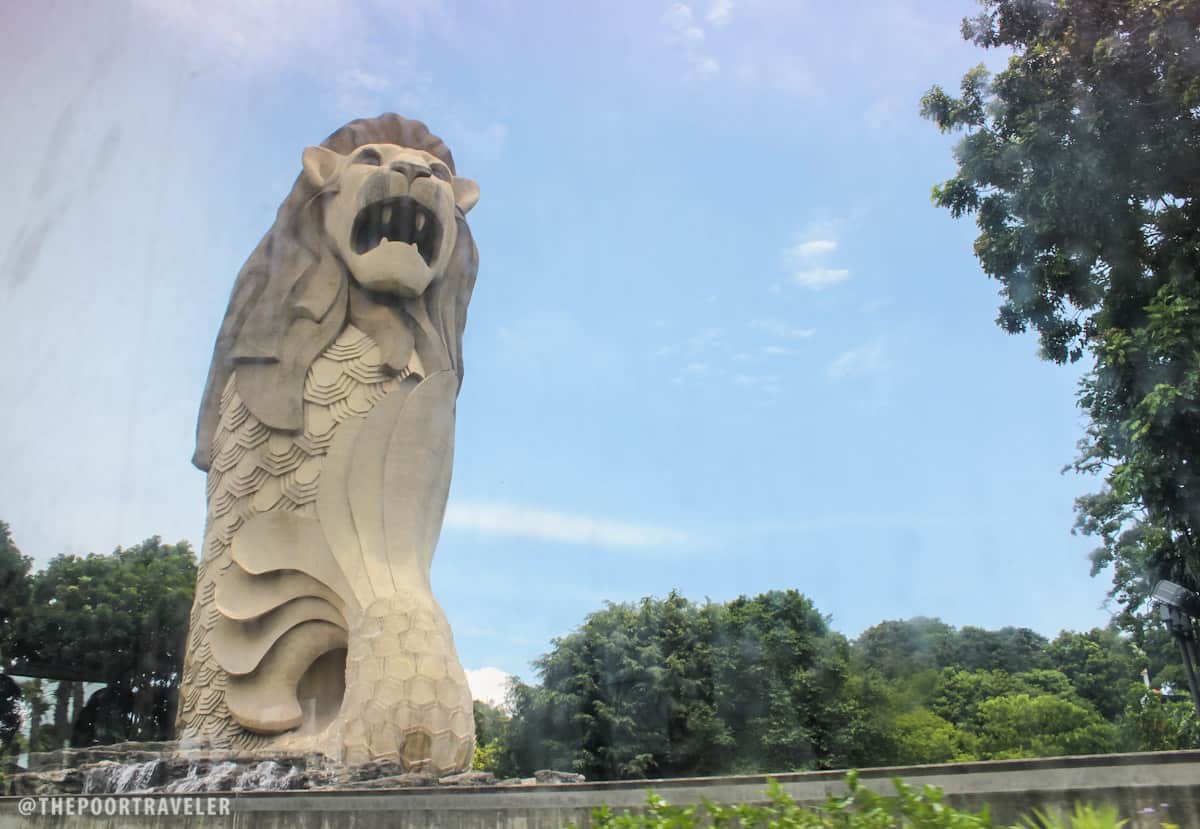 I have always considered Singapore to be a very modern and futuristic city. I had never been to any place in Singapore where I could not see or hear a nearby construction. Development is unrelenting. But it is in this city where I had an opportunity to relive my lost childhood.
It was Day 4 of our Singapore-Malaysia cruise. Our cruise ship, the Superstar Virgo, docked in Singapore that morning. It wasn't long until we found ourselves stepping on Singapore soil again. It was sad to bid goodbye to the ship but we were optimistic that there were still so much in store for us on the last day of this four-day trip.
Our tour bus driver was already waiting for us when we emerged from the Harbourfront Centre. In no time, we were crossing over to Sentosa Island.
WHAT'S COVERED IN THIS GUIDE?
Tastes of Asia
Our first stop was a restaurant called Tastes of Asia. Perfect, I thought. I was really starving that time and I my tummy was making weird sounds already. We shared the table with the hospitable ladies running the island. They were very accommodating and I loved how curious and eager they were about the blogging and social media culture in the Philippines.
A few minutes later and samosas, appetizers, were served. The main course was a choice between spaghetti, Hainanese chicken, and laksa. I ordered Hainanese chicken because I was really hungry and there was a hole in my stomach that only rice could fill that time. I loved how tender the chicken was. So far, I had not tasted any Hainanese chicken in Singapore that did not deliver.
My blogging partner was kind enough to give me some laksa because the serving was pretty huge. IT WAS PHENOMENAL. I loved, loved, loved it. I started kicking myself in the rear from that moment. I should have ordered laksa.
GoGreen Segway Eco Adventure
After lunch, we headed straight to Segway Eco Adventure, which offers a ride on one of their personal mobile transporters. Visitors may use these transporters to explore Palawan and Siloso beaches. But since we were all beginners, we stayed within the confines of what looked like a training ground. In fact, there was a brief tutorial before we were allowed to use them on our own.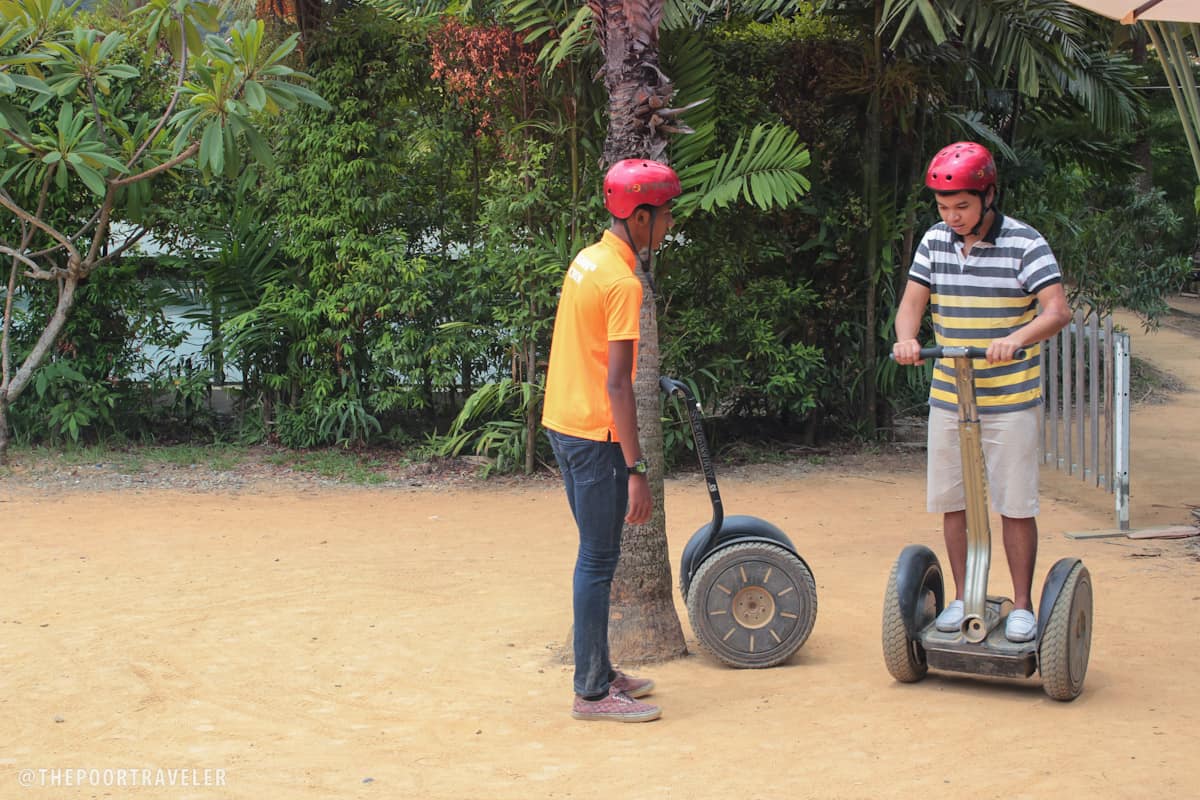 While I was wearing my helmet, I was reminded of how terrified I was when I was still learning to ride a bike, how embarrassing it was to fall and hit the ground, how frustrating it was to fall again and again, and how fulfilling it was to finally learn how to control it. Fortunately for me, everything went smoothly.
The Luge and Skyride
After a brief affair with Segway, it was time to fall in love with the scenic coastline of Singapore from afar. We boarded the Skyride and it was really unforgettable. I felt like an excited toddler as we were taken to the top of the hill while drowning in the fantastic view.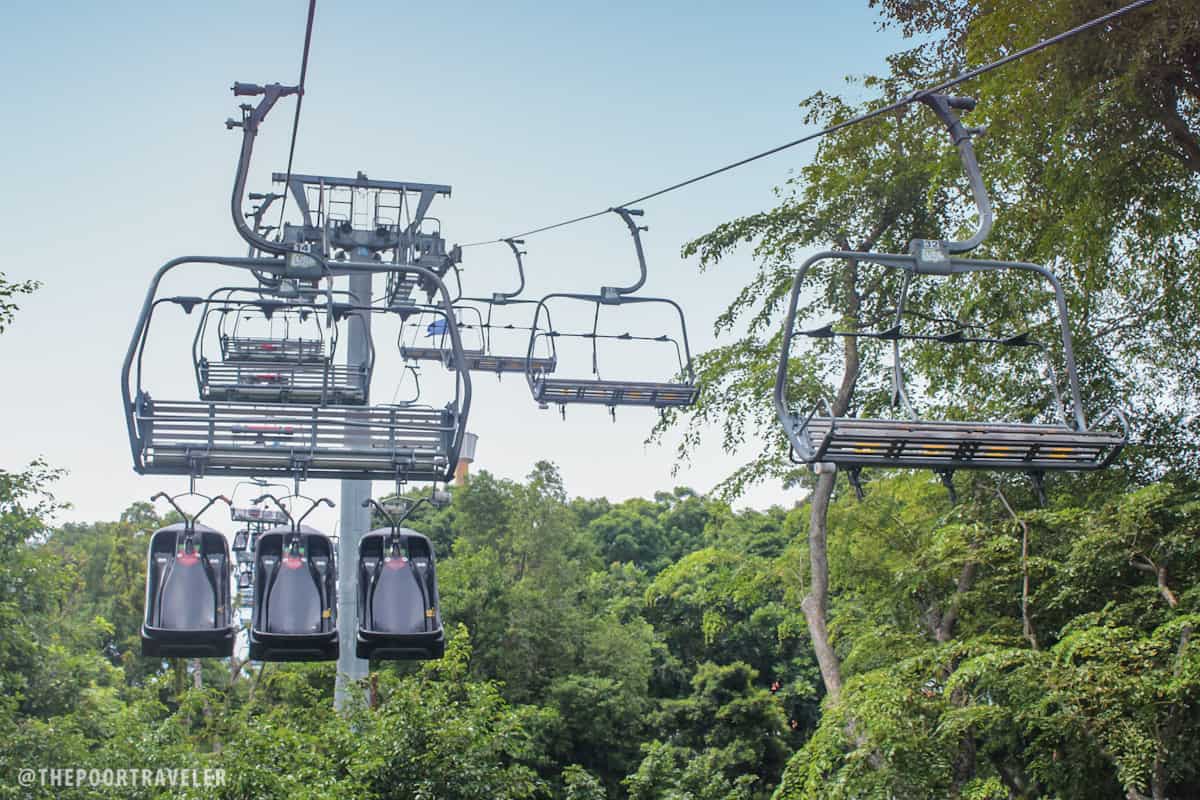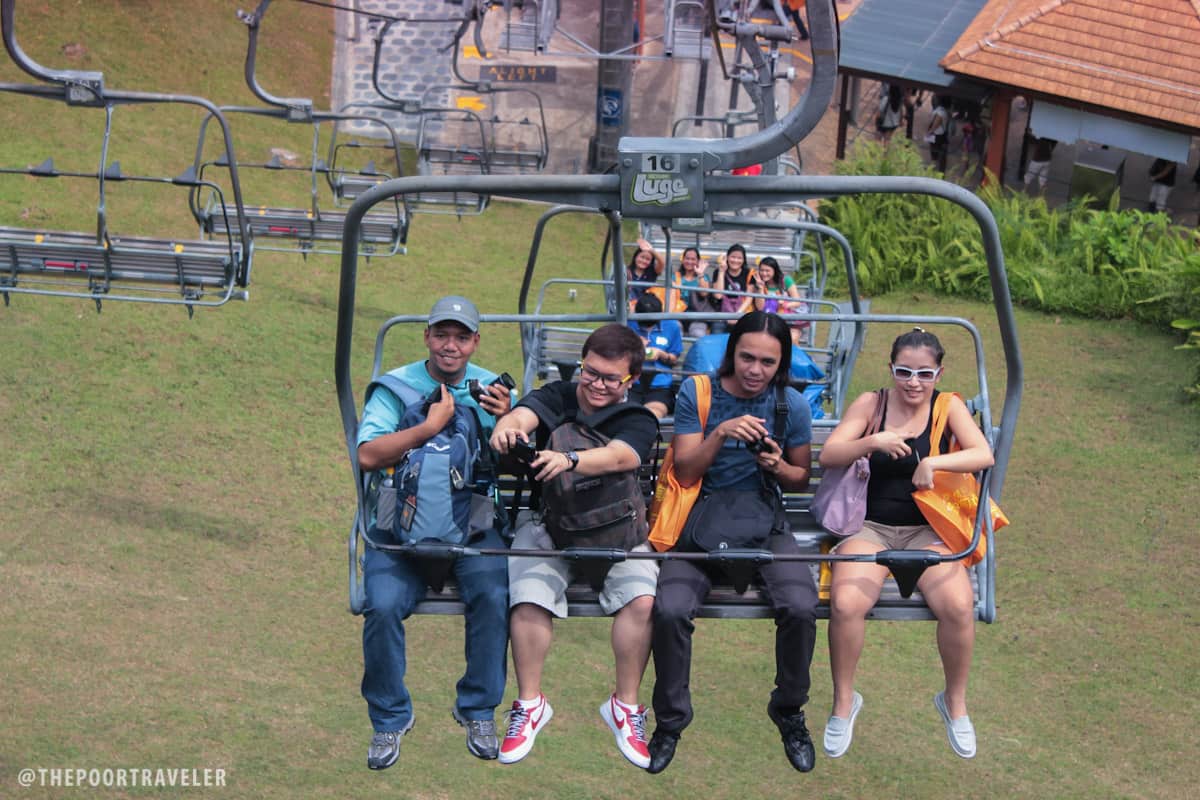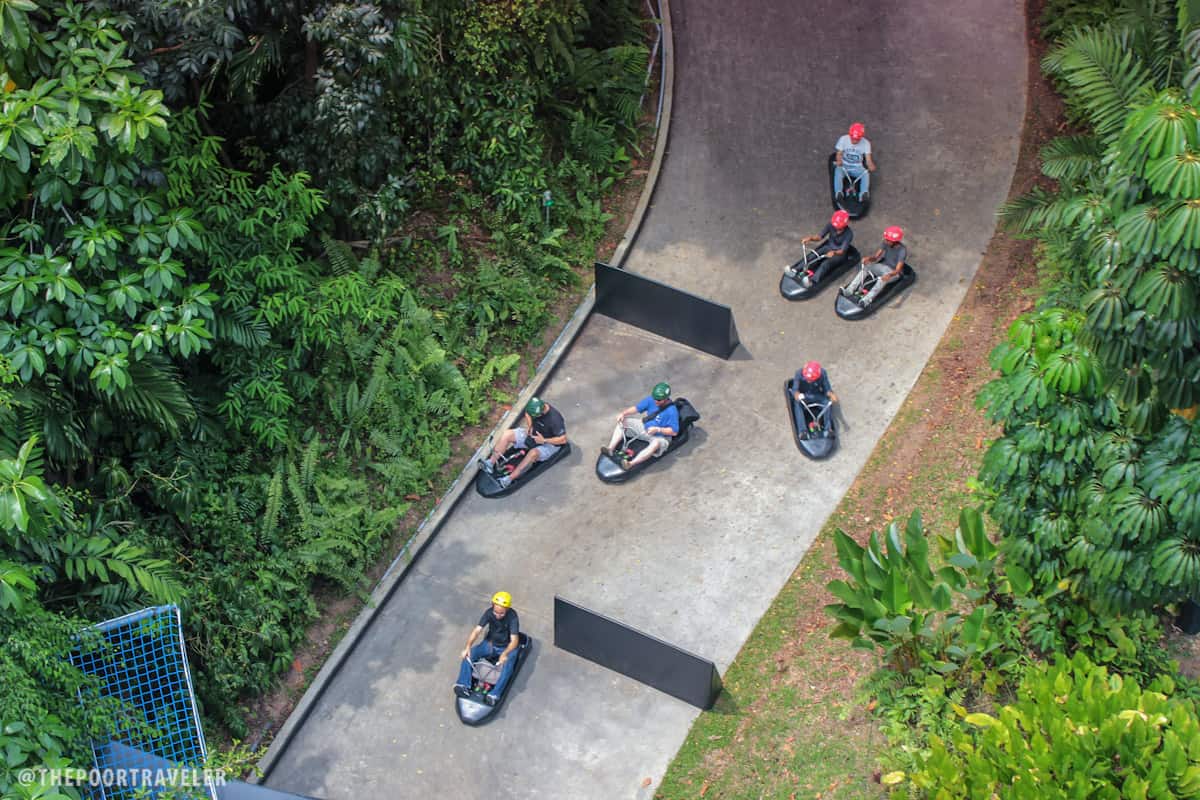 Although we did not try the Luge, I was satisfied with just watching other tourists have fun as they slide down the 650+ meters of the Dragon Trail or Jungle Trail. It was like watching your playmates. Funny how other visitors on the ground would wave at us and we would wave back at them.
Sentosa 4D Magix and Sentosa Cine Blast
I love watching in 3D theaters (or 4D, for that matter). I enjoyed Mickey's Philharmonic at Disneyland Hong Kong and the Shrek 4D Adventure at Universal Studios Singapore, so I was really expecting to be entertained at the Sentosa 4D Magix although there was quite a queue. One thing that made it a refreshing experience for me was that the film was not an animation but live action. It was a fun experience.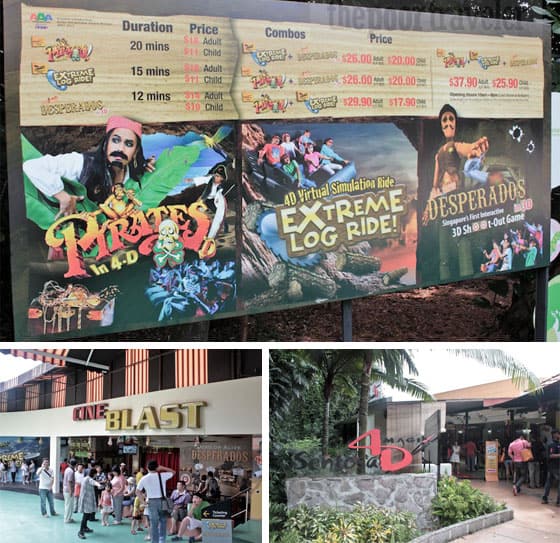 Cine Blast, on the other hand, takes visitors to an exciting 4D motion-simulated ride. Combining HD projection with a "rollercoaster" ride, the Cine Blast features a virtual ride through mountains and valleys and wild rivers!
Tiger Sky Tower
Standing 110-meters tall, the Tiger Sky Tower is the tallest observation tower in Singapore. The ride takes you 131 meters above sea level, giving you a magnificent panoramic views of Sentosa and Singapore. If you're lucky and the sky is as clear as glass, you should also be able to see some islands of Malaysia and Indonesia.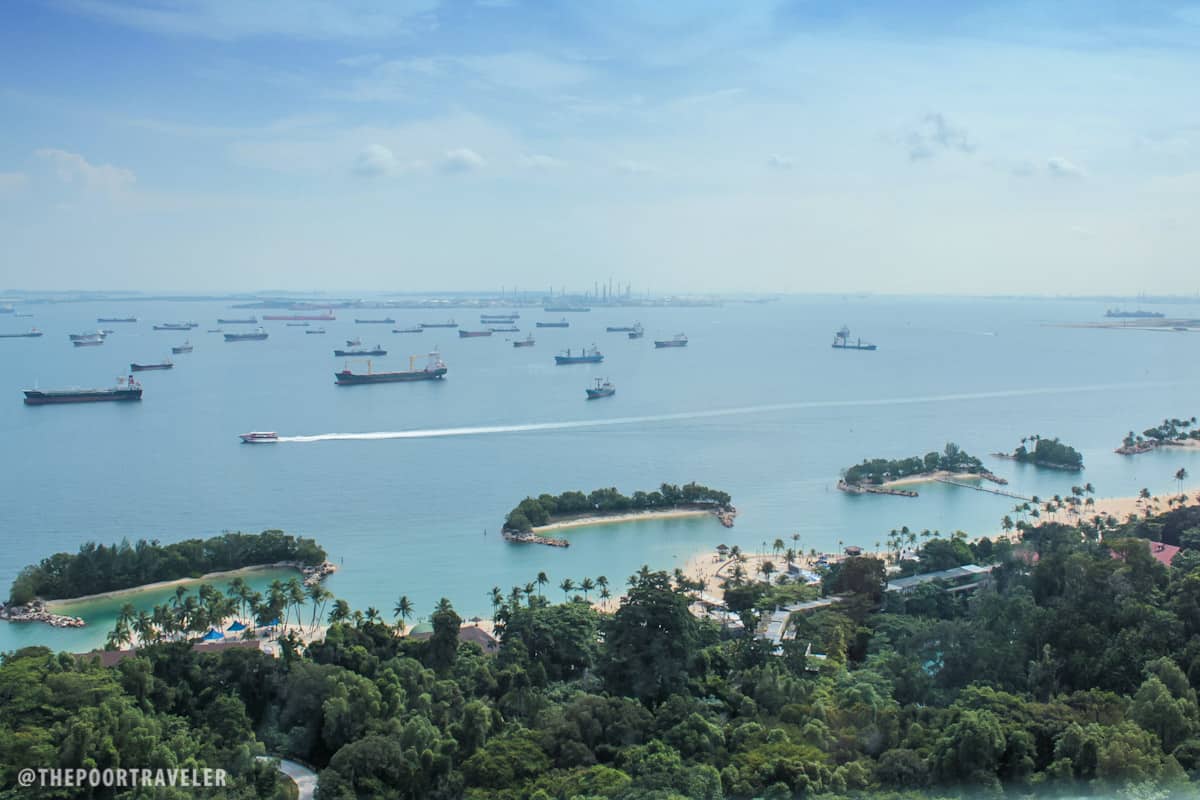 These are just some of the attractions in Sentosa. There are a lot more. I was particularly eyeing iFly: Indoor Skydiving but we ran short of time.
I loved Sentosa and how it bombarded me with childhood memories. Something tells me I should fly back to Singapore one of these days.
---
Top Budget Hotels and Hostels in Singapore
As ranked by Agoda reviewers.