Many travelers visiting Hong Kong end up also setting foot in Macau. It's not surprising at all. Macau is fascinatingly vibrant and energetic. Although there are similarities, Macau offers a completely different experience from Hong Kong. It has its own currency, own diplomatic policy, and a unique history.
But the biggest reason why Hong Kong and Macau are always in the same bundle: they're easily accessible from each other, only around an hour apart by ferry.
Some plan their trip with both cities in mind. In many cases, they book a flight to Hong Kong and a return flight from Macau, or the other way around. Some Hong Kong tourists prefer to visit Macau on a day tour.
It's totally possible! You can travel to Macau in the morning and be back in HK in the afternoon or evening. I've done this a couple of times!
You have two options: by ferry or by shuttle bus via the newly opened Hong Kong–Zhuhai–Macau Bridge (HZMB).
WHAT'S COVERED IN THIS GUIDE?
Hong Kong to Macau by Ferry
1. Choose your terminal in Hong Kong and Macau.
Hong Kong has three terminals where you can board a ferry bound for Macau. One is located in Hong Kong Island, another in Kowloon, and one just next to the Hong Kong International Airport.
Hong Kong MACAU Ferry Terminal along Connaught Road Central, Sheung Wan area in Hong Kong Island.
Hong Kong CHINA Ferry Terminal along Canton Road, Tsim Sha Tsui, Kowloon.
Sky Pier at Hong Kong International Airport. Exclusive to tourists only.
Note the difference between the first two options. The one located in Kowloon (Tsim Sha Tsui) is called Hong Kong CHINA Ferry Terminal.
Pick one that is most convenient to you. If you have a roundtrip Hong Kong ticket and you want to visit Macau straight away, the Sky Pier makes the most sense. If you're coming from Tsim Sha Tsui, the Hong Kong CHINA Ferry Terminal is just around the corner.
These ferries will be arriving at either of these two terminals:
Macau Outer Harbour Ferry Terminal, located in Macau Peninsula. This is closer to the city center.
Taipa Terminal, sometimes called Cotai Terminal, just a short walk from Macau International Airport.
These are completely difference terminals and a bit far from each other, so make sure you book the right one.
---
2. Purchase a Ticket.
You can buy tickets at the terminal itself. Often, the fares do not differ much from each other. Even the travel experience is very similar. For me, it's just a matter of travel time. I usually buy the ticket for the ferry that is leaving at my preferred time, regardless of the operator or boat.
FARES
Hong Kong/Kowloon to Macau: HKD 160 to 172 (in daytime) and up to HKD 211 (at night), one-way.
Hong Kong Airport to Macau: HKD 270 (day), HKD 300 (night), one way.
But you want to score some discounts, you can book in advance online visa Klook! For example, the regular one-way TurboJet fare from Hong Kong city center is somewhere between HKD 170 and 200. But with Klook, it's only at HKD 165. From the airport, the regular one-way TurboJet fare is HKD 270. But with Klook, it's only at HKD 263. You can save even more if you purchase roundtrip tickets at once.
For Discounted tickets, book below:
Please take note of the date and time of your trip because rates of sailing on weekends and at night are higher. Just click on any of the following links:
---
3. Board the Ferry.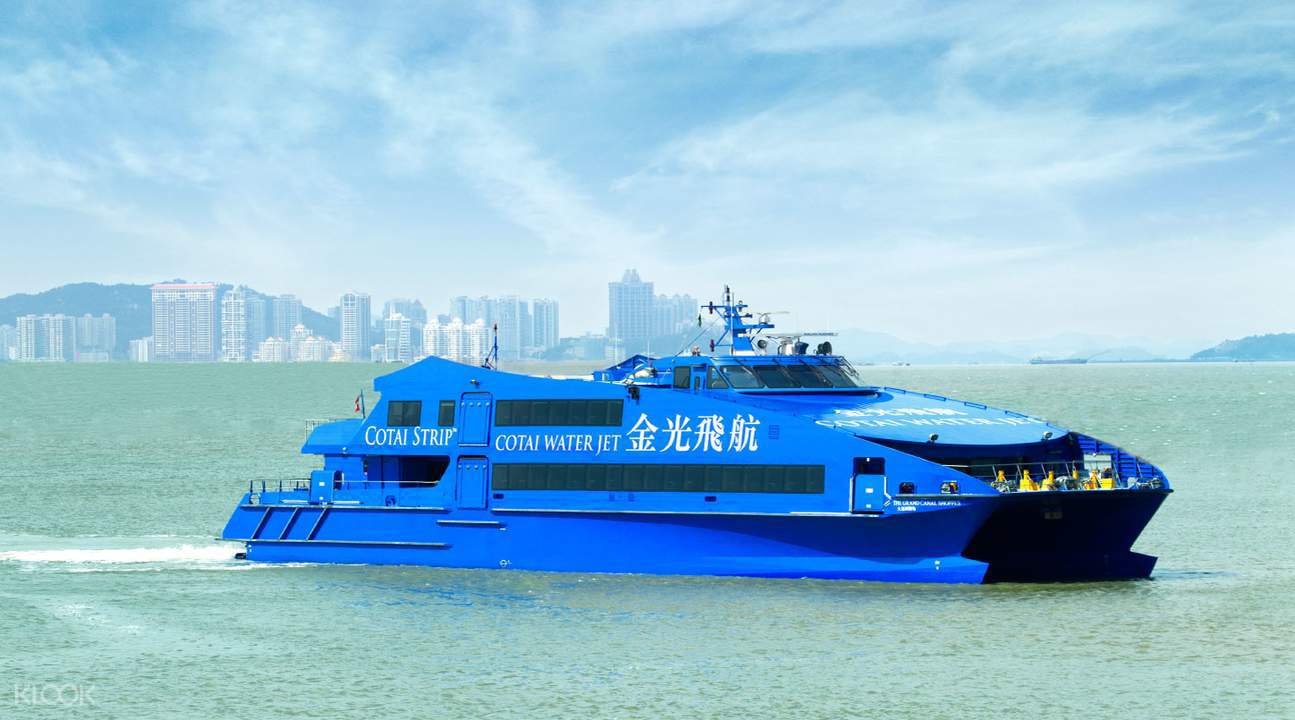 The boarding process is pretty straightforward. After getting a ticket, follow the signs to the boarding area. Usually, there are staff members that can point you in the right direction.
If necessary, check in your bags. For hand-carry, only one piece per person is allowed. I remember, however, that they let me through with a small backpack and a suitcase. I asked but they said I didn't need to check in anything. Not sure if small backpacks are counted as an item or I just got lucky.
Luggage Restrictions for Carry-On
Each passenger is allowed only one carry-on (hand-carry) bag.
Size: maximum 600mm x 200mm x 350mm
Weight: maximum 20kg.
Luggage Restrictions for Check In
Each passenger is allowed 3 pieces of luggage for check in.
Size: maximum 76cm x 56cm x 23cm
Weight: 40 kg
You're gonna have to go through the Immigration counters, too. Make sure you have your passport and the details usually needed in the arrival form including the boat name and number and your address in Hong Kong.
Queuing at the Immigration can take some time especially at peak hours. Make sure you consider that when planning your trip.
When it's time to board, find your seat. Your ticket has an assigned seat number.
The journey usually lasts 55 minutes for Macau-Hong Kong city center.
---
Macau Day Tour Package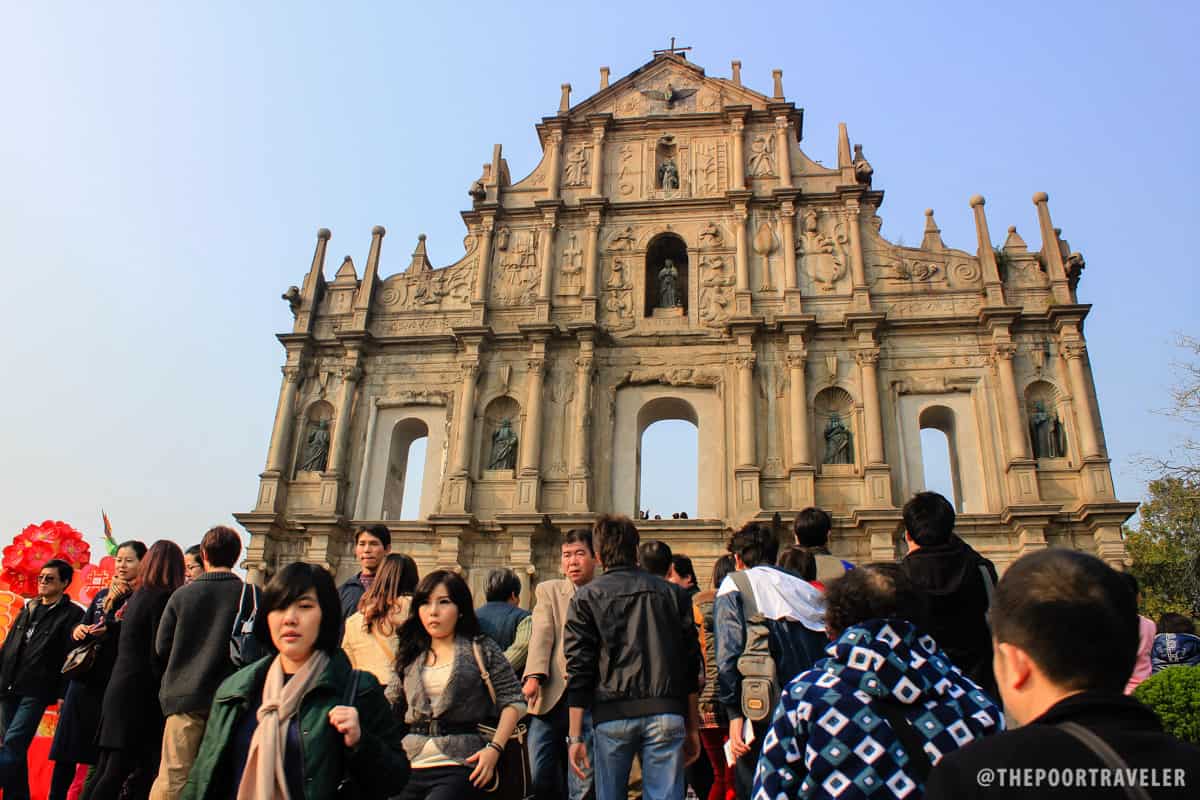 But if you want to be more comfortable, there are day tours being offered in Hong Kong. They will take care of everything, from ferry tickets to your sightseeing in Macau to a sumptuous lunch at a 4-star hotel. If you're interested in that, you can book below.
✅ RESERVE A SLOT HERE
---
Useful Tips
Most seats have overhead compartments for bags and suitcases. Most, not all. I once had to hold my big bag on my lap all the way through.
If you suffer from sea sickness, take your meds before sailing. The current can be wild at times. I have seen passengers puking their guts out on the aisle floor a couple of times. It's messy. You don't want to be that passenger.
Check your seat number upon purchase. If you're a group, even when you book the trip together, your seats may be super far from each other. This is probably a result of trying to fill the last remaining seats on the boat. I once traveled with my mom, who is an elderly, and a cousin, who was a first-time traveler. We booked together but we were assigned seats on completely separate aisles. I was so nervous that I would lose my senior mom and clueless cousin. We ended up waiting for everyone else to go disembark first before reuniting and getting out of the ferry together.
---
Taipa Ferry Terminal to City Center
If you're arriving at Taipa Ferry Terminal, here's how to get to the city center.
By Free Hotel Shuttle. At the terminal, you can board any of the free shuttles provided by hotels to get to the city center. You don't need to have a reservation at that hotel to be let in. Even if you have no plan on staying there, you can get on. Just pick the hotel closest to your destination.
By Taxi. The flagdown rate is MOP 19 + MOP 2 for every 240 meters or every minute it's not in motion. Additional MOP 3 charge for each piece of baggage in the compartment. The usual fare from the airport to the city center is MOP 70-90, depending on which part of the city you're going.
By Public Bus. I haven't tried this personally. I always used the free shuttle bus. LOL. And taxi once. I have no information about this yet.
---
Hong Kong to Macau by Bus (Sea Bridge)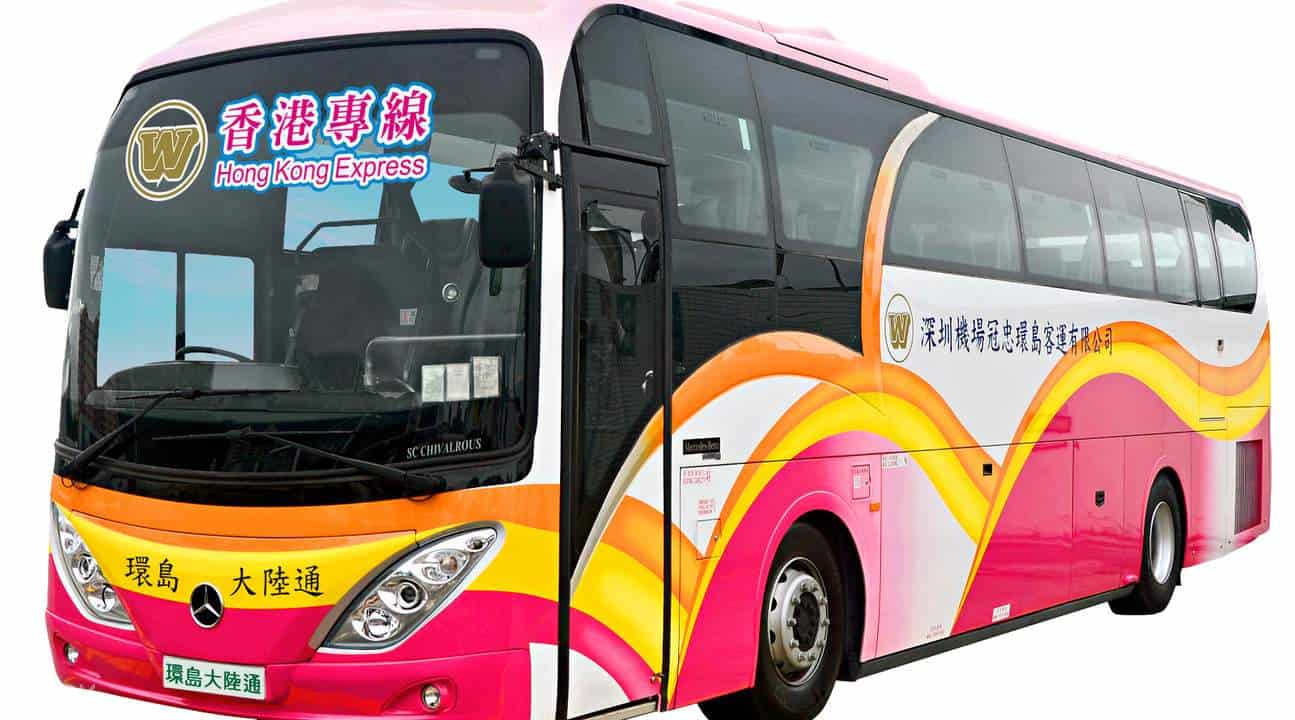 You can also take the bus to get to Macau from Hong Kong via the newly opened Hong Kong–Zhuhai–Macau Bridge (HZMB).
PICK UP POINTS IN HONG KONG: If your hotel is in Kowloon, you can catch a DIRECT BUS to Macau via Chinalink. You can catch one at either Prince Edward in Mong Kok or Kowloon Elements in Tsim Sha Tsui.
DROP OFF POINTS IN MACAU: MGM Cotai, MGM Macao, Grand Lisboa Macau, Starworld Hotel, The Venetian Macao, Galaxy Macao, and Sands Macao. Just find out which one is closest to your destination.
This express bus is operated by Chinalink. But you can get discounts if you book with Klook below!
✅ RESERVE A SEAT HERE!
Taking the direct bus is better than taking the public bus. If you take the public bus, you have to go to Lantau Island first, which means you need to take the MTR and another bus. That can be problematic if you have heavy luggage in tow.
But if you really want to take the public bus, here's how.
Take the MTR to Sunny Bay Station.
Board B5 Bus to HZMB in Lantau Island. Fare: HK$ 5.8.
Go through Immigration and Customs inspection.
Ride shuttle bus to Macau. The ticket office is within the restricted area, after the Immigration. Fare: HK$ 65 (regular times), HK$70 (midnight to 5-59am).
---
HZMB to Macau City Center
You can take either 101X Bus or 102X Bus, depending on the location of your hotel. Fare is MOP6.
Here are the stops. Click to enlarge.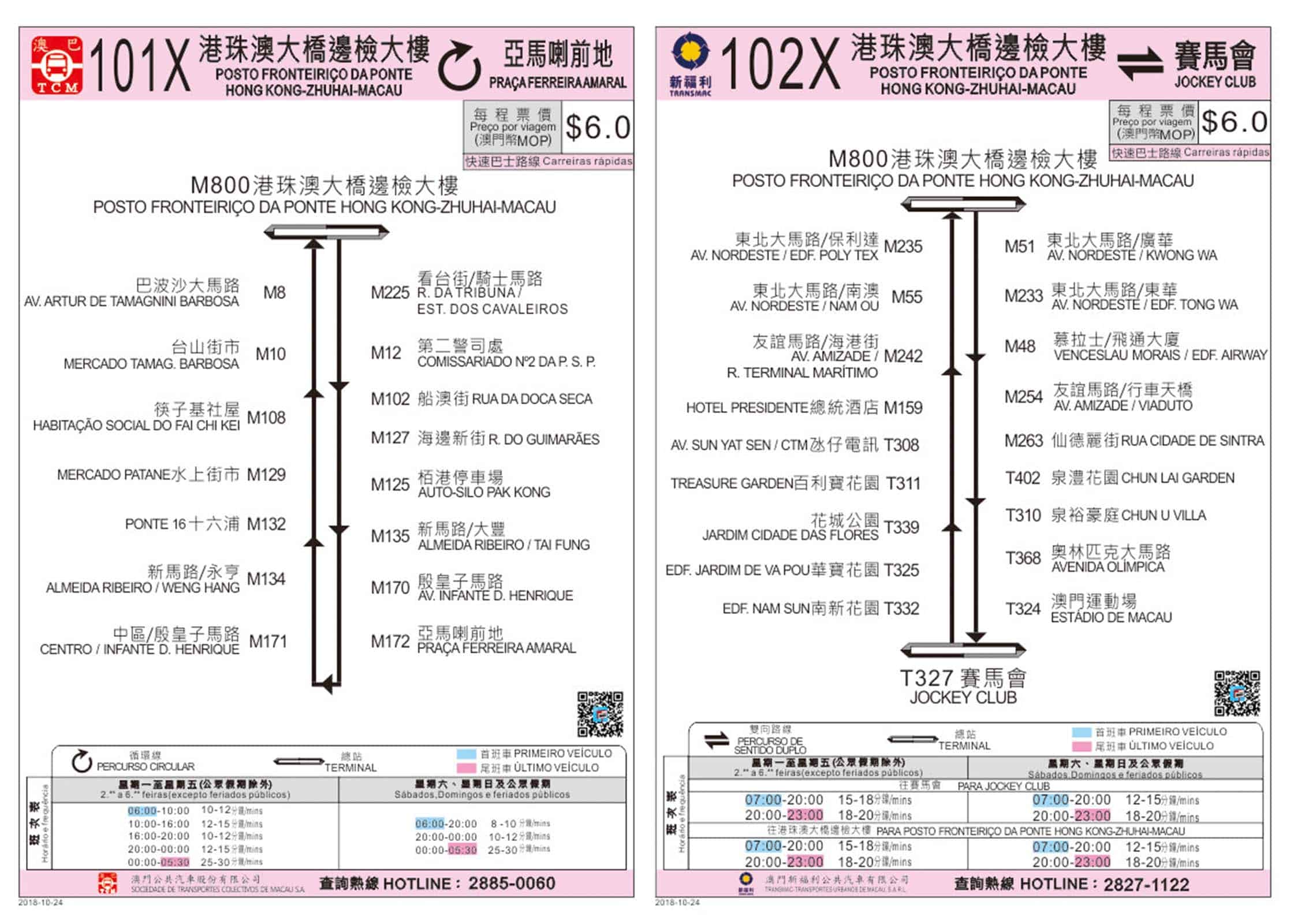 ---
iVenture Card
If your Hong Kong-Macau itinerary is packed, you might want to take advantage of the iVenture Card!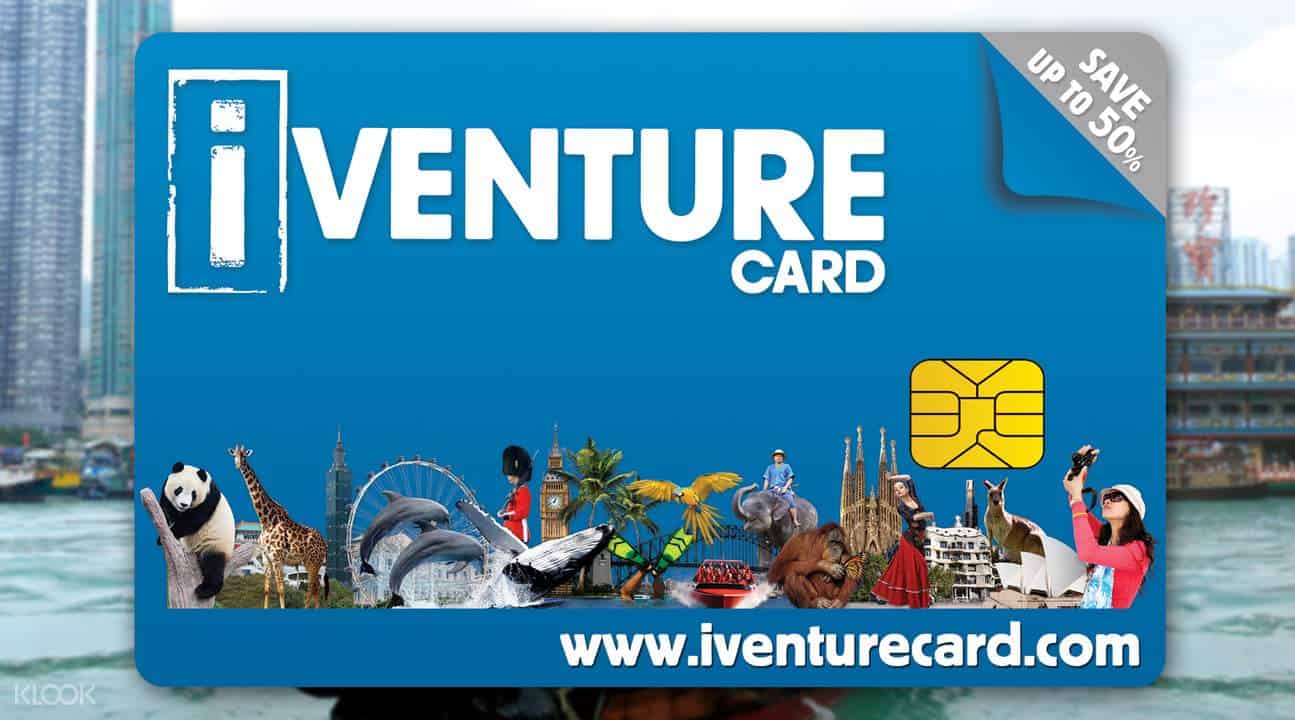 This card which will grant you DISCOUNTS for numerous restaurants and FREE entry to many attractions in Hong Kong and Macau including but not limited to the following:
Ocean Park Hong Kong
Ngong Ping 360 (Hong Kong)
The Peak Tram (Victoria Peak, Hong Kong)
Hong Kong Watertours Pre-Dinner Sunset Cruise
Macau Tower
There are more attractions and establishments covered!
✅ SEE MORE INFO or RESERVE iVENTURE PASS HERE
---
Updated: 2️⃣0️⃣2️⃣0️⃣ • 1️⃣ • 1️⃣7️⃣