2020 • 4 • 27
Like other fast food chains, Tokyo Tokyo is now selling frozen packs of popular items from their menu.
If you're craving for Japanese food, this could be your easy fix. Ready-to-cook packs are now available for take-out and delivery from select Tokyo Tokyo branches that are currently open. These packs are good for your whole family or keep it frozen or refrigerated to make yourself a Japanese meal anytime you want. You may dial the hotline #TOKYO or call the store directly for delivery. For take out, you may also contact the store to order in advance.
READY-TO-COOK MENU
Available ready to cook packs: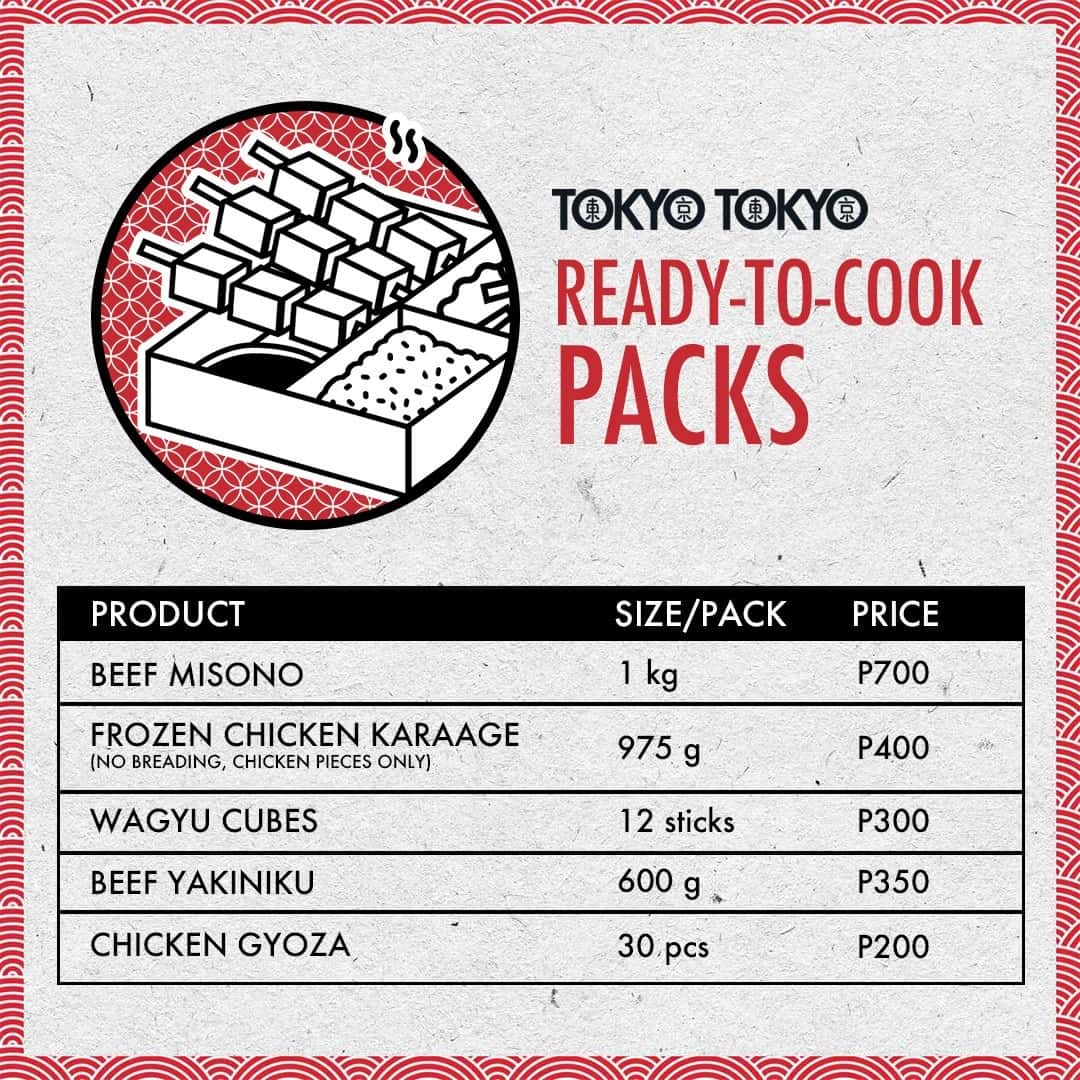 If the image above is too small, we also typed it down below.
Beef Misono
Size: 1kg
Price: P700
Frozen Chicken Karaage
Size: 975g
Price: P400
Wagyu Cubes
Pack: 12 sticks
Price: P300
Beef Yakiniku
Size: 600g
Price: P350
Chicken Gyoza
Pack: 30 pieces
Price: P200
Tokyo Tokyo also provided simple instructions on how to cook these frozen goods here: HOW TO COOK TOKYO TOKYO FROZEN PACKS!
---
REGULAR MENU
Apart from the ready to cook packs, open Tokyo Tokyo branches are also serving other food they offer. They currently have a limited menu, but the Donburi Bowls, Bento Meals, Platters, and their Best Seller trays are enough options of your Japanese Favorites. Here is their menu for take out, delivery, Grab Food, and Lala Food orders: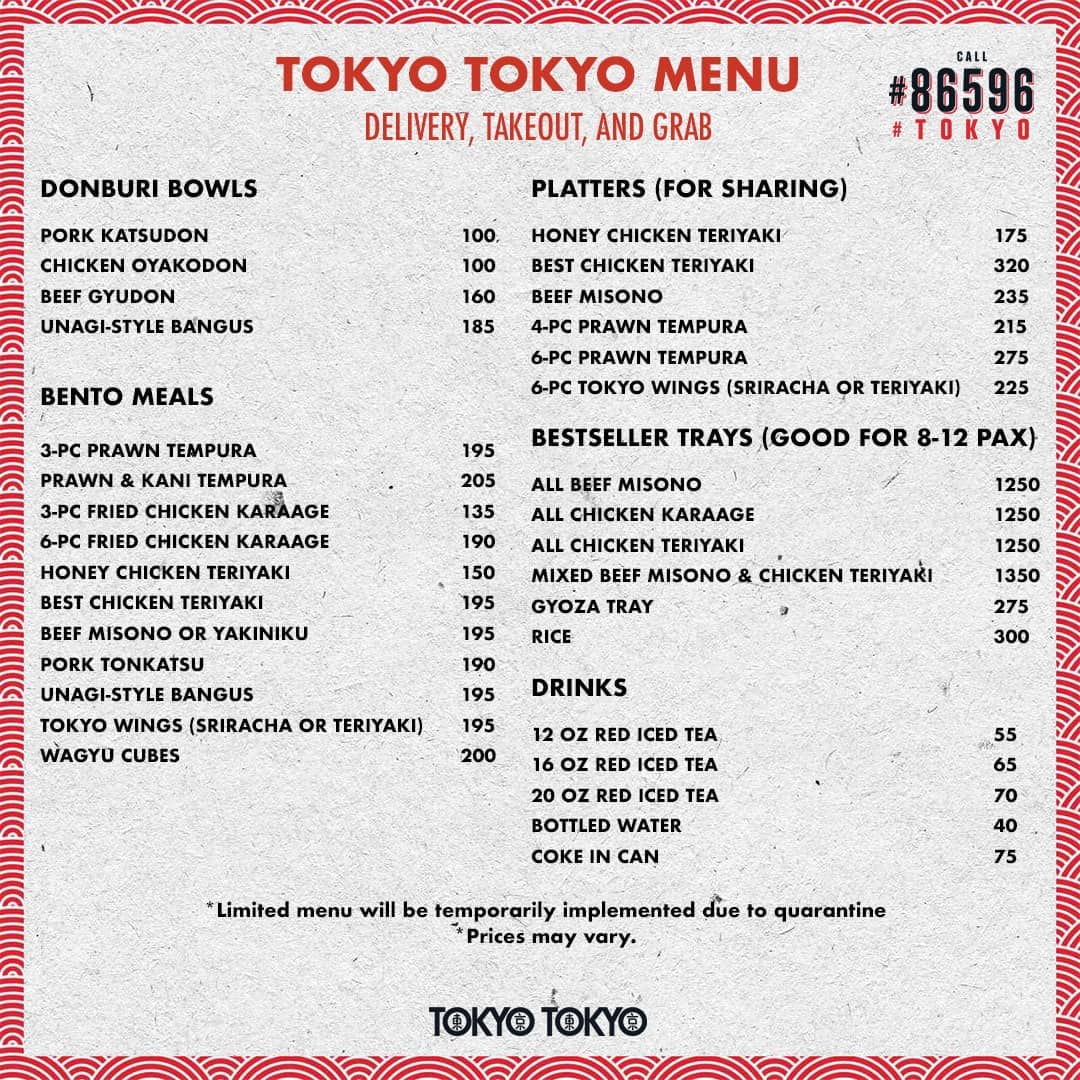 ---
OPEN TOKYO TOKYO BRANCHES
Here's a list of Tokyo Tokyo branches that remain operational as of April 27. We also typed it down below in case the images appear too small on your device.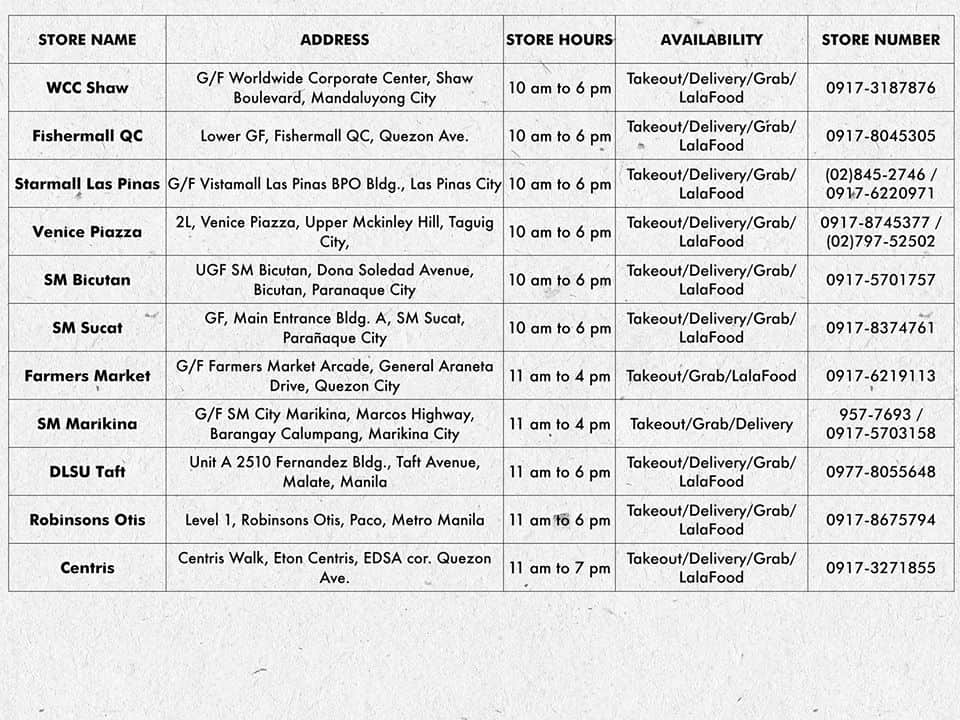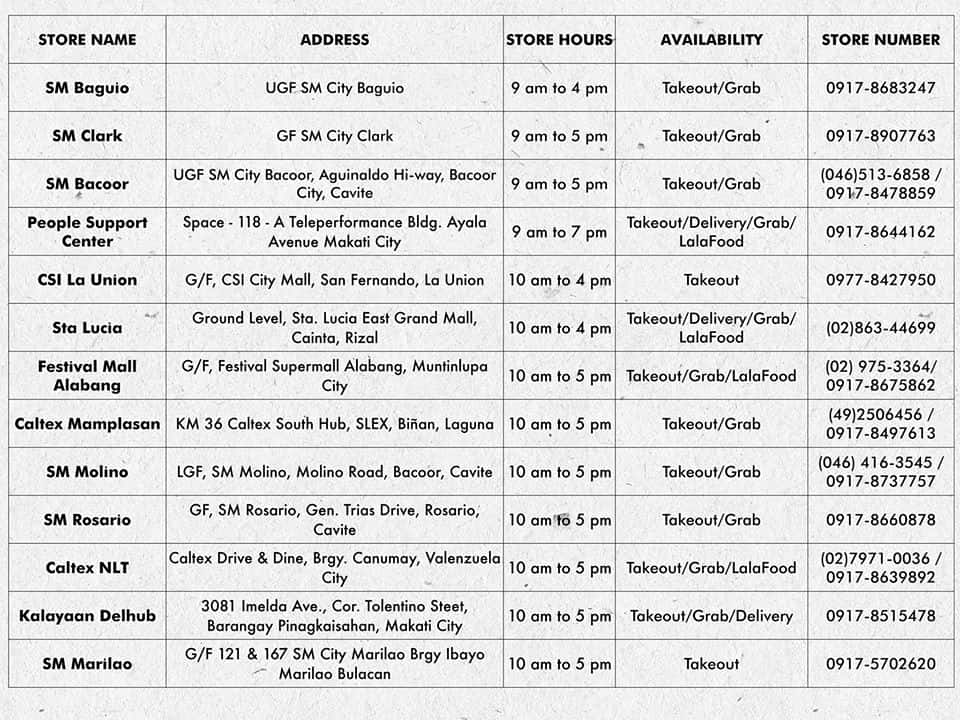 Makati: People Support Center
9am to 7pm
Take out, Delivery, Grab Food, Lala Food
09178644162
Mandaluyong: WCC Shaw
10am to 6pm
Delivery, Grab Food, Lala Food
09173187876
Manila: DLSU Taft
11am to 6pm
Take out, Delivery, Grab Food, Lala Food
09778055648
Manila: Robinsons Otis
11am to 6pm
Take out, Delivery, Grab Food, Lala Food
09178675794
Las Pinas: Starmall Las Pinas
10am to 6pm
Take out, Delivery, Grab Food, Lala Food
09176220971/ (02) 8452746
Muntinlupa: Festival Mall Alabang
10am to 5pm
Take out, Grab Food
09178675862/ (02) 9753364
Paranaque: SM Bicutan
10am to 5pm
Take out, Delivery, Grab Food, Lala Food
09175701757
Paranaque: SM Sucat
10am to 5pm
Take out, Delivery, Grab Food, Lala Food
09178374761
Quezon City: Centris
11am to 7pm
Take out, Delivery, Grab Food, Lala Food
09173271855
Quezon City: Fishermall
10am to 6pm
Take out, Delivery, Grab Food, Lala Food
09178045305
Quezon City: Farmers Market
10am to 4pm
Take out, Grab Food, Delivery
09176219113
Taguig: Venice Piazza
10am to 6pm
Take out, Delivery, Grab Food, Lala Food
09178745377/ (02) 79752502
Valenzuela: Caltex NLT
10am to 5pm
Take out, Grab Food, Lala Food
09178639892/ (02) 79710036
Rizal: Sta. Lucia
10am to 4pm
Take out, Grab Food, Delivery
(02)86344699
Cavite: SM Rosario
10am to 5pm
Take out, Grab Food
09178660878
Cavite: SM Molino
10am to 5pm
Take out, Grab Food
09178737757
Cavite: SM Bacoor
9am to 5pm
Take out, Grab Food
09178478859 / (046) 5136858
Laguna: Caltex Mamplasan
10am to 5pm
Take out, Grab Food
09178497613/ (49) 2506456
Pampanga: SM Pampanga
10am to 4pm
Take out, Delivery
09178373429
Pampanga: SM Clark
9am to 5pm
Take out, Grab Food
09178907763
Baguio: SM Baguio
9am to 4pm
Take out
09178683247
Iloilo: Robinsons Iloilo
10am to 5pm
Take out, Grab Food
09179747339
Davao: SM Ecoland
10am to 5pm
Take out, Grab Food
09367353045 / 082-3245412
---
Featured images courtesy of Tokyo Tokyo
---
More Tips on YouTube ⬇️⬇️⬇️