2011 • 7 • 30
If you've flown out of the country before, then you're probably familiar with the whole pre-flight thingamajig. But if it's your first time,  read on as I discuss in detail the whole check-in and boarding processes so you could breeze through them.
One of the biggest mistakes that you will make if you're flying to any other foreign destination is to assume that everything would go well exactly like how it does with domestic flights. Many travelers who have flown domestically before make that mistake and it results in stress caused by trying to beat the time and sometimes missing the flight altogether.
The check-in process for international flights is very similar to domestic in many ways but there are also many differences. For starters, you need to be at the airport at least 2 hours before the scheduled departure time for international flight as opposed to 45 minutes for domestic. This is because there are additional steps and paperwork that need to be done before anyone is allowed to board the plane.
WHAT'S COVERED IN THIS GUIDE?
What to Do Upon Check-in
Once we were sure we had all the important items with us, it was time to check in. Here's the step by step guide.
Pay the Travel Tax. IDEALLY, the travel tax and departure fee are already included when you book your ticket, so please check your ticket. But there are times when it isn't the case. If not sure, check-in first. The check-in agent will tell you if you still need to settle the tax. It's P1,620 per person.
Check in! Present the Departure Card together with the Travel Tax receipt, printed ticket and passport to the check-in agent. If you're checking in baggage, make sure they have locks. The Agent will give you your boarding pass.
Get a copy of an Immigration Form (aka Departure Card). Often, there are copies at the check-in counter. If not, you may proceed to the Immigration Area and get one there. Guards will check your boarding pass upon entry. Accomplish one copy per person. You will need the exact address of your hotel here.
Proceed to the Immigration Booths. Philippine passport-holders have lines separate from foreigners, so make sure you're in the right queue. When it's your turn, give your passport to the Officer, who may or may not ask questions.
Final security check. Remove all gadgets and metal items (including belts and coins) from your body. Remove your shoes only when instructed.
After the final security check, head to the Pre-Departure Area. Check your boarding pass to see what gate you should go to. You should be fine here. All you need to do now is wait for the boarding call.
---
Things to Bring to the Airport
Whenever I travel abroad, I always have a checklist of items I MUST NOT forget. This is also why it is important to go to the airport early, like 2-3 hours before the flight. This allows you time to sit down and check your things. And in case you forgot something awfully important at home, you still have time to go back and get it. Allow me to share with you my checklist.
Passport – The last thing you want to happen is to unintentionally leave your passport at home.
Printed Flight Itinerary/Tickets – Make sure you print out the tickets. When I fly domestic, I usually just show the check-in agent the tickets on my phone. They accept it. But for international flights, you will be showing your tickets too many times (check-in counter, travel tax counter, departure fee counter, immigration, etc) that it would be impractical and ridiculously annoying to whip out your phone every step of the way. A printed ticket will make it a lot easier for you and the people who will check it. Besides, a piece of paper does not need to be charged.
Company ID – Immigration Officers sometimes ask for a company ID as a proof that you would return to the Philippines and would not seek employment opportunities in your destination country.
DSWD Clearance – Only when I'm traveling with my nephew or niece and their parents are not joining the trip.
Credit card – Some airlines require a copy of the credit card used when the tickets are booked online. You might also need it as a safety net in case you run short of cash. Some hotels also ask for credit card for deposit.
Travel Itinerary – Make a clear plan of what you want to do and write them down. In case the Immigration Officers pick you for a random check, a printed itinerary will help convince them that you will really go to your destination to tour and nothing else.
Hotel address and contact number – You will need it. If you're traveling with a kid or someone who doesn't speak English (or the language spoken in the country you're visiting), give them the address and contact number of the place you are staying in. In case they get lost, it will be easier for them to find their way to you. You will also need the hotel address when filling out immigration forms.
A Pen – Yes, the humble pen is important. You will be accomplishing forms.
There's a reason why teams competing at the Amazing Race all have a fanny pack with them. Though they might look unfashionable, they are absolutely helpful.
---
How to Avoid Being Offloaded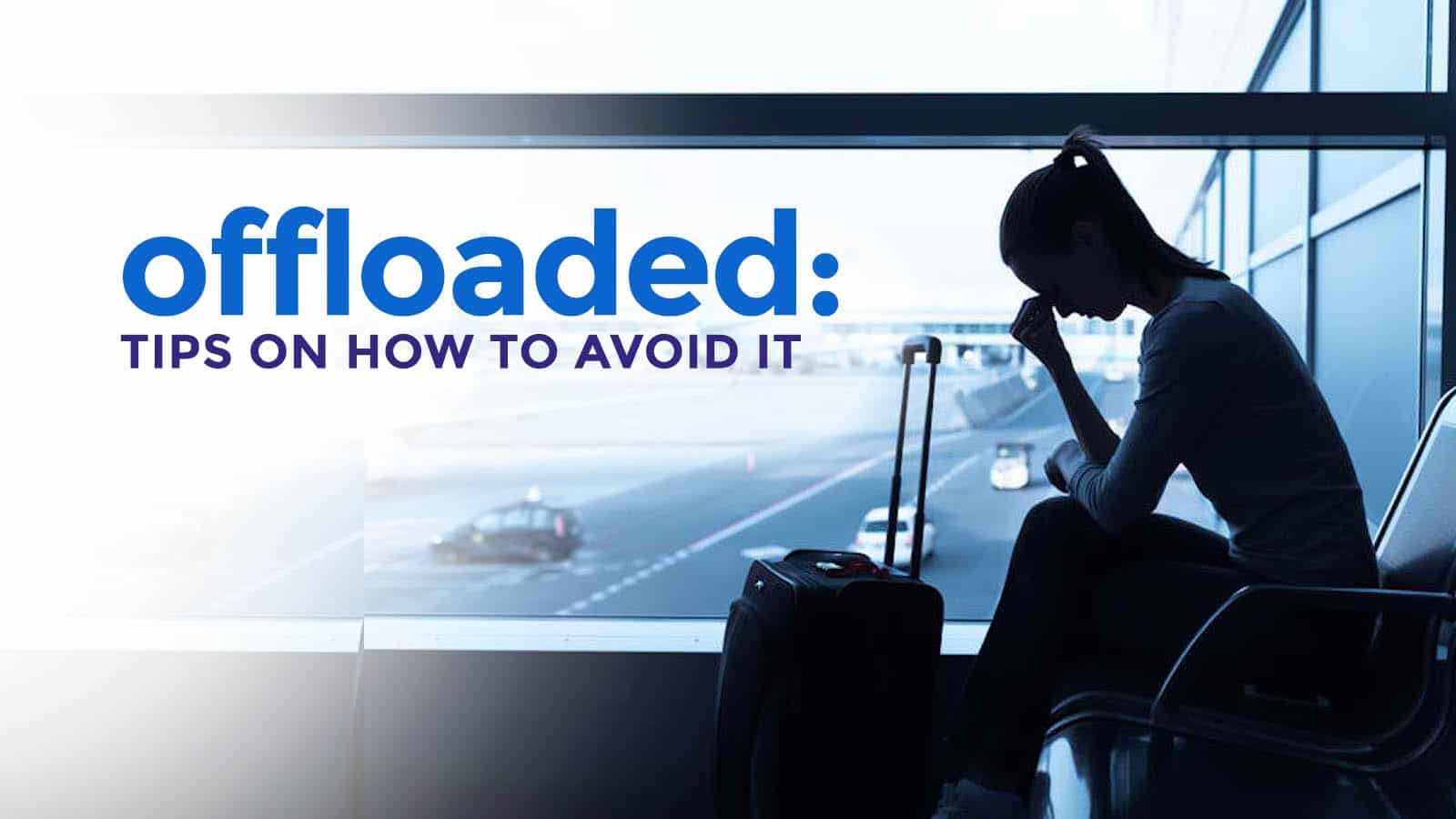 Aside from the items above, there may be other documents that you need to prepare depending on your situation or background. We created a separate post for it.
✅ READ: HOW TO AVOID BEING OFFLOADED
---
---
During the Flight
At one point on board the plane, flight attendants will distribute arrival cards to all passengers. Accomplish it immediately to save time. Here's an example of an Arrival Card. This one is for Hong Kong.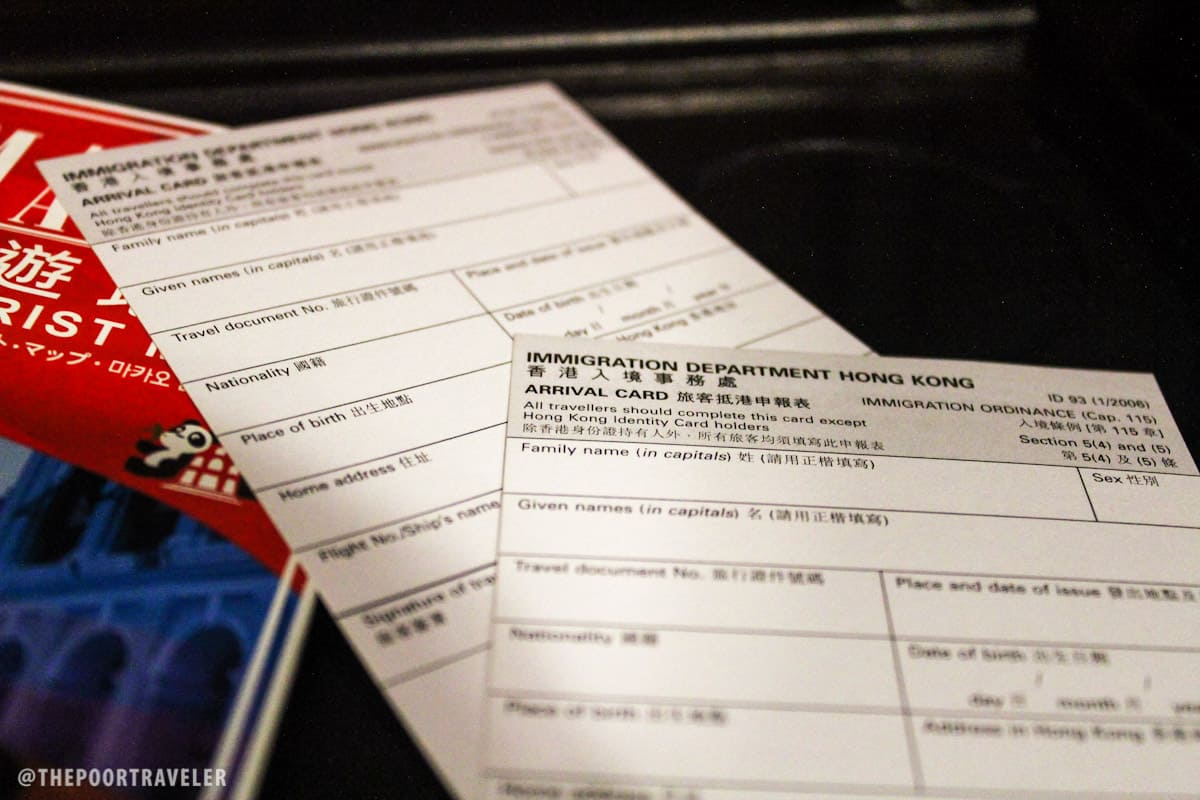 Don't forget to fill out these forms because you will have to present it at the Customs/Immigration booths in the country you're visiting.
---
Frequently Asked Questions
Since a lot of people are asking, I'm adding this section and it covers both counters here in the Philippines and those in your destination. Every country has their own Immigration rules. Some require visas from Filipino visitors, others don't. Some have stricter rules, others don't. It is important that you know these rules and requirements before your flight.
But here are some frequently asked questions that I thought I could answer. Again, I can't be too sure but I'm only relying on experience.
Do I need to have a hotel reservation before my flight? 
It is BEST to always book accommodations first before your flight. You will be required to indicate the address of your hotel on your departure and arrival cards, and Immigration officers on both sides sometimes ask for hotel reservation. Even when I'm backpacking across more than one country, I usually make sure I have at least booked accommodations on my first night in the next country I'm visiting. Again, you could go there without prior preservations but if you want to avoid the hassles of getting asked too many questions and the stress that comes with it, better book in advance.
I'll be staying at a friend's house, do I need an invitation letter?
If you could produce one, go ahead. They might just ask for one if they deem necessary. You will be asked to indicate your "address abroad" so make sure you have that. To be on the safe side, be sure you have your friend's contact number, too.
Is there a show money? How much do I need to have for them to let me through?
I have never been asked to show money. I have never been picked for a random inspection or questioning but I know people who have been. My pocket money depends on the destination country. Some are more expensive than others. For example, the cost of living in Singapore is definitely higher than in Thailand. In countries like Singapore, Hong Kong, and Malaysia, I usually bring USD400 for a 4-day trip, USD500 for a week-long trip. But that's way more than I actually spend. In cheaper countries like Cambodia and Thailand, I allot USD50 per day. Again, that has a big allowance.
✅ VIEW MORE FAQs HERE :)
Enjoy your trip and have a hassle-free journey!