Christmas and New Year are just around the corner. And most of us spend the holidays with our loved ones. It has been a tradition for those working in big cities to come home to their respective provinces or visit family to celebrate the season with them.
Because this year proved to be challenging, to say the least, public transportation isn't back to pre-pandemic normal yet. Given the current restrictions Traveling is easier if you have your own car. But regardless if you are driving your own car or commuting, there are still some protocols that we need to adhere to for the safety of everyone. Here are some tips to consider!
---
1. DO confirm the latest schedule and terminal assignments before leaving.
Do not assume that things are the way they used to be! The whole public transportation system underwent a major overhaul. There have been changes in schedules, routes, terminals, and even payment system.
For example, most buses to Visayas and Mindanao use the Santa Rosa Integrated Terminal (SRIT) in Laguna as its hub, while most city buses and provincial buses to and from South Luzon use the Paranaque Integrated Terminal Exchange (PITX). There have also been designated terminals for buses to and from the north.
✅ READ: PROVINCIAL BUSES TERMINAL ASSIGNMENTS & REQUIREMENTS!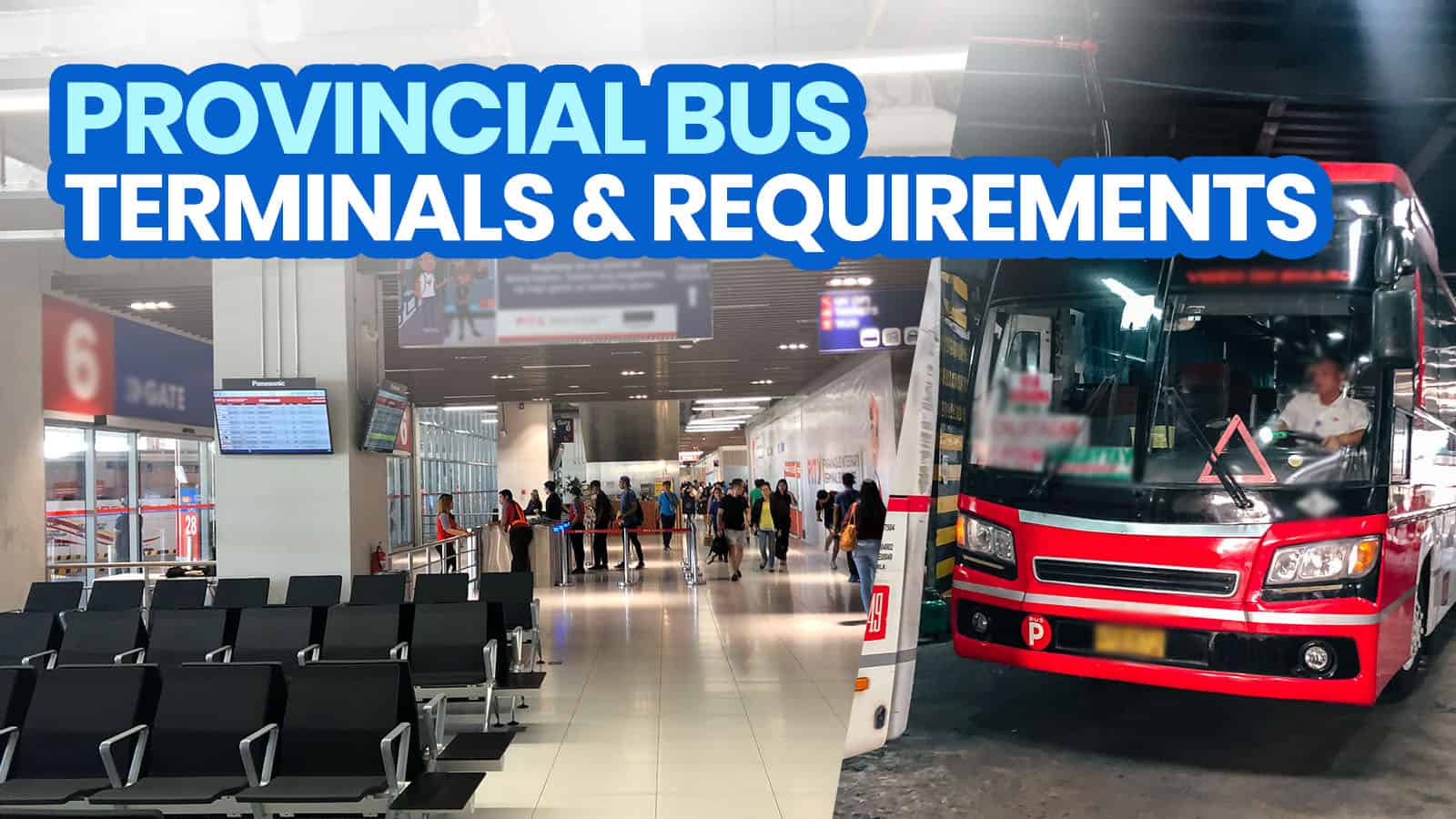 Pandemic or no pandemic, it's always best to confirm the latest schedule with the bus companies before you travel.
---
2. DO contact LGU for the latest list of requirements.
In the past, we only need to contact the bus companies for schedules and tickets. However, the pandemic has made contacting LGUs for the travel requirements a must before you travel to a specific destination.
Based on the current situation and the number of cases, provinces and towns have their own list and protocols that travelers should follow. Make sure that you accomplish everything on the list for a smooth journey.
Note that if you're taking a flight, you must download the TRAZE, which is a contact-tracing app used at all airports.
✅ READ: HOW TO DOWNLOAD TRAZE APP!
---
3. DO book ahead and check in online.
When flying, people tend to dismiss online check-in, but checking in online can save you a lot of time. Most airlines now allow checking in online, usually 24 hours before your flight. When you arrive at the airport, you only need to queue for the bag drop/online check-in counters, which are usually shorter than the regular check-in counters.
Even when you are taking the bus, booking/reserving your ticket in advance is the better choice, especially now that we want to lessen our interaction with others to prevent the spread of viruses and other contagious diseases. If the bus company has this option, go for it.
---
4. DON'T forget to bring safety essentials
Aside from our usual travel essentials, we now have our must-have safety essentials — face mask, face shield, and alcohol or hand sanitizer. Note that this Christmas season, it is mandatory to wear a face mask and a face shield when going out of your residence.
Ensure that you are using them properly. For example, the nose and mouth should be covered when wearing your face mask.
---
5. DO pack snacks.
First of all, make sure you you eat well before boarding especially if you're taking a long journey. Since the pandemic hit, part of the rules when taking public buses is no eating onboard, so have something to fill your belly before you board the PUV. You can also eat while waiting for your ride or at stopovers.
Packing your own snacks also lessens contact with others.
---
6. DO bring a power bank.
Talking on the phone is also not permitted when you are inside the bus, but you can still use it to fight boredom while in transit. Before leaving, ensure that your device is fully charged and don't forget to bring a power bank. Make sure the power bank is fully charged too!
Keep yourself entertained while waiting for your flight or bus. You can download your favorite series or movies on Netflix or watch clips on YouTube and other streaming platforms. If gaming is your thing, flex your fingers and battle on. And hey, you can still text and chat with friends and family.
---
7. DON'T wrap your gifts yet.
Why? Security measures are generally stricter and tighter during Christmas, so there's a chance you'll be asked to unwrap your gifts. Same goes with your luggage. Don't seal them with packaging tape or those that will take too much time to open or unwrap. You will most likely be asked to open boxes, so heads up for those planning to pack stuff in boxes too.
---
8. DON'T overpack.
Terminals and hubs are busier, so it can get really stressful, especially if your hands are full, literally. The more stuff you bring, the bigger chance that you will forget something or you will fall victim to pickpockets.
As much as possible, bring what you can manage. And going back to the previous item, the more you bring, the longer time it takes to go through security checks.
---
9. DO minimize contact and conversations inside the vehicle.
During these times, it is better to be extra cautious than to be lenient. And the popular saying "prevention is better than cure" rings true now more than ever.
If you can, avoid unnecessary conversations and contact inside the vehicle. Remember that you are in an enclosed surrounding with controlled ventilation and air-conditioning. Keeping distance is caring.
---
10. DO get the plate number and body number of the vehicle.
For land travel, this will make contact tracing easier.
Also, if someone will pick you up at the designated terminal or bus stop, they can note and easily spot your bus.
11. DON'T travel in peak periods.
Kailangan pa ba i-memorize yan?
We should know by now that the Christmas season is also the season to get stuck in traffic and witness the dreaded carmageddon. Do not travel on Christmas eve or the weekend before Christmas. If you can't help it, leave in the early morning. You can also opt to use your remaining leaves to travel days earlier than the official start of the holidays. This is the best time to use them.
---
---
12. DO consider staying home.
Since there's no vaccine yet, the best way to celebrate Christmas and New Year during the pandemic is to stay home. For those already living with their loved ones, just enjoy the company of each other at home — cook, play games, or watch a movie on Netflix.
For those working far from their family, consider staying put. It's not just for your own safety but also your loved ones'. If you really want to go back to your hometown, just strictly follow all the travel protocols.
---
2020 • 12 • 19