When someone mentions strawberries, what's the first place that comes to mind? If you're anything like me, then it's most probably Baguio City. Or La Trinidad. Or Benguet as a whole. Just the sight and scent of these luscious fruits seem to teleport my mind to the north. But that might not be the case for southies like me.
On our recent Tagaytay-Batangas road trip, as we were scouring the area for fruits, we learned about a bright pink nook concealed in the back roads of Alfonso, Cavite. And this place is not just a strawberry store. It's also a farm. And a bed-and-breakfast. And an events venue. And a restaurant. As luck would have it, we were pretty famished, too! And that is how we ended up in a rather out-of-the-way fruity dining spot called Queens Strawberry Farm.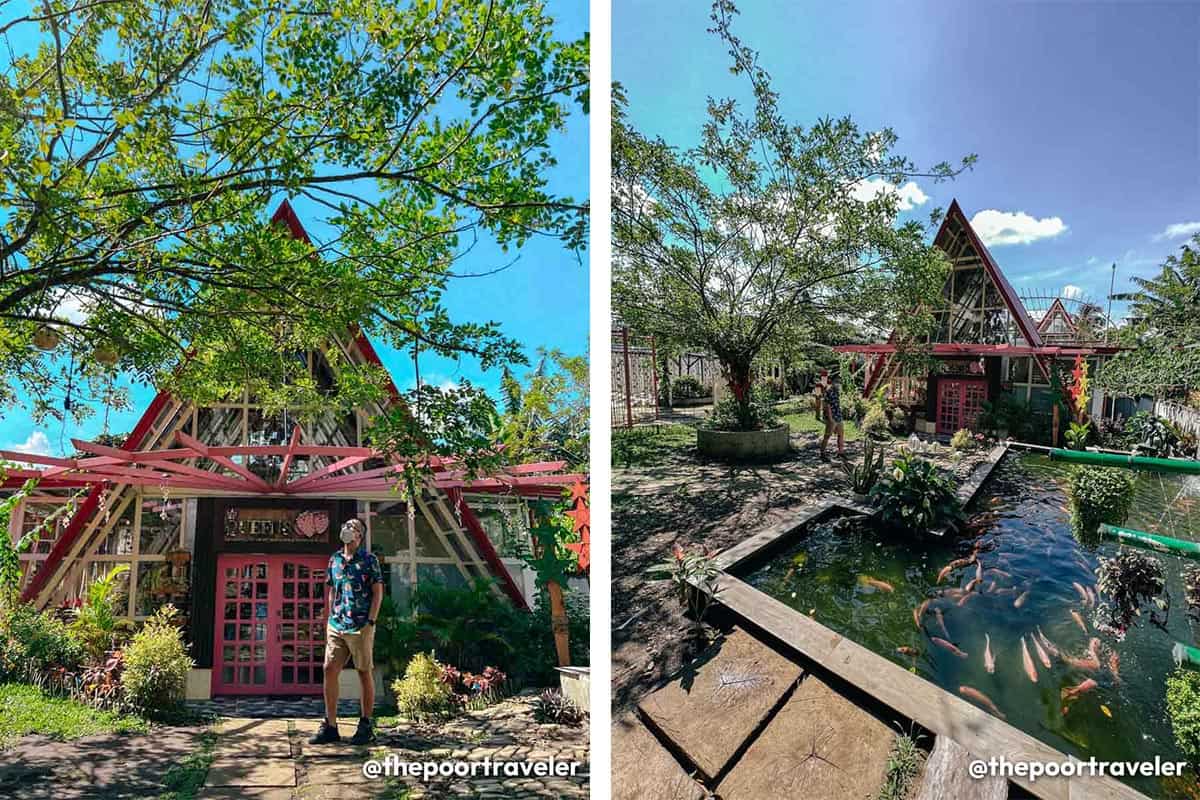 Curious about what else to see and do at Queens Strawberry Farm? Here are some of the things to know before you go.
Oh, by the way, we also have a video version of this post. If you'd rather watch than read, then just play:
WHAT'S COVERED IN THIS GUIDE?
Things to Do
Queens Strawberry Farm is a farm-to-table agri-tourism complex composed of a farm, restaurant, and B&B. Visitors get to not only sample their products but also be reoriented about farming through different activities like strawberry picking (if in season) and rod fishing.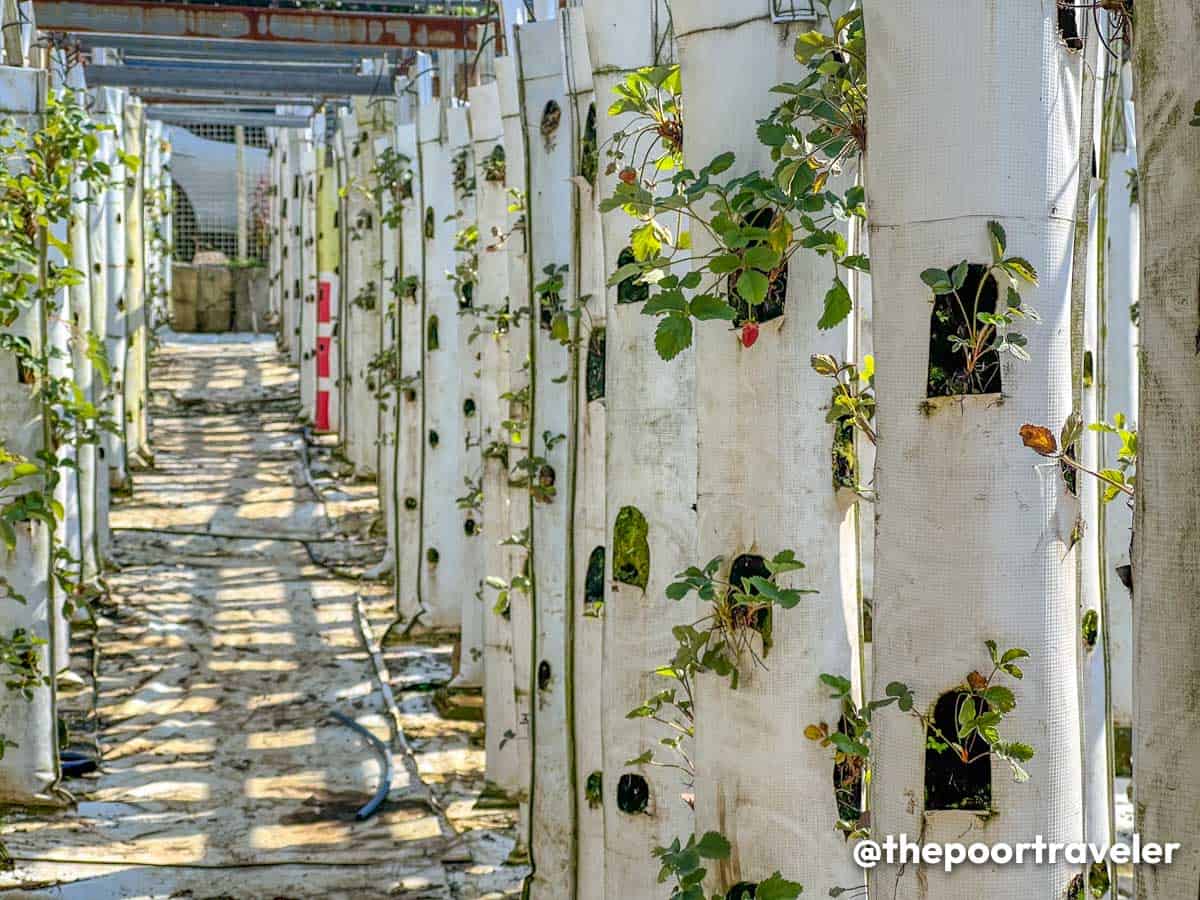 Strawberry Farm. You can try strawberry picking if your timing is right.
Queens Restaurant. Housed in an A-frame building, the restaurant is quite spacious, accommodating perhaps more than 80 diners with plenty of room to move around. The high ceiling also allows the air to circulate well inside. A small spiral staircase leads to the open-air second level if you prefer to dine al-fresco style. But during our visit, no tables were set there because it was too sunny and hot.
Rod Fishing. Aside from learning how to fish, you can take home your catch or have the restaurant cook it for you. Here are the rates:

– Game Fee: P50
– Caught Tilapia: P250/kilo
– Fish Cooking Charge: P100/kilo
– Fish Cleaning Only: P80/kilo

Fish Feeding. Feed pellets are sold at the entrance. A pack costs P10.
Bed and Breakfast. There are two rooms that can accommodate four (4) pax each.
Koi Ponds. Water recirculatory concrete ponds are installed along the walkway and at the entrance to the restaurant.
Photo Op Spots. You can snap away while waiting for your food to be served.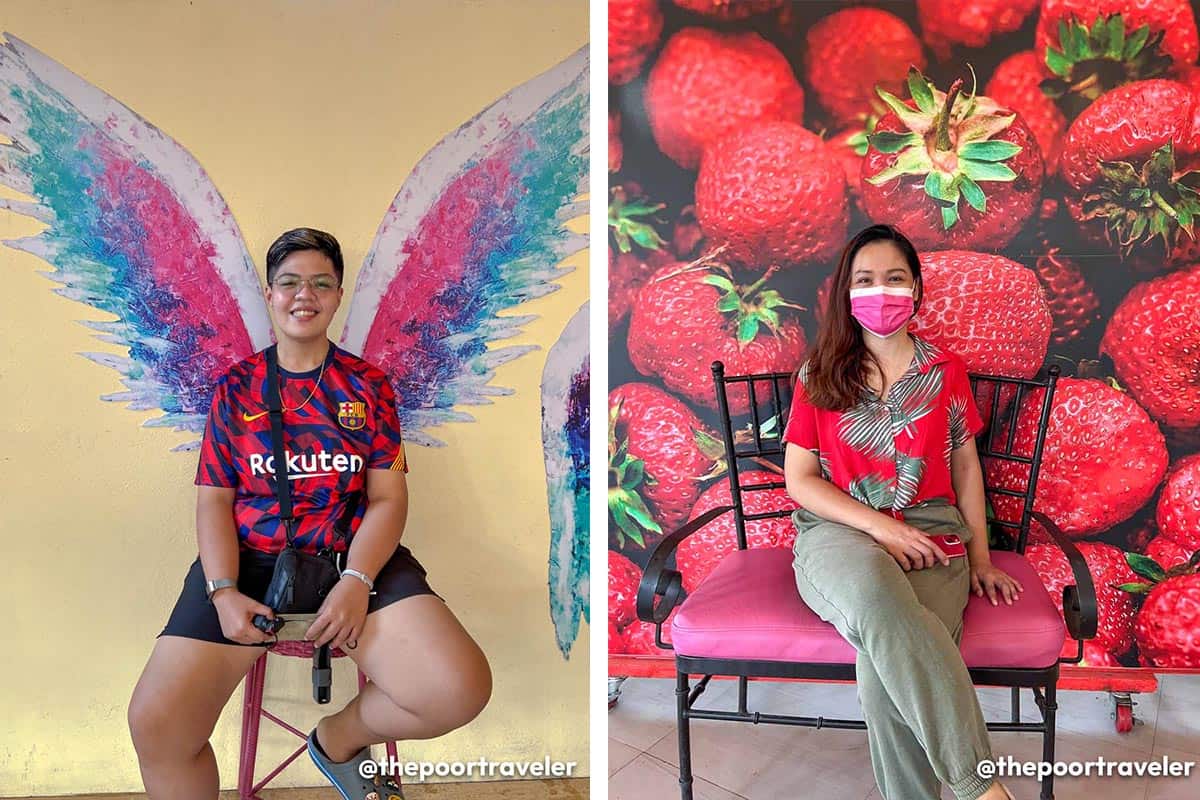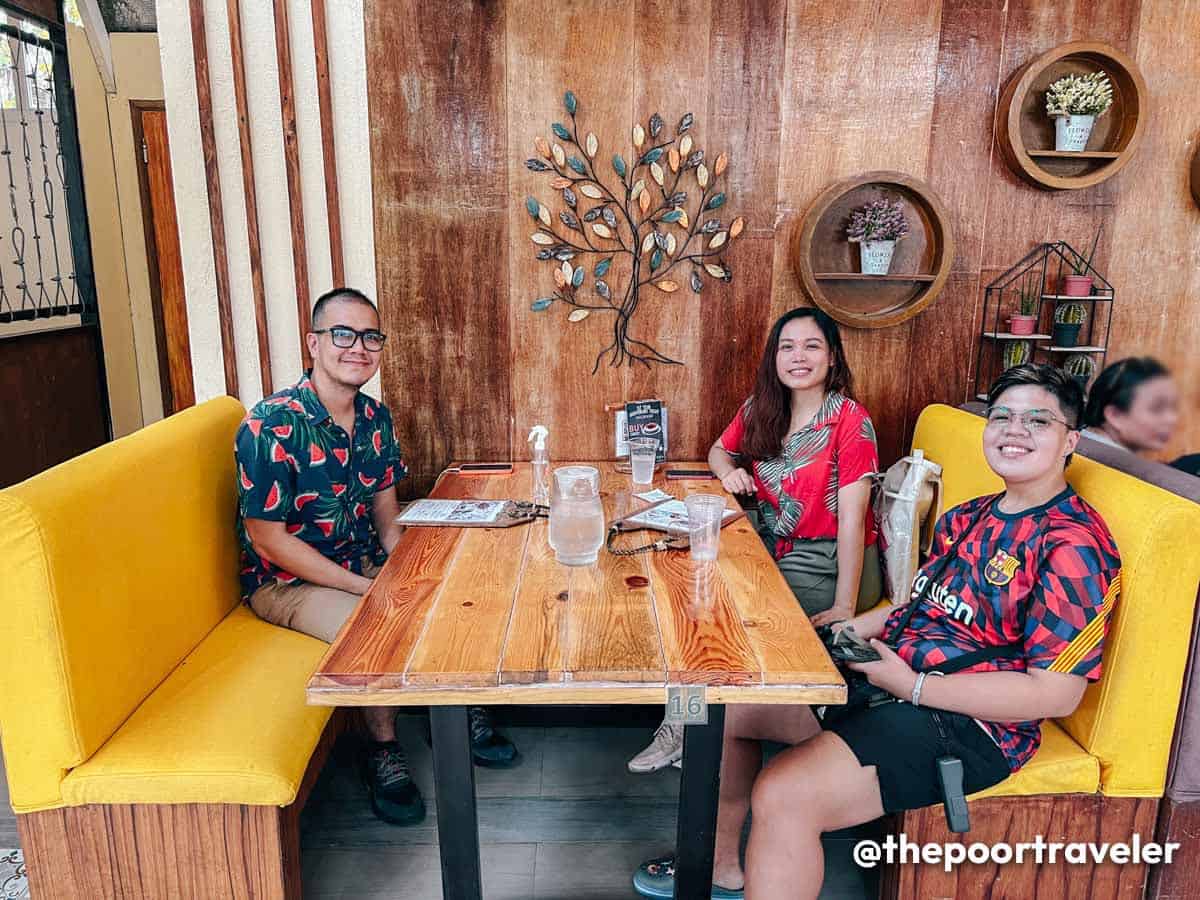 ---
Queens Strawberry Farm MENU
Most visitors come here to dine at its restaurant — Queens Restaurant — which takes pride in infusing strawberries in many of the items on its menu – from its salads (with strawberry vinaigrette) to desserts (strawberry cheesecake and buko strawberry pie) to drinks (strawberry milkshake). But it's not a simple cafe or milkshake bar. It's a proper restaurant with a rich menu that spans all-day breakfasts to heavy proteins like its signature six-hour smoked pork belly and bulalo.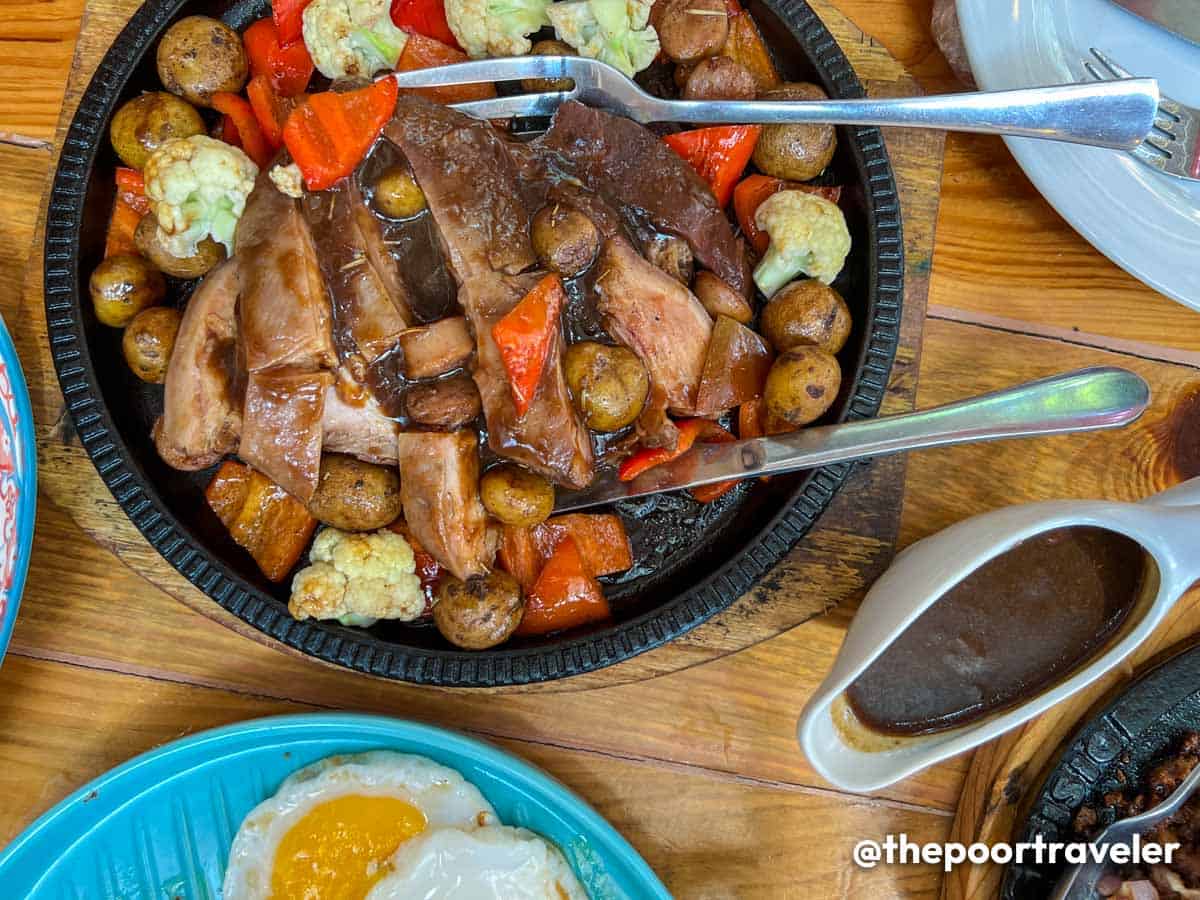 Bestsellers
American breakfast set – P360
smoked lechon belly bacon, 3 pancakes and 2 eggs
Queens salad – P360
Romaine, arugula, lollo rosso, turnips, carrots, cucumber, strawberry, parmesan, and bacon in strawberry vinaigrette
Queens smoked pork belly platter – P990
6-hour smoked pork belly with smoked Hungarian sausage and sauteed vegetables
(Good for 4-5)
Crunchy pork sisig – P330
Grilled pork cheeks and belly with chicharon, caramelized onions and sisig sauce
(Good for 2-3)
Strawberry cheesecake – P200 / slice
Cream cheese, whipped cream and fresh strawberries on graham crust
All-Day Silog Sets
Daing na Bangus, P220
Longganisa, P220
Beef Tapa, P270
Smoked Lechon Belly Bacon, P270
Main Courses
Each is for sharing.
Queens Smoked Pork Belly Platter, P990
Whole Roast Chicken & Vegetables, P610
Kare-Kare, P480
Crunchy Pork Sisig, P330
Bulalo, P550
Sinigang na Hipon, P475
Thai Crispy Fish with Tamarind Sauce, P360
Desserts
Strawberry cheesecake (slice), P200
Barako coffee jelly (cup), P120
Strawberry chocolate mousse (cup), P190
See the full menu below!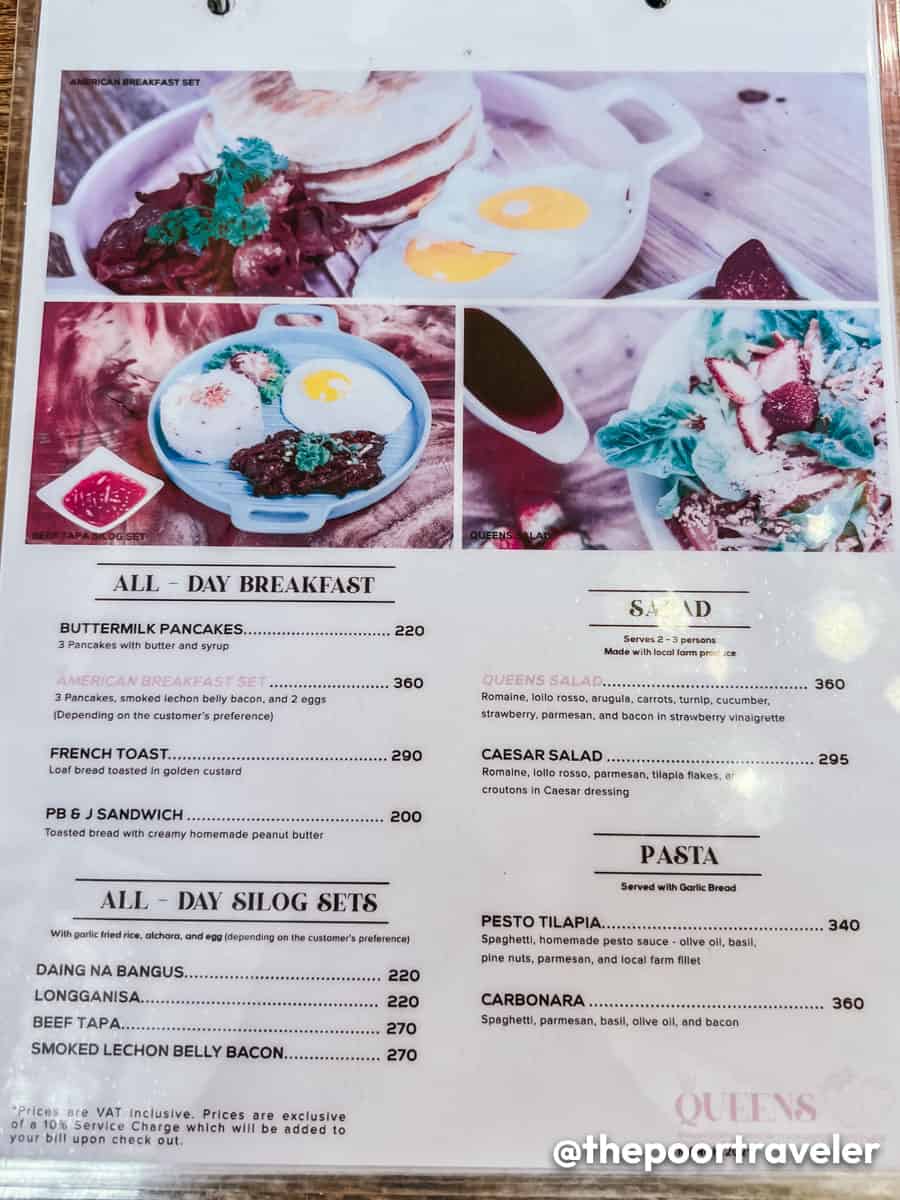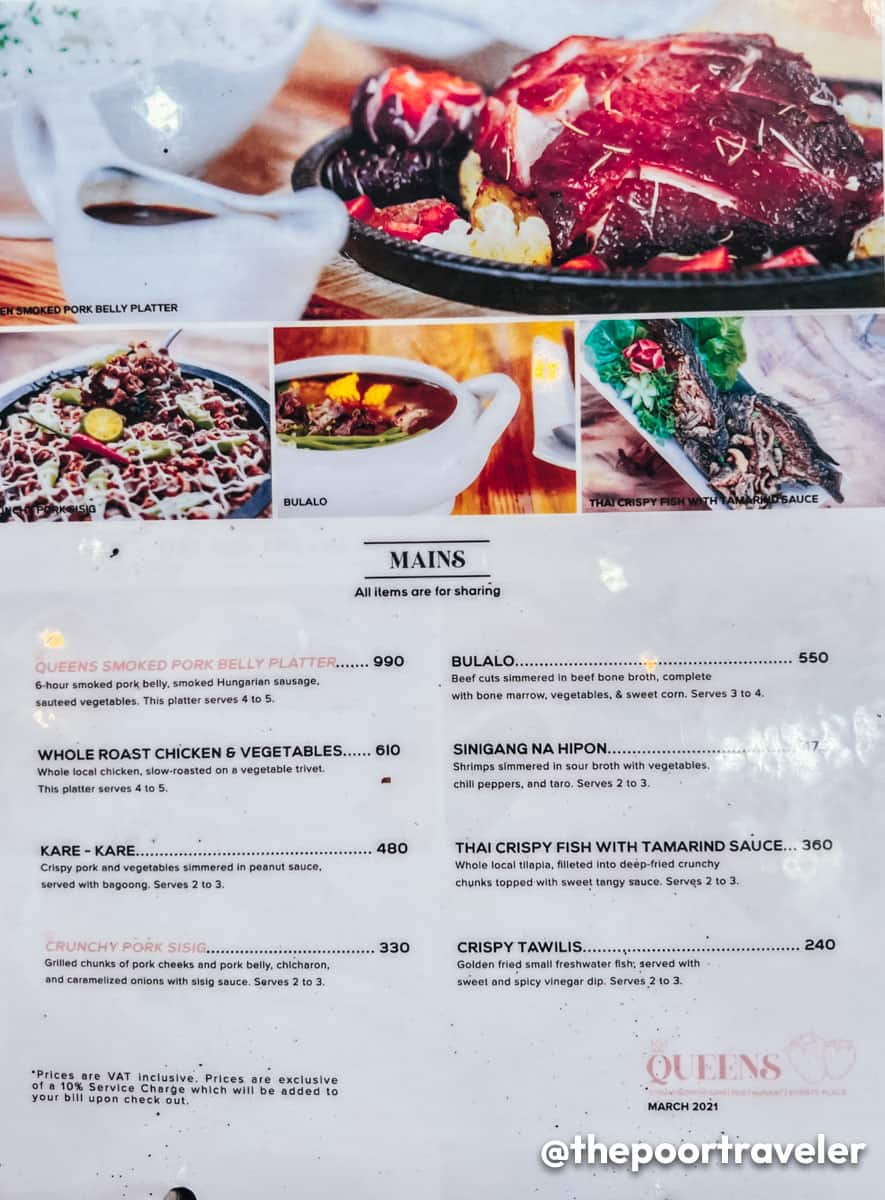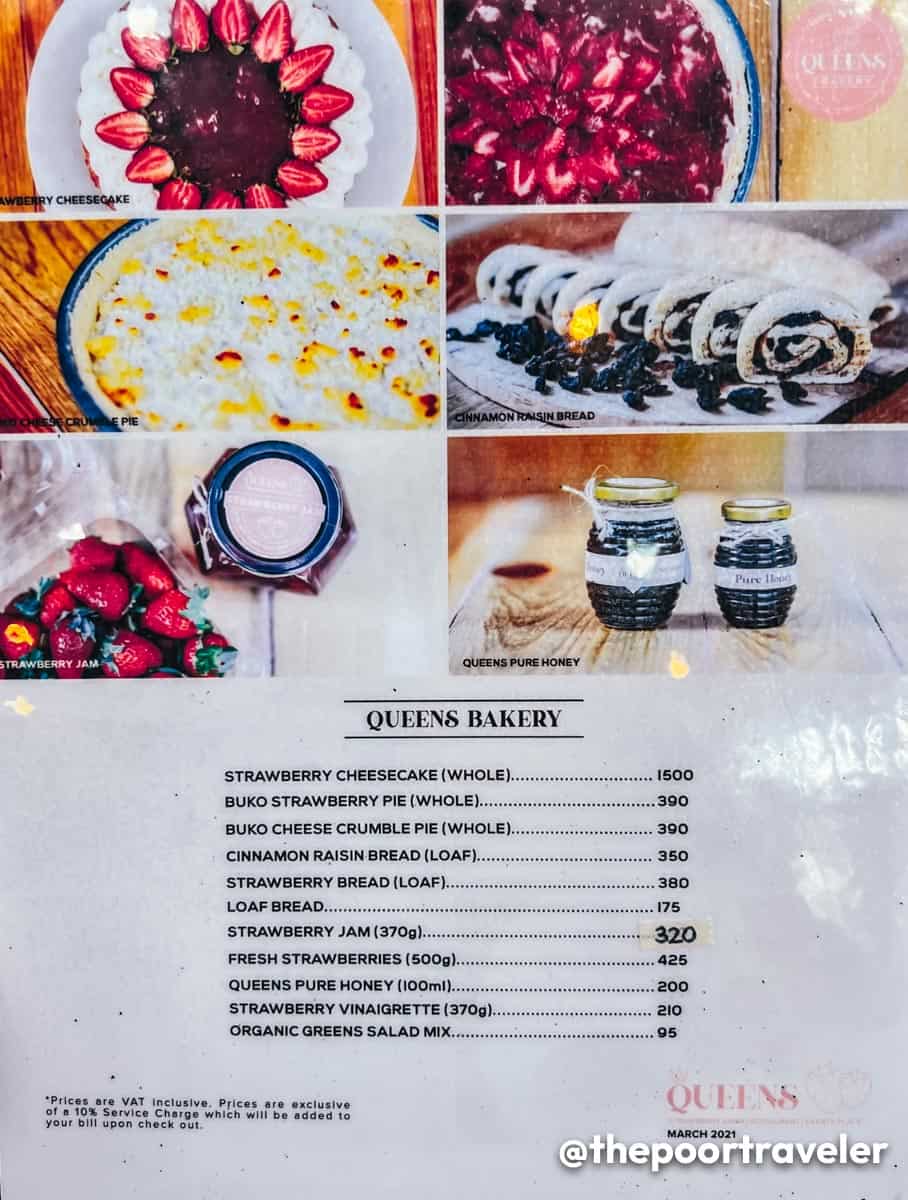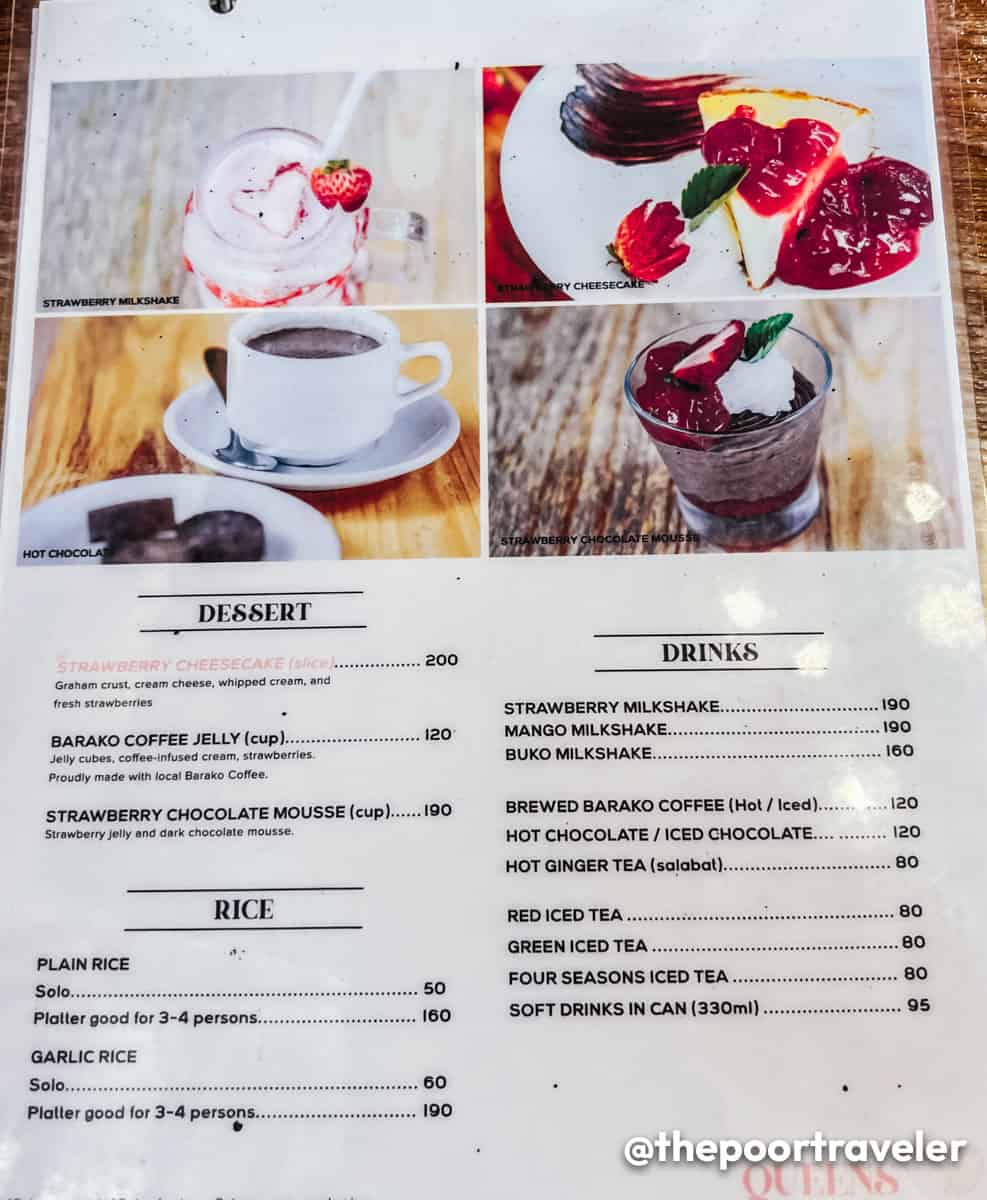 ---
What are the operating hours?
8:00 AM – 7:00 PM
Weekdays
8:00 AM – 8:00 PM
Weekends
NOTE: The opening schedule might change so it's best to check the official Facebook Page or contact the management for the latest update regarding opening hours before going.
---
When is the best time to go?
As usual, weekdays. If you can't help visiting on a weekend or holiday, just go there early to avoid the crowd and the heavy traffic that usually starts at around 10:00 AM.
We went on a Sunday during lunchtime so we had to wait in line for a few minutes before we were assigned a table. They also did a good job placing guests strategically so social distancing could still be observed.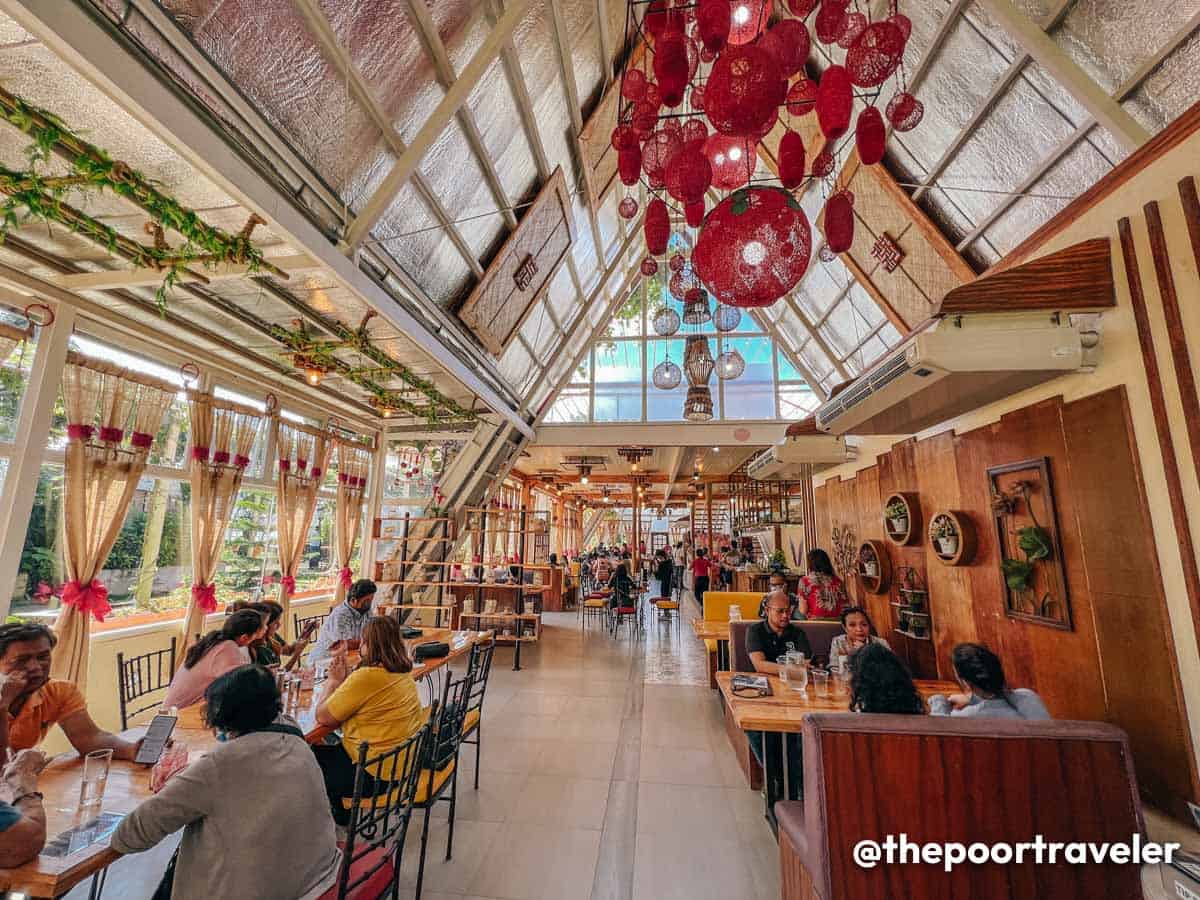 For those who plan to go strawberry picking and rod fishing, visit in the morning or late afternoon to avoid the scorching heat of the sun. But reserve a slot in advance.
---
How to Get There
Queens Strawberry Farm is located in Sitio Hawilian 2, Barangay Upli, Alfonso, Cavite. It's often marketed as "near Tagaytay" because it is, less than 15 minutes from key Tagaytay landmarks like Sky Ranch or Mendez Crossing or less than 20 minutes from Olivarez.
If you're coming from Manila, here's how to get there:
By Public Transportation. From Parañaque Integrated Terminal Exchange (PITX), board a bus bound for Tagaytay or Nasugbu. Alight at Shell Station across Splendido Taal. There's a tricycle terminal on the side of the road (Alilio Drive). Ride a tricycle and tell the driver that you are going to Queens Strawberry Farm.
By Private Car. Take SLEX or CAVITEX and stay on the main road until you reach Tagaytay-Nasugbu Highway. You need to turn right to the road (pictured below) just before you reach Splendido Taal or Shell (adjacent to the road leading to Barangay Upli). Drive straight ahead until you reach Queens Strawberry Farm. Better yet, just use Google Maps or Waze app for the exact directions and to see the current traffic situation.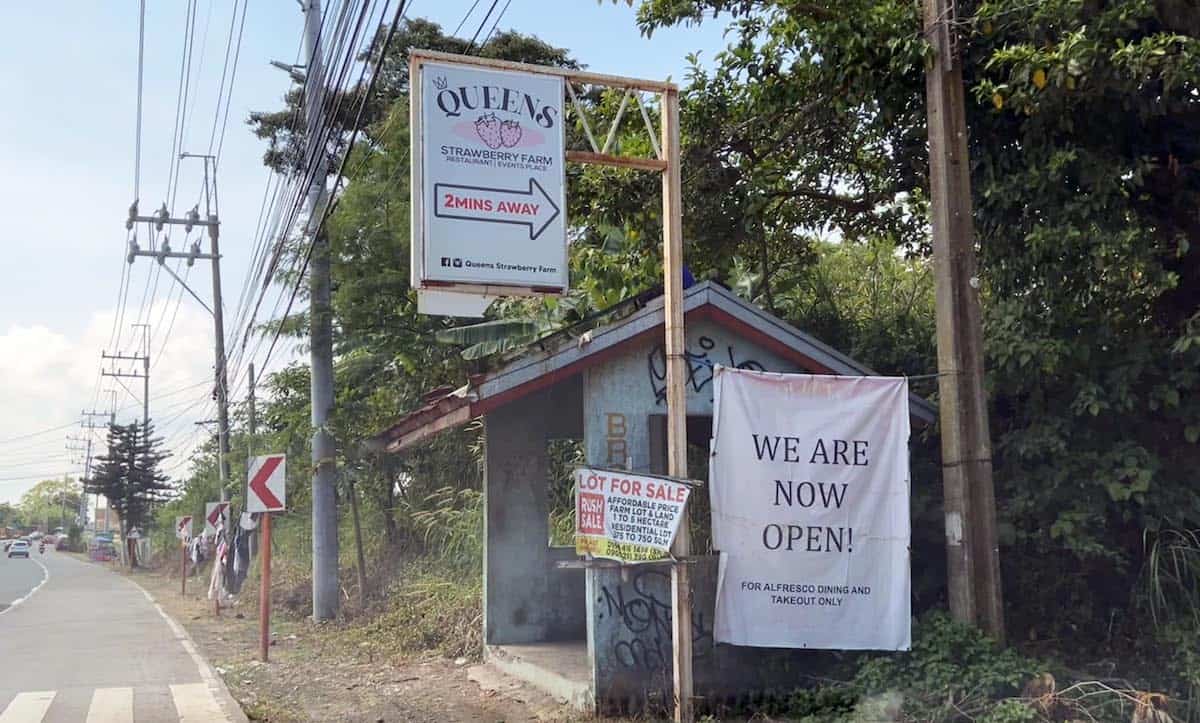 ---
Is there a designated parking area?
Yes. However, slots can easily be filled in during weekends and holidays.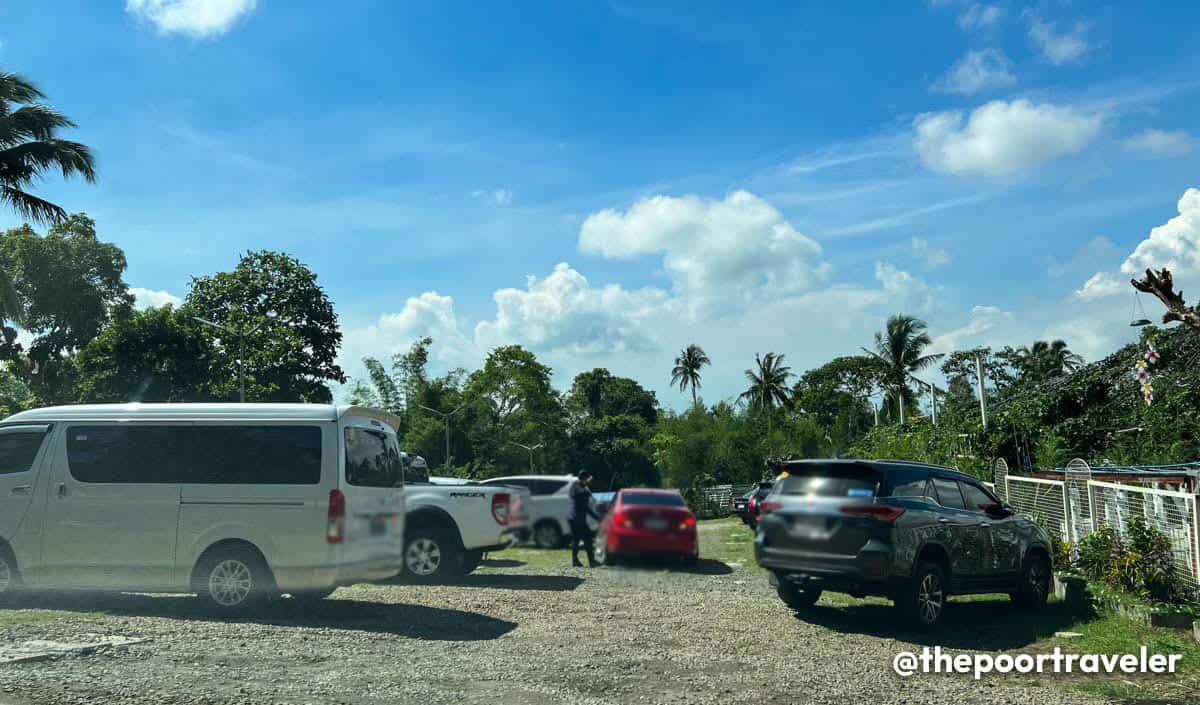 Anyway, the road where you can access Queens Strawberry Farm is not a busy road, so in case the designated parking area is full, you can park on the side of the road or wherever the staff will lead you.
---
What is the new normal admission process?
Below is Queens Strawberry Farm new normal system:
Enter the complex. Once you've found a parking slot, enter the farm complex. The restaurant is a short walk from the entrance but you'll find a bakeshop first. Make a stop there first.
Accomplish contact tracing form. Upon entrance, there's a security guard to your right, where the bakeshop is located. There's a QR code scanner if you wish to do it online OR take one form from the box if you want to do it manually. Use your own pen. If you are a group, one representative will do. Show the confirmation message to the security personnel.
Body temperature scanning. You will be asked to scan your body temperature. If normal (below 37.5ºC), you will be allowed entrance.
Walk to the restaurant. It's at the end of the path. The main entrance is fronted by a koi pond.
Get listed. Approach the reception and tell them how many you are on the group. If there's an available table, they will lead you to it. Otherwise, you'll be pointed to the waiting corner.
Enjoy your meal!
---
Do we need to make a reservation first?
For the restaurant, reservations are not needed. Walk-in guests are welcome. They do accept reservations, though, if you feel like it will be packed during your visit.
If you want to stay overnight at the farm and avail of their bed-and-breakfast service, you need to book in advance to secure one of the two rooms.
If you want to go rod fishing, you need to book your fishing timeslot on the official website. You also need reservations for events and seminars.
However, if you are only planning to visit the farm on a day tour, dine at the Queens Restaurant, or buy something from the bakeshop, you may just go ahead and visit even without advance reservation.
---
Are kids and senior citizens allowed?
Fully vaccinated senior citizens are welcome as well as kids, during our visit. Pets are also allowed in the al fresco dining area.
The farm's open space is perfect for outdoor activities that cater to everyone — families, friends, and partners.
REMINDER: Protocols frequently change, so make sure to contact the management first if they are (still or already) accepting guests below 18 years old and above 65 years old.
---
Is it worth it?
We only came here for lunch and did not try the other activities. And we wanted to have a taste of much of what they had to offer so our team ordered all the bestsellers (highlighted pink on the menu).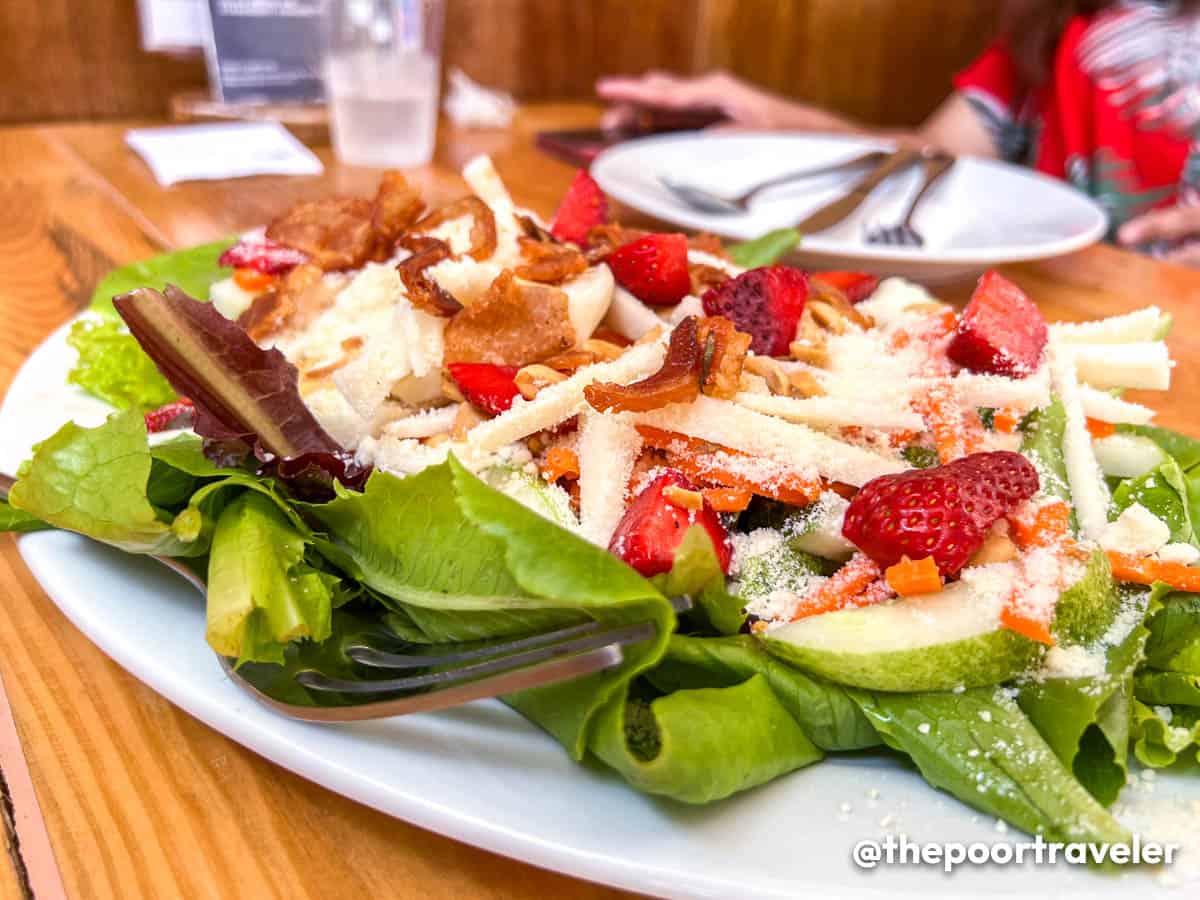 Queens salad (P360) was the first to reach our table. Served on a flat white plate, the bed of greens — composed mainly of Romaine lettuce, lollo rosso and arugula, topped with jicama, carrots, bacon and strawberries, dressed with parmesan cheese and strawberry vinaigrette, one of their signature products. While the vinaigrette was polarizing among our group, we all agreed that the ingredients were all fresh, crunchy, and tasty. We could tell that the greens were homegrown! Even I and another companion who normally don't prefer salads loved the dish. It was a really promising start!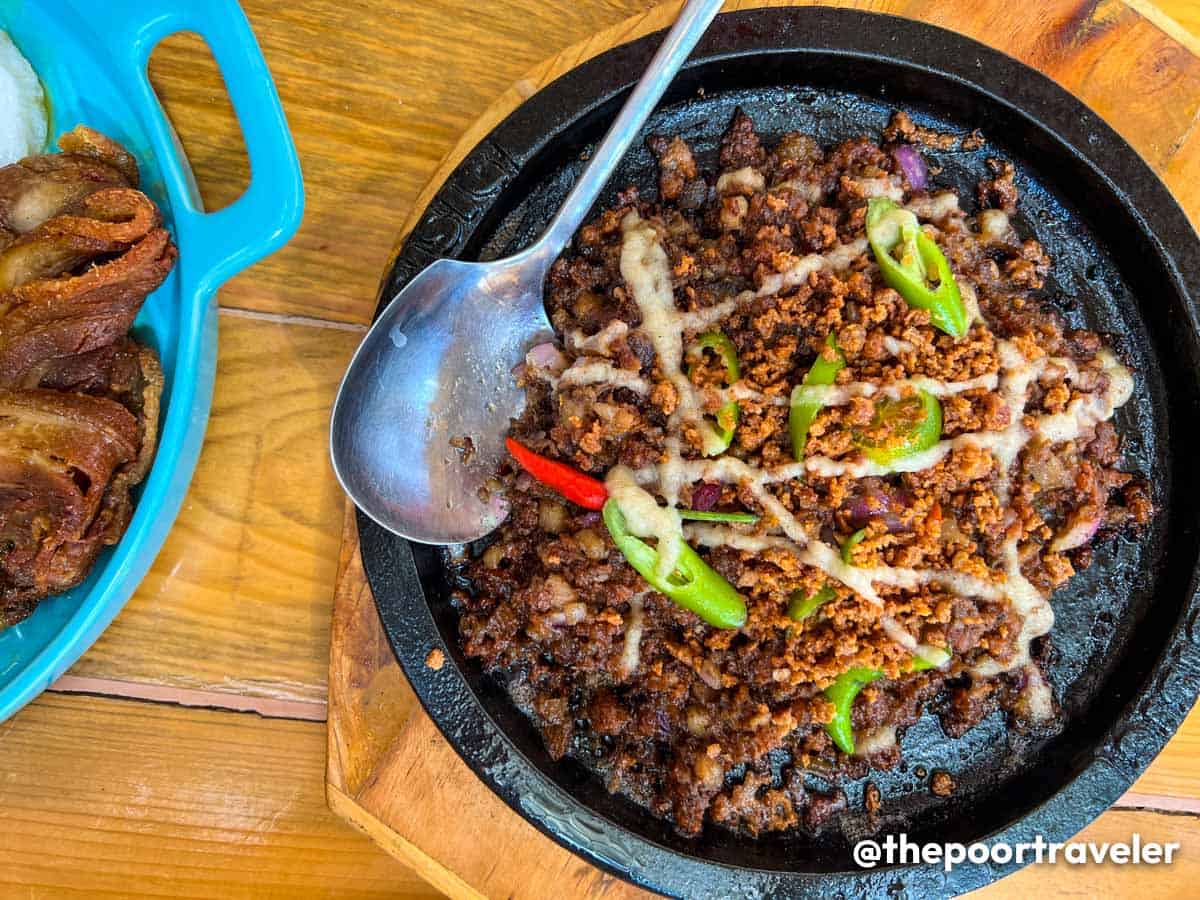 It took 40 minutes for the next dish to arrive — crispy pork sisig (P330) — made of grilled pork mixed with onions and topped with red and green chili and chicharon, served on a hot plate. Taste-wise, it has all the flavors of the traditional sisig. But texture-wise, it's a wee bit different because of the cut of the meat. This uses pork cheeks and belly (without pig's ears), more finely broken down — closer to ground than chopped (or maybe chopped much more finely, not sure). So it felt different in the mouth texturally, but still tasted close to traditional.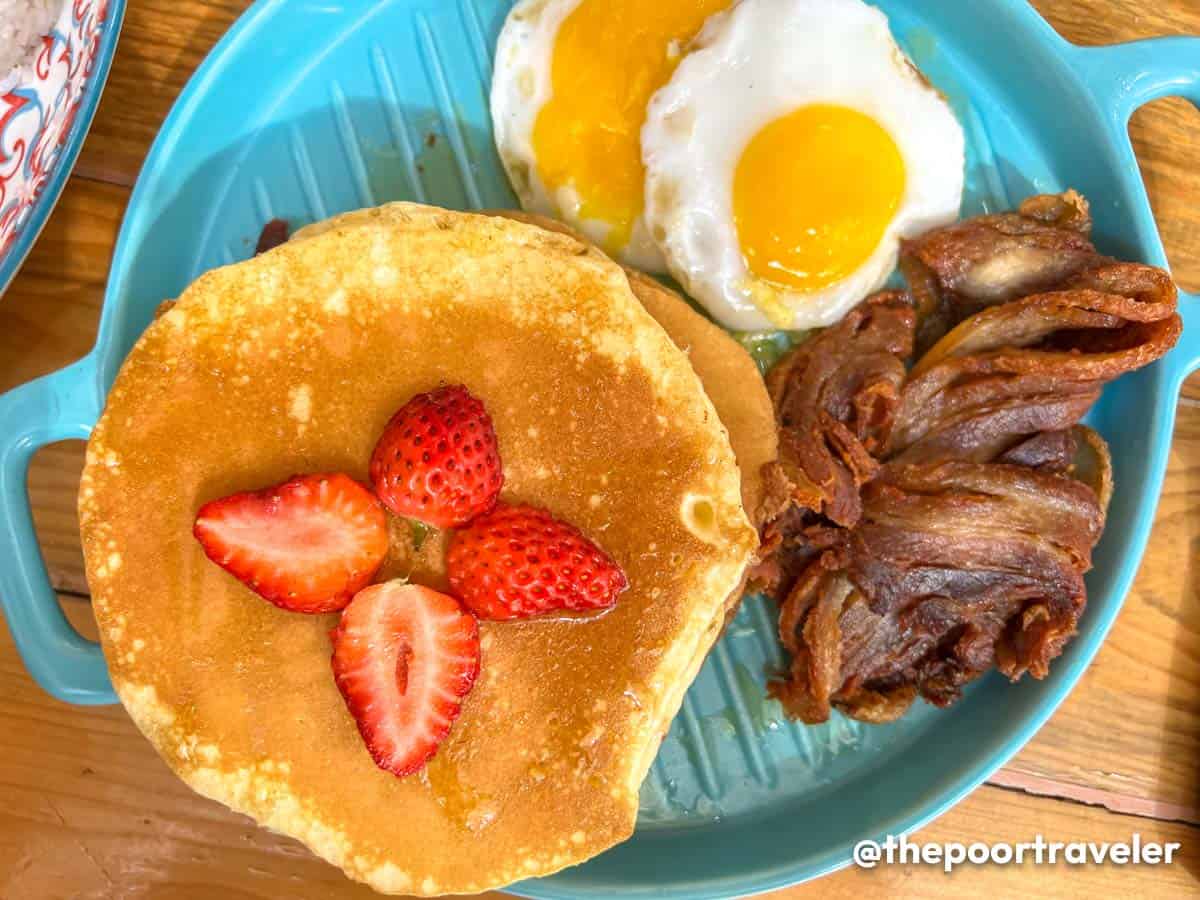 Next was the American breakfast set (P360), which is composed of a stack of three pancakes, smoked lechon belly bacon, and two eggs. The pancakes were airy and fluffy but they must have been sitting on the plate for quite a while before it was served because it had already absorbed the syrup that came with it. But the fresh strawberries on top provided the tanginess that complimented the sweetness really well. One look at the bacon, on the other hand, and we knew it wasn't the usual type we could get from the supermarket. The strips had a great ratio of meat and fat, and they were well-seasoned and crispy. But smokey it was NOT. It was almost devoid of any smokiness, which was too bad because it's something that I loved the most about bacon.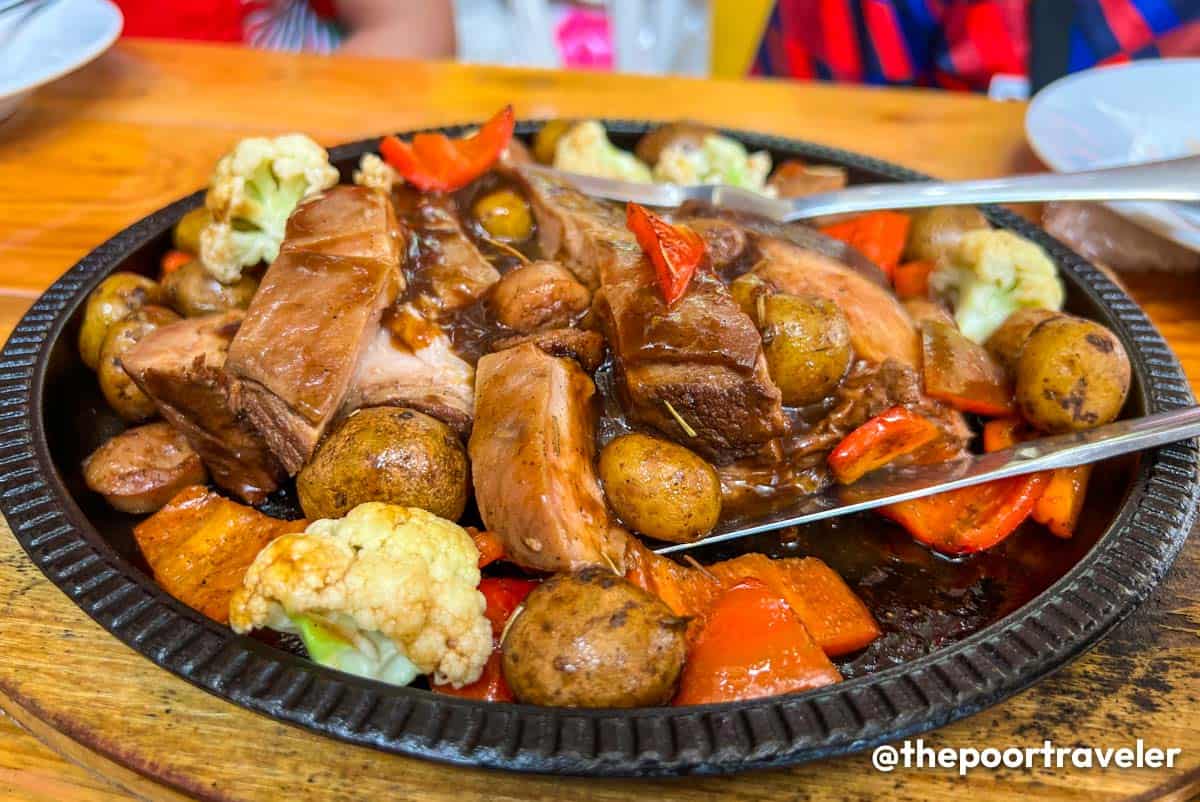 The biggest dish, of course, was the Queens pork belly platter (P990), which was smoked for 6 hours before adorning with smoked Hungarian sausage and sauteed veggies. This was the most expensive item on the menu and was highly recommended by the staff, so the expectations were high. And it delivered, in my opinion. The meat was so tender, every bite was an explosion of porkiness, even for the laziest of chewers.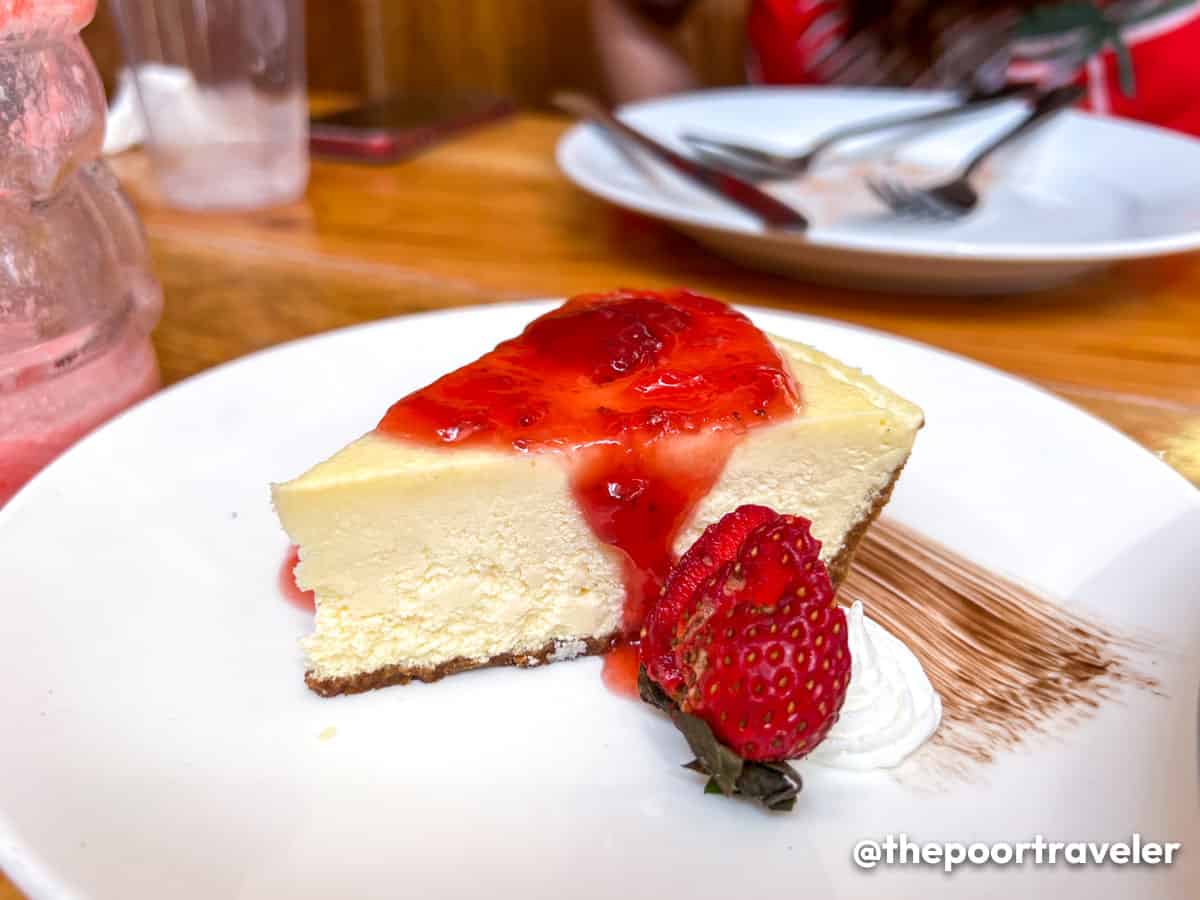 The strawberry cheesecake (P200/slice) has your typical cafe chain cheesecake base (neither airy nor dense), saved by the delicious sour-sweet-combo of their homemade strawberry jam. It sits on a Graham crust and served with whipped cream and sliced strawberries.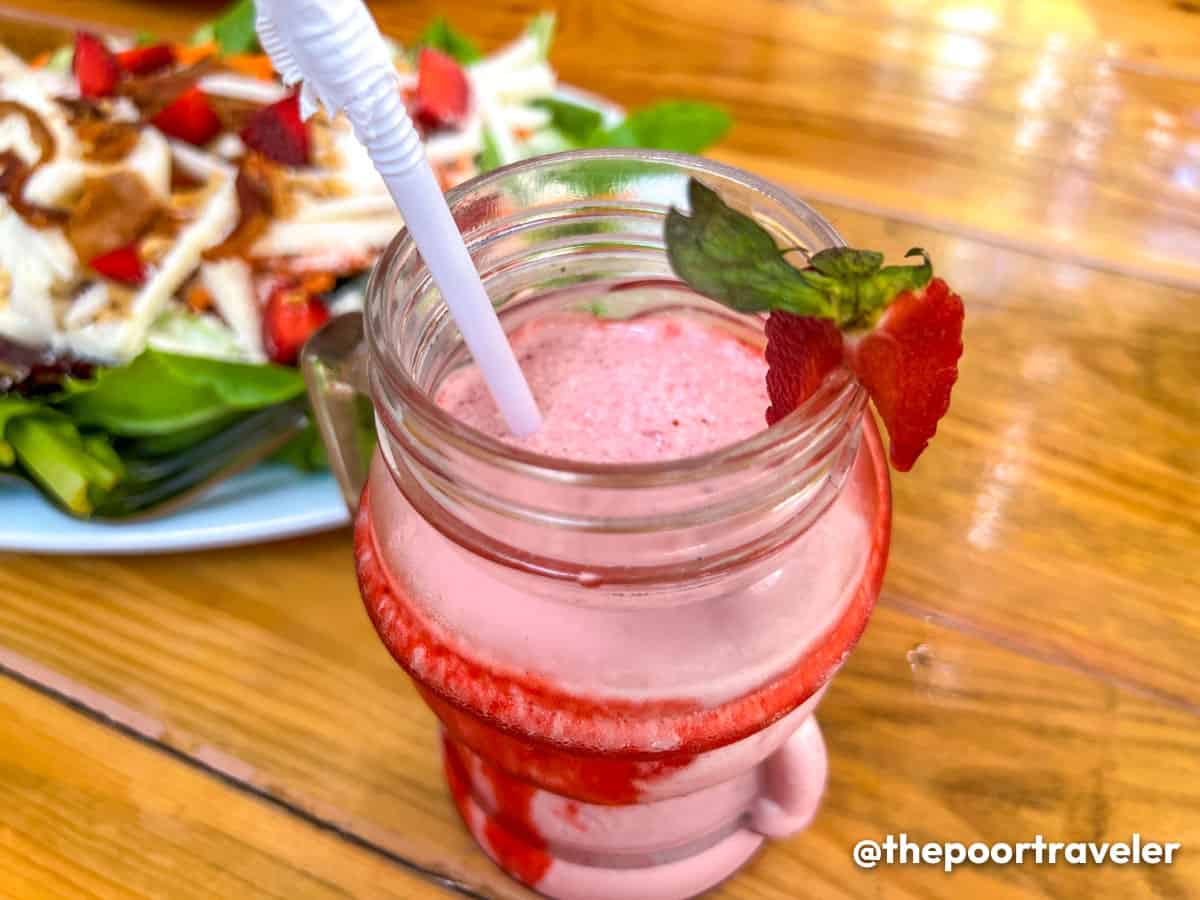 Now let's talk about their milkshakes! We ordered two flavors. The strawberry milkshake (P190) was the right mixture of milky and fruity, and it uses fresh strawberries, at least for the most part. If there was any unnatural flavoring there, it was mostly dominated by the fresh strawberries. But the mango milkshake (P190) did taste awfully artificial. We didn't detect any fresh mangoes there at all.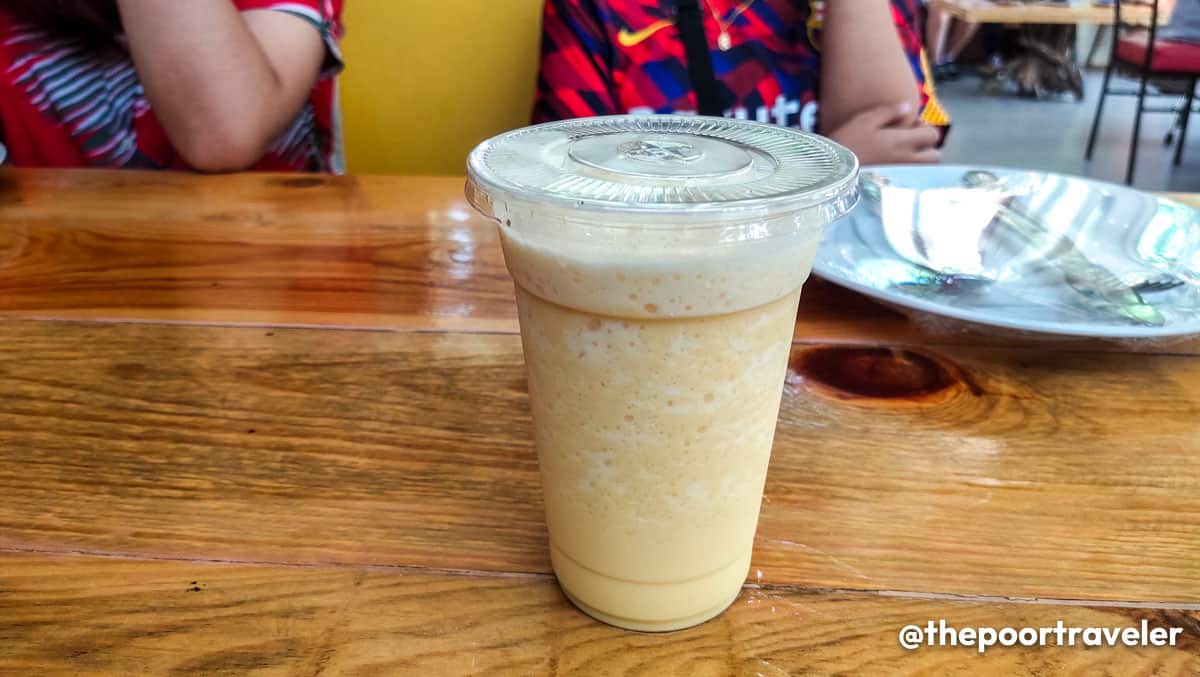 OK, before we move on, let me address the 40-minute gap between the first two dishes. We were surprised because we could see that they flipped tables fast. All the other tables next to us were served quickly so we knew that service here was efficient. The wait staff were also very friendly and approachable. But of course, excellent service, no matter how excellent, isn't perfect. Sometimes something slips and it just so happened that it was us who had to experience it. Perhaps our order got lost in the kitchen because it was a busy time but yes, it did take 40 minutes for the second dish to arrive, even after a few followups.
But when the staff realized we had been waiting that long, they were really apologetic and tried to make it up for it by keeping an eye on our order this time and giving us something to munch on as we waited. So, it wasn't that big of an issue. Things like this happen, and for us, it's really how you deal with the situation and they responded to it really well.
Besides, because there were other things to do here, I didn't really mind the long wait. I just used the time to take snaps at some of their photo spots and I got to explore the farm.
The question is: WILL WE RETURN?
And the answer to that is, yes.
Overall, the food was a hit-or-miss for us. Curiously, it was the savory mains that we loved more than the strawberry-flavored dessert and drink. But at least, next time, we know what to order. And despite that one hiccup, the service was still good because the staff members were all polite. The ambience was quite good too, appropriate for families and barkada trips.
---
Other Tips and Reminders
Wear a face mask at all times except when eating.
Always observe social distancing.
Prices are inclusive of VAT. A 10% service charge will be added to your bill.
The rod fishing rate is inclusive of the apron, fishing hook, bait, and guide.
You must always wear an apron when fishing.
Children below 10 years old are not allowed to fish unless accompanied by an adult.
Bring protection from the sun like hats, shades/sunglasses, and sunscreen, especially if you are visiting at noon and when the sun is too intense.
Be considerate. If you happen to visit during peak hours and you are already had your fill, don't linger too long to give way for the other diners.
Pregnant women and those with health risks/comorbidities are not allowed to enter the premises.
Contact the management first before going for the latest opening hours and entrance restrictions.
Walk-ins are allowed, but reservations are needed for bed and breakfast service, rod fishing activity, and events.
---
Queens Strawberry Farm Contact Details
For inquiries and events reservations/booking, you may contact the management through any of the following:
Email Address: contact@queenstrawberryfarm.com
Mobile Number: 0948 841 7161
Official Website: www.queenstrawberryfarm.com
Facebook Page: Queens Strawberry Farm (@queenstrawberryfarm)
Instagram: Queens Strawberry Farm (@queenstrawberryfarm)
---
Alfonso Emergency Hotline and Contact Numbers
PNP: 117
Alfonso PNP: (046) 522-0800 / 0906 536 6135 / 0998 967 3364
Alfonso Fire Station: (046) 522-0480 / 0915 602 2113 / 0929 663 2424
Alfonso Hospital: 415-0190 / 0917 306 2419
DOH COVID-19 Hotline: (02) 894-26843 or (02) 894-COVID / 1555 (For PLDT, Smart, Sun, and TNT Subscribers)
---
2022 • 03 • 13