Update: Prony the Python died on August 14, 2013.
The Poor Traveler is usually scared if reptiles. Very scared of reptiles. Terrified, in fact. I remember our trip to Lucban, Quezon for the Pahiyas Festival, there was a house where a big yellow snake was on display and they encouraged tourists to have a photo-op with the snake on the shoulder. My friends had a very difficult time wasting their energy to get me involved but no, dear, no thanks.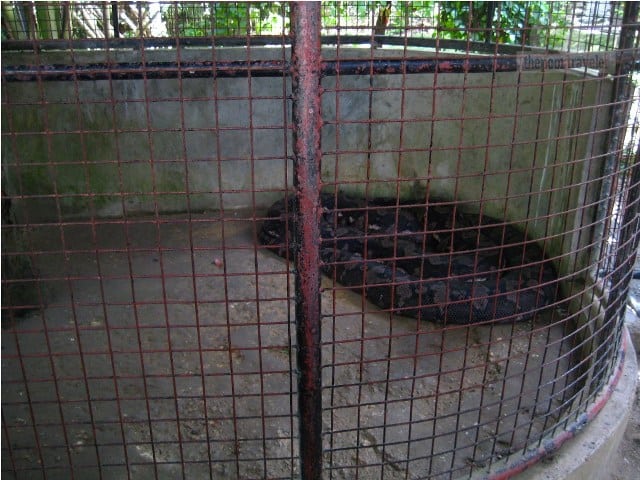 So when I learned what was next in our itinerary, I wasn't really that looking forward to our meet-and-greet with Prony, the Python. You might be asking: What's so special about Prony, anyway? The answer is simple — its size. Prony is said to be the world's biggest snake in captivity. That's something. She's over 23 feet long and 300 kg heavy. Whew. Quite a record.
WHAT'S COVERED IN THIS GUIDE?
A Little Bit of History
Why Prony? The name Prony, I heard, is actually the name of its captor whose full name is Sofronio Salibay. She's now being kept at a Python Sanctum within 300 meters of the exact place where it was captured.
According to its Facebook fan page (Yes, she has a fan page; she's a superstar), Prony was discovered by Mr. Salibay on October 2, 1996 at a local cemetery in the municipality of Albuquerque (also known as Albur). At the time, Prony was only 5 meters in length and 5 kilos, weight. Originally, the family that take care of him wanted him as a pet but she just grew extraordinarily that she began to catch the attention of many.
At first, it was said that she was being fed cats and dogs (literally) but later media and government intervention changed that as it was against the law. Today, Prony feeds on pigs and goats alternately. Her fan page says she eats once a month but I think I clearly remember the tour guide at the Sanctum saying once every six months. I'm not sure.
Meet and Greet with Prony
One thing that made our visit to the place unforgettable was not Prony herself. It was actually the tour guide stationed just outside Prony's cage. HE.WAS.EFFING.HILARIOUS. He was just so witty and entertaining. He explained very well all about Prony but with really effective sense of humor. We loved him. We actually thought he was Michael V in disguise. (They really look alike. Seriously.)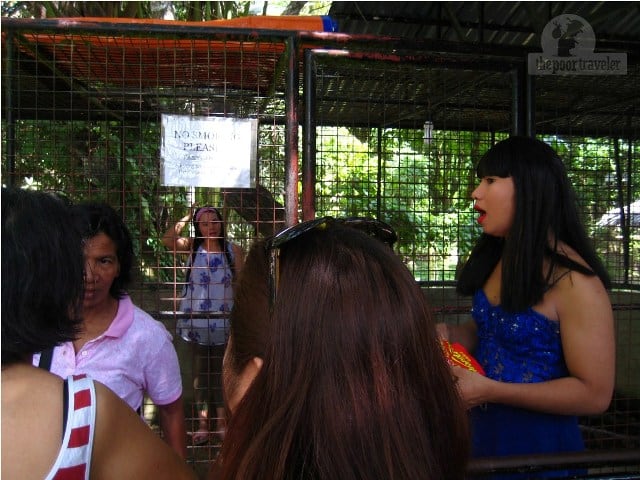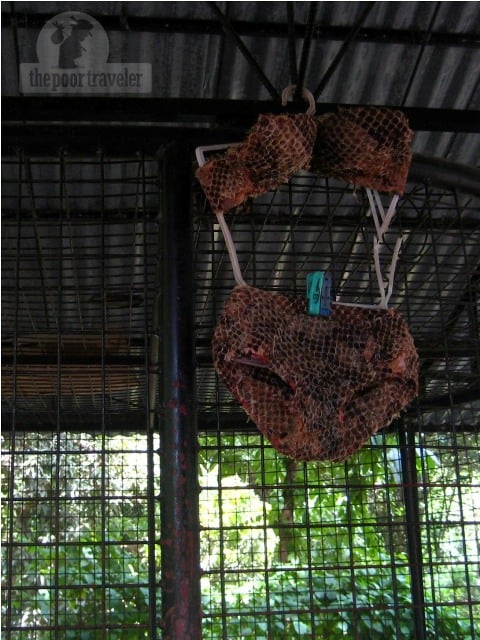 One of the caretakers encouraged us to go inside of the cage to have a closer look at Prony. HELL, NO. I'm the Poor Traveler not the Brave Traveler.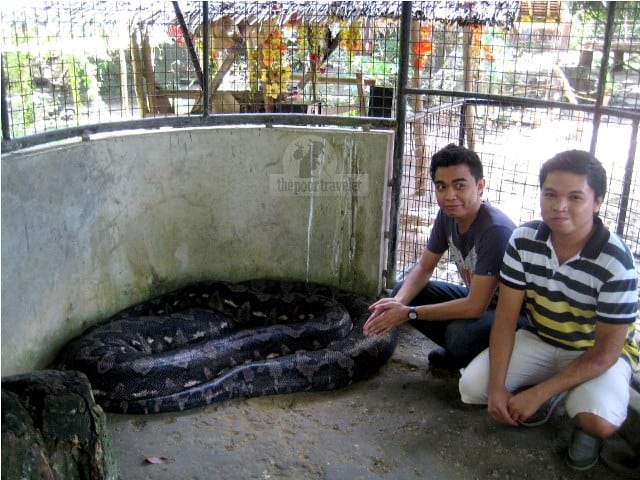 There are other animals being kept in this mini-zoo. There were two "lawin" birds called Agua and Bendita and two monkeys named Miley Cyrus and Taylor Swift. That's their real names, said the tour guide. Pop culture has invaded Animalia, indeed.
Did I enjoy my stop here? Definitely. Will I do it again should I return to Bohol? Probably not.
How to get here: This is one of the stops of the so-called Countryside Tour offered by tour operators, resorts, and hotels in Bohol. If you're taking this tour, just ask your contact to make a stop here to be sure.
Entrance Fee: P10 per person