"Look at that island!" exclaimed a friend as she pointed to an irregular shape that was slowly becoming clearer as our boat sped up in between islands that morning. "It looks like a dolphin."
"Really?" said another friend. "It's more like a whale to me."
"It looks like a fried chicken. Drumstick. Soaked in water"
"An airplane."
"A helicopter."
"Yes, a helicopter. Without the propeller."
"What is the name of that island?" Finally, somebody asked one of our boatmen, who smilingly answered — Helicopter Island.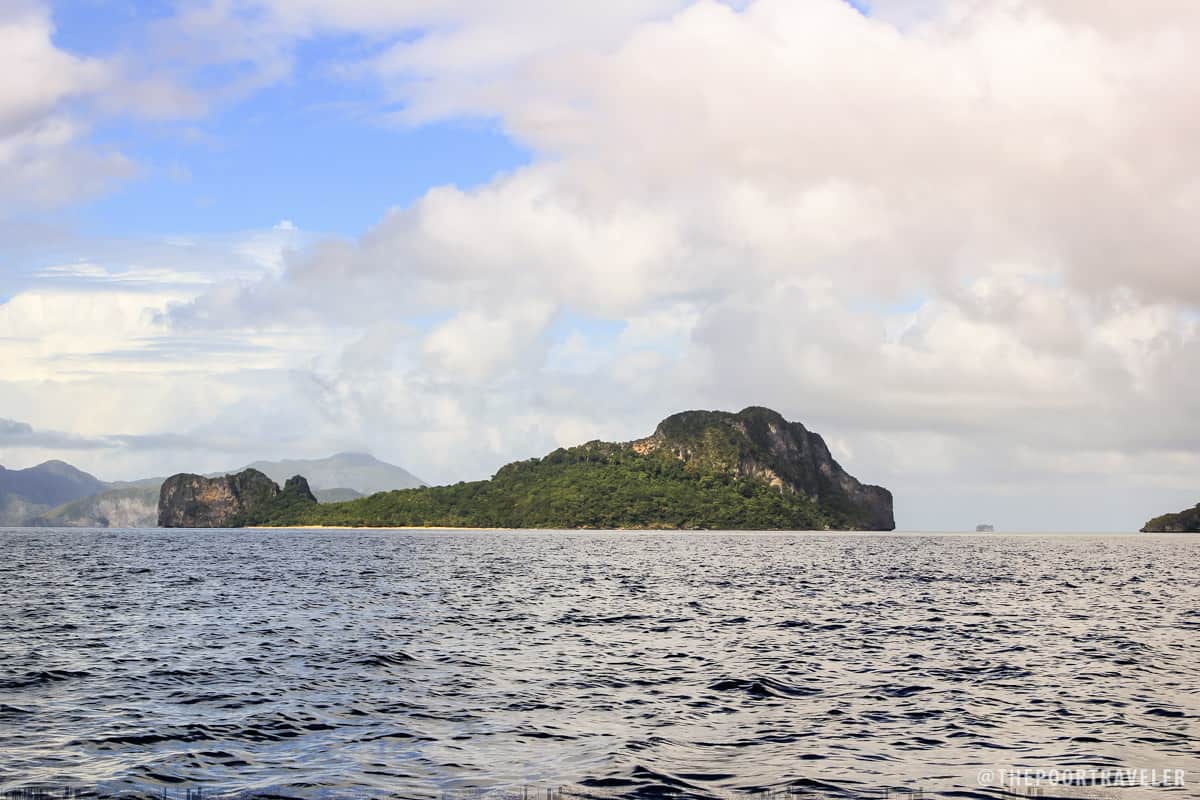 We just passed by it on the way to Matinloc Island. Later on, after a series of stops at gorgeous beaches and snorkeling sites, we saw the island again. It was late afternoon and the sun was already boasting its golden gentleness to the lands and seas below. The golden atmosphere made the island much lovelier and island-hopping much more comfortable.
Like most islands off the coast of El Nido, Helicopter Island (officially called Dilumacad Island) is home to towering cliffs sandwiching thick dark green rainforests. On one side of the island is this massive mountain. From afar, its cliffs looked like its edges are rounded, making it look more nurturing than the other islands. Most parts of the m0untain was naked, baring its contours, carved by time, if not God himself.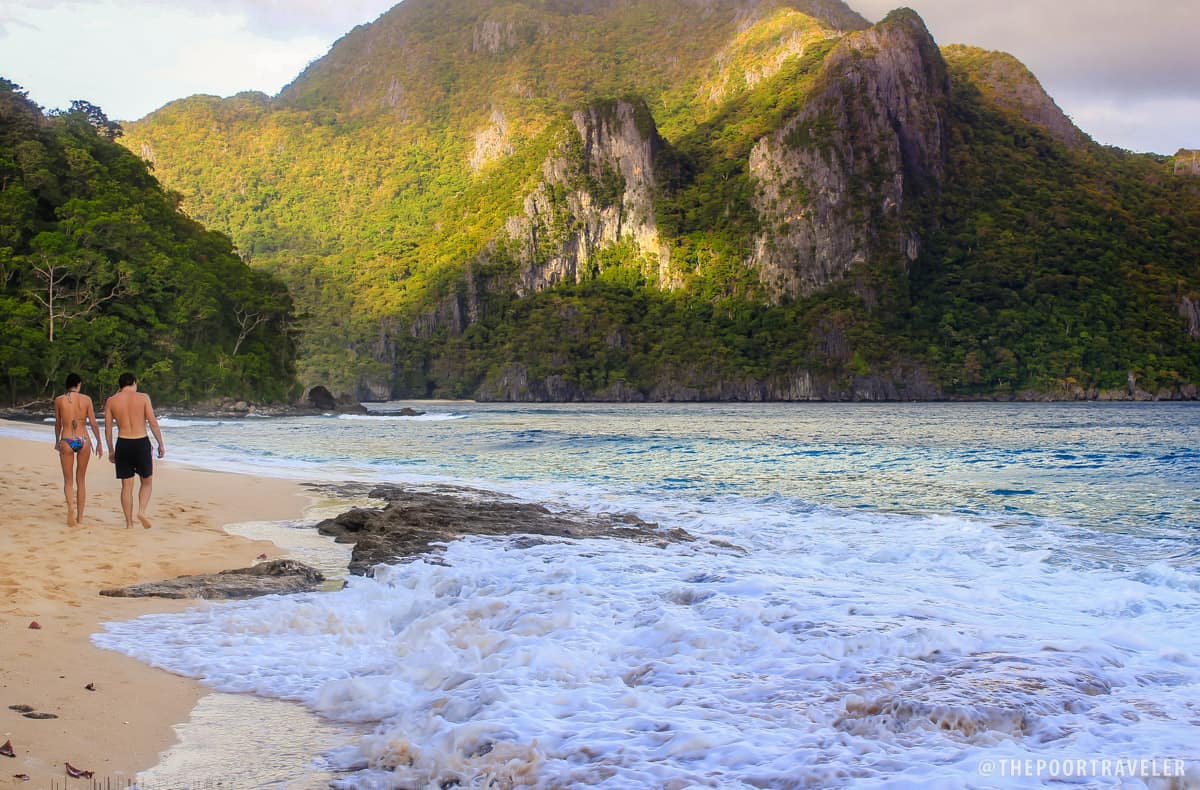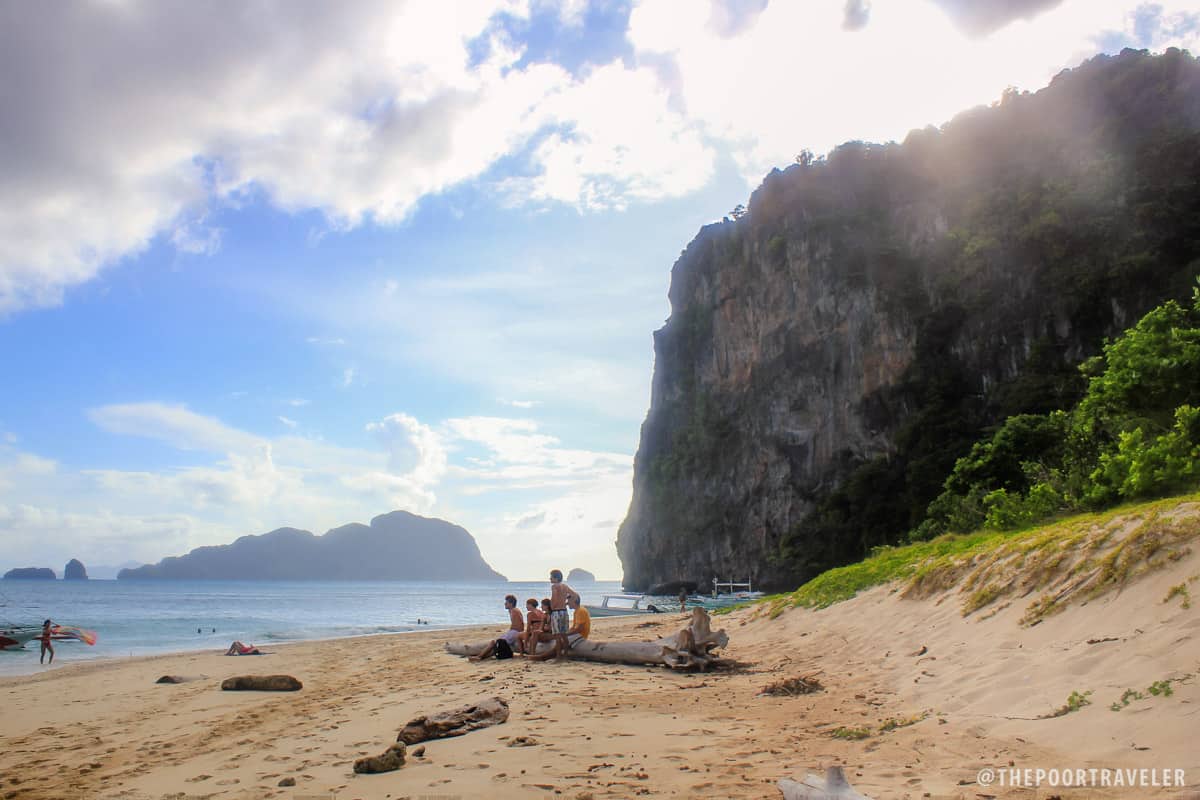 On the other end is another massive cliff that looks like the helicopter's tail, rising from a wide blanket of white sand. In late afternoons, the cliff blocks off the sun, allowing tourists to stay longer in its cool shade.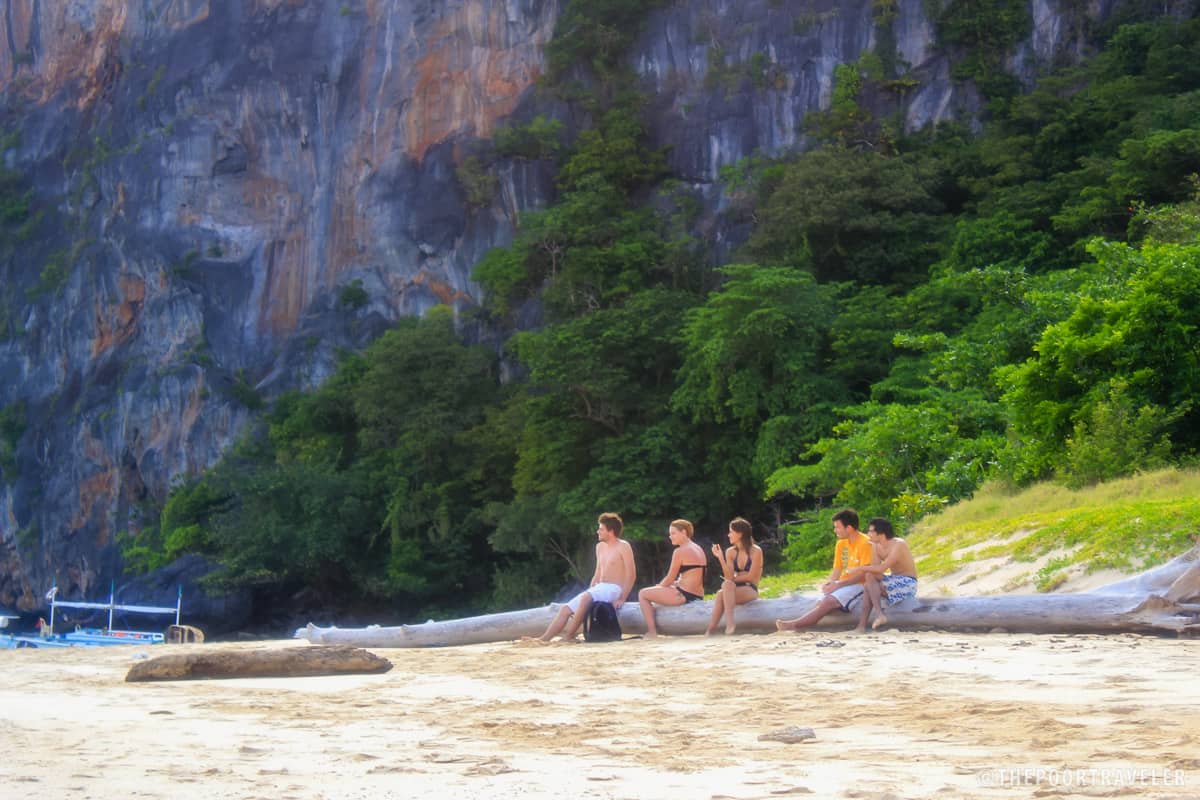 One of the things we easily noticed was that the waves here were a little bit more violent. None of us could swim that far off the coast because the waves would just spit us back to the shore. Well, we liked it so we decided to play with the waves a bit longer. We would swim and let the waves wrestle us back into the territory of muscle pains.
At one point, I just chose to put down my snorkel and just lie down on the sand, in the middle of dry leaves, and watch my friends have the time of their lives. My friend Ayn sat on a bed of rock, admiring the view. Leo braved the waves with a camera in his hands, hoping for a good shot. The others challenged the waves some more.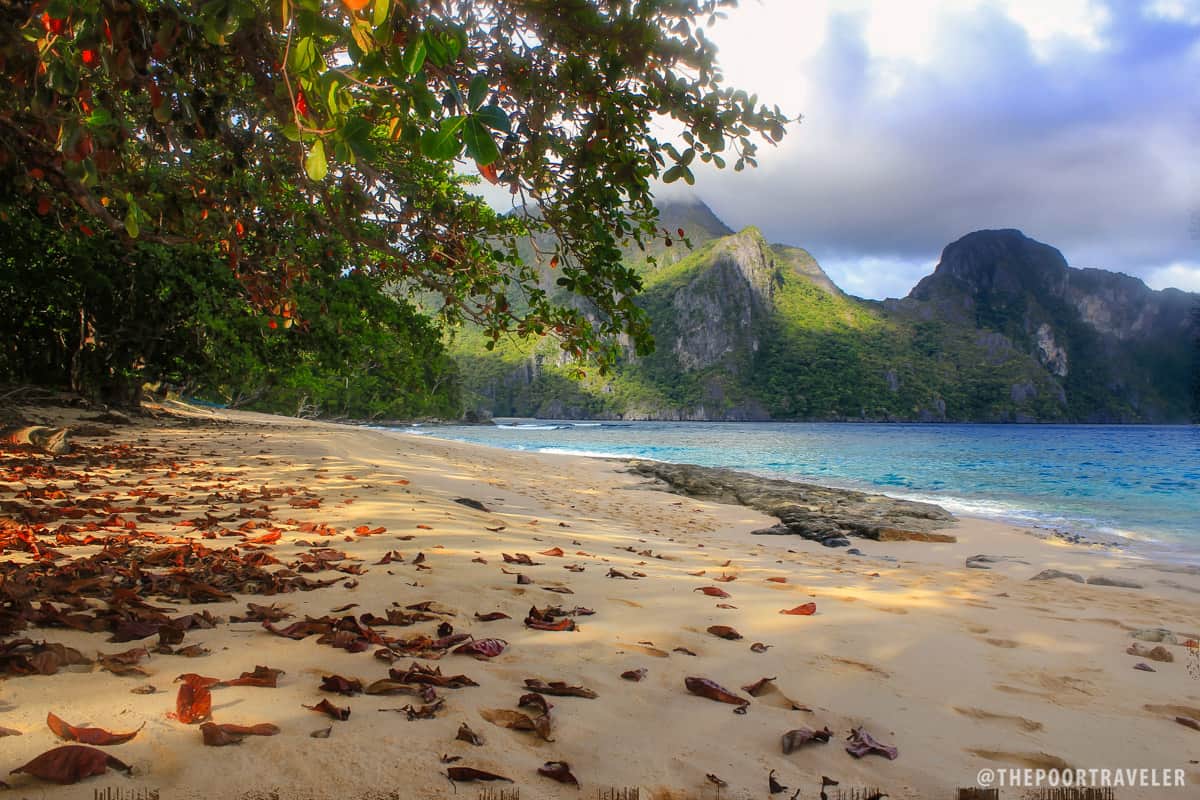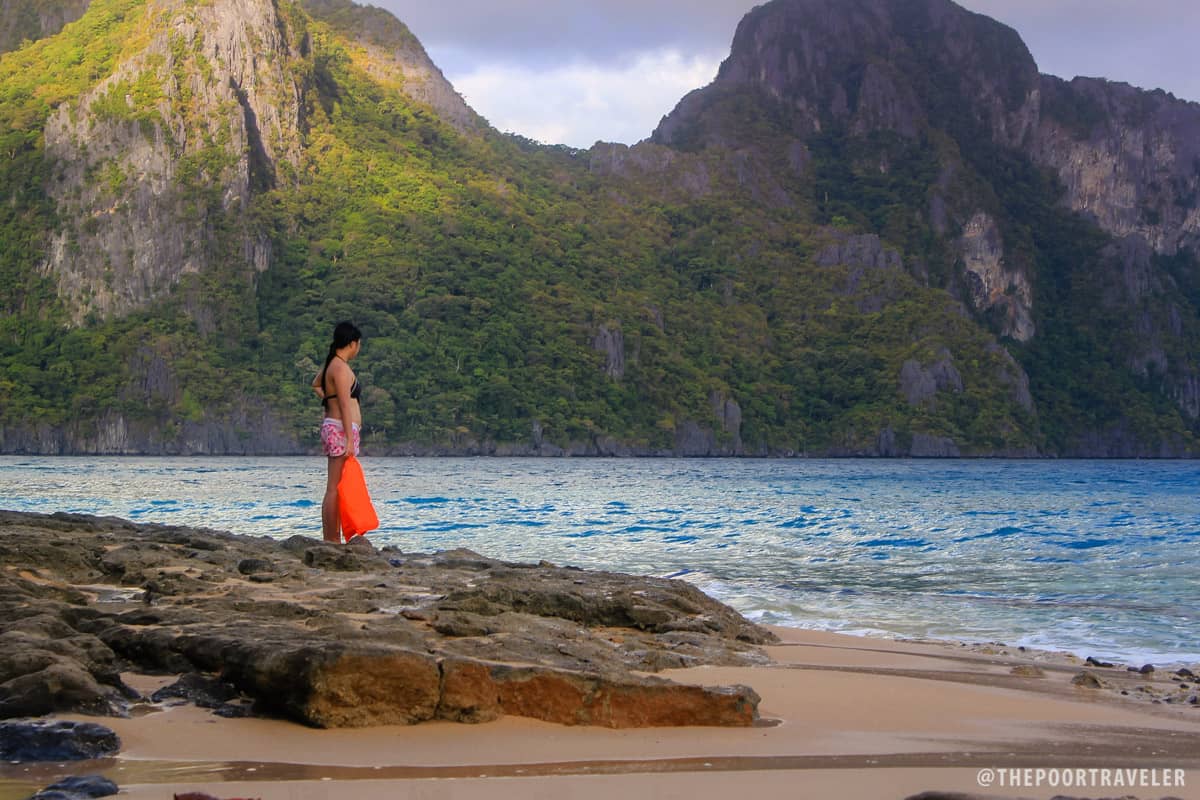 That moment, I found exactly what I came here for — peace of mind. And how can any other moments beat this? A great, peaceful, happy time with friends in Paradise. It was a different kind of high. If only I could stay here forever.
Posted: 2012 • 2 • 26
---
WHAT'S COVERED IN THIS GUIDE?
Top Budget Hotels and Resorts in El Nido
As scored by Agoda customers.