For a good five minutes I stood opposite a painting hanging on a wall of the museum at the Mabini Shrine. As I let my eyes linger on the strokes and colors, I began to wonder how a single painting can evoke so many emotions all at once. Apolinario Mabini did not paint this painting but he's in it, in a hammock, carried by soldiers to Emilio Aguinaldo's camp at the height of the Philippine Revolution.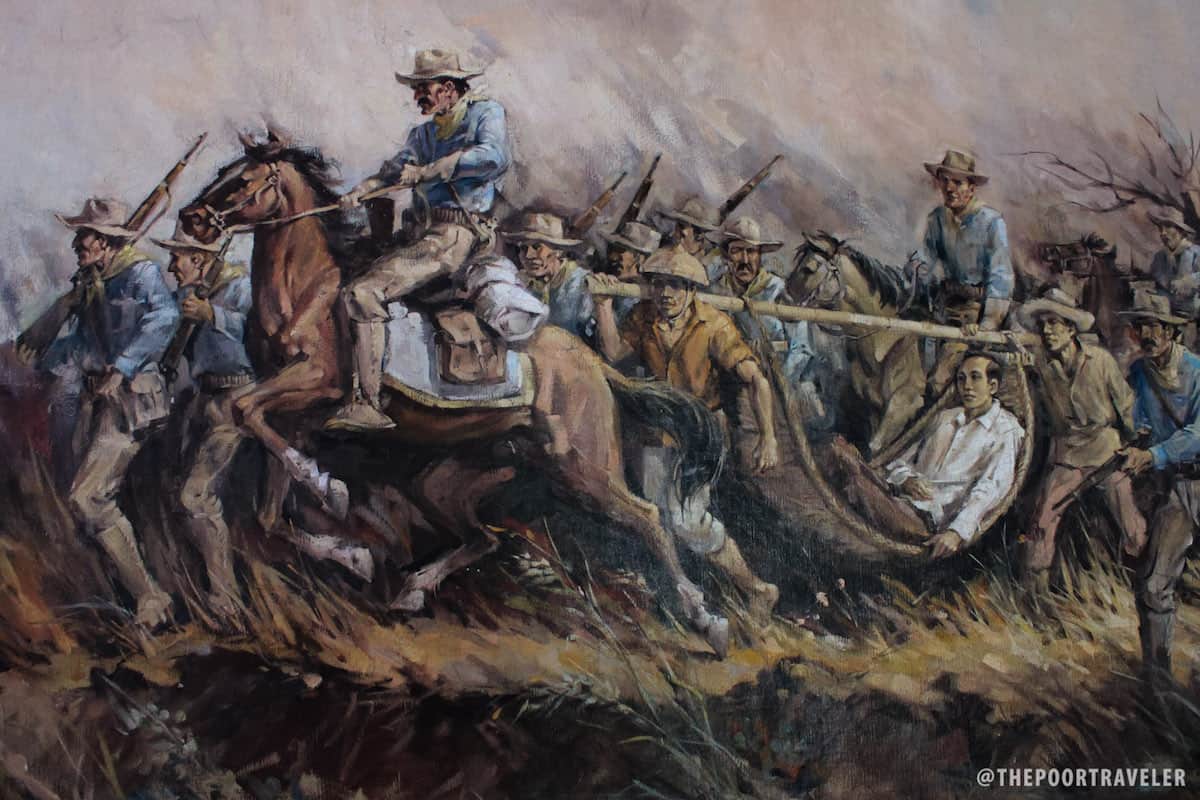 Contracting polio when he was young, Apolinario Mabini was confined to a wheelchair. His legs were not at all functional and were of no help during those terrible times. But Mabini had something else going for him — he was a force of wisdom and intellect. Often dubbed "Sublime Paralytic," Mabini used his strengths in helping out in the movement the way he knew how, contributing much of his knowledge, and had since widely (and aptly) regarded as the "Brains of the Revolution."
But it was not always easy for Mabini. Actually, I don't think it was ever easy for him. All his life he struggled and strongly fought for every single thing he wanted. Thanks to his innate intelligence and unrelenting passion, he was able to achieve so much in spite of all the hardships and trials.
WHAT'S COVERED IN THIS GUIDE?
The Mabini Shrine in Tanauan, Batangas
Tucked in Barangay Talaga, Tanauan, Batangas, the Shrine marks the birthplace of Apolinario Mabini. At the heart of a residential area along the Tanauan-Talisay highway, it harbors a library, a museum, and his tomb. It was inaugurated on July 23, 1956 by then Vice-President Carlos P. Garcia and Mrs. Luz Banzon-Magsaysay.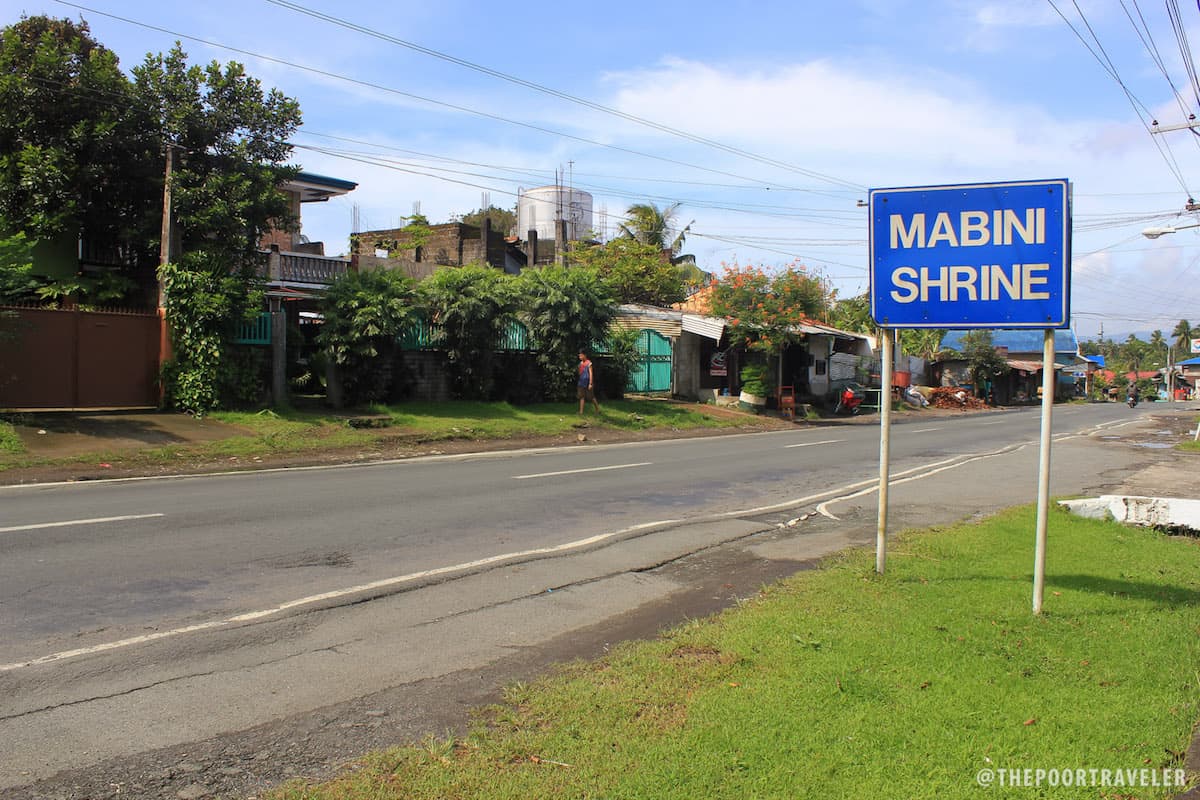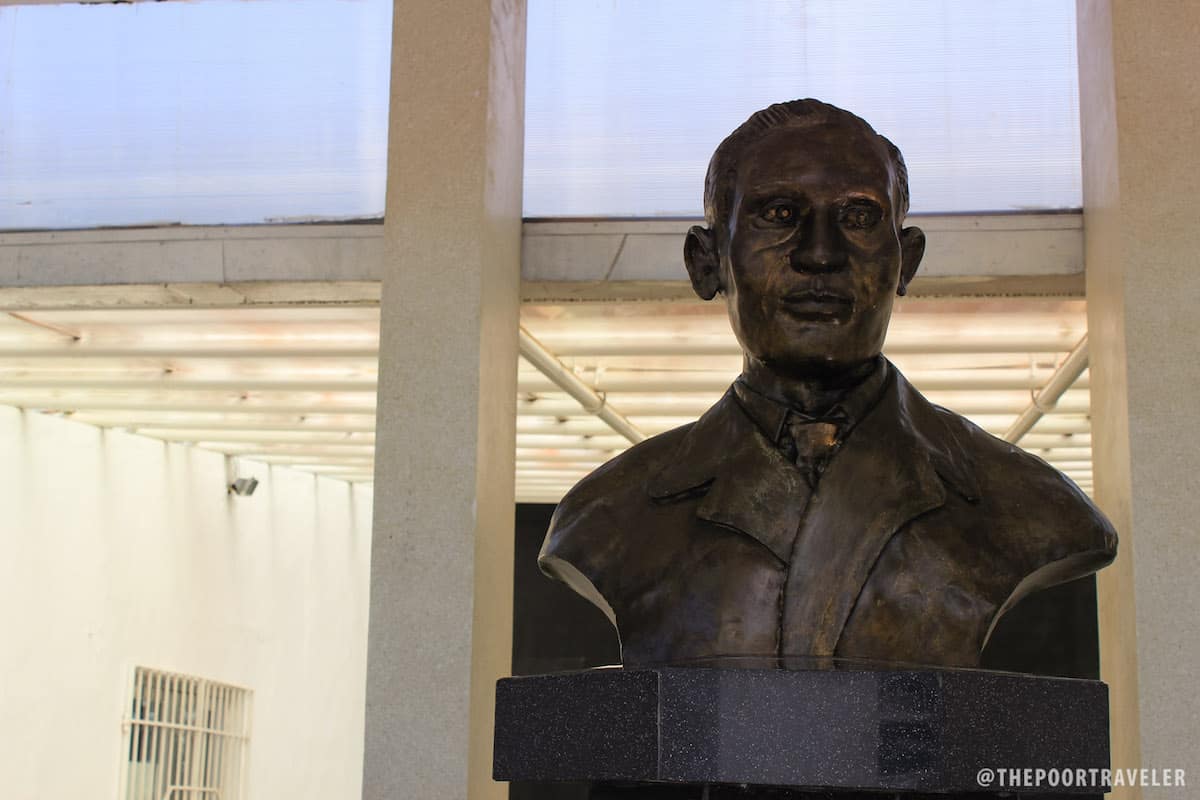 A bust of Mabini rises between two imposing pylons, standing like inanimate sentinels at the entrance to the shrine. Two rooms flank the stairs behind the pylons — the library to the left and the museum to the right.
Inside the museum are precious historical jewels that were all part of Mabini's life. His cabinet back when he was still studying, "tapayan" or water jar, eyeglasses, cane, wheelchair, and other memorabilia are kept and displayed behind glass walls. Several paintings and photos of Mabini also decorate the walls of the museum. Inside the other room, the Library, were books and other documents by and about him.
In between the two rooms is the tomb where Mabini's body lies in peace. His signature is embossed on one side of the grave. Just behind it shines another bust made of solid white marble and carved by G.T. Nepomuceno.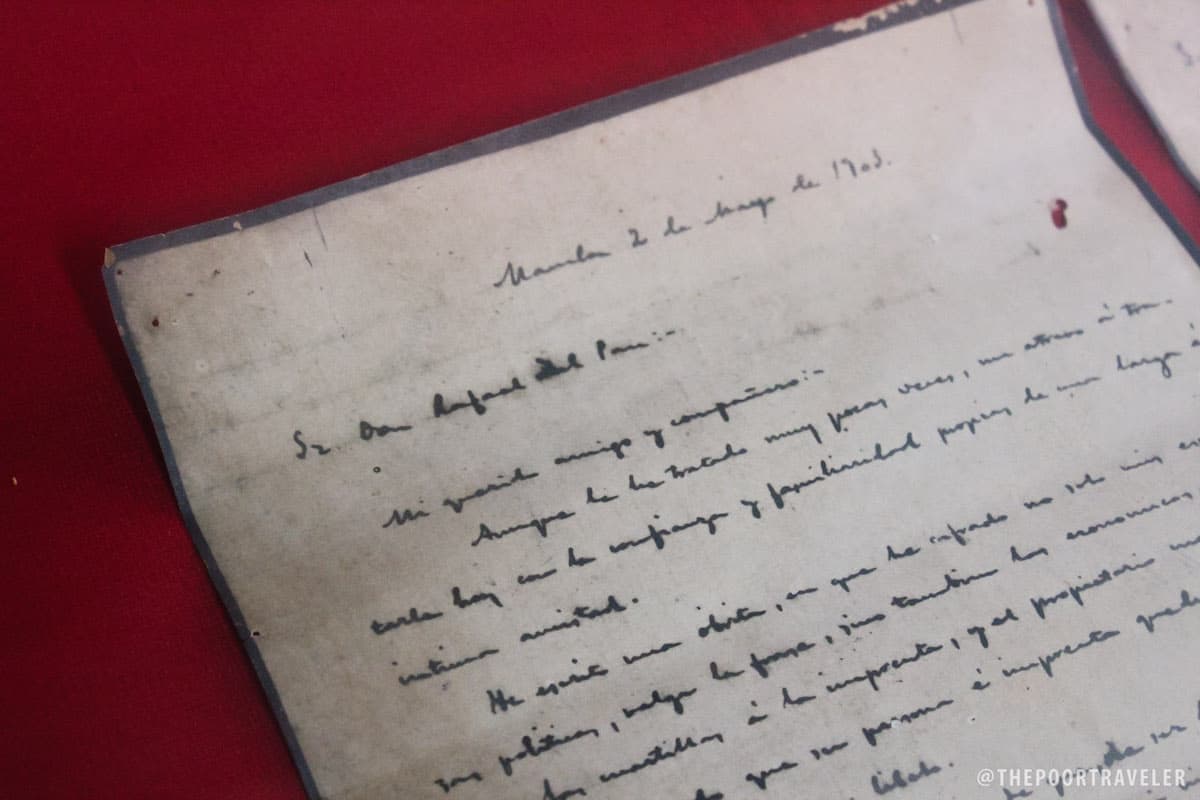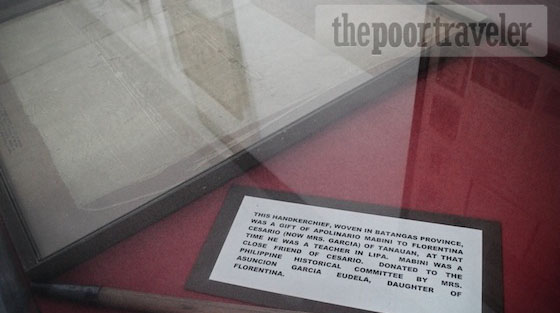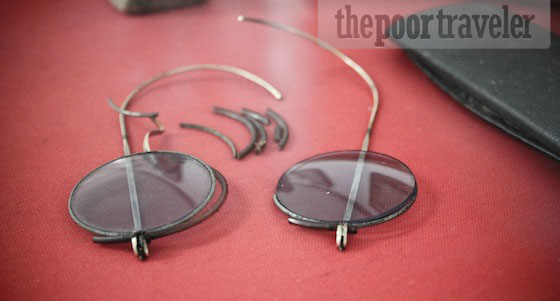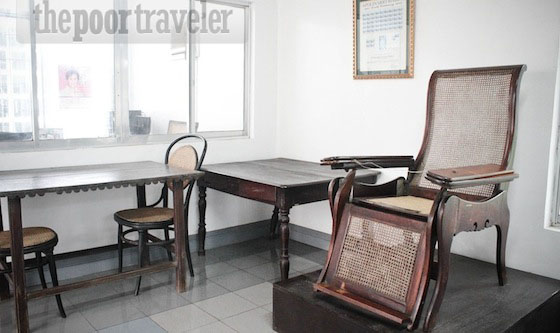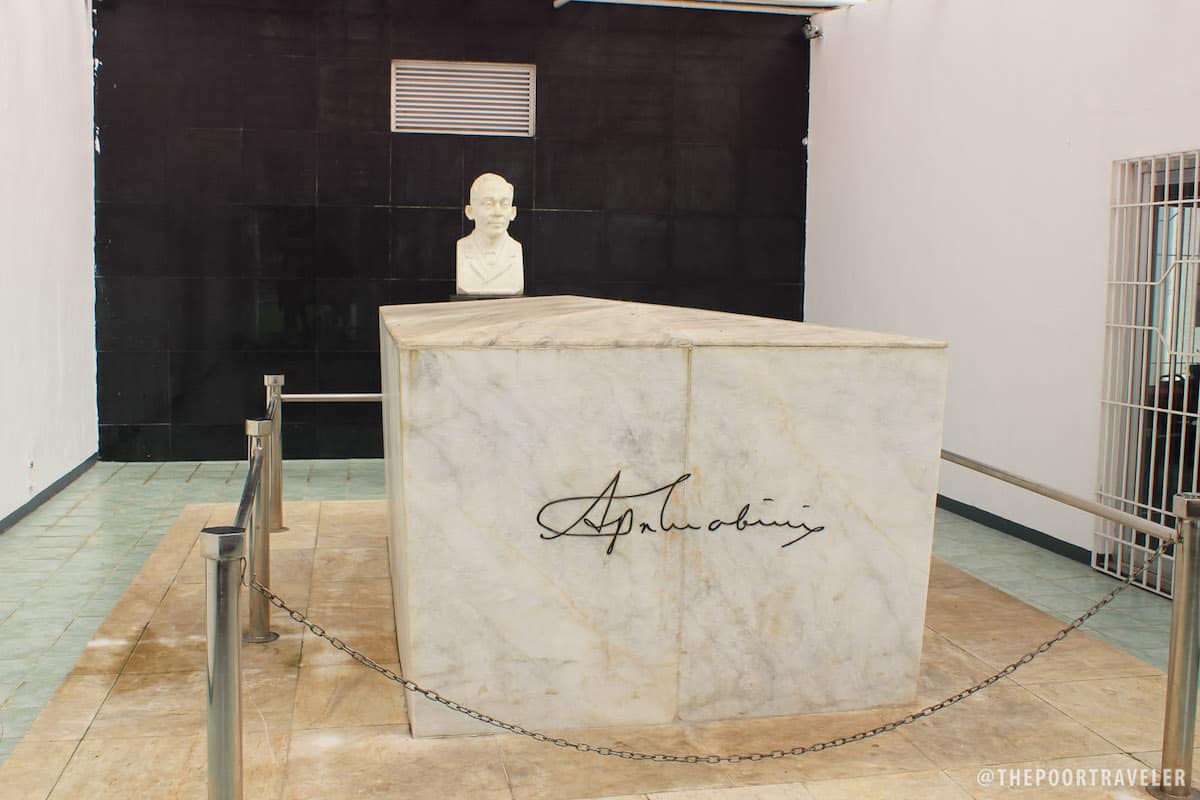 Right outside of the Museum stands a replica of his family's house, which goes to show just how unfortunate they were in terms of finances. Everyone is welcome to come inside and take a look at the interior. It was a great experience to have an idea of how he lived. I just kept on imagining a young Apolinario Mabini walking around the room and perhaps playing in the kitchen.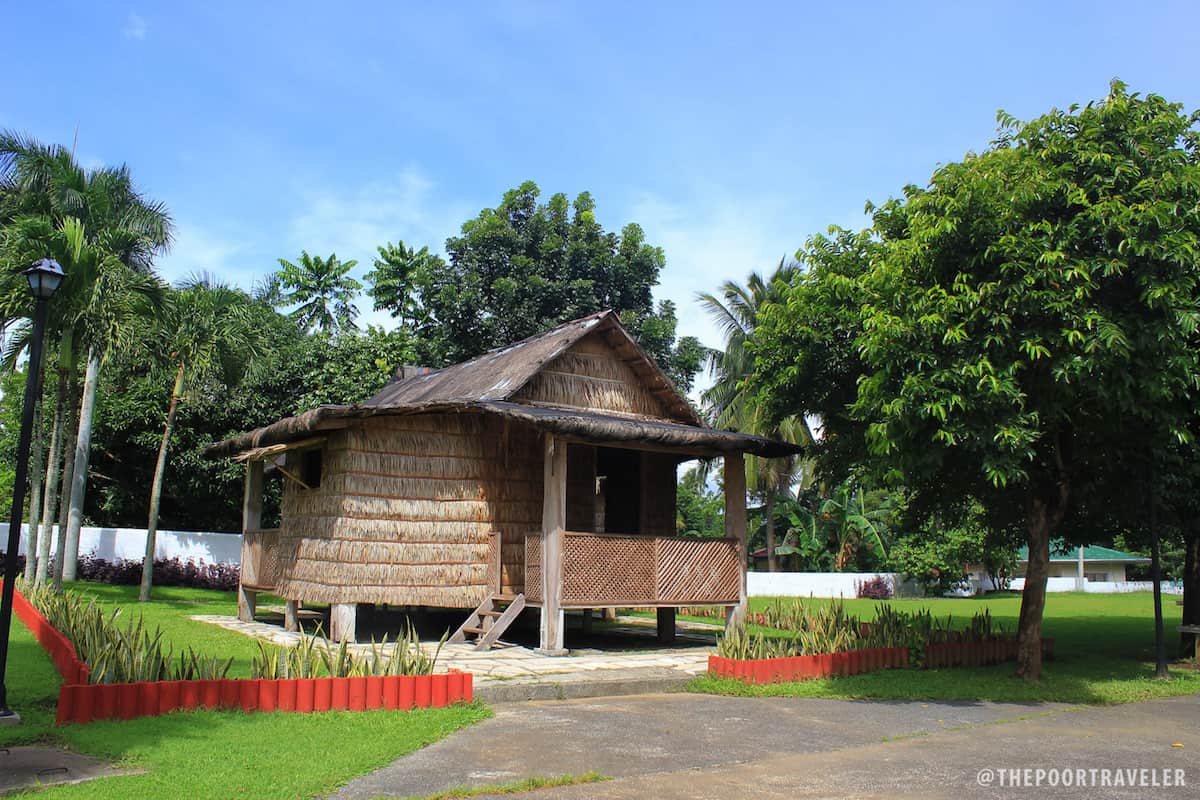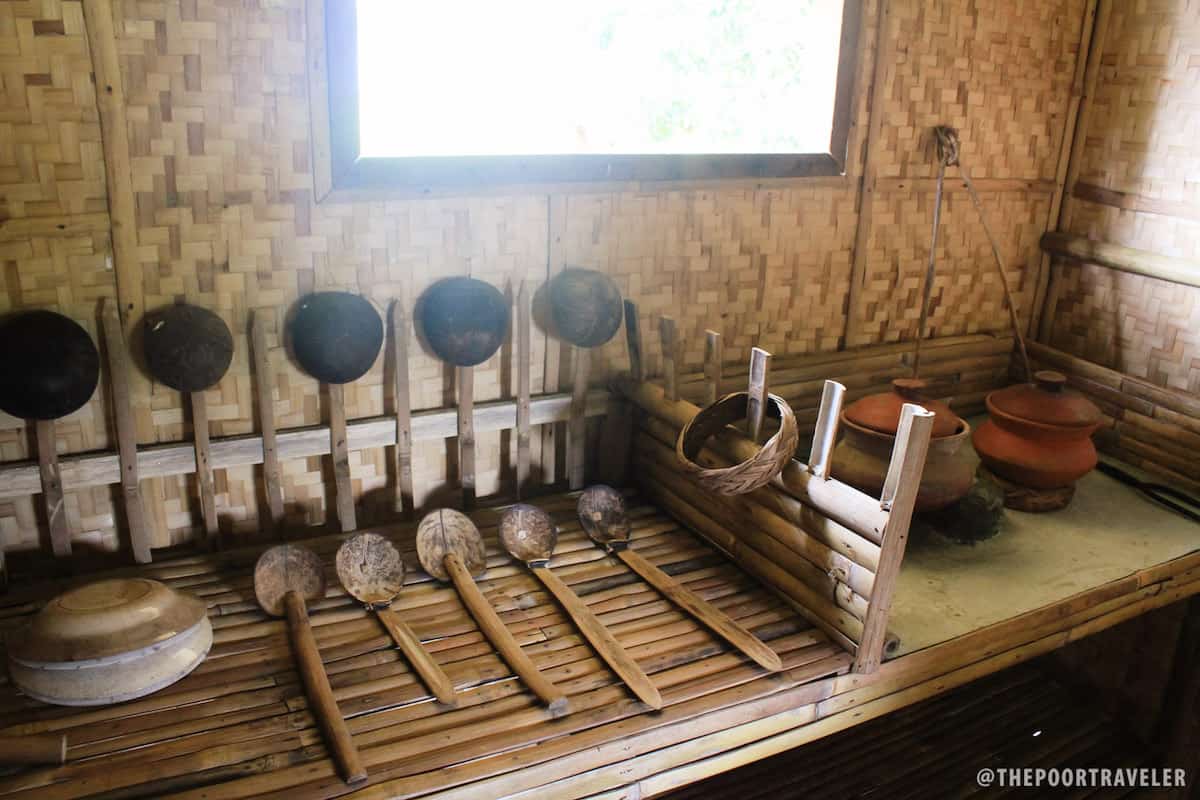 The Early Life of Apolinario Mabini
Born on July 22, 1864 in Barangay Talaga, Tanauan, Batangas, Apolinario Mabini grew up in a poor family. His parents  were Inocencio Mabini, a peasant, and Dionisia Maranan, a vendor, and he had seven siblings. But poverty did not become a hindrance for Mabini, who, at a very young age, showed remarkable intelligence. He began informal studies with his grandfather but later on transferred to a regular school. In order to finance his studies, he needed to work as a houseboy for Simplicio Avelino, who owned the school. He did not own a single book and walked six kilometers to school every day, a testament to his dedication to education.
In 1881, he was granted a scholarship at Colegio de San Juan de Letran. Several times, he had to stop schooling due to lack of funds but he would always bounce back. He earned a living by teaching children while studying. According to the National Historical Commission of the Philippines, he completed his fifth year at Letran in 1885 but did not get a bachelor's degree simply because he did not have P29 for the Final Exam Fee. It would take him two years before finally taking the test again, which was said to be just an hour long. When he did, though, he got a perfect score. Perfect score.
He finally earned a bachelor's degree with honors and earned the title Professor of Latin. Mabini continued further studies, this time taking up Law at the University of Sto. Tomas. He received his Law degree in 1894.
Mabini's Role  in the Philippine Revolution
According to NHI, Apolinario Mabini stood out in law school at UST.
After reading Mabini's paper, his professor was quoted as saying: " The work seems to have come from the mind of a sage. I would like to live long enough to see how a mind like this will lead society."
Of course, Mabini proved to be a leader. He became Gen. Emilio Aguinaldo's most trusted adviser, and to some historians, he was the first prime minister of the First Republic of the Philippines.
But before he joined the Revolution, he became part of Jose Rizal's La Liga Filipina. He influenced the society via many of his political writings. Thinking they would still have success through writing rather than a revolt, he, at first, refused to support the 1896 revolution. When Jose Rizal was executed that same year, however, Mabini expressed his full support.
As the great thinker behind the Revolution, he crafted the constitution for the First Philippine Republic, considered the first in Asia. This included the government framework which was executed in the creation of the 1899 Malolos Constitution.
Exile, Return, and Death
When the Americans came, Mabini continued to fight for the country's independence by conducting negotiations but many of them failed to result in an agreement. Even within the Revolutionary Government, some characters favored autonomy, which Mabini was strongly against, over independence. He remained firm and uncompromising in his stand that the Philippines should be completely independent. On May 7, 1899, Mabini resigned from the Revolutionary Government.
It wasn't long until the Americans pursued the resistance movement and its leaders, and Mabini was forced into hiding in Nueva Ecija. He was then captured and arrested in Cuyapo, Nueva Ecija and was put to prison in Fort Santiago for 9 months (December 11, 1899-September 23, 1900). He was then sent to Guam in 1901 and remained in exile for almost 2 years.
In 1903, he came back to the Philippines. Immediately after his return, however, he resumed working on fighting for independence. On May 13, 1903, Mabini died of cholera, which was an epidemic in Manila at the time. Mabini was only 38 years old.
La Revolucion Filipina
La Revolucion Filipina, the book he was working on, was left unpublished when he passed away. Thanks to his friends, the book saw the light of day. In La Revolucion Filipina, Mabini condemned Emilio Aguinaldo for bringing about the execution of Andres Bonifacio and for the murder of Antonio Luna. Ultimately, in the book, Mabini blamed Aguinaldo for the failure of the Revolution.
Here's an excerpt from Mabini's La Revolucion Filipina:
The death of Andres Bonifacio had plainly shown in Mr.. Aguinaldo a boundless appetite for power, and Luna's personal enemies exploited this weakness of Aguinaldo with skillful intrigues in order to encompass Luna's ruin.
To say that if Aguinaldo, instead of killing Luna (allowing Luna to be killed), had supported him with all his power, the Revolution would have triumphed, would be presumption indeed, but I have not the least doubt that the Americans would have had a higher regard for the courage and military abilities of the Filipinos. Had Luna been alive, I am sure that Otis's mortal blow would have been parried or at least timely prevented, and Mr. Aguinaldo's unfitness for military command would not have been exposed so clearly….
To sum it up, the Revolution failed because it was badly led; because its leader won his post by reprehensible rather than meritorious acts; because instead of supporting the men most useful to the people, he made them useless out of jealousy. Identifying the aggrandizement of the people with his own, he judged the worth of men not by their ability, character and patriotism but rather by their degree of friendship and kinship with him; and anxious to secure the readiness of his favorites to sacrifice themselves for him, he was tolerant even of their transgressions. Because he thus neglected the people forsook him; and forsaken by the people, he was bound to fall like a waxen idol melting in the heat of adversity. God grant we do not forget such a terrible lesson, learnt at the cost of untold suffering.
Apolinario Mabini may have had a difficult life but he was able to make it not just meaningful but glorious. At the end of the day, how far we can go is not always dictated by the physical strength and agility of our limbs. Sometimes, if not most of the time, it is the brilliance of the mind, the relentless drive  of the soul, and the purity of the heart that make us go places.
On my way out of the museum, I took another look at the painting of Mabini in a hammock, carried by soldiers. But I saw it differently this time. He may be a paralytic but he was not disabled for an undying spirit does not need legs to stand — it soars.
How to get to Mabini Shrine: From Tanauan City Proper, take a jeepney bound for Talisay. Tell the driver to drop you off at Mabini Shrine in Brgy. Talaga.

Need help with planning your Batangas trip? This BATANGAS TRAVEL GUIDE that I wrote might help you.
Posted: 2012 • 3 • 29
---
Top Hotels and Resorts in Batangas
According to Agoda review scores.