2012 • 4 • 25
Disappointment was painted all over my face when I found out that the room we got was not facing the sea. Not that I am a sucker for beachfront rooms but the view of White Island lying just a few kilometers from the shore would have been the icing on the cake. Regardless, our 2-night stay at Paras Beach Resort in general was anything but disappointing. It was still a very pleasant experience.
The receptionist was all smiles when we arrived at the resort, giving the Poor Traveler and his friend a drink while they were completing cleaning up the room we booked. She invited us to have a seat while we waited but we were like wigglers in the water, trying to check out the different parts of the resort out of excitement.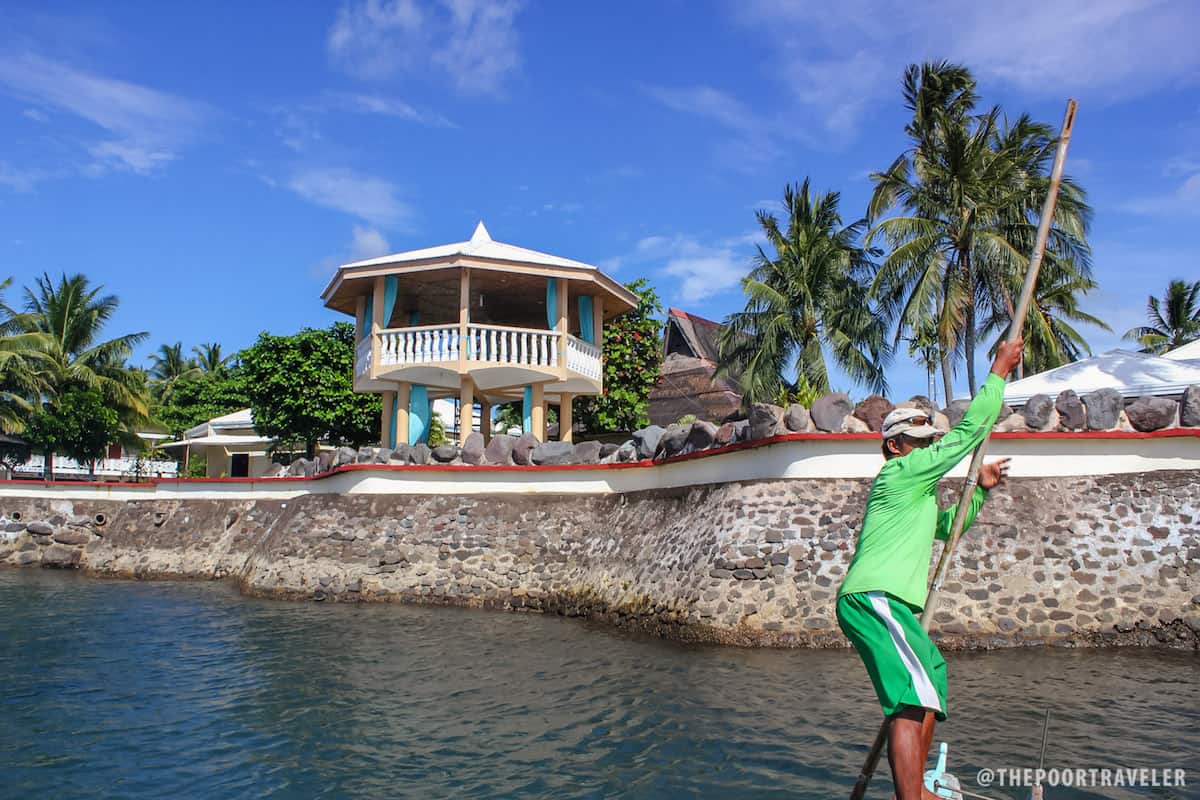 It didn't take long for us to notice that it wouldn't be a good idea to swim by the resort's beach area since it was very, very narrow and even disappeared altogether when high tide hit. It wasn't a problem for us, though, because we easily spotted that glittering white paradise not far from the resort — White Island. It was a very tempting sight.
We walked by the pool for a couple of minutes and headed back to the reception, where we saw a brochure compiling the tours that Paras Beach Resort offers its guests. Earlier that morning, we already asked the driver of the multi-cab we were on how much the whole-day tour usually costs and upon seeing the resort's brochure, we knew we'd have to just get tour services elsewhere. Paras's rates were more than double the price the driver told us.

We originally wanted an Economy Room but they were all taken at the time. We decided to just book the Superior Room instead for P2,500 per night. Please note that these rates have already changed. They even changed the names of their rooms. I think their Superior Rooms are what they call Amihan Rooms now.
On the way to the room, we had a glimpse of the mighty Hibok-hibok, standing within view from the hotel's side alley and balcony. We hit the bed as soon as the door opened. There were two beds — 1 queen size and 1 single — and it could actually accommodate up to three, or even more. As I picked the remote control of the cable TV that sat in front of the beds, I noticed just how big and spacious the room was — to our satisfaction. We loved, loved, loved it.
Blue, coral-themed comforters covered the beds. They smelled crisp and fresh and clean. One thing I dislike about many of the hotels and resorts I had tried before was that the beds and beddings had that "old cabinet" smell. Thankfully, these beds did not reek of anything. The beds and big pillows were also soft and very comfortable.
The room also had a phone and a safe. We also appreciated the complimentary bottled water and coffee.
Even the bathroom was spacious. There were complimentary soap and shampoo inside along with clean towels. The bathroom was also equipped with hot and cold shower.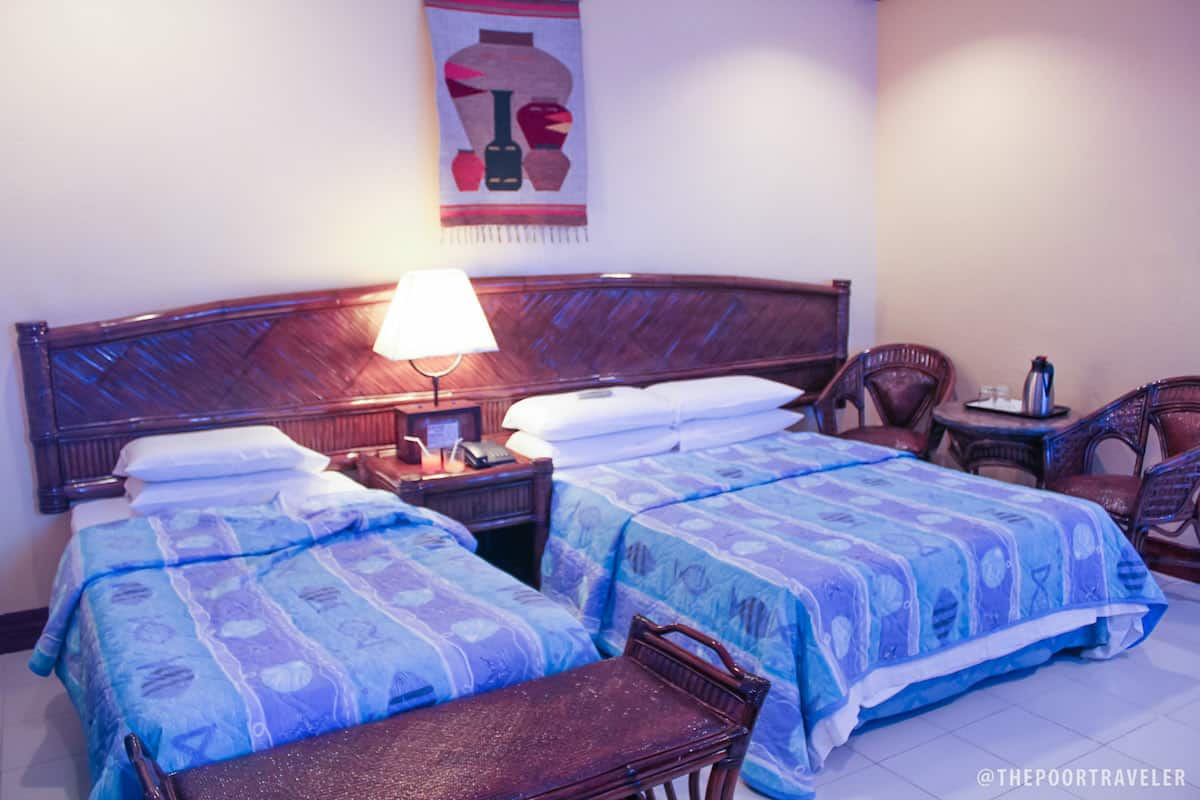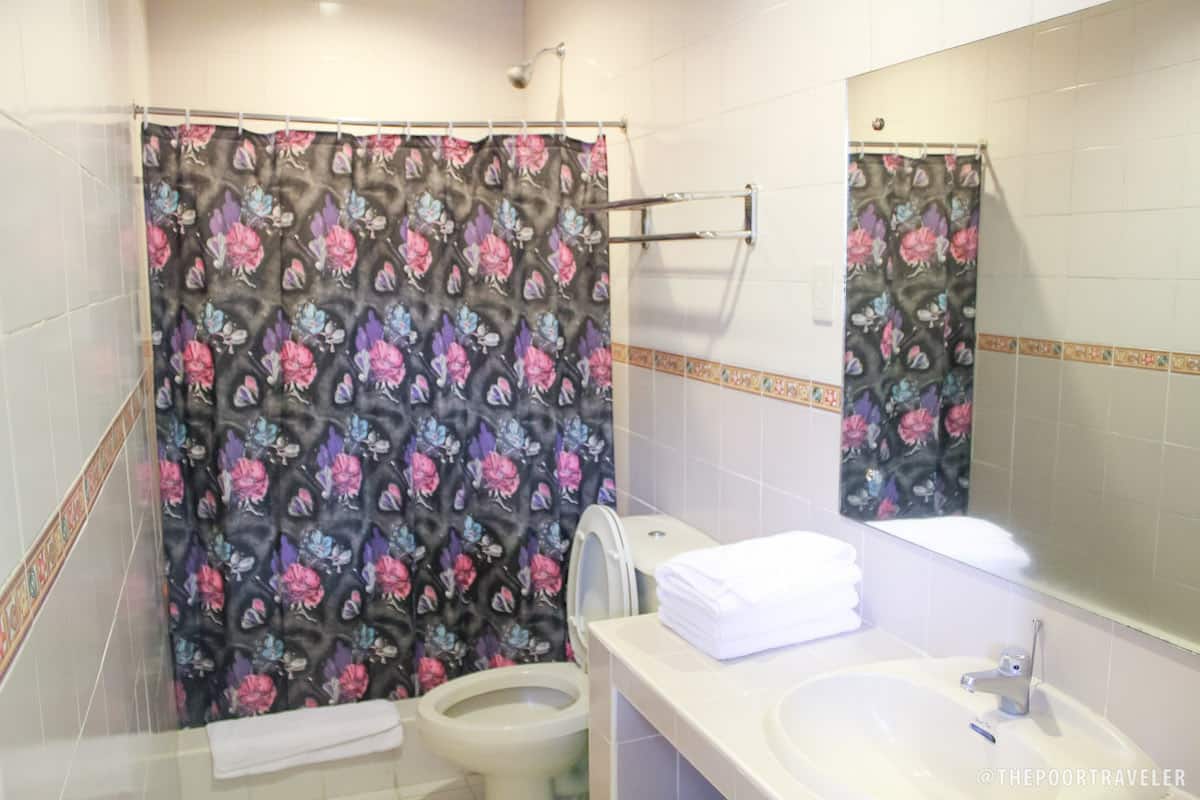 Here's the complete list of their rooms and corresponding rates lifted off of their website as of April 25, 2012. Visit their official website to make sure you get the updated list:
Economy Room (budget option) – PhP 2,250/night
Amihan Room (2nd floor) – P4,000/night
Garden Room (with view of the pool and garden) – P4,000/night
Family Loft – P3,500/night
Ocean View Room – P4,000/night)
Family Room – P4500/night
Dormitory (cheapest but for large groups, up to 12 people) – P5,500/night
Extra bed – P500
Overall, our stay at Paras Beach Resort was positive and enjoyable. The only criticism I have is its cost. Like I mentioned, our room was P2,500 per night at the time (March last year) and that was too expensive for me even with all the amenities. If I'm not mistaken that Superior Rooms are what they call Amihan Rooms now, then that's even pricier at P4,000 per night. What a difference a year can make. I think the best option is the Economy Room or the Dormitory if you are a big group.
Will I stay here again if and when I return to Camiguin? With their old rates, probably. But now that it's a lot more expensive, I'll try to look for other accommodation. For what it's worth, I think Paras Beach Resort remains the most reputable of all resorts in Camiguin.
Paras Beach Resort
Rocky Village, Mambajao, Camiguin
Telephone No.: +63 (88) 3879008
Mobile No.: +63 9177152285
---
WHAT'S COVERED IN THIS GUIDE?
Other Resorts and Hotels in Camiguin
Based on Agoda review scores.