Constant fear is probably what one who resides near an active volcano has to live with every day. That's especially true when one is in the company of seven volcanoes. Perhaps for the people of Camiguin, though, it has become part of their everyday lives. After all, danger is everywhere no matter where we are and the best way to deal with it is looking on the bright side. Yes, volcanoes, no matter how dangerous they are, have perks, too. Some of these perks come from deep underground — springs!
The island-province of Camiguin is blessed with so many springs — hot and cold. Powered by volcanic activities underneath, these tourist havens are perfect for those who have been longing for some, ironically, peace of mind as the water is sure to relax the body and rejuvenate energy.
Here are some of the spring destinations in this marvelous land of varying temperatures.
WHAT'S COVERED IN THIS GUIDE?
Ardent Hibok-Hibok Spring Resort
Esperanza Tagdo, Mambajao, Camiguin. Arguably the most popular spring places in the whole of Camiguin, Ardent Hibok-Hibok Spring Resort is located in Esperanza Tagdo, Mambajao, Camiguin. More commonly referred to as Ardent Hot Springs, it has several pools that visitors may choose from although the favorite is clearly the warmest, with water about 40 degrees Celsius.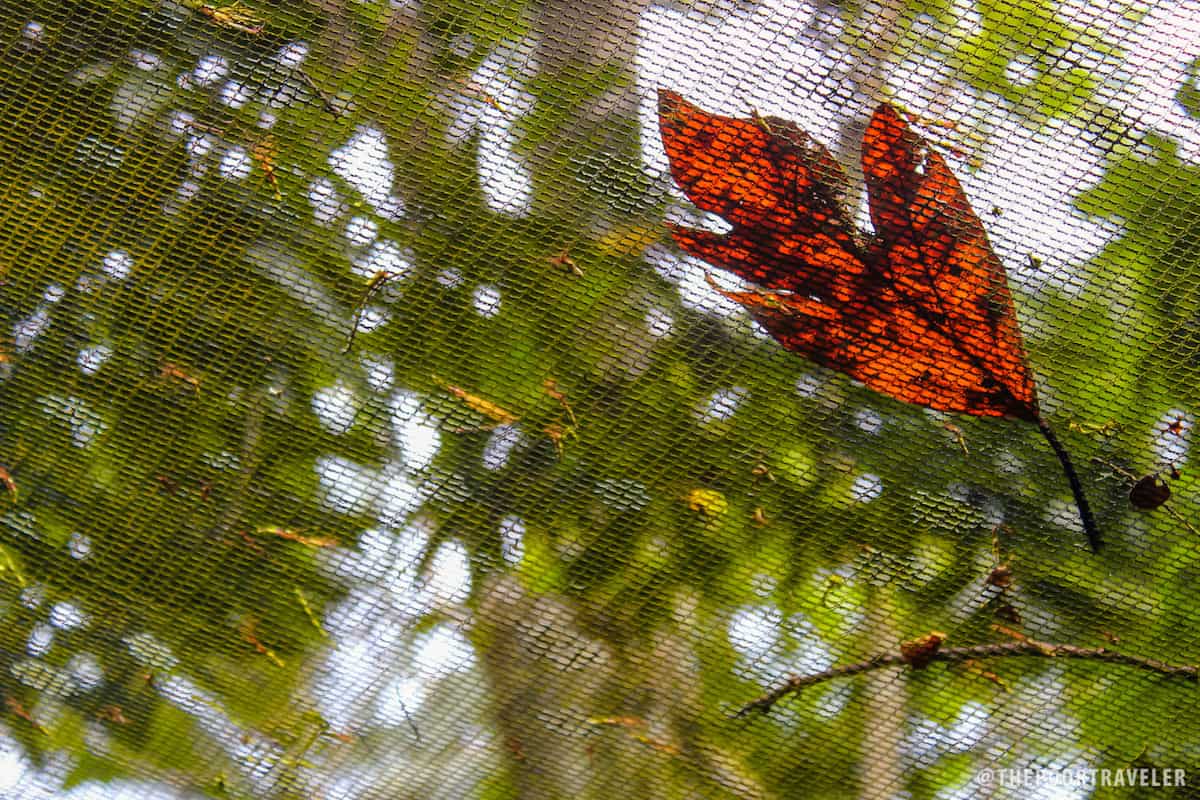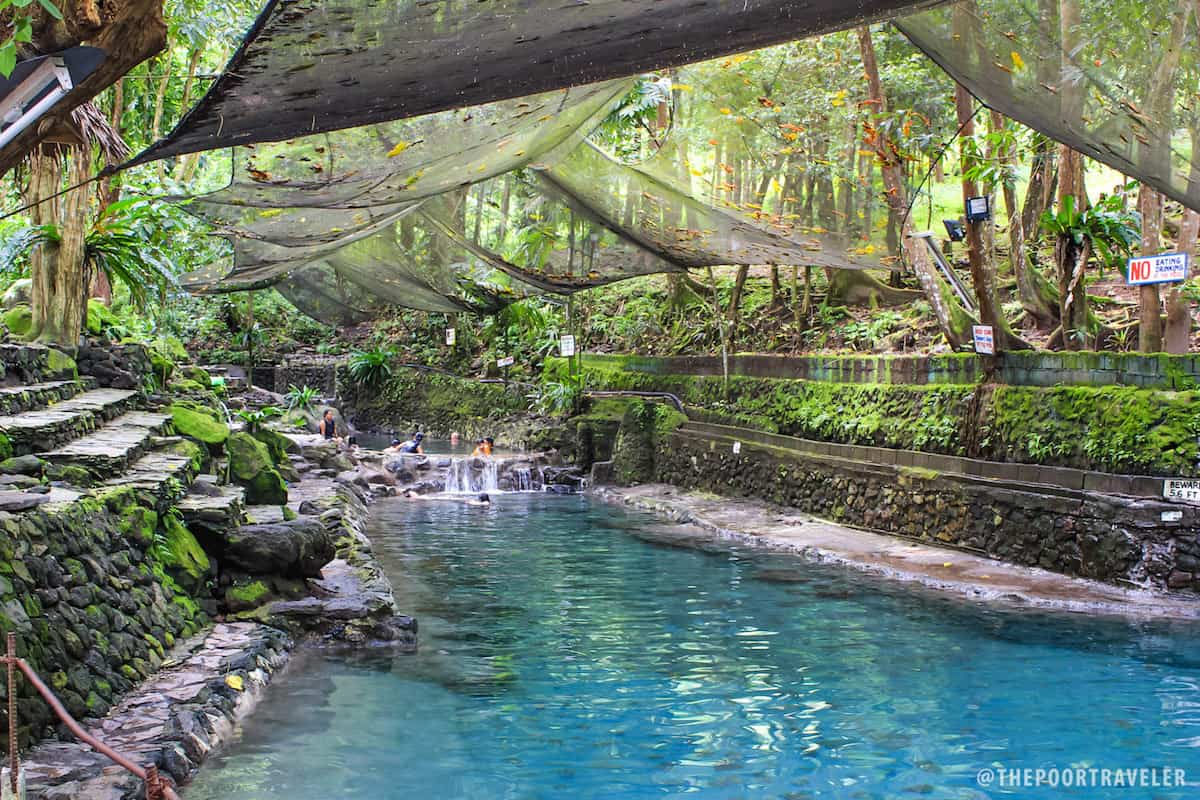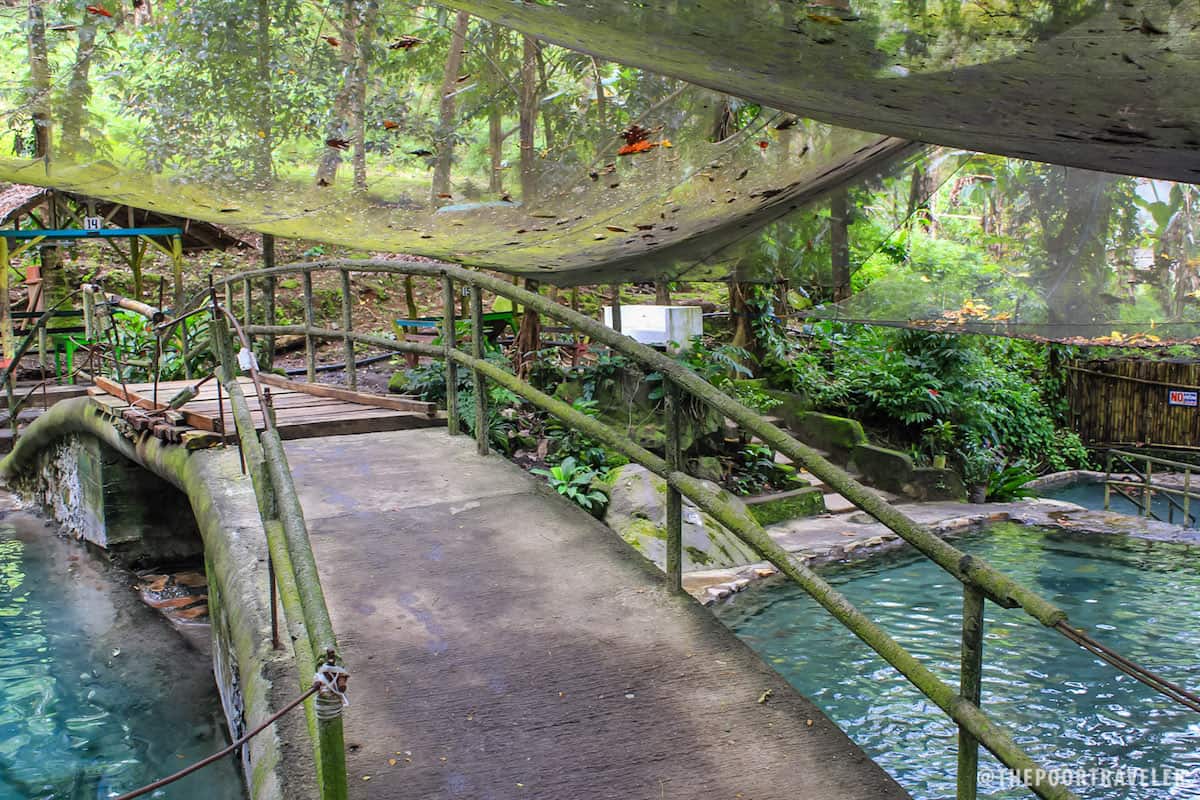 There were too many tourists sharing the pool when we arrived but we still decided to soak in the crystal clear, blue water regardless. As in all the other hot springs we had tried before, the Poor Traveler just soaked and stayed at one comfortable spot. The ideal duration of stay in a hot spring is somewhere between 15-20 minutes. (I think we kind of broke that and stayed longer because we were really enjoying but please don't do it.) Also, please don't rub your skin as you might damage it when soaking.
By the way, if 40 degrees is too hot for your body to handle, there are other pools nearby that are less warm. You might want to consider choosing one of them. We also noticed that there were fewer people in "colder" pools.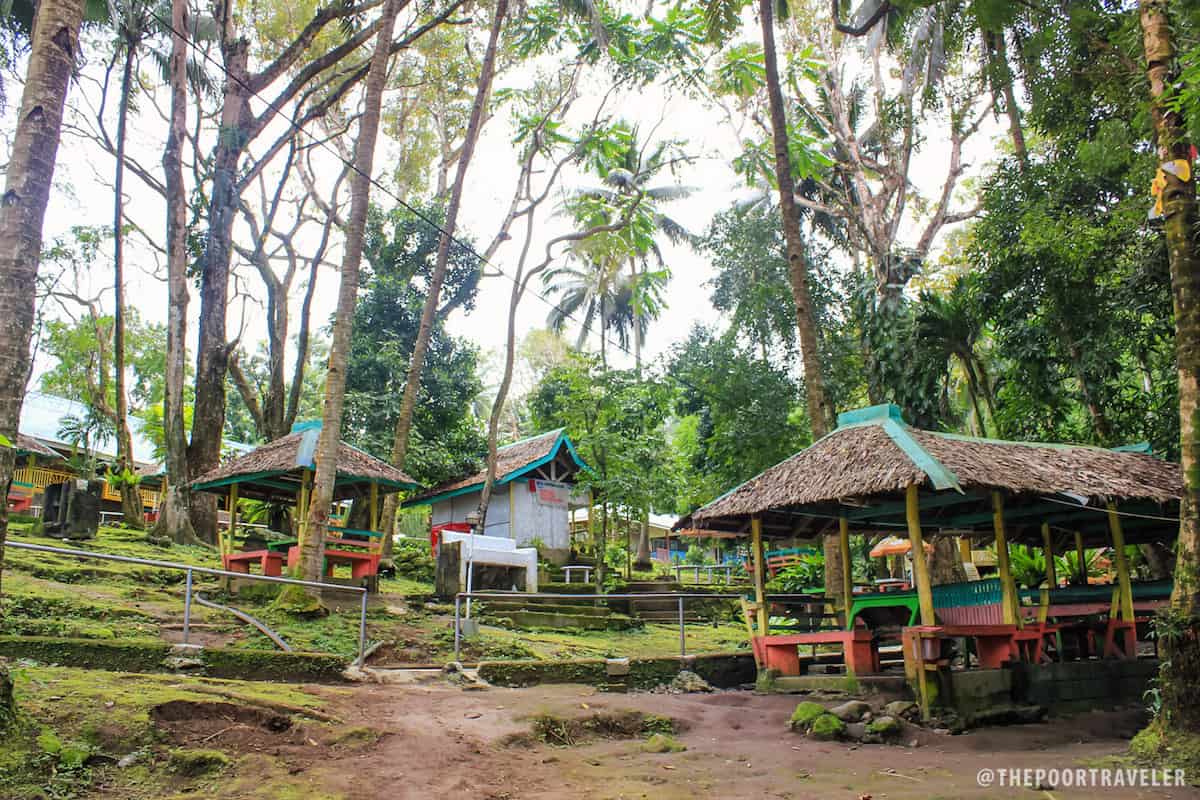 Ardent's natural pools are surrounded by trees with concrete stairs and paths drawn, leading visitors to the resort's most frequently visited spots such as the spa and the restaurant. The site is also dotted with picnic huts and tables, and cookout spaces, all rented out for a minimal fee. Family huts are available for P150 for 3 hours of use while the regular ones are at P70. If you wish to spend the night at the resort, you may rent a twin room (P1,200 per room) or a Family Room which is good for up to 5 pax (P2,750 per room).
Santo Nino Cold Spring
Catarman, Camiguin. "Look! Fish!" I exclaimed to my friend after spotting a few fish swimming near the edges of the Big Pool of Sto. Nino Cold Spring. I was hugging a life buoy made from old tires, which I rented, and before I knew it I was dragged by the current to the middle of the pool. I panicked. It was 2 meters deep and, embarrassing as it sounds, I had yet to learn how to swim. I held on to that buoy so tightly and made my way back to the edge, against the current. Whew, that was close.
At first glance, the Big Pool is much like your ordinary resort swimming pool. The difference becomes obvious as soon as you get a good look at its bottom — sandy, pebbly, and bubbly, as spring water makes its way to the surface. Once I took a dip, I knew how different it really was — it was cold. Not freezing cold but definitely colder than the usual, around 20 degrees Celsius.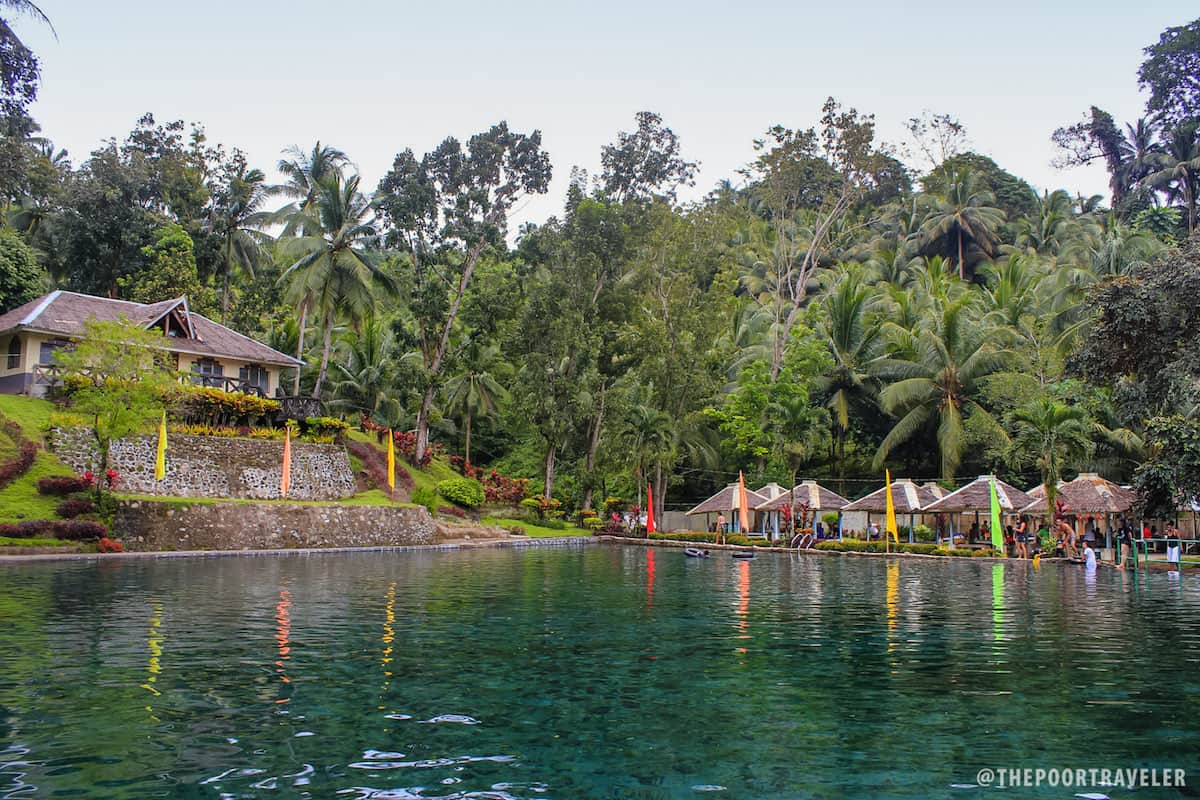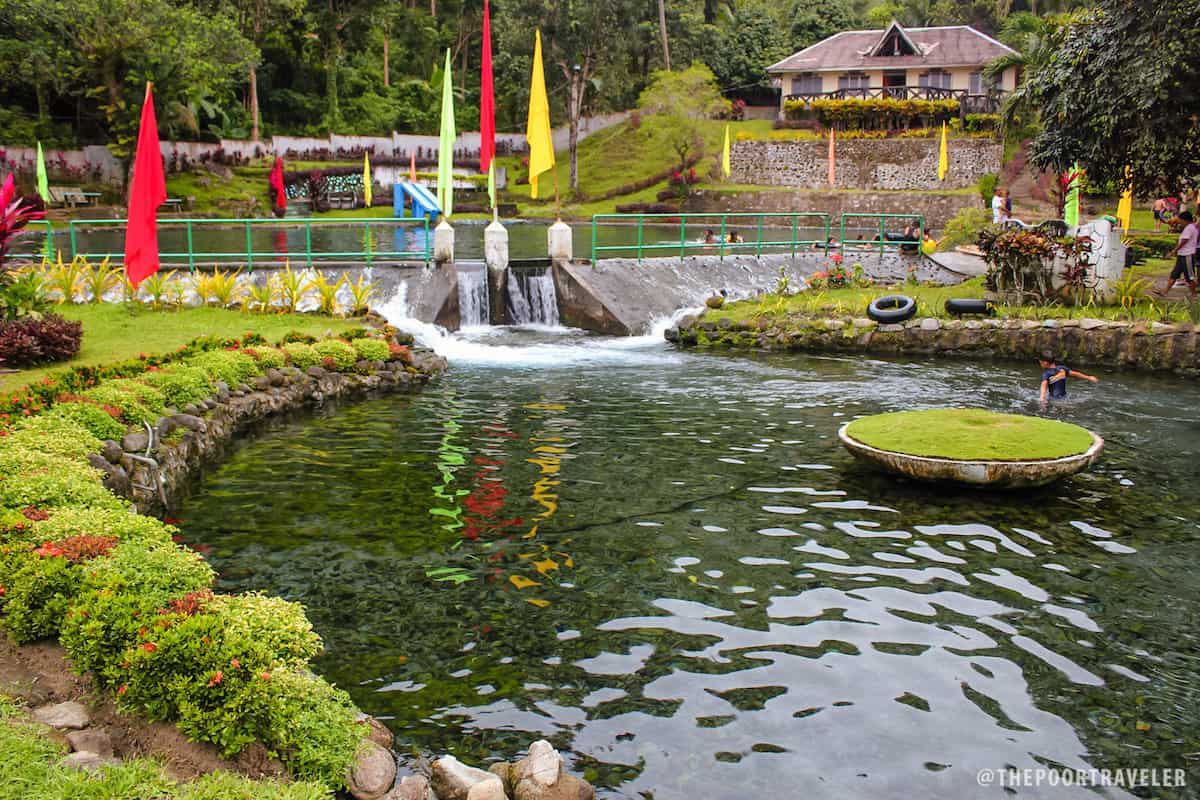 The depth of the 25m x 40m Big Pool starts at a little above 1 meter and gets as deep as 2 meters as you go farther into the center of the pool. If I didn't know better, I'd have spent the whole time wondering where all this water was coming from and why it never stopped flowing. Call me shallow but trying to digest that simple thought was enough for me to admire nature once again.
The water in the Big Pool flows down to the Small Pool, shallow enough for children.
By the way, entrance fee to Santo Nino Cold Spring at the time was P20.
Bura Soda Water Swimming Pool
Bura, Catarman, Camiguin. The friend who was with me on this tour walked briskly and excitedly straight to the pool as soon as we paid the entrance fee (P20 per adult, P10 per child). He then stopped by the pool, sat slowly, and dipped his finger in the water. Before I could ask what he was doing, he moved his finger to his mouth and tasted the water. Aaaaaaah.
"It doesn't taste like soda," he declared, disappointed. From the very moment we had learned about this place, he had always expected it to taste like soda. Unfortunately, it kind of tasted very much like your average, ordinary freshwater. According to the locals, however, the water here really used to taste like coke.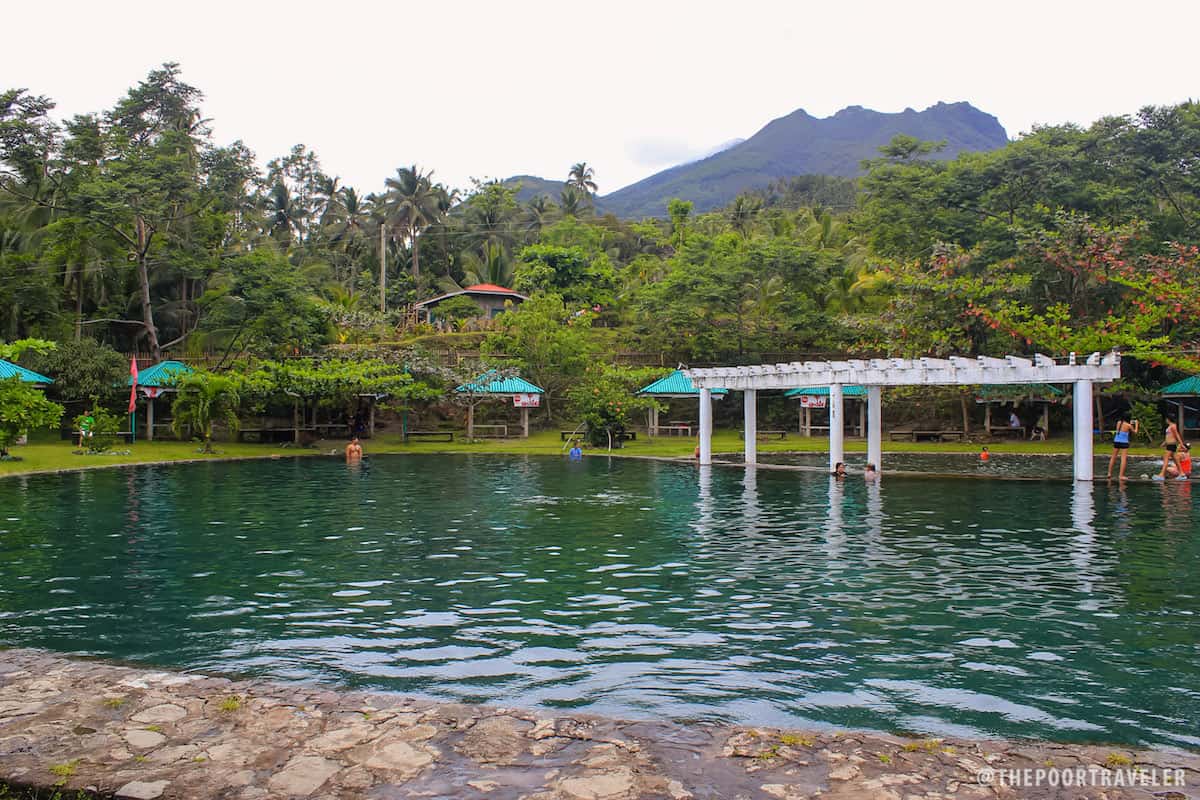 Despite its underwhelming taste, the Soda Spring Swimming Pool provides a good place for swimming and family bonding. After all, you're NOT supposed to drink the water here and it is really meant for swimming and soaking. Bubbles making their way up from the bottom of the pool are still very visible. I guess whatever is giving the soda quality has reduced the amount of chemicals it's producing.
…
These are just three of the spring destinations in Camiguin! There are still others that you might want to check out!
Posted: 2012 • 4 • 25
---
Top Resorts and Hotels in Camiguin
Based on Agoda review scores.