"It's the largest fountain in the world," my friend Mimi said as she ushered us out of the building to an alfresco area that harbored a shallow man-made pond.
"That one?" I asked while flashing a look that excellently expressed disbelief. "That little fountain at the center of the pond? That's the largest in the world?" As the words came out of my mouth, the right side of my brain was sarcastically taunting the left, Am I being Punk'd? 

Obviously, I had seen fountains bigger than that one. Lots of them. That fountain that geysered in the middle of the pond in the middle of Suntec City was definitely not the biggest in the world. It would not even make it in my category of massive, not even big. Heck, not even medium.
"Not that, silly," Mimi corrected. She then led my eyes to the diagonal pillars that extend from the ground up to a few stories high. A giant ring overhead connected them. She pointed at it and said as-a-matter-of-fact-ly, "That's the fountain. The whole place is the fountain, actually."
Oh. Okay. Amazing.
The place is called the Fountain of Wealth. Listed as the largest fountain in the world by the Guiness Book of Records in 1998, it is the centerpiece at Suntec City, one of the biggest and most popular shopping malls in Singapore. The fountain is situated at the center of five office buildings, which represent fingers and the fountain the palm. According to Feng Shui, it symbolizes wealth.
This giant fountain comes to life only at night. The ring overhead sprays jets of water around the smaller fountain, while lights paint colors in the towering cylindrical fluid wall that forms as a result. The thin pond is also dotted with pin lights that fire beams of light that add to the already magical atmosphere of the place.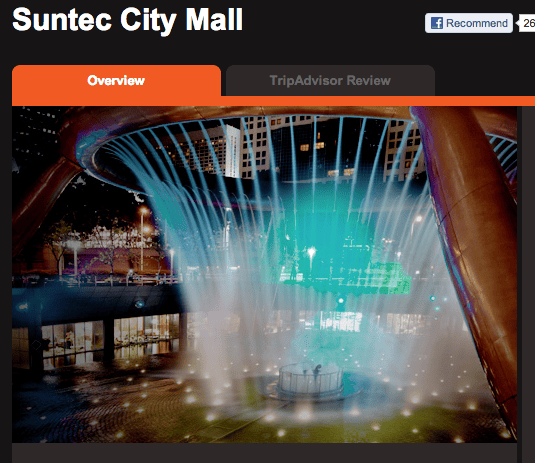 In the daytime, the bigger fountain rests and the tiny stream of water at the center takes the spotlight. But looking at this smaller fountain isn't the only thing that you can do here. There's a narrow boardwalk that runs across the water to the fountain that visitors can take to do a short ritual for Good Luck. Here's how to do it: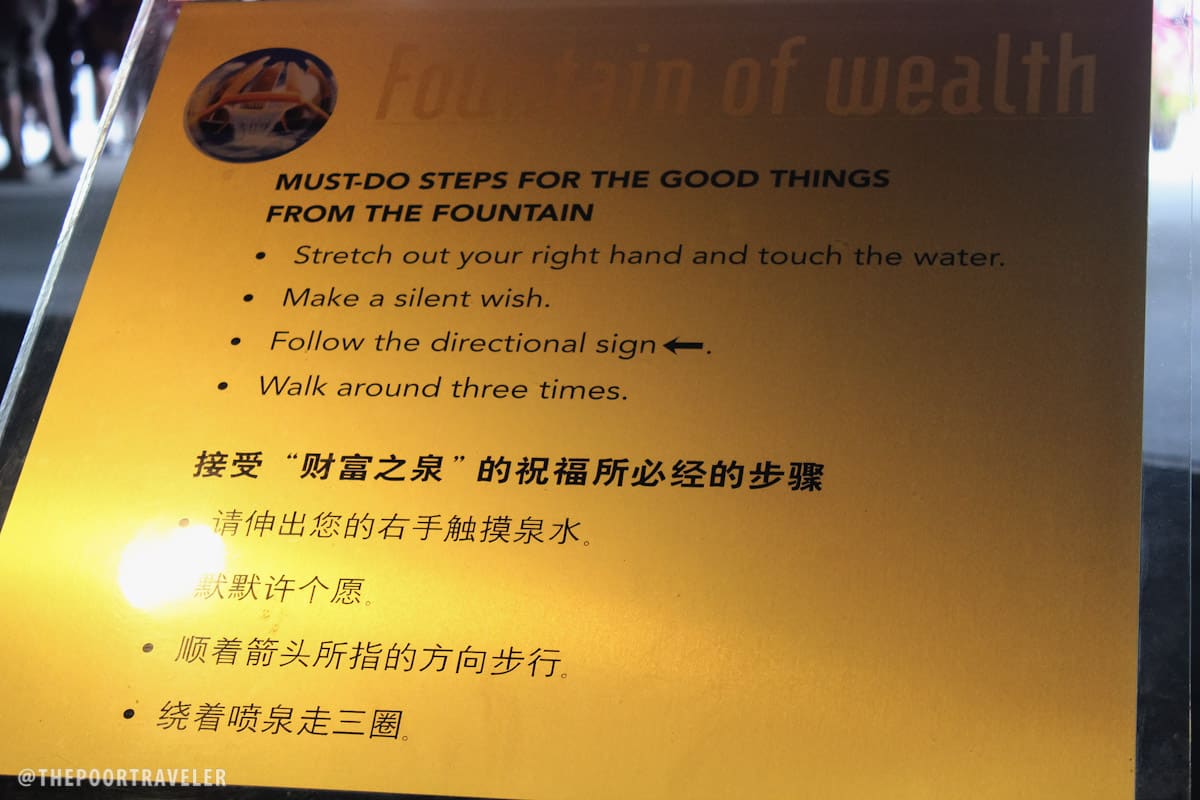 Yes, yes, I did it, too. Not that I believe in it. I just wanted to experience it since I was already there.
The real question here is: Is the Fountain of Wealth worth visiting? Well, honestly, not for me. But if you're going to Suntec City to do some shopping, then you might as well drop by especially at night.
Update: According to YourSingapore.com, the Fountain of Wealth will be closed from September 1, 2012 to June 2013 for upgrade. You may contact Suntec City's customer hotline to be sure.
How to get here: Take the MRT and alight at Esplanade or Promenade Station. Just follow the signs. You won't get lost.

Suntec City Mall
3 Temasek Boulevard, Singapore
68252668 / 68252669
More Tips on YouTube ⬇️⬇️⬇️