2013 • 8 • 5
If there were a contest among night markets in Asia and the main criteria were diversity and artfulness, Chiang Mai would have it in the bag. While Taipei's Shilin boasts a smorgasbord of Taiwanese street food and Malacca's Jonker Street teems with cute souvenir trinkets, Chiang Mai's weekend markets have virtually everything. Everything!
Armed with very little expectations, I was shocked to discover that they had almost all the foodage and the goodies that I usually craved. On one end was a sausage stall and on the other was a sushi kiosk. And in between were two wide-ranging lanes of delightful items — edible and otherwise — that made me let out an endless train of cheers! Oh hey, fresh fruit shakes! Vintage notebooks! Look, hand-painted shoes! Ooooh, barbeque! Wow, fried quail eggs? Oh the man is playing a tune with, wait, are those wine glasses?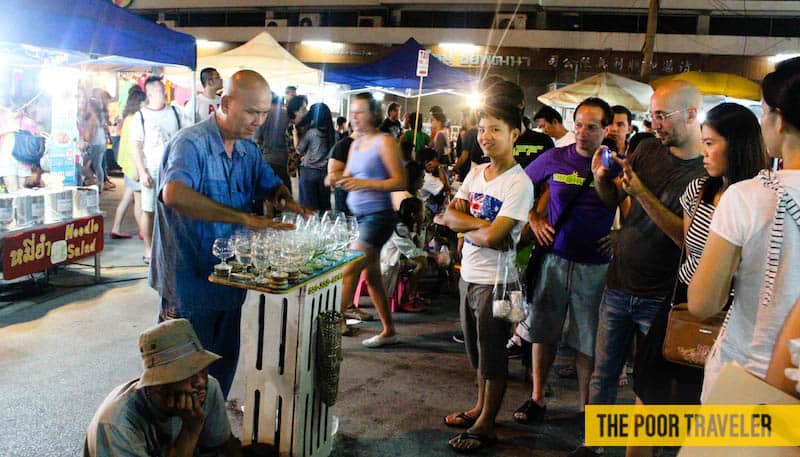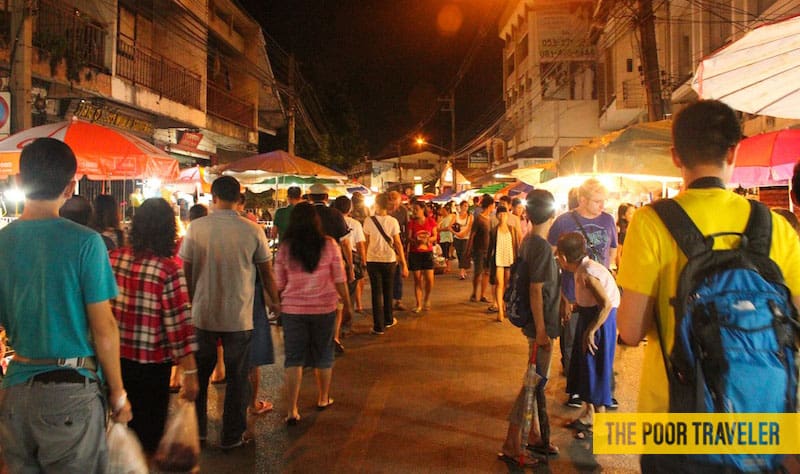 See? Everything. But what really got me were two things: the tasty food and the equally tasteful art.
---
Saturday Night Market
I followed the scent of grilled sausages and I stumbled upon a vibrant night market stradlling Wualai Road (or Wui Lai Road) south west of the old city. "Saturday Night Market," replied a fellow traveler when I asked him what the name of the place was. It was 7pm and the street was already roaring and swarmed with tourists and locals alike.
Opposite the sausage kiosk was a man making beautiful music using a set of wine glasses filled with varying but meticulously calculated amounts of water. A small, silent crowd gathered around him and, despite the blaring noise, listened attentively to the soft melody. But he wasn't the only street performer at the site that evening. A teenage girl was playing a traditional Thai instrument and a little boy was doing the hoola hoop tirelessly. And these performances were just the first to catch my attention.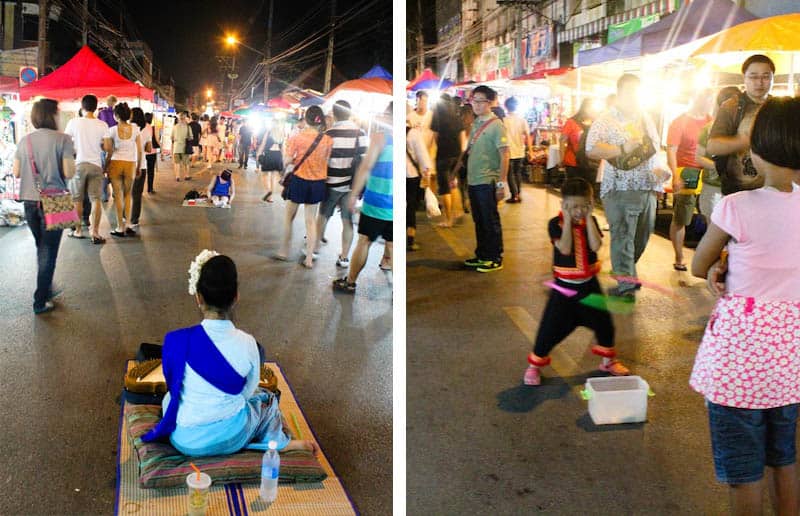 A closer look at the shops and spaces would bombarded my eyes with a rich display of apparel, lanterns, wood carvings, sketches, perfumes, even silverware. Not to mention all the food stalls that dash the street. It was actually the food that I loved most about this night market.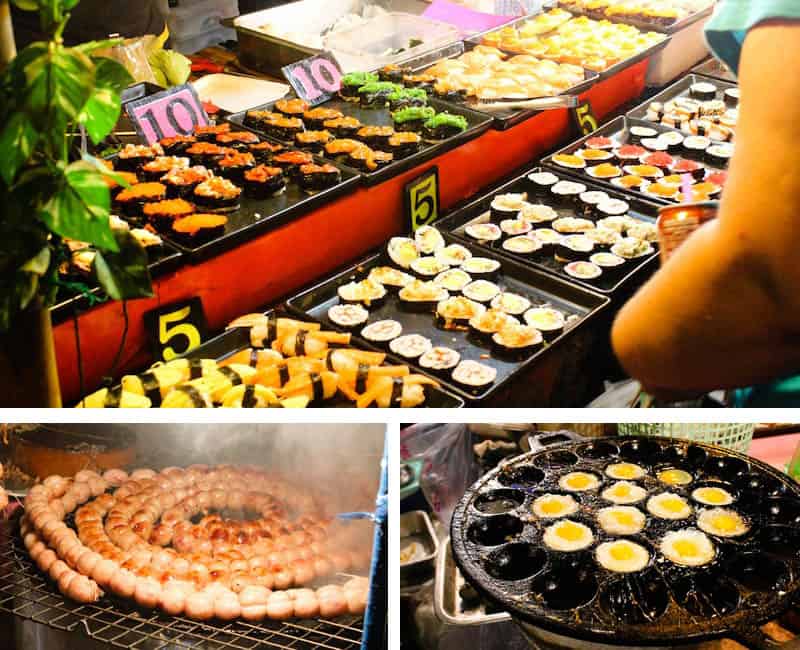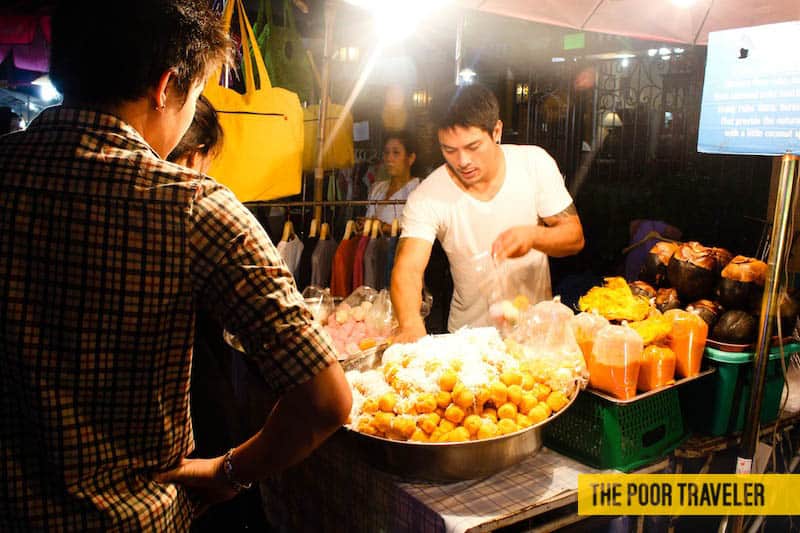 ---
Sunday Night Market
Much like the Saturday Night Market, its Sunday counterpart also booms even before the dark blankets the city. By 5pm, vendors have already set up their mini-stores, waiting for customers. But as soon as the sun passes over its dominance to the moon, the festive atmosphere and the traffic thicken and it's almost impossible to walk around especially between 8 to 9pm.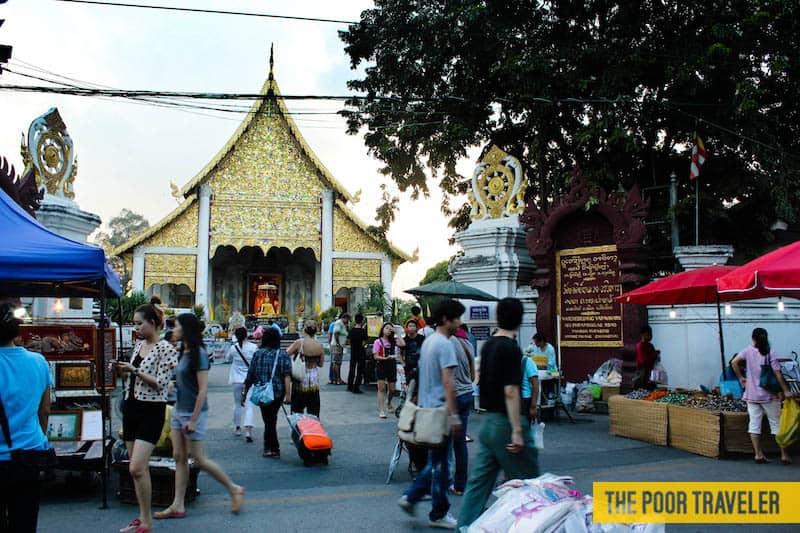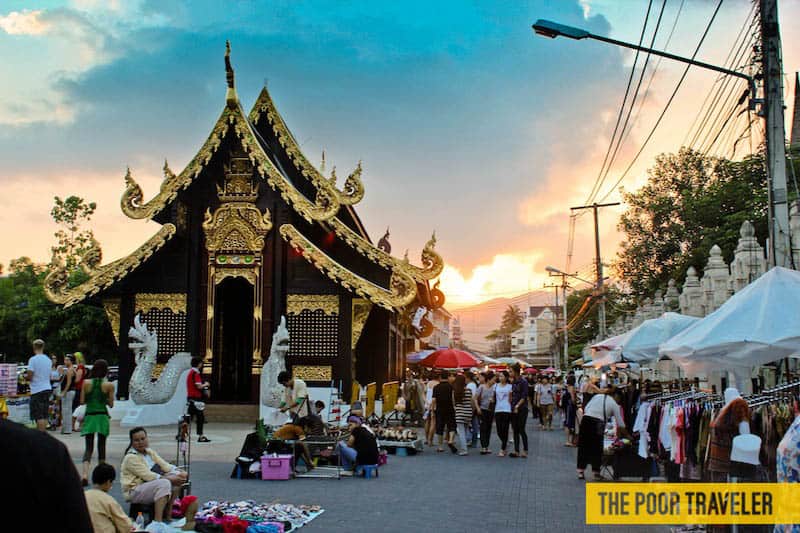 The Sunday Walking Street Market (as it is also known as) is located on the other side of the old city. This one stretches from Thapae Gate and spans the length of Ratchadamnoen Road, which is closed for vehicles for the night. The best part, it is surrounded by the city's many ancient temples. You can visit these temples too. If not, well, they make for a good backdrop while you enjoy a salmagundi of Thai snacks.
It was just before sunset but I, teeming with excitement, was already at the market. The first thing I noticed was the art. It was as though I walked into an outdoor gallery showcasing the best of Chiang Mai's visual artworks. Paintings and sketches lay on the ground, bathing in admiring stares from passing customers. Even the trinkets, housewares, and office supplies that I spotted screamed a sort of creativity. Every item I laid eyes on was artful and imaginative.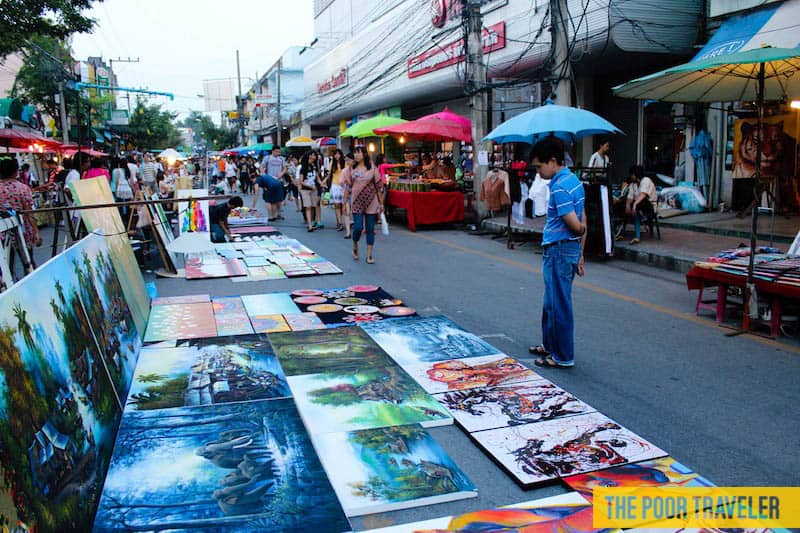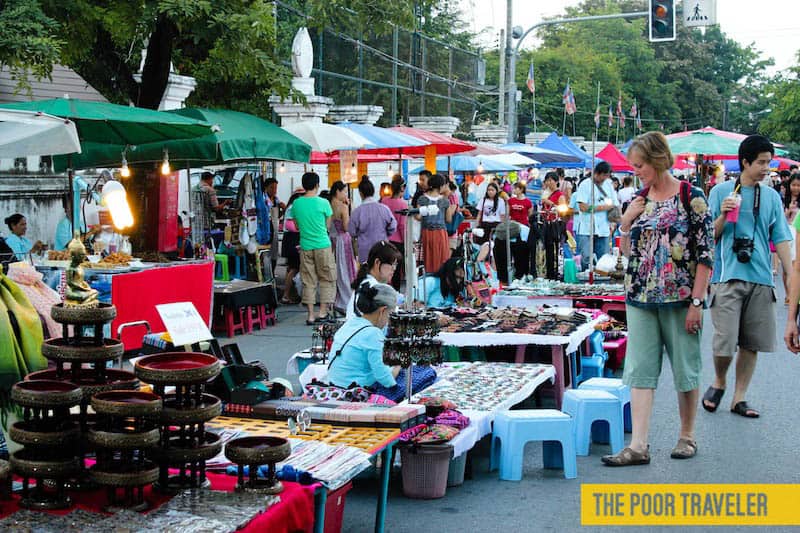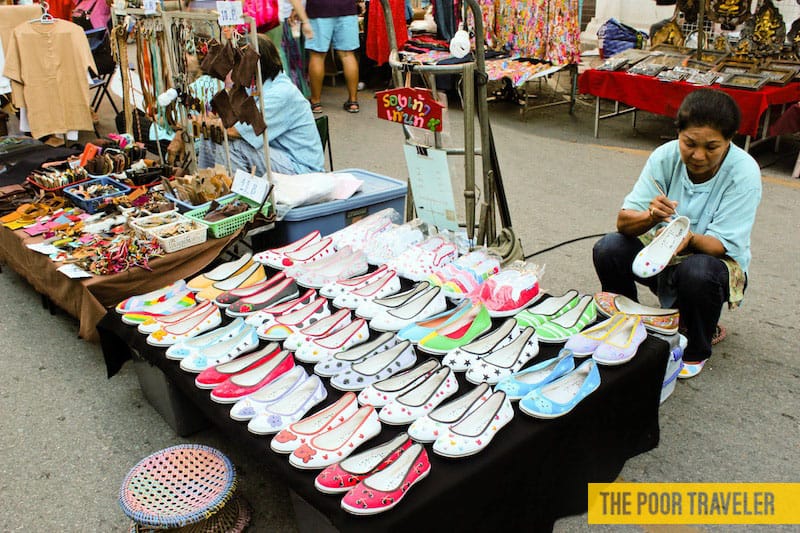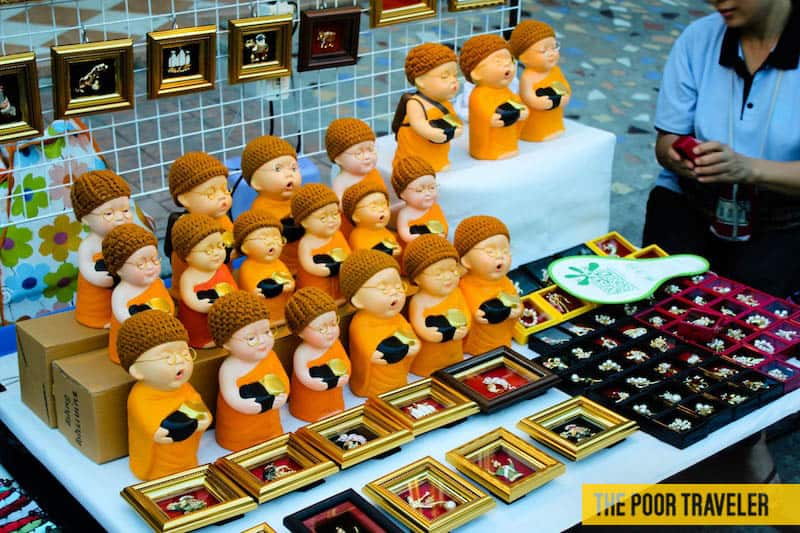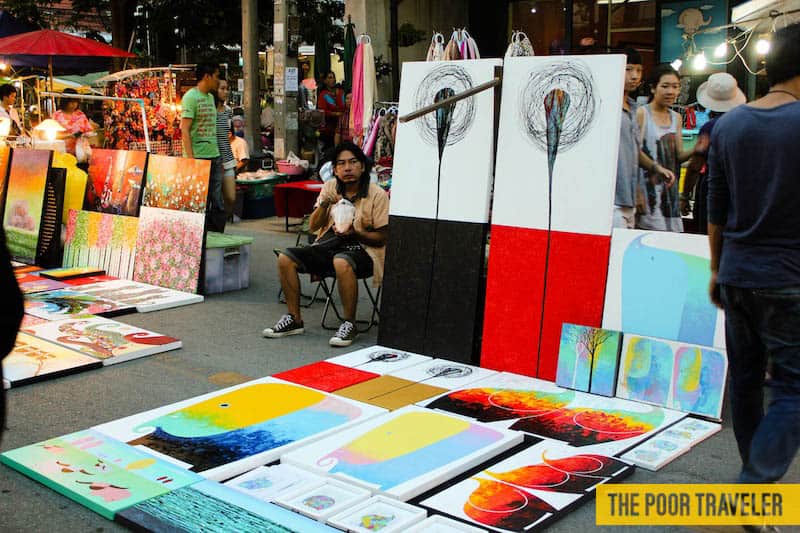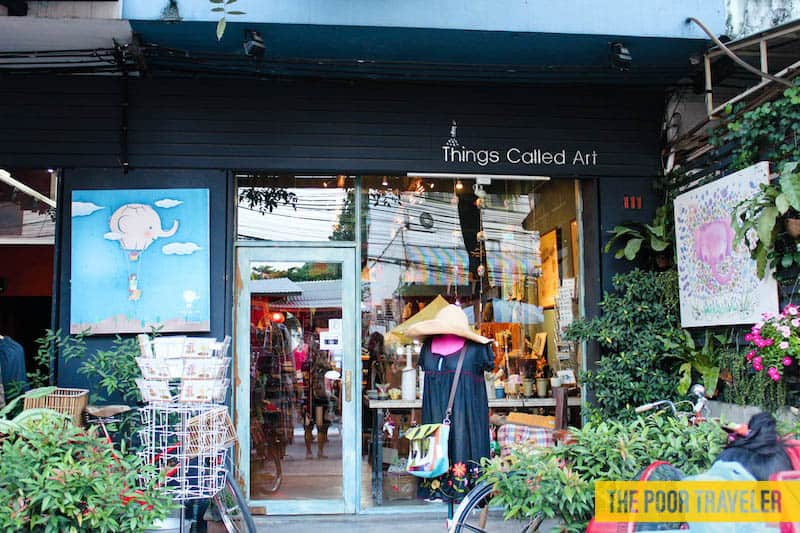 Both the Saturday and Sunday Night Markets are worth a visit. Since I have arrived from my backpacking trip, I have been asked too many times for Chiang Mai tips and I always tell them: Go on a weekend. And when they ask why, I have only two reasons.
Saturday Night Market
Wualai Street, Chiang Mai, Thailand
Opening Hours: 4pm-12mn

Sunday Night Market
Ratchadamnoen Road, Chiang Mai, Thailand
Opening Hours: 4pm-12mn