Published: September 2013
Hot and spicy was that morning as its first hour was spent strolling in between lanes of spices and other produce. I was about to acquire a new skill, something I swore to do in every destination I set foot on. I learned to bike in Siem Reap, and to party (oh yes, that's a skill) in Bangkok. In Chiang Mai, as soon as I had a bowl of tom yum goong from a humble street stall, I knew exactly what I wanted — to be the next Anthony Bourdain. Or at least, to learn how to cook some of my favorite Thai dishes!
Given that my love for Thai food is greater than the frak I give about half the people in my life, it just made perfect sense that I foray into Thai cuisine and sharpen my culinary abilities here, if I ever had any in me.
Learning how to cook isn't that difficult in Chiang Mai. Since the city's rise as a major tourist destination, several cooking "schools" have mushroomed, offering one-day crash courses to eager Thai master chef wannabes (like me)! One of them is the Thai Farm Cooking School.
---
Chiang Mai Market Tour
The class started with an hour-long tour of the city's wet and dry market, where we would shop for most of the major ingredients. Thurian, our cooking instructor for the day, led us through a maze of fresh produce. Our first stop was a rice store, where she explained the many types and uses of these staple grains. Even curry comes in many tastes and colors in Chiang Mai — green, red, and yellow. Green curry seems to be the regular kind. Red has lots of chili peppers in it. Yellow has turmeric. We didn't buy any curry, for we would be making our own later that day.
The wetter part of the market was on the other side, and much like those we have here in the Philippines, almost every part of cows and pigs are sold here, from the usual meat down to the entrails. One thing I noticed was that there were also a lot of cooked dishes sold in the market. Of course, the spiral-shaped sausage that I had been seeing throughout the city was present.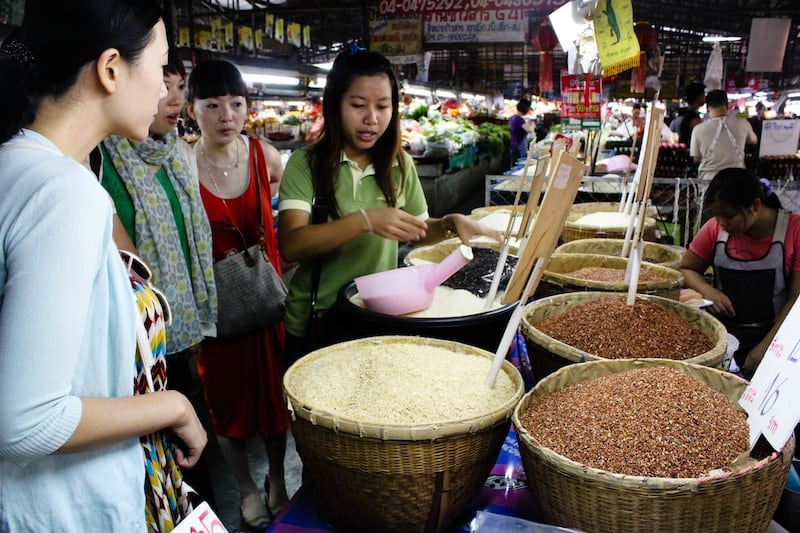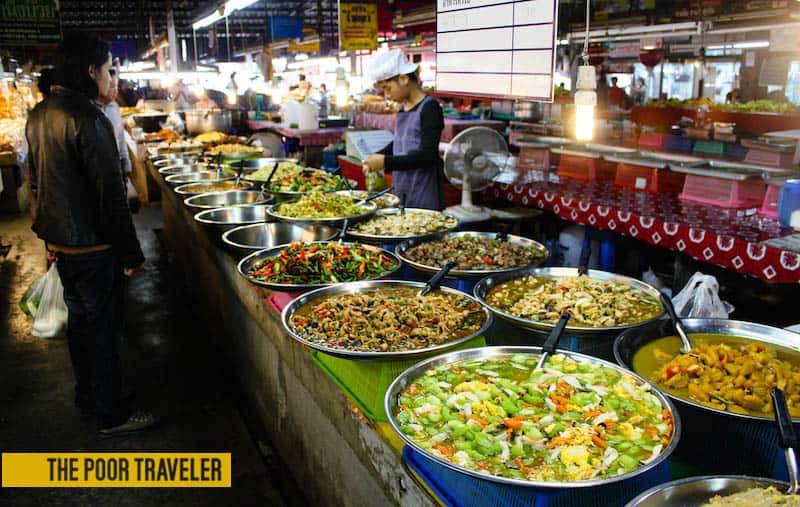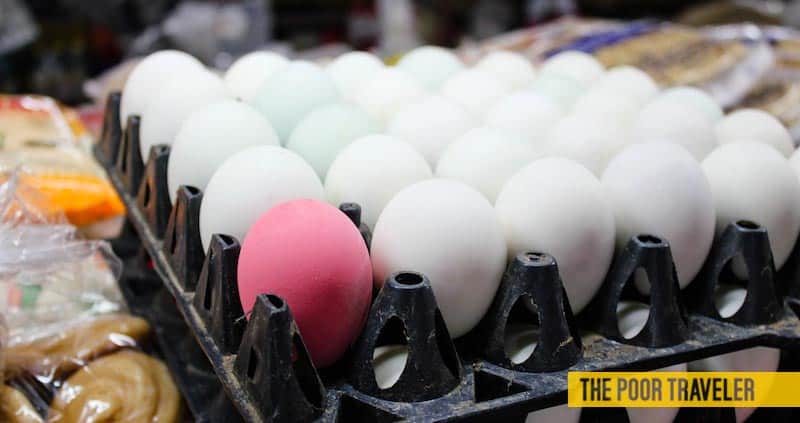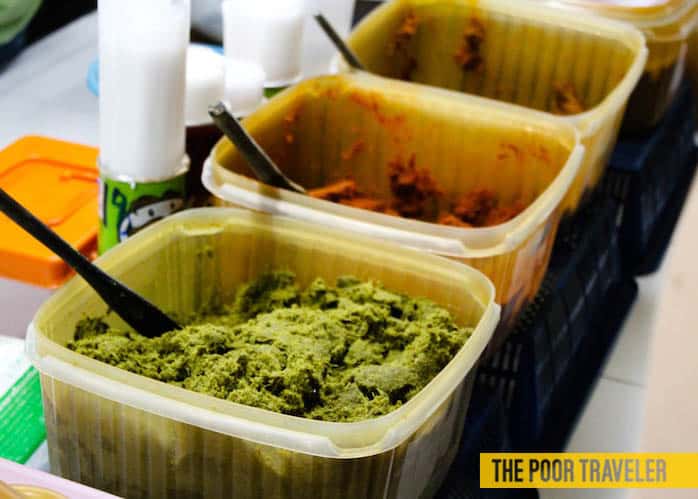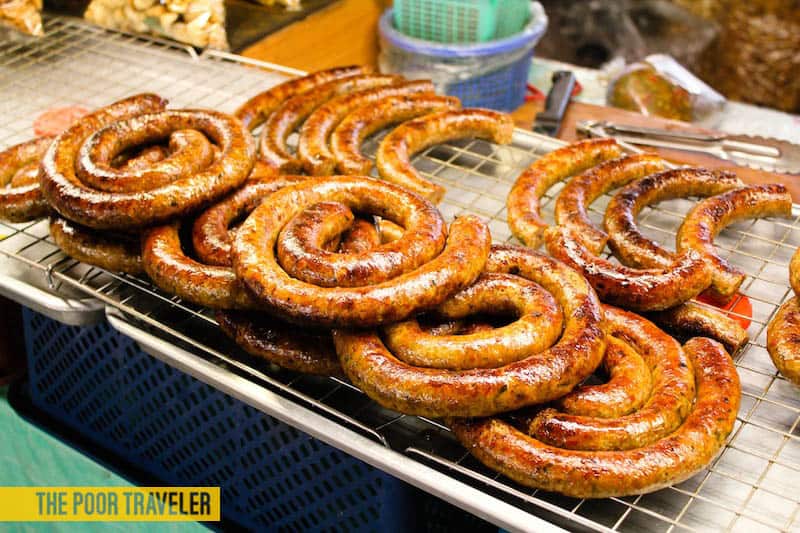 ---
---
A Quick Farm Tour
I shared the multi-cab with other tourists — four friends from Shanghai, a couple from New York, and a French lady. The ride to the countryside was a great opportunity to make friends with them. Alas, I didn't make any during the ride. Language barrier, I hate you! But as soon as Anna and Pete, the American couple, told me that my bag looked cute and very fashionable, I knew that we were gonna be the closest cooking buddies this school was going to see! Third wheel FTW!
There was a sudden change in the atmosphere when our vehicle turned a corner. It was much quieter here, and the air fresher. We hopped out of the multi-cab for a quick tour around the farm. This was exactly why I chose to join this school. While other similar classes happen inside a house's kitchen somewhere in the city center, Thai Farm Cooking School has an actual farm. Sure, it's smal, but it is definitely better than a cramped kitchen. Since we already bought the meat and seafood from the market, all we needed to pick from the farm were the additional spices. And spices they had many.
With a wide-brimmed farm hat and a bright red apron on, we waltzed on the grass and began gathering more ingredients. It was a delight to see what these plants actually looked like. It was my first time to see a kaffir lime tree and a coriander plant. Ah, simple joys in life.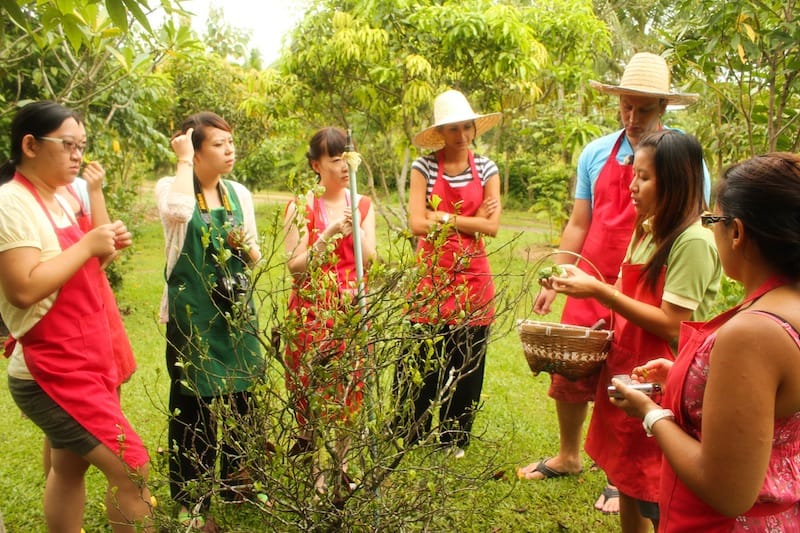 ---
Let the Cookin' Begin!
When we enrolled, we were asked to fill out a form, allowing us to choose which Thai favorites we would want to prepare. This was done in advance so the organizers would know beforehand which ingredients to buy. A full-day course involves six dishes.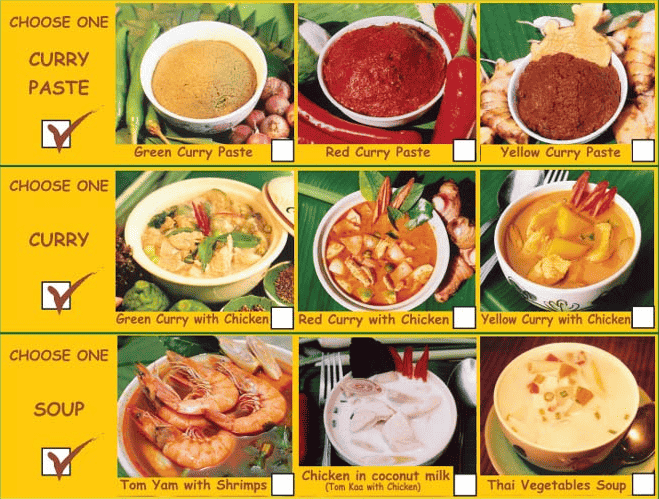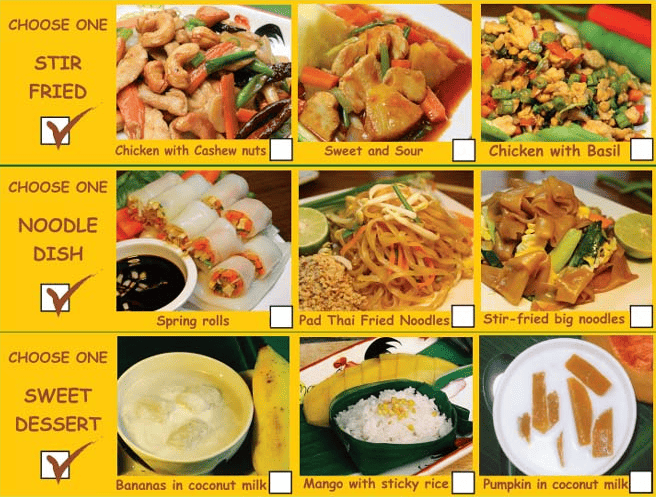 Each of us had our own workspace equipped with a variety of kitchen, uhm, stuff — a stove, a wok, a pan, utensils, stuff.
First up, curry. I'm not really a curry guy but I thought it would be cool to learn how to make it from scratch. Prior to this class, I actually thought that there was a "curry" herb. You know, like basil or bay leaf or ginger that is dried and pulverized. Apparently, the curry is a combination of many ingredients! Stupid me. But at least I got the pulverized part right.
While I was diverting all my energy to my right arm, which was desperately crushing all the ingredients with a mortar and pestle, I realized how wise it was to go with Thai Farm Cooking School. The view of the farm through the wide open windows was so refreshing. It actually kept me from smashing my head with the pestle after noticing I was the slowest of the bunch! My grinding was just so lame that everyone else actually had curry paste in their bowls, and I still had this mound of colorless grainy lameness. When our instructor Thurian checked my masterpiece, she smiled at me. Don't judge, sister. I'm holding a deadly stone pestle.
After the morning workout that produced a cupful of paste, it was time to make the chicken curry dish. We added meat and vegetables to a pan of coconut milk and let it simmer. Eventually, we added our curry paste and the rest of the ingredients. I was supposed to create Red Curry with Chicken, but the only red thing around was the palm of my hand.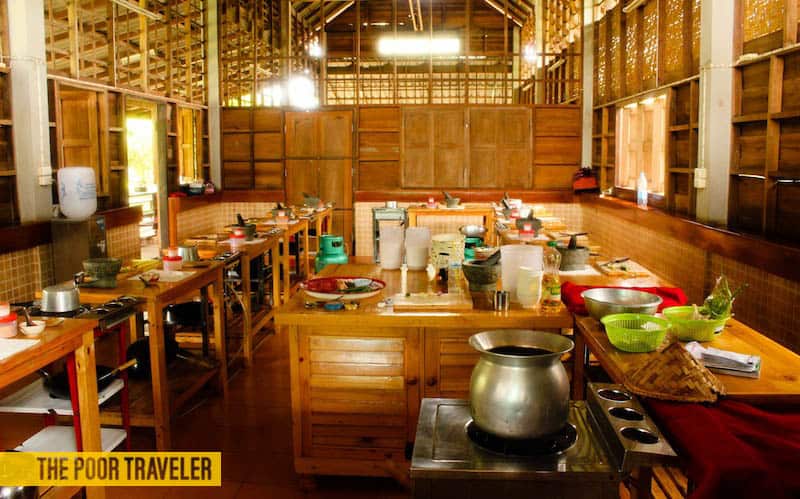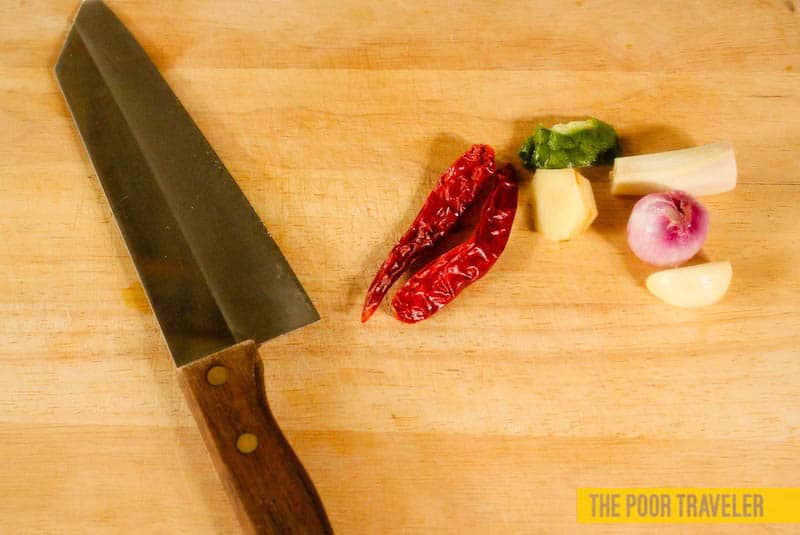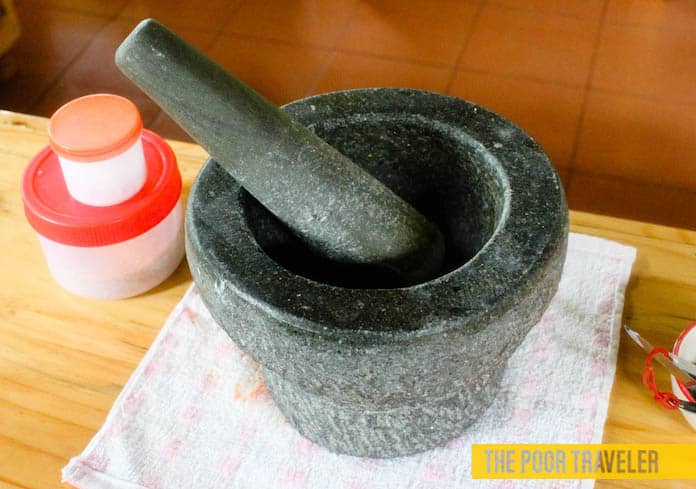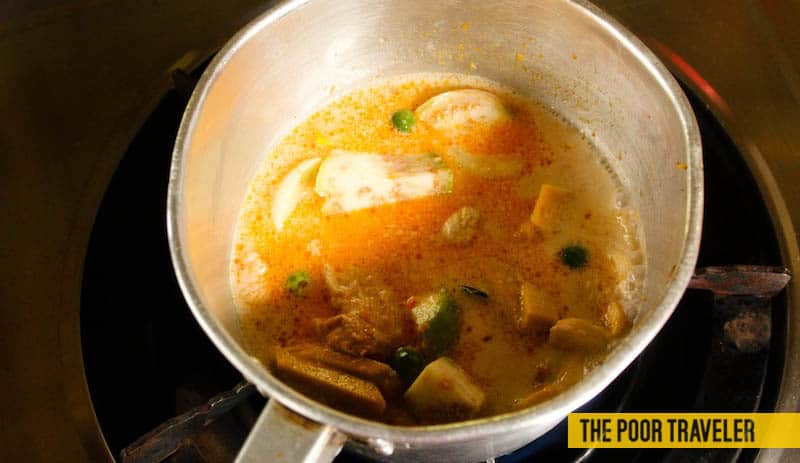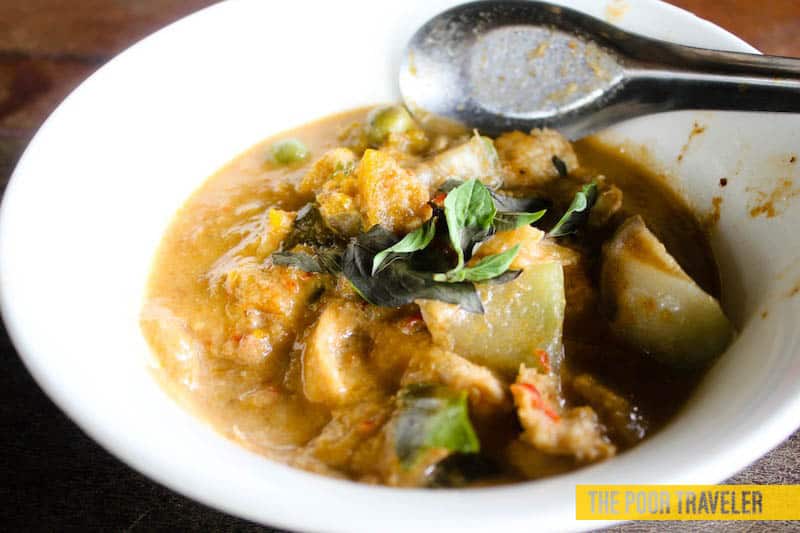 For the soup, I opted with Tom Yum. Like, hello, it's my favorite soup in the world! I had never tried to cook tom yum at home for I felt it's too complex. Apparently, tom yum is quite a simple dish and is easy to prepare. The challenge is to find the right ingredients. Fortunately, Thurian made sure we had everything we needed.
We had a feast for lunch, featuring what we just prepared in the past couple of hours. Everyone seemed pretty satisfied with their Thai culinary debut! Even I was shocked to like the mess I made! Not bad! Anthony Bourdain should be scared!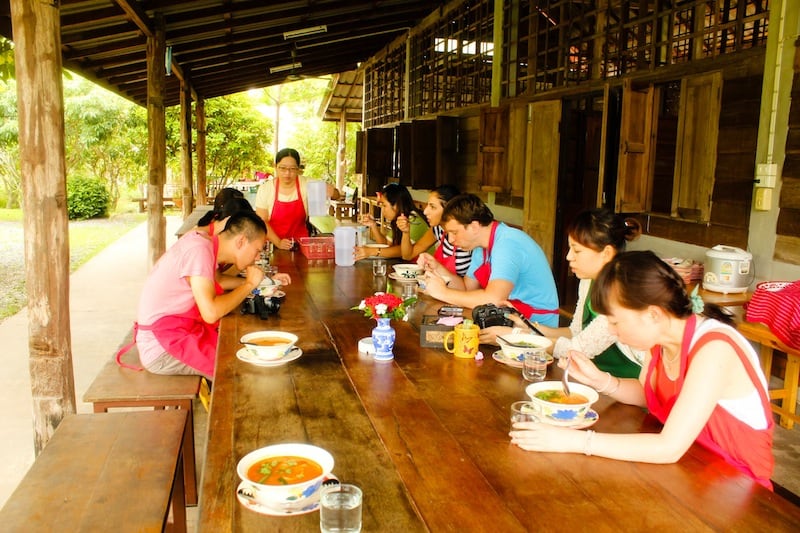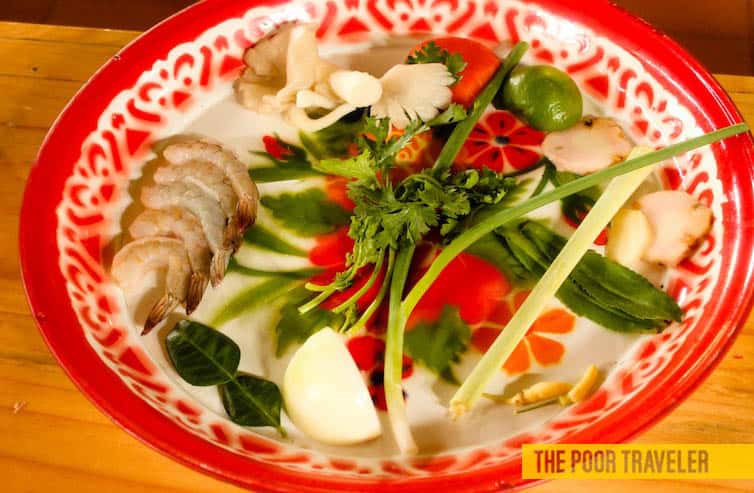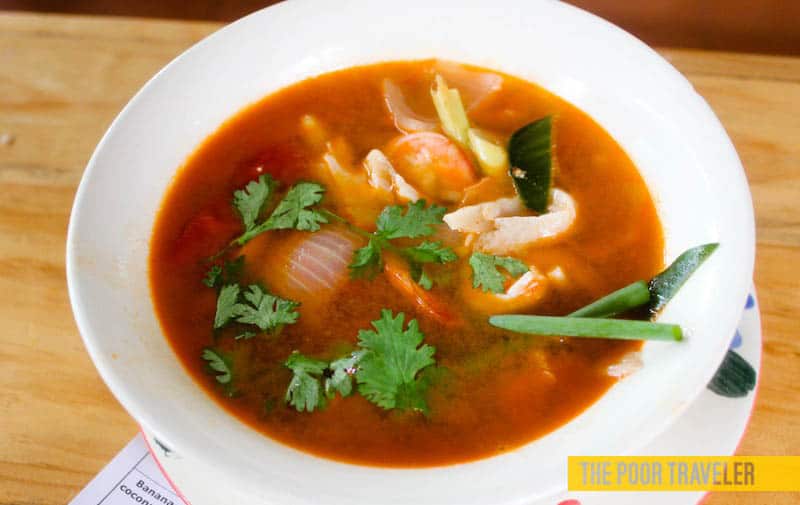 The rest of the afternoon was filled with more cooking! I had Sweet and Sour for stir-fried and Pad Thai for our noodle dish. Both were leaps better than my morning's work. And to close the day was dessert, for which I made a bowl of Bananas in Coconut Milk.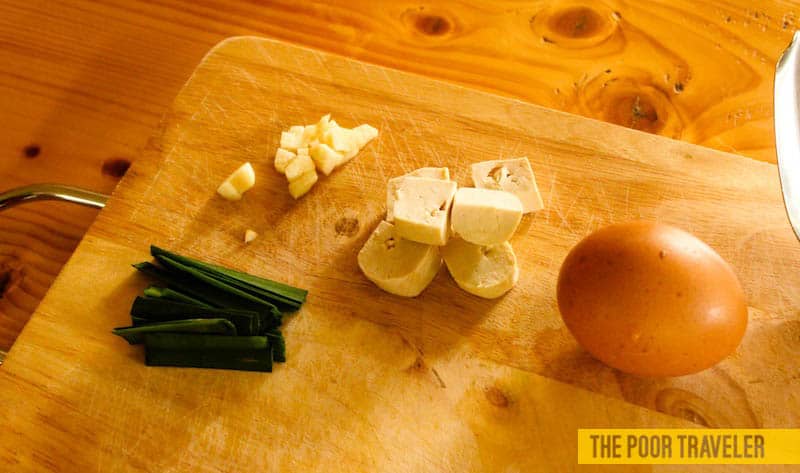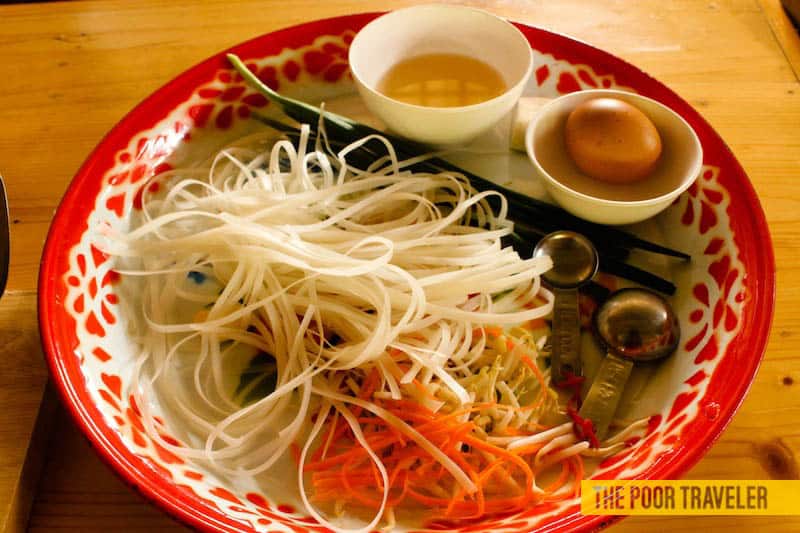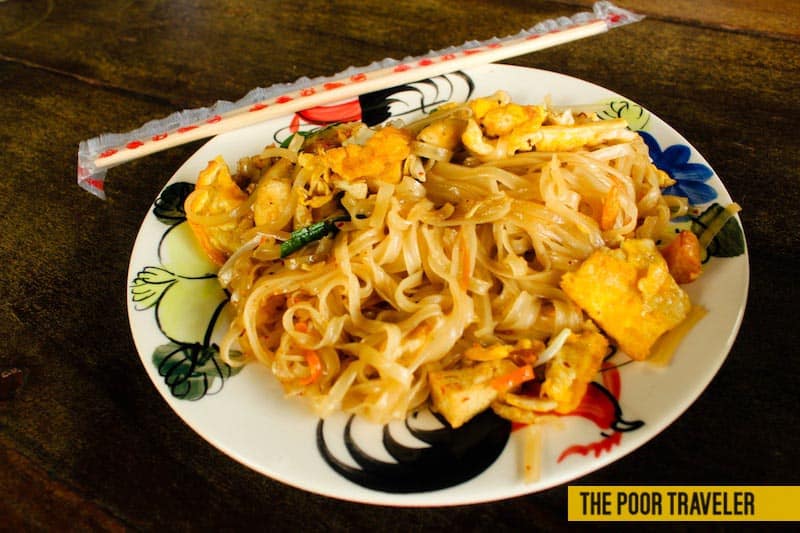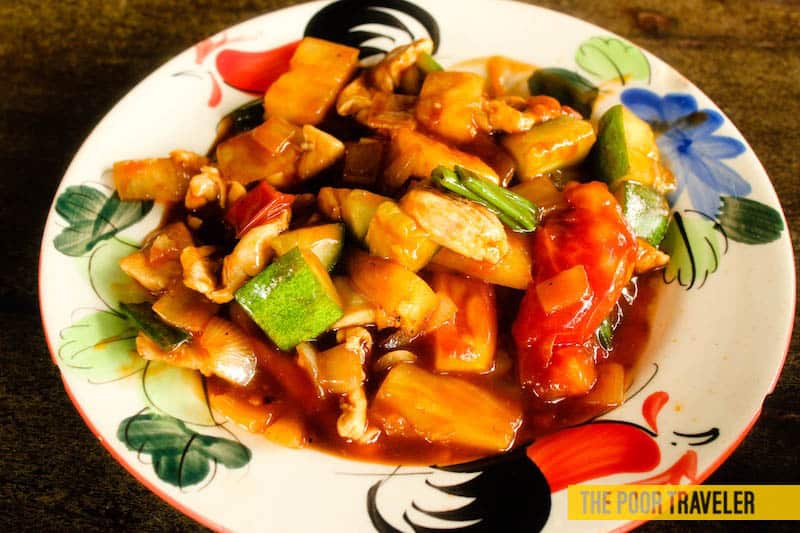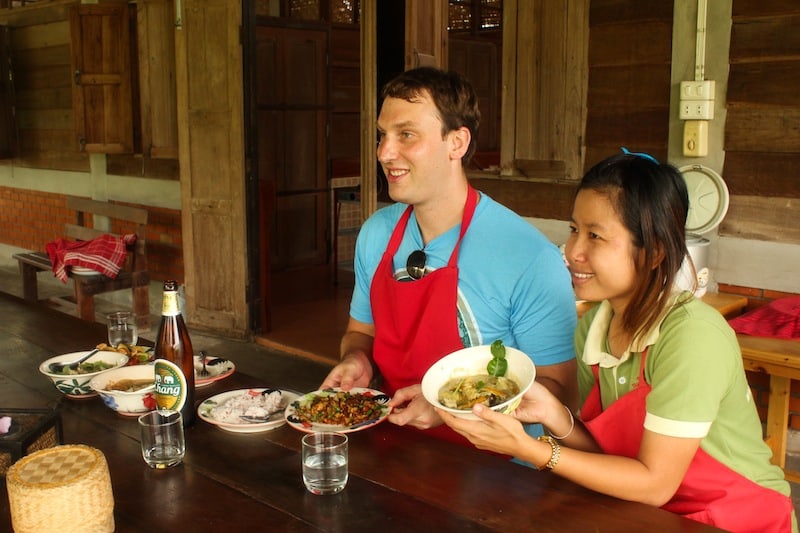 Hurray! I survived a Thai kitchen! I'm now a step closer toward becoming the next Top Chef Master! (Delusions!) The day was definitely more exhausting than I expected. It also dawned on me that being the next Anthony Bourdain was in fact an impossibility in every possible way. But I did it. I may not be able to finish my own Red Curry, but it was still one item on my bucket list crossed off!
My next stop was Luang Prabang. The goal was to learn how to meditate. And be the next Avatar!
Thai Farm Cooking School
Contact Number: (081) 288 59 89
Email Address: info@thaifarmcooking.com
Website: www.thaifarmcooking.net

Rates: THB 1,100 for a full-day course