When planning a camping trip there are certain items that you will need wherever you decide to camp, however for some destinations you will need certain extras or at least consider different options. Camping on a beach, in a forest or at a ski resort will all come with its different needs and planning. 
Well, whichever trip you are going on here are some things you won't be able to live without on your camping trip and a few tips on how to pack smarter. Plus, some extra ideas for different camping destinations too.
Essentials for a Camping Trip
First things first: the essentials. Here are some things you must consider bringing with you regardless of your destination.
WHAT'S COVERED IN THIS GUIDE?
1. Tent, Sleeping bags, and more
Of course, the first things you need on a camping trip is your camping gear. Depending on how you are traveling will determine what you can physically bring with you. A tent and sleeping bags are the main things you will need plus cookware and somewhere to store food if you are cooking for yourself.
If you are packing in your car and driving to your campsite then you might want to bring along camping chairs and a table to make your stay more comfortable. If you are backpacking on foot however, you will want to save as much weight and space as you can, so forget about it.
2. Clothing that can be layered
You don't want to pack too much clothing when camping, but you will need spares in case you get muddy or wet and need to change. Bringing clothing that can be layered depending on the weather is the best thing to do. Plus, you will need essentials such as a waterproof jacket, walking boots or shoes, good socks, a hat and swimwear.
When packing clothing for a camping trip, you should use travel packing cubes to keep your clothing clean, separated and organized too. This was you can keep that dirty laundry away from your clean clothes and if using waterproof ones, you'll keep everything dry.
3. Toiletries and other essentials
Bring small toiletries and a towel for washing as well as a tea towel for your cooking and eating items. A torch (flashlight) is another essential for those dark nights, and a battery powered lantern for inside the tent too.
4. Safety Items
A first aid kit is a must, even if it is a basic one and any medication with extras in case of emergency. Having a map and extra batteries/charging stations for mobile devices are also a good idea so you don't get lost and can contact someone if you get into trouble.
Oh, another thing: Please let someone know your destination or your route. You don't want your family or friends back home to grow worried sick about you.
Extras Beach Camping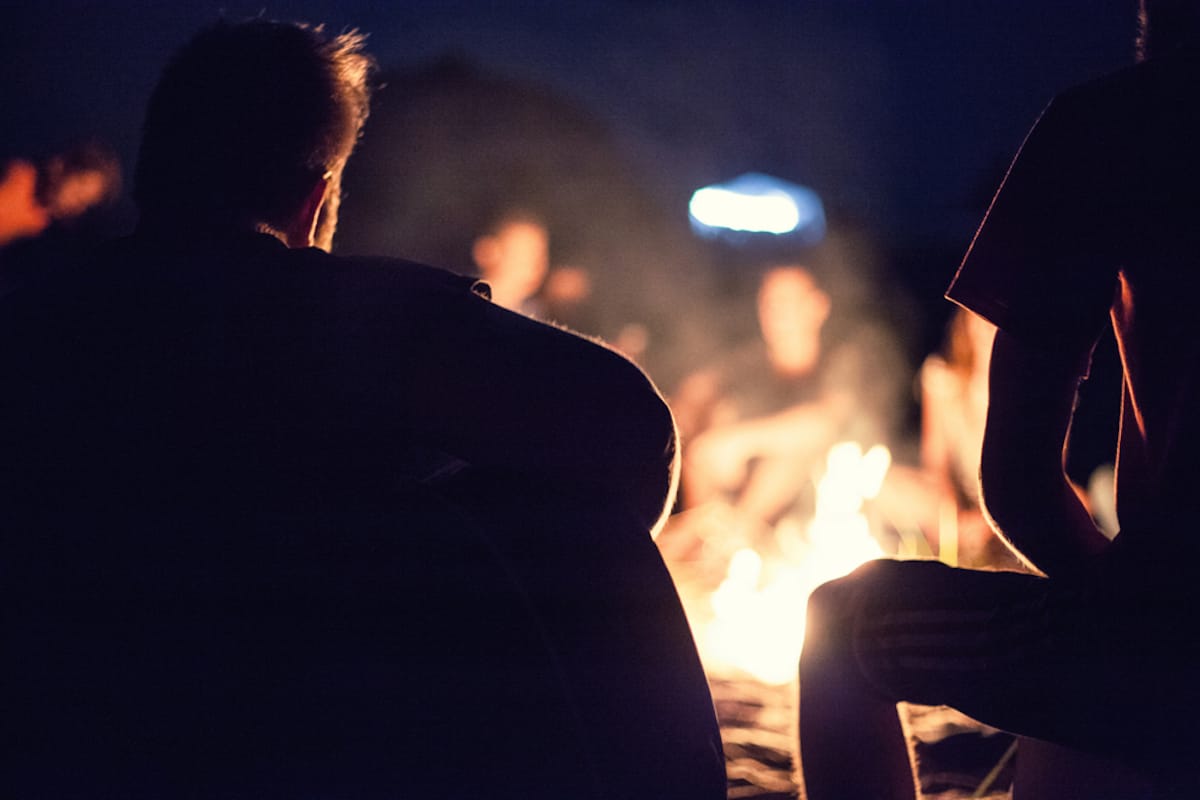 Camping on the beach can be fun and relaxing, the sound of the waves, the feeling of freedom. But there are a few things you may not have thought of when planning to camp on the beach. Here are a few extra items you should consider for beach camping.
1. Fire making equipment
Creating bonfires, no matter how small, is not allowed in some beaches or allowed only in specific areas, so make sure you're familiar with the rules before lighting that match. But if it is allowed, bring something that will make your life easier. It can be difficult to make a fire on the beach, the damp ground and air and the windy sea breeze can all make starting a fire quite hard. Bringing matches, a lighter, your own dry wood and perhaps a bin or fire pit will mean making a fire is that little bit easier.
2. Insect net and camp bed
To get a good night's sleep and to avoid those pesky mites and sand flies it's a good idea to bring along a mosquito or insect net to stop the flies getting in and biting. Beaches attract all sorts of insects and other creatures, and even though you are in a tent, a camp bed is an excellent way to keep you off the ground.
3. Dustpan and brush
This might sound strange but you really don't want sand to get everywhere. If you do get sand in your tent, and you probably will, then you'll want some way of getting it out again and a dustpan and brush is the perfect solution.
Extras for Ski Resort Camping
Camping can be cold and wet at the best of times, but in a ski resort this is on the next level. Even in warmer months camping at high altitude brings very low temperatures, especially at night. Here are a few extras you might need when camping in a ski resort.
1. Extra Warm clothing
It will be cold, as well as your layers, you'll need warm hats and socks both for the daytime and at night. When camping in cold climates or at high altitude sleeping in hats and warm clothing is essential to keep yourself comfortable and safe.
2. Hand warmers
A great little invention that stay warm for hours and perfect to snap and keep yourself warm, especially at night. They are easy to get hold of, light to pack and relatively cheap too.
3. Sleeping pads or mats
Keeping yourself up off the ground but also well insulated, using one or two foam/inflatable sleeping pads as well as your warm tog sleeping bag will stop the cold seeping in from the ground. What you bring depends on your method of travel but having plenty between you and the ground will ensure you keep the cold out.
Some other advice for campers
Camping is always better in the summer months or when the environment is at its most pleasant weather wise. It's always best not to camp in extreme heat or cold, both can be dangerous and often cause dehydration.
Remember you are in a natural environment so you need to respect the area you are camping in. Follow the advice of leave as you found, which is even more important in wild camping areas. Take your rubbish away with you, cover over fires and be aware of local wildlife and plant life too.
By responsible camping you are leaving the sites ready for other people to use and making camping more sustainable for the future.
Do you have any tips for those who want to camp in different destinations? There are so many places open for campers all around the world, from the Swiss alps to the beaches of Thailand. You just have to plan, be prepared, pack your bag and off you go.
2️⃣0️⃣1️⃣7️⃣ • 1️⃣1️⃣ • 5️⃣