A more recent version of this article can be found here: CLARK TO MANILA P2P BUS SCHEDULE!
---
One of the main reasons why many Metro Manila residents are hesitant to book flights to or from Clark Airport is the limited accessibility. For the longest time, travelers coming from the capital will have to take a bus and another transfer to reach Clark. When bus companies began offering bus services to Clark, there were only a few trips per day.
But Metro Manila's congestion problem worsens every day. Its only commercial aviation gateway, the Ninoy Aquino International Airport, is plagued with delays. And its road traffic is becoming a daily nightmare that those living in the northern areas would rather travel to Pampanga than brave the "carmageddon" to the south. Clark is becoming a more attractive option.
Thank heavens for the Premium (Point-to-Point) P2P Bus Service, operated by Genesis Transport. Yes, it's pricier than the regular bus, but it's clean and spacious. There are free wifi, helpful staff, and fewer stops! You can easily travel to Clark from NAIA Terminal 3, Robinsons Galleria (Ortigas), or Trinoma.
✅ More info here: P2P BUS SCHEDULE AND FARES
But how about the other way around? How do you travel to Manila from Clark Airport? It's quite easy. Here's how:
1. Go to the P2P Bus Stop.
It's located right in front of the Arrival area of Clark Airport. You can see it as soon as you exit the Arrival area. There's a waiting shed along a perpendicular street. That's where you should go. It should be on the ride side of the fast food restaurants in front of you. You know you're at the right spot when you see the P2P Bus sign (pic below).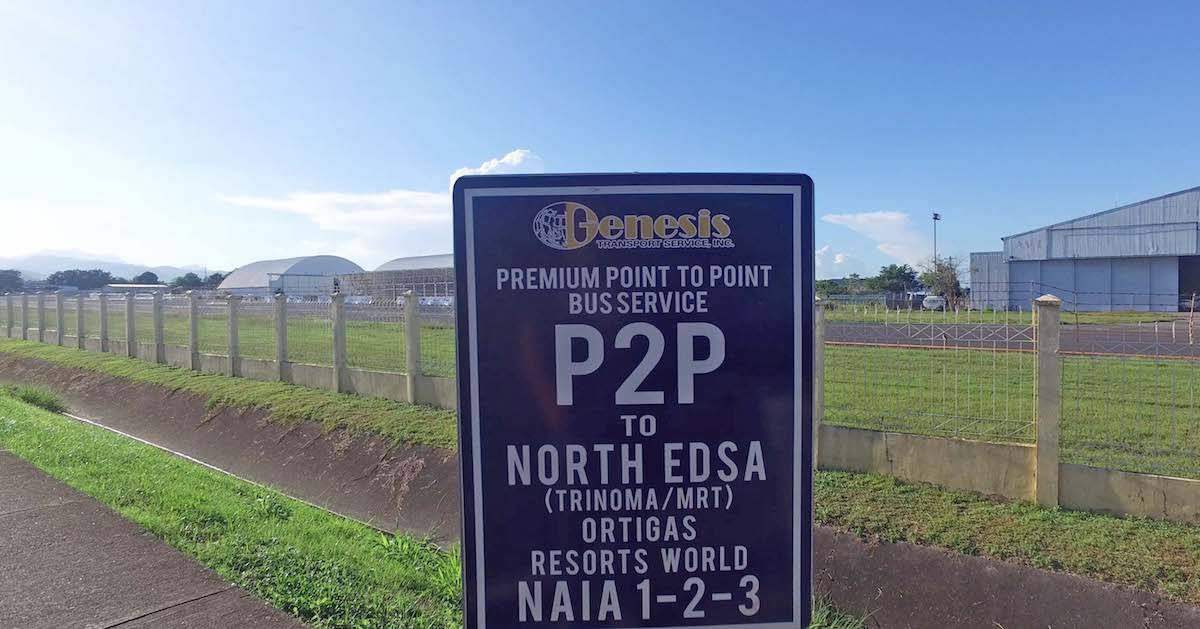 ---
2. Find your bus.
If there is no bus yet, wait a little bit. There are usually two buses: one going to Trinoma and the other to NAIA 3.
The bus going to Trinoma will stop at the following:
DOTR Office & Clark Center
SM Clark Transport Hub
Trinoma/North EDSA. FINAL STOP.
The one going to NAIA 3 will also make a stop at the following:
DOTR Office & Clark Center
SM Clark Transport Hub
Ortigas. Near Robinsons Galleria, EDSA.
NAIA Terminal 1. At the departure curbside.
NAIA Terminal 2. Bay 20 Arrival.
NAIA Terminal 3. Bay 14 Arrival. FINAL STOP.
Note: There used to be a pick up and drop off point at Resorts World Manila. But not anymore. Instead, you can take the walkway bridge that connects Resorts World Manila to NAIA Terminal 3.
Our NAIA-bound Bus also made a stop at Trinoma though. I'm not sure if they do it all the time or it's a one-time thing. But it did.
If you have big bags, let the staff know so they can load them to the bottom compartment for you.
---
3. Board and pay!
The fares as of October 2018 are listed below:
Clark to Trinoma/North EDSA: P250
Clark to Ortigas: P250
Clark to NAIA3: P350
The conductor will be giving you the ticket and collecting the fees on the way.
Travel time: It varies depending on traffic. To be safe, allot 3-4 hours. Based on experience, the total travel time is around 2.5 hours. Note that this was on a weekday late afternoon/early evening. We left Clark Airport at 4pm, stopped at Trinoma at 5:47pm, and reached Resorts World Manila at 6:25pm. I'm sure it will be much longer if it were in the morning.
Here are the schedules:
Clark Airport to NAIA via Ortigas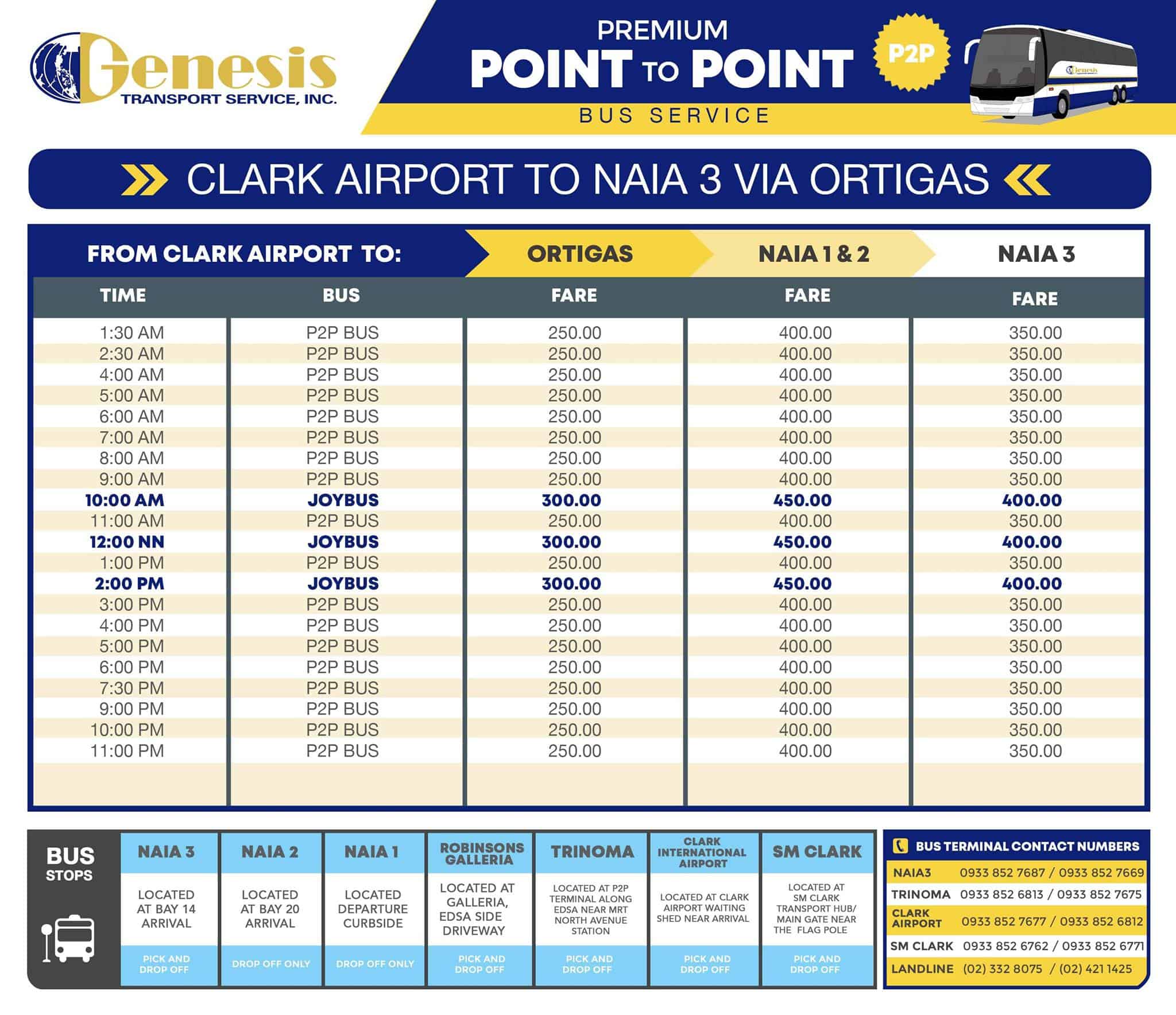 Clark Airport to Trinoma or North EDSA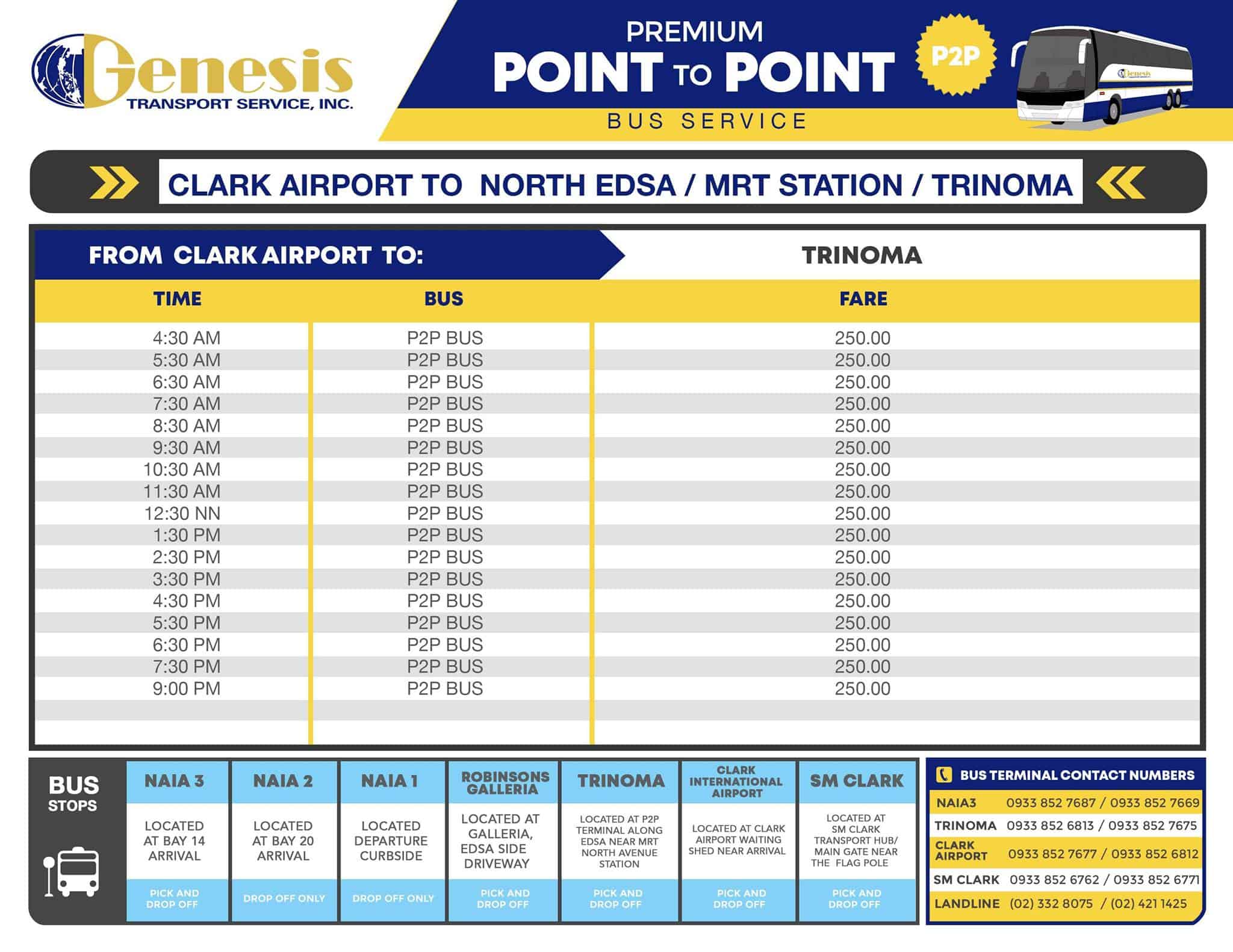 ---
Important Notes:
If your destination is NAIA 3 to transfer to another flight, please note that on top of the 3-4-hour travel time, allow 2 more hours for the check-in process for domestic flights and at least 3 more hours for international flights. Manila traffic is really bad, and the last thing you want is to miss your next flight. Keep this in mind before booking your flight.
They seem to not follow the timetable as strictly as they should. One of our readers shared that in his experience, the first bus left Trinoma at 5:40am, not 4am. So please have plenty of lead time before your flight. If your flight is in the early morning and you don't have a ride, consider spending a night in Clark for good measure. We've been trying to reach Genesis to clarify their schedule but no response from them until now.
These buses WILL NOT stop to pick up or drop off passengers at any place other than the designated spots. Do not try to alight elsewhere.
This post was last updated in November 2018. Always contact Genesis Transport before your trip to get their latest timetable.
---
---
2️⃣0️⃣1️⃣7️⃣ • 1️⃣2️⃣ • 2️⃣7️⃣
More Tips on YouTube ⬇️⬇️⬇️