A more updated version of this article can be found here:
New P2P Bus Manila-Clark Schedule!
---
Last updated: MARCH 14, 2020.
IMPORTANT UPDATE! Due to the COVID-19 travel restrictions to and from Metro Manila, Genesis Transport has announced that they will only operate until March 14, 2020. Here are the schedules of their last trips: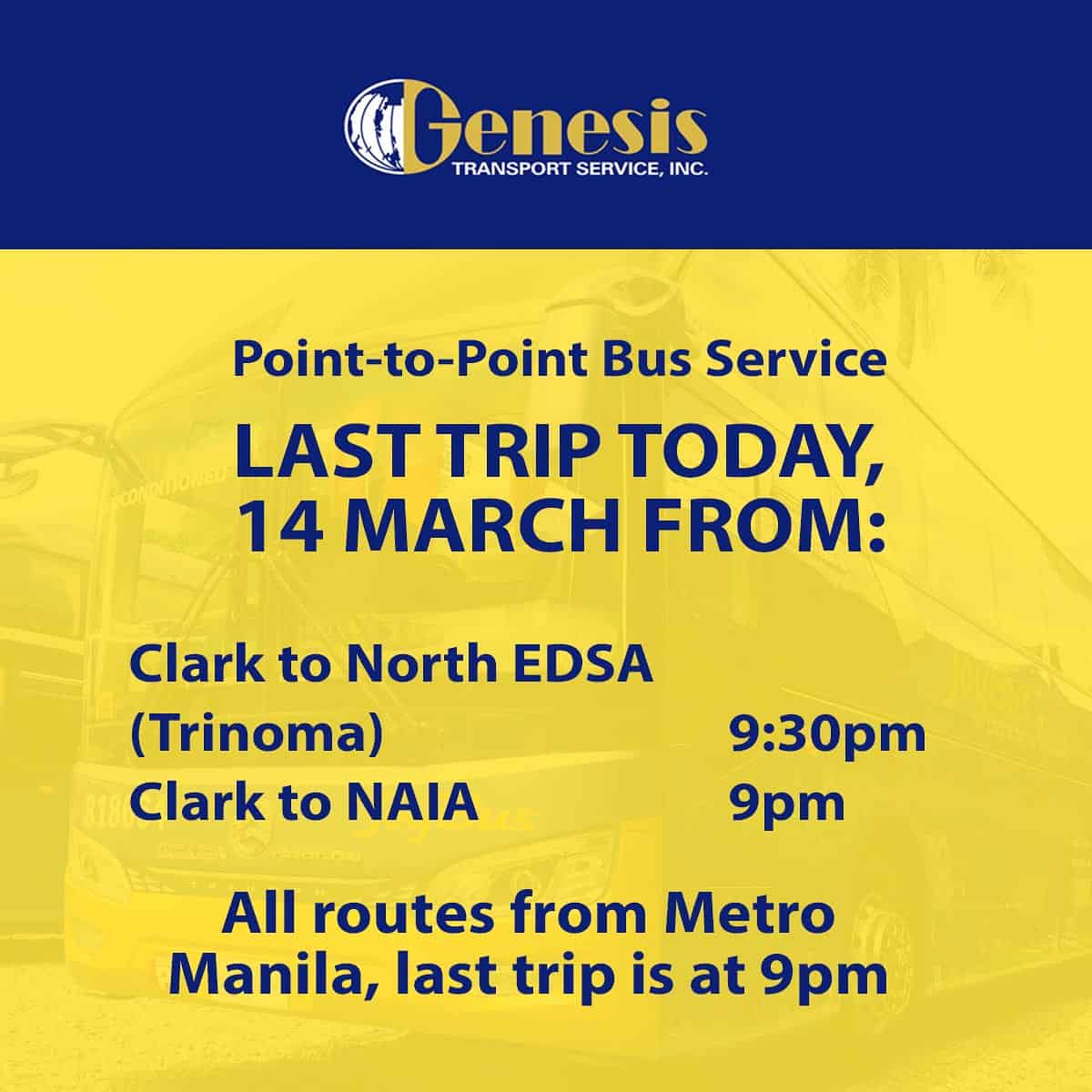 ---
One of the best things that happened for travelers from Metro Manila and Central Luzon is the launch of the Premium Point-to-Point (P2P) Bus service from Manila to Clark Airport.
Clark International Airport is the fastest growing gateway in the country, and airlines have been constantly adding new flights that fly into and out of it. This somehow addresses the congestion problem that has been plaguing Manila's Ninoy Aquino International Airport (NAIA) for years.
Direct bus trips to Clark from Manila are not new. PHILTRANCO has been operating this route for years, albeit with only five trips per day. But the P2P buses provide more options and pick up and drop off passengers from all NAIA Terminals as well as a few key stops like Robinsons Galleria (Ortigas), and Trinoma. These buses are also more comfortable, with fewer seats, bigger legroom, and working wi-fi.
These P2P buses ply two Clark routes: one originating and terminating at NAIA Terminal 3, and the other originating and terminating at TRINOMA.
IMPORTANT! Although we try to do our best, we cannot guarantee that the info below is up-to-date all the time. We only rely on the timetables released by GENESIS TRANSPORT and posted at public spaces. We still strongly encourage you to call GENESIS TRANSPORT directly for the latest schedules.
WHAT'S COVERED IN THIS GUIDE?
Bus Stops in Manila
Here are the exact locations of the pick-up and drop-off spots of P2P buses n Manila. NOTE that the NAIA 2 and NAIA 1 stops are for DROP-OFF ONLY. You can't board the bus from there. If you're coming from NAIA Terminals 1, 2, or 4, you will have to take a cab or Uber to Terminal 3 (Bay 14).
NAIA 3. Bay 14 at the Arrival area. (According to one of our readers, it's been moved to Bay 11.) PICK-UP AND DROP-OFF. Bus Terminal contact numbers: +63 933 852 7687, +63 933 852 7669.
NAIA 2. Bay 20 at the Arrival area. DROP-OFF ONLY!
NAIA 1. At the Departure Curbside. DROP-OFF ONLY!
Robinsons Galleria (Ortigas). Near EDSA Shrine. PICK UP AND DROP OFF. However, when the bus is already full, it will skip this stop.
Trinoma. Genesis P2P stop along Mindanao Avenue (side of Conti's, Landmark). This used to be along EDSA, close to MRT North Station, but they moved it to the Mindanao side recently. See the photo below. PICK UP AND DROP OFF. Contact numbers: +63 933 852 6813, +63 933 852 7675.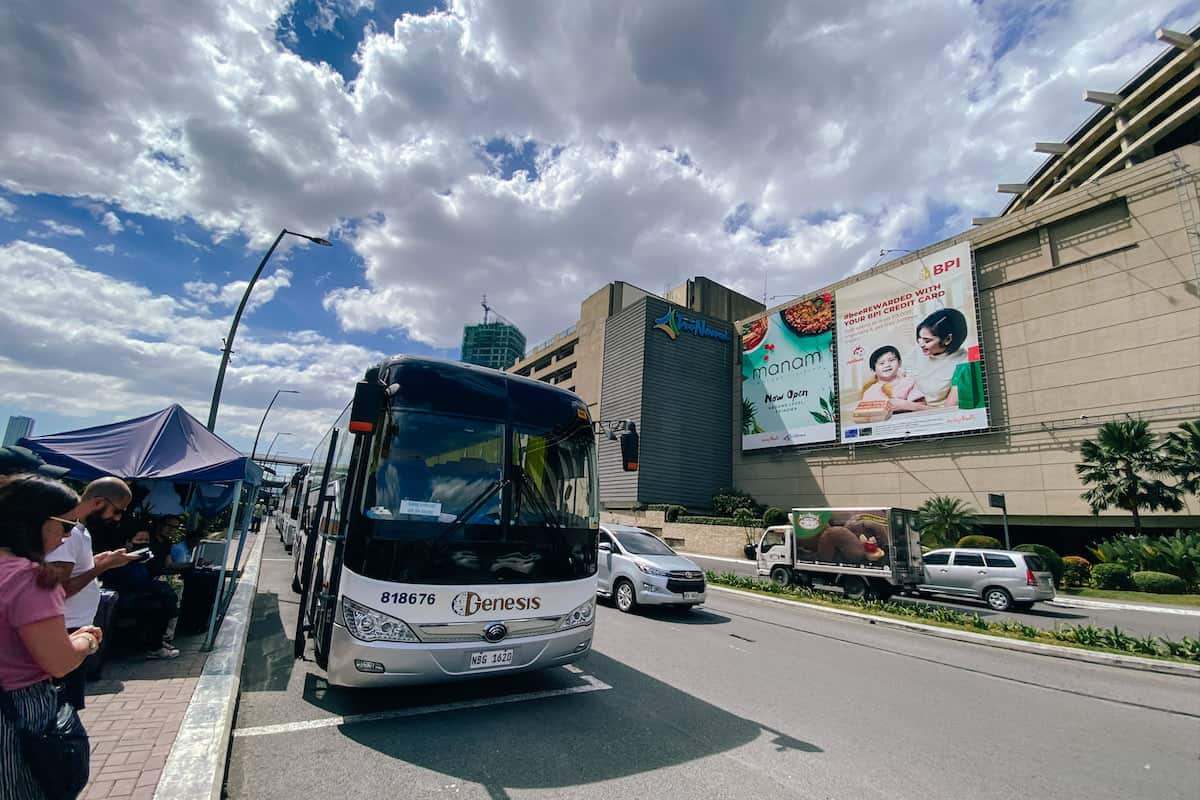 Note: There used to be a pick up and drop off point at Resorts World Manila. But not anymore. Instead, you can take the walkway bridge that connects Resorts World Manila to NAIA Terminal 3.
---
P2P Bus and Joy Bus Schedules and Fares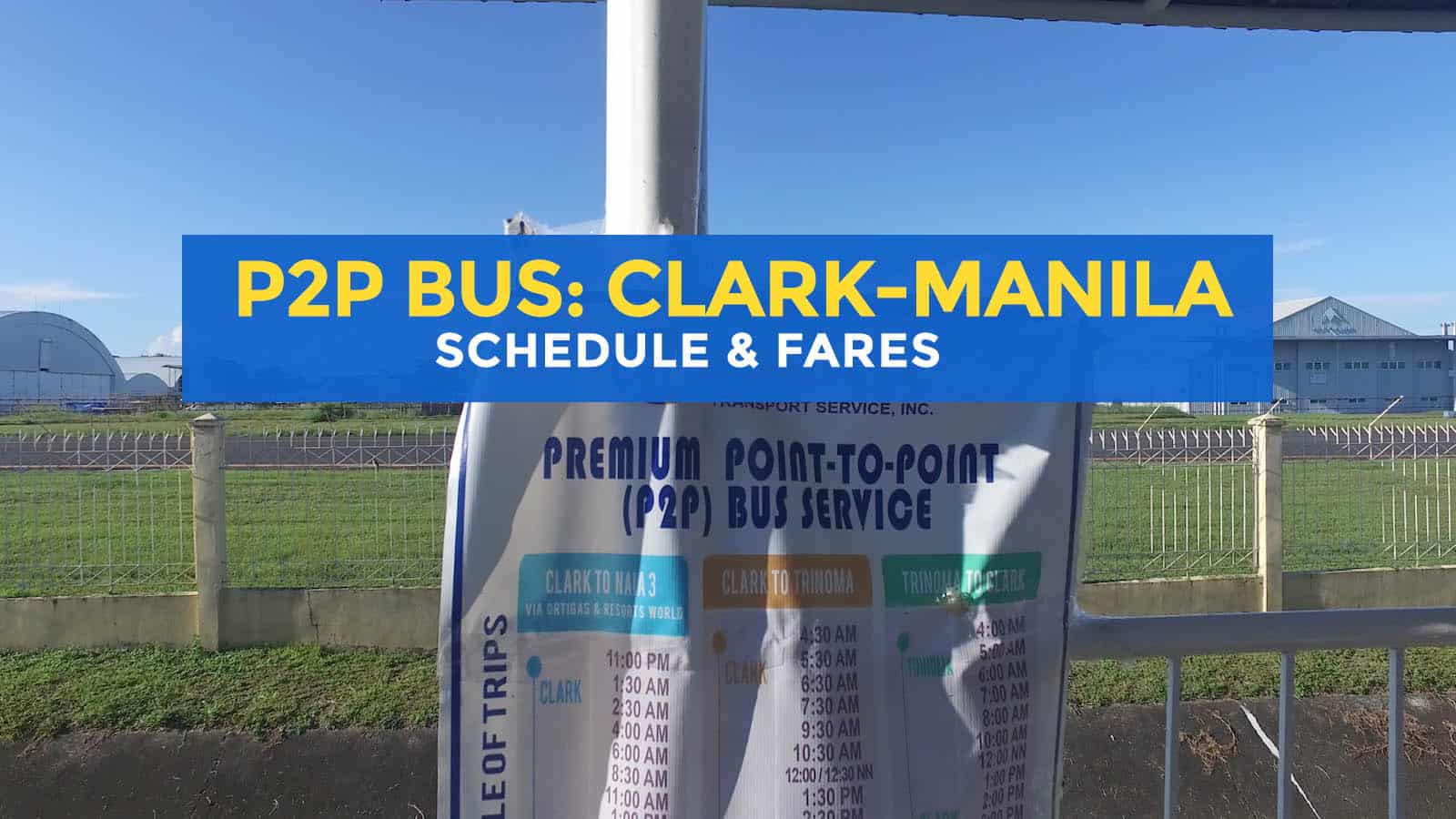 Below are the most updated timetables as of November 2018. The good news is: there are now more trips per day. The additional early morning trips will definitely help those who have a morning flight to catch in Clark. There are also Joy buses operating 3 times a day between NAIA and Clark.
Update: Fares have recently increased, so the rates in the artworks below might be lower than actual current fares.
NAIA to Clark Airport via Robinsons Galleria, Ortigas
As of March 2019
Update: Fare now is P380.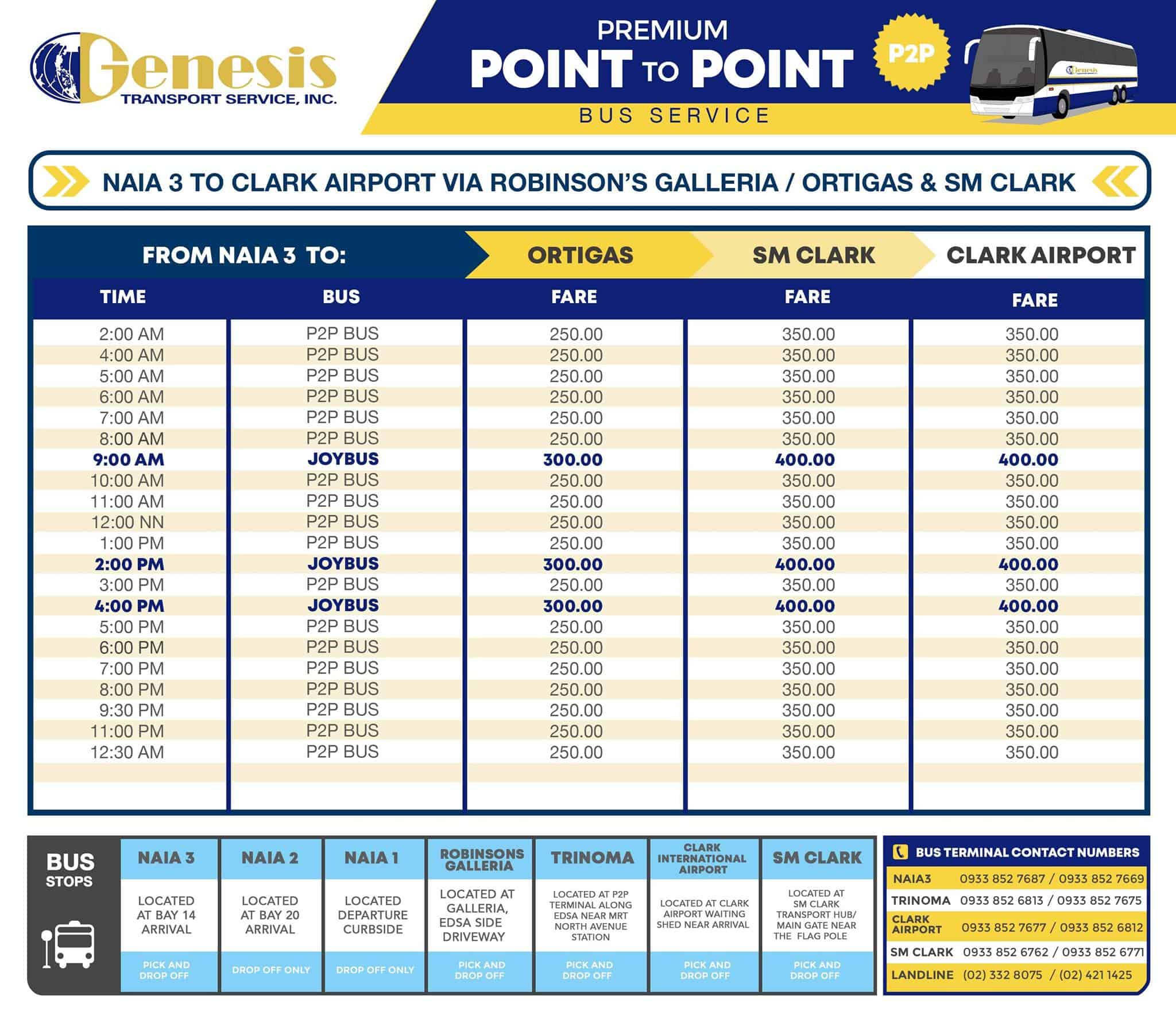 IMPORTANT! Because all buses are coming from NAIA, there are times when they are already full even before they reach Robinsons. In such cases, the driver skips the Robinsons Galleria/Ortigas stop. Hence, it's better to just go to NAIA to catch a bus than take a chance in Ortigas.
Clark Airport to NAIA 1, 2, 3, via Ortigas
As of March 2019
Update: Fare now is P380.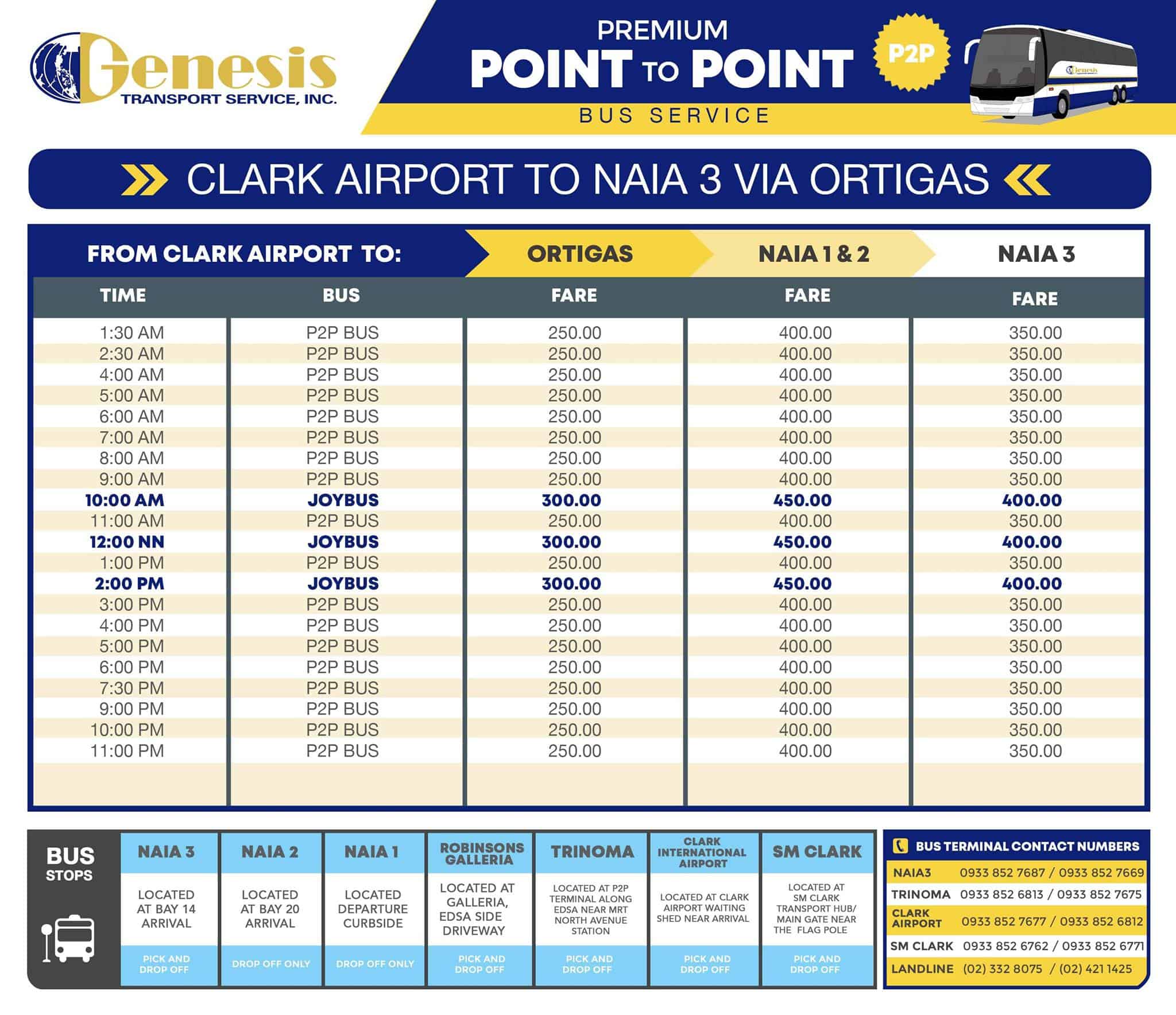 Trinoma to Clark Airport
As of March 2019
Update: Fare now is P280.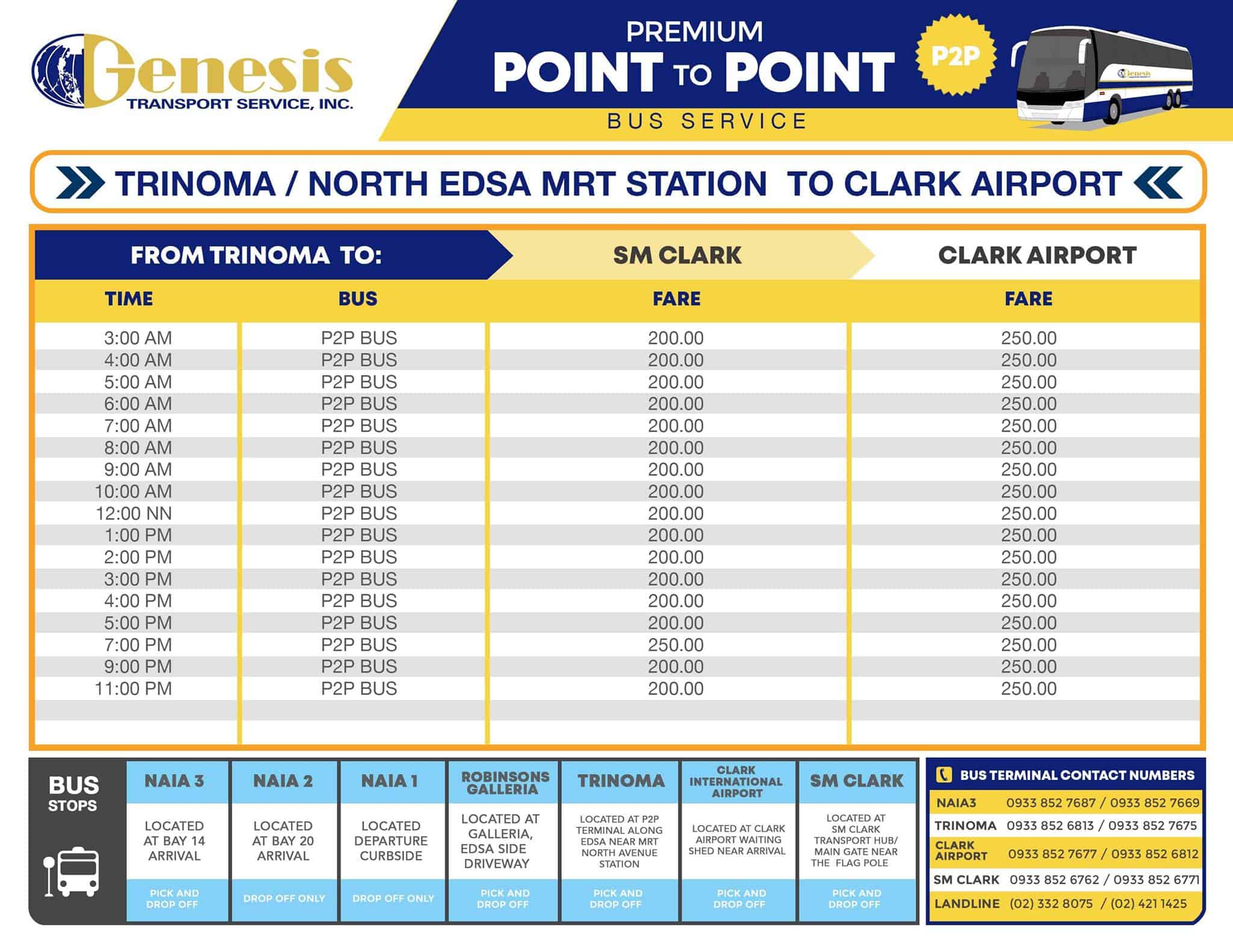 Clark Airport to Trinoma or North EDSA
As of March 2019
Update: Fare now is P280.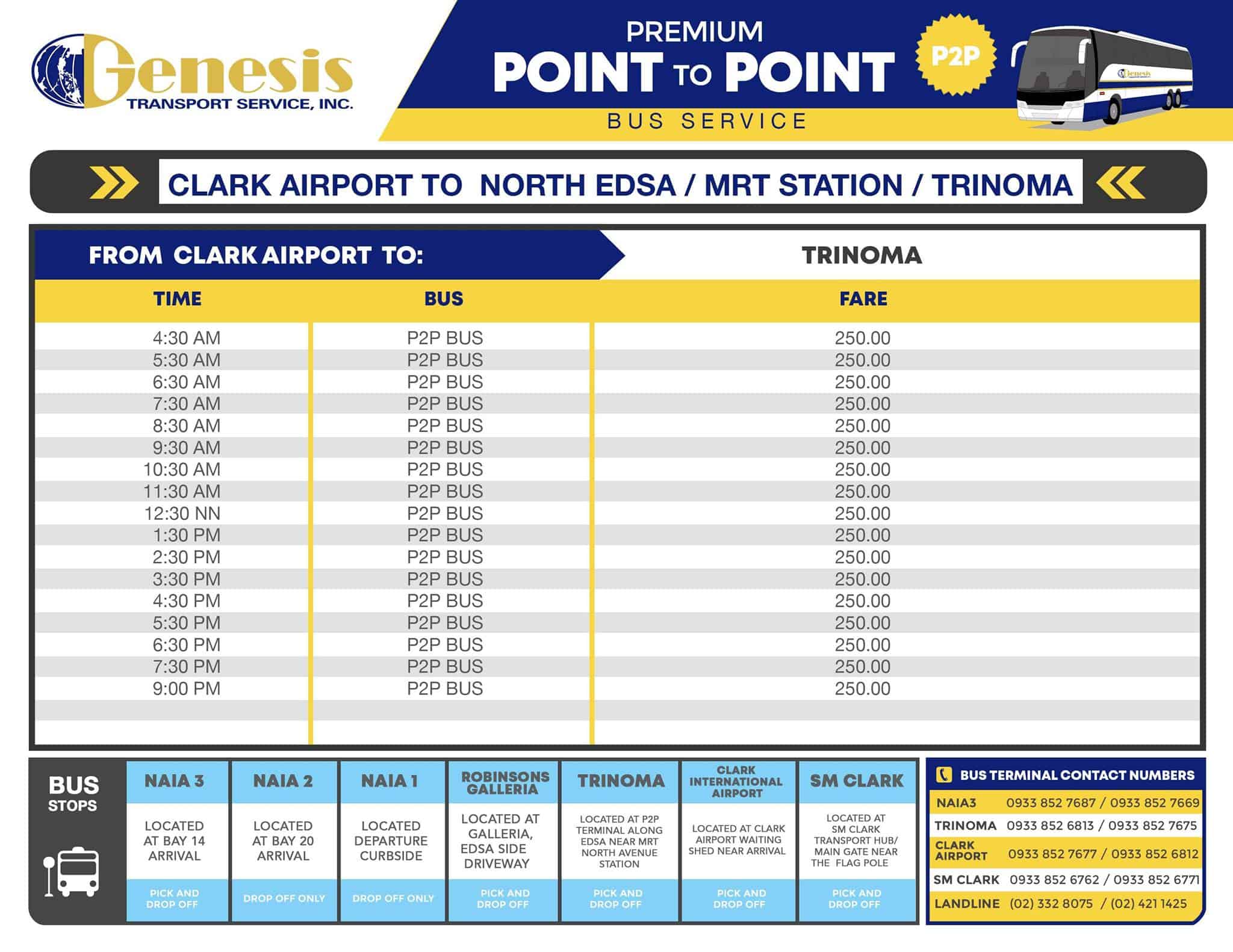 SM Clark to NAIA 1, 2, 3, via Ortigas
As of March 2019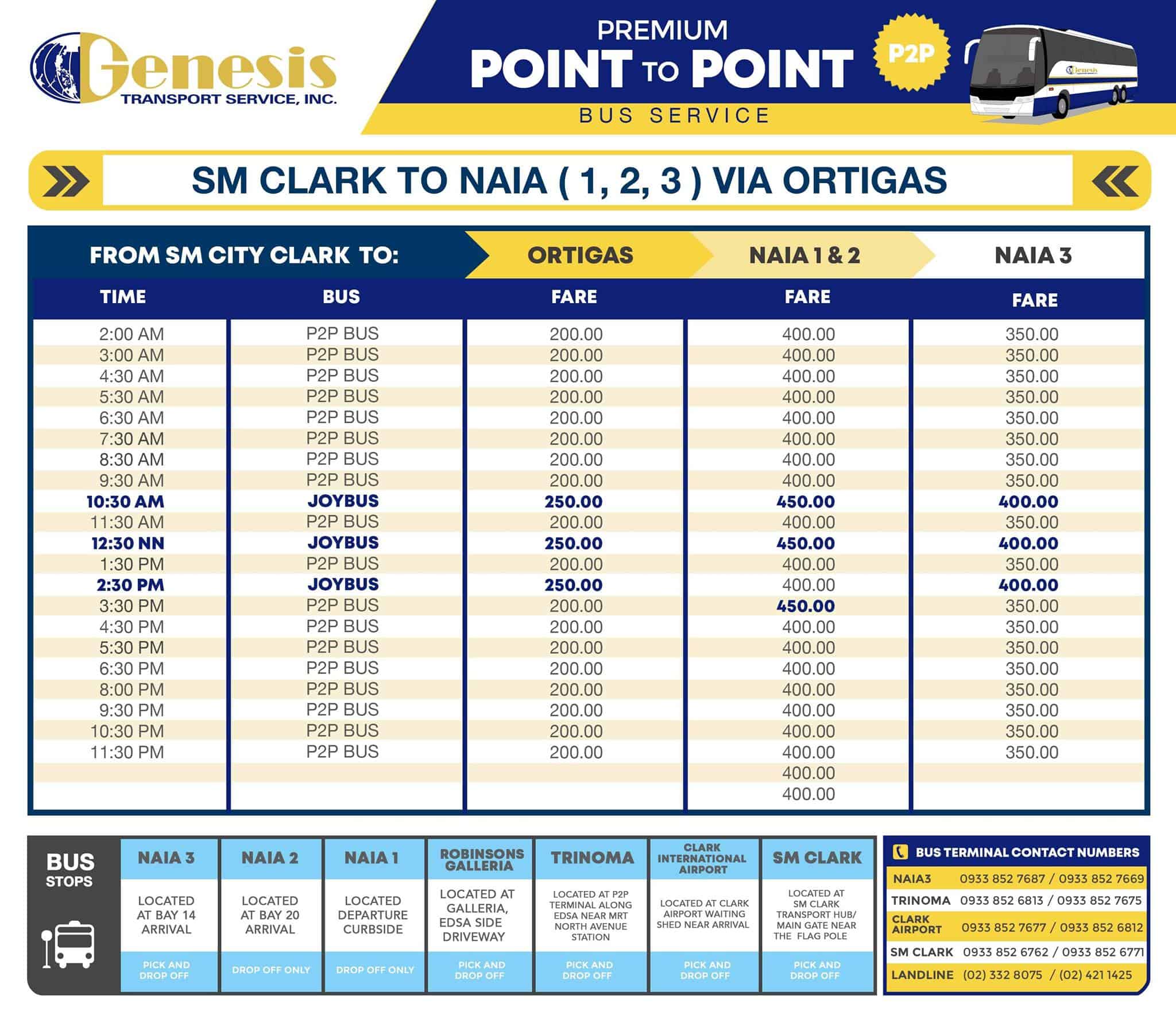 SM Clark to Trinoma
As of March 2019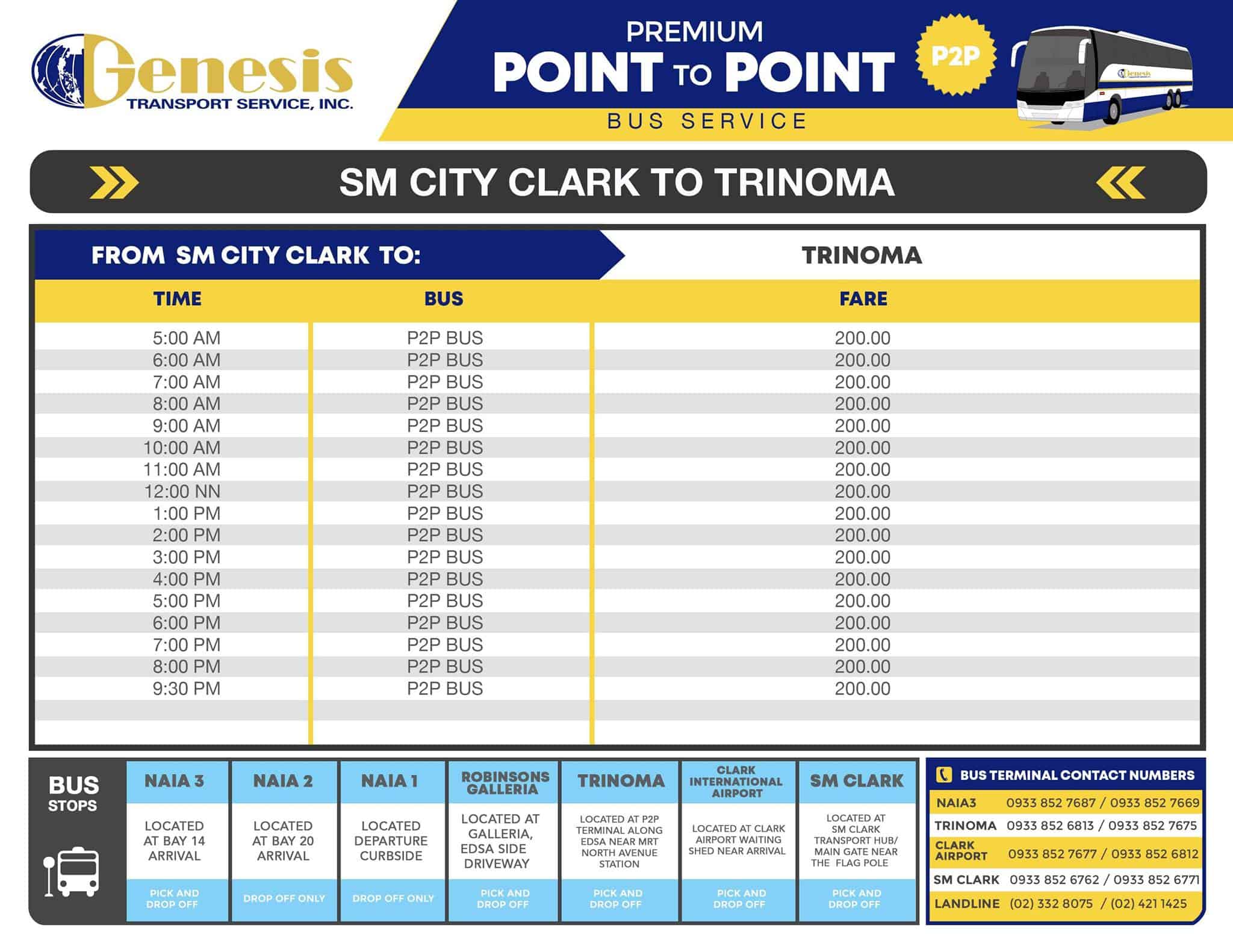 Images above courtesy of Genesis Transport.
---
Important Notes
They seem to not follow the timetable as strictly as they should. One of our readers shared that in his experience, the first bus left Trinoma at 5:40am, not 4am. So please have plenty of lead time before your flight. If your flight is in the early morning and you don't have a ride, consider spending a night in Clark for good measure. We've been trying to reach Genesis to clarify their schedule but no response from them until now.
The total travel time varies depending on traffic. To be safe, allot 3-4 hours. Based on experience, the total travel time is around 2.5 hours. Note that this was on a weekday late afternoon/early evening. We left Clark Airport at 4pm, passed by Trinoma at 5:47pm, and reached Resorts World Manila at 6:25pm. If it's done the other way around at the same time, I'm pretty sure it will be much, much longer.
These buses WILL NOT stop to pick up or drop off passengers at any place other than the designated spots. Do not try to alight elsewhere.
The Ortigas departure times vary depending on Manila traffic. You might be in for a bit (or a lot) of waiting time.
If you're trying to catch a flight, allow some lead time. Be at the airport at least 2 hours before a domestic flight or 3 hours for international. Duration of check-in processes can be unpredictable, especially at the Immigration counters where queues can be long. Better safe than left by the plane.
Always contact Genesis Transport before your trip to get their latest timetable.
---
Where to Stay Near Clark Airport
If you don't want to take a chance or you're trying to catch a very early flight, you can spend a night in Clark. Here are the top hotels according to Agoda customers.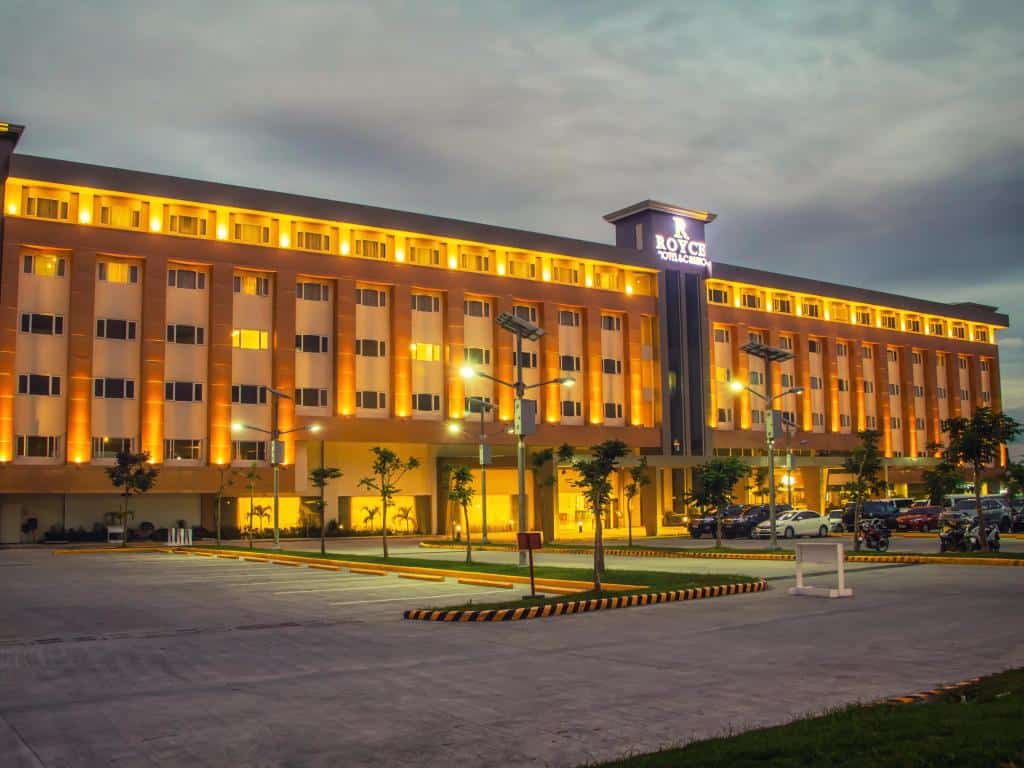 ---