Athens is served by Athens International Airport, located in the suburban town of Spata. Its official name is Athens International Airport "Eleftherios Venizelos", after an eminent former Prime Minister.
Situated 27 km from the center of Athens, it takes 45 minutes to over an hour to reach the city, depending on your mode of transportation and the traffic situation. You have plenty of options: by metro, by express bus, by regular taxi, and by Welcome Pickups taxi.

What is the best option? The answer to that depends on many factors including the location of your hotel and whether or not you're traveling alone or in a group. If your hotel is near a Metro Line 3 station, take the metro of course. If you're traveling solo and on a tight budget, the bus is the cheapest option. But if you're a group of three or more, the taxi may be the most convenient.
WHAT'S COVERED IN THIS GUIDE?
By Metro
Best Option If: Your hotel is near a metro station or you want to avoid traffic.
Take Metro Line 3 (Aghia Marina – Douk. Plakentias – Athens International Airport). There's a train every 30 minutes from 6:30am to 11:30pm.
How to get to the Metro Station: After exiting the Arrivals area, take Exit #3 and then take the escalator to the sky bridge. From there, you'll easily find the metro station. You can buy tickets from the Automatic Ticket Issuing Machines (ATIM).
Fares:
One-way fare is €10 (€5 if below 18 or over 65).
If your return flight is also via Athens Airport and is scheduled within the next 7 days, you can buy a roundtrip ticket (two-way) instead for only €14.
Please take note of the following:
The platforms are used by two types of trains: the metro and the suburban train. Make sure that you board the right train.
Validate the ticket before boarding. Regular inspections are done on board and those with non-validated tickets will be fined.
By Bus
Best option if: Your hotel is at the historical center of Athens (around Syntagma) or near a bus stop. Also great if you're traveling on a budget.
Travel time: 1 hour or longer, depending on traffic.
Fare: €6
The airport's Express Buses run 24 hours a day, 7 days a week. It's also the most economical option, especially if you're traveling solo.
There are four routes:
Χ93: Kifissos KTEL Station – Airport. KTEL operates the intercity buses.
X95: Syntagma – Airport. Connects the airport directly to Syntagma Square. If your hotel is near the historical center of Athens, this is for you.
Χ96: Piraeus – Airport. Links the airport to Piraeus central passenger port. If you're planning on taking the ferry to the islands after your flight, this is your route.
Χ97: Eliniko Metro Station – Airport
There's a big chance that the bus you need is X95.
Ticket kiosks are located between Exits 4 and 5 outside the Arrivals area.
Taking the bus may be a bit confusing if you're not that familiar with the city. If you choose to take this, make sure you know the stop nearest your hotel. If your hotel is at the very center of the city, near Syntagma, great 'coz that's the last stop. You can simply alight when everyone else does.
If your hotel isn't anywhere near a bus stop, get off at the nearest stop and just take a cab or the metro to get to your hotel.
By Taxi
Best option if: You're a group of three or more
Fare: €38 (5am-12mn), €54 (12mn-5am)
The rates include all applicable fees including toll fees. But be sure to confirm and come to an agreement with the driver before the trip.
But you know what, if you're considering to take the taxi, you might as well try Welcome Pickups Taxi! More info below!
By Welcome Pickups Taxi
Best option if: You're a group of three or more or if you're a couple celebrating something special (honeymoon, anniversary)
This is something that came highly recommended by our new friends in Athens. Welcome Pickups is a pre-booked premium taxi service at the price of a regular taxi. If you're a group of three or four, this can end up cheaper than the metro or the bus.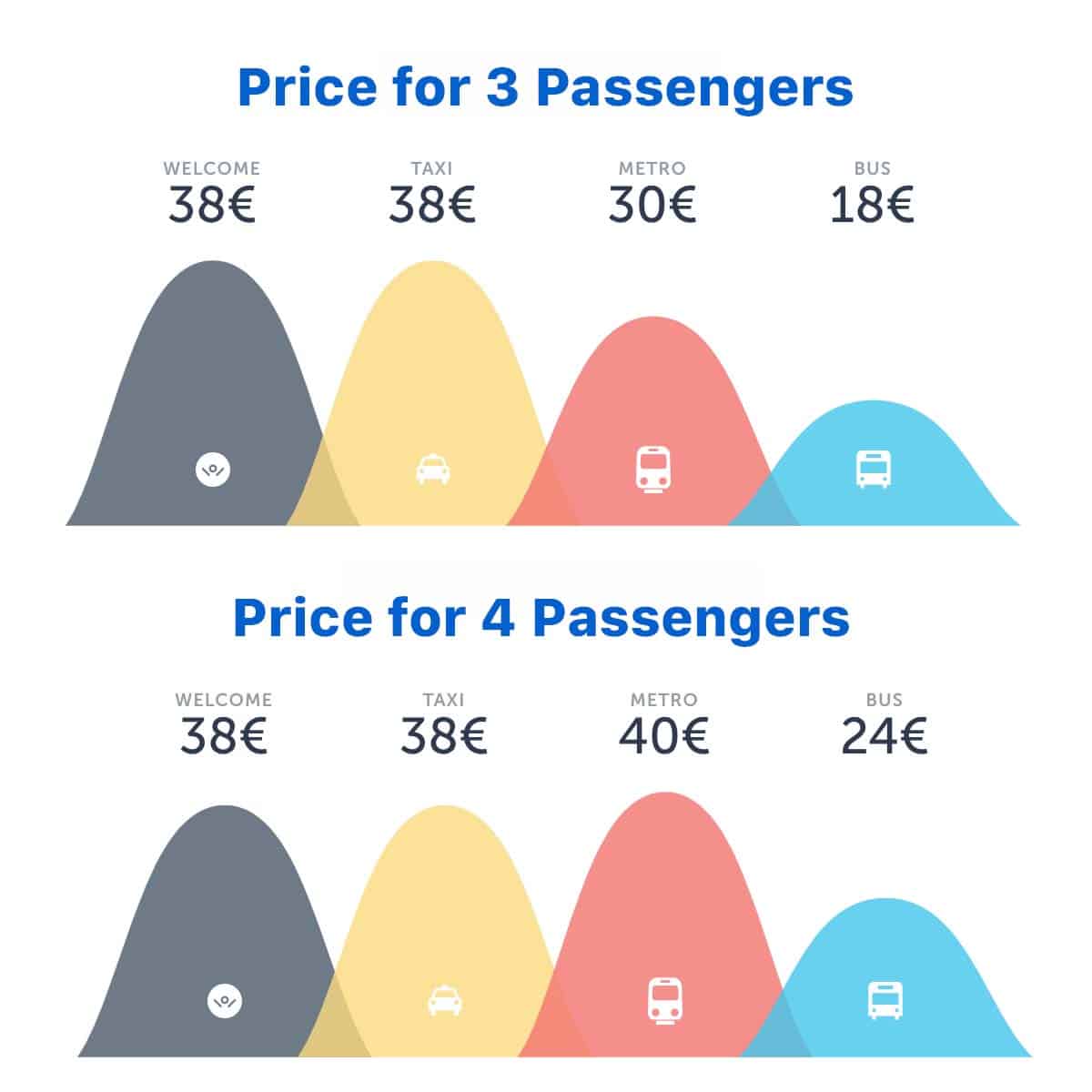 We have experienced this ourselves and it was soooo good.
The driver waited for us and greeted us with a sign at the Arrivals area.
The driver also served as our tour guide, providing so much information that you're gonna need to explore and enjoy the city.
A bottle of water and snack were provided during the trip.
Free wi-fi!
A map of the city was also provided.
The best part, it costs as much as the regular taxi. Oh wait, I said that already.
It's excellent. We can't recommend this enough! Our driver John was so friendly and knowledgeable, it really felt like we gained a friend within our first hour in Athens. At one point during the journey, John asked if we had anything to do for the night and when we said we had nothing planned, he drove the cab to the top of Mt. Lycabettus so we could have a great night view of the Acropolis. These guys go out of their way (literally, in this case) to ensure that their passengers have a fantastic time in their city.
No wonder our contacts in Athens insisted that we take this.
For more information about Welcome Pickups, visit their official website: www.welcomepickups.com.
2️⃣0️⃣1️⃣8️⃣ • 1️⃣ • 2️⃣0️⃣