We didn't expect to be back so soon.
When we first visited Athens, we tried to do and see as much as we could because we didn't know that just after a year later, we would find ourselves in its embrace again. Athens is an incredible destination.
Since Scoot launched their direct flights to Athens from Singapore, Asian travelers could fly to Greece and the rest of Europe more affordably. If you're from other Southeast Asian cities, don't fret. You can still conveniently reach Athens by making a connection in Singapore. If you're seeking #RealValue, you can book both legs of the journey with Value Alliance, a cooperation among budget-friendly airlines including Cebu Pacific Air, Jeju Air, Nok Air, NokScoot, and Scoot!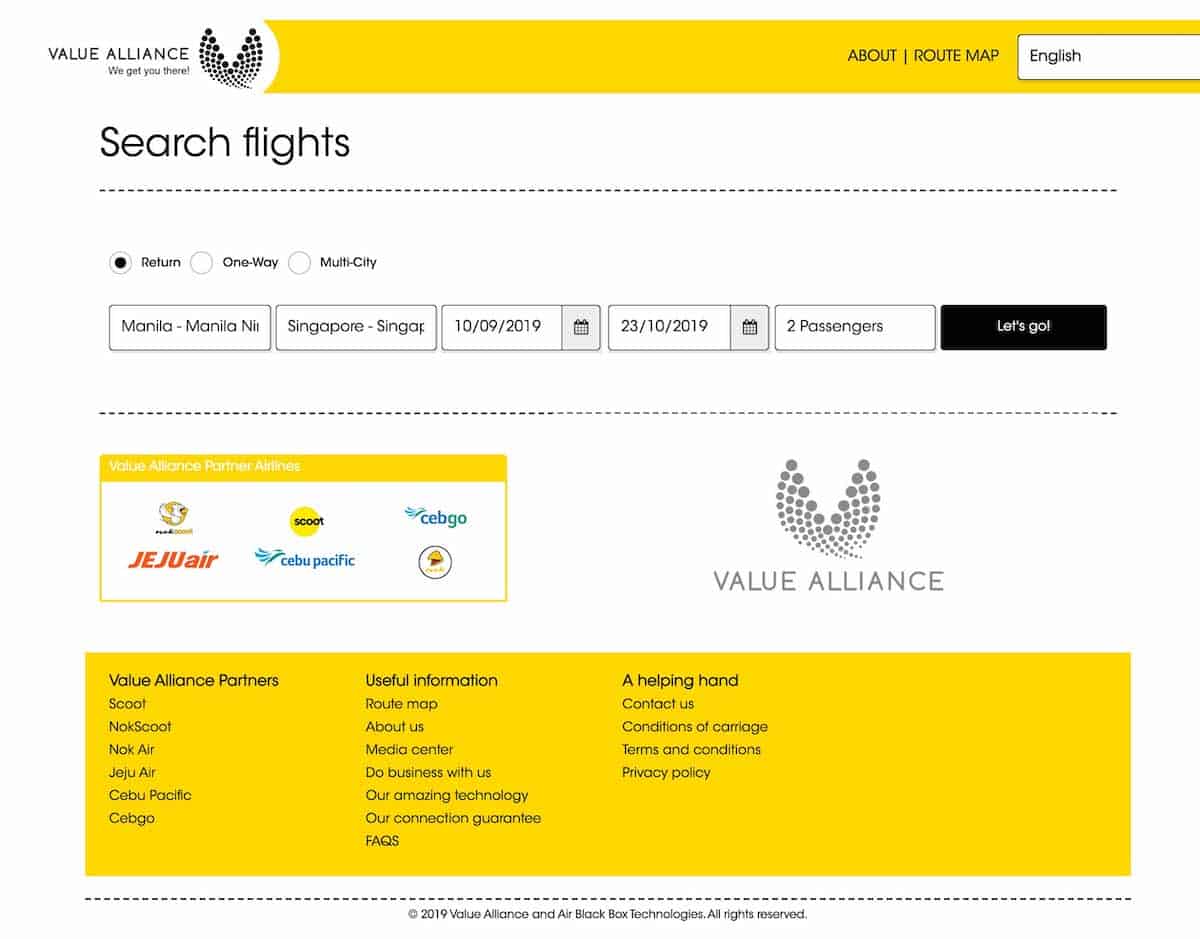 On our recent trip, Value Alliance invited us to book with them both the Cebu Pacific flight to Singapore and the Scoot flight to Athens! Yep, on just one website: www.valuealliance.com. Another great thing about it is, we get to make a stopover in Singapore, which is something we always look forward to!
✅ SEARCH FOR CHEAP FLIGHTS TO ATHENS HERE!
Anyway, without further ado, here are some suggestions for places to visit, things to do and possible day trips from the city of Athens. Note that this covers not just the attractions within the Municipality of Athens but also surrounding areas and other destinations that are easily accessible by land from the capital.
WHAT'S COVERED IN THIS GUIDE?
1. Ancient Athens Tour
It is one of the oldest cities in the world with a recorded history that dates back to 776 BCE. This 3000-year history puts Athens on the map of any history buff or curious traveler!
Today, traces of the city's many ancient monuments are on full display for locals to be proud of and visitors to admire. You'll see the iconic structures of the past such as the Acropolis, towering above the city, and other sites hidden in between more modern buildings.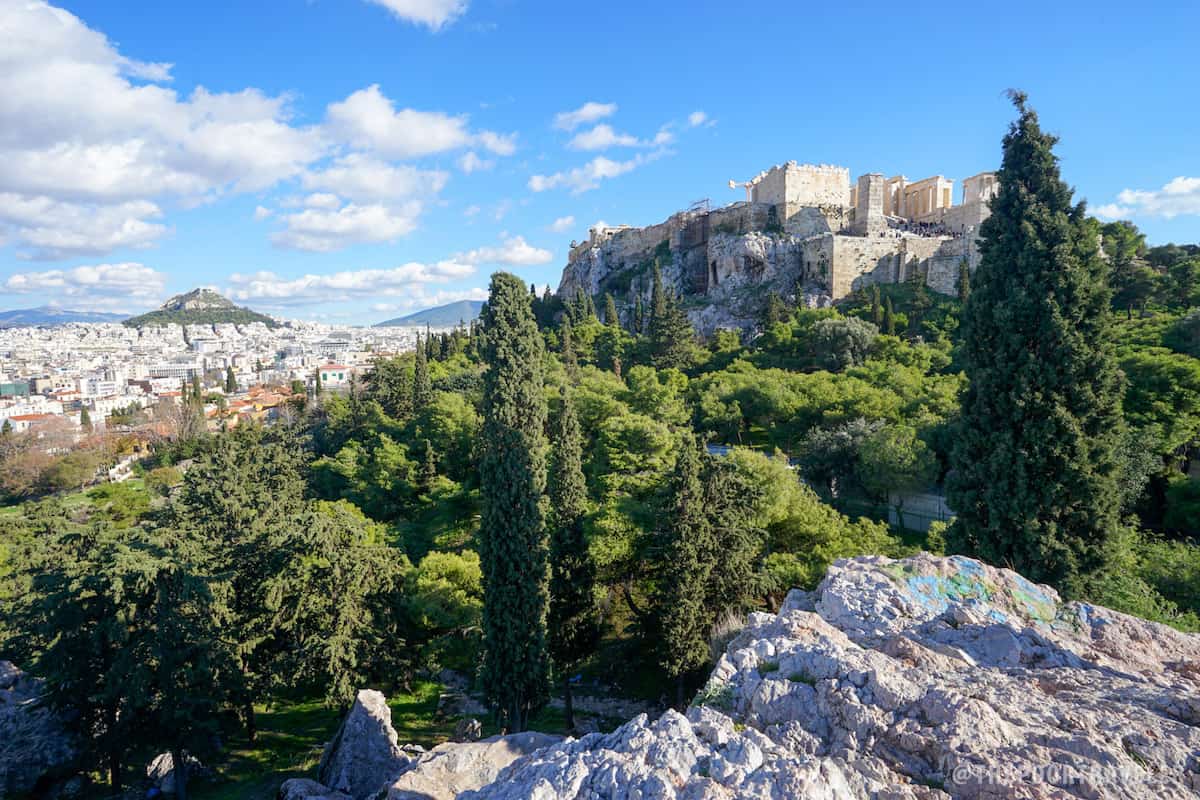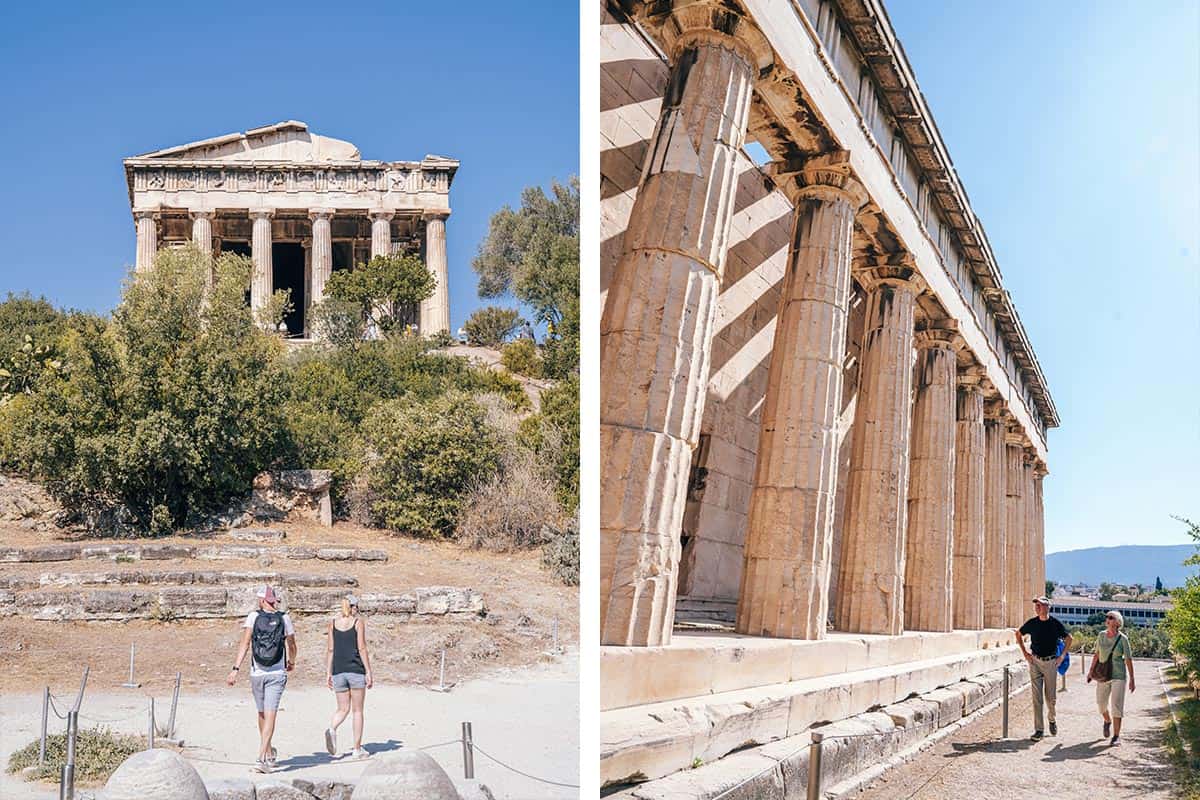 Many tour operators offer half-day tours of Ancient Athens, which usually zeroes in on the Acropolis. Common stops include the Acropolis itself, the Acropolis Museum, Athens Trilogy, Zappeion, the Temple of Olympian Zeus and the Panathenaic Stadium.
If you're not interested in an organized tour and would rather visit individual sites on your own, read on! You'll find the info you need below.
---
2. The Acropolis
This UNESCO-listed site is an iconic, important and beautiful landmark that imposes its presence on Athens. It has a storied past that dates back to the 4th millennium BCE, but it was only in the 5th century when the Greeks built many of the structures you'll see today including the Parthenon.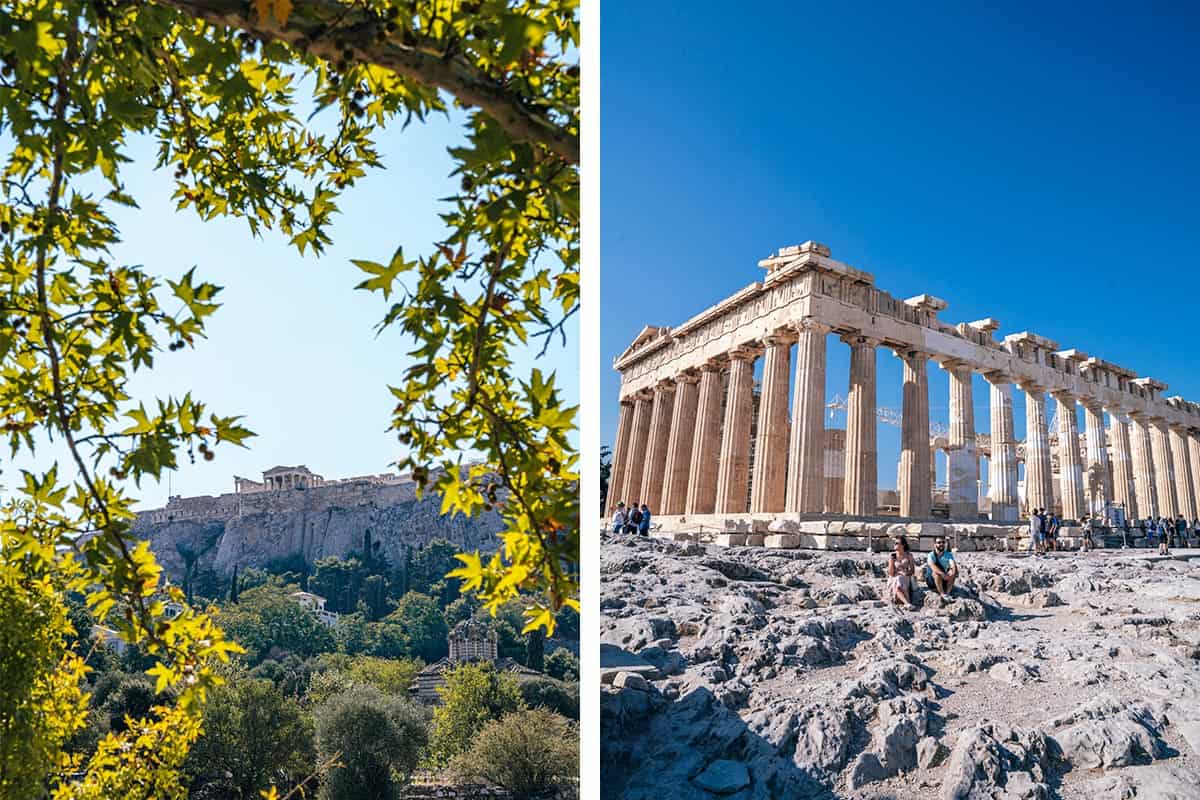 The Parthenon was built in honor of Athena, goddess of wisdom. Construction began in 447 BCE and was completed in 438 BCE. It is a symbol of the culture and ingenuity of Classical Greece. The Acropolis has two entrances which are the main and southeast one. If you want to get a guide, you can find them at a booth near the main entrance. However, this area gets crowded because of its proximity to the parking lot. Many tour buses unload visitors here, especially during peak seasons. The southeast gate is an ideal entrance because the lines are shorter and you'll get to see the Theatre of Dionysus. The theatre is recognized as the birthplace of Greek tragedy.
Some of which include other recognizable landmarks in the city such as the Parthenon, the Temple of Athena Nike, the Propylaia and the Erechtheion.
Nearest Metro Station: Akropoli
Opening Hours: 8am-5pm
Closed on: January 1, March 25, May 1, Easter Sunday, December 25-26
Entrance Fee: €20, Regular; €10, for minors and seniors.

If you want to include other destinations, you might want to buy a Special Ticket package. This has a 5-day validity period and allows you to enter other museums and archaeological sites including the Ancient Agora, Archaeological Museum of Kerameikos, Archaeological Site of Lykeion, Hadrian's Library and Olympieio.

The Special Ticket Package costs €30 (Regular), €15 (Minors, Seniors).
---
3. Acropolis Museum
You'll find thousands of artifacts from the nearby Acropolis site inside the New Acropolis Museum. The museum provides a glimpse of Byzantine and Roman Athens. You can actually see some of their vestiges through the glass floor.
We suggest visiting the museum first before going to the Acropolis because of the information you can get. This allows you to have a greater appreciation of what you will see when you visit the ruins.
REMINDER: Photography is not allowed inside the museum.

Nearest Metro Station: Akropoli

Opening Hours:
April-October: Monday 8-4pm; Friday, 8am-10pm;
Tuesday, Wednesday, Thursday, Saturday, Sunday, 8am-8pm;
November-March: Monday-Thursday, 9am-5pm;
Friday, 9am-10pm; Saturday-Sunday, 9am-8pm

Ticket Price: €5
---
4. Syntagma Square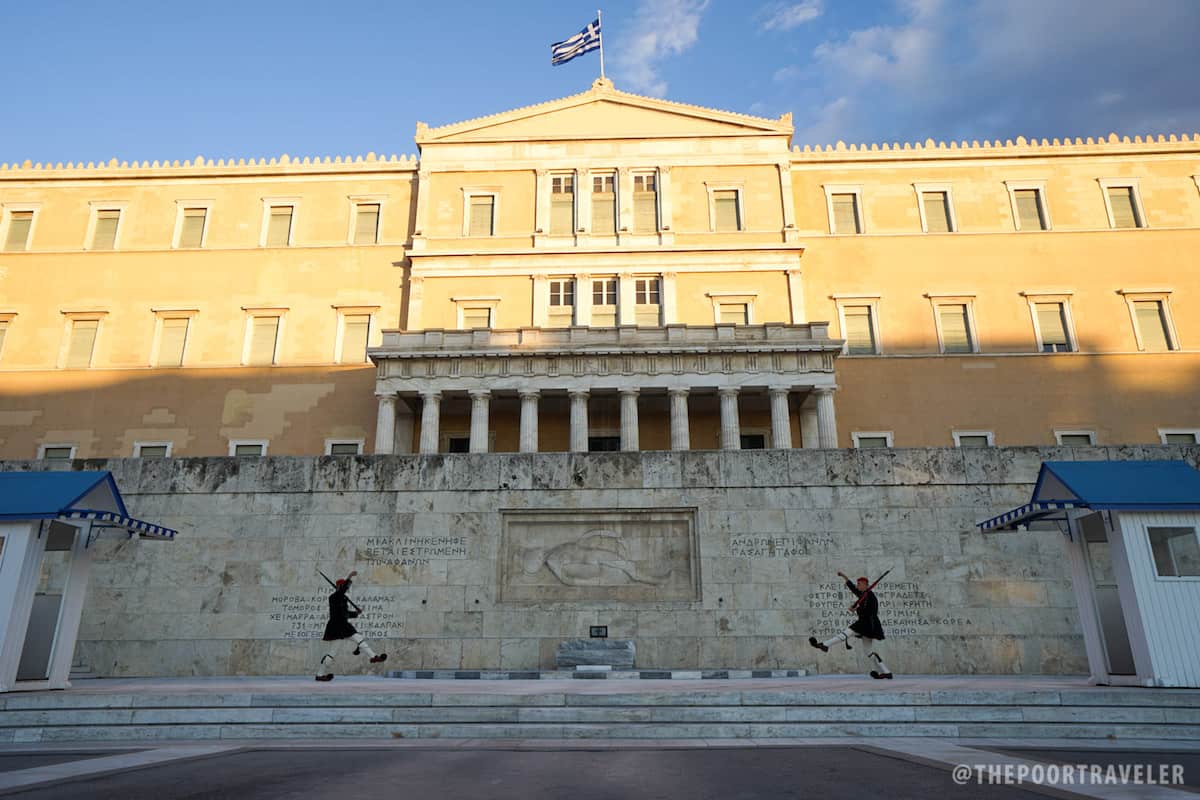 The square plays an important role in the city's modern history. Not as old as the other destinations in Athens, but still a noteworthy addition to your itinerary. We recommend visiting during the changing of the guards.
REMINDER: Beware of pickpockets around Syntagma area, especially on the metro.

Opening Hours: Open 24 hours
Admission Fee: FREE
Nearest Metro Station: Syntagma
---
5. Lycabettus Hill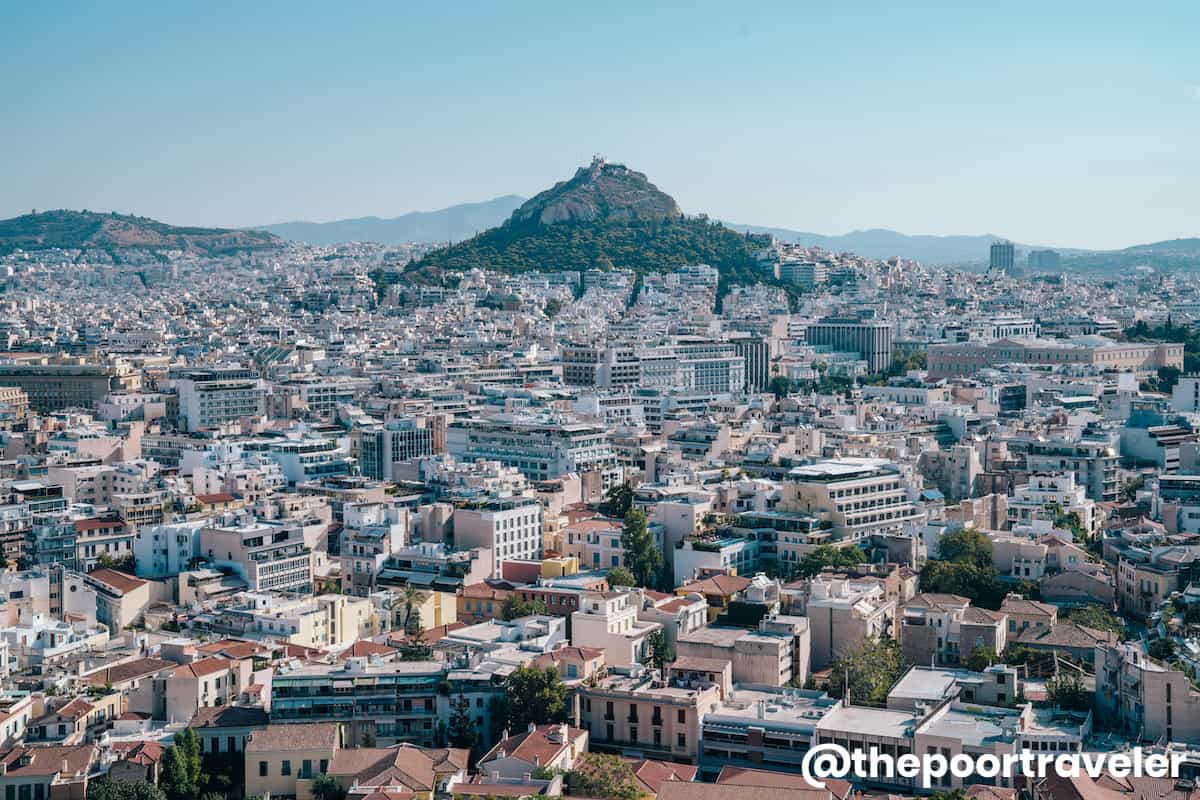 Athens has ten hills rising out of the urban sprawl, one of which is the famous Mt. Lycabettus (Lykavittos). This hill is the highest of them all, which means it provides the best bird's eye views of the city. Locals refer to it as the "Balcony of Athens" because it offers a stunning view of the Acropolis. You'll also find an open-air theater on the hill. Concerts and other events are often held in it.
You can get to the hilltop by the following ways:
By private car or taxi
By taking the Lycabettus Funicular (you can find the lower terminus somewhere in Aristippou Street in Kolonaki)
On foot, if you have the time and energy
If you want to go by funicular (cable car), here's what you need to know:
Nearest Metro Station: Evangelismos
Opening Hours: 9am-2:30am
Ticket Price: €7 roundtrip, €5 one-way
---
6. Panathenaic Stadium
If you're a fan of the Olympics, this marble stadium is a must-visit. The Panathenaic Stadium is the venue of the very first games held in 1896.
Originally, the stadium was built as a racecourse for the Panathenaic Games under the supervision of Lykourgos, an Athenian logographer, around 330 BC. Eventually, it was abandoned and was largely forgotten until 1869, when it was excavated. After being brought back to its glory, it held the first modern Olympics in 1896.
---
7. Ancient Agora of Athens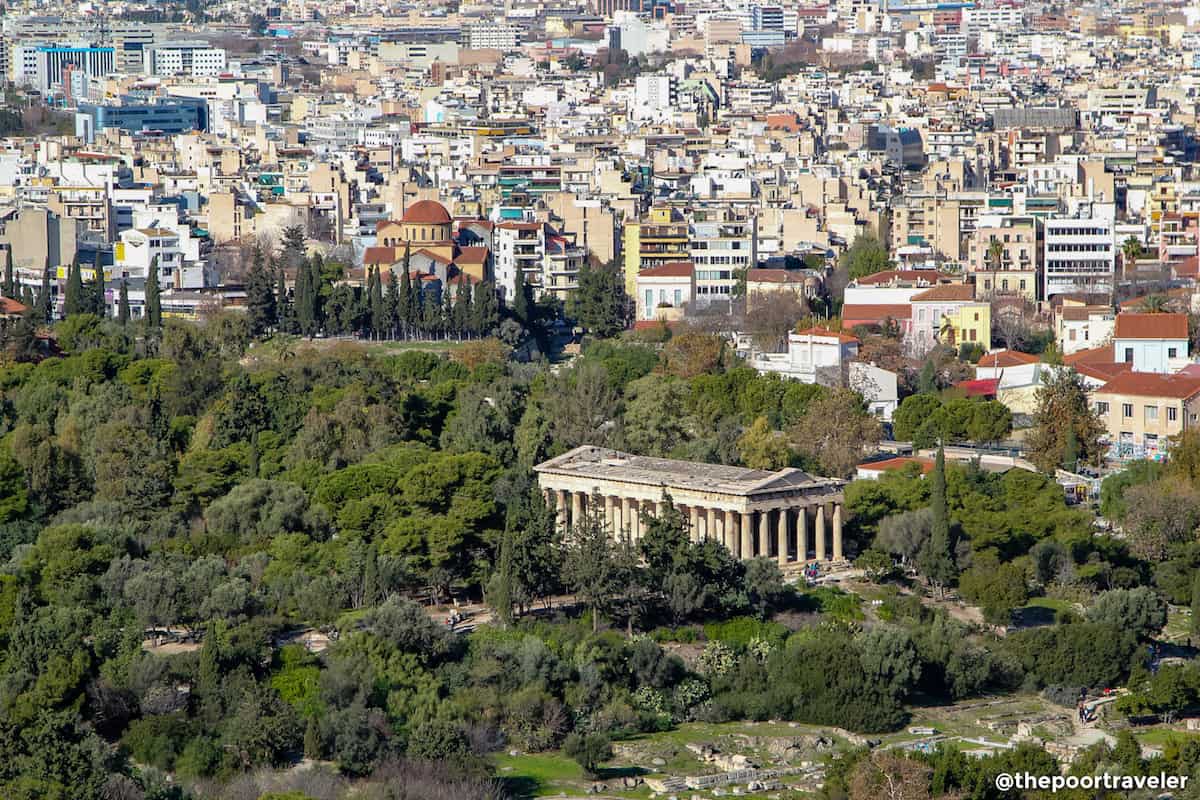 The Ancient Agora of Athens is a green space just below the Acropolis. This lush park is a great place to chill in after a day of exploring. You'll also find noteworthy ancient structures such as the Temple of Haphaestus and the Attalos Stoa just to name two. This spot also provides you with a beautiful vantage point to see the Acropolis.
Opening Hours: Winter 8:30am-3pm, Summer 8am-7:30pm
Admission Fee: €8 regular (€4 reduced)
Nearest Metro Station: Thissio
---
8. Temple of Olympian Zeus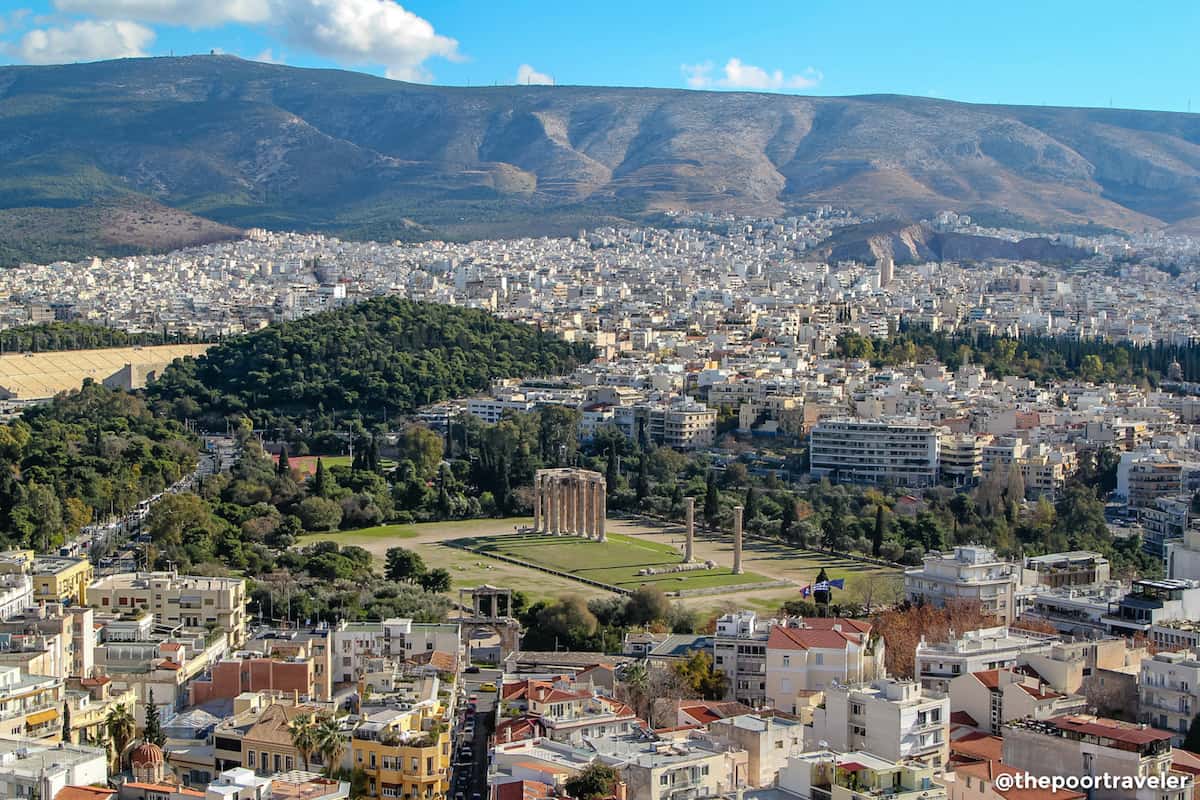 Athens doesn't seem to run out of temples and ruins dedicated to the gods. One such destination to include in your itinerary is the Temple of Olympian Zeus built in the 6th century BC. Stand in awe of the temple, take photos and relive the heyday of Greece.
Opening Hours: 8am-6pm
Admission Fee: €6 (Reduced: €3)
Nearest Metro Station: Akropoli
---
9. Plaka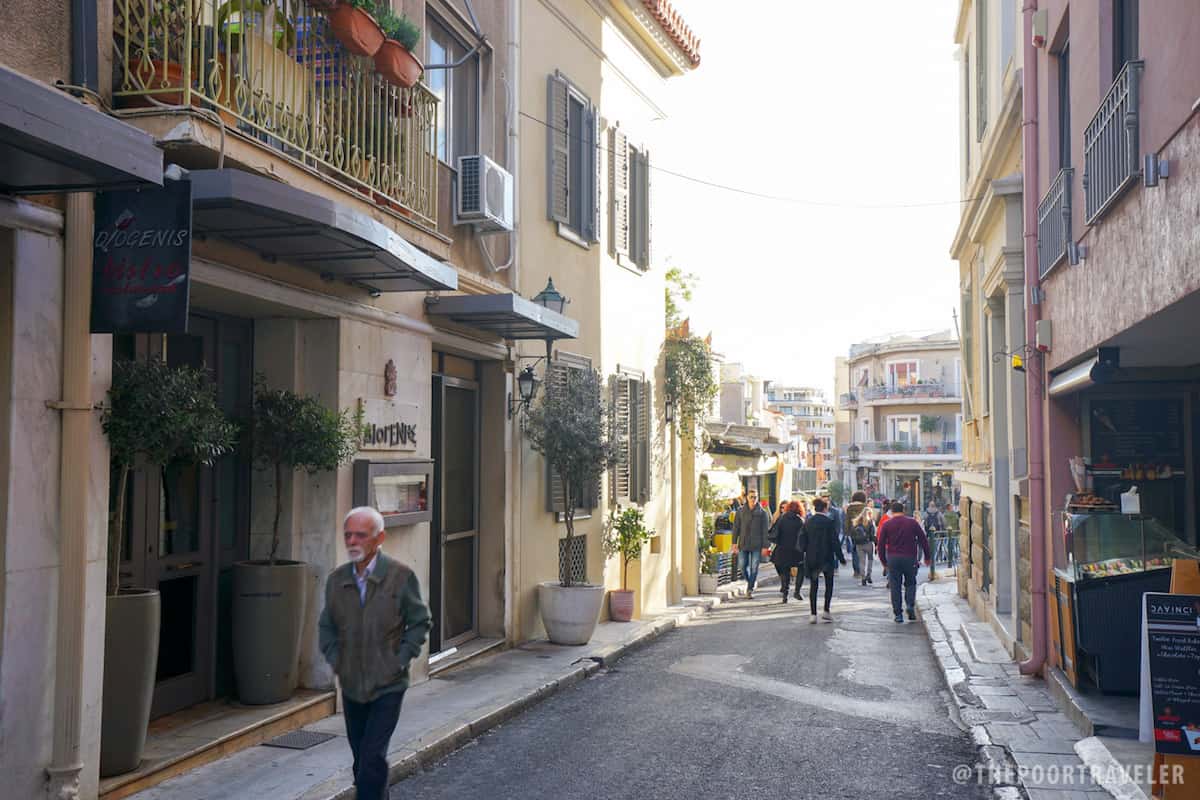 Plaka is said to be the city's oldest neighborhood. It lies in the shadows of the Acropolis. It's pedestrian-friendly, and most of the city's top historic spots like the Acropolis, the Acropolis Museum, Hadrian's Library, and the Ancient Agora (including the Temple of Hephaestus) are just around the corner. Lots of souvenir shops, cafes and restaurants, too.
---
10. Monastiraki
Literally "Little Monastery," Monastiraki got its name from the monastery that was once here. It fosters the same atmosphere as Plaka but a bit less crowded. Don't miss Monastiraki's Flea Market, a bazaar brimming with curious items like carpets, handmade jewelry, souvenirs, and accessories.
---
11. Greek Food Trip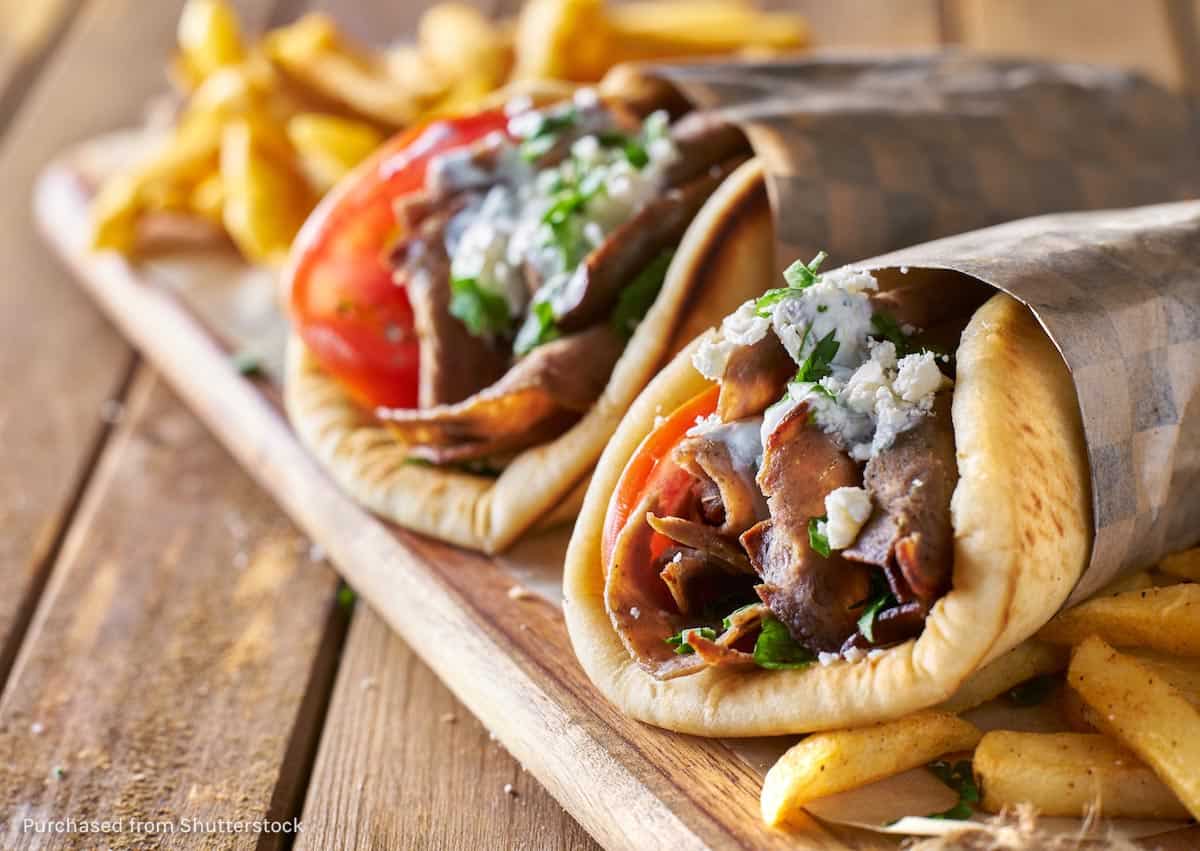 As in most cities in Europe, restaurants at touristy places are often more expensive than usual. Plaka, for example, isn't popular among locals because most prices are higher than what they would pay for elsewhere. But you'll find the exceptions when you go out of the main street. Often, there are good restaurants tucked not too far away, but you just need to know where to look. In Plaka,
To Kafeneio, a small eatery, is one of those you might want to try.
Try gyro and souvlaki. Beef or chicken gyro costs 2-4 euro, while souvlaki 4-6 euro. A serving usually comes with meat, onions, fries, and yogurt sauce. It's cheap, filling, healthy, and delicious.
---
12. THIS IS MY ATHENS Free Tour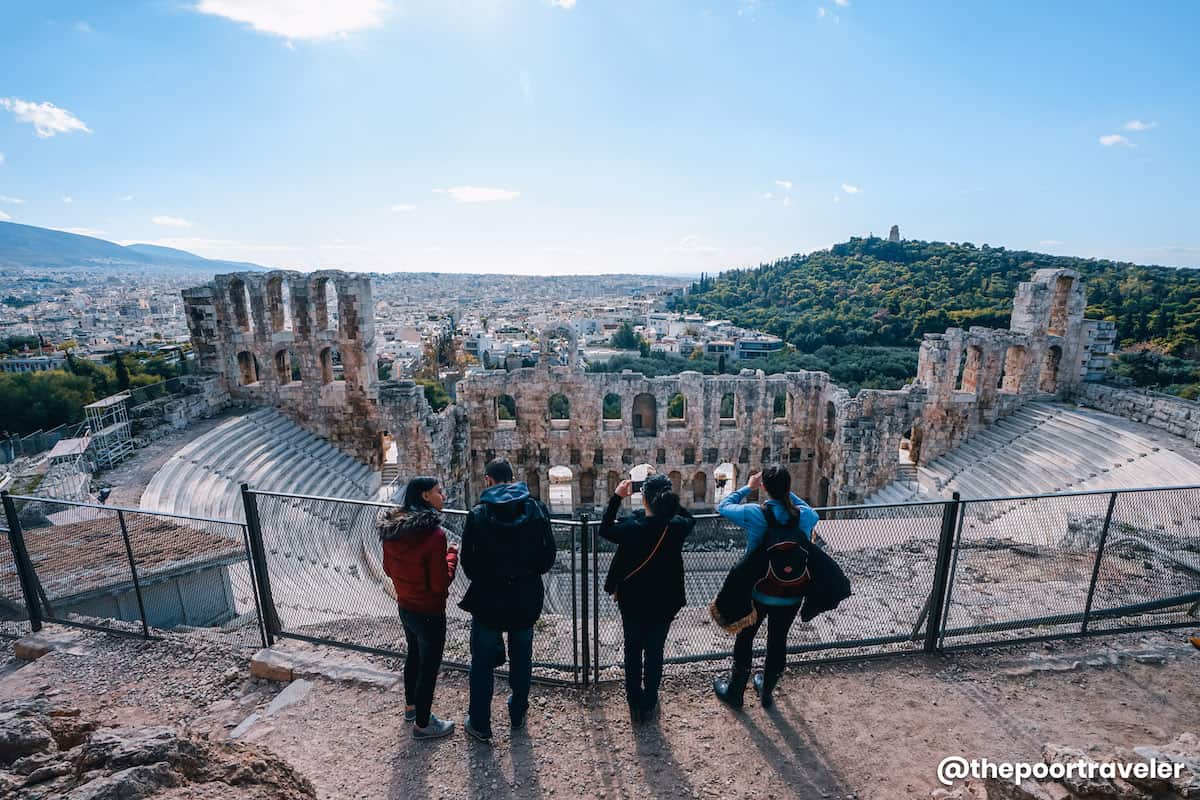 We recommend this tour and it was one of the highlights of our visit. "This is My Athens" is a local government project wherein tourists get to see and discover the city through a local's eyes. You tell them your interests and they would find a volunteer to take you around and offer insights and a local perspective about the destinations you'll go to. This is an ideal option for all types of travelers whether they enjoy history or food. The personalized approach will help you immerse and learn more about the city. It is also FREE!
---
DAY TOURS FROM ATHENS: Athens has plenty of historic and educational destinations that will fill your itinerary quickly. The city is also an ideal jump-off point for other attractions in Greece.
You can DIY these trips, if you have time to spare and know how to explore on your own. However, if you prefer going on a tour, you'll find packages for day excursions from the city too.
The rates you see often include bus transfers, admission fees, pick-up at your accommodation, and an English-speaking guide. These trips are expensive compared to the ones you'll find in Asia.
---
13. Cape Sounio
Travel agencies and tour operators also organize half-day tours to the rocky Cape Sounio, which occupies the southernmost tip of the Attica region. This area is historic and surrounded by lores and myths. Aside from fantastic views of Saronic Gulf and Aegean Sea, you also get to visit the Temple of Poseidon, the Greek god of the sea.
---
14. Delphi
Located northwest of Athens, 2.5 hours away, is Delphi, best known as the site of Temple of Apollo, which was the seat of the oracle. The most famous oracle was Pythia, who is usually referred to by the title "Oracle of Delphi."
Although far from the capital, the Oracle was one of the most powerful figures in Greek history. Rules from various parts of Greece would come to Delphi to consult the Oracle, who would share with them prophecies on which many events in history that decided turn of history were based. Today, it is a UNESCO-listed heritage site and organized tours from Athens are available. Usual itineraries include a stop at the Temple of Apollo, Levadia Village, Delphi Museum, and Arachova Village.
---
15. Poros, Hydra and Aegina Cruise
Enjoy island hopping which includes stops on the islands of Aegina, Poros and Hydra. This excursion includes Greek dance show, ticket for the cruise, lunch, accommodation roundtrip transfers. If you want to do things and see places on the islands, you'll need to pay extra for admission and guides.
---
This post is brought to you by Value Alliance, an alliance of low-cost carriers including Cebu Pacific and Scoot! If you're coming from the Philippines, book you flights to Singapore and then to Athens with Value Alliance: www.valuealliance.com!
---
With edits by Joshua Berida.
2️⃣0️⃣1️⃣9️⃣ • 9️⃣ • 1️⃣7️⃣
---