After his canonization as a saint in June 2002, Padre Pio's already massive following grew even bigger, especially here in the Philippines. Devotees come to him for healing, miracles, and peace of mind.
Last year, Pio's heart relic arrived and stayed in the Philippines from October 5 until the 26th of the same month. The first and final stop was the National Shrine of Saint Padre Pio in Santo Tomas, Batangas. It became one of the most significant landmarks, not only in the town of Santo Tomas but also in Batangas. It attracts thousands of visitors, mostly pilgrims from the neighboring towns and provinces and even outside the country.
The National Shrine of Saint Padre Pio is located in Barangay San Pedro, Santo Tomas, Batangas. The travel time from Manila to Santo Tomas is around two hours, depending on the traffic condition.
If you're interested to visit the Padre Pio Shrine, here's how to get there.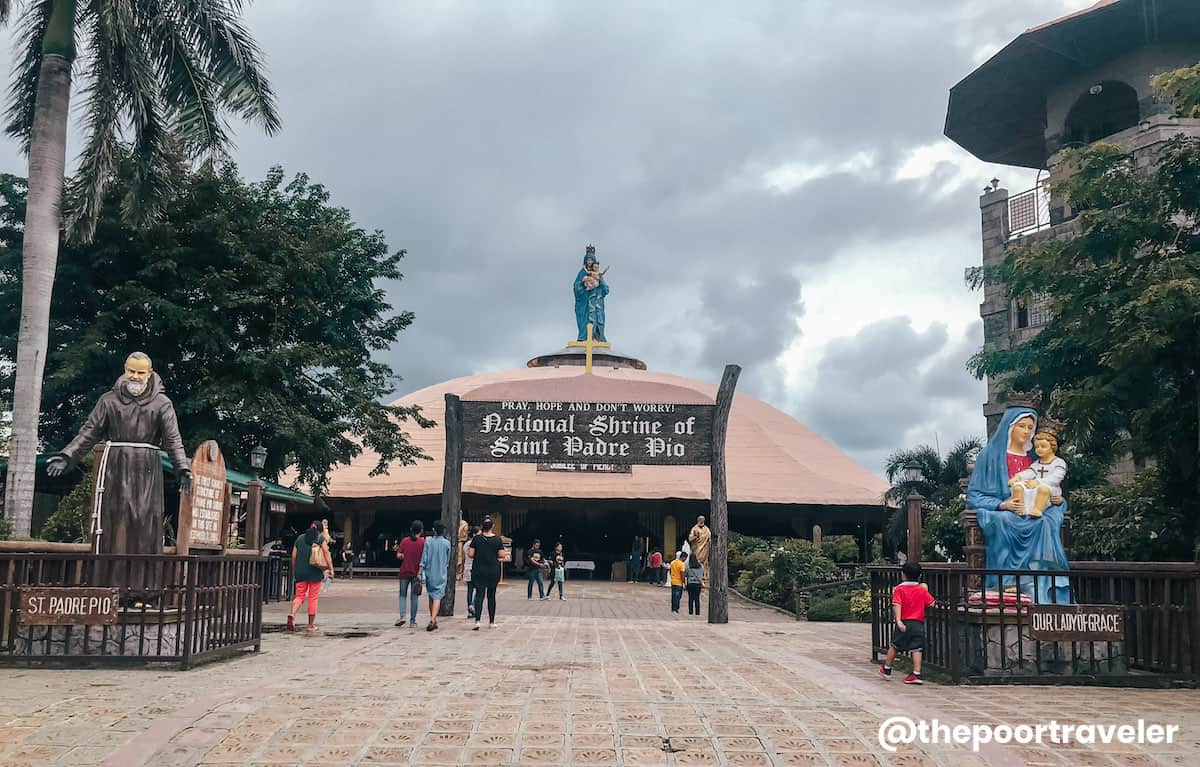 ---
WHAT'S COVERED IN THIS GUIDE?
HOW TO GET TO PADRE PIO SHRINE
By Bus
From either Buendia or Cubao terminal, board a bus bound for Lucena. DLTB and Jam Liner offer this route. These buses usually pass by Santo Tomas, but to be safe, ask the conductor if the bus is taking this route before boarding.
Tell the conductor that you will alight at Barangay San Pedro in Santo Tomas, Batangas. If you are not familiar with the place, ask them to drop you off somewhere in San Pedro where you can take a tricycle to Padre Pio National Shrine. The fares are P115-120 from Buendia and P125-130 from Cubao.
From the bus stop in San Pedro, take a tricycle to the National Shrine of St. Padre Pio (or just say Padre Pio). The fare is P10 per person. If you want to hire the tricycle for a special trip, the cost is P50.
By Private Car
Take South Luzon Expressway (SLEX).
Continue driving onto STAR Tollway (or Calabarzon Expressway). Take the exit toward Tanauan/Laurel/Talisay.
After the exit, turn left onto Mabini Avenue/Talisay-Tanauan Road.
Turn left before you reach Sambat Inn and continue driving until J. Gonzales Street.
Turn right onto J. Gonzales Street and continue driving toward S. Artesian Street.
After S. Artesian Street, continue onto Sampalocan Road.
When you reach the end of Sampalocan Road, turn night to Pan-Philippine Highway. Continue driving then turn right onto Santo Tomas-Lipa Road.
Continue driving and keep your eye on the left side of the road for the entrance to the shrine. When you see the signage, turn left and continue driving toward the parking lot.
---
THINGS TO DO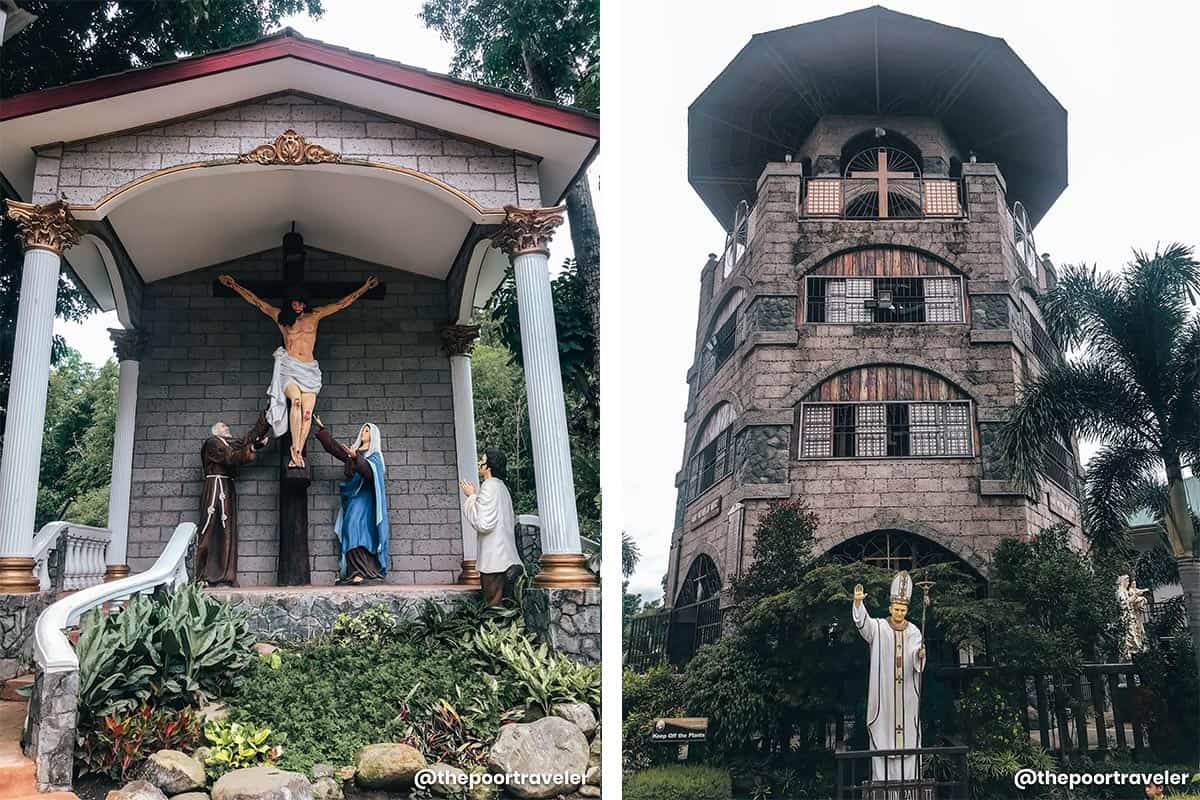 Jubilee of Mercy/Main Church. Marvel at the indigenous charm of the main church. The design is very open, with only columns separating the interior from the exterior. There's no wall, except the one where the altar is located. It's like a big welcoming gazebo made of indigenous materials like bamboo, stones, wood, sawali, and nipa leaves. The ceiling resembles the shape of a salakot, a traditional Filipino headgear. Right in the middle of the ceiling hangs a cross with the Holy Family on one side and the crucified body of Christ on the other side.
Holy Doors for the Extraordinary Jubilee of Mercy Chapel. This is declared as one of the national pilgrimage sites of mercy. The structure is also made of a combination of modern and indigenous materials. Inside, you will find confession rooms and a small altar.
Mary Mother of Mercy Belfry. Situated near the main church, you will easily spot the towering belfry when you approach the welcome arch.
Sanctuary of the Relics of St. Padre Pio. This is located just below the belfry. The relics of Padre Pio draw a huge number of pilgrims to the national shrine.
Light a candle. There's a store selling colored candles. Each color represents something. Choose the color that best represents your situation or your prayer item. You can light as many as you like.
Fountain of Hope and Prayer Locks. Just beside the fountain is an area where you can put prayer locks. Other visitors hang rosaries or handkerchiefs aside from the prayer locks. You can bring your own padlocks or you can buy from the store selling colored candles.
Explore. Other structures are the Divine Mercy Sanctuary for Pilgrims, Chapel of the Saints and Baptistry, Chapel of Lights, and Holy Water Sanctuary. Walk around the Way of the Cross Park. Also, there are several statues of saints around the complex like the Our Lady of the Immaculate Conception, Our Lady of the Holy Rosary, St. John Paul, and of course, St. Padre Pio.
Shrine Office and Souvenir Shop. If you have any queries, you can go to the office. If you want to bring a memento or remembrance with you, there's a souvenir shop too. There's a canteen too and other stalls around the area.
---
PADRE PIO SHRINE SERVICE SCHEDULE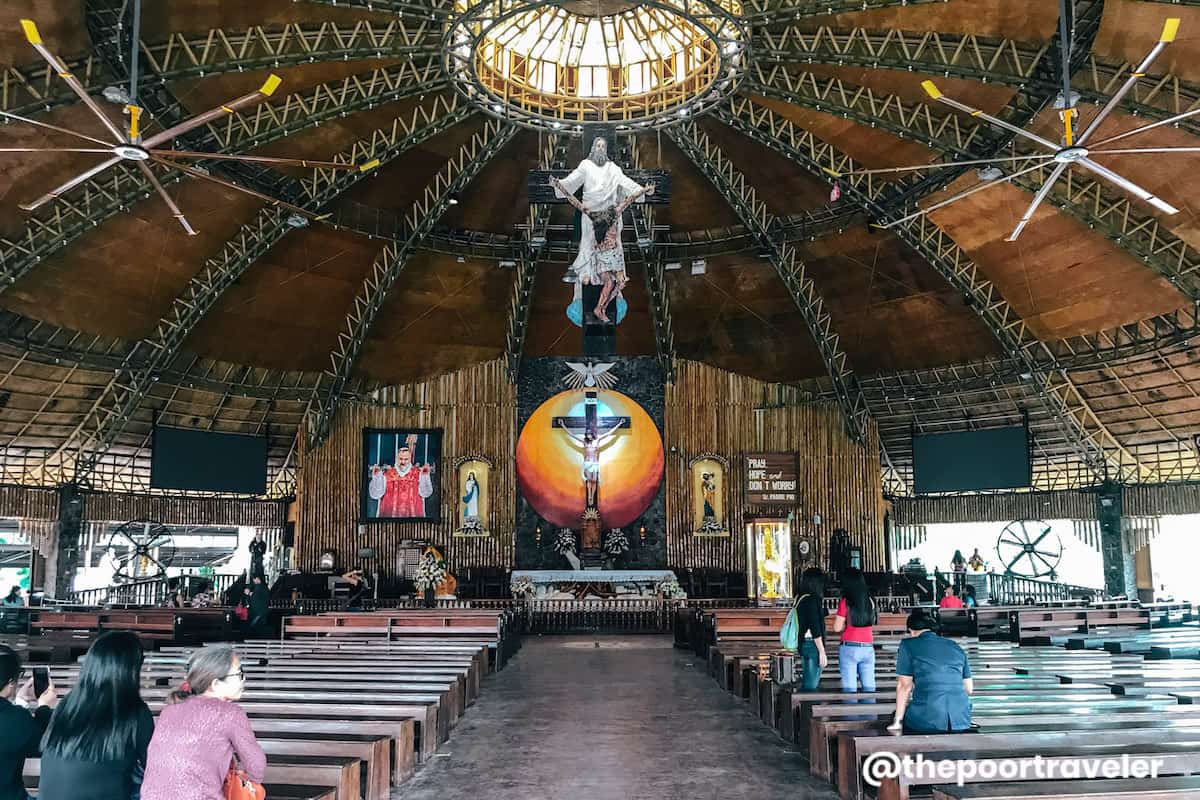 Mass Schedule
MONDAY TO SATURDAY (EXCEPT 1st and 3rd Saturdays and 23rd of the month)
7:00 AM
10:00 AM
12:00 NN
2:00 PM
5:00 PM
SUNDAY
5:30 AM
7:00 AM
8:30 AM
10:30 AM
12:00 NN
2:00 PM
4:00 PM
6:00 PM
Note: For Sunday's 7:00 AM, 10:30 AM, and 2:00 PM, the mass is held at Divine Mercy Sanctuary.
---
Healing Liturgy Schedule
Every 1st and 3rd Saturday – 9:00 AM
Every 23rd of the month – 9:00 AM / 5:00 PM
Every last Saturday of the month – 7:00 AM
---
Devotion to the Holy Cross of Christ
Every 1st Friday – 4:00 PM (Holy Mass)
Other activities: Veneration of the Holy Cross of Christ Relic (3 PM) and Holy Hour at the Blessed Sacrament Chapel (5 PM)
---
WHERE TO STAY IN STO. TOMAS
Most travelers visit Padre Pio Shrine on a day trip, but if you want to spend a night in Sto. Tomas for whatever reason, here are the two most popular hotels in Agoda.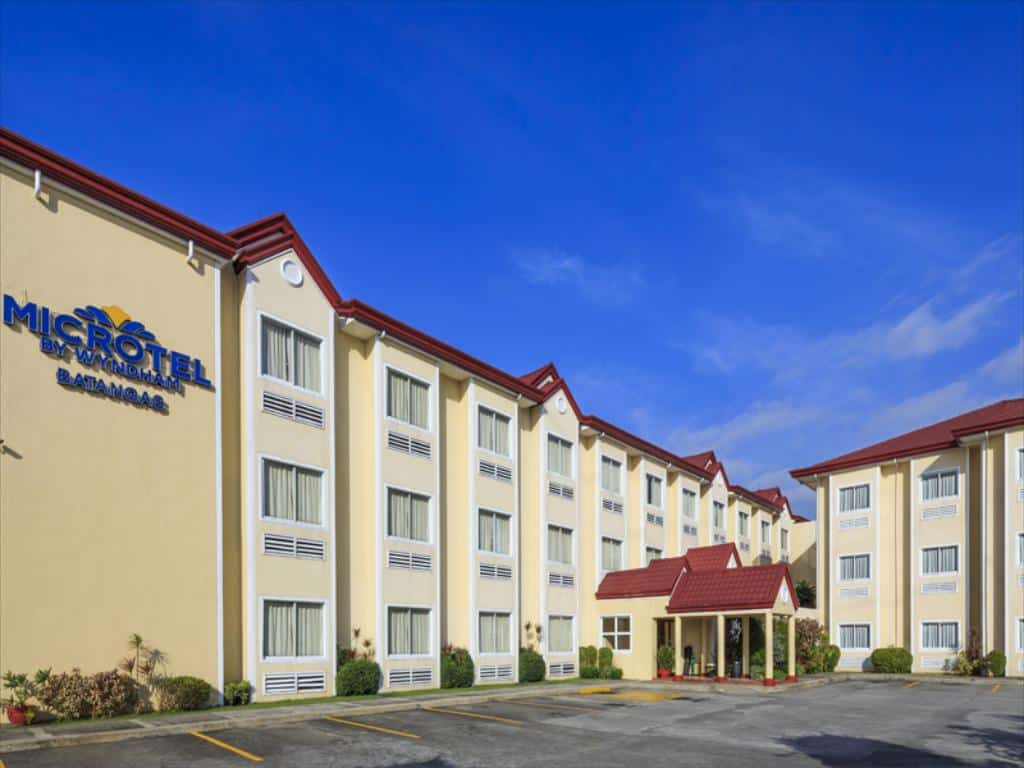 ✅ Microtel by Wyndham Batangas. Check Rates & Availability!
✅ NDN Grand Hotel. Check Rates & Availability!
---
SIDE TRIPS
Los Baños and Calamba. Hot springs, private pools, and public resorts abound in Laguna, especially in Los Baños and Calamba. There are even villages that transformed into village resorts, offering private pools that cater to different types of groups.
Mount Makiling. If you are into hiking or if you just want a quick nature-tripping, Mount Makiling is a good option too. After that, you can just relax and enjoy the chill ambiance of UP Los Baños or go on a food trip within and around the area.
San Pablo. Visit the Seven Lakes of San Pablo or even take a dip at Lake Pandin. You can also visit Hacienda Escudero Plantation Resort Town for a fun and green vibe excursion.
Tagaytay. Enjoy the cool weather and indulge in Bulalo as your eyes savor the picturesque view of the Taal Lake from one of the roadside restaurants. Go to Sky Ranch or Twin Lakes. If thrift shopping is your thing, raid the ukay-ukay shops in the area near the rotonda/roundabout.
If you are extending your stay in Laguna or Tagaytay (Cavite), you can check the availability and rates of the hotels here: LAGUNA HOTELS and TAGAYTAY HOTELS.
---
Sample National Shrine of St. Padre Pio Itinerary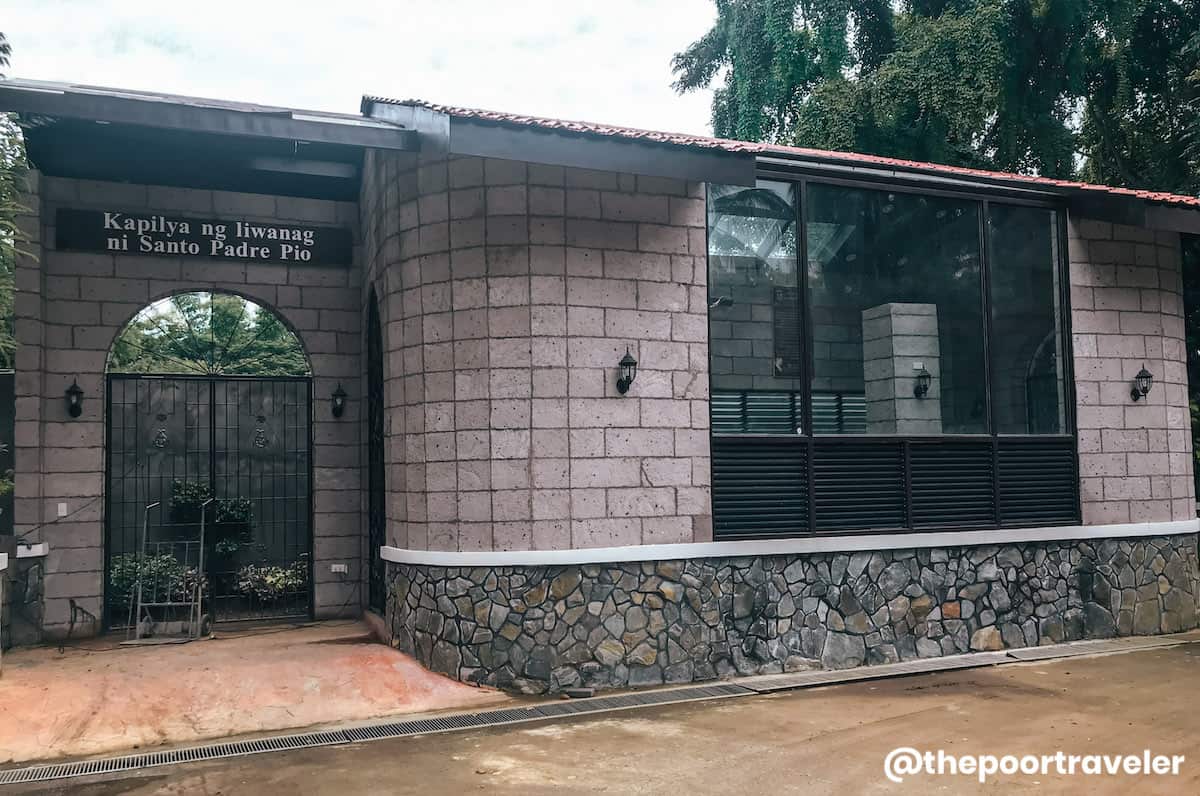 Note: This is just a suggestion. You may adjust according to your needs and preferences.
07:00 am – Bus to Santo Tomas, Batangas, P130
09:00 am – Trike to National Shrine of St. Padre Pio, P50/ride
09:15 am – National Shrine Tour, FREE
12:00 nn – Lunch, P150
01:00 pm – Trike back to the main road, P50/ride
01:15 pm – Bus to Manila, P130
03:30 pm – Arrive in Manila
This sample itinerary should cost you around P510 (USD10, EUR9, SGD14).
---
Frequently Asked Questions
Is there an entrance fee?
Entrance is FREE.
Is there parking Space?
Yes, there are parking spaces. If you are parking near the shrine, there's a P30 fee. If you are parking at the back of the shrine, it's FREE.
How can I contact the office?
Here are the contact numbers: (043) 701 – 0018 and 0939 929 4476.
What's the administration office schedule?
Monday to Friday – 8:00 AM to 5:00 PM
Lunch break is from 12:00 NN to 1:00 PM.
---
Photos and additional information collected by Pycan Leynes.
2️⃣0️⃣1️⃣9️⃣ • 9️⃣ • 2️⃣1️⃣
---