Tottori City has its own airport, and it's a cool one! The Tottori Sankyu Conan Airport is named after its two main claims to fame: the sand dunes and Detective Conan.
The airport looks like it came straight from an otaku's daydream! It's Conan themed: everywhere you look, you see a Detective Conan character; in every corner, you'll find games and puzzles and you're free to enjoy them while waiting for your flight or transfer. But that's for another blog post!
However, Tottori Airport currently serves All Nippon Airways flights to and from Tokyo only. That's not to say that it's not accessible from other cities.
Tottori may be tucked along Japan's less-explored western coast, but it can easily be reached from other cities. Osaka is the closest megapolis. From Osaka, you can either take the bus or the train. This article will share with you exactly how to do that the fastest or easiest way.
WHAT'S COVERED IN THIS GUIDE?
Kansai Airport to Tottori
For foreign tourists, the Kansai International Airport (KIX) can be the primary gateway to Tottori. It's a giant aviation hub, so there's likely a flight from where you are to Kansai. From here, you will need to get to the city center of Osaka. Here's how.
By Bus
Note that the first bus leaves Terminal 1 at 6:10am, last train at 10:40pm.
At the Arrival Hall, approach the counter for AIRPORT BUS to OCAT (photo above). OCAT stands for Osaka City Air Terminal, which is located in Namba area.
Purchase a ticket to OCAT. Fare: ¥1050. They will need your passport so make sure you have it ready. You will be given both the ticket (white) and a receipt (green).
Proceed to Departure Platform 11 (or whatever platform number you're told).
Wait for the bus at the platform. If you have big bags, the staff will take them and tag them. You will be given a slip that you'll need to claim your bags upon arrival at OCAT so don't lose them.
Board the bus when it arrives. The driver will check your ticket. Find your seat number and get comfy. The travel time is around 1 hour, depending on traffic.
Alight at OCAT. The arrival area is the same area where you'll be boarding the bus to Tottori.
That's it! You're at OCAT. From here you will need to board another bus to Tottori City. I'll enumerate the steps below.
If your arrival is scheduled outside the bus operating hours, you might want to take the train instead.
---
By Train
At the Arrival Hall, walk to the train station.
Purchase a ticket at the machines installed on the left side of the station. There are many ways to get to the city center from here, but most convenient option is the NANKAI LIMITED EXPRESS train bound for Namba. It doesn't involve transfers or additional seat fees. Fare: ¥920.
Enter Nankai Station. There are 2 stations; the other one is JR. Make sure you enter the right one. Find your platform.
Board your train. Travel time is 46 minutes.
Alight at Namba Station.
Travel on foot to Osaka City Air Terminal (OCAT). The walk takes about 10 minutes through the underground arcade. It's an easy walk, even with suitcases in tow. You can stay underground for the most part. Just follow the signs.
The bus terminal is on the 2nd floor of the OCAT Building.
---
---
Osaka Namba (OCAT) to Tottori
Now that you're at OCAT, it's time to get to Tottori City. The first thing you should do is find the right ticket counter on the 2nd floor. It looks like this.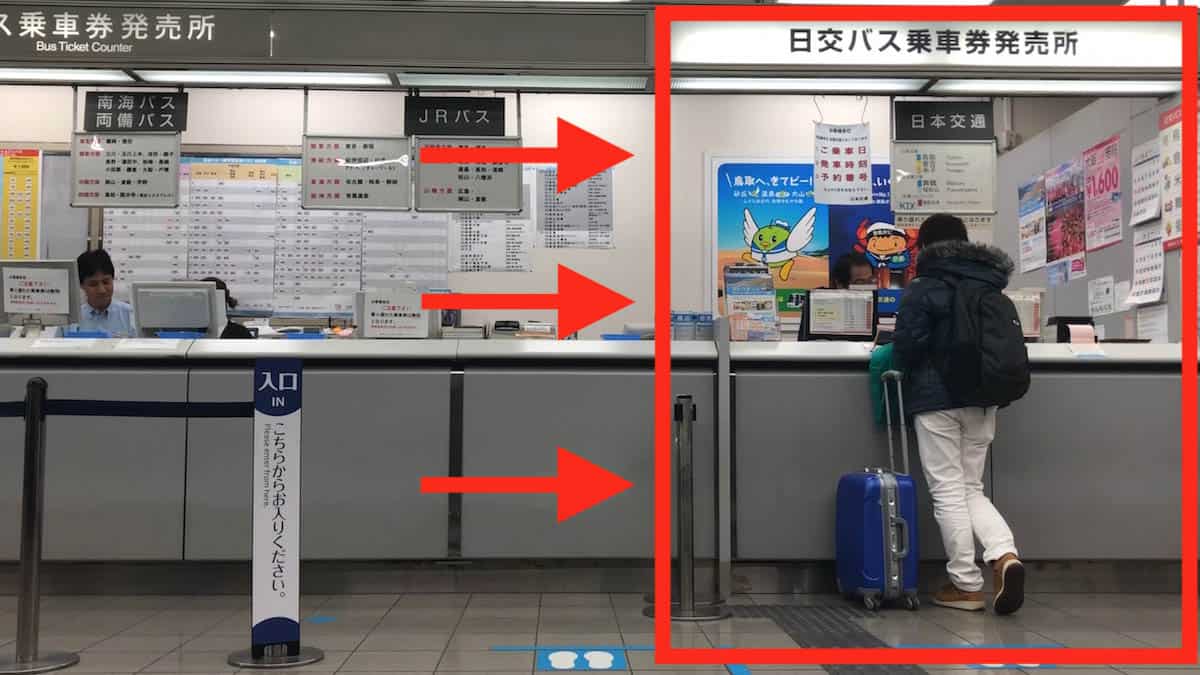 Then follow these steps:
Purchase a ticket for Tottori. Regular Fare: ¥3700. However, there are months when they offer a special price for foreigners, which is only Only ¥1000. In 2018, the discounted rates were effective from January-March and June-October.
Proceed to Departure Platform 7. This might change sometimes, but it's generally at Platform 7. To be sure, always ask the staff.
Load your bags in the compartment.
Board the bus. Show the driver your ticket. Travel time is roughly 3.5 hours, depending on traffic conditions. Based on our own experience though, we left Osaka at 5pm and arrived in Tottori at around 8pm, 30 minutes earlier than schedule.
And voila! You're in Tottori!
---
If you have a JR Pass
Normally, the bus is the cheapest option. But if you're visiting multiple cities in Japan and you're traveling to Tottori from Osaka with a JR Pass, then go ahead and use it.
You can take any of the several routes from Kansai Airport or Osaka City Center to Tottori, but this one is the most convenient (i.e. with least transfers involved).
At Kansai Airport, take either the LIMITED EXPRESS HARUKA train to Shin-Osaka Station or the JR KANSAI AIRPORT RAPID SERVICE to Osaka Station.
Take the LIMITED EXPRESS SUPER HAKUTO Train to Tottori.
Travel time: a bit over 2 hours usually.
Without the JR Pass, taking the train is very expensive. The fare from the airport to Tottori alone is ¥5190 plus seat fee of ¥970 (Haruka) and around ¥3000 (Hakuto).
But if you're planning on purchasing a JR Pass anyway, this is definitely the best choice because you won't need to shell out any more money. The whole journey will be covered by the pass.
✅ CHECK UPDATED RATES HERE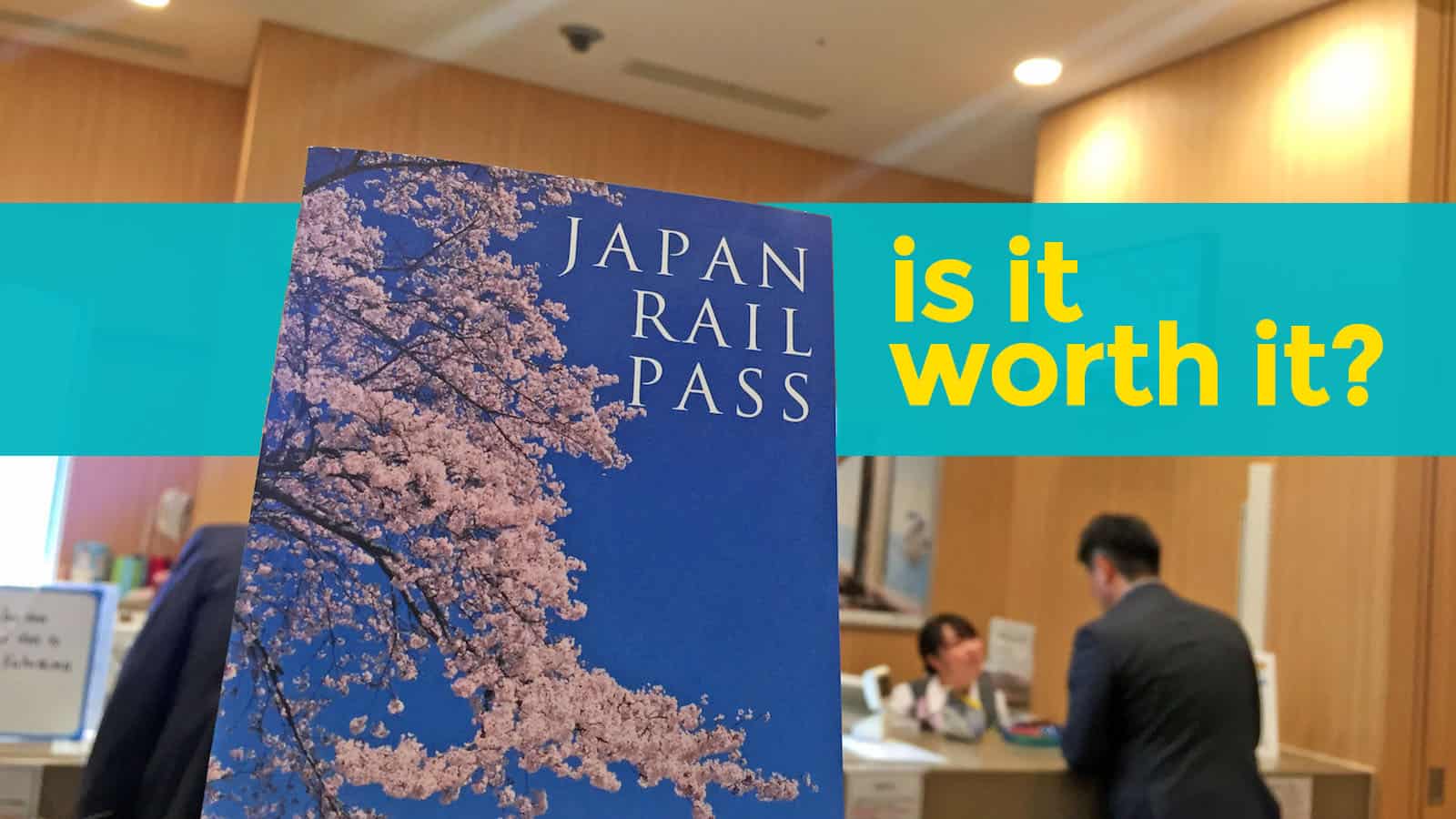 ✅ BOOK JR PASS HERE
2️⃣0️⃣1️⃣8️⃣ • 2️⃣ • 2️⃣5️⃣