There are three sea ports serving the Marinduque province — Balanacan Port in Mogpog, Buyabod Port in Santa Cruz, and Cawit Port in Boac. Balanacan Port is the main seaport for cargoes and passengers from Lucena, Quezon. The two ferry companies serving this route are Starhorse and Montenegro Shipping.
But now, there is a faster option: by air. Instead of going through the eight-hour-long land-and-sea transit, you can now reach the "Heart of the Philippines" from Manila in just an hour or less.
WHAT'S COVERED IN THIS GUIDE?
Manila to Marinduque By Plane
Marinduque Airport is the main gateway to the province. It is located at Barangay Masiga in the town of Gasan, near the border separating it from the town of Boac, which is the provincial capital.
Cebu Pacific Air flies three times weekly between Manila and Marinduque. On April 1, 2019, the inaugural flight from Manila's NAIA Terminal 4 to Marinduque Airport was finally launched. This marks the beginning of Cebu Pacific Air's Manila-Marinduque operations.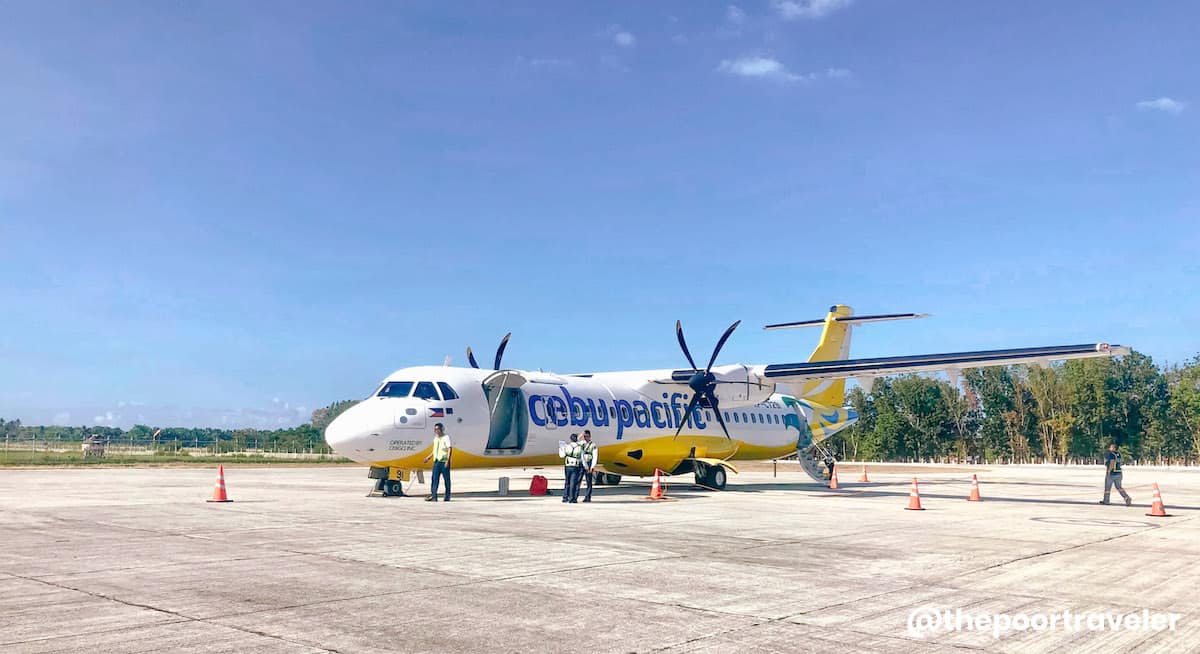 The travel time is about an hour. You can book online and check the fares via Cebu Pacific website. The roundtrip fare ranges from P3,000 to P4,000, depending on the season.
---
Manila to Marinduque by Roro Bus (Direct Bus and Ferry)
JAC Liner offers direct transit from Manila to Marinduque via Dalahican Port and Balanacan Port aboard Roll-On/Roll-Off ships (RoRo).
At JAC Liner's Cubao Terminal, ride a bus bound for Marinduque, which departs at 4 PM. Boarding starts an hour before. The travel time is approximately eight hours, depending on traffic and sea conditions. The cost is P900 – P1,000 inclusive of bus fare, ferry ticket, and terminal fees.
Summary

Bus Terminal: JAC Liner Cubao
Trip Schedule: Once daily; 3 PM (Boarding Time), 4 PM (Departure Time)
Travel Time: Approximately 8 hours
Fare: P900 (West Towns: Mogpog, Boac, and Gasan); P1,000 (East Towns: Buenavista, Torrijos, and Santa Cruz)
Port of Call in Marinduque: Balanacan Port in Mogpog
---
Manila to Marinduque via Lucena Grand Terminal + Ferry
There are several buses that operate between Manila and Lucena City (Grand Terminal). JAC Liner, Lucena Lines, RRCG Bus, and Jam Liner ply this route. Trips usually start as early as 2 AM and end at 10 PM (or later). JAC Liner operates 24-hr service during weekends, that is Friday to Sunday. Its Cubao terminal also offers midnight trips at 11 PM and 12 MN.
From Cubao or Buendia, board the bus bound for Lucena Grand Terminal. The travel time is approximately five hours, depending on the traffic condition. The fare is around P270.
From Lucena Grand Terminal, travel to Dalahican Port by jeepney (P10) or tricycle (P150). Pay the terminal fee upon your arrival at Dalahican Port (P30).
Purchase your ferry ticket. You can either take the RoRo or the fastcraft. The fare may range from P150 to P390, depending on the type of sea vessel. Travel time is approximately three hours, depending on the current/wave.
Reminder: Before purchasing a ticket, make sure you are taking the right route. There are three ports in Marinduque. It will save you more time and money if your ferry docks near the town that you want to visit.
Summary

Bus Terminal: JAC Liner Cubao or Buendia (or Jam Liner, Lucena Lines, RRCG Bus)
Trip Schedule: 2 AM – 10 PM; JAC Liner Cubao has midnight trips at 11 PM and 12 MN; 24-hr service from Friday to Sunday
Travel Time: Approximately 5 hours (bus transit); approximately 3 hours (ferry transit)
Fare: Around P270 (bus); P150 – P390 (ferry: RoRo or fastcraft); P10 (jeepney); P150 (special tricycle trip)
Dalahican Port Terminal Fee: P30
Dalahican Port Ferry Schedule: Trips start as early as 2 AM. Last trip is at 11 PM or 11:30 PM.
Port of Call in Marinduque: If you are visiting Mogpog, Boac, Gasan or Buenavista, Balanacan Port and Cawit Port are the nearest ports. If you are visiting Santa Cruz or Torrijos, Buyabod Port is the nearest.
---
Manila to Marinduque by Private Vehicle
You may also bring your own car or motorcycle (even bicycles!). However, this will incur an additional fee on top of your ferry transit fare.
The RoRo cargo fee charges P1,000 for motorcycles and around P2500 for cars.
Make sure to gas up before going to Marinduque as gasoline in the province is relatively pricier than in Quezon.
---
2️⃣0️⃣1️⃣9️⃣ • 4️⃣ • 2️⃣4️⃣