Here's another great way to support frontliners as they fight COVID-19!
After a successful first campaign called "Solidarité", the UP Le Club Français (UPLCF) has launched another round to support the communities most affected by the novel coronavirus threat. This time, they are raising funds to purchase PPE (personal protective equipment) suits for the medical staff of hospitals and health centers in Quezon City, who are tirelessly working on the frontlines.
How to Help
You can help by sponsoring a PPE suit! In exchange, the UP Le Club Français and partner organizations will be providing FREE access to learning materials in the language/s of their choice (French, Italian, German, Spanish):
You can help by donating the following amounts: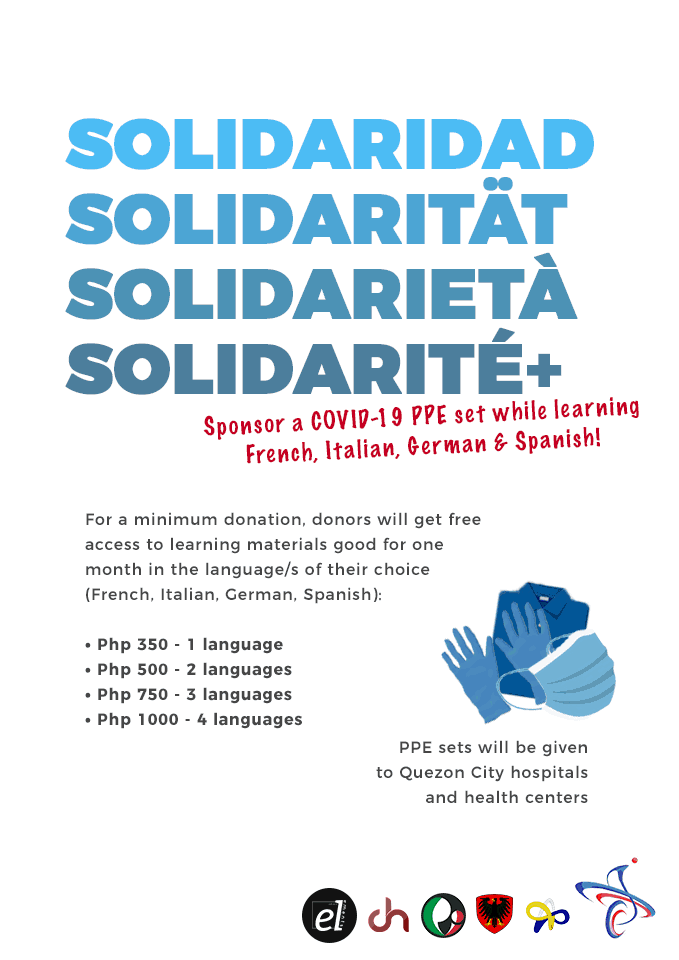 Php 350 – 1 language
Php 500 – 2 languages
Php 750 – 3 languages
Php 1000 – 4 languages
You can send your donations to any of the following accounts:
BPI: 0189 4812 84 | Cheala Kamille Sumo
BDO: 003560375708 | Anne Beatrice Cinco
GCash: 0929 329 8773 | Ysabelle Kate Rayco
Landbank: 0516 2578 90 | Pete Adriel Laput
PayMaya: 0998 865 5501 | Geraldine Refareal
Paypal: paypal.me/BeaCinco
---
How to Get Access to Learning Materials
Once you have made a donation, send the screenshot of your transaction to the UPLCF Facebook page and indicate which language(s) you choose.
Once verified, you will be added to a private Facebook group which contains the learning materials.
The organization is also open to your questions should you encounter any difficulty with any of the the lessons.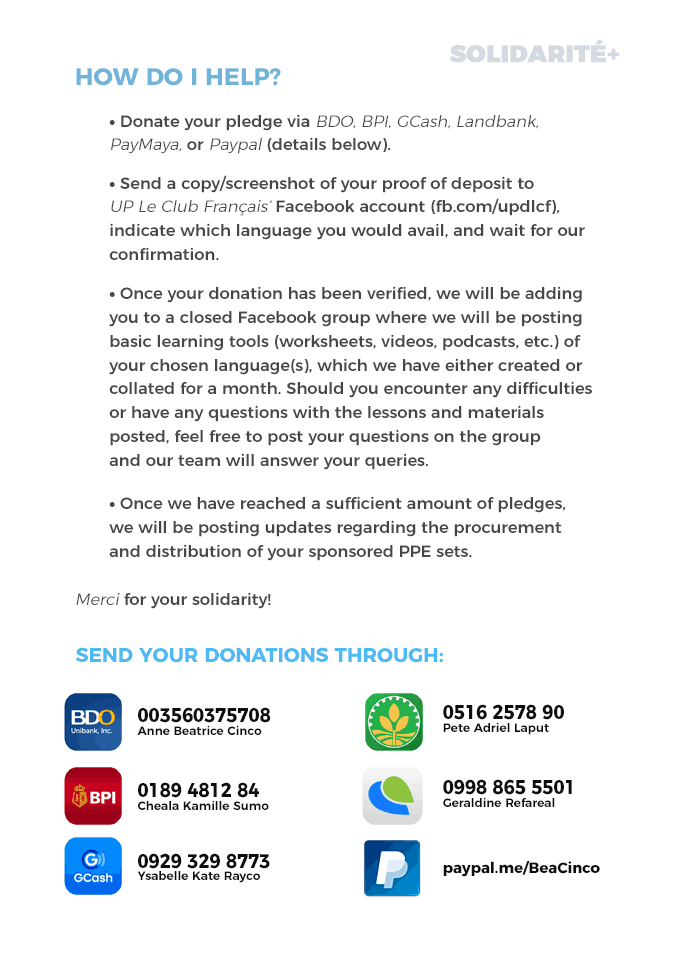 ---
About the Organizers
The UP Le Club Français is a student organization for the lovers of the French language and culture in UP Diliman. For this round, they have partnered with:
ELements
UP Círculo Hispánico
UP Piccola Italia
UP Deutscher Verein
UP Euro-Filipino Understanding & Relations Organization
This is already the second round of the campaign. Earlier this month, the organization raised a total of Php 513,785.52 (454% of initial target), which was used to purchase relief goods and was distributed to jeepney drivers affected by the Enhanced Community Quarantine.
For full transparency, the campaign's progress is posted on their official FB page, too.
---
More Tips on YouTube ⬇️⬇️⬇️