When it comes to Pinoy icy desserts, nothing can rival the popularity of halo-halo. Literally translates to "mix-mix," this summer treat is a combination of a buffet of sweet ingredients topped with shaved ice that you need to mix together.
Its roots can be traced back to Japan's kakigori, a dessert composed of shaved ice, red beans, and flavored syrup. Despite its foreign origin, Filipinos have embraced, reinvented, and made it our own to match our taste.
All of us probably have our own go-to neighborhood favorites. But some establishments take the halo-halo to the next level by giving it their own, unique spin. Here are some unusual halo-halo around the Philippines that are worth trying.
WHAT'S COVERED IN THIS GUIDE?
Spicy Halo-halo
Location: San Pablo City, Laguna
Served by: Ben's Halo-halo
This halo-halo has sweetened saba (banana), macapuno, and white mashed beans buried in special gelato ice, then topped with ube, leche flan, and langka. But an unusual ingredient added to one of their halo-halo variants called spicy winter halo-halo is chili. Ben's Halo-halo also serves a salty summer halo-halo that has salted egg on top.
Address: The main shop is in Brgy. National Highway, San Pablo City, Laguna. But it has branched out to several cities in Metro Manila and other provinces in Luzon.
Price: Php 110-115
---
Wintermelon Halo-halo
Location: Laguna
Served by: Aling Taleng's Halo-halo
While other halo-halo has a bunch of ingredients, Aling Taleng's only has six. Their halo-halo has red mung beans, white beans, ube, macapuno, and what makes it unique, the sweetened kundol or wintermelon. For their topping, instead of the usual leche flan, they use sweetened tumbong ng niyog (the growth that sprouts inside the coconut when it matures).
They've been making hearts and tummies full since 1933.
Address: 169 General Luna Street, Pagsanjan, Laguna
Price: Php135
---
Pastillas Halo-halo
Location: Pampanga
Served by: Kabigting's Halo-halo
Their version of halo-halo only has three ingredients: mashed kidney beans, cream corn, and carabao's milk pastillas locally called "halaya" (aside from ice and milk, of course). It sounds simple, but it is definitely not lacking with the right flavors. Its growth from a small carinderia in Pampanga to a well-respected name with several branches in Pampanga and one in Quezon City is a testament to how much people love this simple but tasty recipe.
Address: Main branch is along J M Espino Street, Arayat, Pampanga. But you'll also find in Bago Bantay and Banawe, Quezon City, and Concepcion Dos, Marikina City.
Price: Php110
---
Knickerbocker
Location: Zamboanga City
Served by: Hacienda de Palmeras Hotel and Restaurant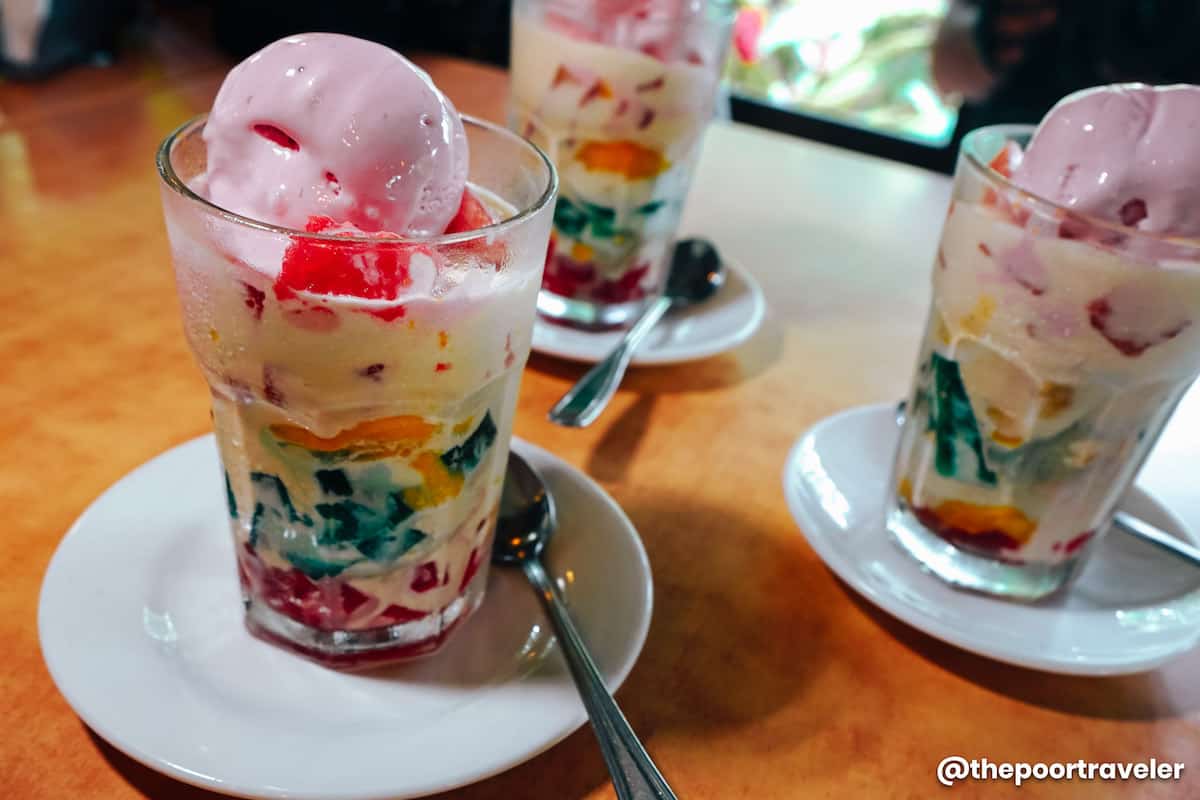 One could argue that this is not halo-halo, but it is definitely similar. Knickerbocker, a household name in Zamboanga City, is a mix of jellies, fresh fruits, and condensed milk topped with strawberry ice cream. It's the fruitier, healthier version of the usual halo-halo. Some tourists go all the way to Hacienda de Palmeras Hotel and Restaurant, but you could also find it sold at Paseo del Mar.
Address: Paseo del Mar, Valderoza Street, Zone IV, Zamboanga City
---
Ice Buko Halo-halo
Location: Batangas
Served by: Casa Rap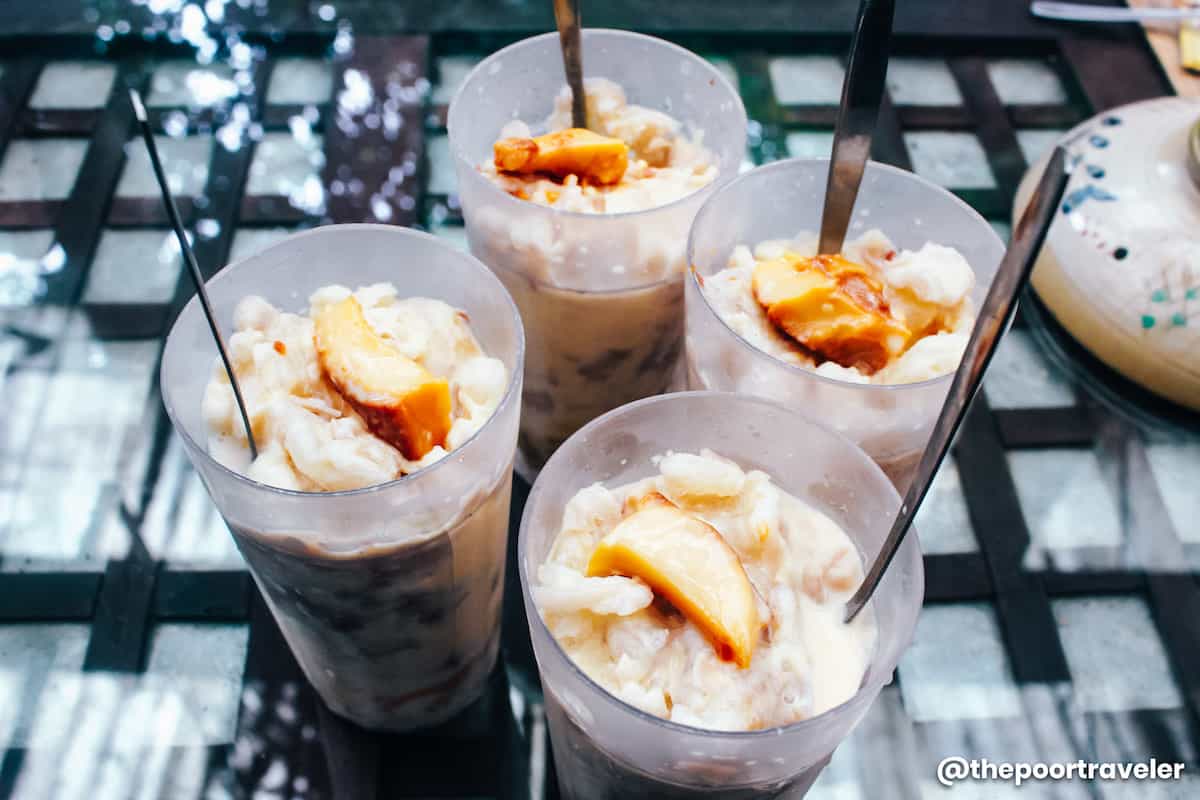 Different from the usual halo-halo we see in the streets or those served in urban restaurants, this halo-halo did not have much ingredients. In the few times that our team tried it, it only had three major ingredients — macapuno, pinipig, and leche flan. And yes, milk, of course.
But instead of just plain ice, they use a coconut sherbet and milk concoction. I don't know what it is exactly but it tastes like ice buko (you know, the frozen treats sold in the streets), which is probably why we loved it. So we're calling it ice buko halo-halo. Haha.
Despite its simplicity, it receives praises from those who've tried it and makes them want to come back for more.
Address: 90, 4227, President Jose P. Laurel Hwy, San Jose, Batangas
Price: Php100
---
Durian Halo-halo
Location: Davao City
Served by: Aling Foping's Halo-halo
Aling Foping's is a popular halo-halo place in Davao. Since durian is a known produce from Davao, they incorporated it in their version of halo-halo. They use durian jam and durian ice cream, along with pinipig and nata de coco as ingredients. This is a good alternative for people who want to taste durian but don't want to try the fresh fruit because of its prominent odor.
Address: Matina Town Square, Davao City. But it also has branches at Abreeza Mall's Food Choices, SM Lanang's Sky Garden, Boxed Up, and Eden Nature Park and Resort.
Price: Php85-105
---
Fried Halo-halo
Location: La Union
Served by: Halo-halo de Iloko
This is definitely a different spin on this pinoy summer treat. It has sticky rice, sweetened saba, yema pandan, and ube among others, wrapped in lumpia wrapper and deep fried. It is served with a crown of ube ice cream, corn flakes, and cherry.
Halo-halo de Iloko also offers other types of halo-halo, closer to the traditional, icy form, but still has a unique flair like buko halo-halo.
Adress: Zandueta St, San Fernando, La Union
Price: Php 150
---
2020 • 4 • 15