2011 • 7 • 9
It seems like "chicken" became a recurring element in our Negros Occidental trip. When we were at the Ruins, there were a few chickens walking around and we even had several photos of the mansion with wandering chickens in the frame. While we were waiting for our next ride, a surprised chicken suddenly flew past us while it was trying to avoid a vehicle. There were many other instances where chickens gave us so much joy during this trip — including our dinner on our first night!
If you've read my previous posts, chicken inasal was one of the few things we knew about Bacolod. But it was enough for us to book plane tickets. LOL. That's why we were ecstatic to get to our next destination — Manokan Country!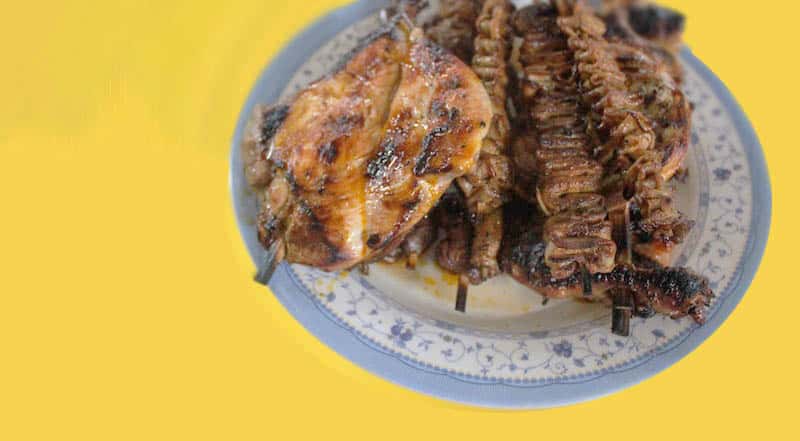 WHAT'S COVERED IN THIS GUIDE?
Manokan Country
Manokan country is a complex of a couple dozens of stalls serving Bacolod's most sought-after gastronomic delight — chicken inasal.
When we arrived, the first thing we noticed was that many of the restaurants in Manokan country were named after women — Aida, Nena's Beth, Nena's Rose, Carmen, etc. Here are the other things we noticed that you might find useful: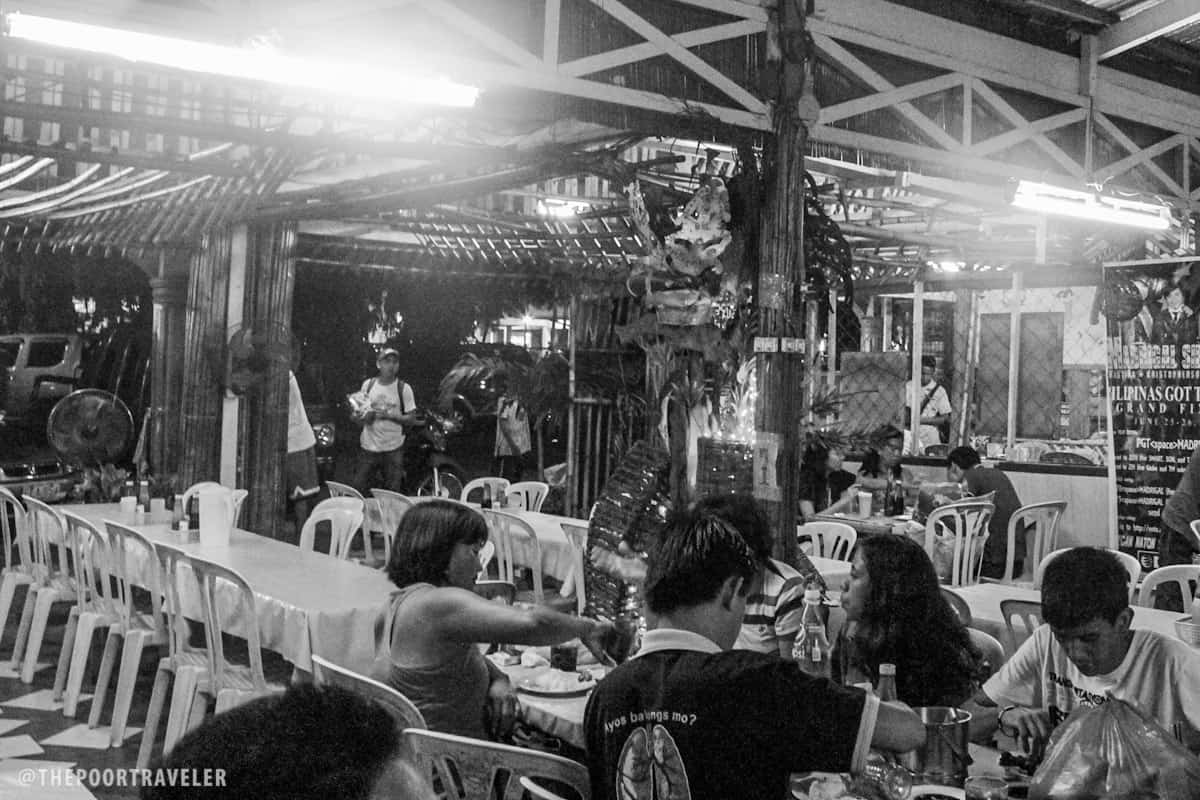 There are no air-conditioned restaurants in the complex. (Or at least, we didn't see one.) But it doesn't mean it's uncomfortable. Also, don't expect a glamorous setup. You don't need to come in your best attire or most fashionable shoes. People from all walks of life dine here and there are no restrictions. There are families having dinner together, foreigners trying out local cuisine, officemates having a happy hour!
Food items are displayed at the entrance to the restaurant. You can already order chicken inasal even before you enter.
Restaurant staff is always on a watch for potential customers so the moment you walk towards the complex, expect people inviting you to choose their stalls.
There are DVD vendors that might approach you while eating. Although they can get irritating at times, just tell them politely that you're not interested.
I'm not sure if this applies to all but the stall we chose do not provide utensils by default. They expect you to use your bare hands when eating (kamayan style). There's a couple of sinks with soap inside. Yes, the soap is shared by everyone in the room. If you're not comfortable with it, then bring a hand sanitizer or alcohol. Or ask the waitress for utensils.
Anyway, since there were so many Nena restaurants there, we figured we should try one of them. We ended up dining at Nena's Beth. It was one of the biggest in Manokan country and there were so many people. There had to be something special about it, we thought.
Chicken Inasal, Isaw, Atay, Isol, Atbp
One of the reasons we chose Nena's Beth was that there were so many food items on display. Aside from the ubiquitous chicken inasal, we were also magnetized by isaw (intestines), atay (liver), puso (heart), and isol (chicken tail).
After making our orders, we went inside and chose a table. A few minutes later, our grilled dinner was served. It only took us 10-15 minutes to finish everything. Like seriously. Mind you, we ordered 2 chicken inasal pecho and two sticks of everything else on display.
The chicken inasal was well-done. They did not overcook or undercook it. It was marinated and perfectly grilled. The taste was also much better than any chicken inasal we tasted here in Manila (and bigger, too).
Another surprise was the isaw. It was probably the best tasting isaw I've tasted in my entire life.
The only letdown was the vinegar. Although there were some chili peppers in the bottle, the vinegar was not hot or spicy. It tasted plain like the bottle was refilled too many times. Too bad coz I'm such a sucker for vinegar. (I can even drink a cup. Like seriously.)
Nevertheless, it was a great dining experience. I guess this picture is enough proof of how much we enjoyed the dinner.
How to Get to Manokan Country: By the way, Manokan Country is located near SM Bacolod. We took the Bata-Libertad jeep and asked the driver to drop us off at Manokan Country, and he did. It was just before SM Bacolod, one ride away from our hotel, the Circle Inn.
---
Top Hotels in Bacolod
Here are some of the top hotels and inns in Bacolod, as scored by Agoda customers.