The COVID-19 pandemic has affected our daily routines abruptly and tremendously. And it's obvious that when this is all over, we can't go back to how it used to be; we will enter a new phase, a new normal.
Many of us have been cooped up in our homes when the community quarantine took effect to address the need to slow down the transmission of the virus. Businesses suspended their operations indefinitely except those that provide essential products and services — with a skeleton workforce.
Food establishments are reopening and resuming operations, but most are still limited to delivery, take out, and pick up. Thankfully, food delivery aggregator apps and fast-food/restaurant apps come in handy now more than ever. Some of us do our groceries online, while others choose the convenience of food delivery. Here are some of the popular food-related free mobile apps offered by both iPhone and Android.
WHAT'S COVERED IN THIS GUIDE?
GrabFood & GrabMart
You can access GrabFood through its mother company Grab, which primarily offers ride-hailing service. The company operates in eight Southeast Asian countries, so you can also use this app outside the Philippines. Note that services may vary per city per country. For food-related service, it has food delivery via GrabFood and grocery delivery via GrabMart.

For GrabFood, you just order from your favorite restaurant and your food will be delivered to your place. For GrabMart, you pick your items from the product selection and they will be delivered to you within the day or at a scheduled time.
---
LalaFood & LalaMove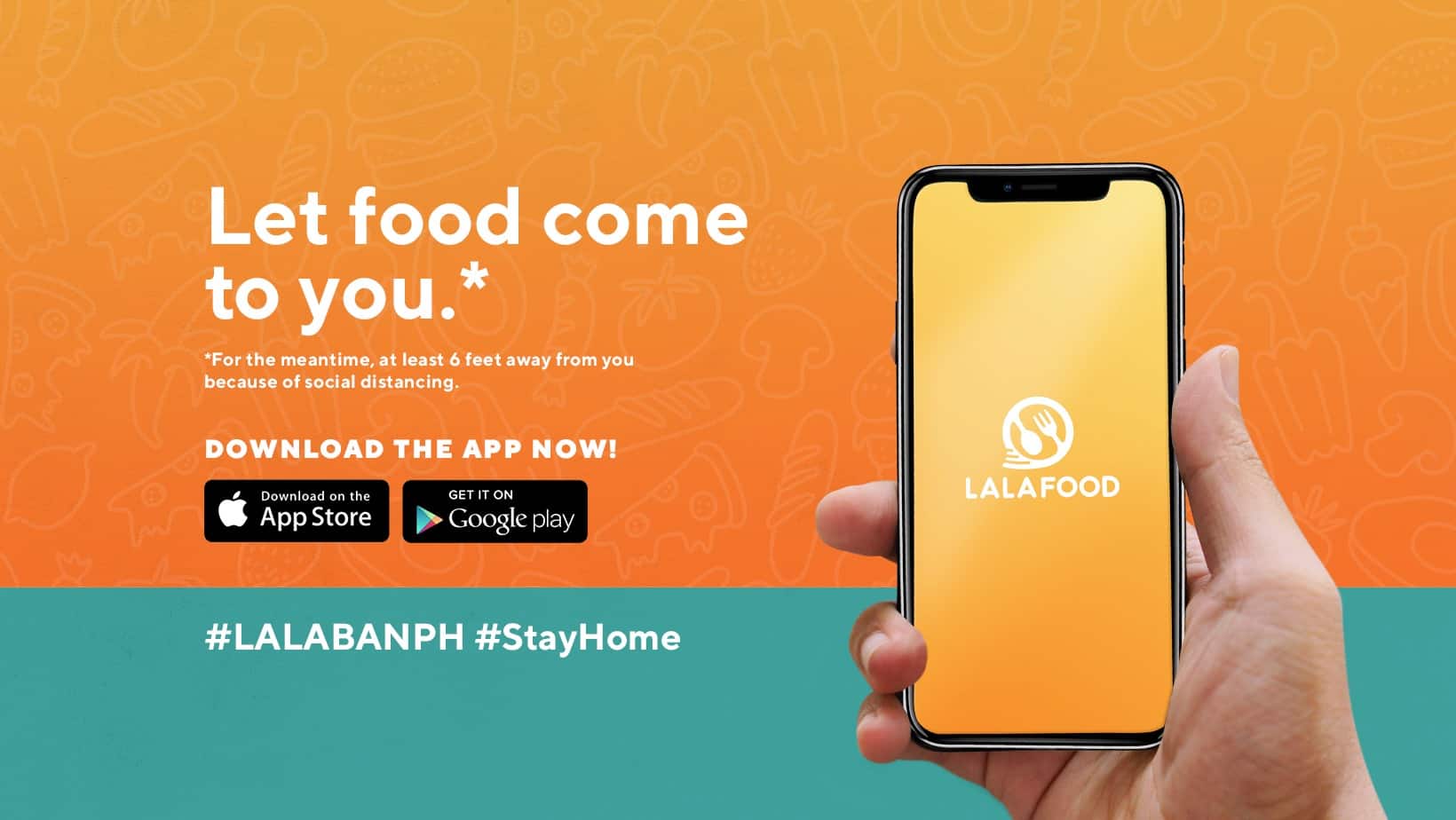 LalaFood boasts its selection of restaurants from which you can do multiple ongoing orders. There's no minimum bill requirement, and they can deliver from one city to another. You will be required to furnish your location/address info for the purpose of determining nearby restaurants and delivery location selection. Currently, LalaFood operates daily from 7AM to 8PM.
If your suking grocery store takes orders online, you can also use LalaMove to pick up the items and deliver them to you.
---
MetroMart

For those residing in Metro Manila, MetroMart can lessen the hassle of going out to buy and get not only your groceries but also others like medicine, bakery items, pet food, cosmetics, toys, and more. The app assures the delivery of your items in two hours. MetroMart partners with major brands and business establishments, making over 30,000 products — with same-store prices — a click away. You can order from multiple stores in one go, and you'll get all items delivered to your house. Payments can be done via credit card, debit card, and cash-on-delivery (COD).
---
FoodPanda
FoodPanda is one of the popular food delivery service aggregator mobile apps. It has a sizable number of partner restaurants, promising that they can bring you the food that you are craving and "lusting after" from your local favorite restaurants right to your door. When you finish downloading the app, you may start using it by encoding your address. Find your favorite restaurant and then place your order. Wait for your order to arrive. The app also enables you to track your rider in real-time. FoodPanda guarantees secure payment transactions through credit card, Paypal, or cash on delivery (COD).
---
Angkas
Angkas has been a great alternative in dealing with the nightmare that is commuting in Metro Manila. When the Enhanced Community Quarantine was implemented in Luzon, the edgy transportation company came up with Angkas Food!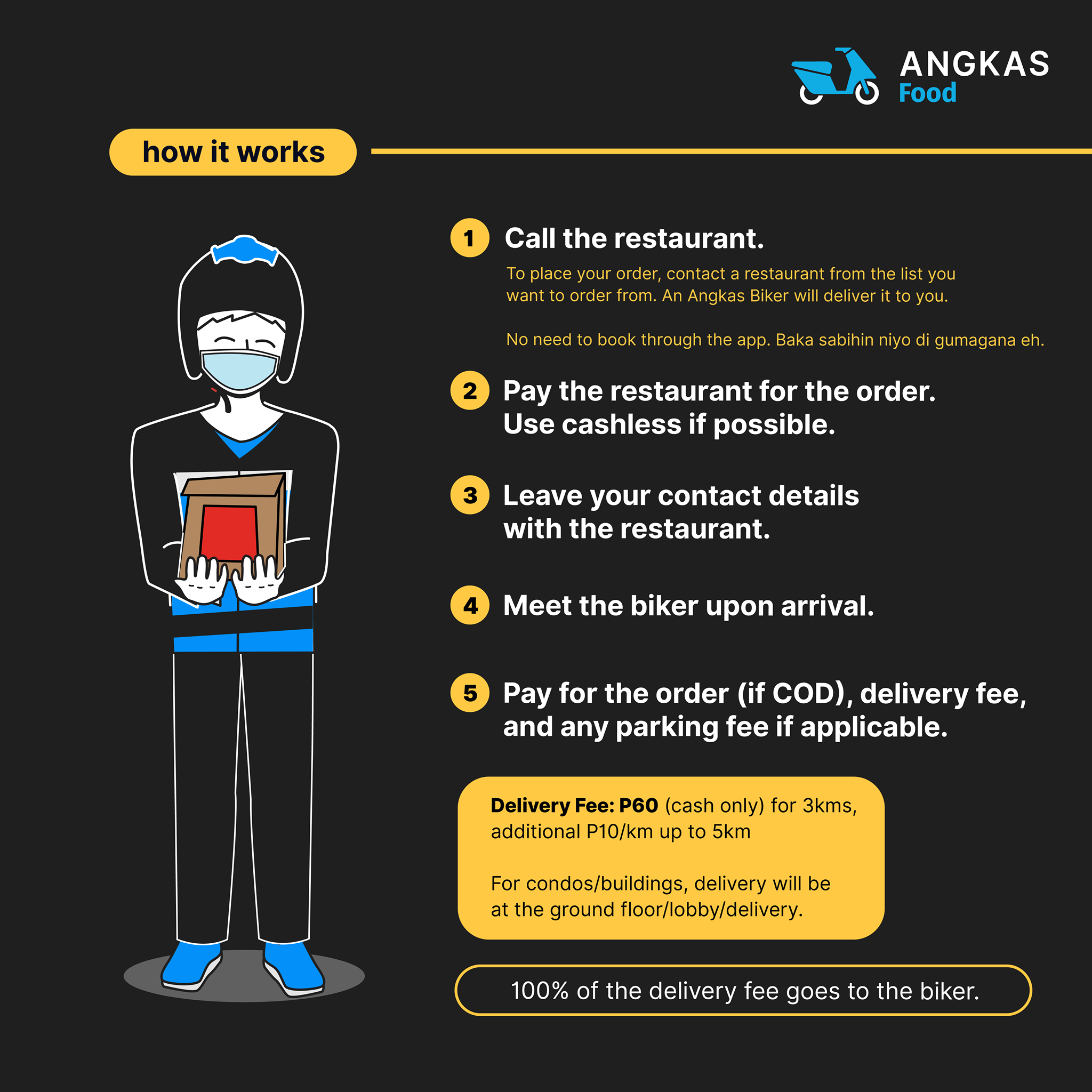 They partnered with various restaurants in Metro Manila for this service and according to Angkas, they will not take their commission from this and all delivery fees will go to the Angkas biker.
For a list of restaurants they service, visit this page: ANGKAS FOOD RESTOS!
---
ManganPH

ManganPH claims to be the Philippines' first locally developed food delivery service app. The service coverage has expanded, and it now includes Pampanga, Bataan, and Laguna. It will soon be available in Cavite, Subic, Tarlac, and Baguio.
---
OrderMo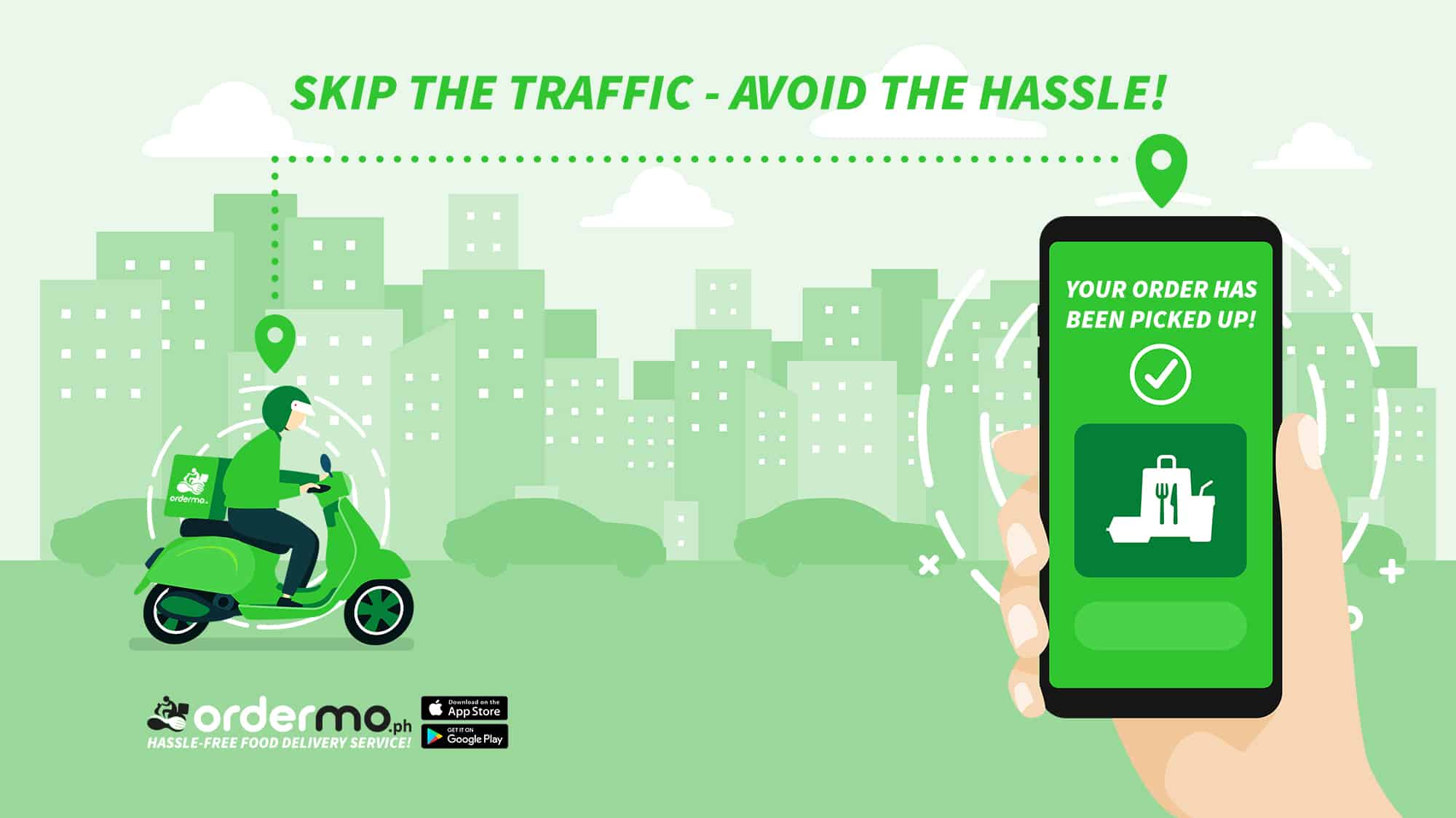 For those living in Olongapo and Subic, you are the apple of the eye of OrderMo. With over 5,000 partners, including local restaurants, fast-food chains, and food kiosks, OrderMo is committed to answering your call for help when hunger strikes or craving hits. The app features real-time updates about your order and your rider's current location. Other services offered are medicine delivery (ordermeds), fresh meat and produce delivery (orderfresh), and grocery delivery (ordergroceries). Payment options can be done through credit card, debit card, Cash, and COD (cash on delivery). The app will soon open more areas to serve.
---
LazMart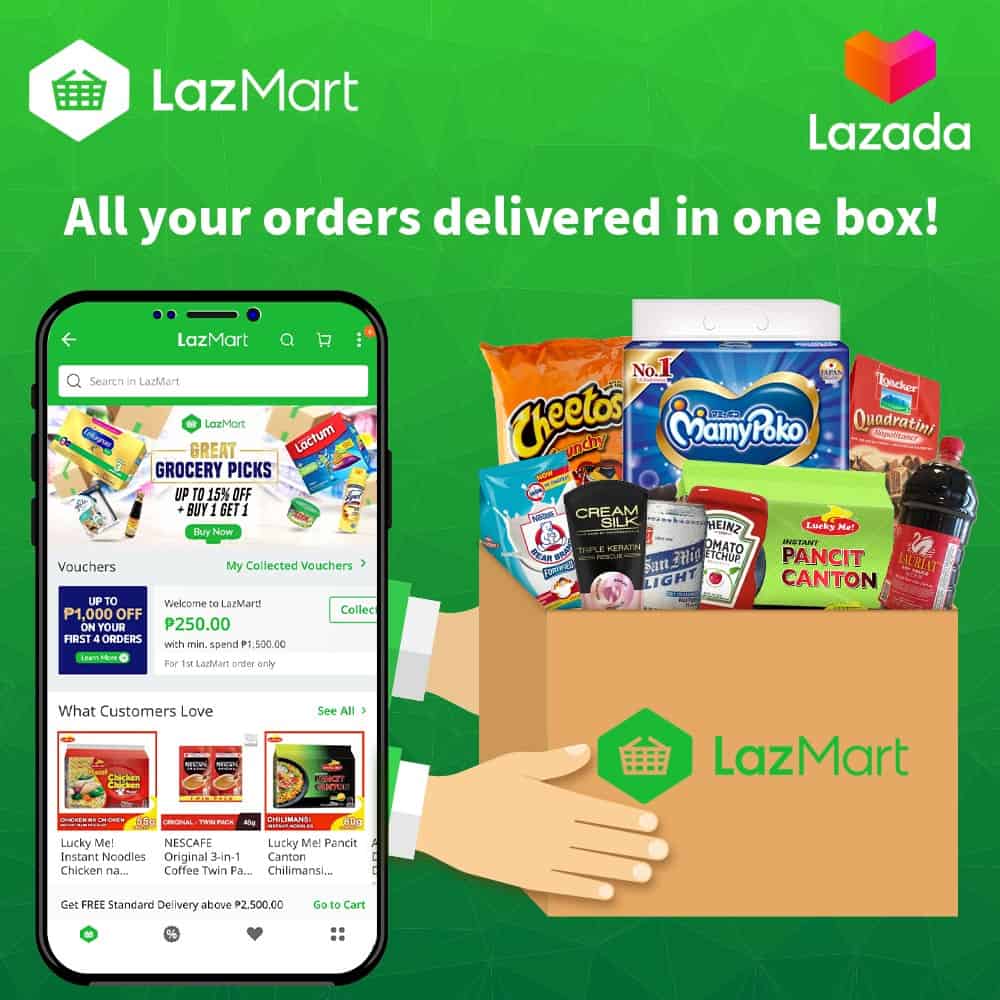 Lazada, one of popular online shopping app, extends its services to grocery shopping and delivery through LazMart. To access, just go to the Lazada app and search for the green LazMart icon by swiping left on the menu right below the moving ads. Conveniently browse through the products by category to easily spot the grocery items you need. You can also get discounts and promos by checking the "On Sale" icon.
Areas covered by this service include Metro Manila, Rizal, Cavite, Laguna, and Batangas. Note: For the provinces, not all towns and cities are covered. The app will notify you if your address is out of coverage area.
---
Session Groceries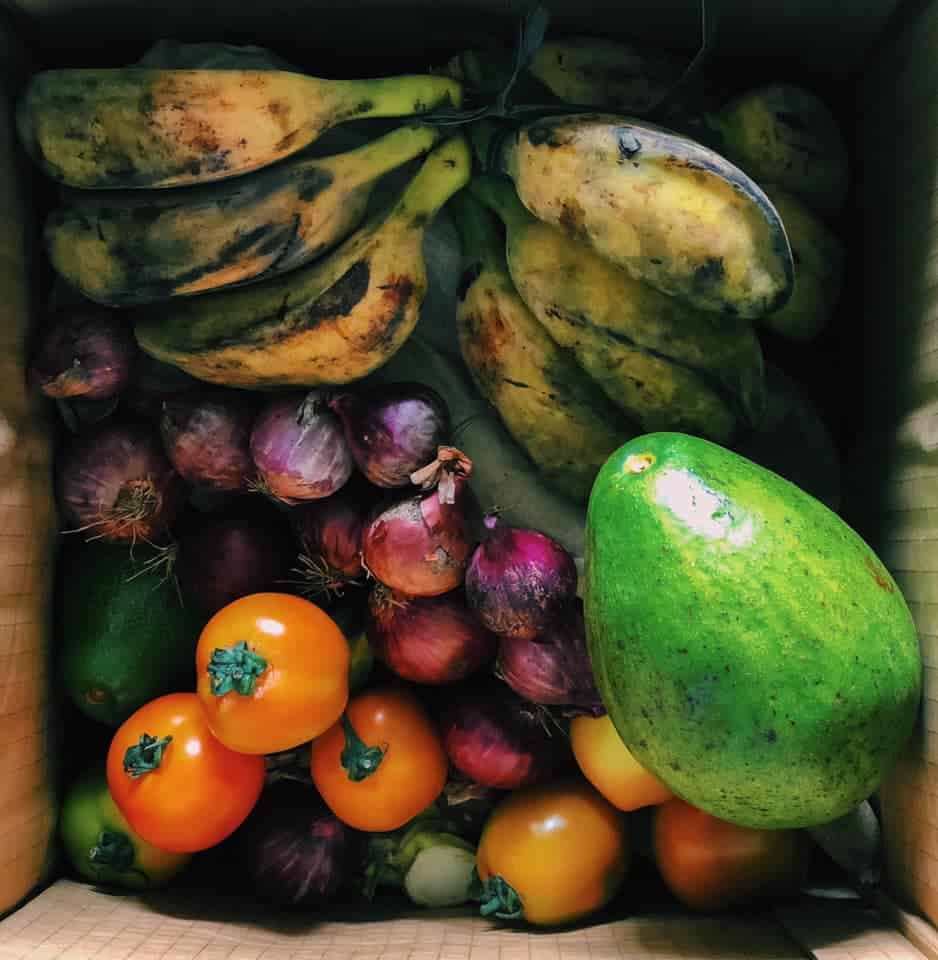 Session Groceries is not just a regular grocery order and delivery app. It advocates farm to table food, helping farmers sell their products by linking them directly to consumers. You may browse the items by vendors (farms), by items, and by item categories. Just choose what you need and add to cart. Check your item list before checking out. The delivery fee will vary depending on your location. Currently, the delivery coverage is within Luzon area only.
---
WalterMart Delivery
WalterMart, one of the supermarket chains in the Philippines, stepped up their customer service game by creating its own grocery app which allows guests to do grocery shopping in the comfort of their homes. You may search the product catalog by category for the items that you need. Review all your items in your My List page before checking out. You have the option to either pick up your grocery items or have them delivered to your house.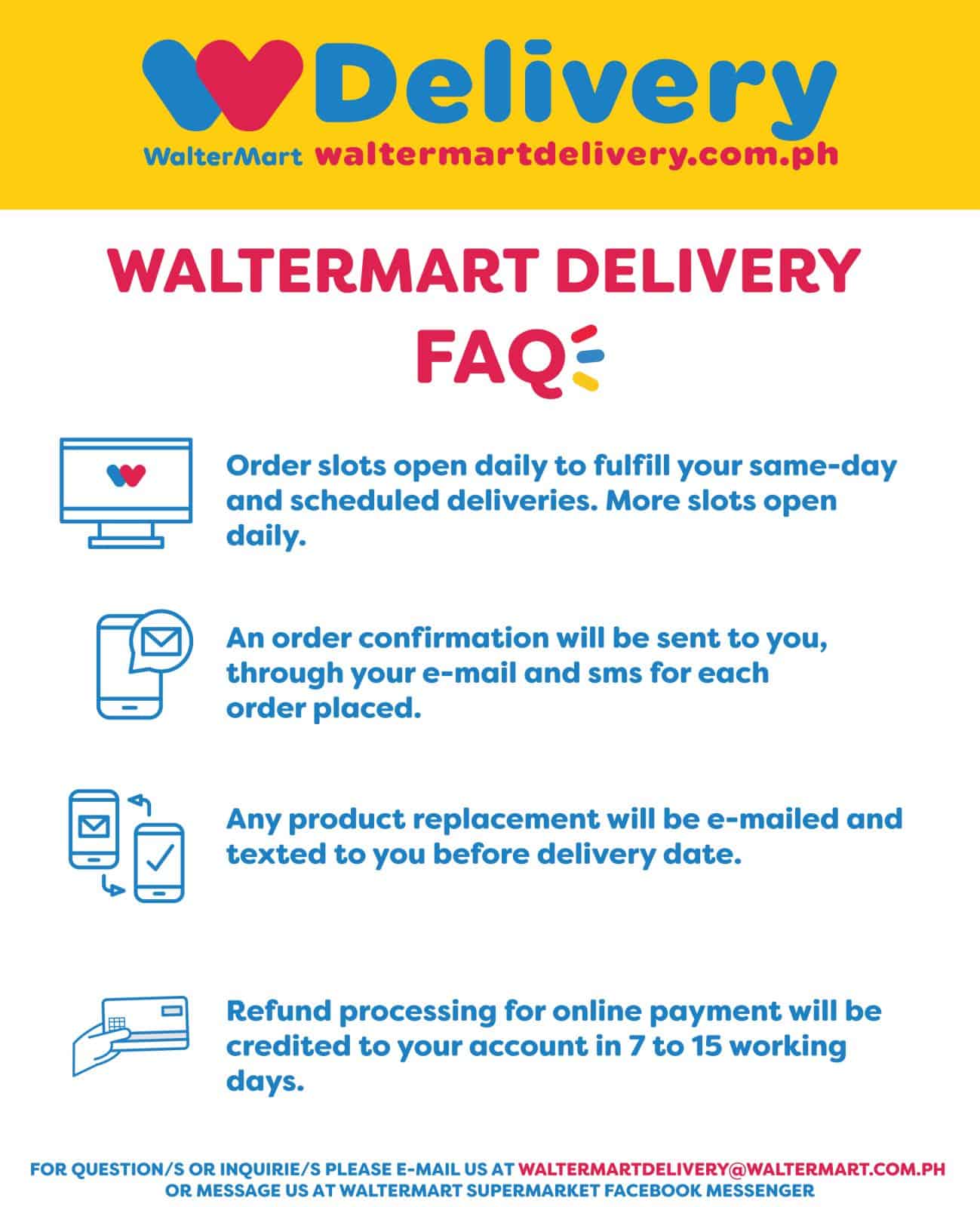 ---
Additional words by Mariah Cruz
2020 • 5 • 27
---