2020 • 5 • 15
Did you know that Angkas now has a food delivery service?
Angkas has been a great alternative in dealing with the nightmare that is commuting in Metro Manila. When the Enhanced Community Quarantine was implemented in Luzon, the edgy transportation company came up with Angkas Food!
They partnered with various restaurants in Metro Manila for this service and according to Angkas, they will not take their commission from this and all delivery fees will go to the Angkas biker.
WHAT'S COVERED IN THIS GUIDE?
How to Order
Here's how to place an order and have it delivered to your home.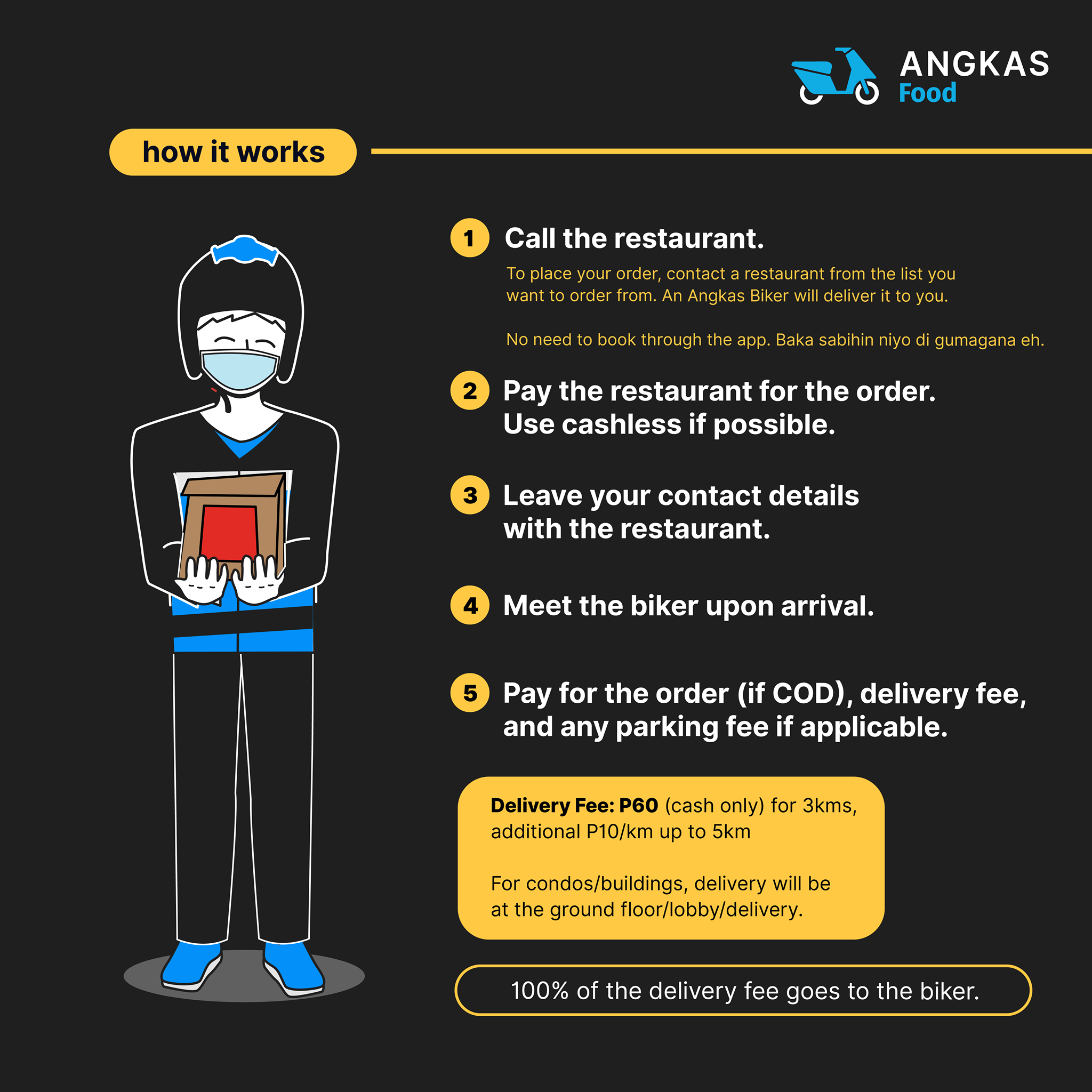 Call the restaurant and place your order. You may check the list of restaurants in the next section below.
If possible, pay the restaurant for your order through online payment methods they have. But cash-on-delivery is also an option.
Give your details for delivery to the restaurant including your contact number.
Meet the biker to get your order. Remember to follow the no-touch interaction for delivery.
If COD, settle the cost of your order, delivery fee, and parking fee (if any) upon arrival of the biker.
IMPORTANT REMINDERS:
Delivery hours: 10am to 5:30pm only. Last orders are at 5pm.
No need to book through the app! You just have to call the restaurant for your order and they will arrange the delivery.
Delivery Fee: P60 for the first 3kms and additional P10/km up to 5km.
For condos/buildings: Delivery will be at the ground floor or delivery area.
Partner Restaurants
Here is the list of participating restaurants and corresponding contact numbers and menus.
As of May 2020.
Caloocan
The Good Tapa
Caloocan
09175226892
– The Good Tapa (Frozen): 250g P180, 500g P340, 1kg P620
– The Good Tapa Angus: 250g P220, 1kg – P680
Zark's Burger
MCU
09060843721
Eastwood – 09062028834
Araneta Center Cubao – 09054931016
Menu:
– Zark's Ultimate- P189
– Zark's Classic- P144
– Three Pointer- P179
– Zark's Double Cheeseburger- P239
– Chicken Fingers- P279
---
Makati
Persia Grill
Valero
88189090
Menu
– Chelo Kebab Beef Kubideh: 2 sticks P405.9, 1 stick P181.5
– Chelo Kebab Morg: 2 sticks P394.9, 1 stick P181.5
– Biryani: beef P515.9, chicken – P482.9
– Falafel Sandwich: P159.5
– Shawarma Rice: beef P328.9, chicken P328.9
Goldilocks
Pasong Tamo: 88433421
Alpha Land: 09175283105
Menu
– Colorful Blooms Chocolate (8×12)- P520
– All About Chocolate (8-inch round)- P660
– Chocolate Overload Whole Roll- P310
– Pork Dinuguan with Rice- P129
– Butter Macaroons (28`s)- P110
A Mano
Rockwell
09175526266
Menu
– Margherita con Bufala Pizza- P550
– 4 formaggi Pizza- P550
– Ragù- P490
– Bistecca a mano- P3650
– Tiramisù- P490
A'toda Madre
Makati Ave.
9989982017
Menu
– Street Tacos
– Carnitas, Barbacoa, Chicken Chipotle – P165
– Lengua, Steak, Shrimp – P195
– Nachos Gigantes- P575
– Burrito Grande- P370
– Steak, Shrimp, Lengua- P435
Barik Supremo Lambanog
Makati
9150316787
Menu
– Barik Supremo Ginger Sour 250ml- P205
– Barik Supremo Puro 500ml- P500
Ebi 10
Poblacion Branch
79567816
Menu
– Jumbo Prawn Tempura- P155
– Small Shrimp Tempura- P60
– Ebi10 Chahan- P295
– Katsudon- P285
– Gyudon- P320
Elbert's Pizzeria
Salcedo Village
(02)79788325 
Menu
– Margherita- P420
– Al Salciccia- P500
– Al Diavola (spicy pepperoni)- P550
– Quattro Formaggi (4 cheese)- P610
– Margherita Speciale- P500
GOGI Korean BBQ
Poblacion
9165950178
Menu
– Samgyeopsal (Aged Pork Belly)- P290
– Galbi-Tang (Beef Short Rib Soup)- P350
– Kimchi Stew- P320
– Sundubu-Jjigae (Seafood and tofu hot pot)- P330
– Marinated Chicken with Spicy Sauce Set- P280
Made in HK
Makati Ave.
9950721563
Menu
– Roast Pork with Fried Egg Rice- P390
– Baked Pork Chop Egg Fried Rice- P370
– Satay Noodles with Chicken Fillet- P360
– Scallion oil Pork Chop with Fried Egg Rice- P340
– House Fried Rice- P340
Mey Lin
Jupiter (Makati)
288996688 / 09173078999
Menu
– Three Cup Chicken- P360
– Shrimps with Sotanghon- P480
– Pancit Canton (Stirred-fried Noodles)- P320
– Pata Tim Half with 4 pcs Cua Pao- P520
– Pan-fried Whole White Pampano- P650
The Smokeyard
Poblacion, Makati (Open from Tuesday to Sunday)
02 7756 3980
Menu
– Smoked Pork Belly OR Smoked Pulled Pork Plate- P275
– Smoked Beef Brisket Plate- P425
– Smoked Meat Platter- P1550
– Pulled Pork Sliders (3pcs)- P275
– Beef Brisket Sandwich- P325
Auntea Sam's Milk Tea
Makati
09175570793
Menu
– Okinawa
– Salted Caramel
– Dark Chocolate
– Wintermelon
– Taro
Medium – P50, Large – P60
Bacolod Chicken Inasal
Jupiter St., Makati
88977507
Menu
– Chicken Inasal Single- P139
– Pork Spareribs- P225
– La Paz Batchoy: Reg. P169, with egg P185
– Bangus Sisig- P197
– Buko Pandan (Single)- P73.50
Cartel Deli
Salcedo
09176252249
Menu
– Black Squid Ink Paella: Solo P475, for 3-4pax P1115, Family P1690
– Chicken and Chorizo Paella: Solo PHP 475, for 3-4pax P1115, Family P1690
– Roasted Chicken: Solo P400, Sharing (3-4 Pax) P750
– Lengua Estofada: Solo P525, for 3-4 pax P1190, Family P1690
– Beef Caldereta: Solo P600, for 3-4 pax P1240, Family P1815
Ferino's Bibingka
Kalayaan avenue
09176381477
Menu
– Bibingka Extra Super- P150
– Bibingka Super- P140
– Bibingcute Box of 4- P140
– Puto-bumbong- P75
– Toasted Bibingka- P150
Meat Depot
Paseo de Magallanes
09260755187
Menu
– Frozen Ground Beef- P275
– Frozen Pork Chop- P278
– Frozen Pork Cubes- P288
– Frozen Menudo Cut- P304
– Frozen Ground Pork- P268
Old Swiss Inn
Somerset Olympia Bldg, Makati Ave.
09189999555
Menu
– Beef Lasagna (Frozen)- P375
– Corned Beef Caldereta (Frozen)- P500
– Beef Mechado (Frozen)- P450
– Chicken Pastel (Frozen)- P350
– Beef Salpicao (Frozen)- P500
Pinkie's
Somerset Olympia Bldg, Makati Ave.
09189999555
Menu
– Full Cream Milk- P240
– Full Cream Unsweetened Yogurt- P240
– Low Fat Milk- P240
– Chocolate Milk- P250
– Kesong Puti- P150
Single Origin
Rockwell
09369511768
Menu
– Spinach and Mushroom Casserole- P320
– Bratwurst Sausage- P340
– Forest Ham- P365
– Sausage Platter- P380
– Truffle Mac and Cheese- P450
Uncle Moe's Shawarma Hub
Makati
09064834271
Menu
– Beef Shawarma: with pita P136, rice P162
– Chicken Shawarma: with pita P136, rice P162
– Beef Kebab: with pita P177, rice P192
– Chicken Kebab: with pita P177, rice P192
– Kofta Balls: P262
---
Manila
Black Scoop Cafe
DLSU One Archers
277283118
Menu:
– Hokkaido Milk Tea- P130
– Hershey's milk tea- P130
– Okinawa Milk Tea- P120
– Wintermelon Milk Tea- P120
– Cookies and Cream Milk Tea- P110
Mama V
Malate, Manila
Open from Monday to Saturdays
9399159731
Menu:
– Garlic Sotanghon: S- P340, M- P660, L- P980
– Breaded White Fish With Calamansi Butter: S- P260, M- P420, L- P700
– Angus Beef Tapa: S- P600, M- P1020, L- P1440
– Boneless Fried Chicken: S- P440, M- P560, L- P680
– Premium Bacon Carbonara: S- P540, M- P980, L- P1860
Zark's Burger
Taft – 09166877755
SM Manila – 09275477842
SM San Lazaro – 09264230204
SM Sta Mesa – 09151434959
Menu:
– Zark's Ultimate- P189
– Zark's Classic- P144
– Three Pointer- P179
– Zark's Double Cheeseburger- P239
– Chicken Fingers- P279
---
Muntinlupa
Barcino
Molito
09266410446
Menu:
– Croquetas Chorizo (Ready to Cook) – P280
– Croquetas Jamon y Pollo (Ready to Cook)- P280
– Mejillones Tigres Rellenos (Ready to Cook)- P280
– Pollo Al Ajillo (Ready to Heat)- P350
– Albondigas de la Abuela (Ready to Heat)- P350
BBQ BOB
Montillano
09214331614
Menu
– BOB's Whole Chicken: Hickory P230, Chimichurri P250
– BOB's Chunky Liempo – P210
– BOB's Pork BBQ (10 pcs): Xtra Long P280, Small P230
– BOB's Beef BBQ (10pcs): Xtra Long P260, Small P220
– BBQ Chicken (2 pcs. Leg Quarter)- P150
---
Paranaque
Mama Lou's Italian Kitchen
BF Homes (Delivery Service are unavailable every Wednesday)
9175156262
Menu:
– Salpicao: Single P360, Family P175
– Spinach & Goats Cheese Pizza: Regular P385, Large P495
– Mama Lou's Special Pizza: Regular P420, Large P525
– Truffle Mac & Cheese Pasta: Single P360, Family P1455
– Spaghetti Seafood Olio: Single P385, Family P1455
Goldilocks
SM Bicutan 09178203426
Gatchalian Paranaque 09231574220
Menu
– Colorful Blooms Chocolate (8×12)- P520
– All About Chocolate (8-inch round)- P660
– Chocolate Overload Whole Roll- P310
– Pork Dinuguan with Rice- P129
– Butter Macaroons (28`s)- P110
Meat Depot
BF Homes
09266474778
Menu
– Frozen Ground Beef- P275
– Frozen Pork Chop- P278
– Frozen Pork Cubes- P288
– Frozen Menudo Cut- P304
– Frozen Ground Pork- P268
---
Pasig
Mama Lou's Italian Kitchen
Ayala Malls 30th
Delivery services are unavailable on Wednesdays
9565232113
Menu:
– Salpicao: Single P360, Family P175
– Spinach & Goats Cheese Pizza: Regular P385, Large P495
– Mama Lou's Special Pizza: Regular P420, Large P525
– Truffle Mac & Cheese Pasta: Single P360, Family P1455
– Spaghetti Seafood Olio: Single P385, Family P1455
Cafe 2.0
Pioneer
85679633
Menu
– Bulletproof Coffee Hot/Iced- P200
– Tapa Meal- P320
– Skinless Logganisa Meal (Keto Friendly)- P300
– Plain/Cheese Waffle (Gluten-free)- P260
– Keto Donut – Chocolate Glazed / Butternut / Hibiscus Glazed- P120
Barcino
City Golf Plaza, Ortigas
09562492620
Menu:
– Croquetas Chorizo (Ready to Cook) – P280
– Croquetas Jamon y Pollo (Ready to Cook)- P280
– Mejillones Tigres Rellenos (Ready to Cook)- P280
– Pollo Al Ajillo (Ready to Heat)- P350
– Albondigas de la Abuela (Ready to Heat)- P350
Blu Coffee Distributors
C5 cor. Retelco Drive
09560822565
Menu
– Strawberry Lemonade- PHP 90
– Classic Lemonade- PHP 90
– Roasted Almond Latte- PHP 85
– Caramel Latte- PHP 85
– Hazelnut Latte- PHP 85
Goldilocks
Shaw Boulevard
87276504
Menu
– Colorful Blooms Chocolate (8×12)- P520
– All About Chocolate (8-inch round)- P660
– Chocolate Overload Whole Roll- P310
– Pork Dinuguan with Rice- P129
– Butter Macaroons (28`s)- P110
Kko Kko
Kapitolyo
09171237091
Menu
– Korean Fried Chicken- P400
– Bibimbap- P160
– Kimbap- P160
– Tteokbokki- P210
– Japchae- P160
Miso Happy
City Golf
09064811095
Menu
– Black Garlic Ramen- P207
– Tantanmen Ramen- P277
– Chicken Teriyaki Don- P202
– Pork Katsudon- P202
– Chicken Karaage- P187
– Egg- P40
– Gyoza- P132
Pomodoro Pizza
Kapitolyo
9569309318
Menu
– Amanti Della Carne Pizza: Reg. P306, Fam P410, XL P520
– Formaggio Cremoso Pizza: Reg P332, Fam P494, XL P514
– Quattro Formaggi Pizza: Reg P306, Fam P442, XL P585
– Pesto Pizza: Reg P306, Fam P442, XL P585
– Pizza Bianca Pizza: Reg P332, Fam P455, XL P618
Uncle Moe's Shawarma Hub
City Golf (closed on Mondays)
9564210301
Menu
– Beef Shawarma: with pita P136, rice P162
– Chicken Shawarma: with pita P136, rice P162
– Beef Kebab: with pita P177, rice P192
– Chicken Kebab: with pita P177, rice P192
– Kofta Balls: P262
---
Quezon City
Mama Lou's Italian Kitchen
UP Town Center
09176203017
Menu:
– Salpicao: Single P360, Family P175
– Spinach & Goats Cheese Pizza: Regular P385, Large P495
– Mama Lou's Special Pizza: Regular P420, Large P525
– Truffle Mac & Cheese Pasta: Single P360, Family P1455
– Spaghetti Seafood Olio: Single P385, Family P1455
Get Greens
One Banawe Complex
09171495082
Menu:
– Salmon Poke Bowl- P285
– Chicken Blueberry Cheese Wrap- P230
– Mad Monkey Green Smoothie- P140
– Get Geisha Salad (Vegan)- P150
– BBQ Langka Poke Bowl- P285
Ross & Marina
Mo. Ignacia
9338647875
Menu:
– Grilled Tuna Belly- P499
– Kalabaw Chops- P249
– Blue Marlin Sisig- P399
– Molo Batchoy- P222
– Laswa- P199
Secret Burger
Katipunan, Quezon City
9171447325
Menu:
– Double Deluxe Cheeseburger- P250
– Double Bacon Cheeseburger- P299
– Deluxe Cheeseburger- P150
– Chicken Tenders and Fries Combo- P179
– Classic Chocolate Protein Milkshake- P180
Barcino
Eastwood
09951487913
Menu:
– Croquetas Chorizo (Ready to Cook) – P280
– Croquetas Jamon y Pollo (Ready to Cook)- P280
– Mejillones Tigres Rellenos (Ready to Cook)- P280
– Pollo Al Ajillo (Ready to Heat)- P350
– Albondigas de la Abuela (Ready to Heat)- P350
Pepeton's Grill
Mother Ignacia Quezon City Branch
09174606039
Menu:
– Kapalmuks (Crispy Pork Face) P699
– Crispy Kare Kare P499
– Crispy Pata P599
– Sinigang na Ulo ng Salmon sa Miso P349
– Bundok Rice to Share P199
Zark's Burger
Eastwood – 09062028834
Araneta Center Cubao – 09054931016
Menu:
– Zark's Ultimate- P189
– Zark's Classic- P144
– Three Pointer- P179
– Zark's Double Cheeseburger- P239
– Chicken Fingers- P279
---
San Juan
Barcino
Santolan Town Plaza
09770976784
Menu:
– Croquetas Chorizo (Ready to Cook) – P280
– Croquetas Jamon y Pollo (Ready to Cook)- P280
– Mejillones Tigres Rellenos (Ready to Cook)- P280
– Pollo Al Ajillo (Ready to Heat)- P350
– Albondigas de la Abuela (Ready to Heat)- P350
---
Taguig
Wildflour
BGC
63288567600
Menu
– Kimchi Fried Rice- P713
– Lasagna Bolognese- P569
– Salted Chocolate Cake Slice- P345
– Young Coconut Pie Slice- P259
– Soup, Salad, Sandwich- P569
Barcino
Uptown Parade
09177054332
Menu:
– Croquetas Chorizo (Ready to Cook) – P280
– Croquetas Jamon y Pollo (Ready to Cook)- P280
– Mejillones Tigres Rellenos (Ready to Cook)- P280
– Pollo Al Ajillo (Ready to Heat)- P350
– Albondigas de la Abuela (Ready to Heat)- P350
BirdBox
BGC
88890069
Menu
– Yangnyeom Sauce
– Tebasaki Sauce
– Kare Sauce
– Bokonomiyaki Sauce
w/ Rice – PHP 169
w/ Fries – PHP 189
Falafel Yo
Two Maridien
09176227258
Menu
– Falafelito- P129
– Falafel Yo- P179
– Ouchy Ouchy- P199
– Pita fries- P89
– Lemon mint- P109
Single Origin
Bonifacio High Street Central
09369511768
– Spinach and Mushroom Casserole- P320
– Bratwurst Sausage- P340
– Forest Ham- P365
– Sausage Platter- P380
– Truffle Mac and Cheese- P450
---