A lot of us have spent most of our time at home since the community quarantine stared. Some businesses operate with a skeleton workforce, while others continue with a work-from-home setup. We are gradually adjusting to the "new normal".
For basic necessities like food, we find delivery and pick up services useful. But there are moments when we crave home-cooked meals, thus the spike in recipe searches online.
For those who like to prepare and cook their meals or hone their cooking or baking skills, there are mobile apps that provide a plethora of options for food recipes — easy-to-cook and food upgrade. Here are some of the popular free recipe mobile apps offered by both iPhone and Android.
---
WHAT'S COVERED IN THIS GUIDE?
Tasty

Although this recipe compilation app is based in the US, the recipes are mostly easy to follow and applicable wherever you are. You just need to find substitute ingredients for others that can't be found locally.
The app has over 4,000 recipes, covering a wide range of dishes and cuisine. You can personalize and filter your search — vegan, comfort food, healthy, low carb, gluten-free, etc. You can also search for recipes by occasion, ingredients, dietary needs, speed, and more. You can also watch the complete recipe videos here. You can also make a list of recipes you want to do for later on your My Recipes page.
---
Yummly Recipes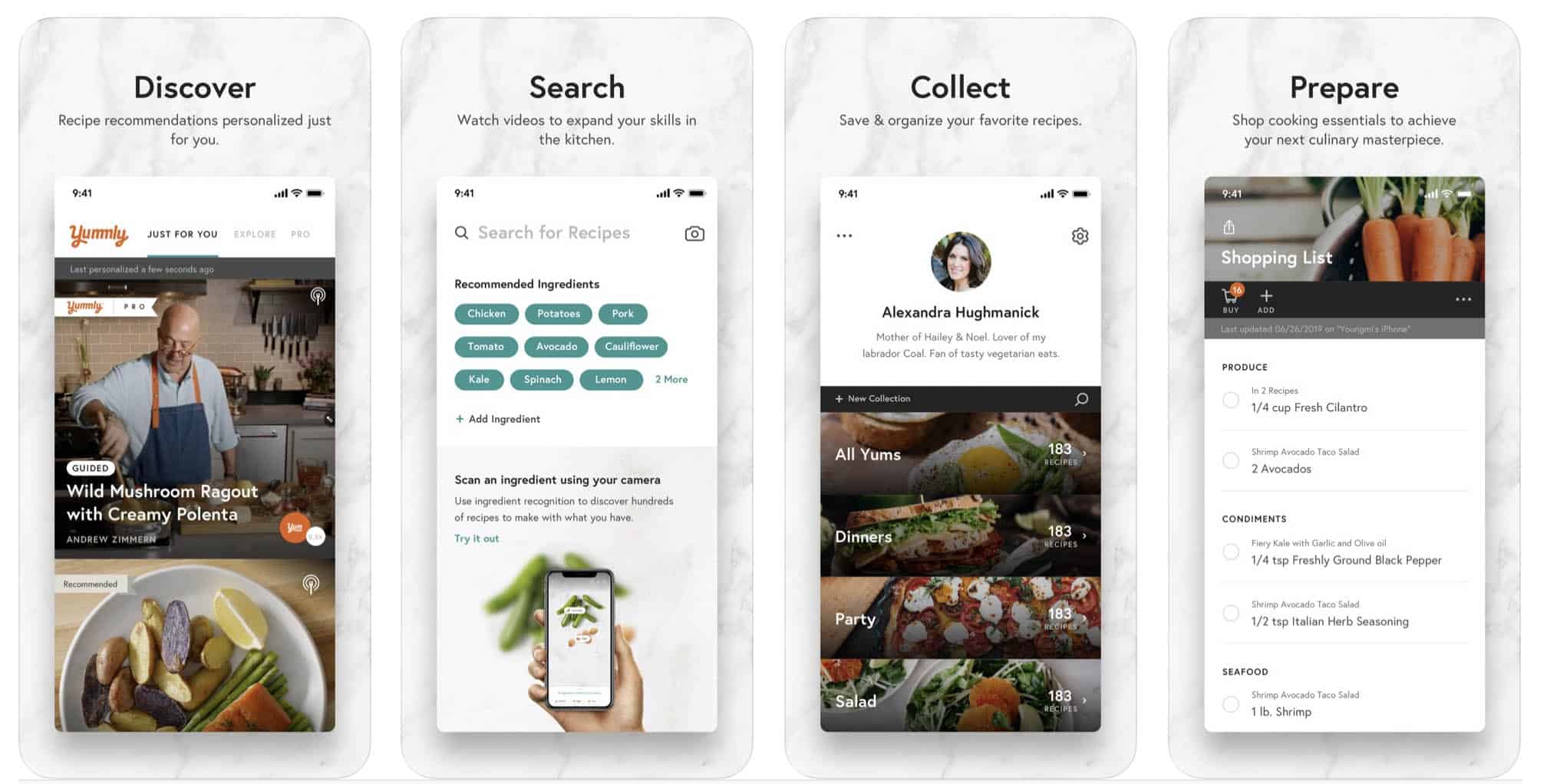 The Yummly app serves as your smart cooking sidekicks with features such as video tutorials and tips, save recipe button for easy organization, recipe scheduling, tracking nutritional value and serving, and many more. It can also suggest recipes for available ingredients you have at home.
Want to try a recipe but you don't have the ingredients yet? You can add the full recipe to your grocery list, so next time you go out for a grocery run, it will be easier for you to shop for the ingredients. The app boasts over two million recipes.
---
Cookpad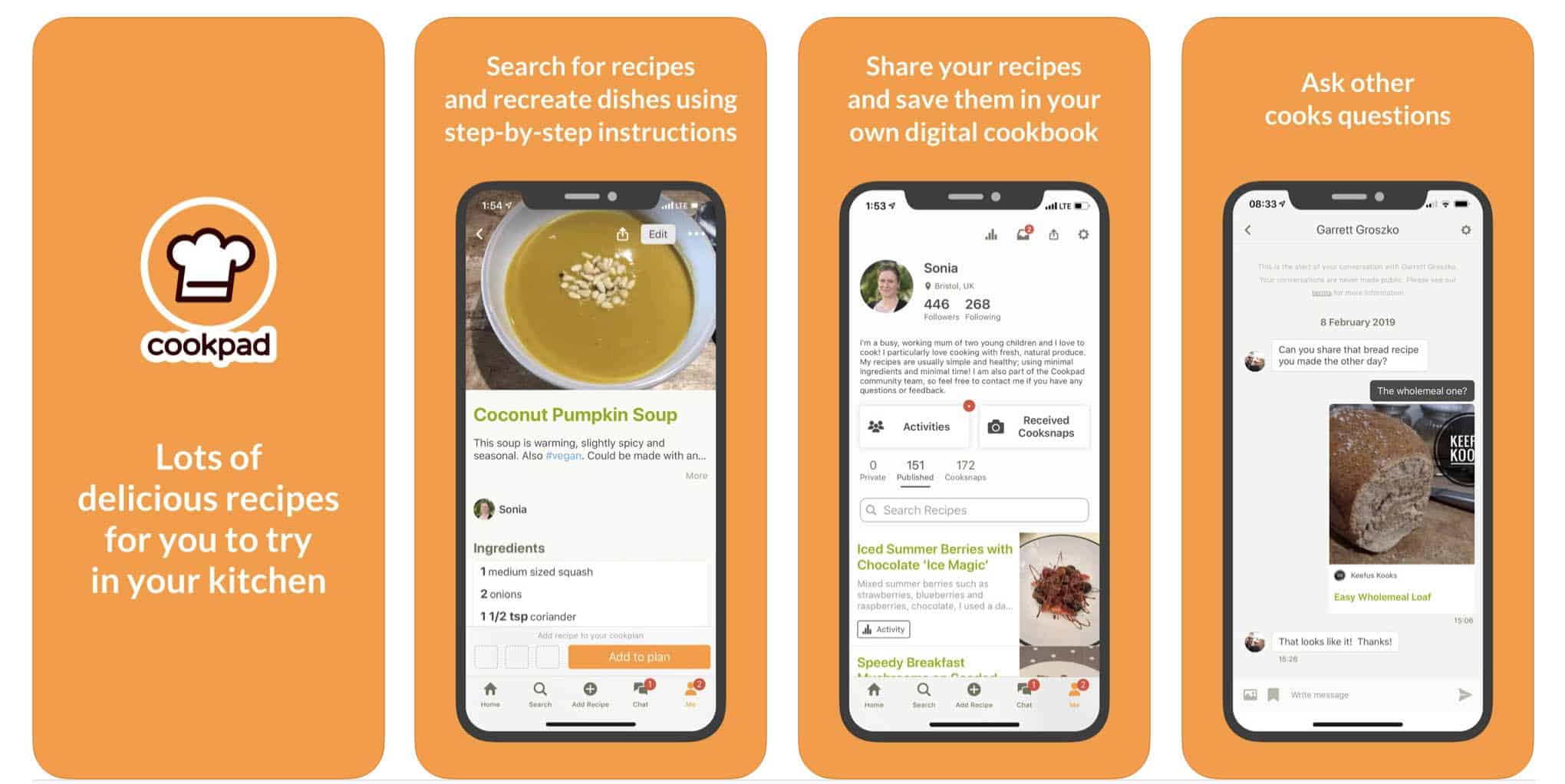 Cookpad is a recipe-sharing app where people from different parts of the globe share their own home-cook recipes. You may also follow other people who have the same interest in cooking and dishes, join group chats, or send private messages if you have questions about the recipes (or just want to compliment them). You can search by recipe author, ingredient, or dish. Be inspired and share your own recipes too!
---
Kitchen Stories Recipes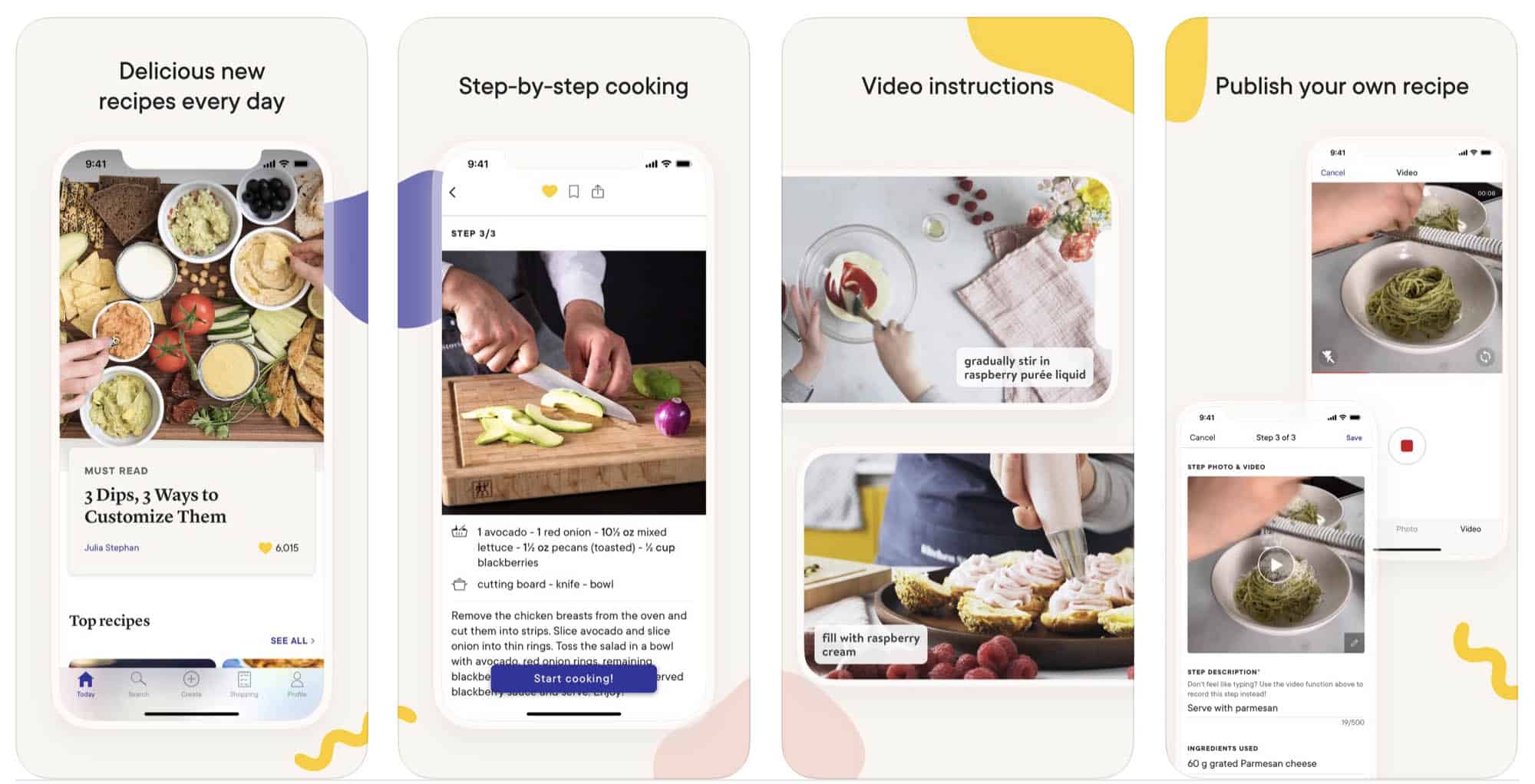 Kitchen Stories Recipe app is another recipe sharing app with millions of users around the world. It provides free recipes, articles, and instructional videos.
Since it's a community of food lovers and people who love to cook, you may also upload and share your own recipes. You may also post photos of the dishes you created and interact with other members in the comment box. You can organize your own grocery list using the auto-generated shopping list. The search feature will also narrow down choices for you based on your preferences.
---
Asian Food – Healthy Recipes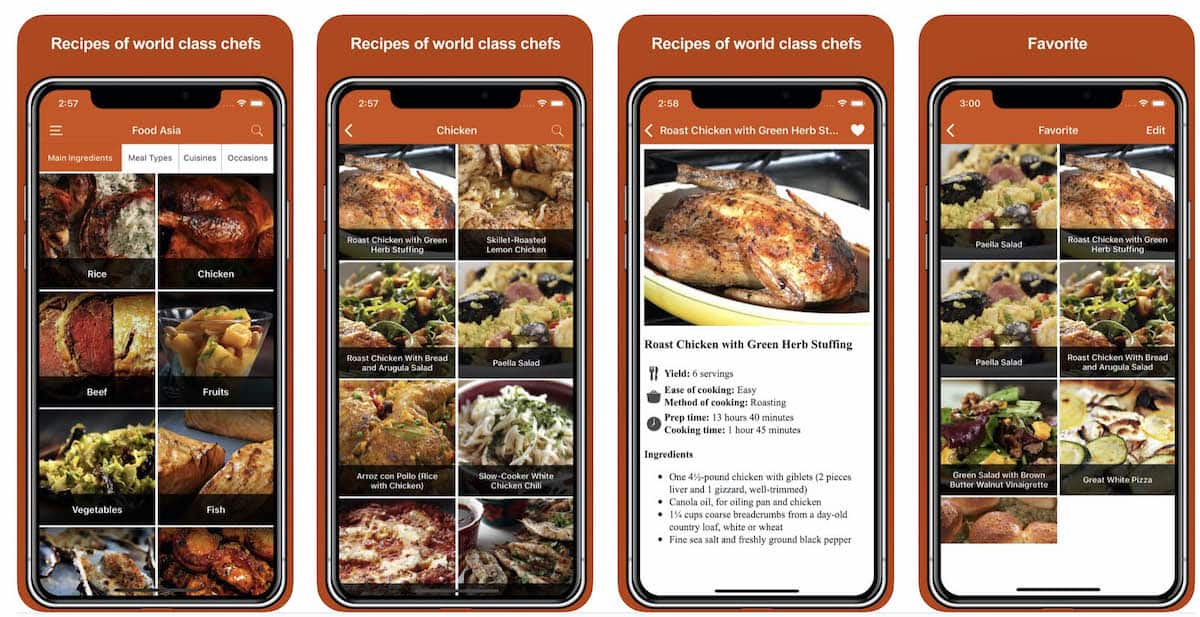 Running out of food ideas for special occasions or even just your regular meal? Asian Food is another app that suggests recipes from distinguished chefs and culinary experts. These add variety to your everyday meal. For those who plan and cook meals for their family might find this app useful.
You may browse based on categories like meal type, main ingredient, occasions, etc. Add the recipes that you like to your Favorite List for quick and instant reference.
---
Pinoy Food Recipes
Craving lutong-bahay? The Pinoy Food Recipes app collates Pinoy recipes, including our beloved local dishes, snacks, and desserts. It's only available on Android.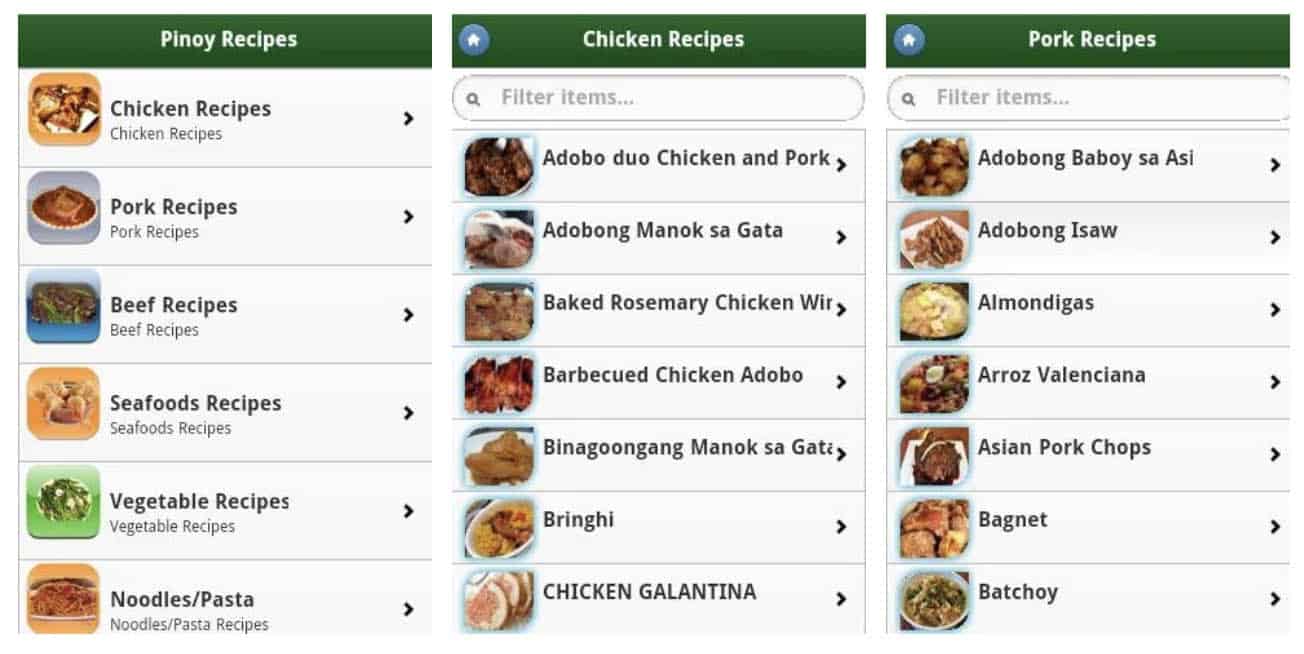 For iOS users, an alternative is Filipino Cuisine: Easy and Delicious, which, aside from the step-by-step procedures also displays nutrition information. There's the search box to make it easier to navigate and a personalized list to save your favorite recipe and note the ingredients.
---
Epicurious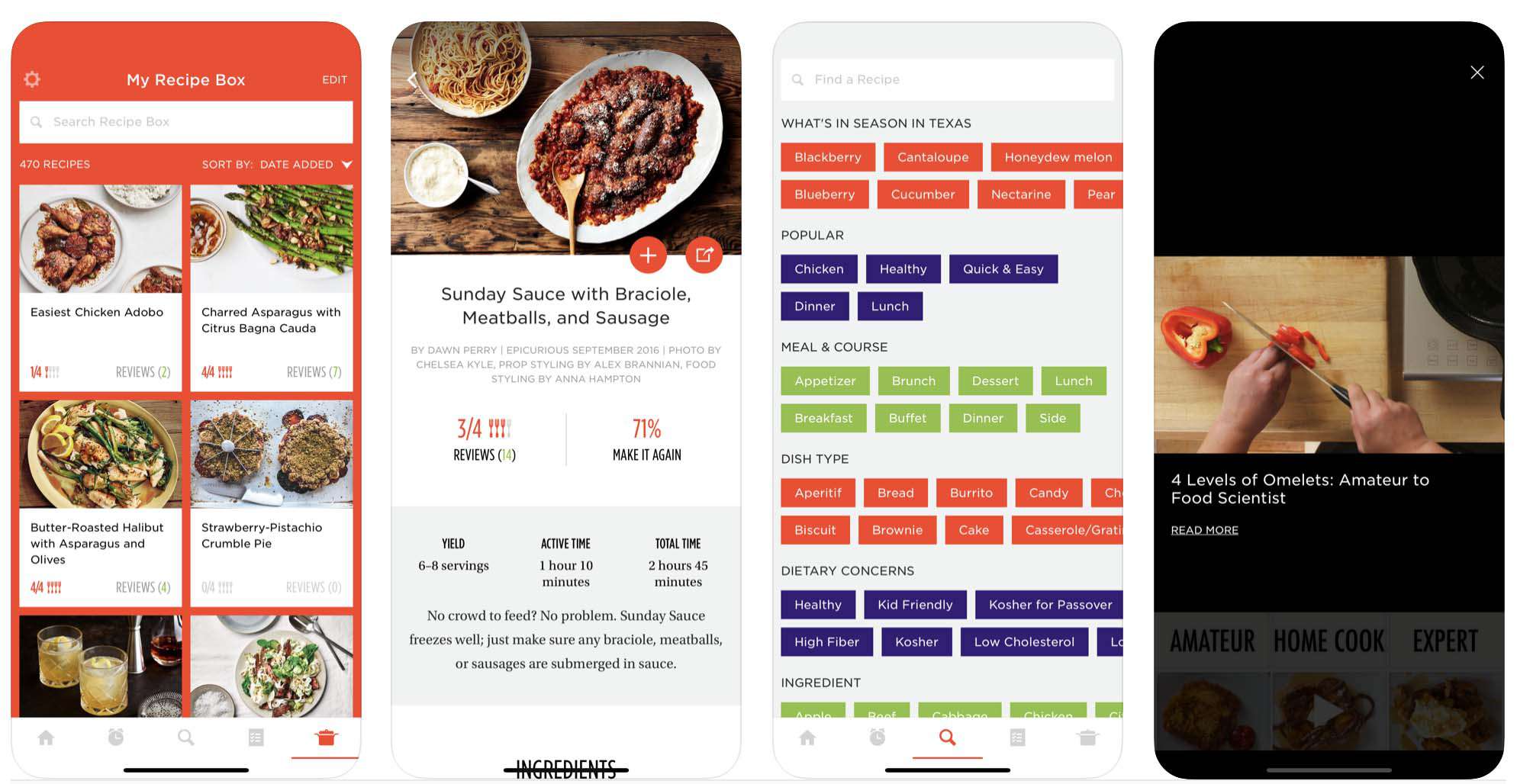 Epicurious is a food app developed by Condé Nast Digital which contains not only written recipes but also videos. With over 35,000 recipes curated from established culinary and food magazine publishers such as Gourmet, Bon Appetit, Harper Collins, and more, you will never run out of food ideas.
It also enables you to save your favorite recipes and whip out a shopping list in a breeze. It boasts features like ingredients toggle, seasonal ingredients finder, and smart kitchen timer.
---
2020 • 7 • 10