2020 • 5 • 15
McDonald's has introduced more cook-it-yourself packs! This time, the new breakfast lineup includes hotcake mix and premium coffee. This is in addition to the frozen chicken products that they started selling last month.
In this post, we'll share with you information on how to order both the breakfast and chicken products that you can cook at home!
WHAT'S COVERED IN THIS GUIDE?
Frozen Chicken Packs
McDonald''s launched their cook-it-yourself chicken packs last month. These frozen products are NOT available in McDonald's branches anymore, but you can still purchase them at various SM Markets and Walter Mart Supermarkets.
See the list of available products below, but take note that product availability varies per branch.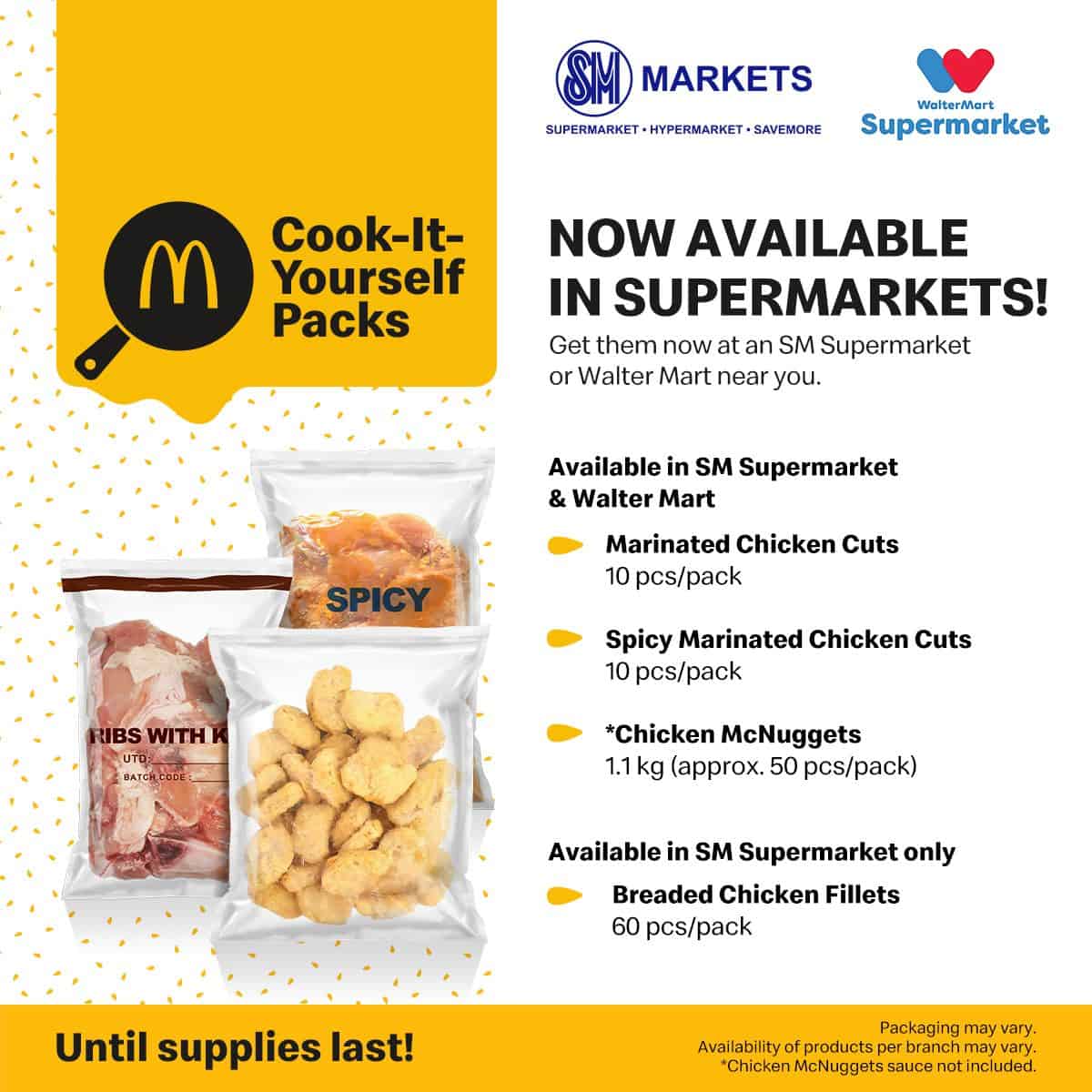 Products available in SM Markets and Walter Mart Supermarkets:
Marinated Chicken Cuts (10 pcs/pack)
Spicy Marinated Chicken Cuts (10pcs/pack)
Chicken McNuggets (1.1kg or approx 50pcs/ pack)
Available only in SM Markets:
Breaded Chicken Fillet (60pcs/pack)
You may check the list of supermarkets where you can buy these frozen packs here: LIST OF PARTNER SUPERMARKETS!
---
Cook-It-Yourself Breakfast Packs
The fast food giant's newest limited offer is their cook-it-yourself breakfast. You can purchase these products at select McDonald's branches through take out and drive-thru only and NOT FOR DELIVERY.
The following items are available until supplies last.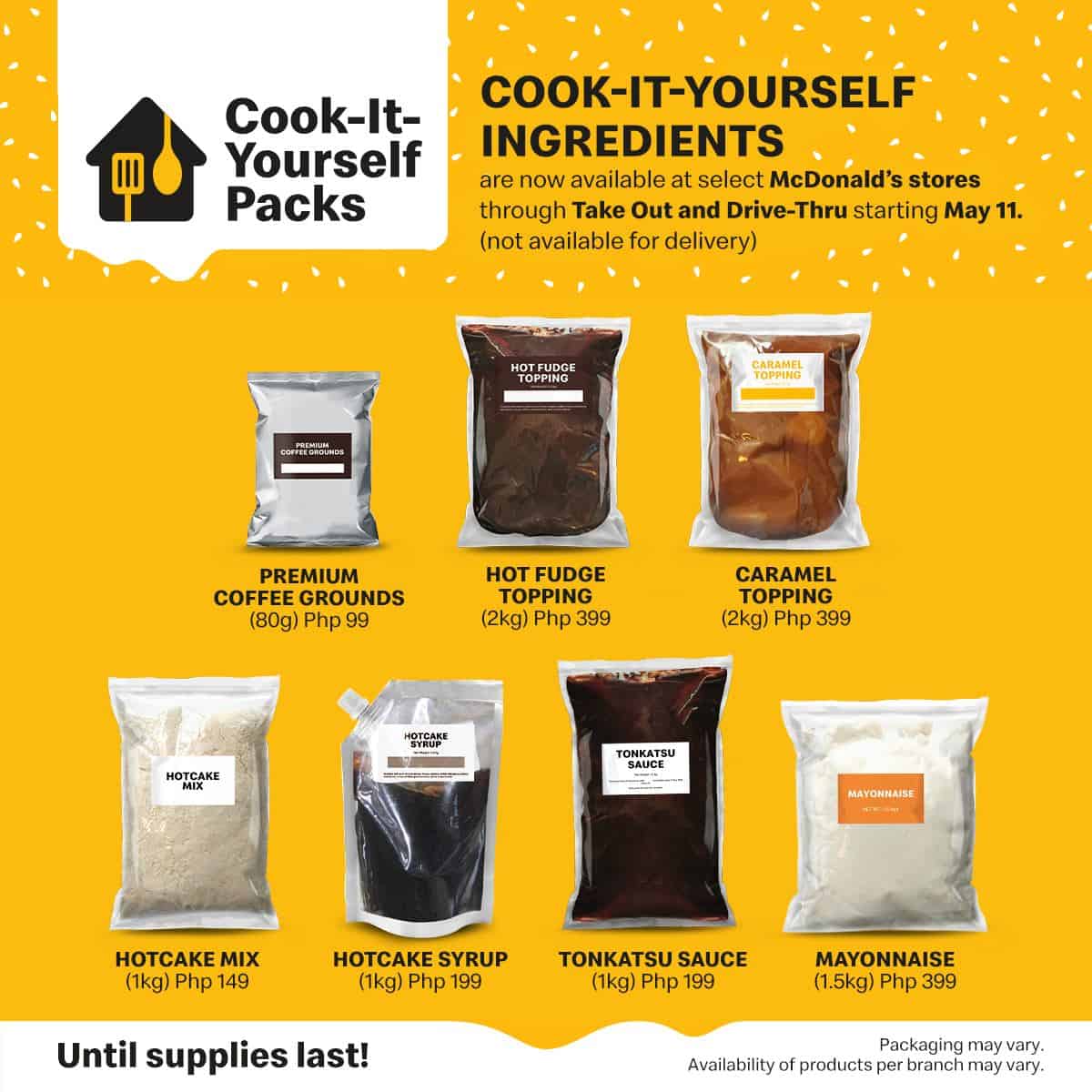 Premium Coffee Grounds (80g)
Price: P99
Hot Fudge Topping (2kg)
Price: P399
Caramel Topping (2kg)
Price: P399
Hotcake Mix (1kg)
Price: P149
Hotcake Syrup (1kg)
Price: P199
Tonkatsu Sauce (1kg)
Price: P199
Mayonnaise (1.5kg)
Price: P399
For the list of stores where you can avail these products, you can check here: LIST OF MCDO STORES SELLING COOK-IT-YOURSELF PACKS!
---
Regular Cooked Menu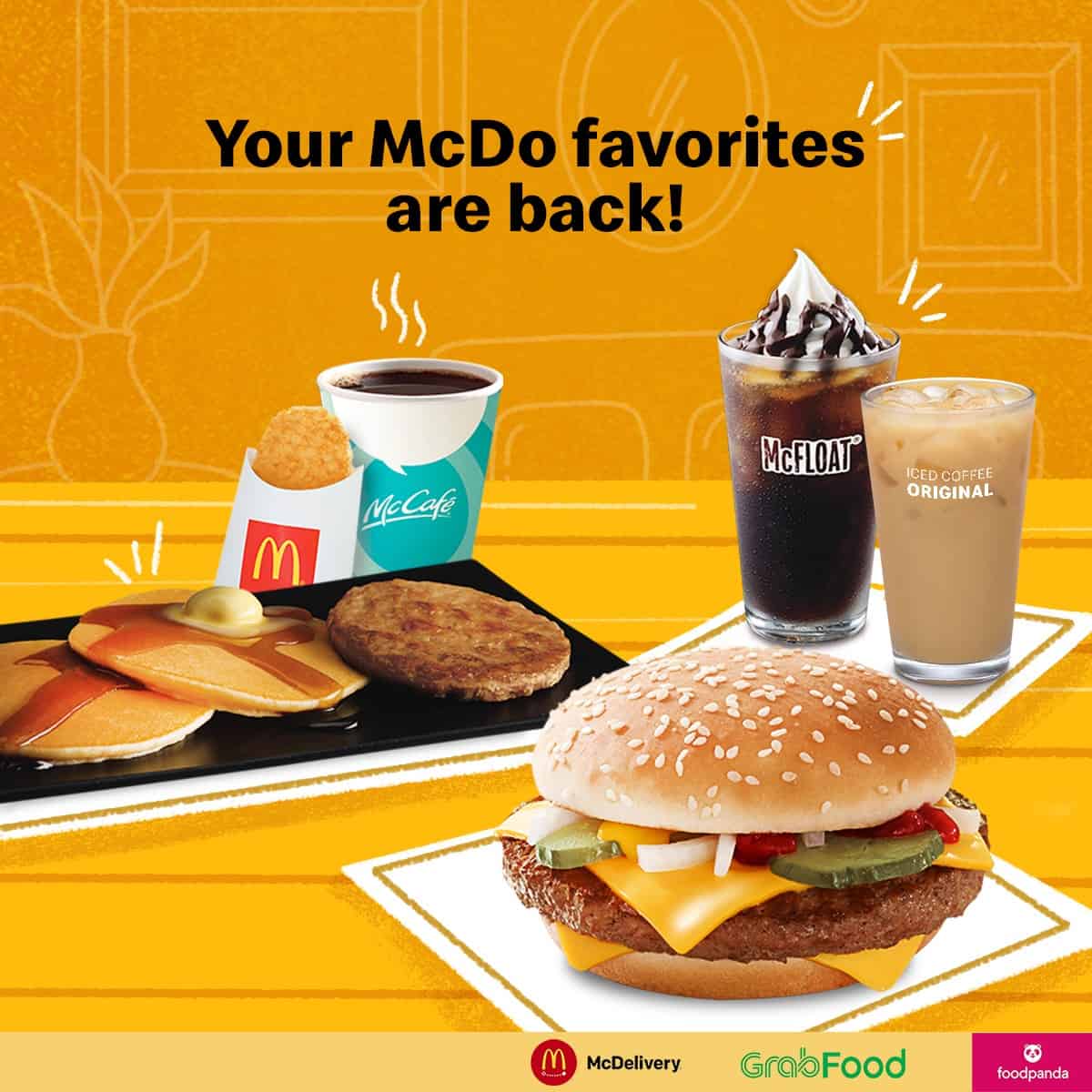 If you're missing your favorite meals from McDonald's, stores are also open within limited hours. They are also offering select menu items depending on the availability. Some branches offer select breakfast items all day. The operating McDonald's stores offer take out, drive-thru and delivery services.
For delivery, you may order through the McDo app, Grab Food, Food Panda, or you may call 8888-MCDO.
For the list of open branches and their operating hours, you may check here: MCDO STORE UPDATES!
---
Images courtesy of McDonald's Philippines
---
More Tips on YouTube ⬇️⬇️⬇️