2020 • 4 • 10
The Embassy of the Republic of Korea in the Philippines will be temporarily suspending the validity of all short-term tourist and non-employment visas, single and multiple entry, issued on or before 5 April 2020.
The announcement was posted on the mission's official website and Facebook page today, April 10.
In addition, the embassy will also be stricter in screening upcoming visa applications by requiring applicants to submit a medical certificate.
The move was made in an effort to stop the further spread of COVID-19 (novel coronavirus disease) and will take effect starting April 13. Below is the copy of the announcement: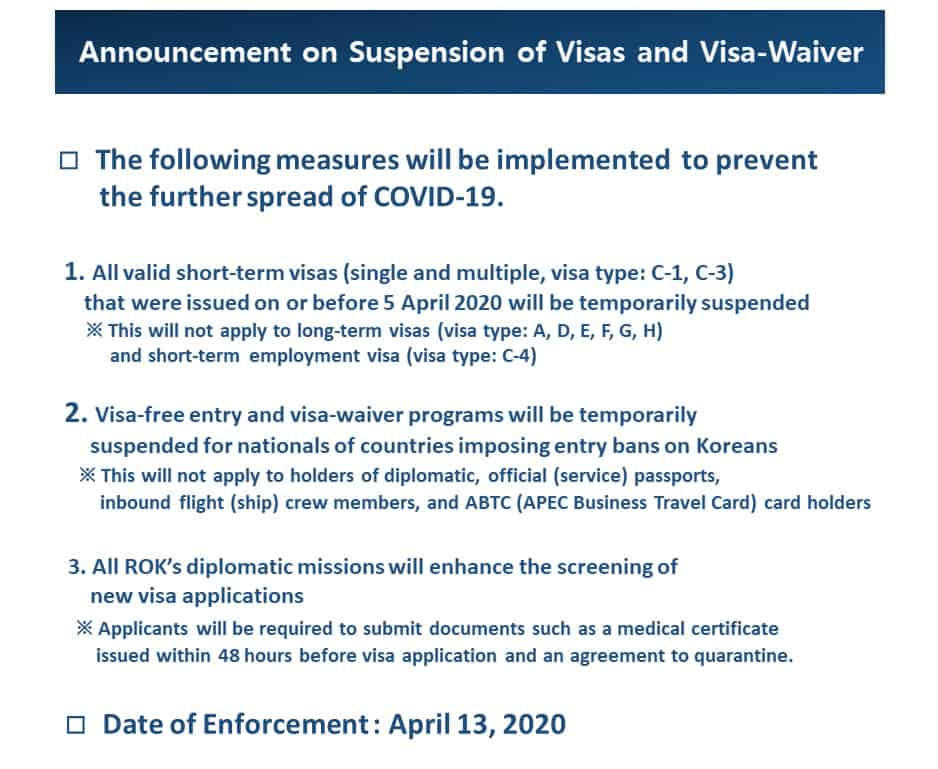 In case the image is not readable, here's the full text of the announcement:
ANNOUNCEMENT ON SUSPENSION OF VISAS AND VISA-WAIVER
The following measures will be implemented to prevent the further spread of COVID-19:
All valid short-term visas (single and multiple, visa type C-1, C-3) that were issued on or before April 5, 2020, will be temporarily suspended. This will NOT apply to long-term visas (Visa Type: A, D, E, F, G, H) and short-term employment (Visa Type: C-4).
Visa-free entry and visa-waiver programs will be temporarily suspended for nationals of countries imposing entry bans on Koreans. This will not apply to holders of diplomatic, official (service) passports, inbound flight (ship) crew members, and ABTC (APEC Business Travel Card) card holders.
All ROK's diplomatic missions will enhance the screening of new visa applications. Applicants will be required to submit documents such as a medical certificate issued within 48 hours before visa application and an agreement to quarantine.
Date of enforcement: April 13, 2020.
---