For the latest version of this post, check out:
Korean Visa Requirements!
IMPORTANT! We will no longer be making updates to this article. Please refer to our more updated post with the title KOREAN VISA REQUIREMENTS & Application Process for Filipinos instead.
---
We know South Korea is one of the most popular destinations among Filipinos because there's not a day that goes by without us receiving questions about getting a Korea visa. Hence, we decided to put up this post.
Note that we're NOT employed by or affiliated with the Korean Embassy in Manila. We're only writing based on our own experience applying for one. (We have applied three times so far, and everything went smoothly every time.) We're publishing this simply to have a page that we can redirect users to when they ask us questions about the application process.
And because this post is limited to our personal experiences, we can only answer questions about applying for a TOURIST visa as an employed, self-employed, or freelancing Filipino. For anything outside of this scope, it would be best to contact the embassy directly to have a definitive answer.
WHAT'S COVERED IN THIS GUIDE?
What are the requirements for applying for a tourist visa?
We have a dedicated post about that here: Korea Visa Requirements
---
How to apply? What are the steps?
We have a step-by-step guide here: How to Apply for a Korea Visa in Manila
---
Do I need a travel agency to apply?
YES, unless you're applying directly in Cebu. The Korean Embassy in Manila requires tourist visa applications filed starting July 1, 2018, to be coursed through any of their designated travel agencies. However, the Korean Consulate in Cebu is not affected by this and will continue to accept walk-in applicants as they did.
If you're applying in Manila BEFORE July 1, 2018, you can still work on the application yourself. It's fast and free. However, if for whatever reason this isn't a practical option — you live in the province, you just can't spare a working day for this — by all means, find a travel agency. Just remember that they will charge you a service fee.
---
Do I need to book flights before applying?
No. It's not one of the requirements. I've tried submitting this before, they removed it from the pile.
---
---
How about hotel reservation? Do I need to book hotels before applying?
No. You don't need it. However, make sure you have an idea which hotel you will be staying because it's one of the required fields in the application form. You don't need to reserve, but you need to know where you intend to stay.
---
Should I stay in the hotel I wrote on the application form?
No. If your application is approved, you can pretty much stay in any hotel or hostel you want.
---
How long does it take to process the application?
At least 25 WORKING DAYS in Manila, according to the embassy.
But according to the travel agencies we consulted, it's safer to apply AT LEAST 30 WORKING DAYS before your trip.
That's how long the embassy takes to process. But you must also allow agencies time to collect, document, sort out, deliver to and pick up the passports from the embassy.
In Cebu, it's 10 working days.
---
What are OECD visas?
These are visas granted by countries that are part of the OECD (Organization for Economic Co-operation and Development). These are the member countries:
Australia
Austria
Belgium
Canada
Chile
Czech Republic
Denmark
Estonia
Finland
France
Germany
Greece
Hungary
Iceland
Ireland
Israel
Italy
Japan
Korea
Latvia
Luxembourg
Mexico
Netherlands
New Zealand
Norway
Poland
Portugal
Slovakia
Slovenia
Spain
Sweden
Switzerland
Turkey
United Kingdom
United States
Update (June 12, 2019): Although Japan is an OECD country, JAPAN VISA is no longer honored by the Korean Embassy in reaction to several cases of applicants submitting FAKE Japan visa and stamps.
---
I have OECD Visas. Does it mean my application will be approved?
Not necessarily. But you have better chances. And that the processing is a lot faster.
---
How long can I stay in Korea if I am granted a visa?
Regular visas usually allow 59 days. You can apply for a longer stay.
---
Can I submit just the bank certificate?
No. Starting October 2016, a bank statement showing transactions for the past 3 months is a required document.
So you have to submit BOTH a bank certificate and a bank statement.
---
How much money should my bank account have to get approved?
I don't know the minimum amount. I don't think the embassy explicitly says it. But I have tried applying with P100,000 in the bank for a 4-day stay and got approved.
I guess the key thing to remember here is that how much you have should be proportional to how long your stay is. For example, if you have only P100,000, don't apply for a 59-day stay because that would obviously raise a lot of questions regarding whether or not you can afford the trip.
To give you a ballpark figure, the Embassy of France requires EUR 120 per day from Schengen Visa applicants. That's around P7600 per day. Add the cost of airfare and hotel, and that should be the minimum amount in your bank. Again, this is not the official rule. We're just using the French Embassy's policy as an example.
---
I'm a freelancer. I don't have a Certificate of Employment. What can I submit?
I have tried applying for a visa when I was a freelancer. What I did was, I requested for a letter from my clients that could serve as a certification that I was working for them. The letter also included what I do for them, when I was hired, how much I receive as compensation, and other details.
Sample Certificate Employment PDF

The embassy accepted it, and my application was approved.
HOWEVER, the Embassy seems to have been MUCH stricter these days, so I'm not sure whether or not they still accept something like this.
---
I'm a student with a part-time job. Should I apply as a student or an employee?
I consulted a designated travel agency for the best way to go about this, and they said that it's better to apply as a student and submit parents' docs.
They said that applying as both employed and student can confuse the embassy. They also said that part-time jobs are often viewed by the embassy negatively because it tells them 2 things: one, that you are not as rooted and as financially stable, and two, that there is a possibility that you will work there too.
---
I don't have an ITR. What should I do?
I honestly don't know how to answer this because I've always had an ITR even as a freelancer.
But according to some of our community members who have done this before, they included an explanation letter and other proof of sources of income in their application.
---
How early should I apply for a Korea visa? Can I apply months before my actual travel date?
If you have a target travel date, apply not earlier than 3 months before that.
When a regular visa is issued, it allows the holder to enter Korea at any time within the next 3 months (90 days) of the issue date. So if your visa is issued on July 1, you can enter anytime before October 1.
But if you're applying in Manila, make sure you apply at least 30 working days before your intended travel date.
---
Do I need to show up to submit the documents?
NO, usually. You can ask someone else to do it for you IF THE REQUIREMENTS ARE COMPLETE.
However, every agency can implement their own rules. So it's best to call the travel agency where you plan to lodge your application to be sure.
---
I need to explain something. Will they accept a cover letter?
Yes. I did once. They accepted it.
---
How much is the visa fee?
FREE if your application is for 59 days or shorter.
P1800 for 60- to 90-day stay.
However, travel agencies will be charging a service fee for processing your application. Fee differs from agency to agency, but it's usually between P700 and P1000.
---
What is the address of the Korean Embassy?
KOREAN EMBASSY IN MANILA
122 Upper McKinley Road, McKinley Town Center, Fort Bonifacio, Taguig city 1634, Philippines
Email Address: ph04@mofa.go.kr
Contact No.: (63-2) 856-9210 visa local no. 270, 500
KOREAN CONSULATE IN CEBU
12th Floor Chinabank Corporate Center, Lot 2, Samar Loop Cor. Road 5, Cebu Business Park, Mabolo, Cebu City
Email Address: phi_cebu2015@mofa.go.kr
Contact No.: (63-32) 231-1516(-9)
---
Is it possible to apply for a multiple-entry visa?
YES, but only if you're qualified. Holders of any of the following credit cards can apply for a multiple-entry visa and are EXEMPTED from providing bank certificates and ITR:
BDO Gold Cardholders: multiple-entry visa valid for 5 years
Gold Visa Credit Card
Gold MasterCard Credit Card
Gold UnionPay Credit Card
Gold JCB Credit Card
American Express​ Gold Credit Card
BDO Elite Cardholders: multiple-entry visa valid for 3-5years
Platinum Visa Credit Card
Titanium/Platinum and World Elite MasterCard Credit Card
JCB Platinum
Diamond UnionPay Credit Card
Diners Club Premiere
American Express​ Platinum Credit Card
American Express International Dollar Charge Cards
Cathay Pacific American Express Credit Cards (Standard and Elite)
RCBC Bankard Premium Card: multiple-entry visa valid for 5 years
World Mastercard (including co-brands Balesin and The City Club)
Black Platinum Mastercard
Diamond Platinum Mastercard
Visa Infinite
Visa Platinum
JCB Platinum
UnionPay Diamond
For BDO, promo is valid until December 31, 2022.
For RCBC, promo is valid until December 31, 2020.
Update: Effective November 11, qualified cardholders must submit credit card statements for the past 3 months + copy of the front side of the card (FRONT only).
Note that you are only exempted from providing financial docs (bank certificate, bank statement, etc.). Employment or business documents must still be submitted.
If unable to provide credit card statements, you must submit personal bank certificate (original) and bank statements showing your history for the past 3 months (original or certified true copy).
---
What are the common reasons why Korean visa applications are denied?
I can only speculate, but based on the messages we receive from our followers, the usual reasons are the following:
You can't prove that you can financially support yourself on this trip. You probably have insufficient funds or your sponsor is not in a good financial standing.
You can't prove that you intend to return (rootedness). You probably don't have a stable job at this point, newly employed, or newly resigned, and it's giving the impression that you intend to work there.
Your intention/purpose in Korea is unclear. This is why it is best to be specific when you're detailing the reasons for your visit.
---
If my application is denied, can I apply again?
Yes, but only after 6 months.
---
What does a South Korea visa look like?
Like this: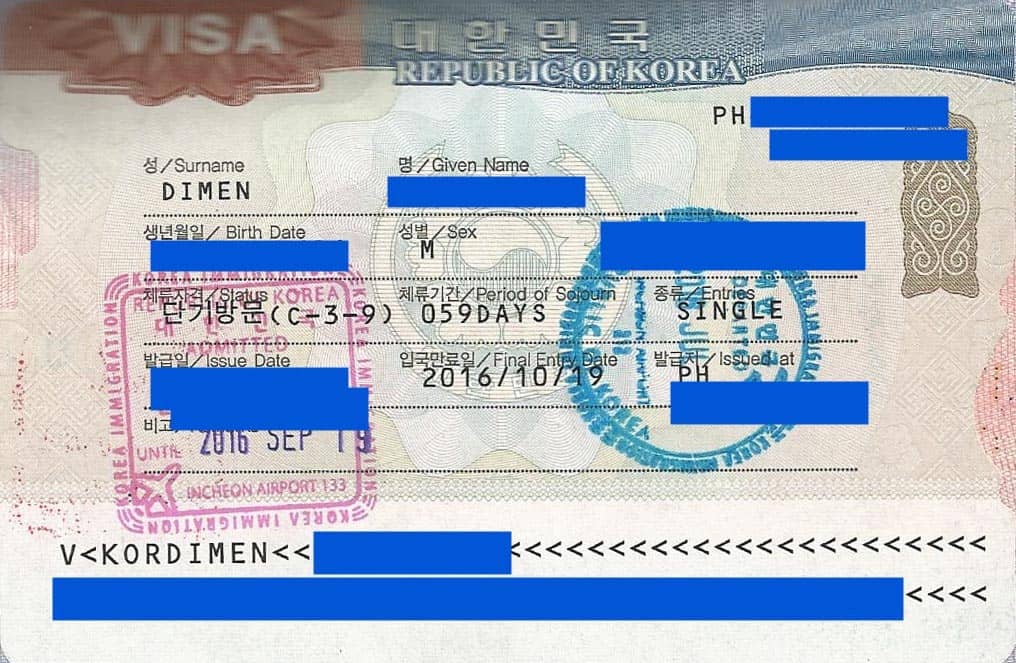 ---
What is the Visa Issuance Confirmation in Section 2 of the Application Form?
The Section 2 of the application form calls for details of Visa Issuance Confirmation. This section is only for those with a document called "Confirmation of Visa Issuance." Many people think it refers to previous Korean visas; NO, IT DOESN'T. The "Visa Issuance Confirmation" is a completely different document, usually issued in Korea.
---
I have more questions. How do I contact the Korean Embassy?
Feel free to call the Korean Embassy to confirm. Here are the numbers:
Manila: (63-2) 856-9210 visa local no. 270, 500
Cebu: (63-32) 231-1516(-9)
---
2️⃣0️⃣2️⃣0️⃣ • 1️⃣ • 6️⃣ – last update
2️⃣0️⃣1️⃣7️⃣ • 3️⃣ • 1️⃣5️⃣ – first up