When The Poor Traveler was in Iloilo, one of the sites we visited was The Church of St. Elizabeth of Hungary in Iloilo, more commonly known as the Jaro Cathedral. It was beautiful and old. There was an ongoing mass and since we didn't want to get attention taking pictures, we decided to not whip out our camera inside. The church seems to be undergoing interior reconstruction when we were there.
The Jaro Cathedral was constructed in 1864. It was the same year that Pope Pius IX named the district a diocese by order of the first bishop of Jaro, His Grace Mariano Cuaterno.
WHAT'S COVERED IN THIS GUIDE?
ARCHITECTURE AND RECONSTRUCTION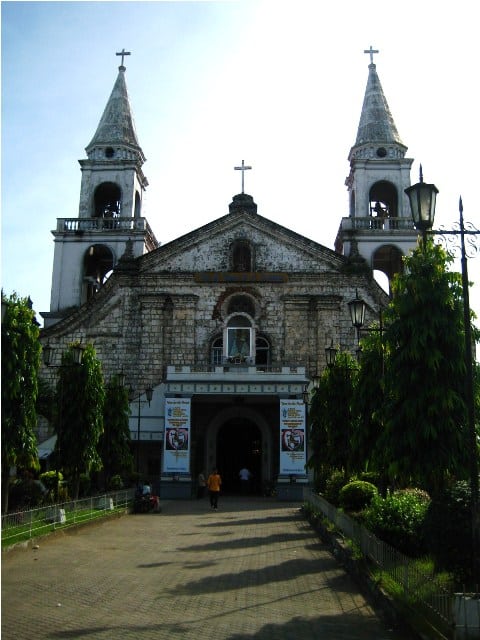 Jaro Cathedral boasts a baroque style with some Gothic elements which were added over numerous renovations through the years. Renovations, you ask? Like most old churches in the Philippines, this cathedral have suffered from many destructive forces including an earthquake in January 1948 that almost destroyed the site completely. But by order of Jaro's first archbishop in 1956, His Excellency Jose Ma. Cuenco, the cathedral was restored.
THE POPE'S VISIT
Did some research after our trip to Iloilo. Apparently, the Jaro Cathedral was the first cathedral to be built in Panay. National hero Graciano Lopez Jaena was baptized here in 1856. Pope John Paul II also visited the cathedral and conducted a mass in 1982. The pope also set a crown upon one of the statues — Nuestra Senora de la Candelaria (the Lady of Candles) — and announced that it was Western Visayas' Patroness.
THE LADY OF CANDLES
By the way, the Lady of Candles 400 years old and is the only female statue in the array of images inside the cathedral. It is perched on a shrine, the walls of which are made of glass. Legend has it that the limestone is growing and that it had grown too large for its original casing. It is said to be miraculous and is in fact the center of Jaro Fiesta celebrated on February 2 of every year.
This is part of our ILOILO-GUIMARAS-CEBU trip. For more posts about the other places we have visited, check out our collection here.

Posted: 2010 • 4 • 30