5 August 2020
For 23 years, The Chocolate Kiss Cafe has been a food institution in UP Diliman. It has been a part of the life of many students, alumni, and other members of the UP community. When Chocolate Kiss announced that their UP Diliman branch will be permanently closed even after the community quarantine, many were heartbroken.
I've seen friends share their memories in the restaurant, their favorite food from their menu, and how badly the Chocolate Kiss will be missed. But the good news is, you may still order from The Chocolate Kiss Cafe's commissary in Fairview, Quezon City for pickup and delivery (via third-party services)!
For a limited time, Chocolate Kiss will continue to offer meals from their Fairview commissary. You may order their meals until August 23. After that, they will be offering desserts only. You may order for pick-up from Fridays to Sundays, 10:00 am – 5:00 pm.
WHAT'S COVERED IN THIS GUIDE?
How to Order
For same day orders, you may call 430-4817 / 8962-8269/ (0908) 883-1396.
For advance orders, cut off is at 12pm of the day before your intended pick up date. Here's how to order:
Visit the official order page of Chocolate Kiss: www.thechocolatekiss.com/order.
Click on the link under ADVANCE ORDER.
Decide whether you're ordering food + cakes or cakes only.
The next page will display their menu. Tick the box corresponding the item you want and the quantity.
On the bottom of the page, choose when you want it delivered.
Choose how you want to get your order, the pick-up time, and preferred mode of payment. Payment options are BDO bank deposit, credit card, and cash (exact amount).
Wait for a message from the Chocolate Kiss staff confirming your order and providing payment instructions. You should receive it within 24 hours.
In case of order concerns or further inquiries, email them at goodstuff@thechocolatekiss.com.
You should pick up your order at this address. Third-party services like LalaMove, Grab and Mr. Speedy are OK.
---
ChoKiss Cake Menu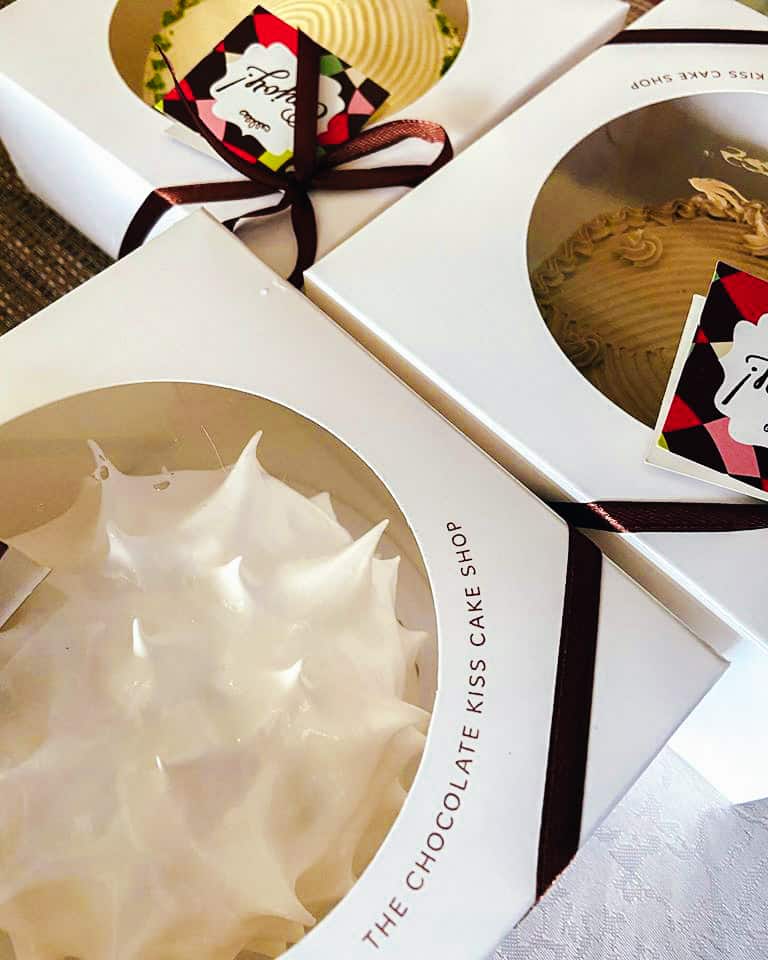 Devil's Food Cake
9″-round – P900
6″-round- P490
4″-round- P180
Dayap Chiffon Cake
9″-round – P1000
6″-round- P530
4″-round- P190
Carrot Cake
9″-round- P1000
6″-round- P550
4″-round- P210
Kahlua Buttercake
9″-round- P1400
6″-round- P760
4″-round- P270
Prune Cake
9″-round- P1000
6″-round- P550
4″-round- P210
Quezo Chiffon Cake
9″-round- P850
6″-round- P480
4″-round- P170
Date Walnut Cake
9″-round- P1050
6″-round- P580
4″-round- P210
Blueberry Cheesecake
9″-round- P1550
6″-round- P790
4″-round- P350
Chocolate Chip Cheesecake
9″-round- P1550
6″-round- P790
4″-round- P350
Sour Cream Cheesecake
9″-round- P1550
6″-round- P770
4″-round- P330
Classic Chocolate Cake
9″-round- P1100
6″-round- P600
4″-round- P220
Sans Rival
7.5″ x 11″- P1050
5.5″ x 7.5″- P580
3″-round / Single-serve- P140
Chocolate Kiss Suite
Box of 28- P800
Box of 14- P450
You can also order non-cake items until August 23. For their non-cake menu, check out the Facebook post below or visit this page: Chocolate Kiss Menu!
---