Revenge travel is real! I'm writing this on the train to Hong Kong Airport, about to end another trip, but I am already planning my next. And I'm sure I'm not the only one. As far as the travel scene is concerned, things have gone back to normal. Well, not quite.
If you've traveled to anywhere at any point over the past year, you'd probably noticed that a lot has changed — but the most drastic is definitely the cost. During the time we were all cooped up in our houses, prices have increased dramatically. Airfare, hotels, meals — most travel items cost much higher these days. All the more reason we should be conscious about how much we spend when we travel and find ways to save more!
This is why I am happy — no, ecstatic — that I can get cashback on my favorite travel apps and websites via ShopBack! We've featured ShopBack a few times on this site before, but for the uninitiated, here's a quick rundown. ShopBack is one of the top shopping and rewards platforms, with over 38 million shoppers across the Asia Pacific region.
When you book with ShopBack, you can get EXTRAAA cashback so that you can do more! Whatever cashback you get, you can spend on other expenses like a ticket to your favorite attraction or a meal at a restaurant in your destination.
ShopBack allows you to get cashback from your hotel bookings, airlines, and even activities. And this coming 10.10, there will be more deals available. Here are some of the travel essentials that can give you cashback!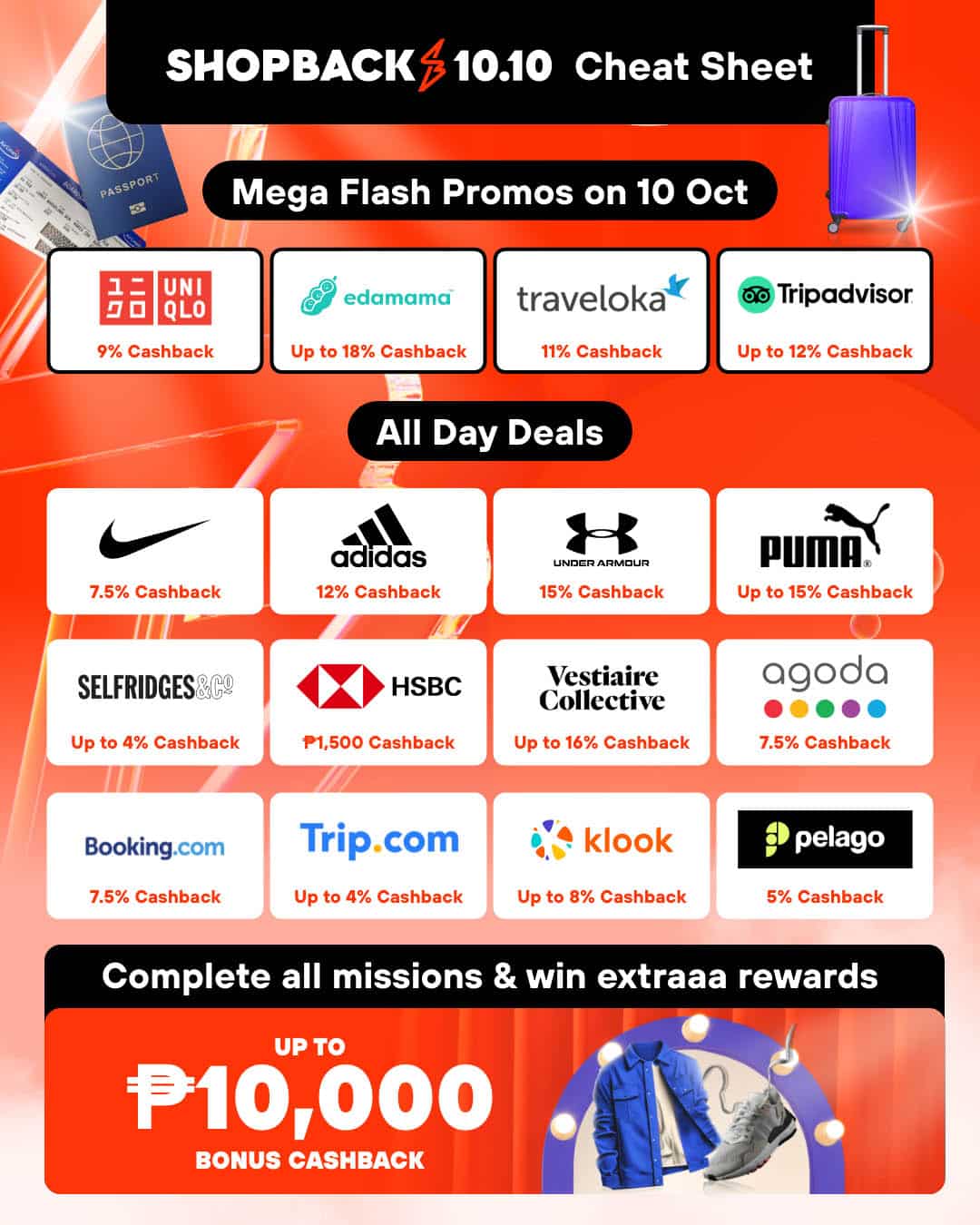 WHAT'S COVERED IN THIS GUIDE?
1. Hotel Booking
Among ShopBack's long-standing partners are Agoda, Booking.com, and Klook. And booking a room using ShopBack can give you extra cashback. For example, for a P10,000 hotel booking, you can get P750 cashback!
---
2. Airline Booking
And yes, I mentioned airlines, too. Singapore Airlines, Etihad, Emirates, and AirAsia are just some of ShopBack's airlines partners that can give you cashback.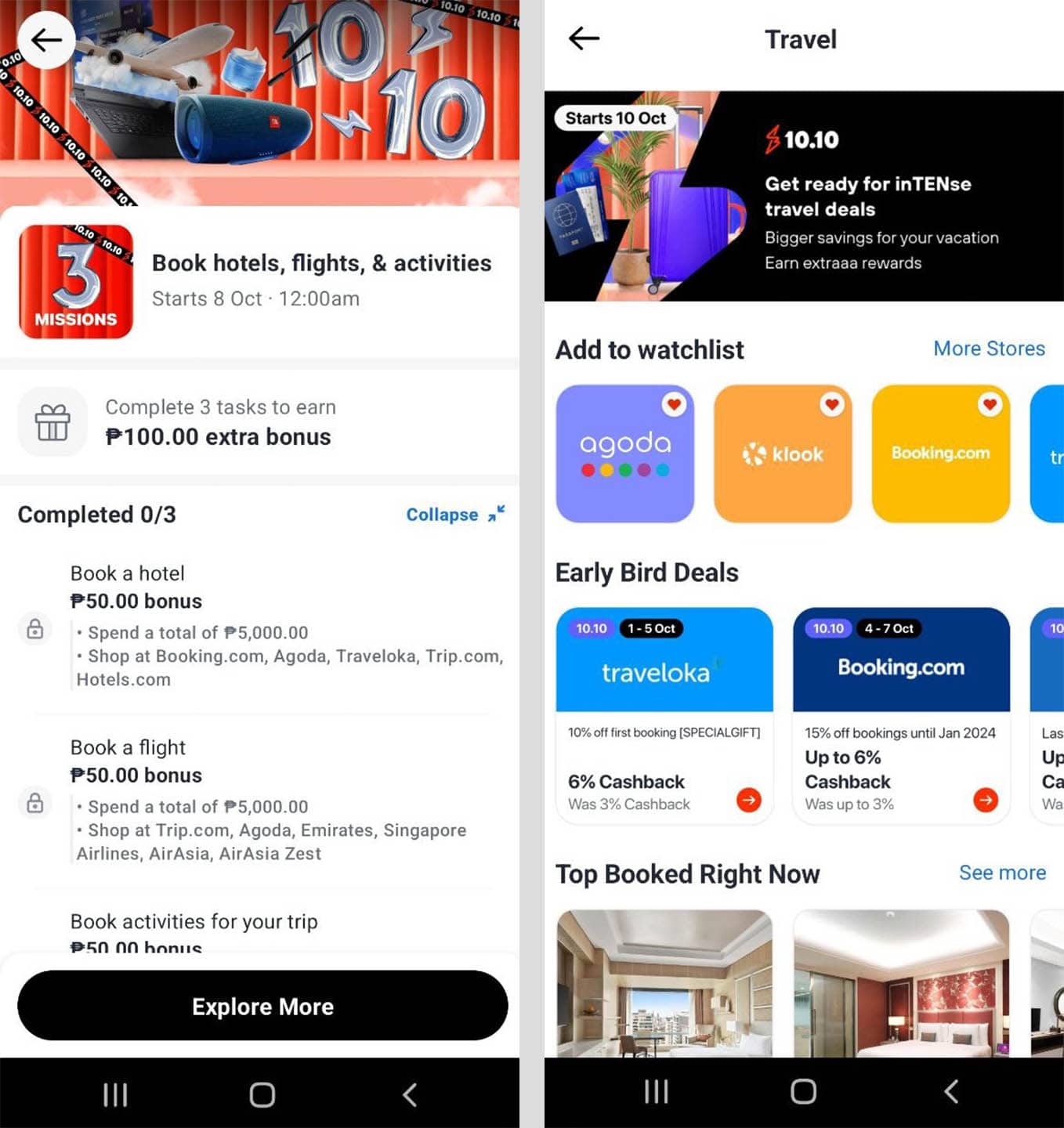 ---
3. OOTD and Accessories Purchases
You can also get cashback for your OOTDs, accessories, and travel essentials! Eyeing a jacket at UNIQLO for an upcoming autumn/winter trip? You can get 9% cashback for that!
---
4. Sign-up Bonus
If you don't have an account yet, you can get P100 bonus cashback instantly if you register using this link: SIGN UP HERE!
Yes, P100 agad-agad just for creating an account with ShopBack! This is an exclusive offer, so do it now!
---
5. Get EXTRAAA cashback when completing Shopback Challenges.
You can enjoy even more cashback when you join challenges on the ShopBack app. Challenges would give you a bonus if you complete some activities in the app. For 10.10 for example, you can get P100 if you book with any travel merchants. This is on top of the usual cashback!
---
6. EXTRAAA Cashback Prizes
By the way, our friend Bogart the Explorer is also running a contest and he's giving away EXTRAAA cashbacks on Shopback's social pages.
In the latest contest, all you need to do is insert his image to a photo of your dream destination for a chance to grab P500 cashback. Details below.
---

This article is brought to you by ShopBack. Established in 2014, ShopBack is one of the leading shopping and rewards platforms in the Asia Pacific region, serving over 38 million customers and generating over US$3.7 billion in annual sales for more than 15,000 in-store and online merchant partners.
---