2011•7•10
There was a drunk man speaking Mandarin seated in front of us while waiting at the Ceres Liner South Terminal and he was talking to us, to my friend Celine in particular. The man didn't look Chinese at all but he kept on uttering Mandarin phrases.
Apparently, the drunk man thought Celine was Chinese and he must have been enamored by the feminine charm beside me that he felt the need to impress. Unfortunately for the drunk man, Celine was not Chinese and she did not understand a single word he had said. Unfortunately for us, he kept on following us even into the bus.
But we said, "Nah, this drunkard will not spoil our day! We're going to Punta Bulata!"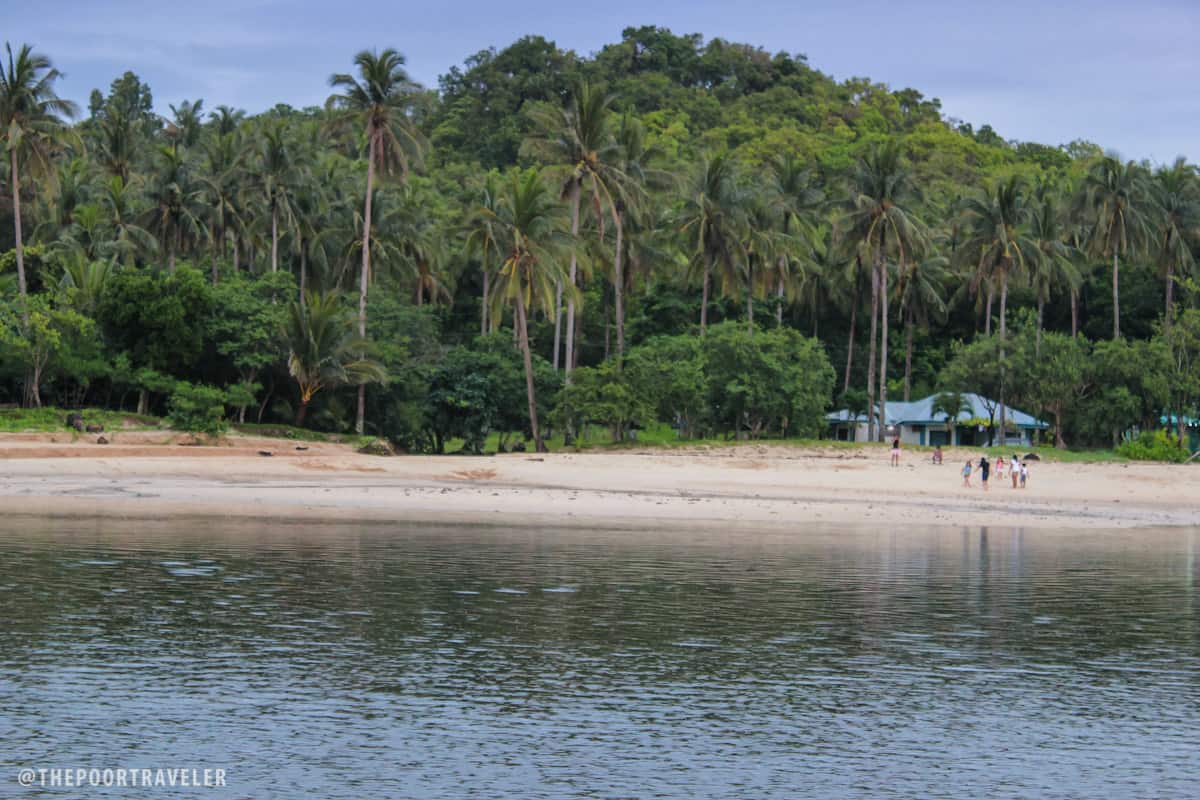 Punta Bulata is a secluded resort in Cauayan, Negros Occidental. The Municipality of Cauayan is four to five hours away from Bacolod City (depending on how long the bus stays at the many stopovers along the way). We barely remember how this quite remote resort made it to our itinerary. What we clearly remember was that we were looking for a white beach.
Cauayan and its neighboring city Sipalay are well-known for their stretch of white beaches. It was one of the first things we learned when we were looking for awesome places to travel to in Negros Occidental. We saw some photos and we were sold. Never mind that a total of 8 hours of our lives would be spent in a bus going to and from Cauayan.
Despite hours of online research, the only way to get to Cauayan we learned was via Ceres Liner. And that's exactly the reason we chose to stay at the Circle Inn, it was near the terminal of Ceres buses passing through Cauayan.
WHAT'S COVERED IN THIS GUIDE?
1. Go to Ceres Liner SOUTH Terminal
Take note that there are two Ceres Liner terminals in Bacolod — Southbound and Northbound. Go to the SOUTHBOUND Terminal because Cauayan is, well, south of Bacolod. This was where we met the drunk man who kept on talking Mandarin.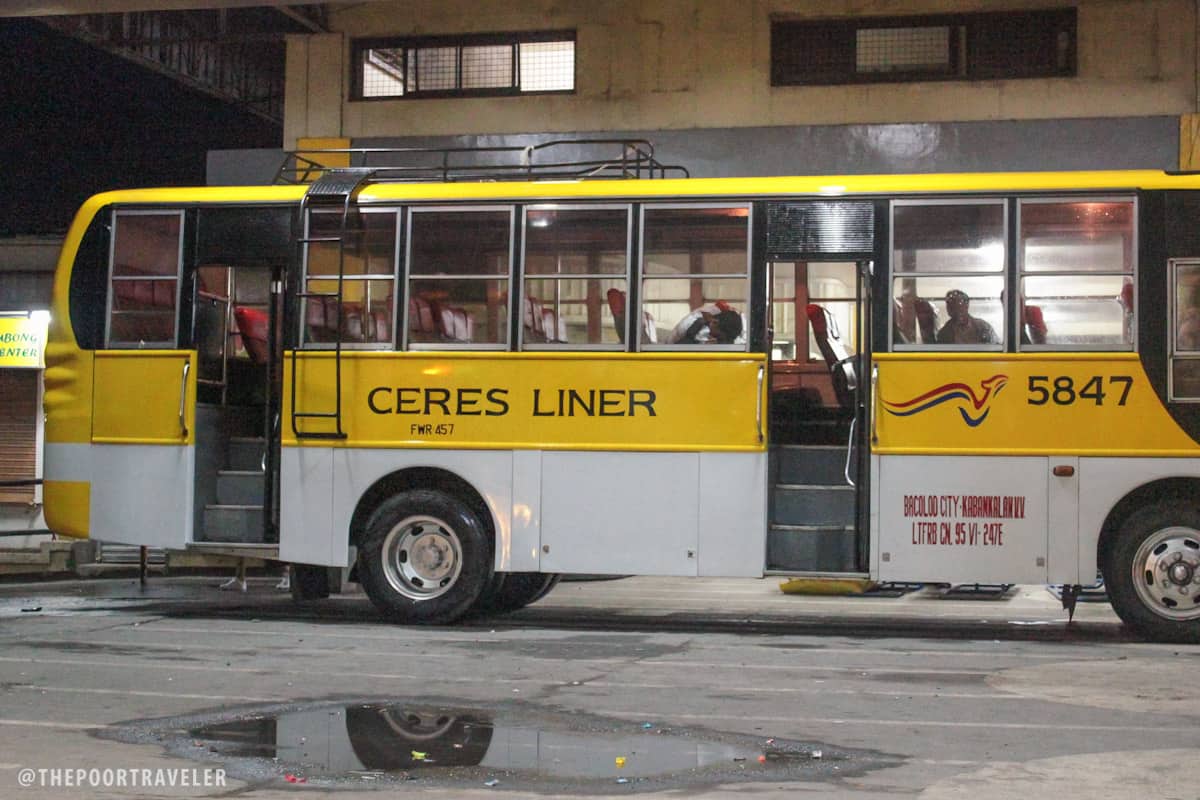 2. Take the Bus to Hinoba-an, Negros Occidental
Hinoba-an is at the southern tip of the Negros Island and buses bound to Hinoba-an will pass through Cauayan. When we called the Ceres Liner office two days before, they told us that the first trip was at 2:45 and there's a bus leaving every 45 minutes. We wanted to confirm this but the drunk man was distracting us.
Anyway, we arrived at the terminal at around 4:30 am and the bus left 30 minutes later. And guess what, the drunk man took the same bus.
By the way, buses taking this route are mostly non-airconditioned, which was completely fine with us because that meant bonding with the wind and the window.
Fare: around P155 per person
3. Ask the conductor to drop you off at Barangay Cartagena going to Punta Bulata.
Apparently, Punta Bulata is really well-known. The conductor knew the exact spot and even the other passengers we had the pleasure of sharing conversations with knew exactly how to get there.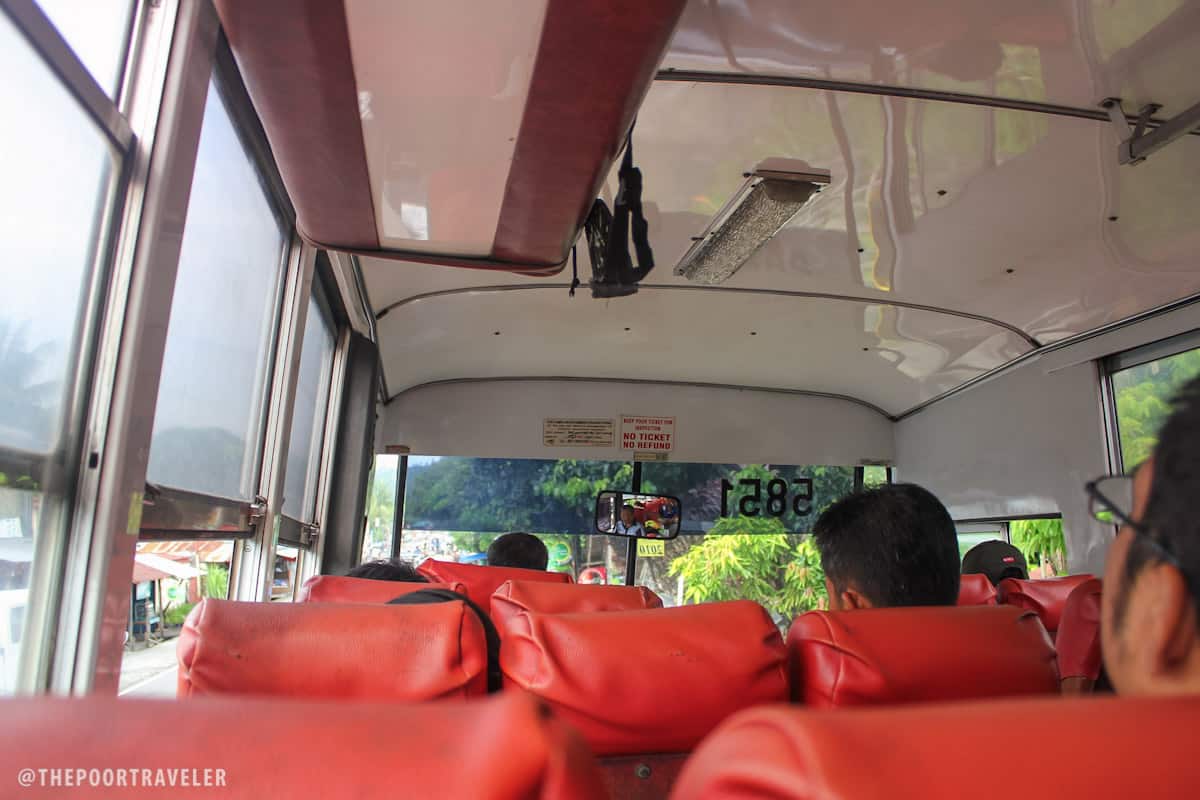 At this point, an inspector boarded the bus and checked our tickets. He noticed the drunk man who had been following us and asked him where he would be going. The drunkard gave him an answer but the inspector said, "You're in the wrong bus" or at least that's what we thought he said. They were conversing in Hiligaynon. After a few minutes of persuasion, the drunk man who had the hots for my friend Celine was finally out of our lives! The bus stopped and he alighted. Hurray!!!
4. Enjoy the view.
It was a very long ride from Bacolod to Cauayan. However, it was very comfortable — the roads were paved and smooth, and the view was lovely. In this one ride, you'll learn interesting bits about the province of Negros Occidental. You'll start counting the cities your bus passes through. You'll be surprised how many cities this province has! And mind you, these are not your ordinary polluted, traffic-stricken cities. They are very laid-back.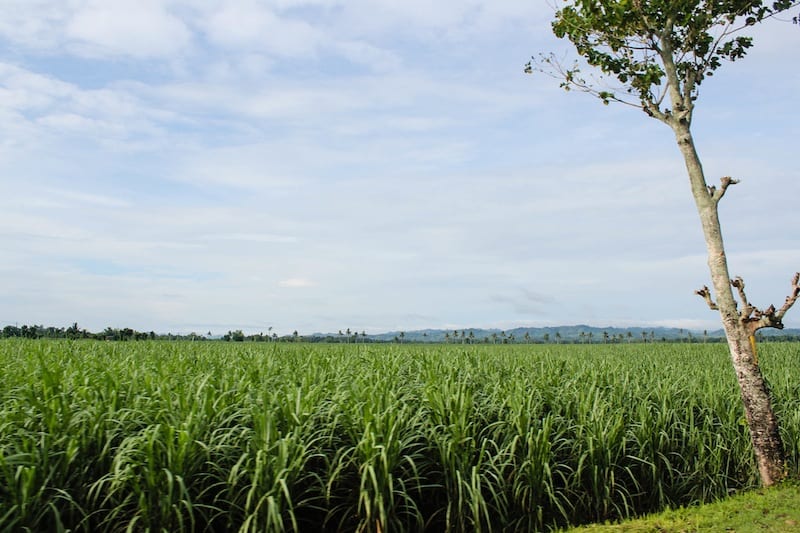 The ride will also give you amazing views of sugar cane fields, rivers and even historical structures like churches.
There will also be several stopovers. Food vendors will try to get your attention and convince you to buy from them. Interestingly, they do not sell peanuts and C2 green tea, hehe. Instead, they offer puto, hard-boiled egg and other local munchies.
You'll notice these things if you're like me or my friend Celine who chose to stay awake the entire trip.
If you're like my other friend Ronnie, you'll notice nothing 'coz you'll be asleep the whole damn time.
5. Get off at Barangay Cartagena.
Alight at the corner of the road going to Punta Bulata.
You know you're at the right place when you see a bunch of motorcycles parked along the highway and there's a Punta Bulata sign at the corner. If you get confused, don't hesitate to ask.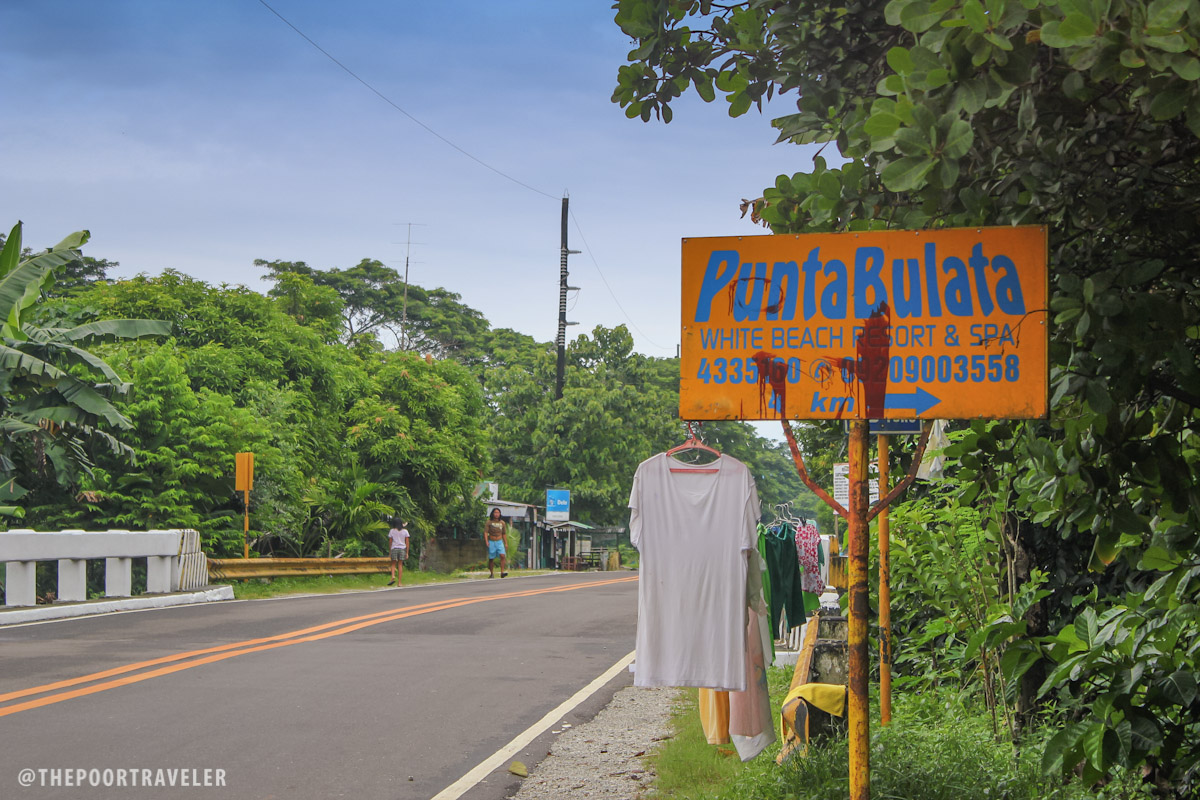 6. Take a Habal-Habal (Motorcycle Ride) to the Resort
This is the long and rocky part. From where the bus will drop you off, take a motorcycle ride to Punta Bulata.
It will be a bumpy ride. Trust me. BuUuUuMPY. Imagine riding a motorcycle on 4.5 kilometers of unpaved, rocky, up-down, oh-shit-what-am-I-doing-here, I'M-GONNA-DDDIIEEEEEE kind of road. It was an adrenaline pumping ride. Just hold on tight and make sure your backpack hugs your back perfectly.
But honestly, I enjoyed it! IT WAS SO FUN!!! Just that it's not the kind of fun you want to do again.
Fare: P100 per person.
7. Welcome to Punta Bulata!
"Hello, Punta Bulata! After that death-defying motorcycle exhibition ride, there had better be a welcome drink waiting for me!"
And guess what, there actually were welcome drinks waiting for us! COOL! We were welcomed by one of the staff, who had been waiting for us outside. He apologized for the bumpy ride and the unpaved road but we told him it was okay and we enjoyed it in a weird kind of way (like how we enjoy Kesha's music).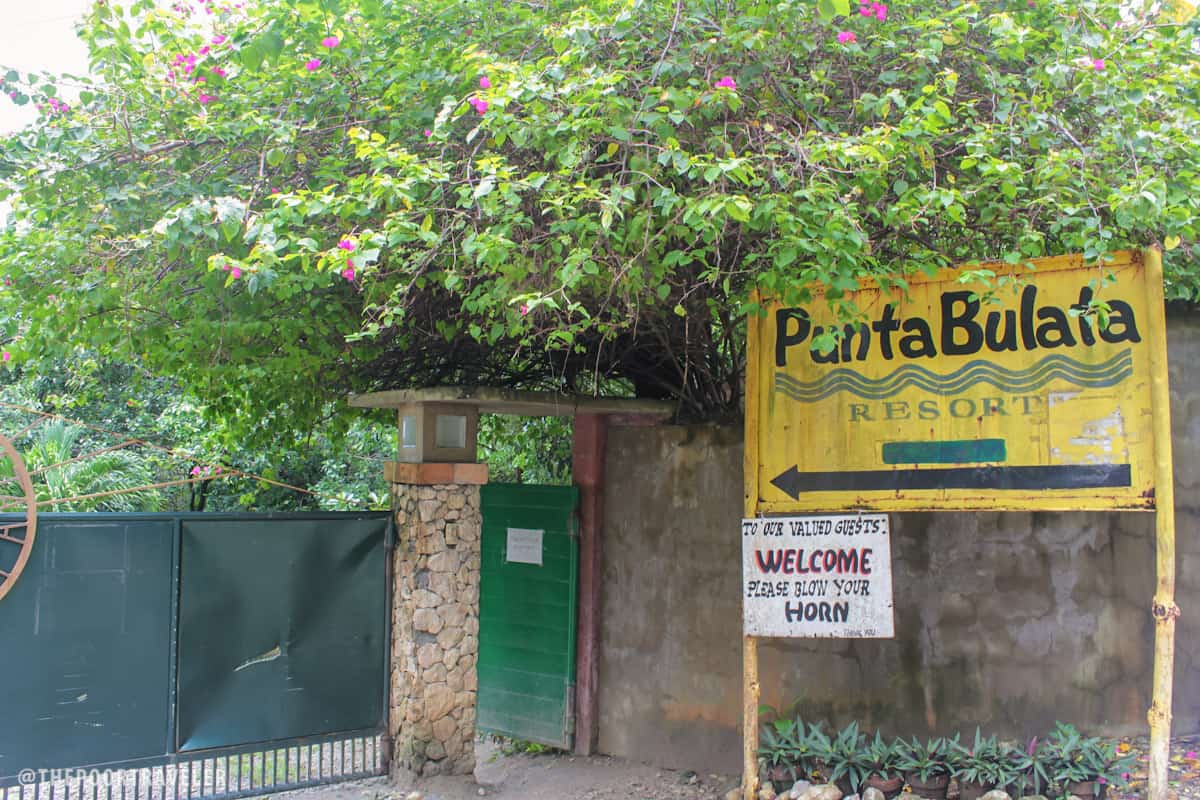 He, then, led us to the reception where another staff member handed us wet towels. And with that, we knew our stay at the resort would be more than memorable. We just hope not to encounter another drunk man.
If you wish to get to Danjugan Island, Punta Bulata offers day tours! More information about it here: Danjugan Island Travel Guide

More about Punta Bulata Resort here: Punta Bulata Review and Rates