2012 • 12 • 27
Imagine being imprisoned in a small cell where you could not do anything but stay alive and every now and then, someone would come to you to prick you with a needle so deep and extract bile from your tortured gall bladder. For some bears, they do not have to imagine; they're living it.
I still remember the pain and pity that I felt when I saw earlier this year a documentary on TV about bear bile farming, a practice of collecting bile from bears in captivity in many parts of Asia. I can recall how angry I felt seeing the constant harvesting of these hormones. Worse, the living conditions that these poor bears have to endure. In many bile farms, these bears are kept in small cages with no space to move in.
I also remember how happy I was at the Tat Kuang Si Park. While I was glad that the place was beautiful beyond compare, what really soaked my heart in happiness was the small bear sanctuary in the middle of it.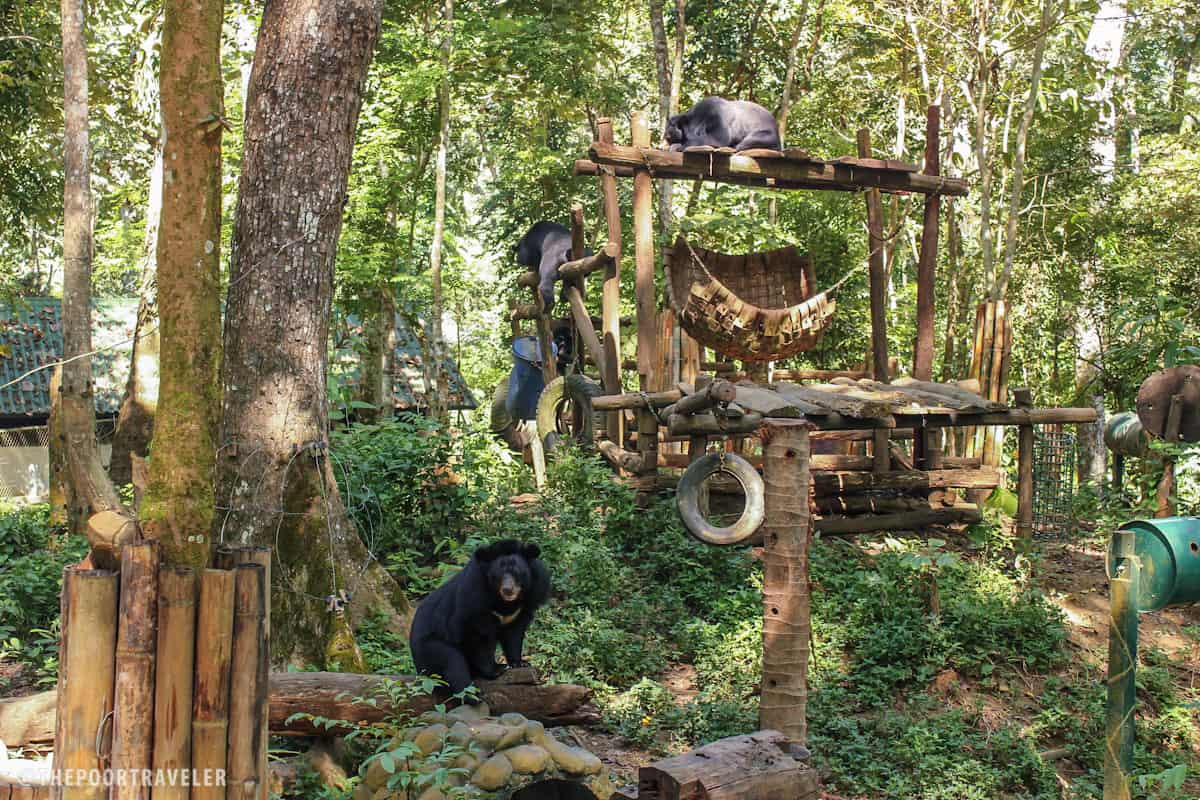 WHAT'S COVERED IN THIS GUIDE?
Free the Bears Fund
At the heart of Tat Kuang Si Park, the Bear Rescue Center is located about 30km from the city center of Luang Prabang. It was established by Free the Bears Fund, an organization founded in 1995 by Mary Hutton after learning about the plight of countless bears in many parts of Asia. The group has been active in campaigning against the cruel practice of bile farming and the capture and illegal trade of bears across the globe. They have made it their mission "to protect, preserve, and enrich the lives of bears throughout the world."
The Tat Kuang Si Bear Rescue Center is just one of the many bear sanctuaries built and set up by Free the Bears Fund in India, Cambodia, Vietnam, and Laos.
Tat Kuang Si Bear Rescue Center
The bears at the center are either donated by their previous owners or rescued from the illegal wildlife trade. From Day 1, a dedicated team have taken care of each and every bear and cub that have entered the facility, which will be a safer home for them at least temporarily. While the bears here are all healthy and free to roam around within the fenced area (a massive improvement from their dismal cages before rescue), they came here malnourished and in dismal condition. Many of them were too small for their age when they were welcomed here but under the proper care of the center, they have grown impressively and have become more sociable in dealing with other bears in the park.
Most of the bears here belong to the Asiatic Black Bear species. Every one of them at the rescue center has a name and a distinct personality. One acts like a boss, some are very shy, some like playing with the wheel, others like sleeping in the hammock. The most usual way of determining who's who is by their crest, which is unique to each bear. I just wish the place were even more spacious to give them more room to roam around and run and climb and do what bears are supposed to.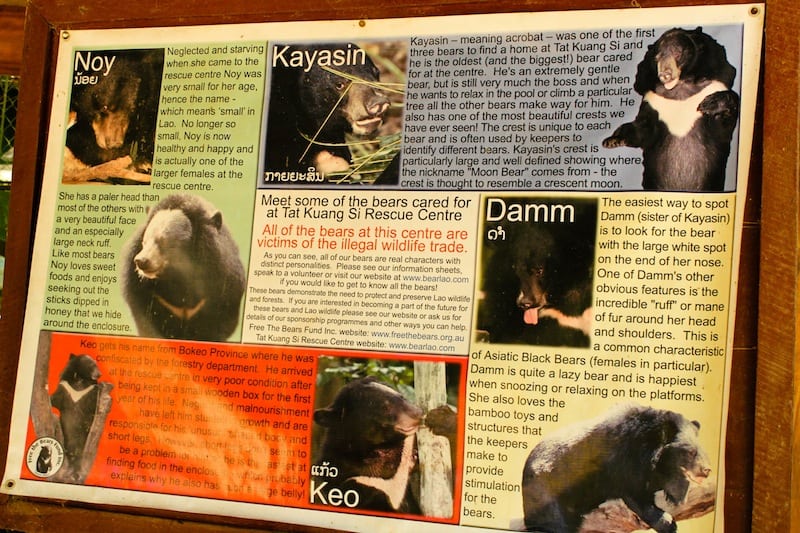 A long viewdeck runs parallel to the sanctuary. This is where visitors may choose to stay, watch the bears, and take photos. To get to the Kuang Si Falls, visitors will pass through the center and many of them choose to stay for a minute or two to appreciate the cuteness of these utterly lovable fellas. Needless to say, it is an unexpected but very welcome treat for visitors to be introduced to these massive mammals along the way. This wildlife center may be small and humble but it certainly is the soul of the Tat Kuang Si Park. These bears steal hearts.