A more updated version of this article can be found here: STILTS CALATAGAN NEW NORMAL GUIDE!
---
This DIY TRAVEL GUIDE BLOG focuses only on STILTS CALATAGAN RESORT in BATANGAS. You'll also find the rates, amenities, things to do, and sample budget itinerary. But if you're interested in other destinations in Calatagan, read: CALATAGAN BATANGAS TRAVEL GUIDE.
People have this habit of tagging places as the country's version of other attractions abroad, even when the resemblance is barely there. Often, it's quite a leap. They see blossoming rows of flowers; they call the garden "the Holland of the Philippines." They find a slightly splashier waterfall; they dub it "the Niagara of the Philippines." They visit an old building with a romantic history; they feel like they're stepping into "the Taj Mahal of the Philippines."
Sometimes, it's easy to see the similarities. Case in point: Stilts Calatagan Beach Resort, now with two nicknames bestowed upon it, "the Maldives of the Philippines" and "the Maldives of Batangas."
Both harbor ultra-expensive overwater villas connected by wooden boardwalks. Both are surrounded by shallow waters nurturing an explosion of marine life. And perhaps, Stilts Calatagan could be Maldivian-inspired to begin with. But the similarities stop there. I've been to both the Maldives and Stilts Calatagan, and the two are oceans apart. Literally and figuratively.
Does that mean you should drop your plan and just find another resort for the weekend? Of course not. Stilts Calatagan can stand on its own. After all, it is set in one of the most breathtaking municipalities in Batangas. And as much as I dislike making comparisons, if the Maldives is your dream destination, this is probably the closest to the real thing within driving radius of Manila.
I still don't like this whole of-the-Philippines comparisons, but ugh, whatever floats your boat, I guess.
WHAT'S COVERED IN THIS GUIDE?
Understanding Stilts Calatagan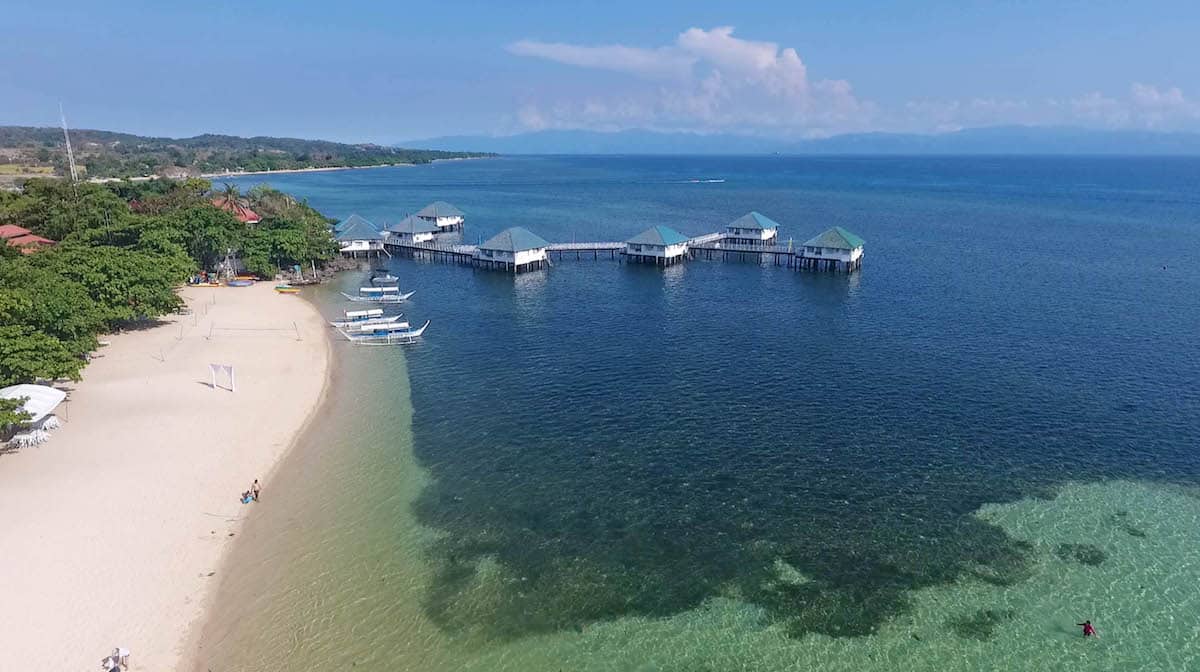 The first thing you need to know about Stilts Calatagan is that it's enormous. From the entrance gate, we still had to drive for a a few minutes to get to the reception area. They have three beaches: Serenity, Harmony, and Destiny. Serenity is separated from the other two by a low headland. It lies adjacent Manuel Uy Beach. Harmony and Destiny are part of the same stretch of sand. Running parallel the beach is a recreation area called Infinity, which is the primary section for day-trippers. The rest is carpeted with natural greenery, dotted with resort amenities.
Stilts Calatagan isn't a new resort. It's been standing for many years now. Here in Batangas, where I live, it's more well-known as a dreamy wedding, debut, and company team-building venue. However, it has caught the attention of the general vacationing public just recently as they continue their search for more weekend destinations near Manila. (And perhaps after some major renovations a couple of years back.) Today, budget travelers are beginning to be familiar with its day tour and camping options. So yes, it is possible to enjoy Stilts Calatagan Beach Resort on a budget.
They implement a different pricing scheme for peak and lean seasons.
Peak season: March-June, December, and holidays.
Off-peak season: January-February, July-November
---
How to Get to Stilts Calatagan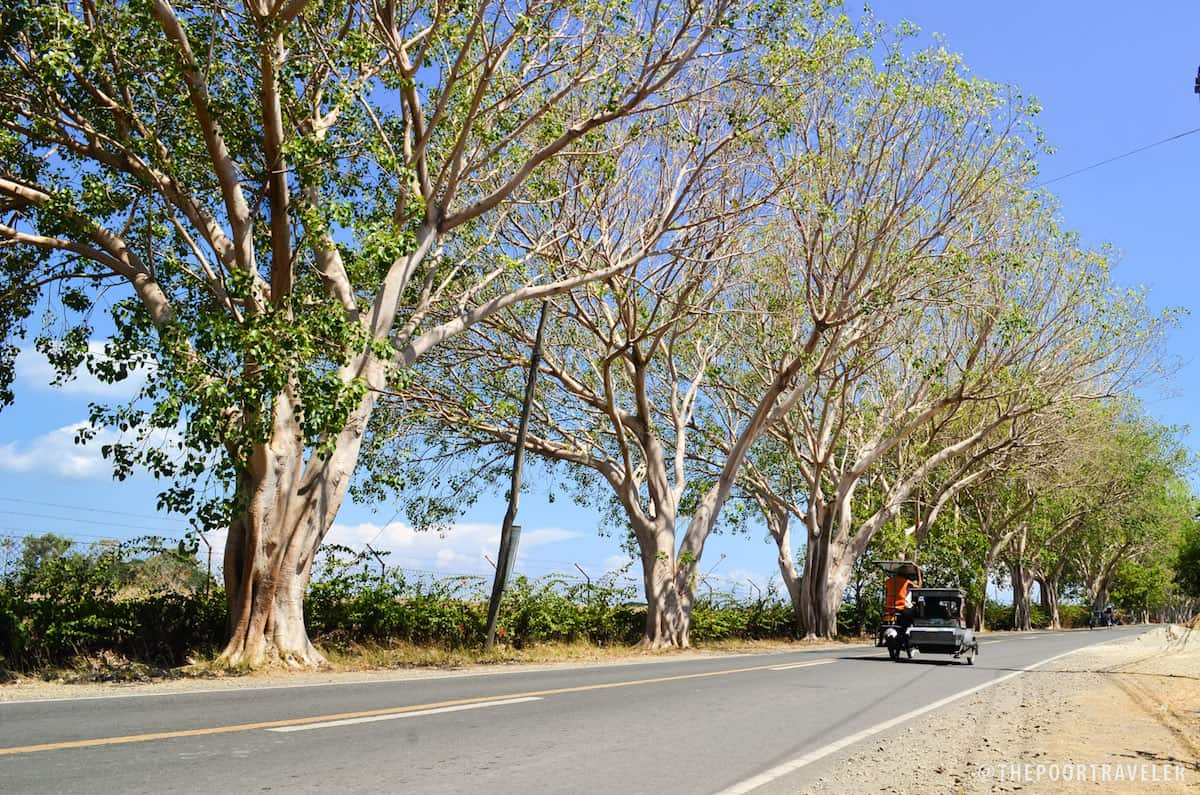 Stilts Calatagan is located along the western coast of Calatagan, which occupies an entire peninsula. It faces the Verde Island Passage, one of the busiest channels in the country. It can be reached after a three- to four-hour drive from Manila, depending on traffic conditions.
---
Stilts Calatagan Tour Package
It's easy to get to Stilts Calatagan from Manila. But if you want to be comfortable and just relax during the trip, consider booking a Klook day tour! The difference in total expenses between DIY and packaged tour isn't much, so it might be worth a look.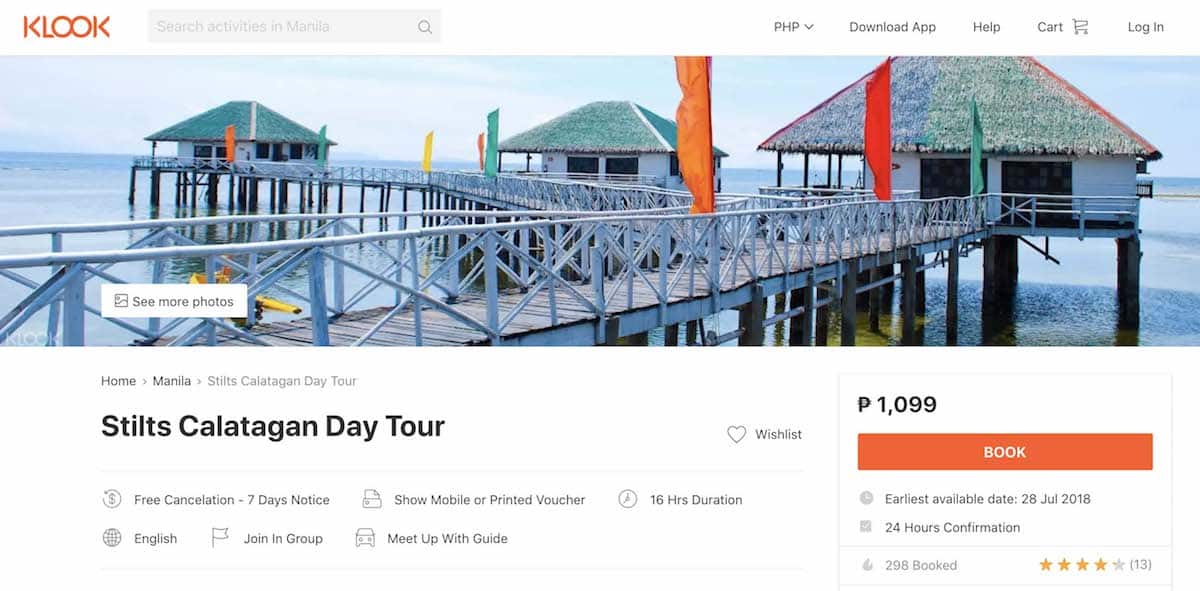 Klook's tour includes the following:
Roundtrip land transfers from Metro Manila
Local English speaking tour coordinator
Entrance fee
Fuel and toll fees
Travel insurance
Meals are not included. The pick up spot is usually at SM Mall of Asia.
✅ RESERVE A SLOT HERE
---
Manila to Stilts Calatagan by Private Car
If you're on a road trip, the best route to reach Calatagan is via South Luzon Expressway (SLEX). Whip out that smartphone and consult your new best friend, Waze. But if you want to do it old school, here are the directions.
Hit SLEX and take Santa Rosa Exit. You can also take Eton City or Greenfield City Exits to avoid traffic jams in Sta. Rosa.
Stay on Sta. Rosa-Tagaytay Road until you hit Silang Junction.
At the junction, turn right onto Tagaytay-Nasugbu Road and drive across Tagaytay and Alfonso.
At the Batangas-Cavite boundary, turn right into Nasugbu. You'll know it's the border when you hit another junction. The left road will lead to Lemery, the right to Nasugbu. The right road has an arc with a big-ass "Welcome to Nasugbu" sign. You won't miss it.
Keep driving until you hit Palico junction. Turn right. You know you're on the right path if you pass by Central Azucarera Don Pedro.
Drive straight ahead until you see another junction with Shakey's (right in front of you) or Shell Gas Station (to your left).
Turn left. You're now on Calatagan-Lian Highway and you'll be passing through Lian town proper. Stay on that road until you reach Calatagan town proper.
Right before Calatagan church, turn right.
On the first corner, turn left.
After Cebuana Lhuillier, turn right onto Ayala Street.
Turn left on the next corner.
You're now driving across Calatagan countryside. You'll pass by a long, beautiful lane of trees. Stay on that road until you see the sign to Stilts (to your right).
Turn right until you reach the resort's gate.
---
Manila to Stilts Calatagan by Public Transportation
Travel to MRT Taft Station along EDSA, where you can catch buses bound for Calatagan (4am-4pm). You can also take a van at the basement parking of Metropoint Mall on the other side of EDSA. I haven't really tried the bus, but I had taken the van to Calatagan a few times before. Travel time: 3 hours. Van fare is P180.
Alight near Calatagan Public Market or anywhere in the town proper.
Charter a tricycle to Stilts Calatagan. Travel time: 20 minutes. Fare: P200 (good for up to 4 pax).
You might want to take the number of your tricycle driver or arrange to be picked up because in this area, it's hard to find one to take you back to the town proper.
---
Within Stilts Calatagan
When you reach the resort's gate, you will be asked by the guard if you have a reservation. Just say you're visiting on a day tour.
You will be given a WALK-IN sign and a small slip of paper telling you where to go. Most likely, you'll be told to go to their area called INFINITY.
There are plenty of signs around. Just keep an eye on them and you'll be fine. After less than 5 minutes, you'll eventually reach the Infinity parking lot.
Proceed to the Infinity Reception area.
---
Stilts Calatagan Day Tour Rates
Stilts Calatagan accepts walk-in guests. Here are the rates for the day tour.
ENTRANCE FEE (per person)
Peak season: P500
Off-peak season: P450
Note: During our visit, the rates were only P385 for peak and P350 for off-peak, but they recently increased the rates.
You can totally enjoy the resort just by paying the entrance fee. You'll get access to the beach, the pool, the shower rooms, and other amenities. However, there are parts that will be off-limits to you. These will be pointed out upon check-in. Their welcoming staff will provide a map and mark these spots.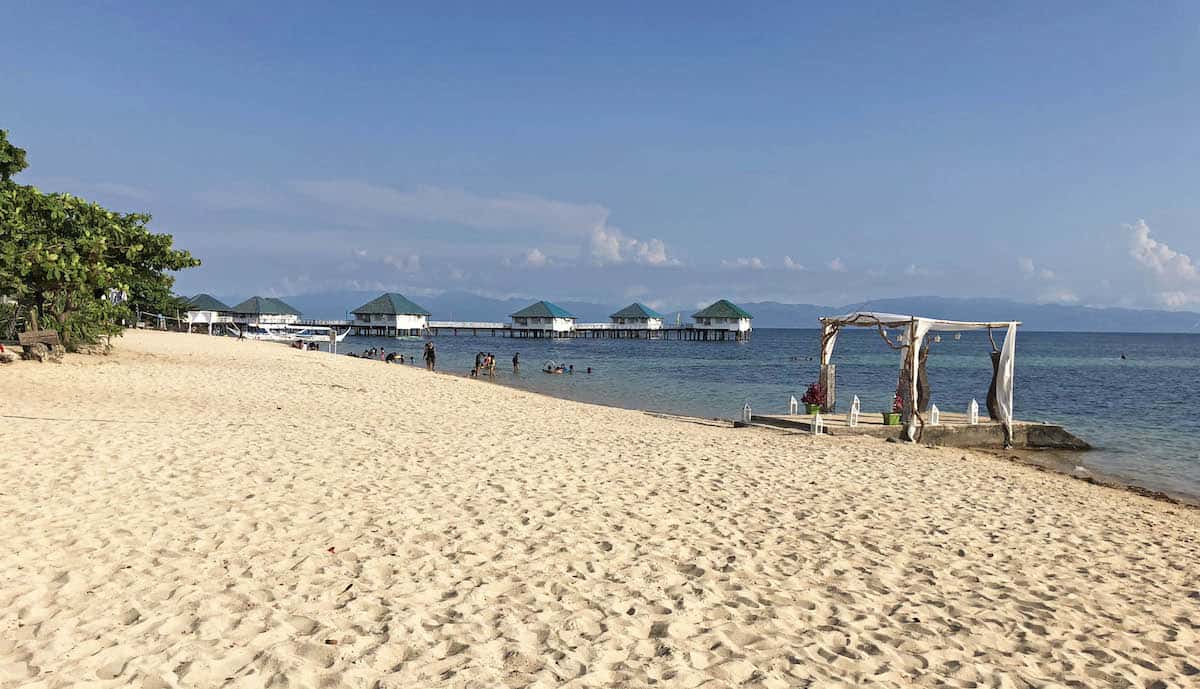 If you're traveling on a shoestring, just find a spot, probably under a tree, and enjoy the beach and the view!
If you're a big group, it might be best if you just rent a hut, pavilion or a table. Here are the rates as of 2018. Note that these may have already increased too:
Picnic Table
Capacity: 4 pax
Peak Rate: P420
Off-peak Rate: P350
Cozy Nook (Wooden table and chairs)
Capacity: 5-10 pax
Peak Rate: P600
Off-peak Rate: P500
Cabana
Capacity: 20 pax
Peak Rate: P1200
Off-peak Rate: P1000
Open Hut
Capacity: 15 pax
Peak Rate: P1020
Off-peak Rate: P850
Umbrella Hut (near pool)
Capacity: 10 pax
Peak Rate: P1020
Off-peak Rate: P850
Small Pavilion
Capacity: 20 pax
Peak Rate: P1200
Off-peak Rate: P1000
Big Pavilion
Capacity: 50 pax
Peak Rate: P2400
Off-peak Rate: P2000
Destiny Pavilion
Capacity: 20 pax
Peak Rate: P1800
Off-peak Rate: P1500
---
Stilts Overnight Camping Fees
If you want to spend a night at the resort, you can stay in one of their cottages. However, prepare to pay a hefty sum, especially for those iconic floating villas (overwater bungalows). Since this is a budget travel guide, I'm not including their prices here. But if you're interested or simply curious, you can check out the rates here.
Is there a budget option? YES. Camping! There are designated camp sites within the resort.
If you bring your own tent, you only need to settle the camping fee. Below are the rates:
CAMPING FEE (per person)
Peak rate: P770
Off-peak rate: P700
If you want to rent a tent, prepare to pay:
TENT RENTAL FEE
Extra small tent (1-2pax): P1500
Small tent (1-3 pax): P1500
Medium tent (4-5 pax): P2500
Large tent (6-8 pax): P3500
Extra large tent (8-12 pax): P4500
Folding bed: P300
If the above rates are too steep for you, there's a workaround. As mentioned earlier, Stilts Calatagan lies just next to Manuel Uy Beach Resort, another campsite that is much, much cheaper. What I recommend is to just stay in Manuel Uy Resort and just visit Stilts on a day tour. They're easily accessible from each other anyway.
For more info about that, read: MANUEL UY BEACH RESORT
---
Things to Do at Stilts Calatagan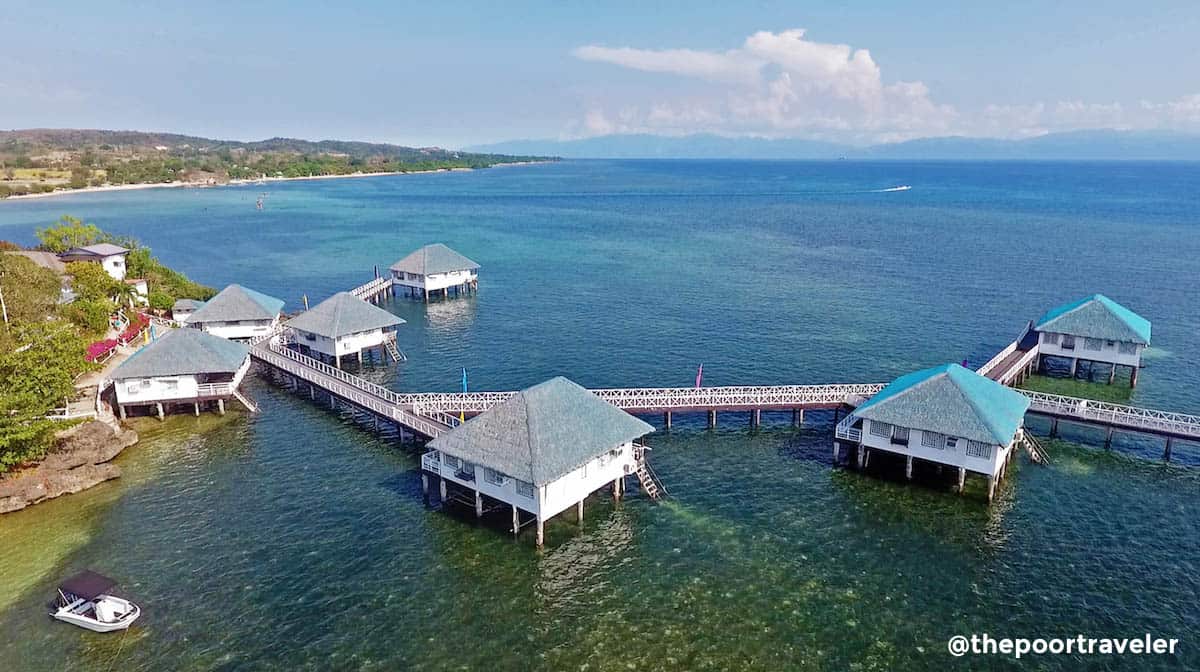 What I like the most about Stilts is that it has a wide range of activities to offer even to day trippers. Of course, swimming, snorkeling and other beach activities are a given, but there's a whole lot more.
ATV RENTAL
Basic tour (45 minutes): P850/driver + P250/back rider
Complete course (1 hour, 15 minutes): P1250/driver + P300/back rider
GUIDED MANGROVE BOAT TOUR
P1000 per hour (good for 2 pax)
P500 per 30-minute extension
SANDBAR & SNORKELING TOUR
P1500 (1.5 hours), up to 5 pax
Mask & snorkel set: P75
SCUBA DIVING
Intro dive (1-2pax): P3500/pax (1 hour, 45 mins)
Intro dive (3+ pax): P2500/pax
Fun dive (for certified divers): P1200-3500/pax (depending on group size)
OTHER ACTIVITIES:
Stand-up Paddle: P350/hour
Single kayak: P250/hour
Tandem kayak: P350/hour
Pedal Boat: P400/hour
Speed Boat: P1500/hour (up to 3 pax)
Banana Boat: P375 per pax (minimum of 5 pax)
Mountain bike: P250/hour
---
Sample Stilts Calatagan Itineraries
Option 1: Stilts Calatagan DIY Tour Itinerary
Here's a sample Stilts Calatagan day tour itinerary with breakdown of expenses. It assumes you're a group of 4 people, coming from Manila and taking public transportation.
You can use this sample to build your own. Feel free to make the necessary adjustments if you have other needs and preferences.
06:00 am – Bus to Calatagan, P180
10:00 am – Tricycle to Stilts Calatagan, P50 (P200/4pax)
10:30 am – Arrival at Stilts, Entrance: P385, Tourism Fee: P30
11:00 am – Laze on the beach
12:30 nn – Lunch
01:30 pm – Swim
03:00 pm – Pack up, trike to town proper, P50 (P200/4pax)
04:00 pm – Travel back to Manila, P180
This itinerary will cost you at least P900 (USD17.4, EUR14.5, SGD23), excluding lunch and activities.
You still have to add the cost of set lunch, P450. The reason I didn't add this to the itinerary above is that you can do away with it by eating elsewhere or bringing your food in. If you bring your own meal, pay the corkage fee of P200 per person. You can also just have a heavy brunch at the town proper before you hail a tricycle to get here.
If you want to try activities like ATV ride or stand-up paddling, just add the cost.
---
Option 2: Klook Tour Itinerary
The itinerary below is what the Klook tour follows. You don't need to worry about the entrance fees and fares because they're already covered by your tour fee.
As of this writing, the cost of the tour is P1099, which isn't that far from the P900 budget if you take public transportation. If you're interested to take this tour, RESERVE A SLOT HERE
.
03:30 am – meet up in SM Mall of Asia
04:00 am – depart for Calatagan, Batangas
06:00 am – breakfast (own expese)
07:30 am – arrive Calatagan
08:00 am – Swimming, lunch (own expense), beach
04:00 pm – depart for Manila
08:30 pm – arrive SM Mall of Asia
If you want to try activities like ATV ride or stand-up paddling, just add the cost to your budget.
---
Other Tips for the Poor Traveler
The Calatagan government implements a tourism and environmental fee: P30. This will be collected at the reception area, together with the day tour fee and other charges. If you're coming from Manuel Uy Beach or another resort and you've already settled it there, just tell the staff and show the slip/ticket.
Make sure you drop by the reception upon exit. You will be given a gate pass, which will be checked at the gate upon exit.
If you want to stay overnight and you don't have much funds, pitch a tent at Manuel Uy Beach Resort instead and just visit Stilts Calatagan on a day tour.
Arrange a tricycle pickup at the town proper, or talk to the driver of the one you chartered going to the resort. Only a few tricycles pass through the area. If you leave it to chance, you might be in for a long wait.
Visit the Calatagan Lighthouse. At the very end of the cape where Stilts is located stands Punta de Santiago Lighthouse (also known as Cape Santiago Lighthouse, Calatagan Lighthouse, or simply Parola). You can drop by on your way back to the town proper. Just add P50 to the fare.
Leave no trace. Don't leave trash on the beach. Whatever you bring to the place, take them with you when you leave. Leave nothing but footprints!
Use coral-friendly sunscreen. A study conducted by Archives of Environmental Contamination and Toxicology revealed that many sunblock products contain chemicals like oxybenzone, benzophenone, and parabens that are harmful to marine life. Choose brands that do not contain these chemicals.
---
Frequently Asked Questions
Can I bring food into the resort? Yes, but you will be charged corkage fees. Here are the rates: P200/pax for heavy meals, P500 per CASE of alcoholic beverage, P300 per case of softdrinks, P200 per bottle of local hard drinks, P500 per bottle of imported hard drinks.
Can I take photos at the stilts area where the overwater villas are? No. It's only accessible for those who booked those rooms. If you want to take photos of it, go to the viewing/photo spot overlooking it. The staff will tell you where this spot is exactly.
Can I fly a drone over Stilts Calatagan? Yes, but NOT above the rooms, especially the overwater bungalows. Drones are usually noisy and can disturb occupants. Also, to protect their privacy.
Can I use the restroom or shower if I'm on a day tour? Yes, of course.
Do I really need to book a hut, cabana or table if I'm only on a day tour? No. We didn't book one. We just found a tree and stayed in its shade the whole time. Would be great if you have a pocket mat.
Anything else we should bring? Sunscreen and insect repellant lotion. I have to say, the very first time I contracted was here in Calatagan. That was eons ago, but I still highly encourage you to protect yourself from mosquitoes.
What time is the last trip back to Manila?. Some say the last trip bound for Manila is at 4pm, others say it's at 6pm. I'm not sure which one's right. I forgot to confirm at the terminal.
2️⃣0️⃣1️⃣8️⃣ • 5️⃣ • 4️⃣