After a total of seven trips, one would think our team is done with Osaka. We have written more than two dozens of articles featuring the city, its attractions, its cuisine, and several itineraries that begin here. But here's the thing: there is no running out of possible topics about Osaka. Not only is it a dynamic destination, a marriage of the traditional and the modern, it is also centrally located, a crossroads that burst into a network covering several other prefectures.
Because of its location, Osaka's food and culture, in general, have influences from adjacent prefectures. Just look at its cuisine. Shabu-shabu, for example, is always attributed with the city but actually originated in Tottori. Kobe beef is also available at countless restaurants in Osaka, but the beef is supplied by its neighbor.
For travelers, this makes Osaka an ideal jump-off point to other prefectures. Everyone knows that Kyoto, Nara, and Kobe are just a short train ride away. But Osaka is also a gateway to lesser-known but equally fascinating destinations not too far away.
Last month, we had the opportunity to discover for ourselves another hidden destination that can easily be accessed from Osaka. We were invited by Horizon Travel and Tours to embark on a 6-day Osaka journey. We explored the usual Osaka favorites, but what sets this tour package apart is that it took us to Wakayama, the spiritual heart of Japan. Here's everything that went down!
WHAT'S COVERED IN THIS GUIDE?
Day 1: Manila to Osaka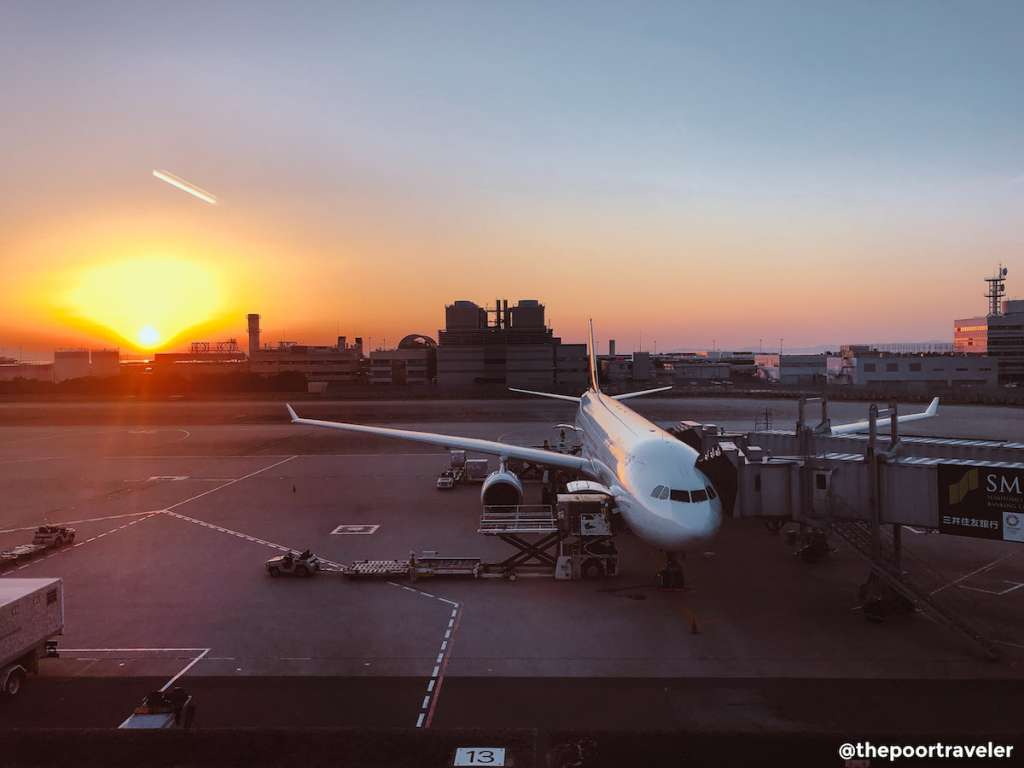 We flew in to Osaka via Philippine Airline's direct non-stop route from Manila. It was an enjoyable flight. My usual routine when I fly is sleep-eat-sleep. That's it. But some of PAL's new aircraft provide personalized entertainment feature with the individual built-in screen in every seat and a USB port to let you charge your phone or other gadgets. It was already dinner time when we arrived, and we were welcomed by Osaka's famed gastronomic offerings — an eat-all-you-can dinner no less.
Where to Stay in Osaka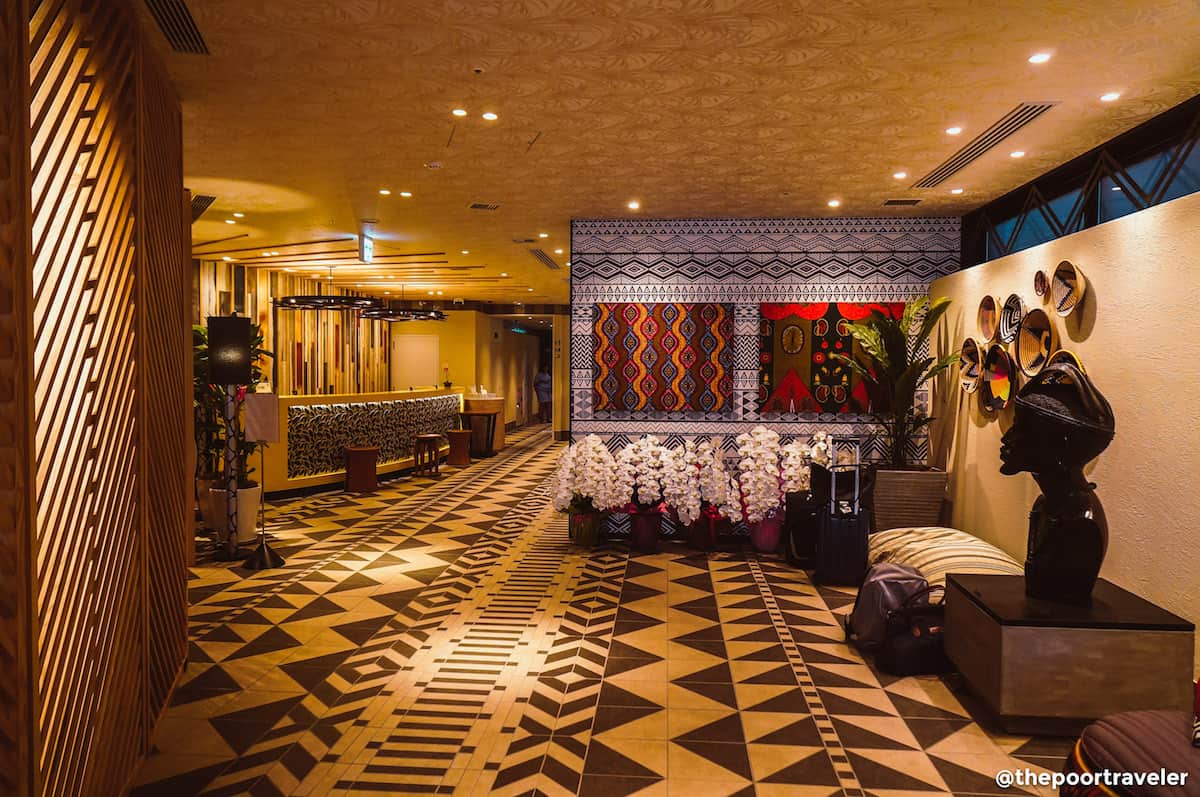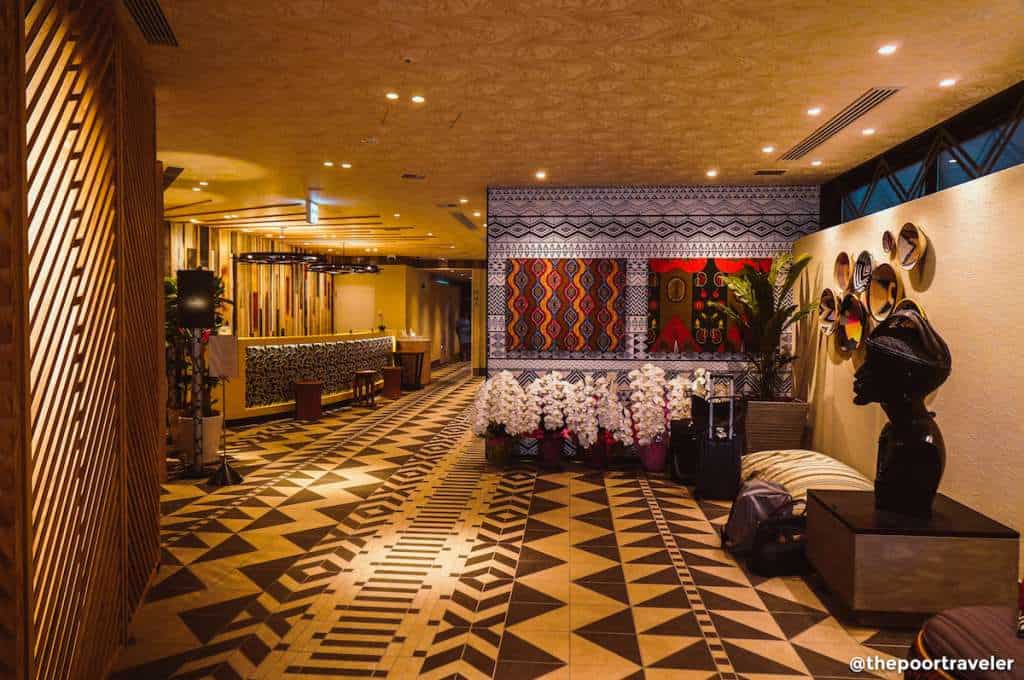 ---
Day 2: Wakayama
The next day, with Osaka being our jump-off point, we headed to Wakayama, which is located just south of Osaka in the Kansai Region. Wakayama is a breath of fresh air from the usual day tour routes coming from Osaka.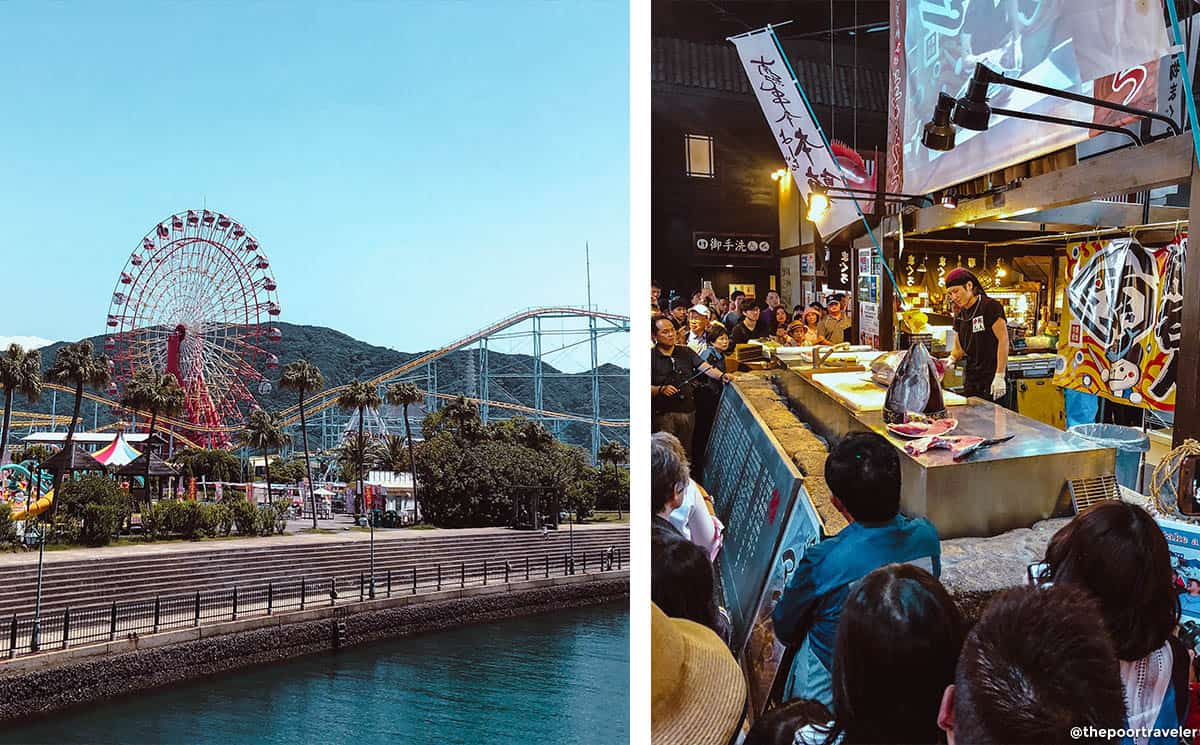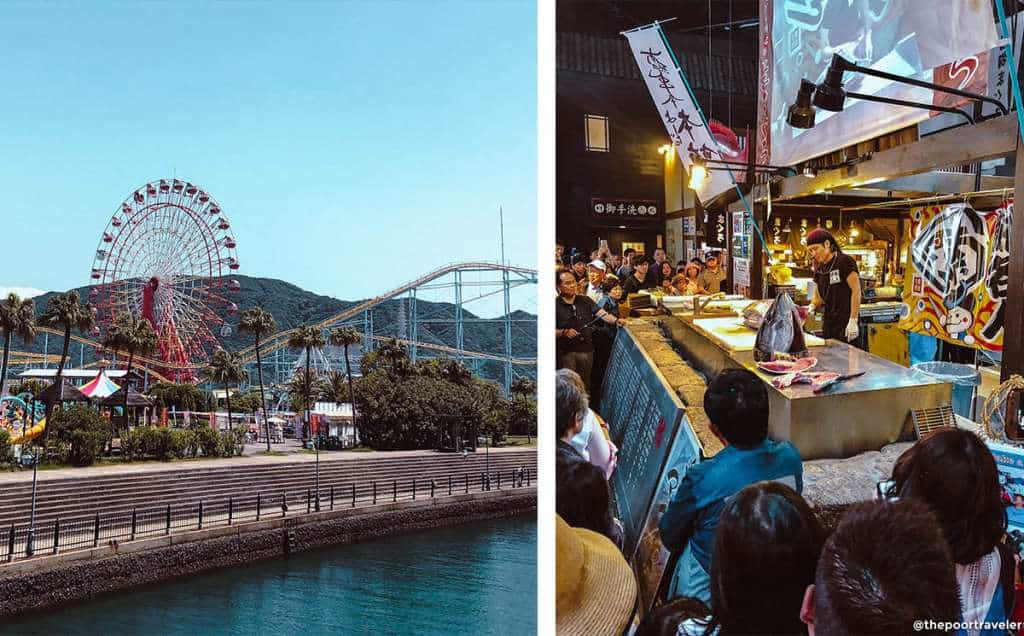 Aside from the world-famous and UNESCO-recognized pilgrimage sites, Wakayama is also known for its fresh fish and seafood straight from its ports, especially the tuna. One of the popular food destinations in Wakayama is the Kuroshio Market where we had our delicious seafood lunch. For foodies, one of the interesting things to see is the tuna filleting shows done by the experts daily. Kuroshio Market is located in Marina City where visitors can also buy souvenirs, and enjoy taking photos around Porto Europa, a European-inspired complex with a theme park.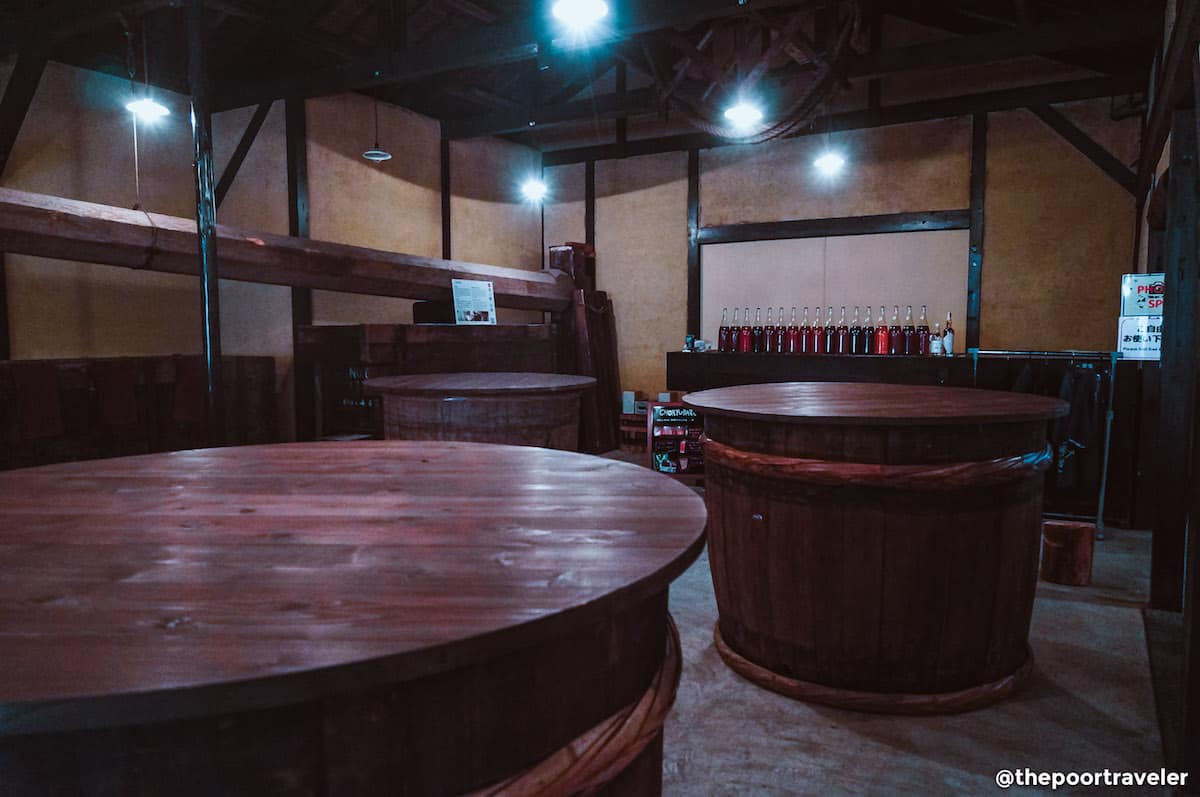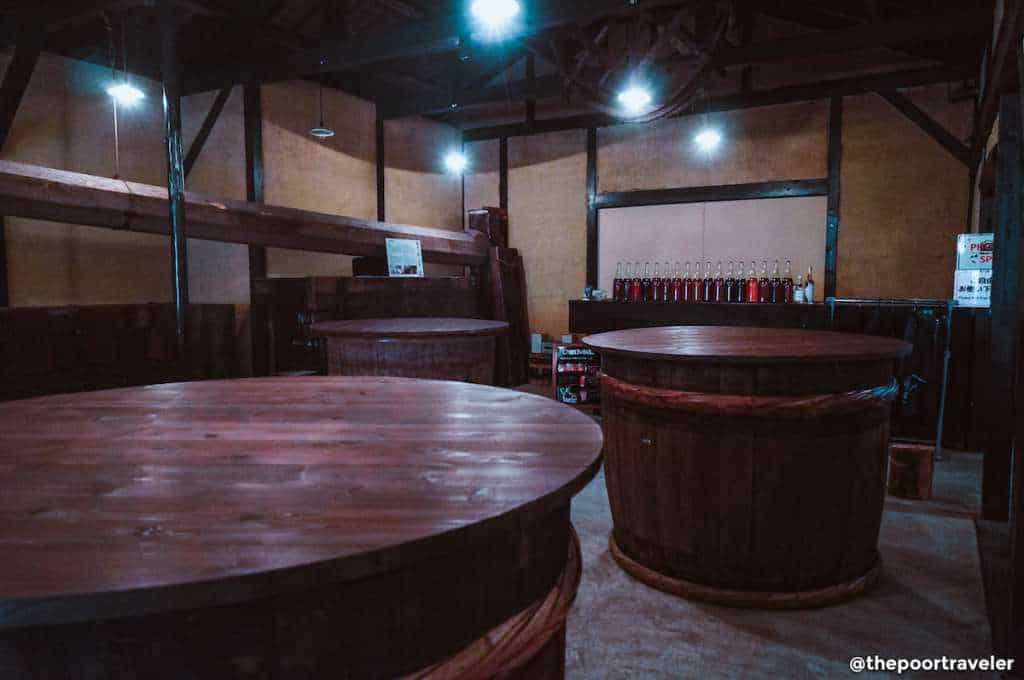 Wakayama is also famous for its fresh produces and food manufacturing. We visited two of the products Wakayama is most known for – umeshu (plum wine) and Japanese soy sauce. It's interesting to know how these longstanding products shape the economy of Wakayama today. Plum wine is one of the core products of Nakano BC Sakagura, which started as a brewing factory and has now expanded to other lines of business such as health products, essential oils, and cosmetics.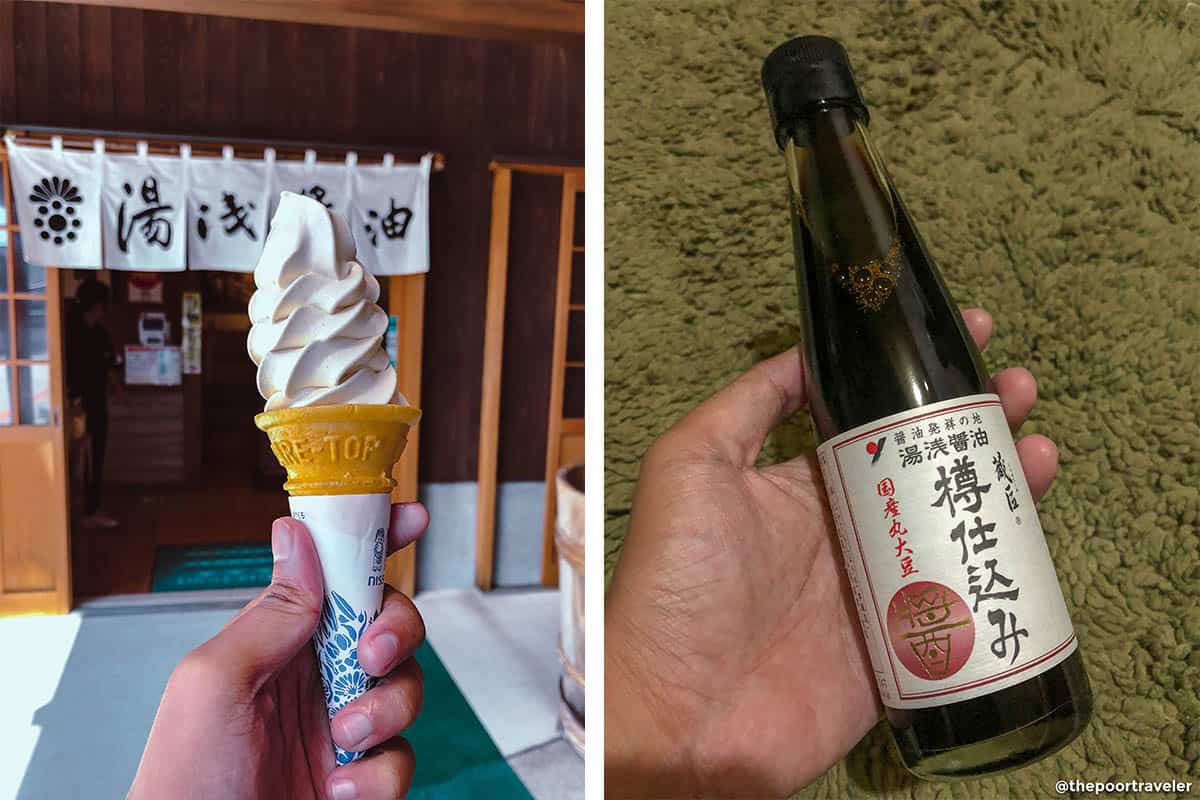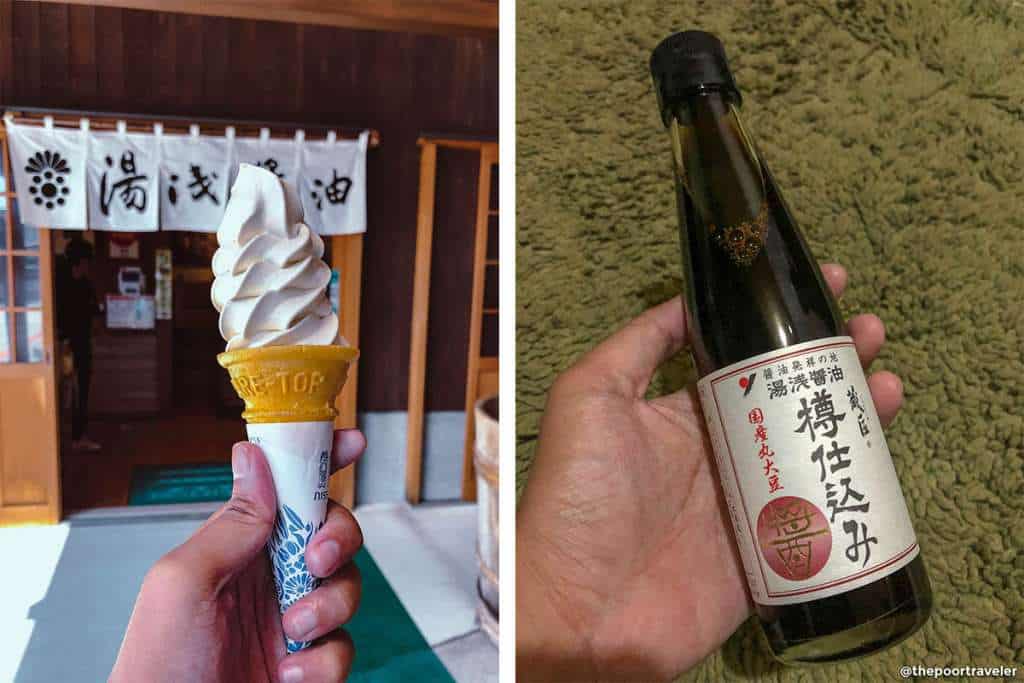 Yuasa is the birthplace of the Japanese soy sauce. Our visit to the most respected soy sauce factory, the Yuasa Soy Sauce Ltd. factory, gave us a glimpse of the traditional brewing process. The company combined the traditional and the modern process to further improve the quality of their soy sauce. We also got to try the soy sauce flavor ice cream, which surprisingly tasted good!
Where to Stay in Wakayama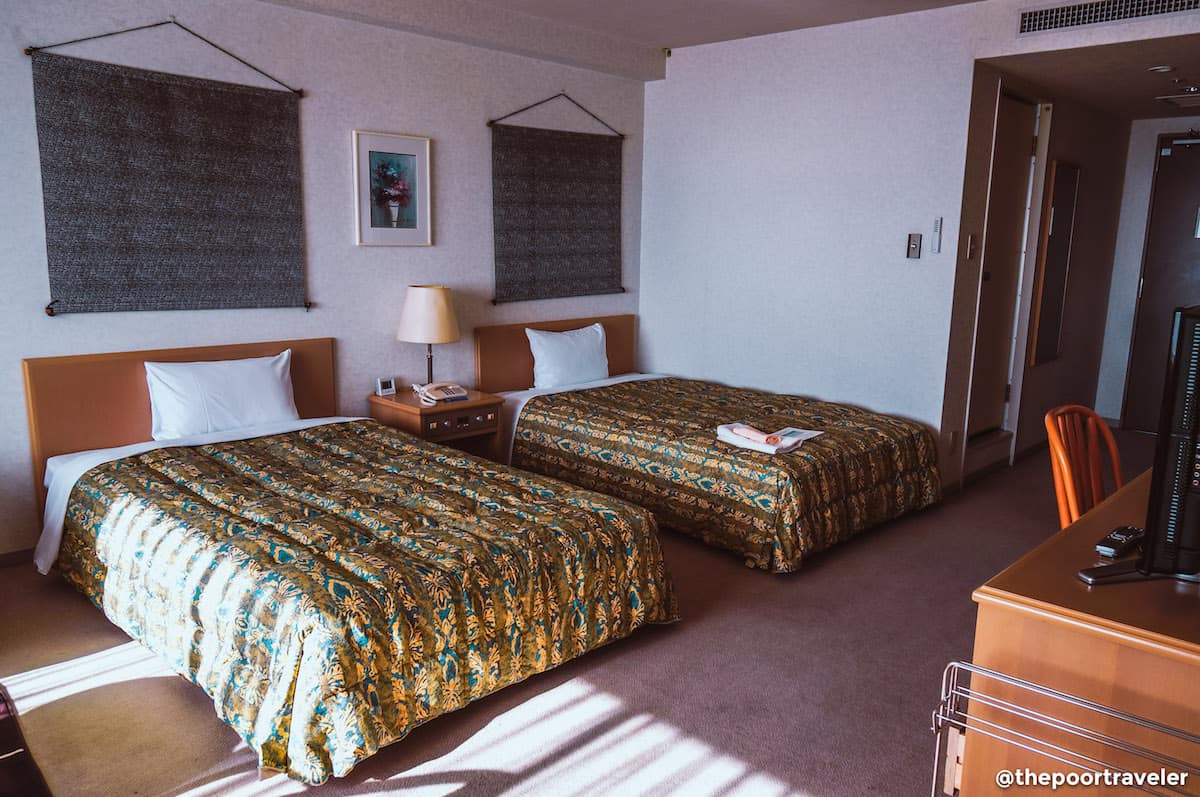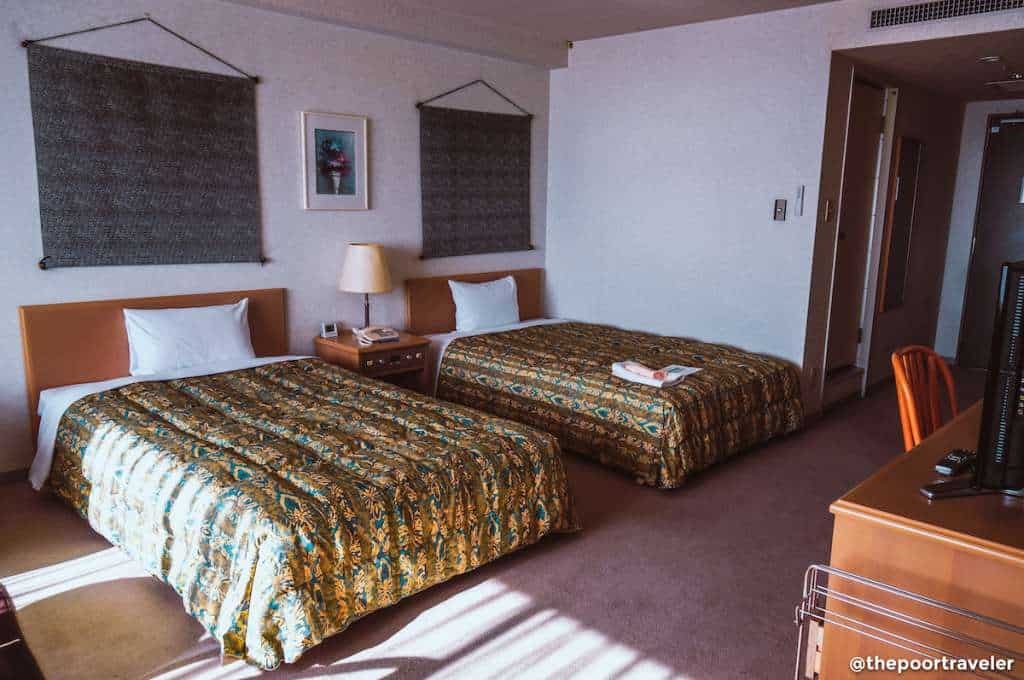 ---
Day 3: Shopping! (Rinku Premium Outlets and Shinsaibashi)
Filipinos love shopping for pasalubong whenever they travel outside the country. Osaka is also famous for its shopping districts. The whole day was dedicated to shopping! We went to Rinku Premium Outlets where you can find luxury brands as well as other fast-fashion brands. As for me, I went to KitKat's Gift Shop, a free-standing store offering chocolatory series, popular flavors, and local ones. Rinku is open from 10 AM to 8 PM.
After lunch, we headed north for a cruise down Okawa River, courtesy of Aqua-liner Aquatic Bus. It was a fantastic way to enjoy the riverside scenes. The ride took 15-20 minutes, which was enough time to take it all in.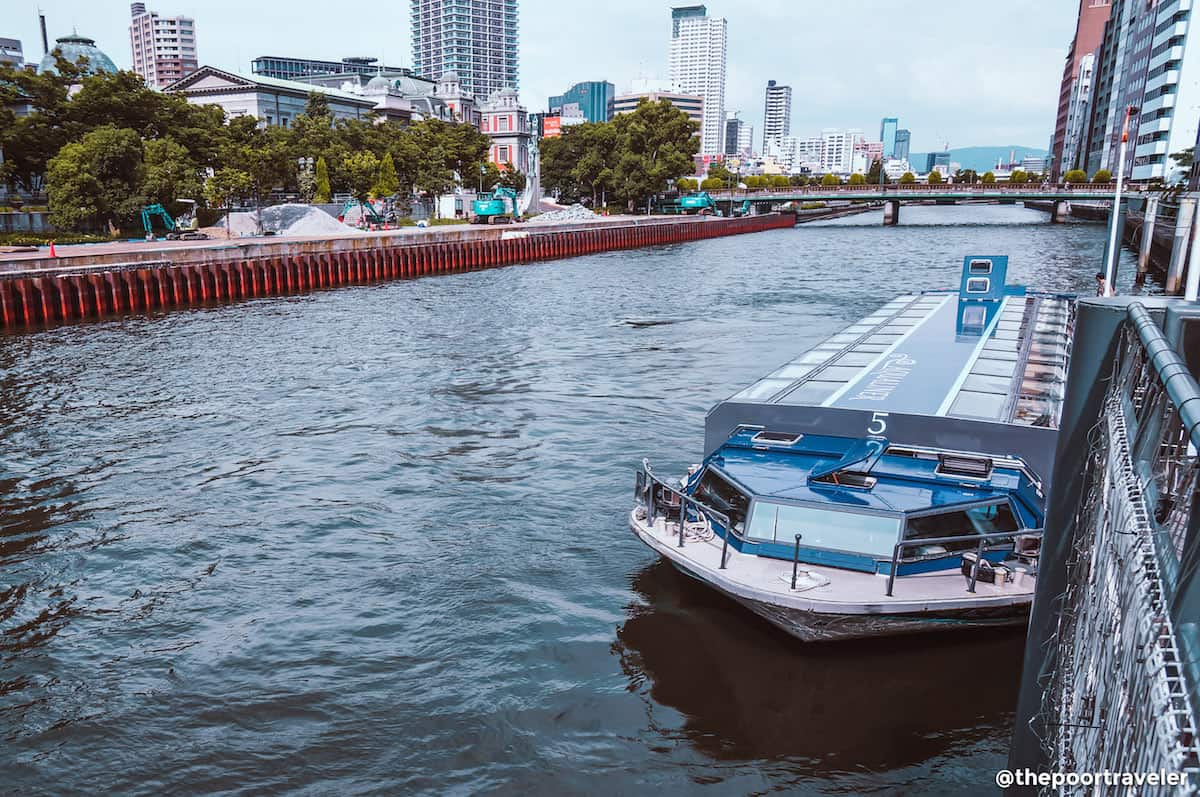 We've stayed longer and definitely exhausted all our energy AND money at Shinsaibashi-suji, Osaka's oldest and iconic shopping district. Stretching almost 600 meters, various tax-free shops, from local brands to famous international brands, run along this commercial avenue. It's crowded all year round, averaging 60,000 visitors on weekdays and doubling the figure on weekends. Dotonbori, which is Osaka's food mecca, is just a few minutes walk from Shinsaibashi.
---
Day 4: Kuromon Market & Universal Studios Japan
We started Day 4 at around 10 AM, which would give us enough time to explore Kuromon Market and help ourselves with lunch.
For over 190 years, Kuromon Market has been known as Osaka's kitchen for its almost endless array of gastronomic options, ranging from rare fruits to mouth-watering seafood that you can eat or have prepared on the spot. Compared to other markets I have visited in Japan, Kuromon is actually a bit pricier, but the experience makes up for it. They sell items in small servings, which allows visitors to get a taste of a wide variety of products, something that a regular restaurant can't give you. There's just so much to see and taste here. If you want to try Kobe beef but not flush enough to afford a proper cut, you can get hold of small slices here. Even the deadly fugu (pufferfish) is sold in one of the corners.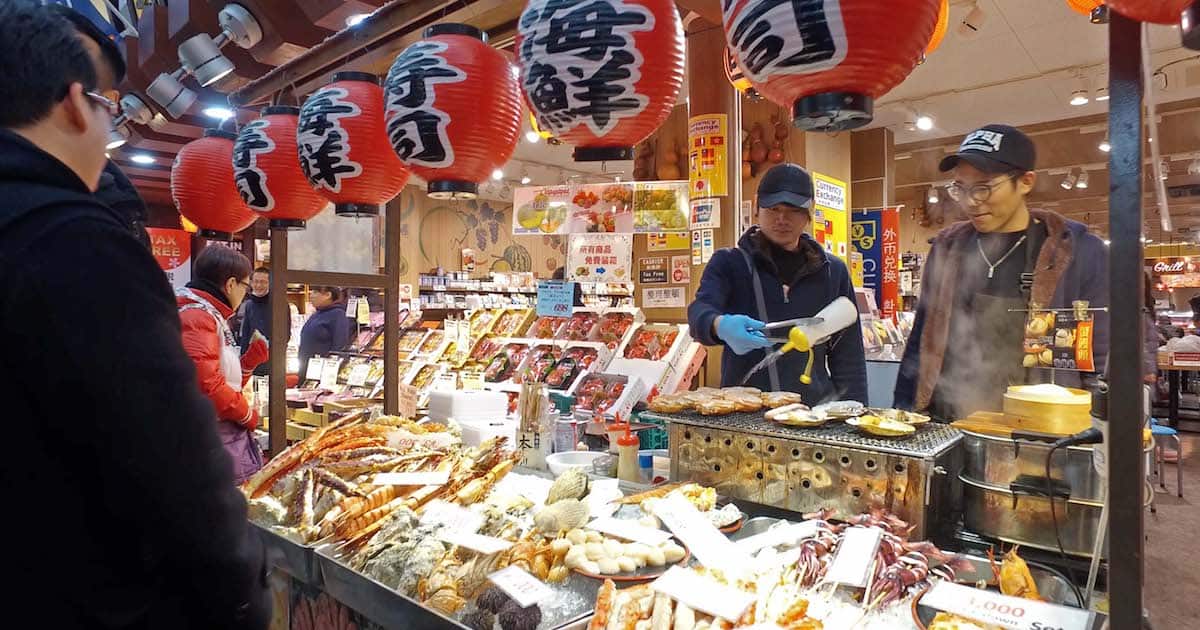 We were handed some coupons that we could use to shop for food at participating stalls. I wasn't in the mood for something adventurous that morning (sorry, fugu), so I stuck with my favorite Japanese food, sushi.
But for the next stop, it was time for me to put on my adventurous hat because, hey, it's Universal Studios Japan! It's a movie theme park that could bring a lot of fun to kids and adults alike, an attraction we would not want to miss when in Osaka. It is the first US branch in Asia, but it has been given a new life when they opened the Wizarding World of Harry Potter and Despicable Me Minion Mayhem. Today, it is one of the most visited theme parks in the world, attracting guests not just from Japan but all over Asia.
I had such a grand time that if I narrated everything I enjoyed, it wouldn't fit in this post, so I created a separate article for it. Read: Universal Studios Best Rides
---
Day 5: Free Day
On this day, we were given the freedom to do whatever wanted or go wherever we wanted, provided that we would return on the same day. If you're taking this tour, you'll have a lot of options. Nara is one of the most usual choices. Kobe and Himeji in Hyogo prefecture are also pretty compelling. But by far, the most popular is Kyoto.
Once the seat of imperial power for more than a thousand years, Kyoto is dotted with many important ancient temples, shrines, palaces, and other historical structures; hence, it gained the UNESCO World Heritage Site Historic Monuments of Ancient Kyoto recognition.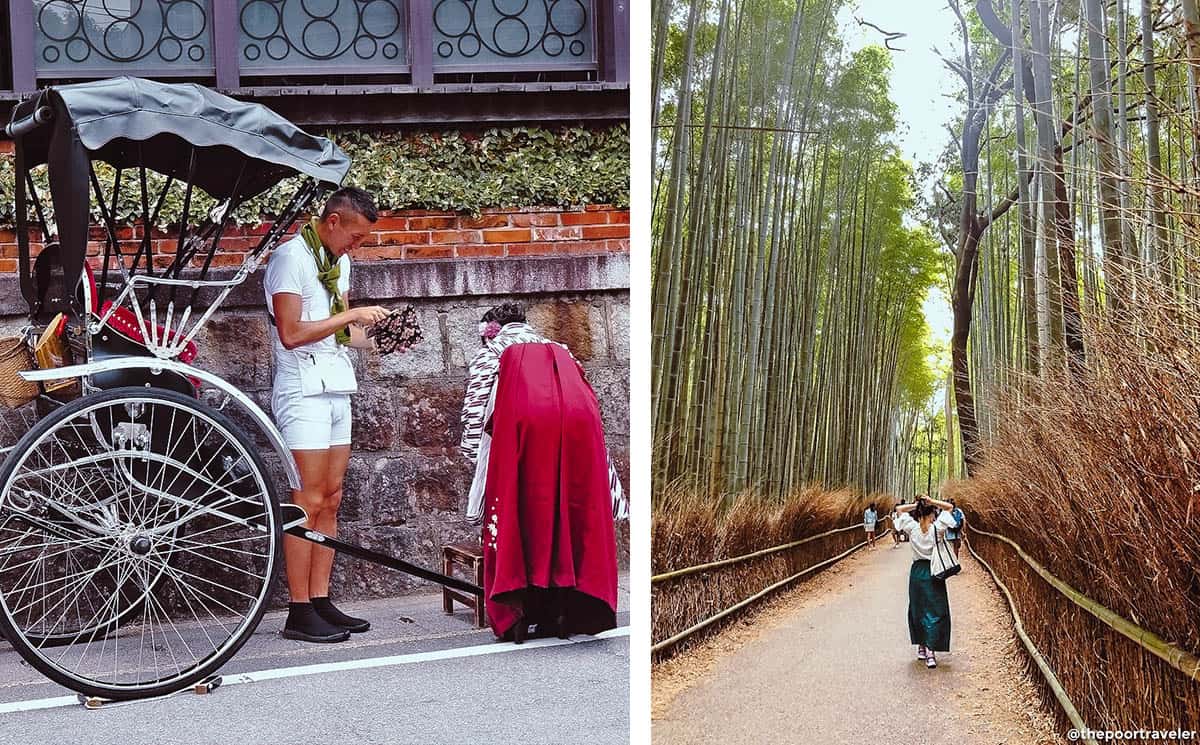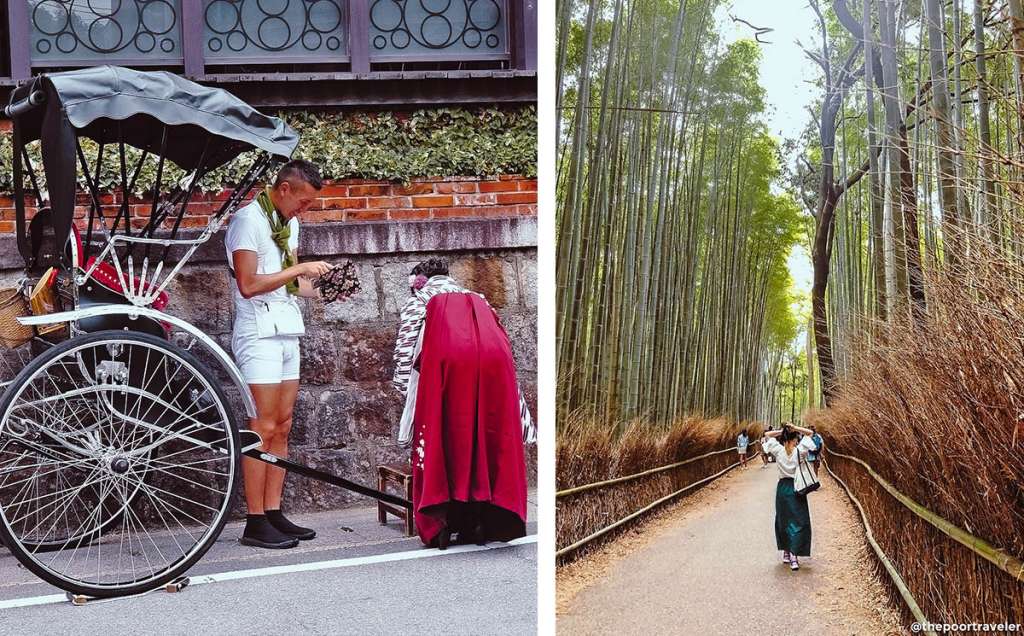 There were only two items on our checklist that day: Arishayama and Fushimi Inari Shrine. The Arashiyama district is dotted with shrines, temples, and other important landmarks. Of these, the most popular are the Tenryuji Temple (which collects an entrance fee) and the adjacent Bamboo Forest (FREE), Togetsukyo Bridge (FREE), Horinji Temple (FREE), and Nanamiya Shrine (FREE).
After a quick lunch, we took the train to Fushimi Inari Shrine, the most well-known and most important Shinto site in the city.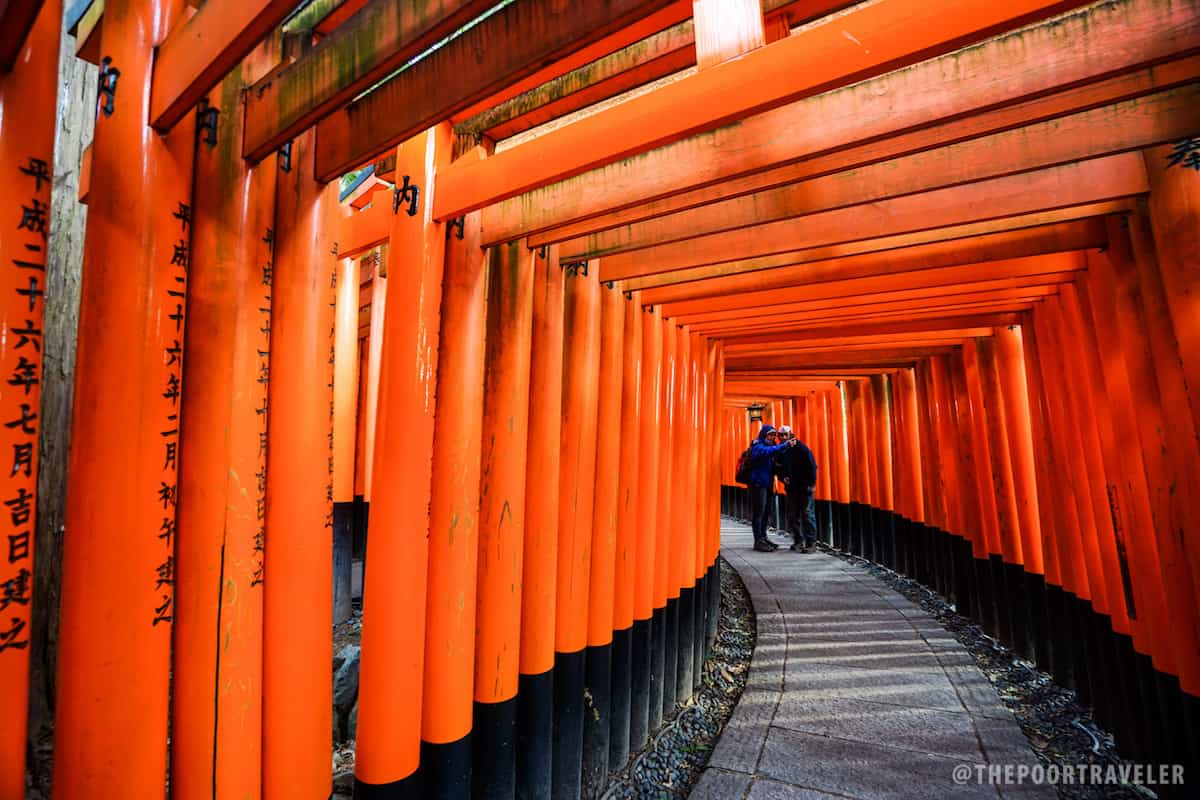 While the thousand torii gates are the most picturesque parts of the site, they are but trails that connect the shrines and other places of worship. The shrine was built in 711 by one Hata-no-Irogu. According to legend, he was a powerful man, who one day shot an arrow at a rice-cake target. To his surprise, the rice cake transformed into a swan and perched on a peak of the mountain. Rice began growing at the site, sustaining the community. A shrine was erected as a tribute to the god of rice, Inari. In 816, it was moved to its current location, at the base of the Inariyama hill.
---
Day 6: Osaka to Manila
We woke up early and headed to Kansai International Airport for our 10 AM flight. Checking in our baggage after all those shopping was easy-peasy because PAL always includes baggage allowance in the reflected airfare. The fare also covers meals and drinks. We arrived in Manila around 1 PM, a preferable time to travel around the metro with relatively less chance of facing heavy traffic.
---
Itinerary Summary
Day 1: Arrival in Osaka
Dinner
Hotel check-in: Daiwa Royal Hotel D-City
Lights off
Day 2: Osaka – Wakayama
Depart for Wakayama
Kuroshio Market
Nakano BC Sakagura (plum wine)
Yuasa Soy Sauce Ltd (Japanese soy sauce)
Hotel check-in: Kishu Minabe Royal Hotel
Sunset-watching
Dinner
Lights off
Day 3: Wakayama – Osaka
Depart for Osaka
Rinku Premium Outlets
River cruise (Aqua-liner)
Hotel check-in: Daiwa Royal Hotel D-City
Shinsaibashi
Dinner
Free time
Lights off
Day 4: Osaka
Kuromon Market
Universal Studios Japan
Dinner
Free time
Lights off
Day 5: Free Day
Depart for Kyoto
Arashiyama Bamboo Grove
Fushimi Inari Shrine
Return to Osaka
Dinner
Free time
Lights off
Day 6: Departure
About Horizon Travel and Tours
The above itinerary was put together by Horizon Travel & Tours and is one of the travel packages they offer. Although DIY backpacking has become a trend for younger travelers, tour operators still have their market. It offers several advantages to those who don't want to deal with the hassle of building your own itinerary or navigating on your own. Pre-arranged tours also make travel convenient especially for families traveling with little kids and seniors.
Horizon Travel & Tours is an IATA-accredited travel agency and an active member of Philippine IATA Airline Travel Association (PIATA) and Philippine Travel Agency Association (PTAA).

For more information about this tour or any of their other offers, you may get in touch with them through the following:
Ermita Main Office
Address: 490 Potenciana Mansion, Sta. Monica St., Ermita, Manila
Landline: +632 5212586 or 3283388
Mobile: +63917 8072538 or +63998 8577017
Email: info_main@horizontravel.ph
Binondo Branch Office
Address: 345 San Vicente Cor., T., Pinpin Sts., Binondo Manila
Landline: +632 3102308 to 09 or 9862717
Mobile: +63917 8198628
---
2️⃣0️⃣1️⃣8️⃣ • 7️⃣ • 7️⃣