It was the most unforgettable hotel check in I have experienced in my life.
Amusingly enough, in this hotel, checking in is facilitated by talking robot dinosaurs. Yes, TALKING. ROBOT. DINOSAURS. We were at Henn Na Hotel, a polace that has captivated many magazines and travel shows all over the world. "Henn na" in Japanese means "strange," which is fitting because this, uhm, strange hotel is unofficially known for being the first hotel run in the world that is run by robots. It appears to be like it, but in reality, there are still human members in its small staff.
Henn Na Hotel is just one of the many curious and entertaining attractions at Laguna Ten Bosch, a theme park and resort complex in Gamagori City. Thing of it as Aichi prefecture's answer to Osaka's Universal Studios Japan or Tokyo Disneyland, except Laguna Ten Bosch is less crowded and caters to more age groups.
Laguna Ten Bosch is the sister resort of Huis Ten Bosch in Nagasaki. Both were previously managed by another company until H.I.S., which is a major player in Japan's travel industry, took over. Since then, the resort has undergone major changes and new features have been added. Today, it welcomes over 3 million guests per year.
The resort complex is divided into six major zones, each offering a different experience. All of them may be worthy of your time, but it depends on your interest. Here are the zones:
WHAT'S COVERED IN THIS GUIDE?
Lagunasia Theme Park
The most popular attraction inside the complex. Lagunasia is an amusement park that features thrilling rides and entertainment shows that are great for kids and kids-at-heart. Some of the most popular are the following:
Fire Fire Next, a ride where you shoot monsters with a laser gun
Legend of Labyrinth, an excitingly splashy ride so prepare to get wet
Aqua Wind, rollercoasters for the thrill-seekers
If your timing is right, you can also catch the Laguna 3D Mapping Show, which is staged several times a year. This fantastic show blends live performances and an impressively synchronized 3D presentation. The theme of the show varies depending on season. During our visit, it was all about winter and Christmas.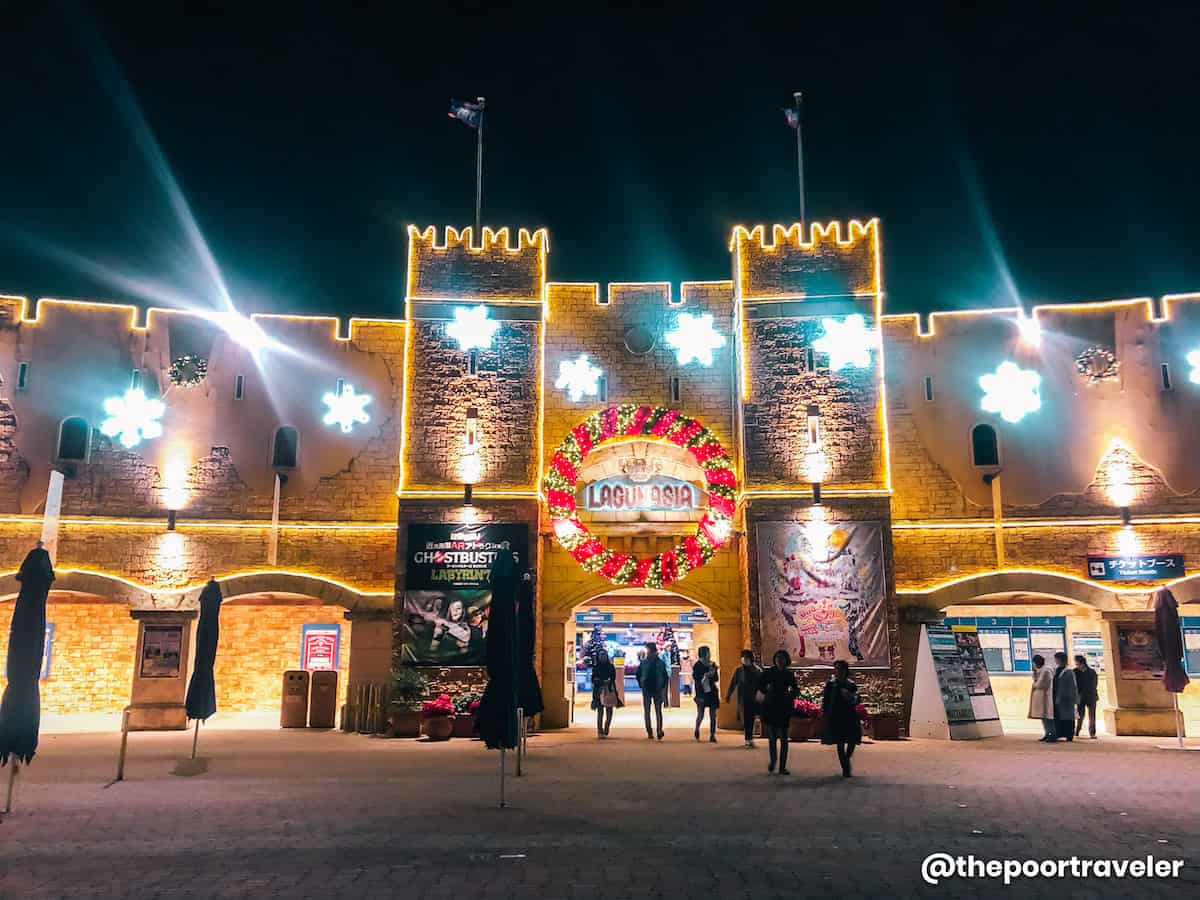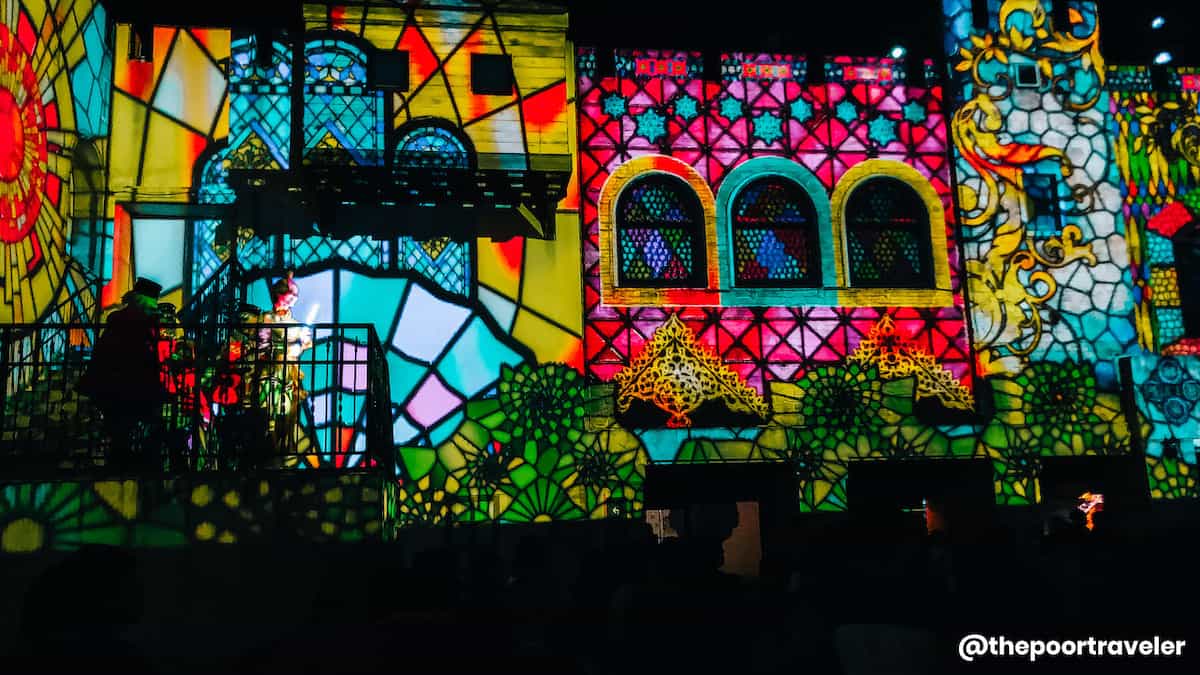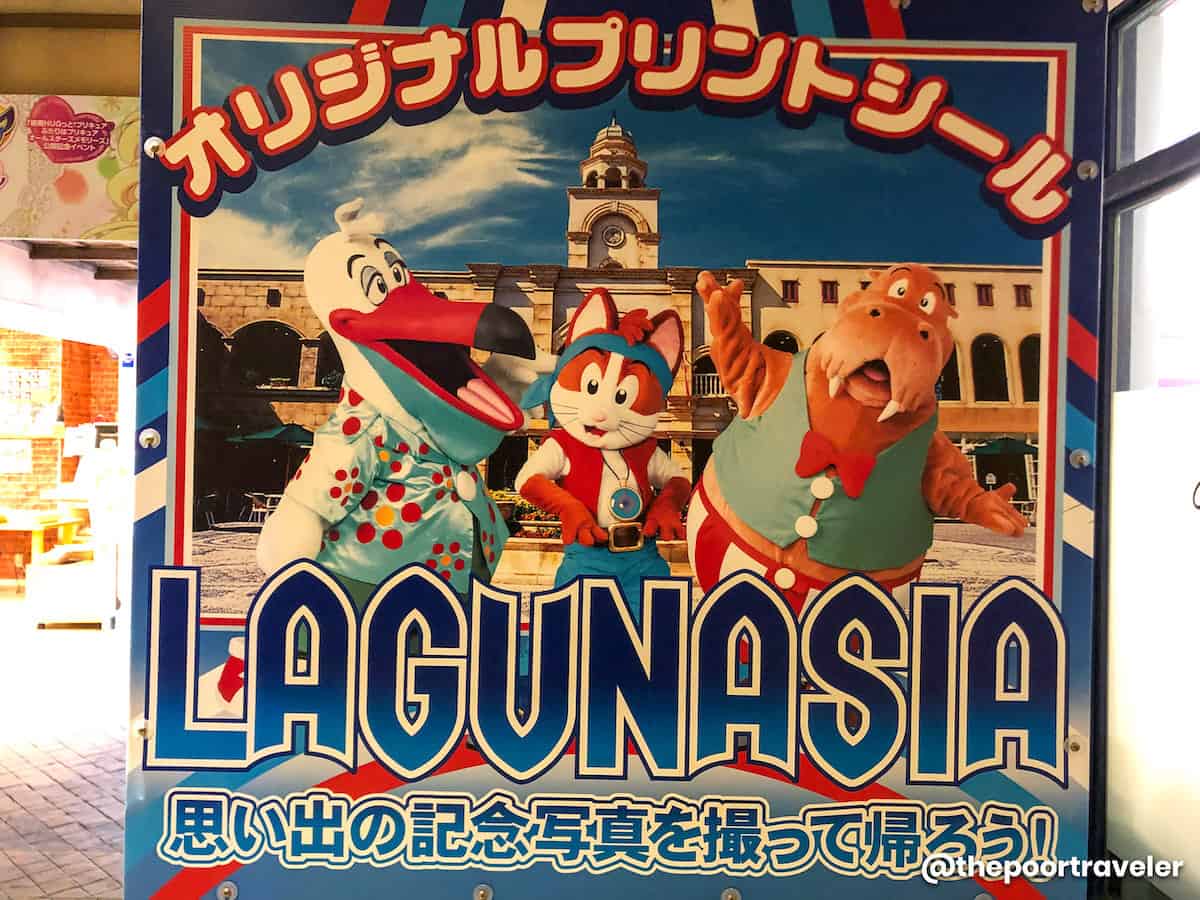 Lagunasia Operating Hours: 10am-9pm usually. Time changes on some days.
Lagunasia Ticket Prices: There are two types of Lagunasia tickets: an admission ticket and a passport. Here's the difference:
Admission ticket. This only covers the entrance fee to the park but not the specific attractions or rides. Prices: ¥2250 for adult (12+), ¥1300 for children 6-11 yo, ¥800 for 5yo and below.
Passport. This gives you access to the park and unlimited access to all the rides and attractions inside except Fire Fire Next and Legend of Labyrinth, to which you get 1-time access. Prices: ¥4350 for adult (12+), ¥3200 for children 6-11 yo, ¥2500 for 5yo and below.
Foreigners get 10% DISCOUNT! Just show this page along with your passport at the entrance.
If you prefer to book with Klook, you can find the link below.
✅ RESERVE A TICKET HERE!
---
Flower Lagoon
A new attraction inside the park complex, the Flower Lagoon is a massive garden with every nook and cranny covered in various beautiful blossoms. It's adorned with walkways, walls, and hills, all boasting intricate floral displays. It's pretty romantic too, which is probably why during our visit, most guests were in pairs.
The Flower Lagoon lies adjacent to a grand illumination set in winter, which is absolutely spectacular at night. Here are some of our snaps of both the garden and the illuminations.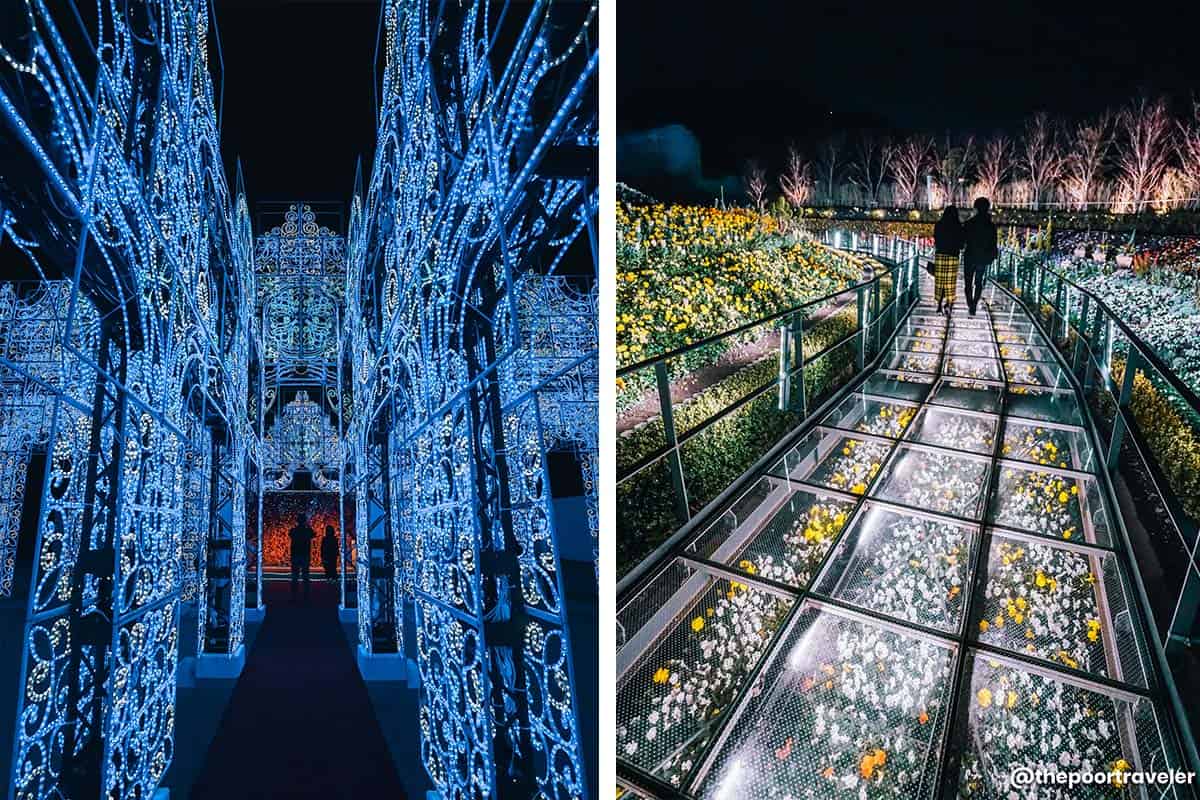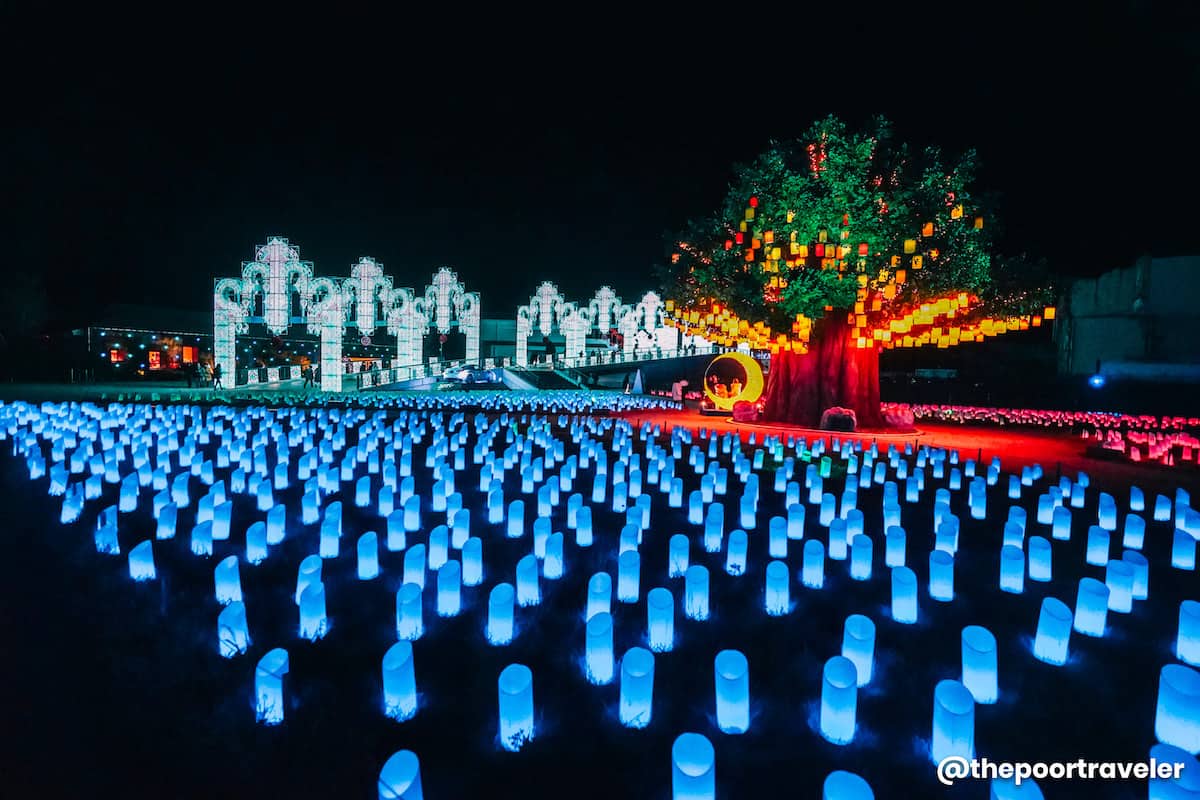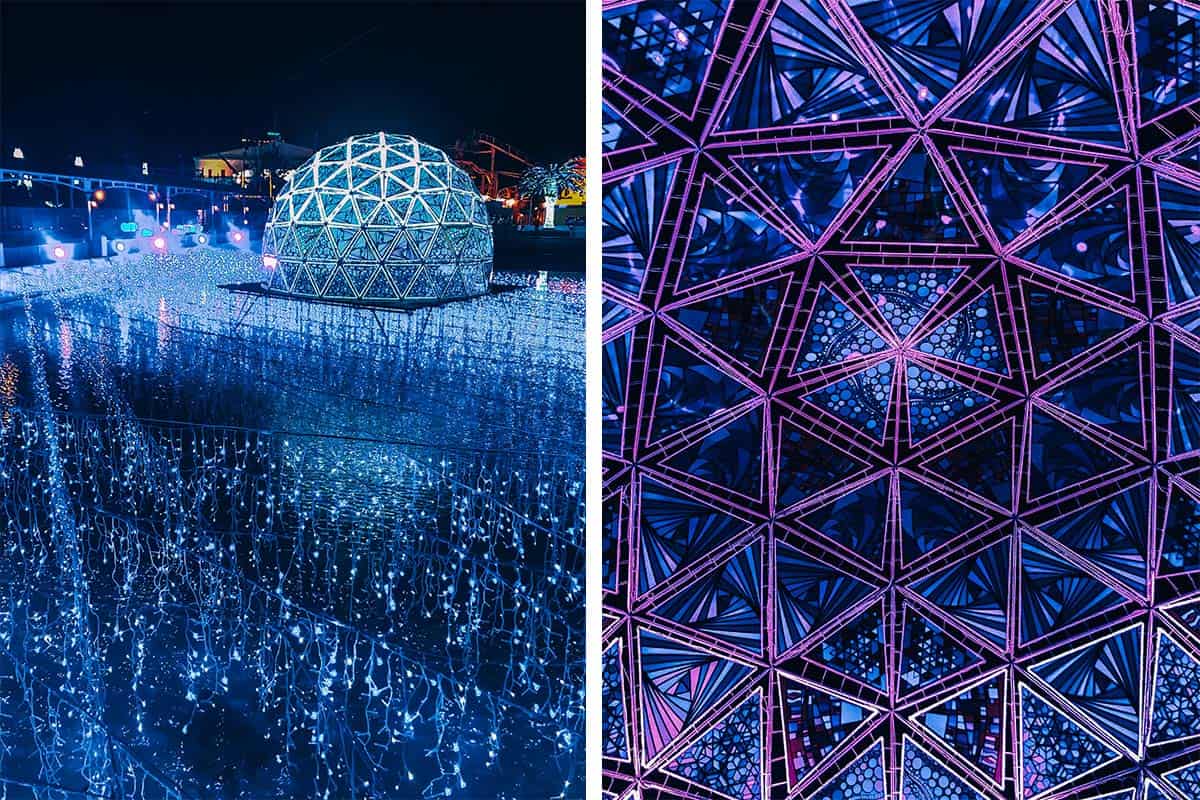 ---
Laguna Spa
Gamagori is also blessed with natural hot springs, and you can also enjoy it at Laguna Spa inside Laguna Ten Bosch.
Laguna Spa has both indoor and outdoor open-air baths, filled with natural spring water pumped from the depth of 1500 meters below ground. Whatever you choose, you'll get a stunning view as you relax in their baths. There are also foot baths available.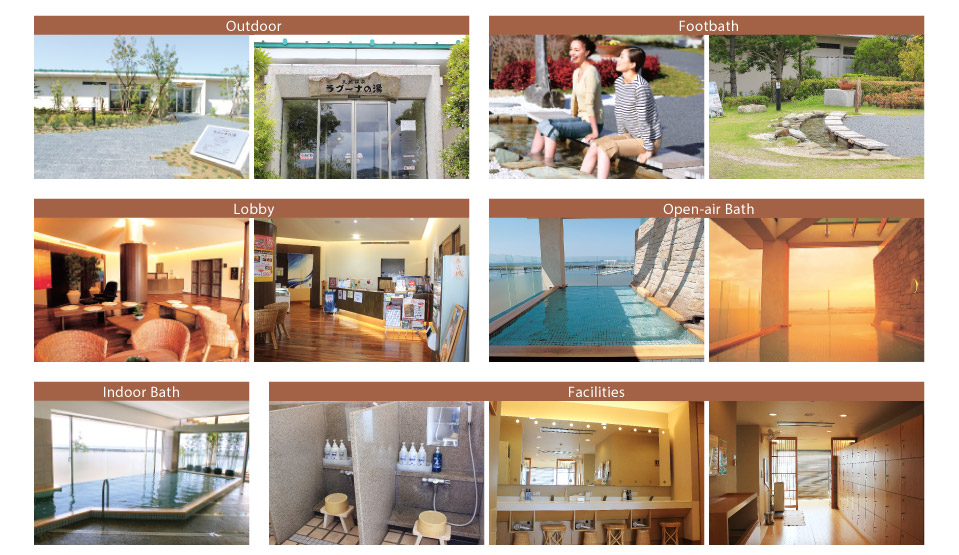 Hours open: 7am-10pm (9:30pm, last admission)
Entrance Fee: ¥1030 for adults 12+, ¥520 for children 6-11yo, FREE for 5yo and below
Price already includes entrance fee and towel rental.
---
Thalgo Laguna (Thalassotherapy)
Thalassotherapy is the use of seawater for cosmetic and health benefits. It is believed that seawater has positive effects on the skin and overall health, and so some spas use it as a form of therapy.
At Thalgo Laguna, they offer thalassotherapy sessions through their 15 exercise stations, "which use pressurized underwater jets" to "aid in relaxation and stress relief." The water, usually between 33 and 36 degrees, massage your body for around an hour.
Only guests 16 years old and above are allowed.
To give you an idea of what it does exactly, here's a video:
Hours open: Friday to Wednesday, 9:30am-9:30pm; Thursday, 6:30pm
Entrance fee: ¥4320
---
Henn Na Hotel
Henn Na Hotel translates to Strange Hotel, which is apt because it is strange. At first, at least. It's one of the newer establishments within the park.
Often dubbed as the world's first hotel that is run by robots, it is staffed with talking robotic dinosaurs. In reality, it isn't completely human-less. But checking-in is self-service and doesn't call for assistance by a homo sapiens sapiens. The dinosaurs give you the instructions and guide you through the whole check-in process. Behind the scenes, a few human workers still take care of the usual non-reception tasks, including cleaning up the rooms and maintaining the robots. But still, it is a curious hotel and something that kids and adults alike will find delightful.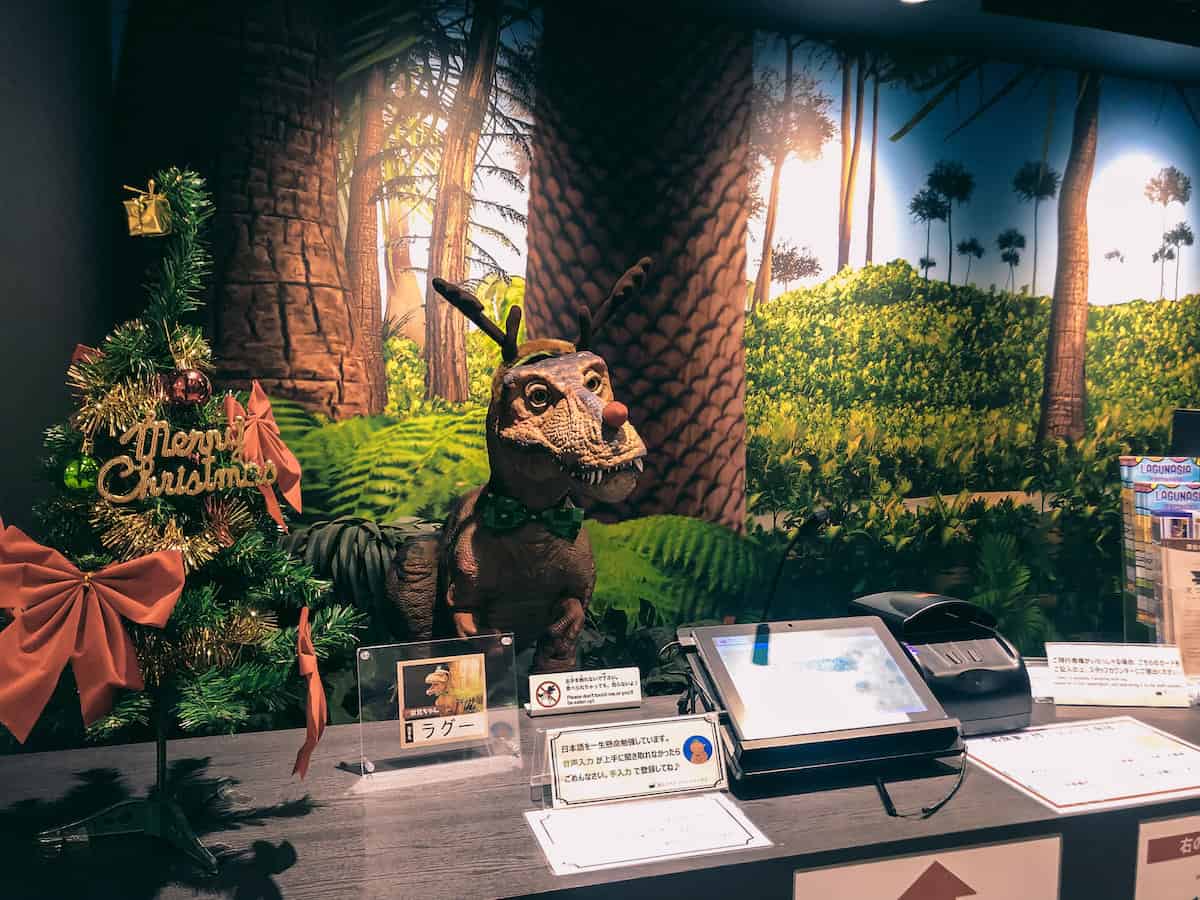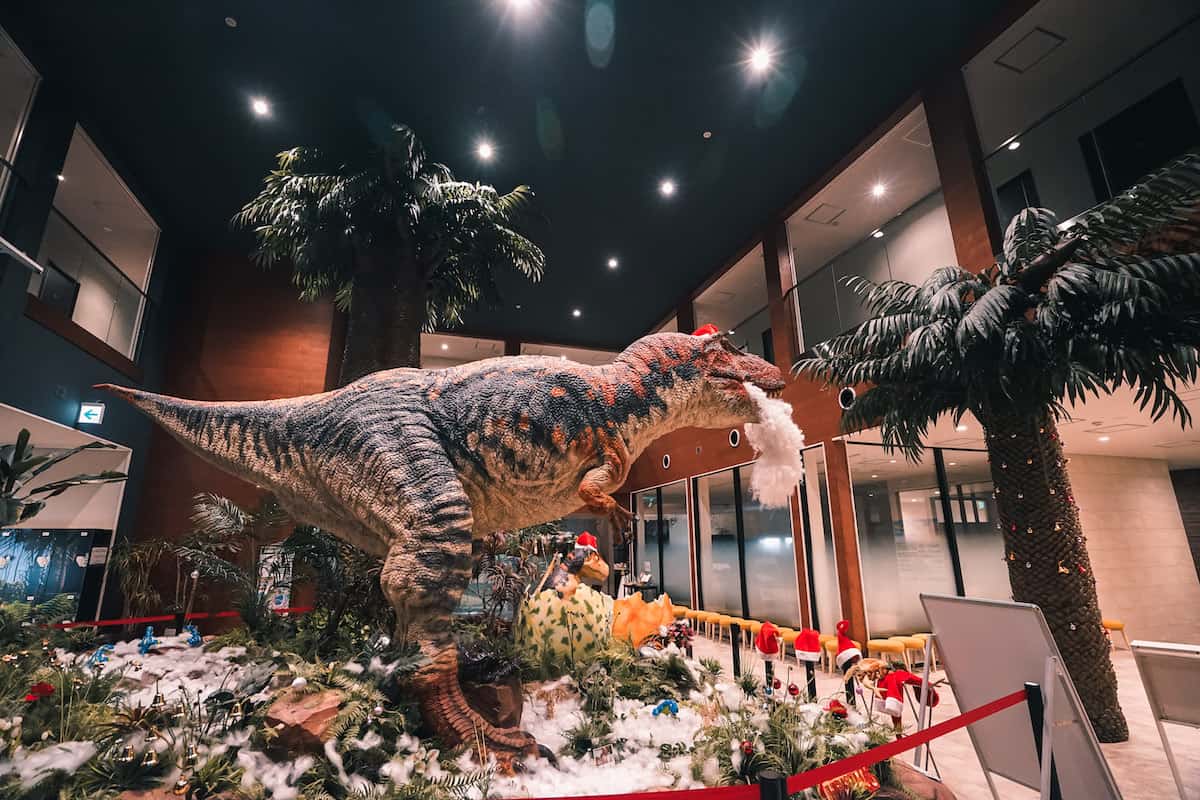 Each room is also equipped with a digital assistant, much like Apple's Siri. For basic tasks like turning the TV on or off, switching channels, or setting up an alarm, you just tell it what you want it to do out loud and it's gonna do it without the attitude.
---
Festival Market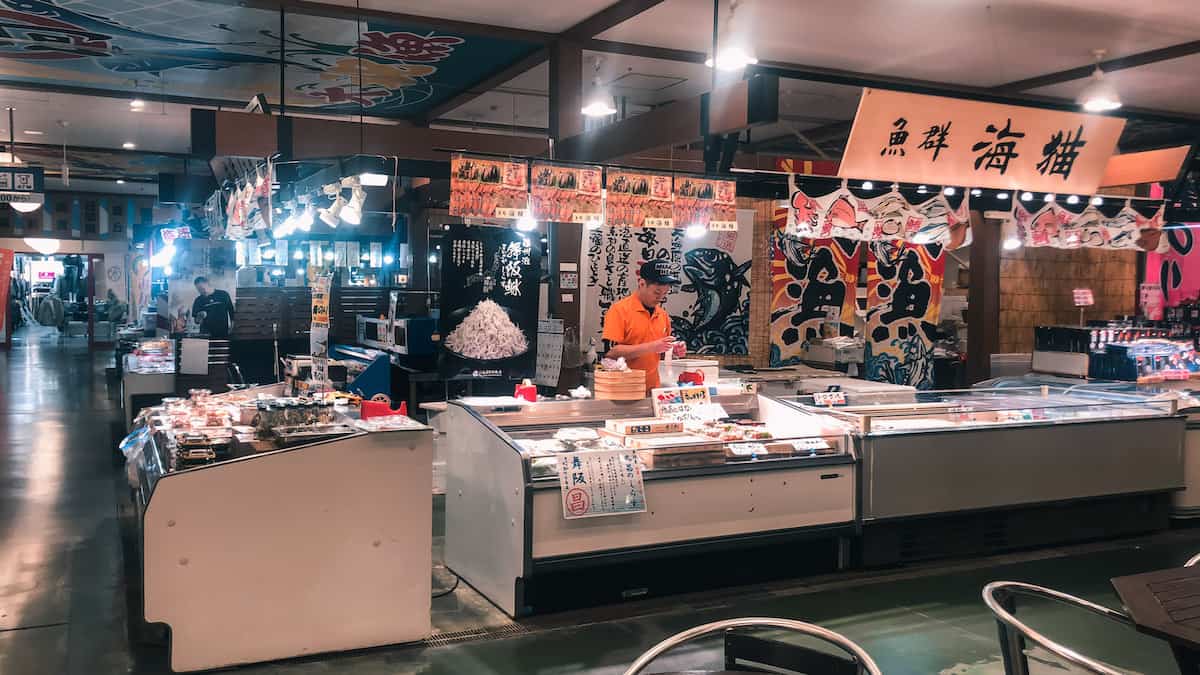 I realized that I'm really old when I found myself more excited about the market than any of the more exciting attractions. Haha. Situated just in front of Lagunasia is Festival Market, which is composed of five sections:
Fish Market, a food court where you can shop for your food and then eat it at one of the 120 tables nearby. Sushi is a favorite here, but some stores sell other seafood treats. Hours open: 9am-7pm, weekdays; 9am-8pm, weekends and holidays.
Shopping Area, housing several fashion stores for the shopaholic in you. Hours open: 10am-8pm.
Vege Cul, an indoor market offering fresh fruits, vegetables, and other produce. Hours open: 9am-7pm, weekdays; 9am-8pm, weekends and holidays.
Seaside Restaurants, a lane of restaurants serving various cuisines and a great view of the ocean. Hours open: 11am-9:30pm.
Ferris Wheel, standing at 65 meters, this giant wheel overlooks not just the Laguna Ten Bosch complex but also the gorgeous Mikawa Bay.
---
How to Get from Nagoya to Laguna Ten Bosch
The easiest way to get to Laguna Ten Bosch from Nagoya city center is by JR train.
At Nagoya Station, take the JR Tokaido Line bound for Toyohashi.
Alight at Gamagori Station. Travel time: 45 minutes. Fare: ¥970.
At Gamagori Station, catch the FREE Shuttle bus to Laguna Ten Bosch.
Laguna Ten Bosch offers free shuttle bus rides from Gamagori Station. It first stops at Henn Na Hotel then at Lagunasia then at Laguna Hill (another hotel) and then back to Lagunasia, Henn Na Hotel, and Gamagori Station.
There's a bus every 30 minutes.
---
Gamagori Orange Park
A refreshing side trip!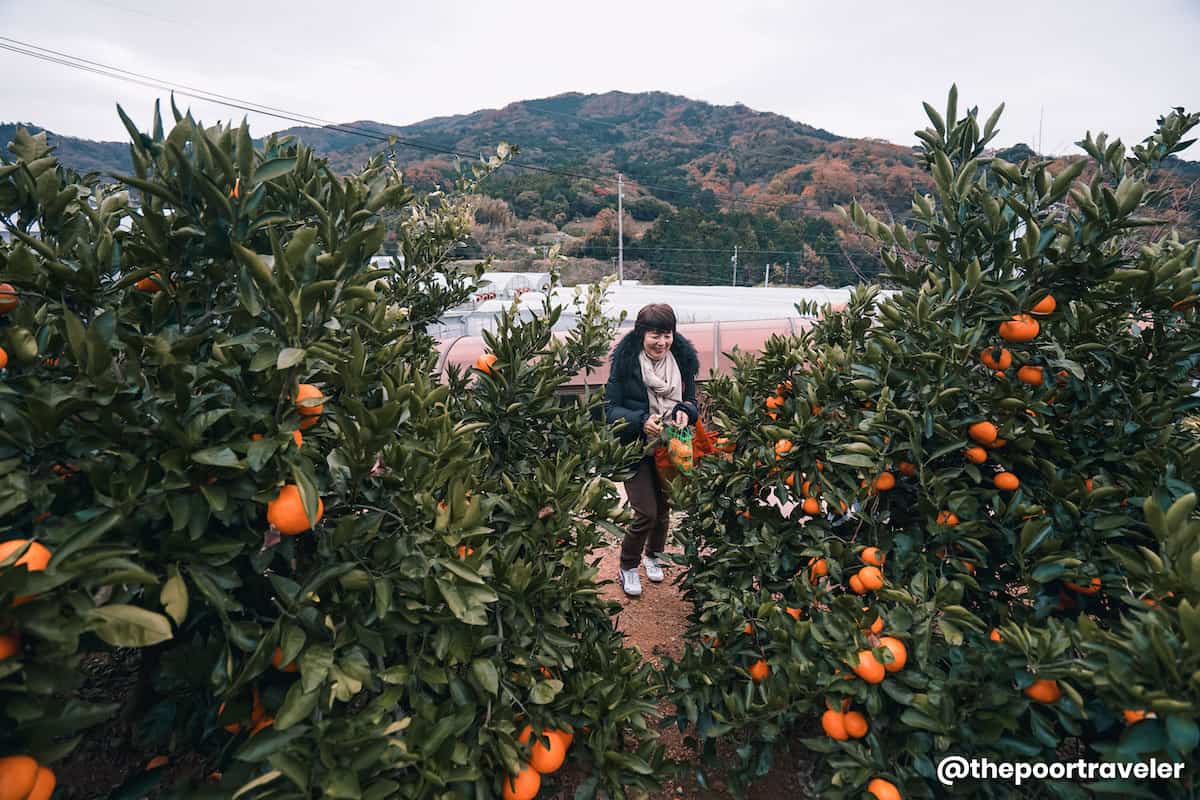 Since you're already in Gamagori, you might want to check out Gamagori Orange Park, where you can enjoy picking fruits and eat as much as you like.
Gamagori is famous for their mikan or mandarin oranges, which is one of the main products of the city, so a stop at the park isn't just for eating purposes but also sort of cultural. Although it's the named Gamagori Orange Park, oranges aren't the only fruit available here. Depending on the season, you can also enjoy grapes, strawberries, and melons. Here are the prices and schedule.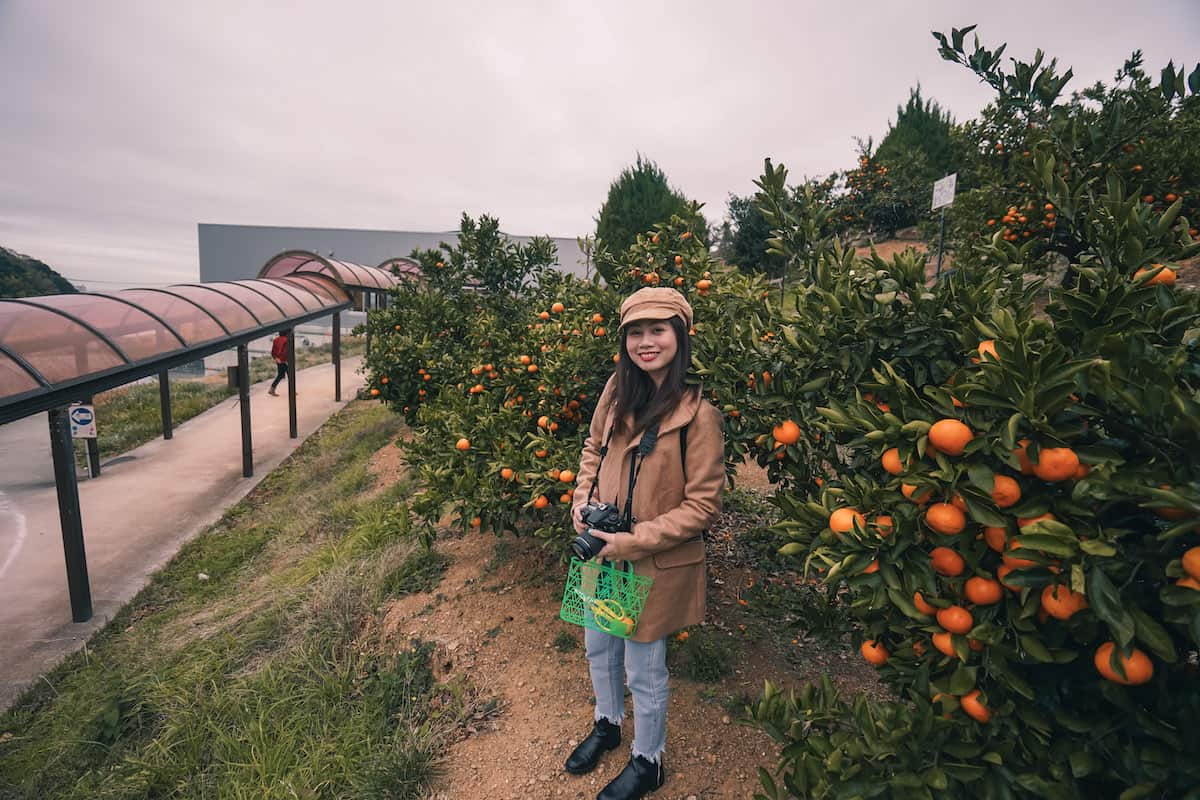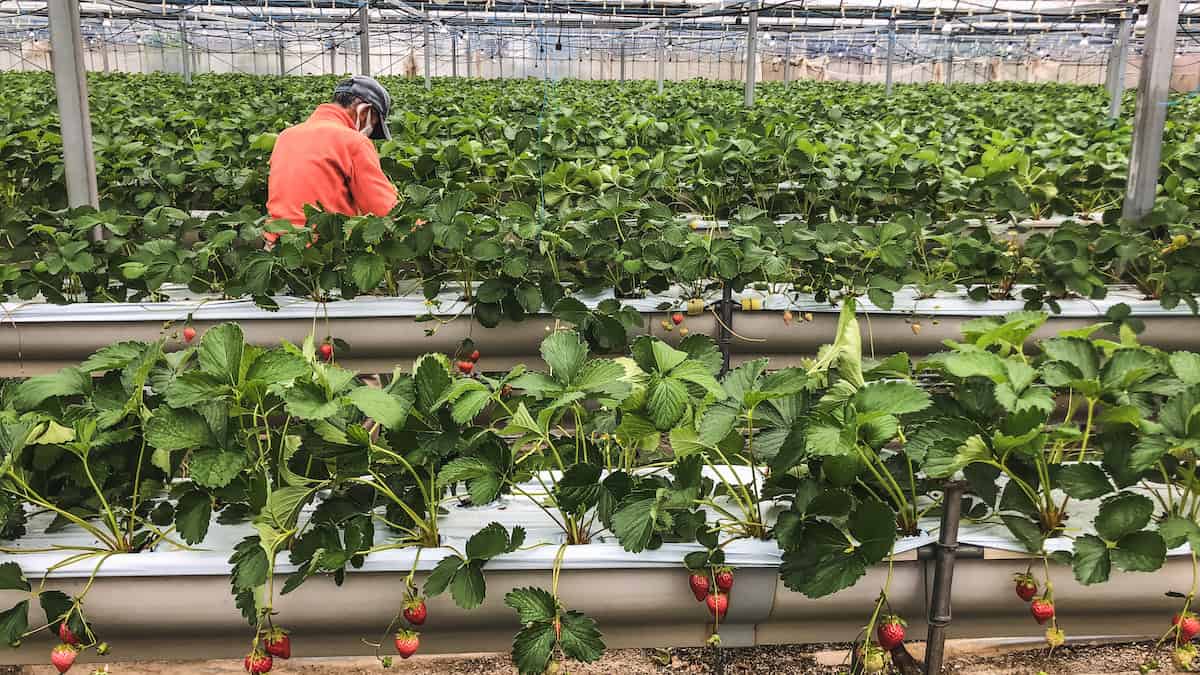 MANDARIN ORANGE PICKING
Season: October-December, sometimes extended to January
Arrangement: All-you-can-eat. No time limit.
You get to pick oranges and eat as many as you can while within the premises. You also can put as much as 1kg of oranges in a basket for take out, included in the price.
Price: ¥1188 per person
STRAWBERRY PICKING
Season: January-May
Arrangement: All-you-can-eat. No time limit.
You get to visit their strawberry farms and pick as much as you like. You'll also be given a small tray with condensed milk that you can dip your berries in for that extra sweetness. No take-away.
Price: ¥1296 to ¥1944 per person, depending on month
MELON HUNTING
Season: June-September
Arrangement: Choice between 1 melon or all-you-can-eat for 60 minutes.
Because melons are generally more expensive, the usual activity is called "melon hunting" in which you can pick a melon that you can take home with you. You also get two eighth slices for tasting. There is an "All-you-can-eat" option but it's limited to only 60 minutes. It's also much more expensive.
Price: Melon hunting + 2 slices, ¥1836-¥2376; Melon-hunting + All-you can eat, ¥3780-¥4320
GRAPE HUNTING
Season: May-October
Arrangement: All you can eat. No time limit.
You can have as many grapes as you want but no take-away.
Price: ¥1620 per person
For most of these, reservation is required, at least a week before your trip. You can make reservations on their official website: www.orepa.jp.
How to get to Gamagori Orange Park: From Gamagori Station, you can take a 10-minute cab ride straight to Gamagori Orange Park. The staff also mentioned that are free bicycles that you can use at Gamagori Station but would require a ¥1000 deposit. I haven't confirmed the bike part though.
---
---
How to Get a Japan Visa
If you're holding a Philippine passport, you will need a visa to enter Japan. Application is fast and easy if you complete the requirements. All applications must be coursed through an embassy-accredited travel agency like Attic Tours, which has branches in Manila (Roxas Boulevard), Quezon City (SM North EDSA), Cebu, and Davao.
For more information on how to apply for a visa, read: JAPAN VISA REQUIREMENTS.
---
Our trip was made possible by the tourism boards of Gifu and Aichi Prefectures! Opinions are my own.
2️⃣0️⃣1️⃣9️⃣ • 1️⃣ • 1️⃣
---