Outside, the heavy skies had already begun pouring rain, but inside the museum, hearts were just as heavy. I looked around and everyone had eyes welling up. It didn't take long before someone bursted into tears. It had been a somber day, to say the least.
What pushed us to tears was a photo of a young boy carrying on his back the lifeless body of his little brother, just before it was thrown to the cremation fire in the aftermath of the atomic boming of Nagasaki. It was just one of the many harrowing tales that affected us as we explored the city. From the accounts of Christian persecution to the horrors of World War II, Nagasaki's history is immortalized in its museums and churches.
But of course, there is more to Nagasaki than its scarred past. Like most Japanese destinations, it is rich in tradition. Yet, one can easily notice how unique it is. Foreign imprints are more pronounced, its cuisine is a bit offbeat, and every attraction tells a fascinating story. Yes, Nagasaki has a lot of stories to tell, and these are stories that we can all learn from.
Here are some of the best places to visit and things to do in Nagasaki.
WHAT'S COVERED IN THIS GUIDE?
Atomic Bomb Museum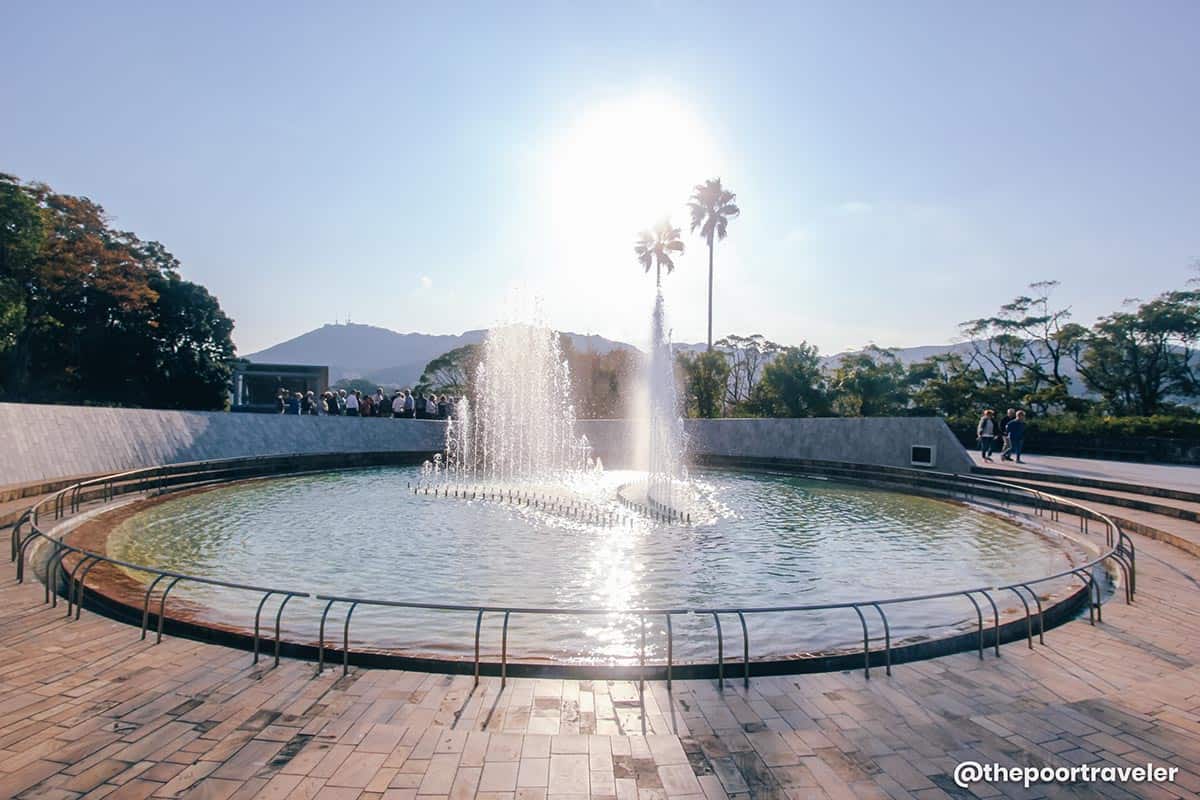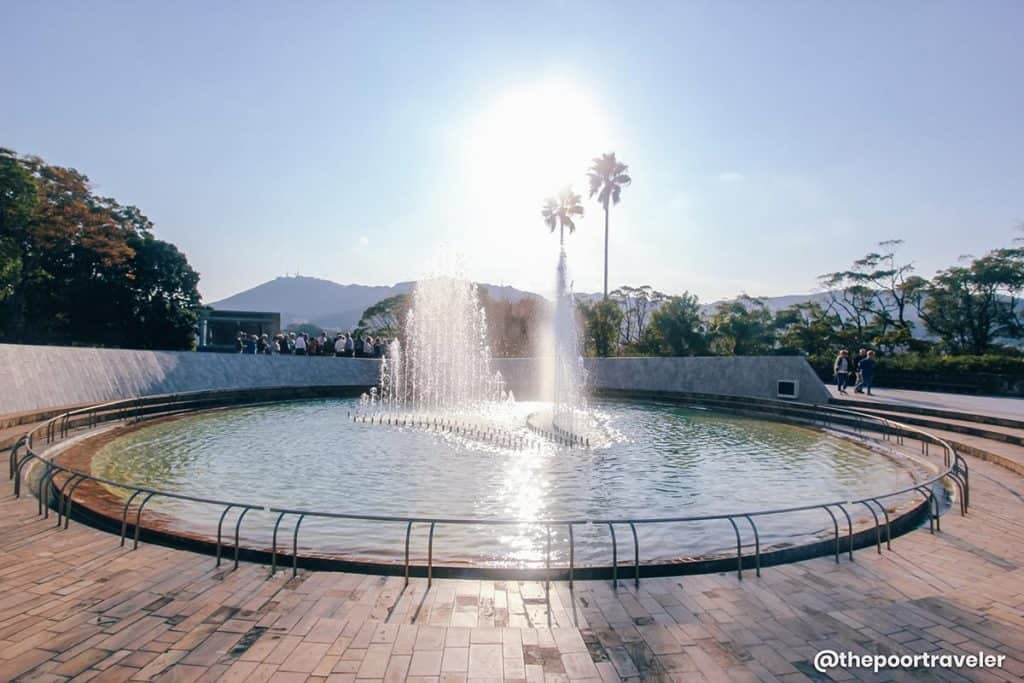 Nagasaki is one of the first cities in Japan that I learned about when I was a kid. The atomic bombings of Hiroshima and Nagasaki were discussed in detail in our history textbooks.
The bombing of Nagasaki is commemorated at the Atomic Bomb Museum, which is part of the Nagasaki Peace Park, a complex that also includes the Memorial Park and the Hypocenter Park. The museum warns visitors of the devastating effects of war through photos and other displays.
Museum Admission Fee: ¥200
Museum Opening Hours: 8:30 AM – 6:30 PM (May – August); 8:30 AM – 5:30 PM (September – April); CLOSED on December 29-31
Nearest Station: Atomic Bomb Museum Station (Tram/Streetcar 1 or 3) or JR Urakami Station (Train). From the tram station, it will take you about five minutes on foot to reach the museum.
---
Nagasaki Memorial Park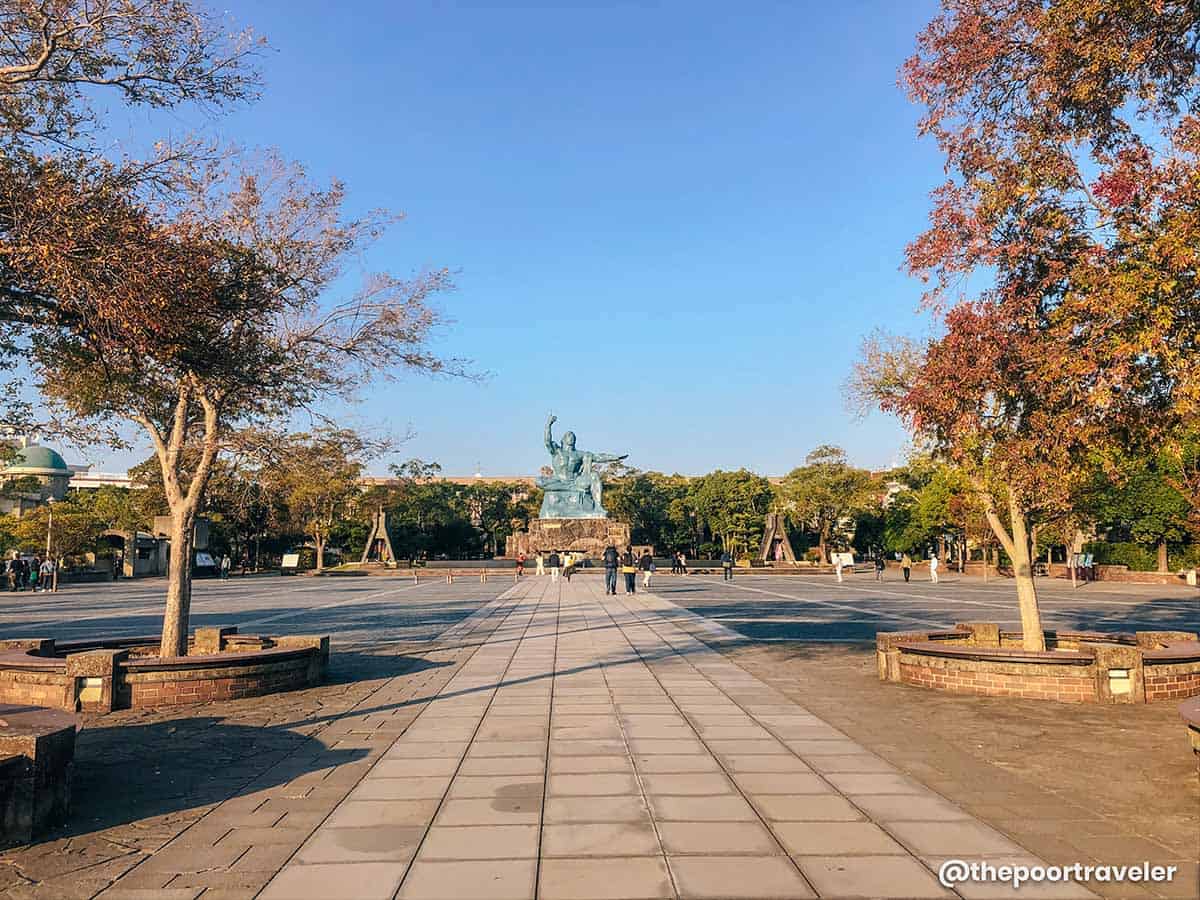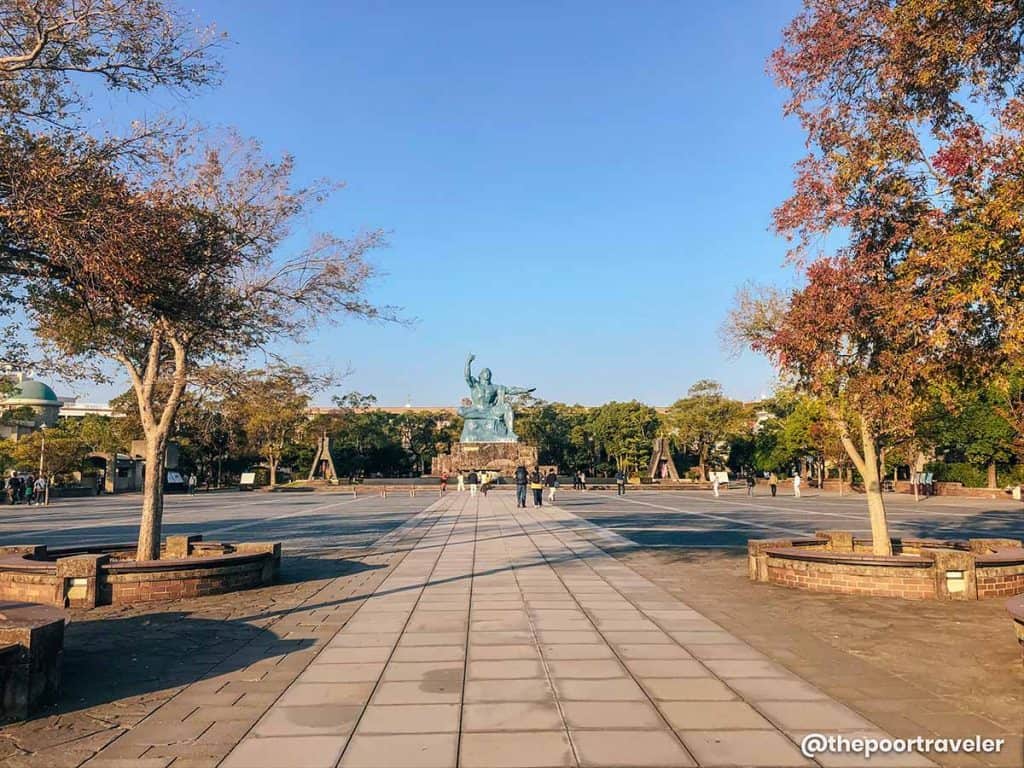 Also part of the Nagasaki Peace Park complex, the memorial park houses the Peace Statue, the Fountain of Peace, and many other pieces of artwork from around the globe, all supporting the park's message of peace.
Every year, in front of the Peace Statue, the Peace Memorial Ceremony is held on August 9, more than 70 years after that fateful day of the bombing back in 1945.

Nearest Station: JR Urakami Station and Peace Park Station (Tram/Streetcar 1 or 3). From the tram station, it is just a short walk to the memorial park.
---
Nagasaki Hypocenter Park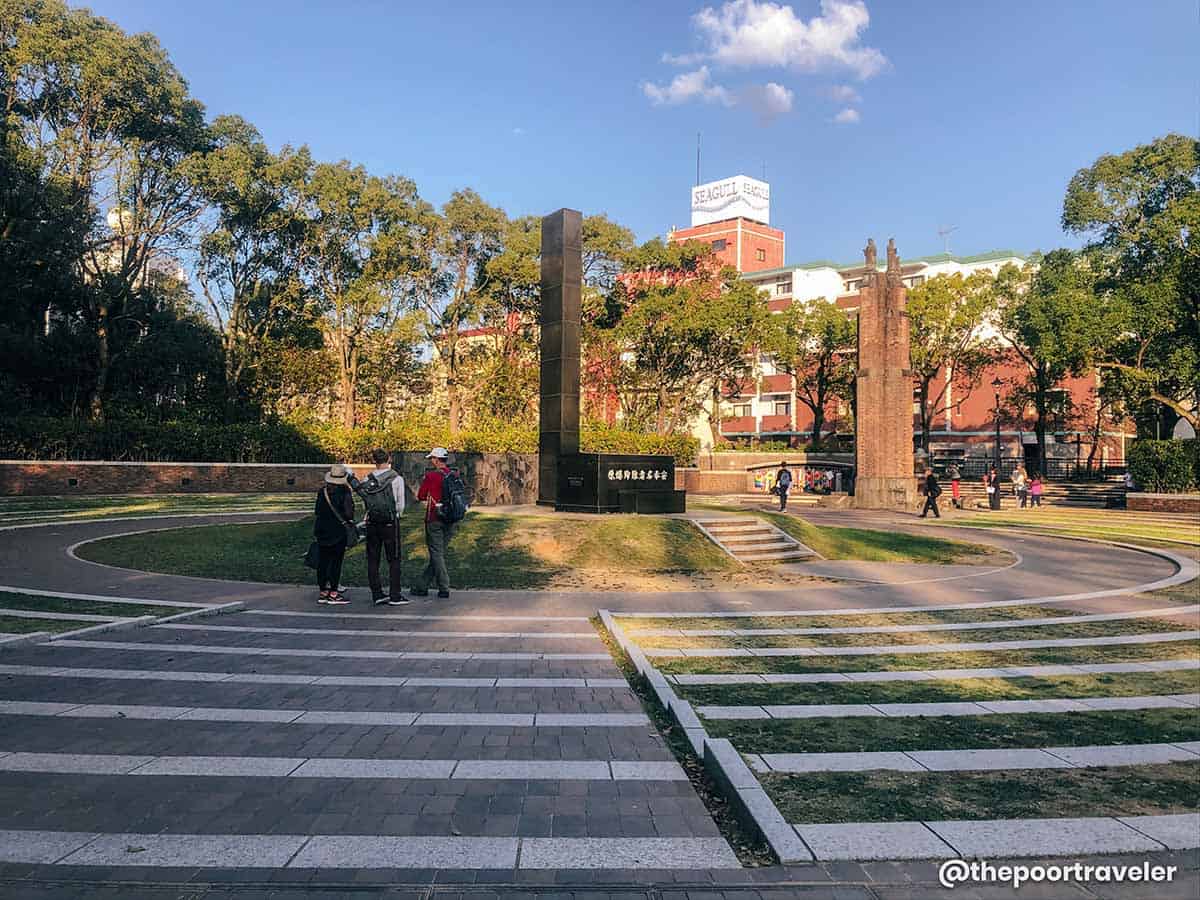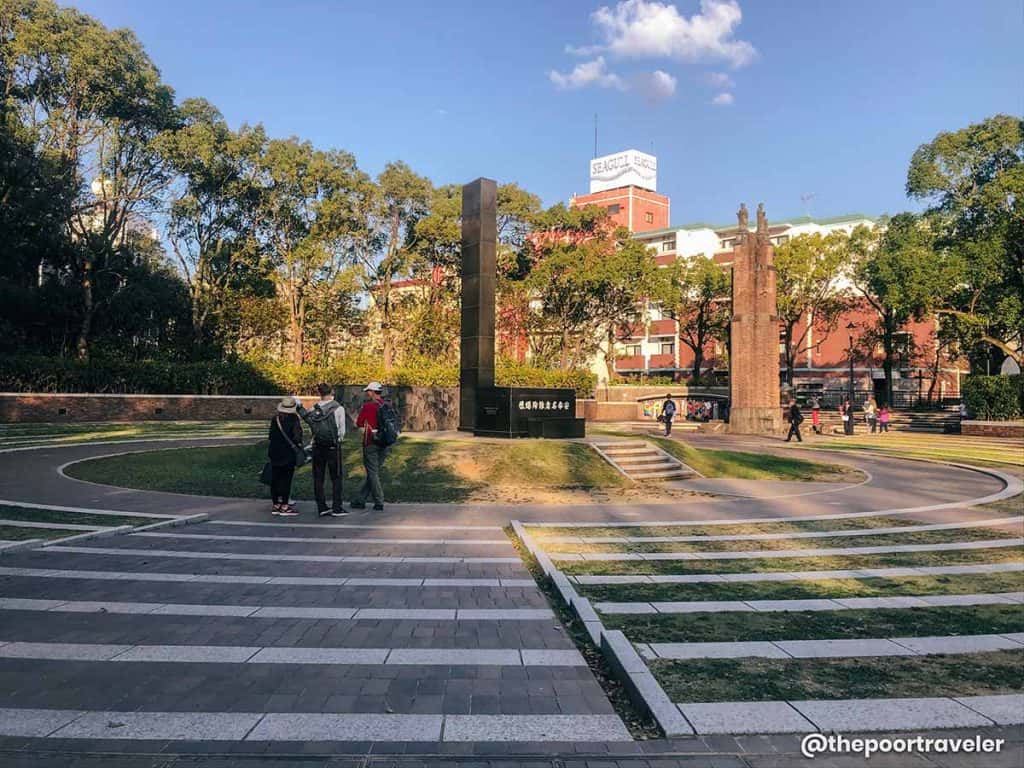 Located in the heart of the Peace Park complex, Hypocenter Park is the exact location of the atomic bomb explosion in Nagasaki on August 9, 1945. At present, a black monolith stands tall, marking the hypocenter.
A few steps from the monolith lie the transported ruins of what used to be the pillar of the old Urakami Cathedral, an important landmark for the Christians in Nagasaki.
Nearest Station: JR Urakami Station and Peace Park Station (Tram/Streetcar 1 or 3). From the tram station, it is just a short walk to the memorial park.
---
Dejima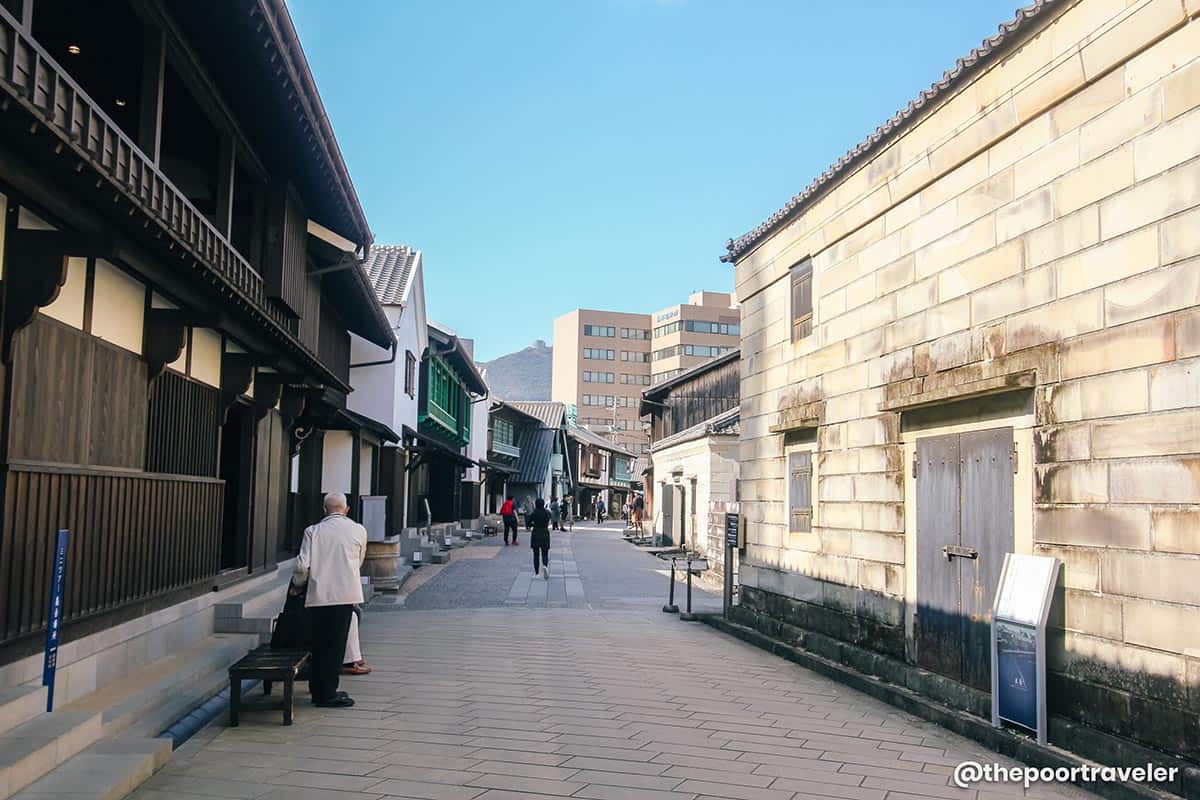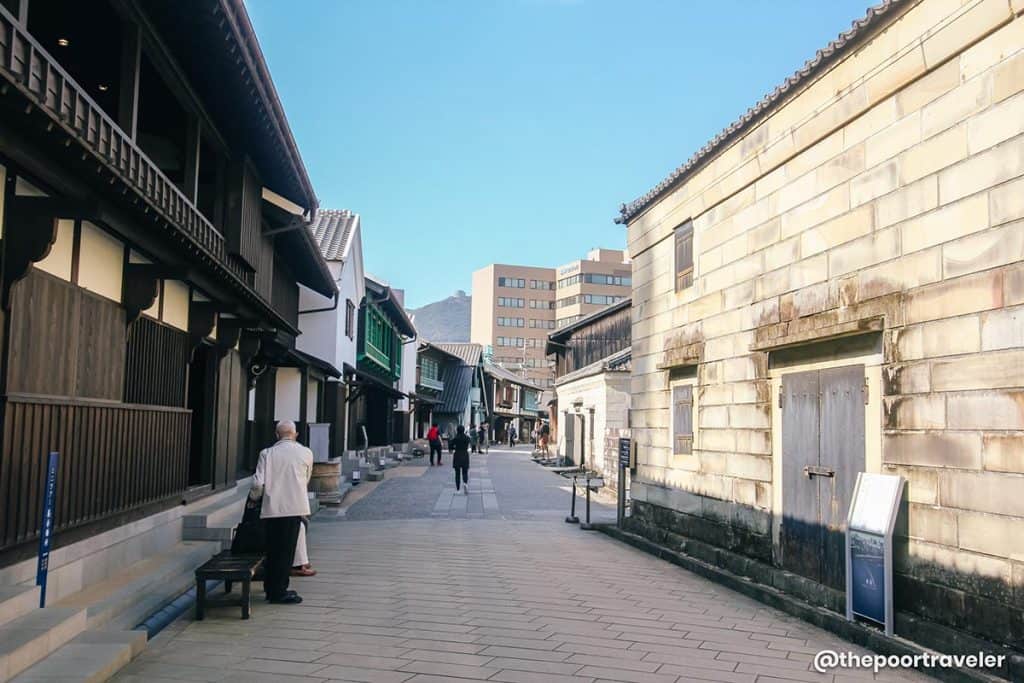 From 1639 to 1859 under the Tokugawa shogunate, Japan was in isolation. Nagasaki was the only port city that remained open to foreign trade, especially with the Portuguese and the Dutch. This explains why Nagasaki has a lot more visible foreign imprints all around the city even up to this day.
Dejima was an artificial island built in the 1600s to house Portuguese traders and separate them from the rest of the population and limit their missionary activities. When they were kicked out, it became a trading post for the Dutch East India Company until the mid-1800s.
Today, it is no longer an island because the area that separates it from the mainland has been reclaimed. But many of its structures have either been preserved or reconstructed, making it a giant museum, where you can learn about its history.
Admission Fee: ¥520 (Adult) / ¥100-200 (Students)
Opening Hours: 8:00 AM – 9:00 PM
Nearest Station: JR Nagasaki Station and Dejima Station (Tram/Streetcar 1). It's just a short walk from the tram station.
---
Huis Ten Bosch
The Netherlands has some history with Nagasaki. Like the Portuguese, the Dutch were allowed by the Japanese to trade in Nagasaki from the 16th to 19th century. Dejima also became the trading post for the Dutch East India Company. Yet, it's still pretty surprising to find a Holland-inspired theme park in Nagasaki — Huis Ten Bosch.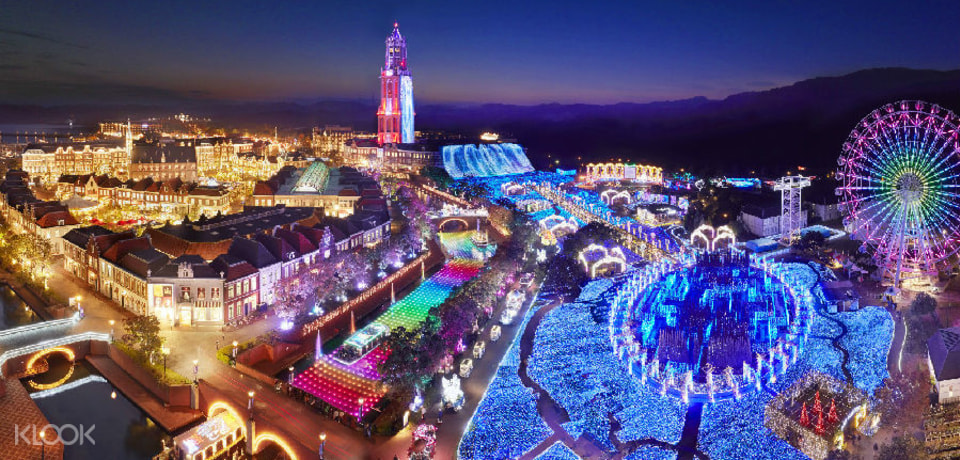 Huis Ten Bosch is a theme park in Sasebo City, roughly 1.5 hours from Nagasaki City. The overall design of the place was modeled after a Dutch town, complete with windmills, canals, Dutch-style buildings, and if your timing is right, tulips.
It is the sister resort of Laguna Ten Bosch in Gamagori City in Aichi prefecture. Both parks were previously managed by another company until H.I.S., which is a major player in Japan's travel industry, took over.
Entrance fee: ¥7000 (adult)
Hours open: 9/10am-10pm
Nearest station: Huis Ten Bosch Station
✅ GET YOUR TICKETS HERE!
---
Battleship Island (Gunkanjima)
Officially called Hashima, this abandoned island 15 kilometers off the coast of the city is often nicknamed Battleship Island (Gunkanjima) because it resembles, well, a Japanese battleship.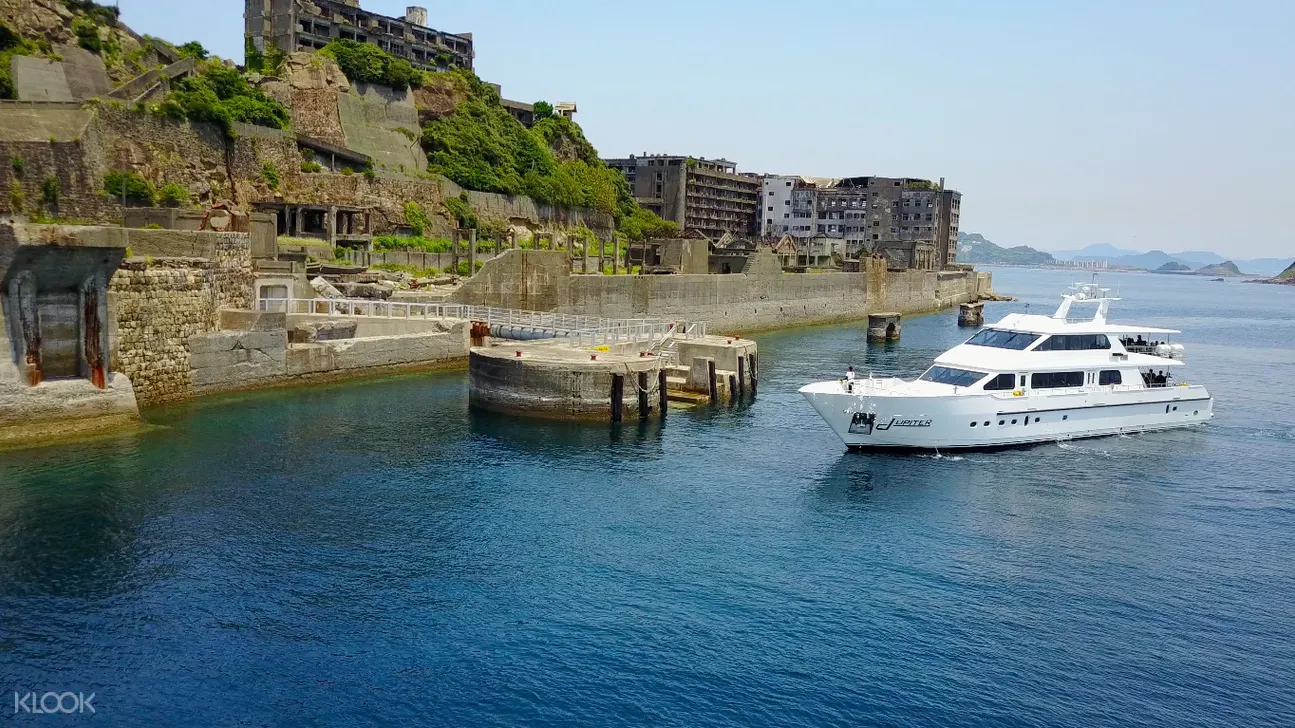 In 1810, coal was discovered near the island. When an undersea mine was established in 1887, people moved to the island and a community took shape. At one point, this 6-hectare island had over 5000 inhabitants, making it one of the most densely populated area in history. When the resources depleted, people moved out until it was completely abandoned and closed in 1974.
Today it is one of Japan's Meiji Industrial Revolution sites, inscribed on the UNESCO World Heritage list. For now, you can't set foot on the island because of the damage by a typhoon, but you can get close by boat and admire from a safe distance.
How to get there: Several companies offer Battleship Island tours. If you book with Klook, the meet up is at Gunkanjima Digital Museum. Nearest station is Oura Cathedral Station.
✅ RESERVE A SLOT HERE!
---
Gunkanjima Digital Museum
If you're not up for a boat trip, you can still learn more about Battleship Island in the comfort of a museum. The Gunkanjima Digital Museum uses modern technology to let you appreciate history better. Through projection mapping and giant screens, you can be transported to the time when the island was inhabited and the mining community was thriving.
If you wish to go on a boat tour to the actual site, choose one that departs from the Gunkanjima Digital Museum so you could visit the museum before you head off to the island. This way, you can have better appreciation of the destination.
Entrance fee: ¥1,800
Hours open: 9:00 am – 5:00 pm
Nearest Station: Oura Cathedral Station.
---
Glover Garden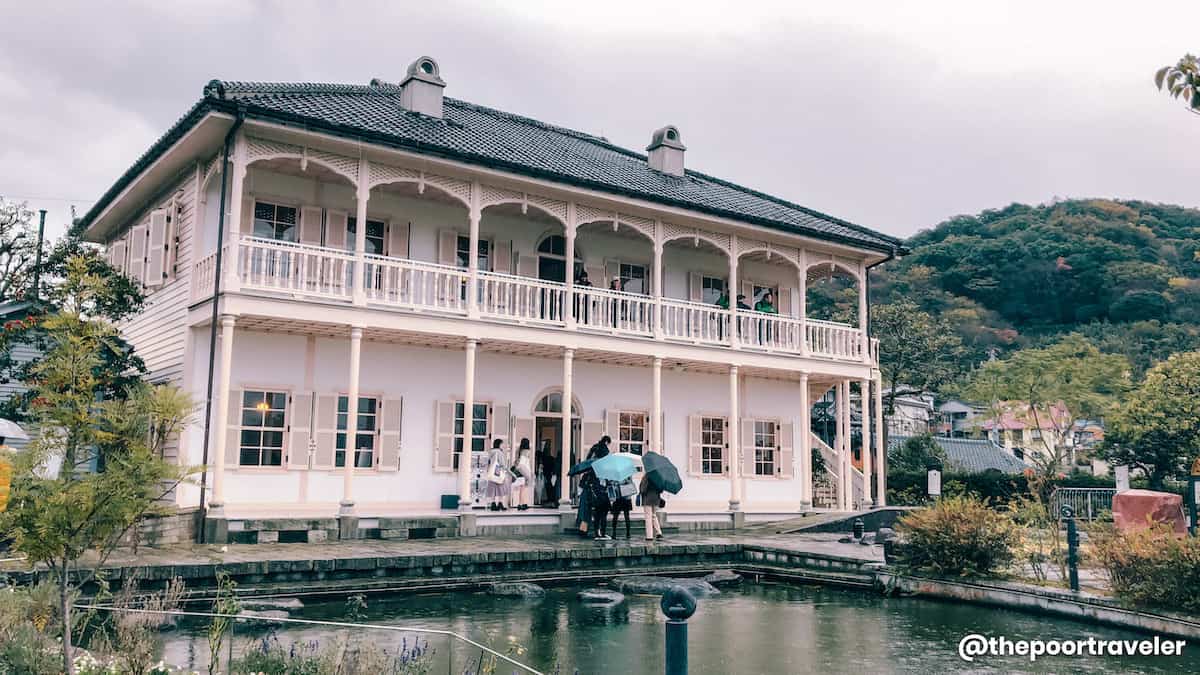 Another spot included in the "Sites of Japan's Meiji Industrial Revolution: Iron and Steel, Shipbuilding and Coal Mining" is the Former Glover Residence, the centerpiece of Glover Garden. It is also inscribed on the list of UNESCO World Heritage Sites.
Glover Garden is a park and open-air museum named after Thomas Blake Glover, a Scottish trader who moved to Nagasaki in 1859 and became a key figure in the industrialization of Japan.
The house is currently undergoing renovation and closed to the public until November 2020, but there are still other structures to see here including the Former Mitsubishi second dock house and the statues of Madame Butterfly opera composer Giacomo Puccini and singer Miura Tamaki. It is sometimes nicknamed Madame Butterfly House.
From the park, you can also enjoy breathtaking views of Nagasaki harbor.
Nearest station: Oura Cathedral. It's only a five-minute walk from there.
---
Mount Inasa
Speaking of breathtaking views…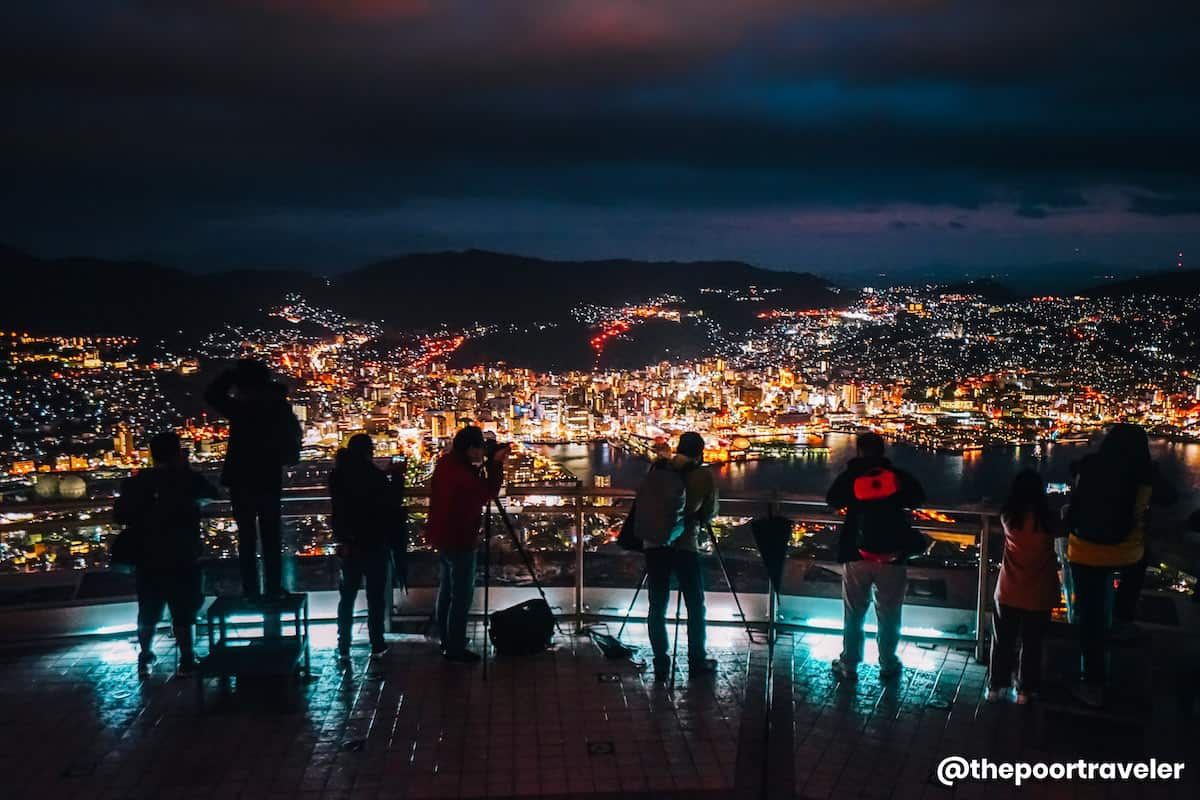 Mount Inasa or Inasayama offers visitors a spectacular view of the Nagasaki Harbor. The vista is so stunning that it is hailed one of three most spectacular night views in Japan (along with Mt. Hakodate and Kobe) and one of three best night views of the world (along with Monaco and Hong Kong).
The best time to go is at dusk when you can witness both the breathtaking sunset and night view. Other attractions here are the Hikari Tunnel, Hikari Monument, Promise Heart (for lovers!), Hikari Restaurant, and the Nagasaki Ropeway.
If you wish to take the ropeway, here are the fares:
One Way: ¥730 (Adult) / ¥520 (Middle & HS) / ¥410 (Child)
Round Trip: ¥1,250 (Adult) / ¥940 (Middle & HS) / ¥620 (Child)
Admission Fee: FREE
Nearest Station: Takaramachi Station (Tram/Streetcar 1 or 3). You can also catch a bus from Nagasaki Station. From Nagasaki station, take the Nagasaki Bus Route 3 or 4 to Ropeway-mae Bus Stop. From the Ropeway Bus Stop, walk for about 2 minutes to the Fuchi Jinjya Ropeway Station. Take the 5-minute ropeway ride to the summit. For those who don't wish to take the ropeway, you can board the bus to Inasayama Bus Stop and then hike to the summit for about 15 minutes. There are free shuttle bus rides from Inasayama Bus Stop straight to the observatory tower area on weekends and holidays.
---
Twenty-Six Martyrs Monument and Museum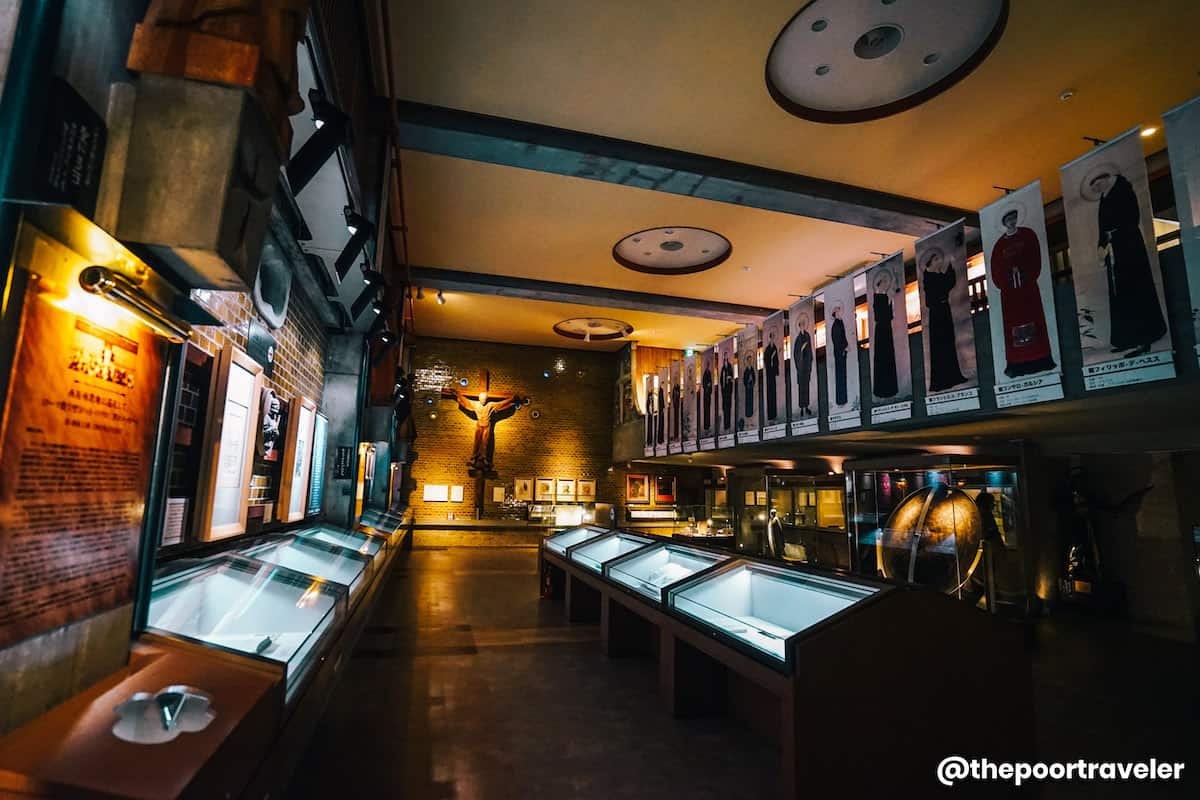 One of the major influences that the Europeans brought to Nagasaki is Christianity. In 1549, Jesuit father Francis Xavier led the first mission in Japan. At first, the government gave them permission in order to solidify European relations.
But before the end of the 1500s, they banned the new faith and began persecuting Christians. Among them were 26 faithfuls (20 Japanese and six foreigners), including Saint Paul Miki. They were arrested in Osaka and Kyoto, forced to march on snow all the way to Nagasaki, and crucified on Nishizaka Hill in front of a big crowd.
Today, the hill is the site of the monument and museum dedicated to these 26 martyrs.
Nearest Station: JR Nagasaki Station and Nagasaki Station (Tram/Streetcar 1 or 3). It will take you about 10 minutes on foot to reach the museum and the monument from the station.
---
Ōura Church and Christian Museum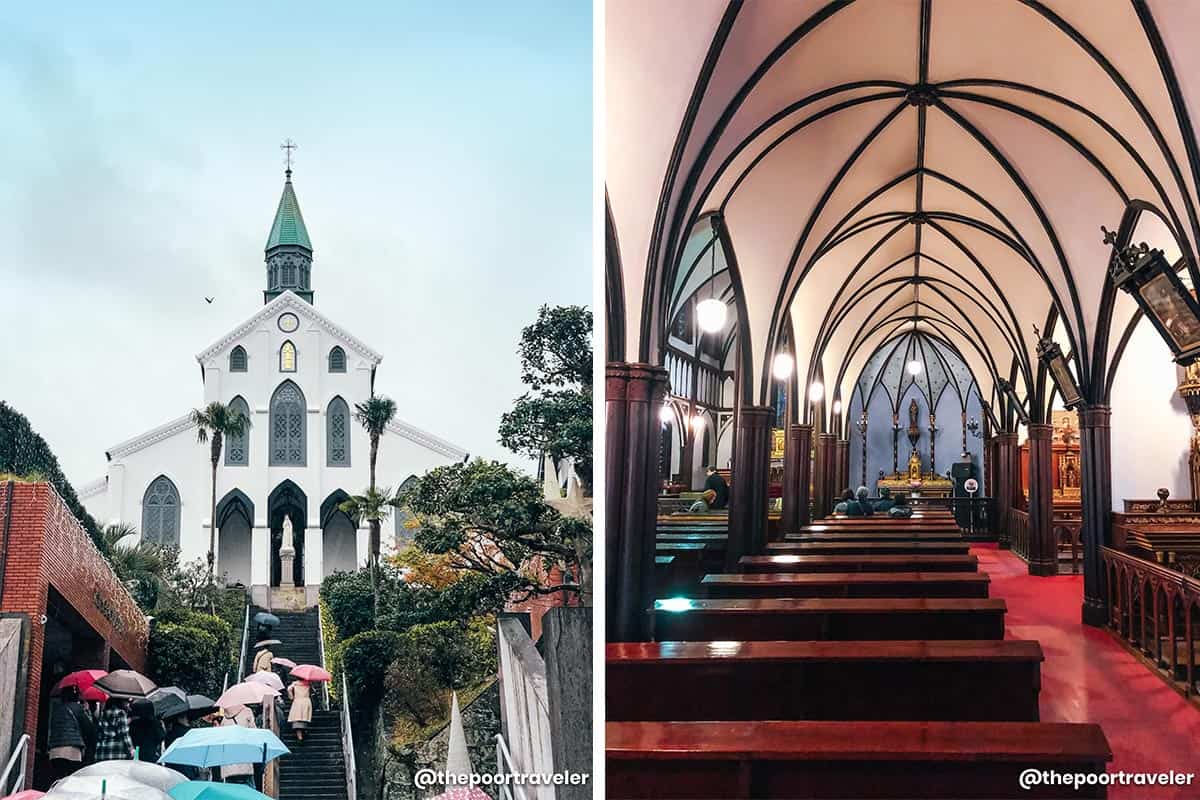 Another site built in honor of the 26 martyrs is the Oura Church, formally known as the Basilica of the Twenty-Six Holy Martyrs of Japan. The original, simpler church was built by Koyama Hidenoshin under the supervision of French missionary Bernard Petitjean. When it was completed in 1864, Japanese Christians who were in hiding began going to the church in thousands. Today, it remains a functioning Roman Catholic basilica.
Oura Church is also inscribed in the UNESCO World Heritage list as one of the Hidden Christian Sites in the Nagasaki Region. Beside it is the Christian Museum, which narrates the history of Christianity in Japan.
---
Nakamachi Catholic Church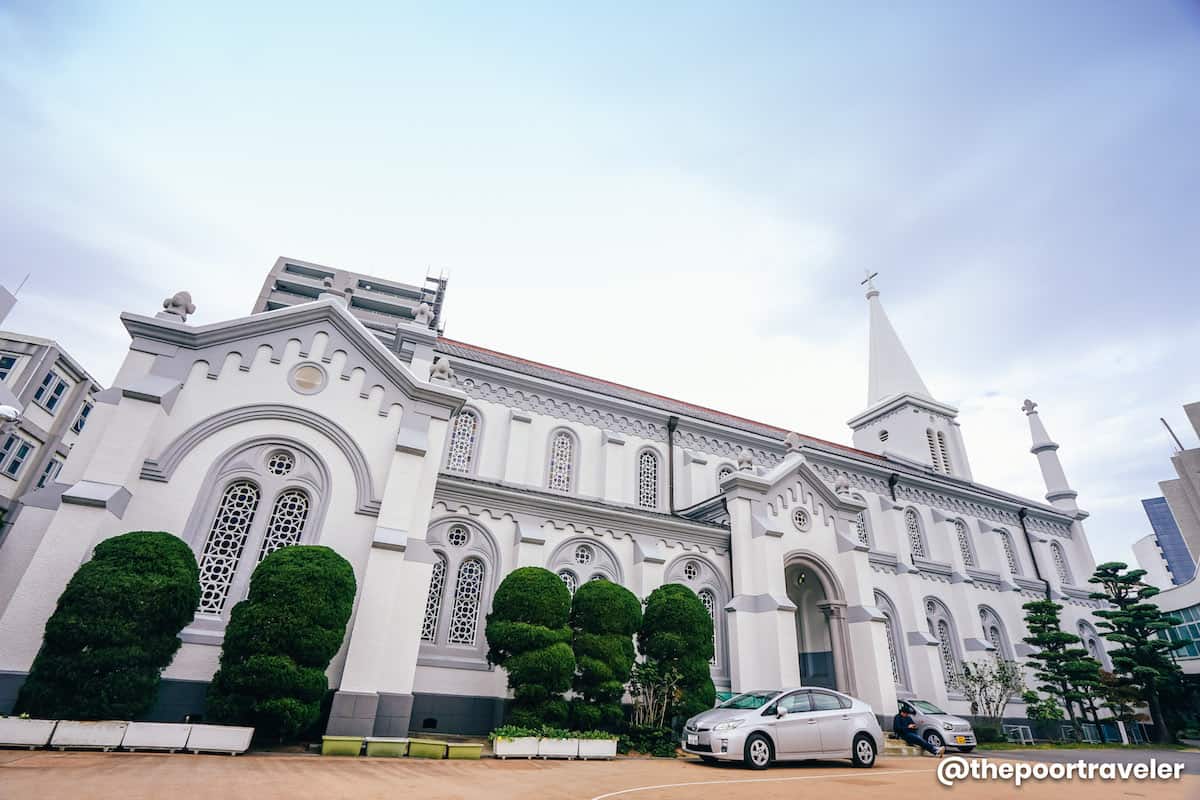 Another important Catholic house of worship in Nagasaki is the Nakamachi Church, located just a short walk from JR Nagasaki Station.
The church was dedicated to the 16 Martyrs, which is a different group from the 26 Martyrs honored at Oura Church. The 16 Martyrs were tortured and executed around 30 years after the 26. This group includes St. Thomas Nishi, the first Japanese Dominican priest, and St. Lorenzo Ruiz, the first Filipino saint. Unlike the first 26 who were crucified, they were hanged upside down above a pit.
The church was built in 1896 but was destroyed when the atomic bomb was dropped in Nagasaki. It was then reconstructed. Today, a monument to the 16 martyrs stands in the garden of the church.
Nearest station: JR Nagasaki Station
---
Nagasaki Chinatown
More formally known as Nagasaki Shinchi Chinatown, this is the oldest Chinatown in Japan. It also used to be an island but eventually became part of the mainland after reclamations. While the Portuguese and the Dutch were only allowed to stay in Dejima, Chinese sailors and merchants were assigned this area to stay and do business.
There were several restrictions on them too, but not as much as their European counterparts. Because of this, they had a more massive impact on the culture, especially the food. Many of the local delicacies of Nagasaki have Chinese influence, which I'll discuss in the next sections.
Today, you'll find a lot of Chinese restaurants and shops in this part of Nagasaki. The area is pretty tiny compared to other Chinatowns I have visited, but it's well-appointed.
---
Nagasaki Lantern Festival
The largest lantern festival in Japan, the Nagasaki Lantern Festival happens for 15 days around the Chinese New Year. Tens of thousands of lanterns are put on display, fostering a grand and festive atmosphere. The event used to be celebrated only by the city's Chinese population but it was eventually observed by the whole city.
Aside from the lantern ornaments, expect to see Mazu procession, Emperor's parade, and lion and dragon dances!
---
Champon
Most Japanese cities take pride in their own signature versions of ramen. Here in Nagasaki, locals prefer their bowls filled with champon!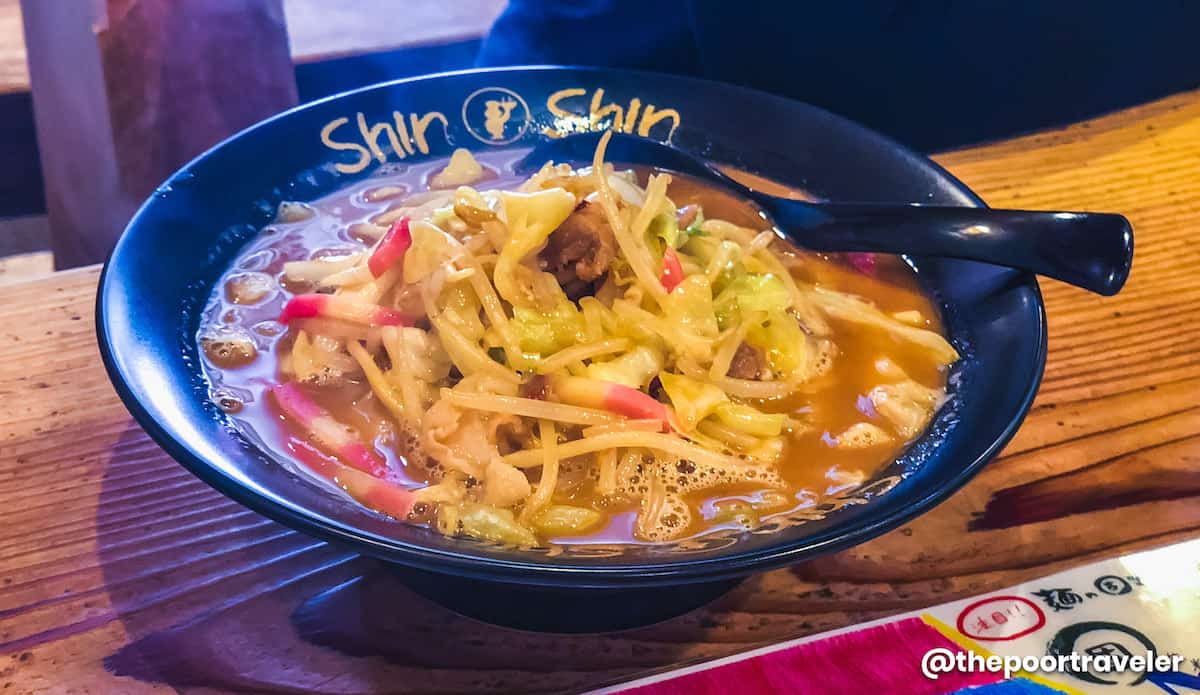 Champon (or chanpon) is a noodle soup dish. It also uses ramen (pulled noodles), but they're thicker than usual. The broth, made with pig and chicken bones, is also thicker in consistency — creamy, almost milky — but lighter in taste. Every bowl also comes with generous helpings of various vegetables and seafood, usually shrimp and squid. Other types of meat like chicken or bacon are sometimes added.
Champon's origins can be traced back to a Chinese restaurant called Shikairō, which is believed to have created champon in 1899 to cater to the Chinese students looking for cheap but filling comfort food. The restaurant still operates to this day and even has an attached Champon Museum. You can find it near the Oura Church.
---
Sara Udon (Crispy Noodles)
Another Nagasaki delicacy with a heavy Chinese influence is sara udon.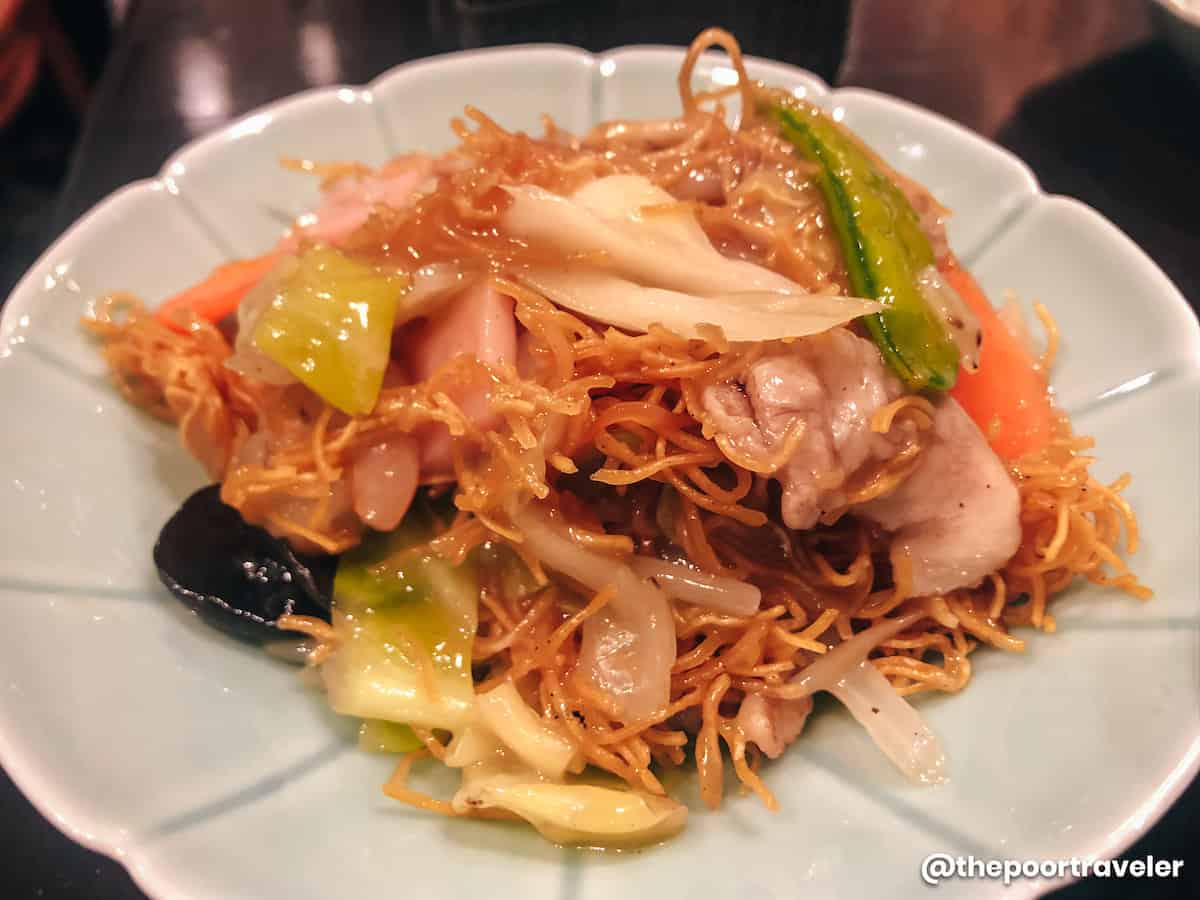 Sara udon is composed of noodles fried to a crisp and then topped with vegetables like cabbage and carrots and seafood like squid and shrimps. Sometimes, pork or other meat are added on top. The tender veggies and proteins complements the crunchy, textured noodles, making a perfect combination!
---
Kakuni Manju (Pork Buns)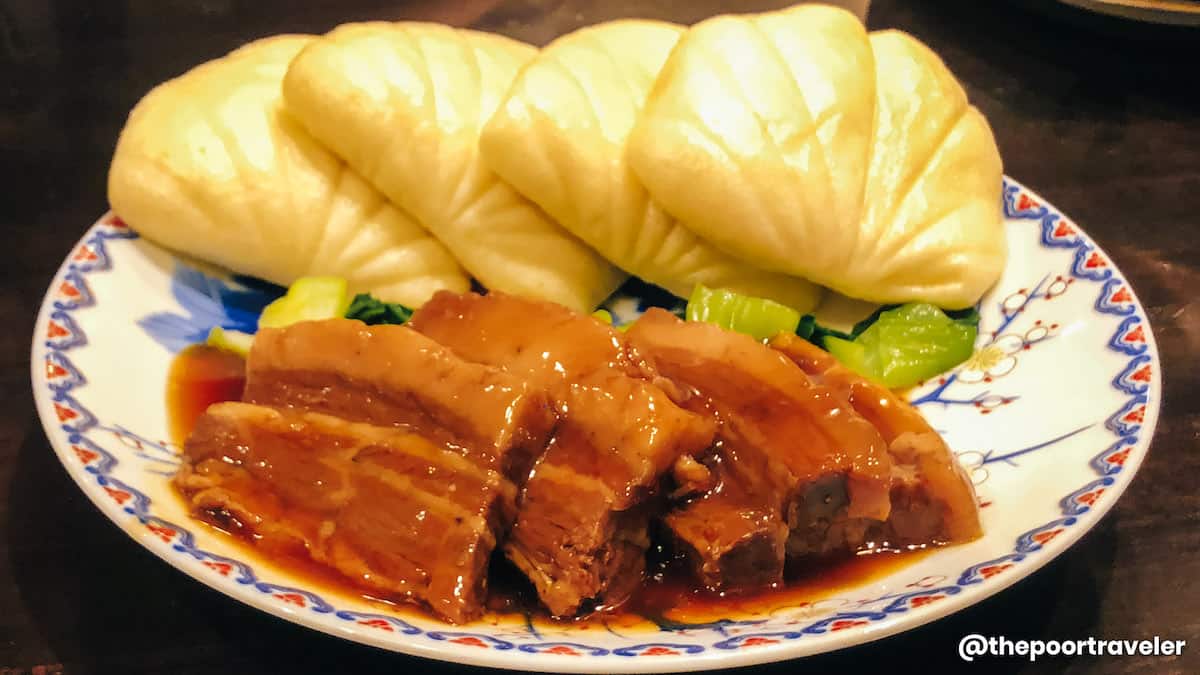 This is perhaps my favorite Japanese street food. Kakuni manju is Japanese braised pork belly wrapped in soft steamed bun. You can find it sold at food stalls or served at proper sit-down restaurants in Nagasaki.
It reminds me a little bit of siopao asado, but instead of ground or chopped pork, you have a full cut of meat, stewed or braised to perfection.
---
Turkish Rice (Toruko Rice)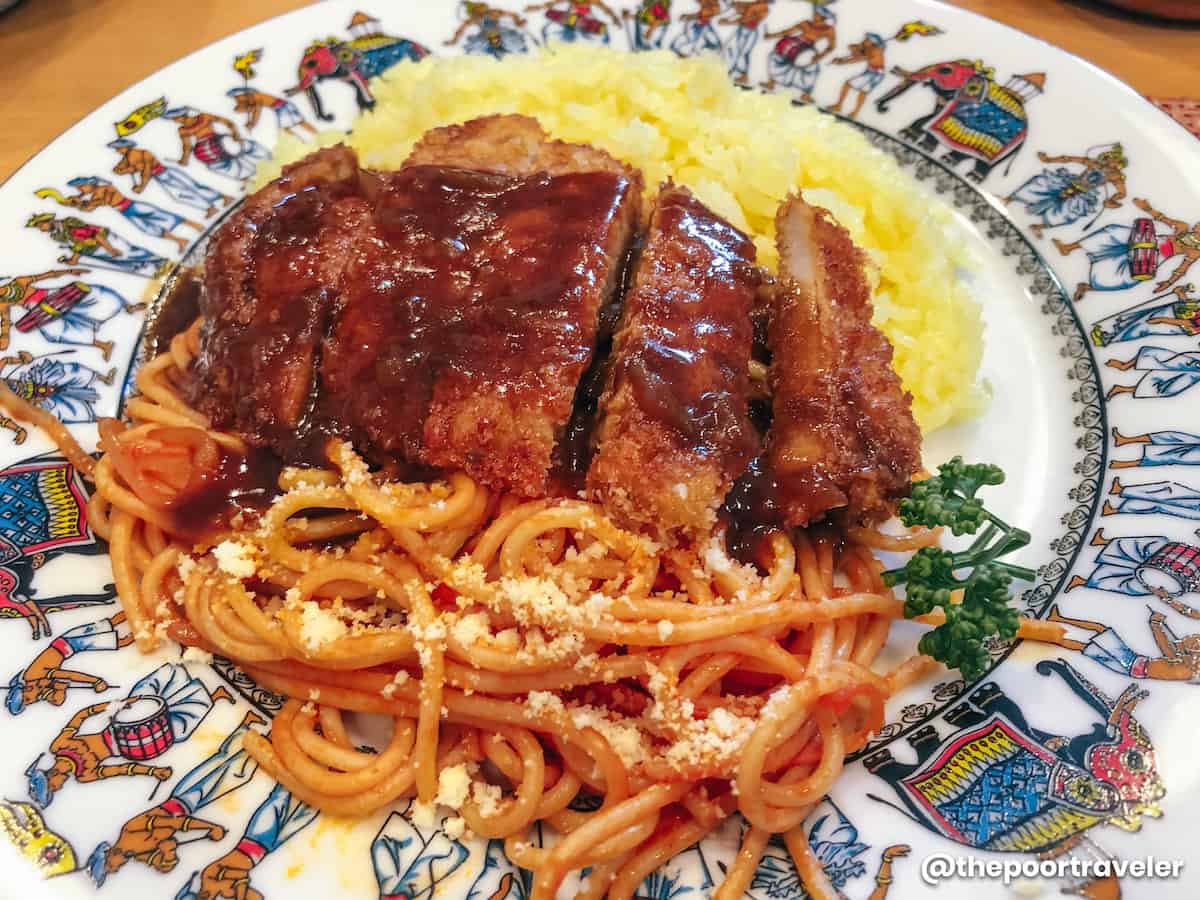 If Saga has Sicilian rice, Nagasaki has Turkish rice. Why it's called Turkish rice — I don't know. And apparently, no one does.
What we know for sure is that it is a strange combination of international cultures on a plate — pilaf rice, tonkatsu (pork cutlet), and Neapolitan spaghetti glazed with a sauce. It does look like a buffet plate or a combo meal. Haha.
One theory suggests that because rice comes from Asia and spaghetti comes from Italy, the place in between is Turkey, hence the name. Regardless, give it a try when you find yourself in Nagasaki!
---
Castella Cake
It's time for dessert!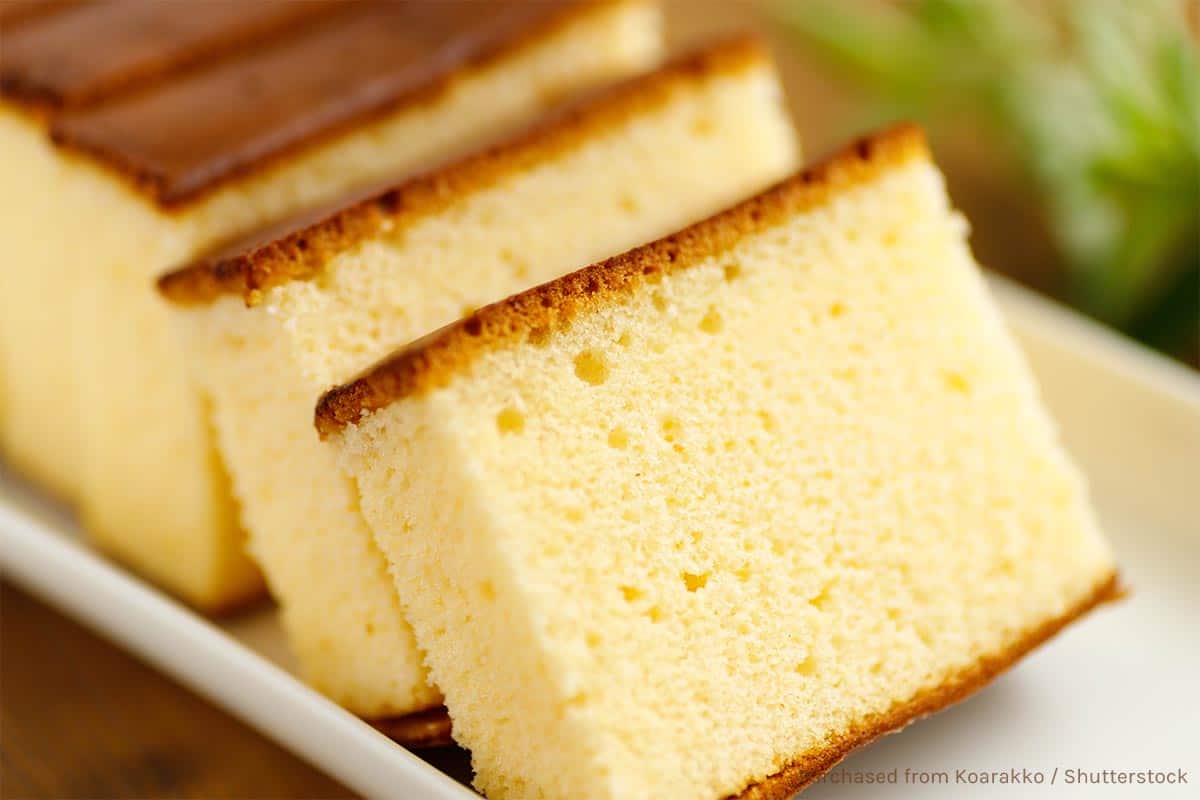 Of course, the Portuguese also left a mark in Nagasaki's cuisine, and it is most obvious in castella!
Castella is a type of sponge cake brought by Portuguese merchants in the 16th century when they were allowed to trade in the city. It is said to have been named after Castile, a historical region of Spain. The original recipe of the cake used only flour, eggs, starch syrup and sugar, with no milk or baking powder. Producing one at the time was so difficult, which makes it a very special treat. Over the centuries, a lot has changed with the ingredients and the way they bake it.
You'll find castella at Japanese confectionery stores and some souvenir shops throughout Nagasaki!
---
Hamano-machi Arcade (Hamamachi Shopping Street)
Shopping stop!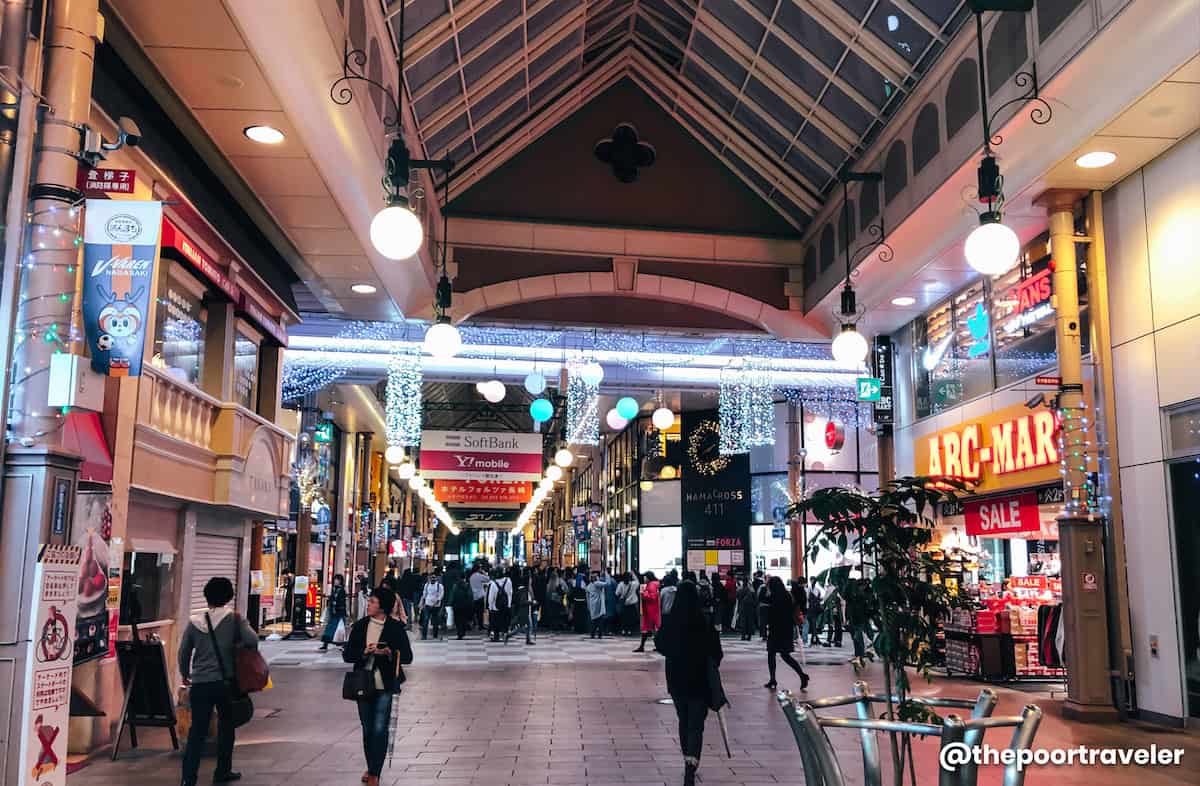 Most major cities in Japan have their own roof-covered shopping street, and Nagasaki is no exception. In Nagasaki, it's Hamanomachi or Hamamachi Shopping Arcade, which is flanked by countless stores, restaurants, cafes, convenience stores, and souvenir shops. If you're looking for Don Quijote, you'll find a massive branch here too.
The arcade is within walking distance of Chinatown and is very accessible.
Nearest stations: Nishihamanomachi, Kanko-dori, Shianbashi
---
HOW TO GET TO NAGASAKI
Nagasaki has its own airport, but most visitors come from the much bigger and more well-connected Fukuoka International Airport (FUK). The two main options are by bus and by train. But if you want to maximize your time, the train is the better option.
Travel time: 125 minutes.
Fare: 2860yen + 1410 seat fee.
The total one-way cost is 4270 yen. Round-trip, 8540 yen.
If you decide to take the train, it might be better to purchase a JR Northern Kyushu Rail Pass, which already covers the northern cities of the island including Fukuoka and Nagasaki. Available in 3-day and 5-day versions.

Make sure to choose NORTHERN AREA Kyushu Pass. Emphasis on Northern. The JR Kyushu Rail Pass comes in three forms: NORTH, SOUTH and ALL KYUSHU passes.
A 3-day pass costs only 8660 yen, almost the same price of a roundtrip Fukuoka-Nagasaki ticket, but this can also be used on all your JR train journeys within Northern Kyushu including rides around Fukuoka.
✅ CHECK RATES or RESERVE JR KYUSHU PASS HERE!
---
HOW TO GET TO FUKUOKA
This post is brought to you by Cebu Pacific, which offers some of the most budget-friendly flights to Fukuoka Airport, the main gateway to Fukuoka and Kyushu Region. Cebu Pacific directly connects Manila to Fukuoka daily. Travel time is about three hours.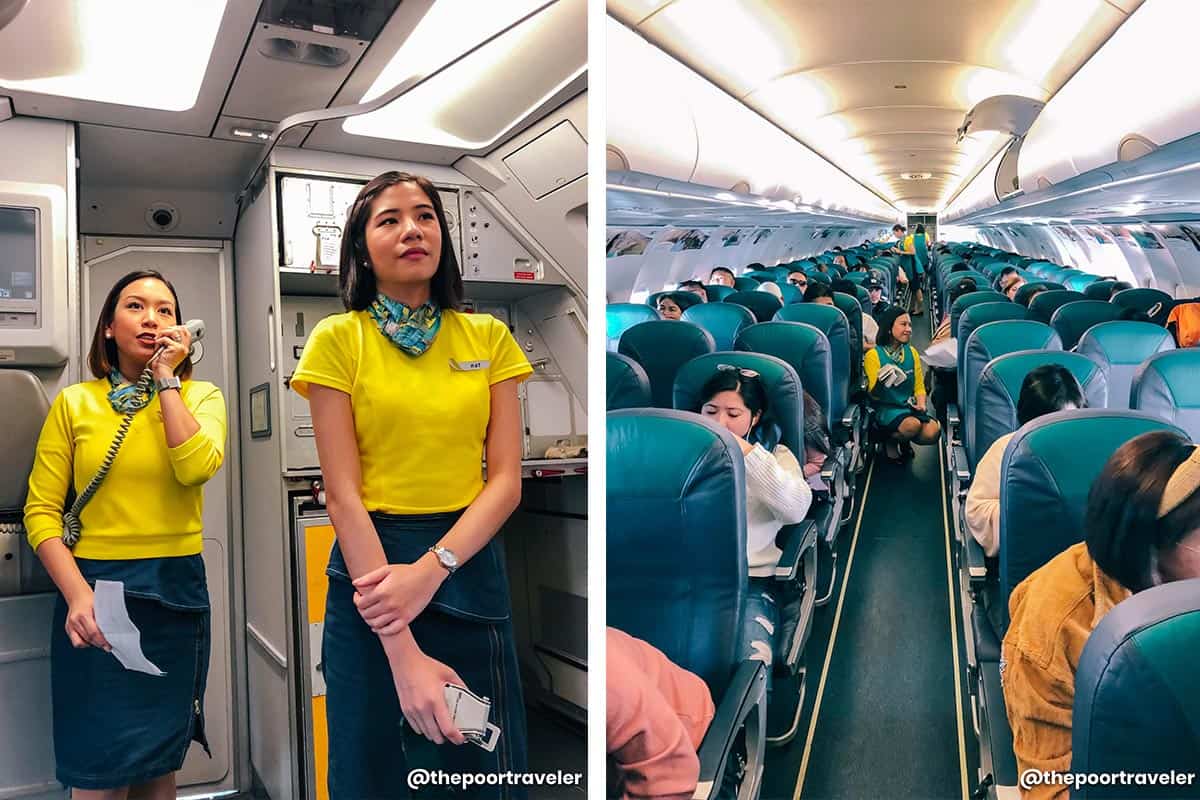 Getting to the city center (Hakata/Tenjin) from Fukuoka Airport is very easy. You can take the subway, the bus or the taxi. It will take about thirty minutes from the airport to either Hakata or Tenjin. You can read the detailed post on how to get to the city center from the airport here: FUKUOKA AIRPORT to HAKATA STATION & TENJIN: By Bus, Subway & Taxi
---
Words and photos by Yosh Dimen and Astrid Alvarez
Special thanks to JR Kyushu, Kyushu Tourism Promotion Organization, and Cebu Pacific for making our Kyushu trip possible! Opinions are our own.
---
More Tips on YouTube ⬇️⬇️⬇️