Fukuoka City is the capital of Fukuoka Prefecture. It is probably the most well-known city in the Kyushu region; thanks mainly to its airport, which serves as the primary gateway to the island. The JR Hakata Station also connects the island to most major stations throughout Japan.
On our recent trip, we flew with Cebu Pacific to Fukuoka. While Fukuoka is a wonderful destination, it is also an ideal base for those wanting to explore other notable destinations in Kyushu Island. One of the most easily accessible is the City of Nagasaki, so we dedicated a full day to this unique destination.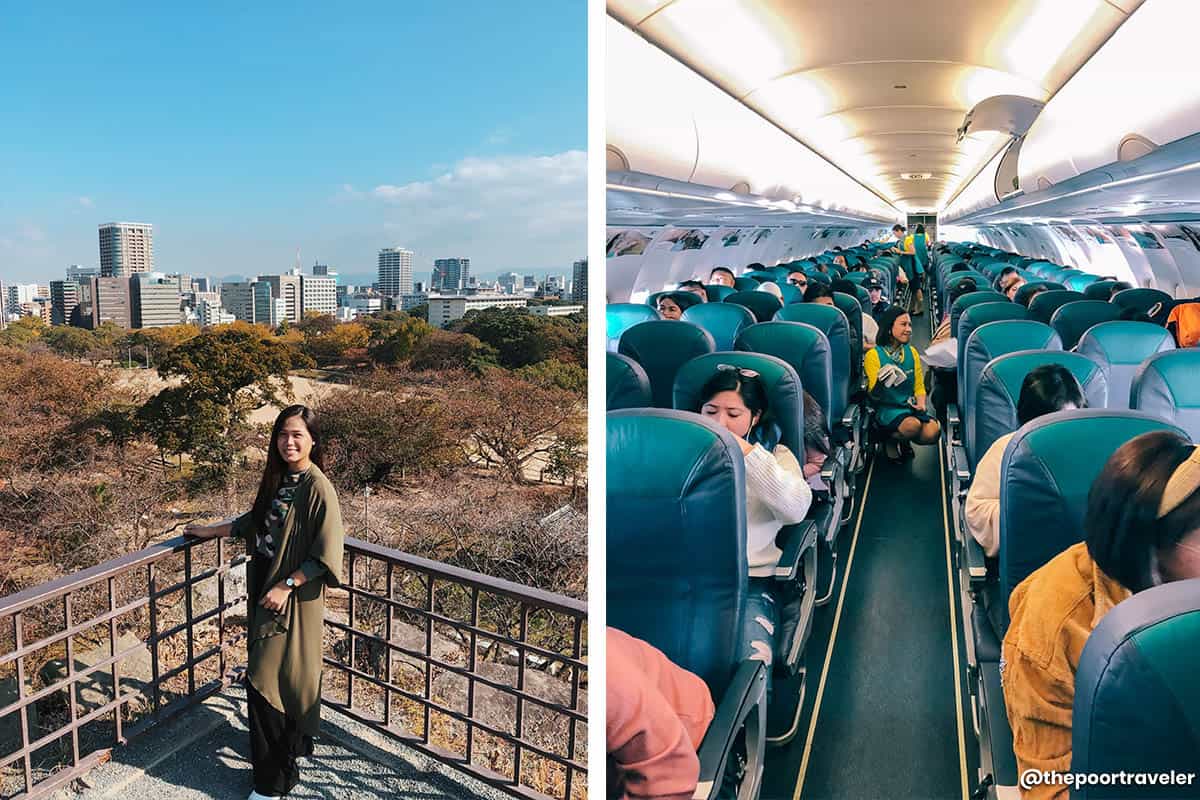 Nagasaki City is the capital of Nagasaki Prefecture, one of the seven prefectures on Kyushu Island. I'm sure you've heard of this city before. In grade school, you probably learned about it as the city where the United States dropped the second atomic bomb, which put an end to World War II. Prior to that, Nagasaki was where foreign influences mixed with Japanese traditions. For over two centuries, while the rest of the country was in isolation, Nagasaki was the only port in Japan that was open to foreign trade.
Today, although Nagasaki is undoubtedly Japanese, it is an eclectic city, which makes it an interesting addition to your itinerary. If you only have a day to spare, here are some key spots to visit. We also provided a sample itinerary in the end.
WHAT'S COVERED IN THIS GUIDE?
HOW TO GET TO NAGASAKI FROM FUKUOKA
The two main options are by bus and by train. But if you want to maximize your time, the train is the better option. Ideally, catch the 6:33am or 7:17am Limited Express Kamome train at Hakata Station and get off at Nagasaki Station.
Travel time: 125 minutes.
Fare: 2860yen + 1410 seat fee.
The total one-way cost is 4270 yen. Round-trip, 8540 yen.
If you decide to take the train, it might be better to purchase a JR Northern Kyushu Rail Pass, which already covers the northern cities of the island including Fukuoka and Nagasaki. Available in 3-day and 5-day versions.

Make sure to choose NORTH Kyushu Pass. Emphasis on Northern. They also sell SOUTH and ALL KYUSHU passes on the same page.
A 3-day pass costs only 8660 yen, almost the same price of a roundtrip Fukuoka-Nagasaki ticket, but this can also be used on all your JR train journeys within Northern Kyushu including rides within Fukuoka.
✅ CHECK RATES or RESERVE JR KYUSHU PASS HERE!
---
PLACES TO VISIT IN NAGASAKI
Atomic Bomb Museum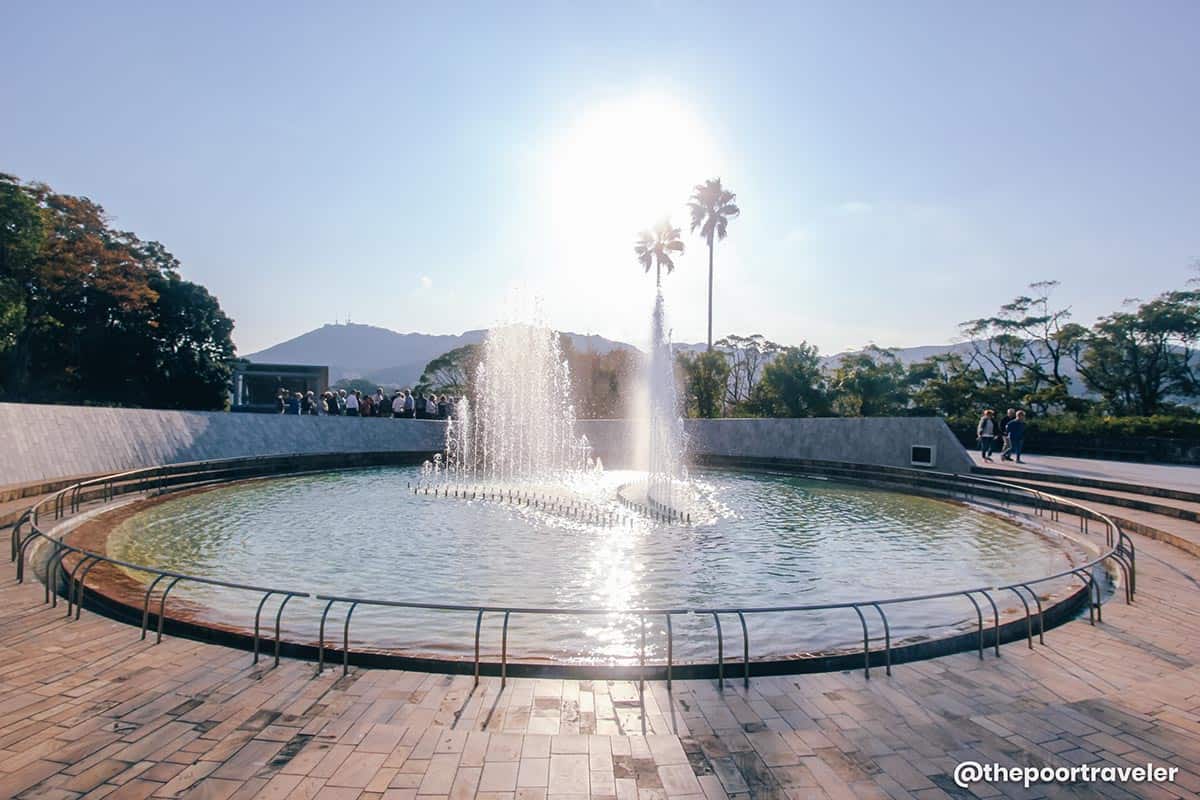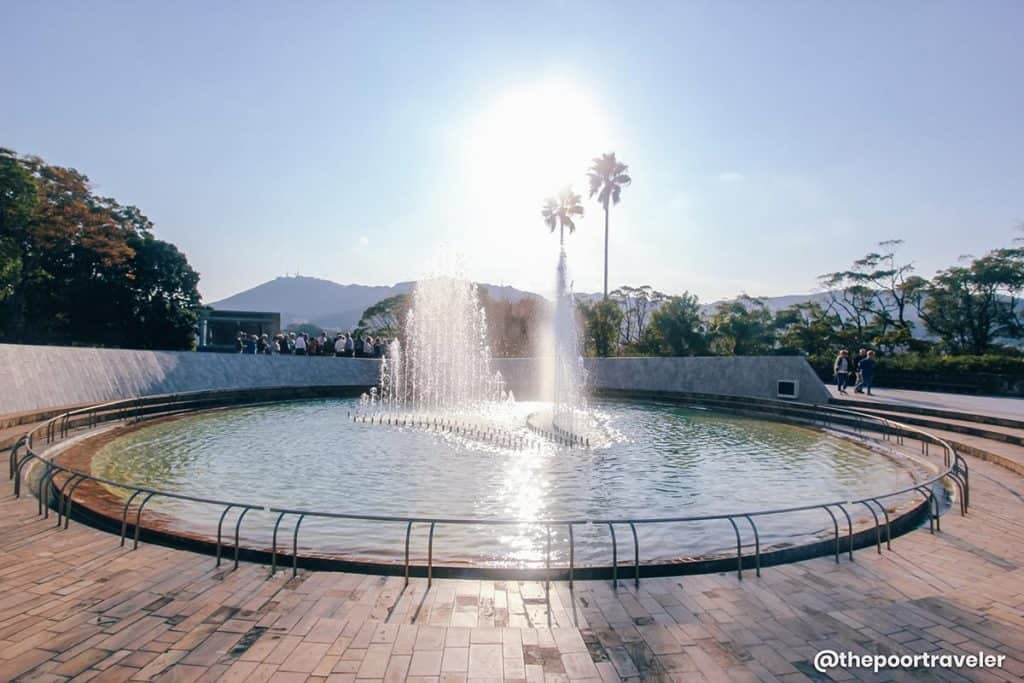 The Nagasaki Peace Park is a hilly complex spanning the memorial park, the hypocenter park, and the atomic bomb museum. Aside from serving as a remembrance of the atomic bombing of Nagasaki during WWII, it is also a call for peace, reminding the present generation and those to come of the atrocities of war and the devastating effects of nuclear weapons. The Atomic Bomb Museum shows the effect of war through the physical remnants and photos of the bombing.
Museum Admission Fee: ¥200
Museum Opening Hours: 8:30 AM – 6:30 PM (May – August); 8:30 AM – 5:30 PM (September – April); CLOSED on December 29-31
Location: 7-8 Hiranomachi, Nagasaki City (Museum); 9 Matsuyamamachi, Nagasaki City, Nagasaki (Peace Park)
Nearest Station: Atomic Bomb Museum Station (Tram/Streetcar 1 or 3) or JR Urakami Station (Train). From the tram station, it will take you about five minutes on foot to reach the museum.
---
Nagasaki Memorial Park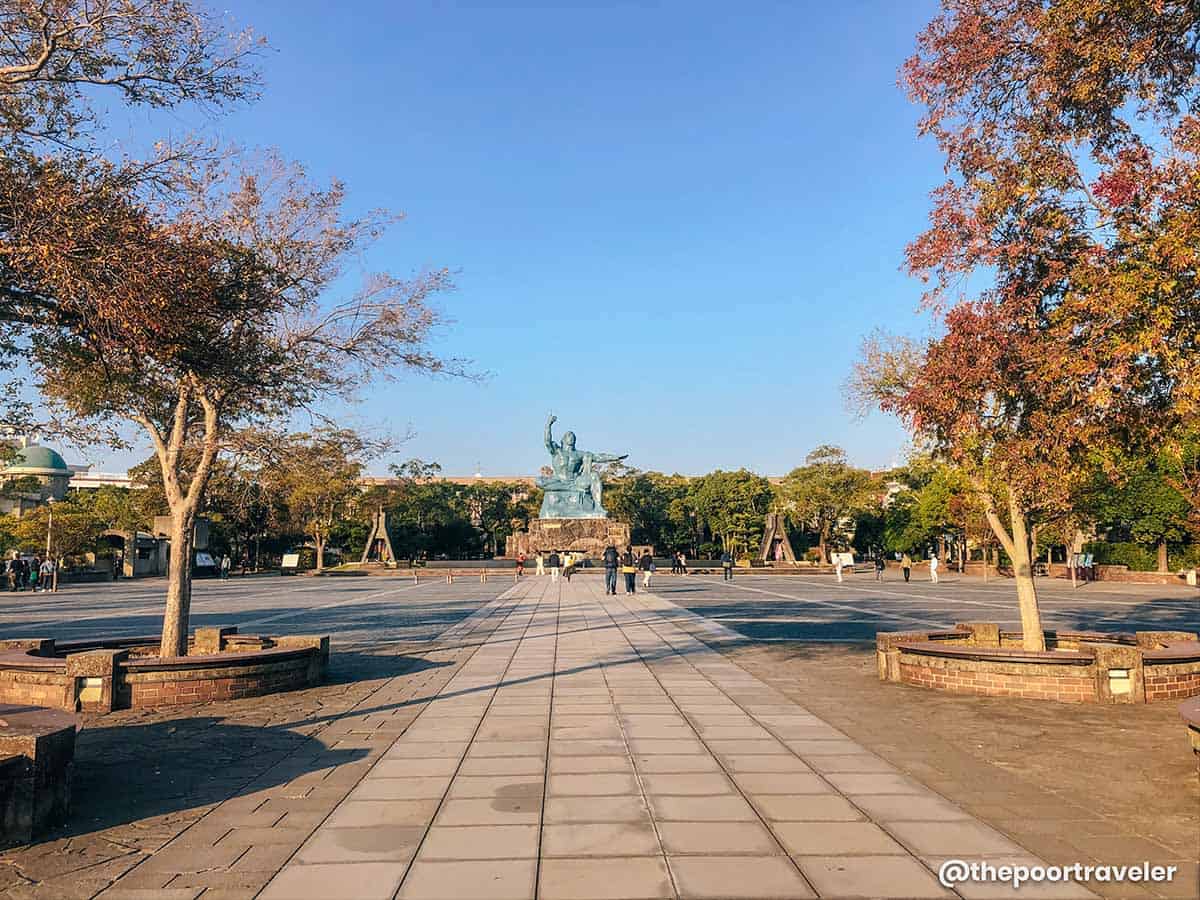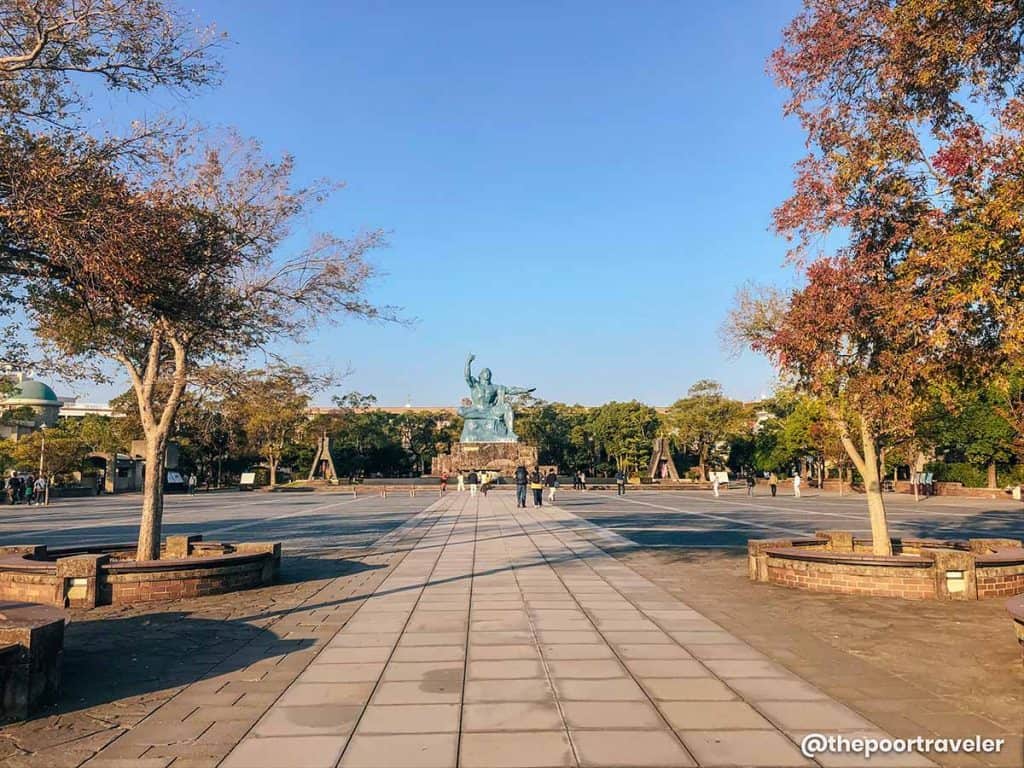 Also part of the Nagasaki Peace Park complex, the memorial park houses the Peace Statue, the Fountain of Peace, and many other pieces of artwork from around the globe, all supporting the park's message of peace. Every year, in front of the Peace Statue, the Peace Memorial Ceremony is held on August 9, more than 70 years after that fateful day of the bombing back in 1945.
Location: 9 Matsuyamamachi, Nagasaki City, Nagasaki Prefecture
Nearest Station: JR Urakami Station and Peace Park Station (Tram/Streetcar 1 or 3). From the tram station, it is just a short walk to the memorial park.
---
Nagasaki Hypocenter Park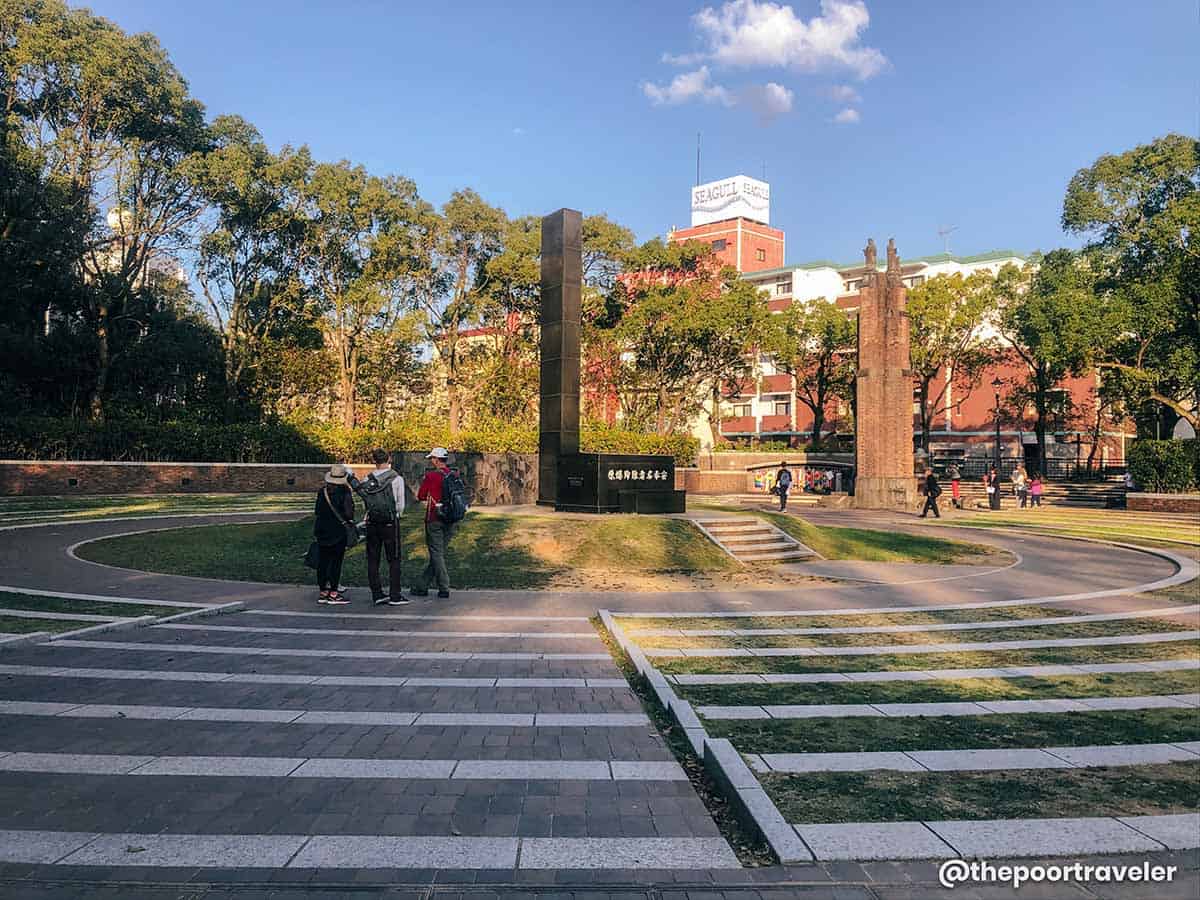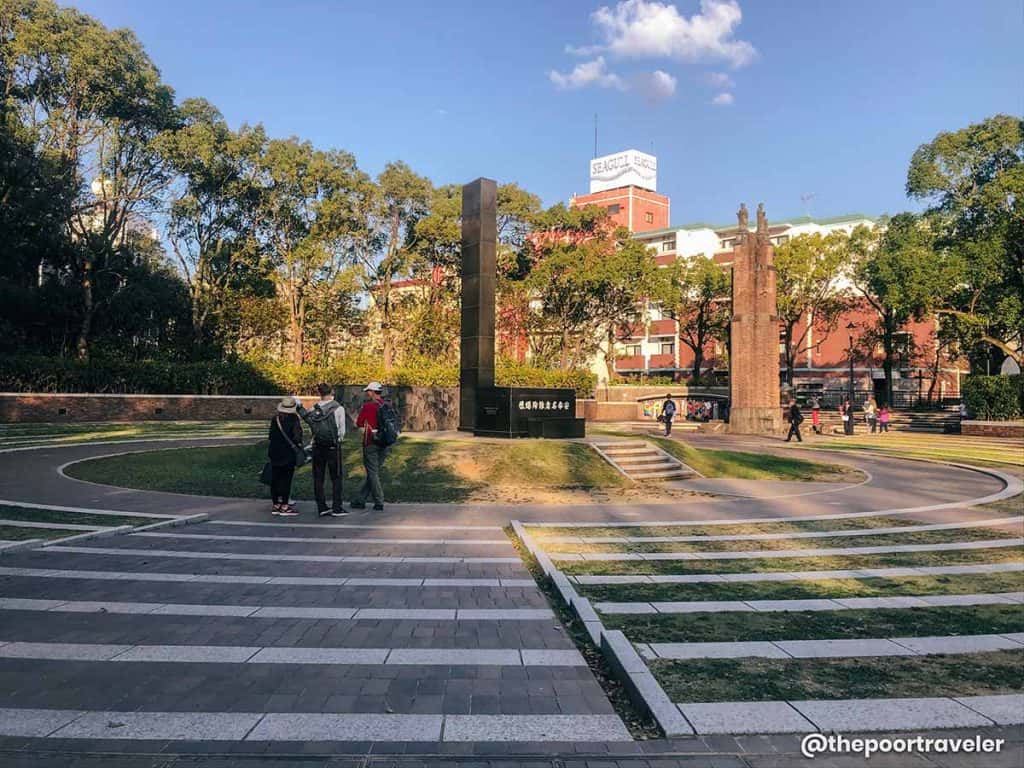 Located in the heart of the Peace Park complex, Hypocenter Park is the exact location of the atomic bomb explosion in Nagasaki on August 9, 1945. At present, a black monolith stands tall, marking the hypocenter. A few steps from the monolith are the transported ruins of what used to be the pillar of the old Urakami Cathedral, an important landmark for the Christians in Nagasaki.
Location: 9 Matsuyamamachi, Nagasaki City, Nagasaki Prefecture
Nearest Station: JR Urakami Station and Peace Park Station (Tram/Streetcar 1 or 3). From the tram station, it is just a short walk to the memorial park.
---
Dejima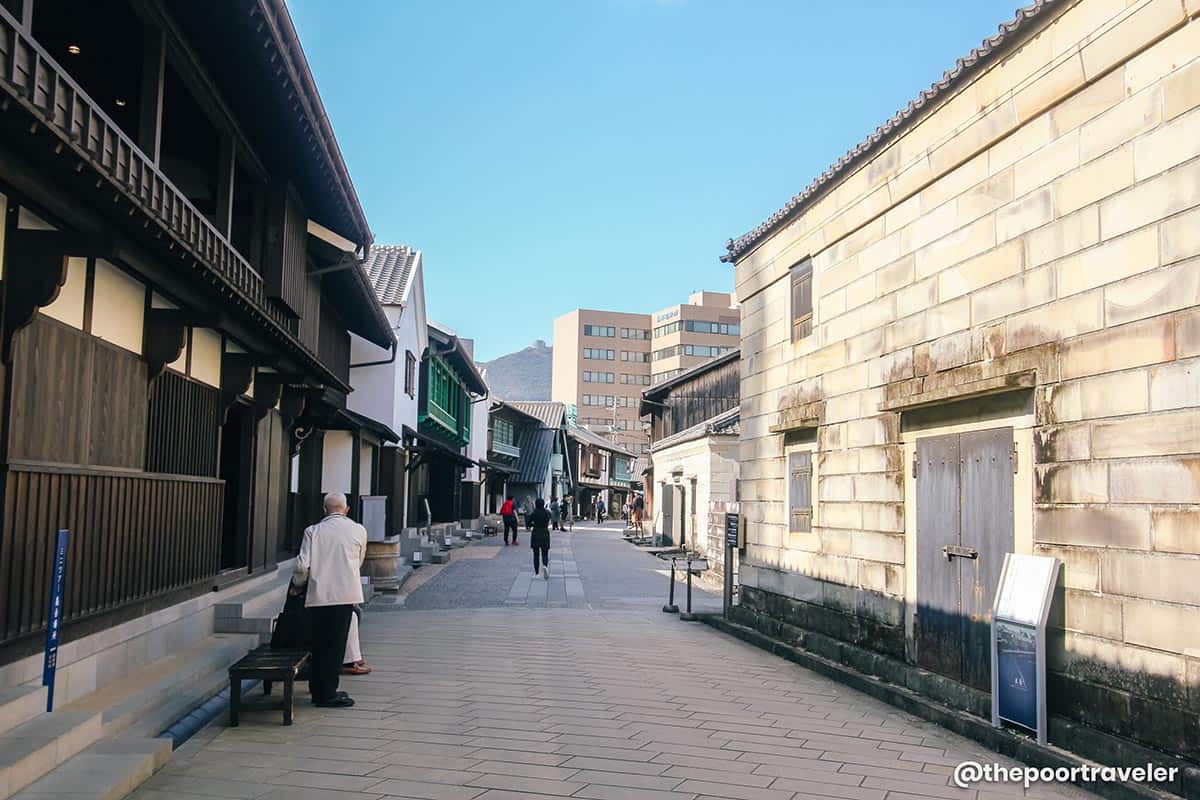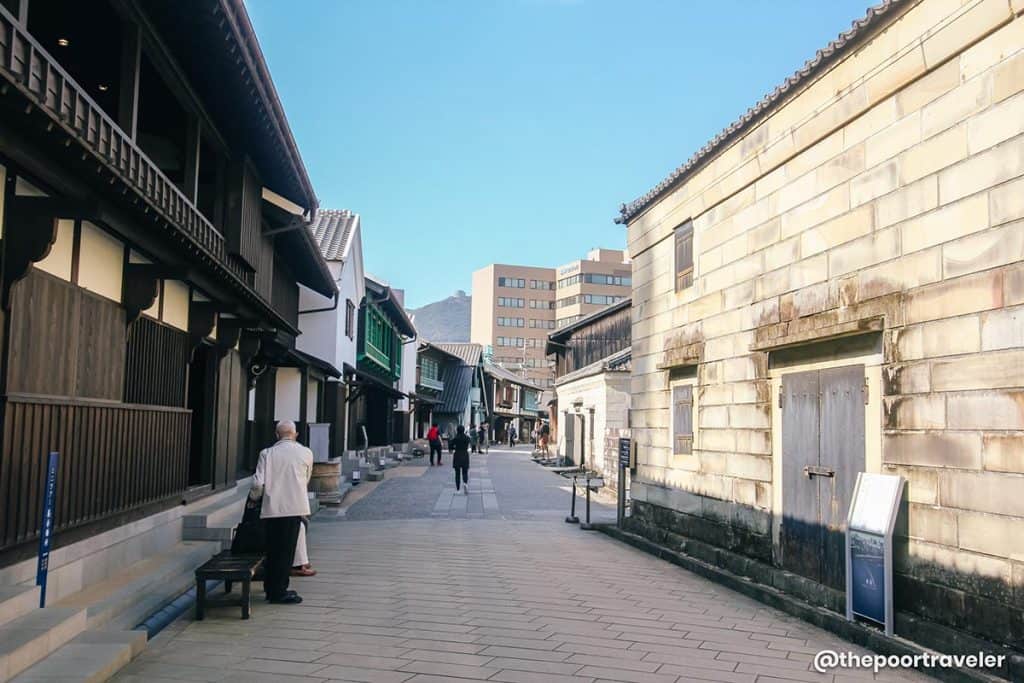 It was a former artificial island built in the 1600s to separate the Portuguese and limit their missionary activities on the island. It then became a trading post of the Dutch East India Company until the mid-1800s.
Nagasaki was one of the few links of Japan to the world during the Tokugawa era when it became a closed country. Dejima was an important commercial trading port during that time. You will notice the cultural imprints of the west which are very apparent to this day. Some of the structures were restored, showcasing the peculiar blend of east and west.
Admission Fee: ¥520 (Adult) / ¥100-200 (Students)
Opening Hours: 8:00 AM – 9:00 PM
Location: 6-1 Dejimamachi, Nagasaki City, Nagasaki Prefecture
Nearest Station: JR Nagasaki Station and Dejima Station (Tram/Streetcar 1). It's just a short walk from the tram station.
---
Twenty-Six Martyrs Monument and Museum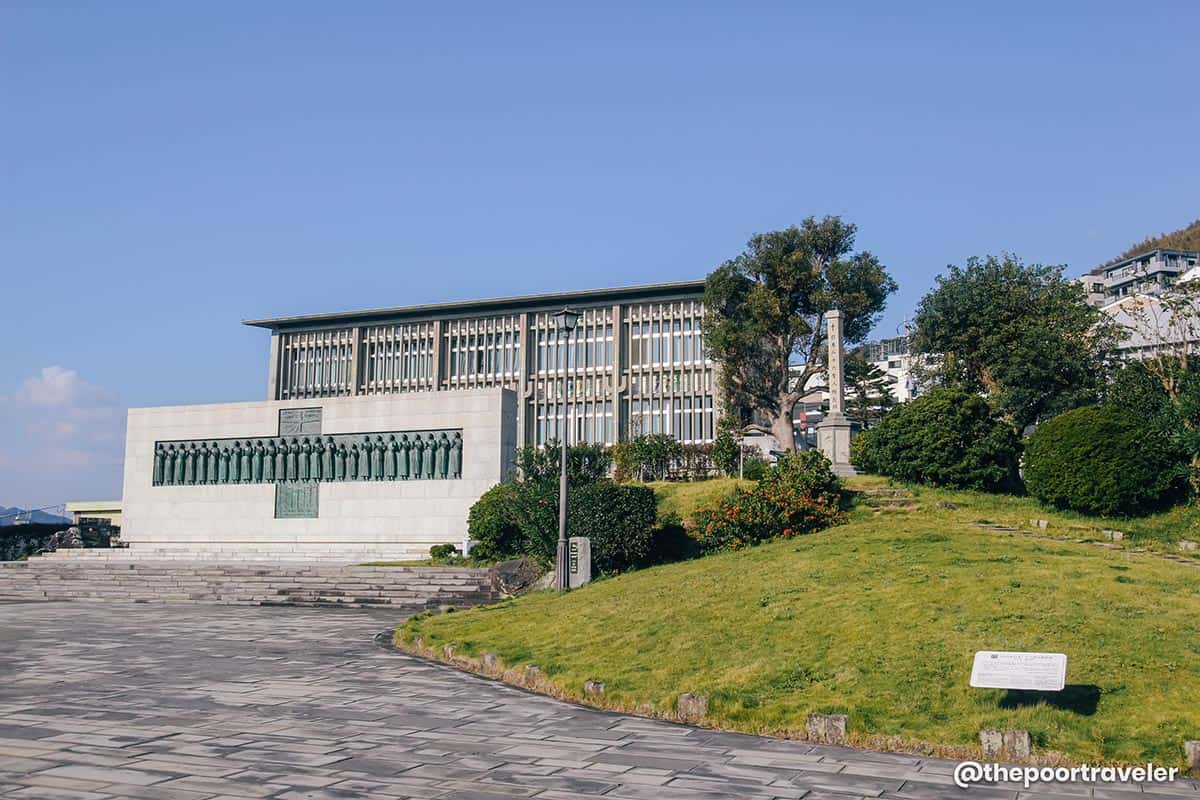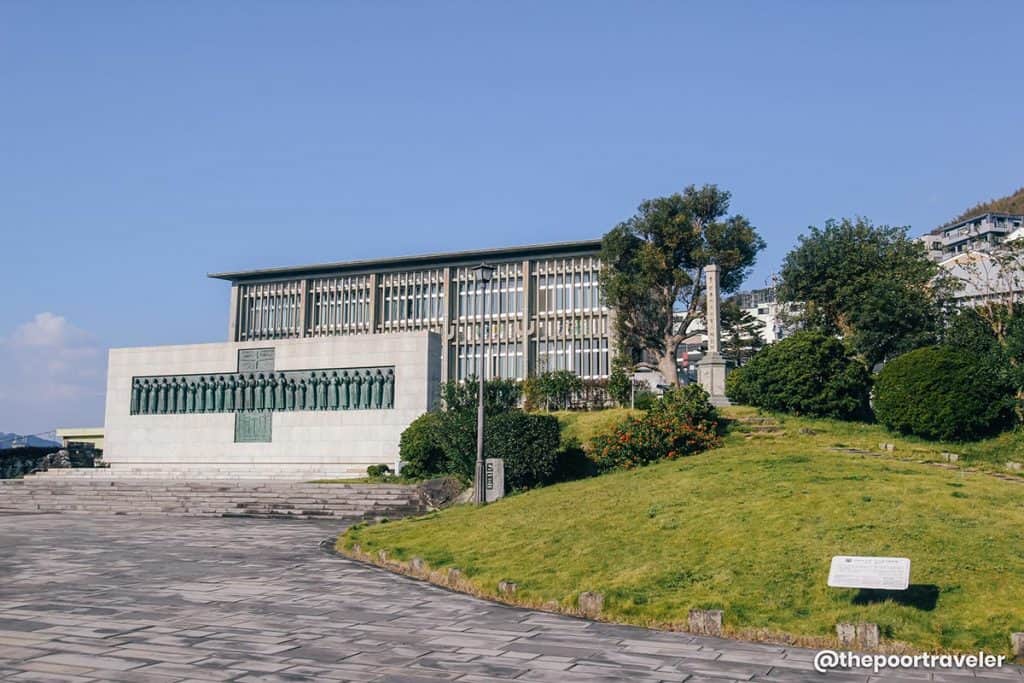 Since the 16th century, Nagasaki's port had seen many a foreign ship. Consequently, it opened the country to foreign influences including Christianity which was introduced to the country by the Jesuit missionary Francis Xavier.
Eventually, the Christians in Japan were persecuted during the rule of Toyotomi Hideyoshi. On February 5, 1597, he had 26 people arrested in Osaka and Kyoto, forced them to walk all the way to Nagasaki, and executed them by crucifixion at Nishizaka Hill.
Today, the hill is the site of the monument and museum dedicated to these 26 martyrs/saints.
Hours Open: 9am-5pm
Entrance Fee: 500 yen
Location: 7-8, Nishizaka-machi, Nagasaki City, Nagasaki Prefecture
Nearest Station: Nagasaki Station (Tram/Streetcar 1 or 3) or JR Nagasaki Station (Train). It will take you about 10 minutes on foot to reach the museum and the monument from the station.
---
Mount Inasa
Mount Inasa or Inasayama presents one of Japan's New Three Most Spectacular Night Views. It was also selected as one of the three new best night views of the world (along with Monaco and Hong Kong) in 2012. From the observation tower at the summit, you can have a 360-degree view of the city and the landscape beyond. The best time to go is at dusk when you can witness both the breathtaking sunset and night view. Other attractions here are the Hikari Tunnel, Hikari Monument, Promise Heart (for lovers!), Hikari Restaurant, and the Nagasaki Ropeway.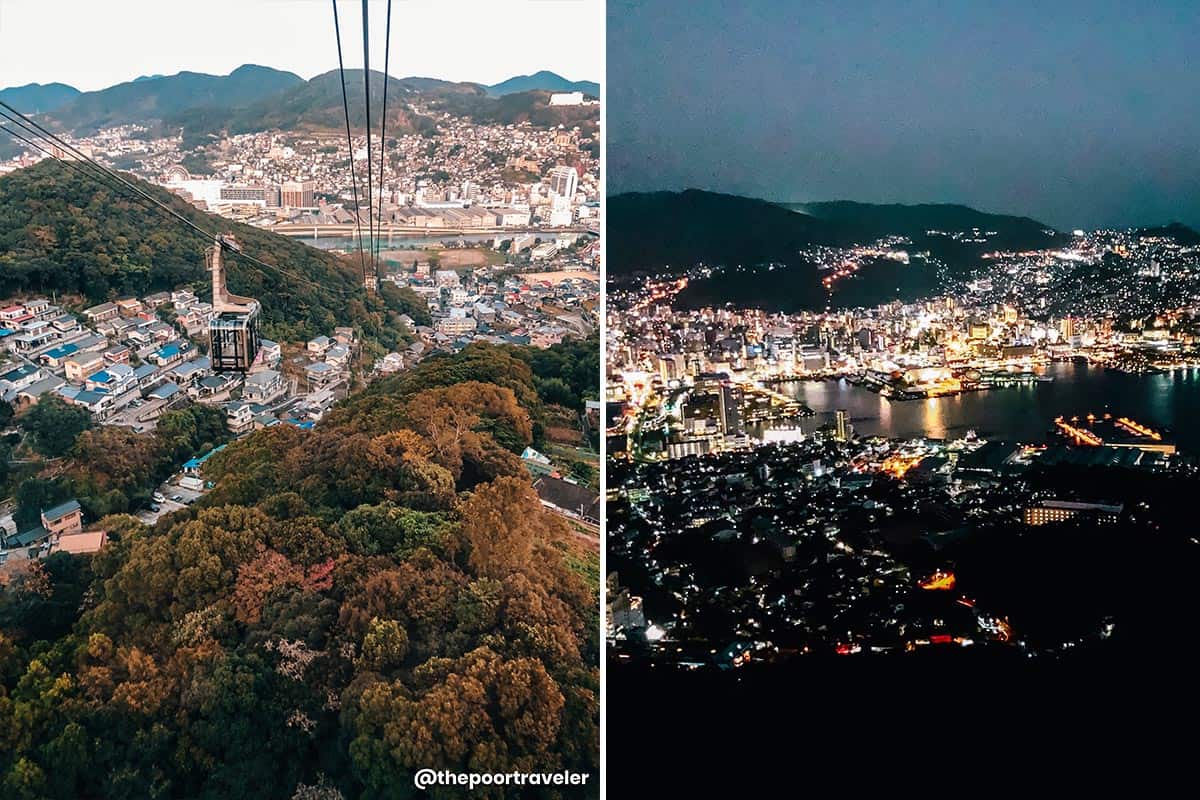 If you wish to take the ropeway, here are the fares:
One Way: ¥730 (Adult) / ¥520 (Middle & HS) / ¥410 (Child)
Round Trip: ¥1,250 (Adult) / ¥940 (Middle & HS) / ¥620 (Child)
Admission Fee: FREE
Location: 8-1, Fuchi-machi, Nagasaki City, Nagasaki Prefecture
Nearest Station: Takaramachi Station (Tram/Streetcar 1 or 3). You can also catch a bus from Nagasaki Station. From Nagasaki station, take the Nagasaki Bus Route 3 or 4 to Ropeway-mae Bus Stop. From the Ropeway Bus Stop, walk for about 2 minutes to the Fuchi Jinjya Ropeway Station. Take the 5-minute ropeway ride to the summit. For those who don't wish to take the ropeway, you can board the bus to Inasayama Bus Stop and then hike to the summit for about 15 minutes. There are free shuttle bus rides from Inasayama Bus Stop straight to the observatory tower area on weekends and holidays.
---
SAMPLE NAGASAKI ITINERARY
Below is a sample Nagasaki day tour DIY itinerary. You can insert this into your Fukuoka or greater Kyushu Island itinerary. This assumes you'll be taking the train. Feel free to adjust items to match your schedule and preferences.
06:33 am – ETD Hakata Station, Fare: ¥4270
08:31 am – ETA Urakami Station, walk to tram station
08:45 am – Tram to Peace Park Station, ¥130
08:50 am – Explore Peace Park complex
09:40 am – Explore Atomic Bomb Museum, ¥200
11:00 am – Tram to Dejima Station, ¥130
11:20 am – Explore Dejima, ¥520
12:20 am – Tram to Nagasaki Station, ¥130
12:50 am – Lunch ¥1000 + free time
02:30 pm – 26 Martyrs Monument & Museum, ¥500
03:30 pm* – Bus 3 or 4 to Mt. Inasa Ropeway, ¥150
04:00 pm* – Fuchi Shrine
04:30 pm – Inasa Ropeway, roundtrip ¥1230
05:00 pm – Enjoy the view
06:00 pm – Dinner (toroku rice or champon), ¥1500
07:00 pm – Ropeway to base
07:30 pm – Walk to Takaramachi Station
08:00 pm – Tram to Nagasaki Station, ¥130
08:50 pm – Train to Hakata Station, ¥4270
10:51 pm – ETA Hakata Station
*We couldn't get a copy of the full timetable of Bus 3 or 4. All we know is that there is one or two buses per hour. If you miss the bus and wait long for the next, you can skip the visit to Fuchi Shrine so you could spend more time admiring the view.
The itinerary above will cost you ¥14,160 (USD 131, EUR 119, SGD 178, PHP 6630). Note that the bulk, almost two-thirds of it, is the roundtrip Fukuoka-Nagasaki train fare.
If you are on a bigger Kyushu or Japan trip and already holding a JR Kyushu Pass, JR Northern Kyushu Pass or JR Nationwide Pass, you won't need to pay for that train ride because it's covered by all these passes. Hence, this itinerary's cost is down to only ¥5620 (USD 52, EUR 47, SGD 71, PHP 2630), excluding the pass.
Please add an allowance of ¥2000 to cover miscellaneous incidental expenses (water, snacks, etc), price adjustments, or other items we might have missed.
---
HOW TO GET TO FUKUOKA
This post is brought to you by Cebu Pacific, which offers some of the most budget-friendly flights to Fukuoka Airport, the main gateway to Fukuoka and Kyushu Region. Cebu Pacific directly connects Manila to Fukuoka daily. Travel time is about three hours.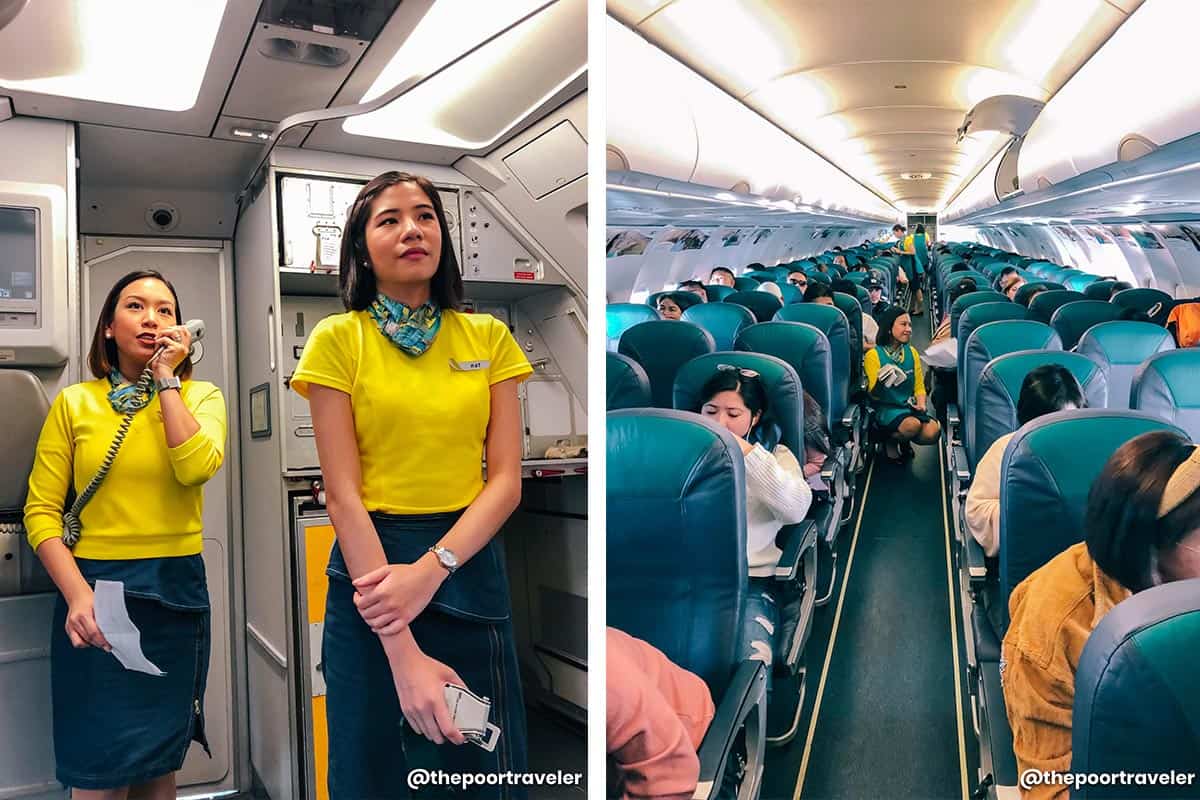 Getting to the city center (Hakata/Tenjin) from Fukuoka Airport is very easy. You can take the subway, the bus or the taxi. It will take about thirty minutes from the airport to either Hakata or Tenjin. You can read the detailed post on how to get to the city center from the airport here: FUKUOKA AIRPORT to HAKATA STATION & TENJIN: By Bus, Subway & Taxi
---
WHERE TO STAY IN FUKUOKA
The city has two major wards — Hakata and Tenjin. These two are dotted with restaurants, shopping establishments, and accommodations. Most of the attractions are found on Hakata side, while a lot of budget hotels are located in Tenjin.
Here are the top budget hotels/hostels in Fukuoka as rated by Agoda customers.
---
---
Written by Yosh Dimen and Asta Alvarez
2️⃣0️⃣1️⃣9️⃣ • 1️⃣2️⃣ • 5️⃣
Special thanks to JR Kyushu, Kyushu Tourism Promotion Organization, and Cebu Pacific for making our Kyushu trip possible! Opinions are our own.
---