Published: 2020 May 5. For the latest protocol and other updates, visit Cebu Pacific's official website.
No one can tell definitively when things will go back to normal, but one thing is for sure: COVID-19 will change the way we travel, at least for the next several months. That is especially true for air travel. But while flights remain canceled until May 31, 2020, airlines are already devising ways on how to make flying safer for everyone once flight and airport operations resume.
Cebu Pacific, for example, is planning to restart with a limited number of domestic flights first. For that, the country's biggest airline will be implementing preventive measures when it comes to safety and sanitation.
So what would it be like to fly with Cebu Pacific after the community quarantine period?
Cebu Pacific has released some of the steps that they will be taking when they start flying again. And it paints a picture of a "contact-less" experience at the airport and during the flight. "Rolling out 'contactless flights' will minimize face-to-face contact between our ground staff and our passengers and observe physical distancing," said Candice Iyog, CEB's Vice President for Marketing and Customer Experience.
Here's what to expect.
WHAT'S COVERED IN THIS GUIDE?
Before the Flight
Passengers are encouraged to check-in to their flight online. You can do this by visiting the CEB website or using the mobile application.
Passengers must bring their own face masks and face shields. They must wear a mask at the airport and during the flight. Guests who are not wearing masks may be denied entry.
Only one handcarry item per passenger is allowed. To avoid inconvenience at the airport, they should strictly follow this.
Pilots and crew will be undergoing rapid antibody tests before they are assigned to a flight.

The aircraft will undergo thorough and extensive daily disinfection including misting using a virus-eradicating disinfectant approved for Airbus jets, in accordance to the International Air Transport Association guidelines. This will ensure that all surfaces like the seats and overhead bins are sanitized.
All surfaces inside the lavatories will be disinfected in between flights. This includes the walls, floors, knobs, toilet bowl, sink, and mirrors.
---
At the Airport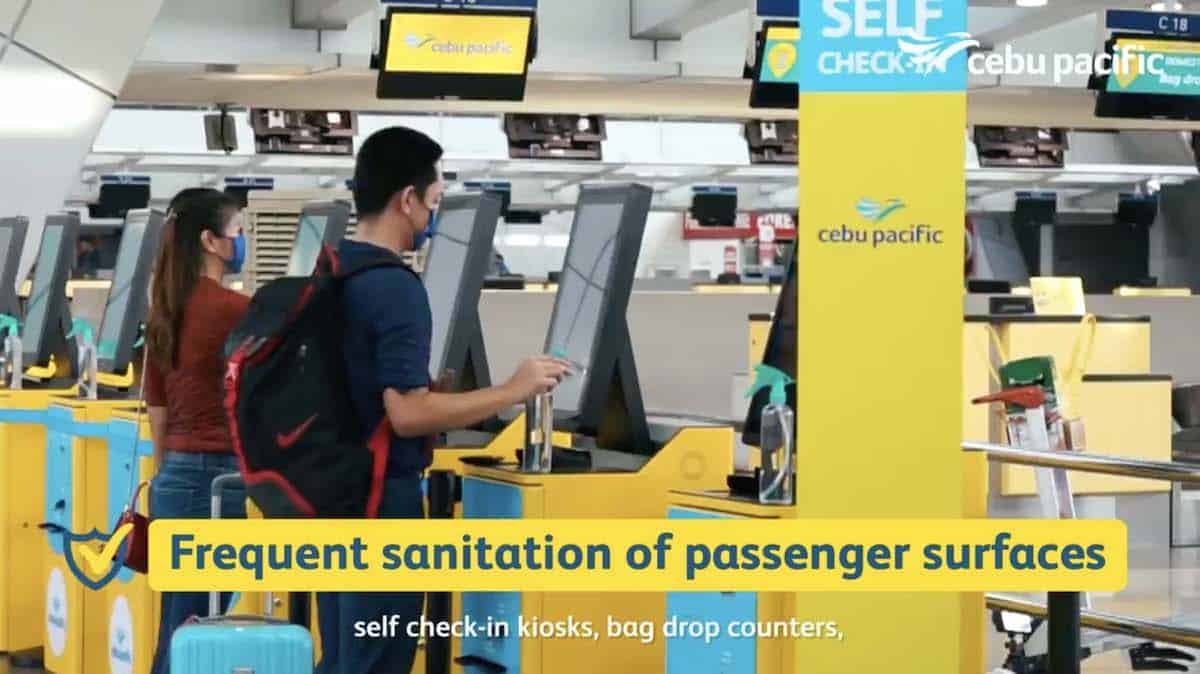 All passengers must wear face masks and face shields upon entry at the airport terminal. Passengers not wearing a mask may be denied entry.
All operating crew and ground staff will be wearing PPE (personal protective equipment) while on duty.
All CEB facilities will be cleaned and disinfected regularly. This includes the self check-in kiosks, counters, and shuttle buses.
Alcohol-based hand sanitizers will be provided for all passengers at the airport.
---
Upon Boarding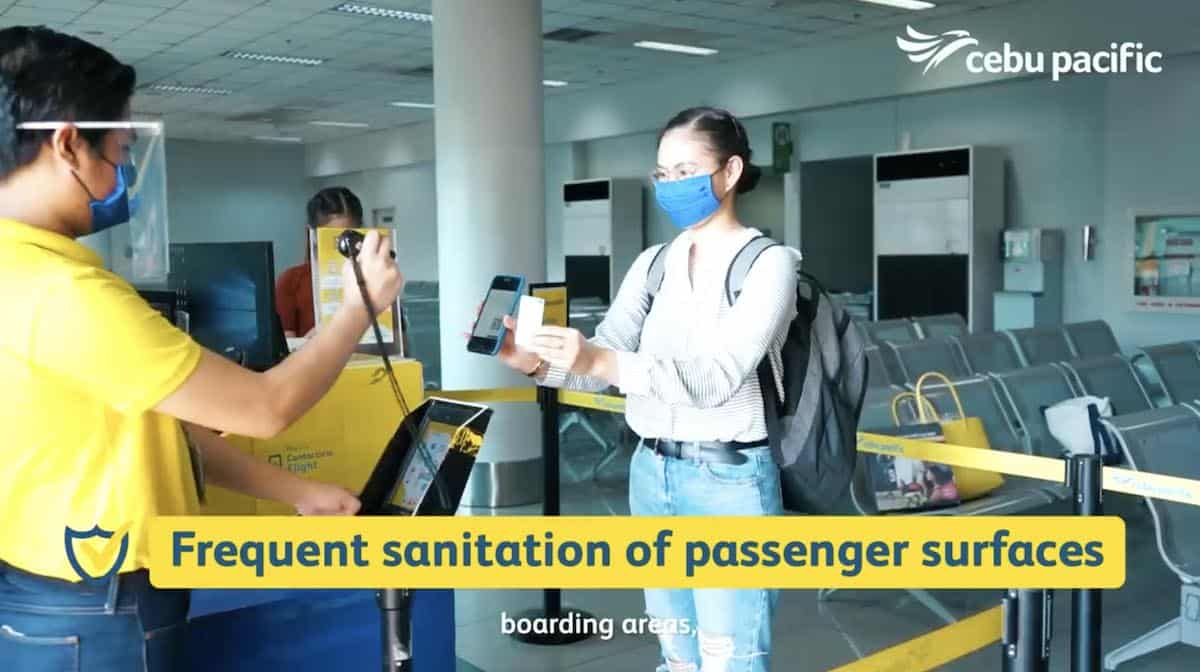 Each passenger must present their boarding pass with the barcode facing the staff so they could scan it easily.
Physical distancing will be implemented when boarding. Wait for your row number to be called before queuing.
Only one handcarry item per passenger is allowed. Passengers themselves must place this bag in the overhead bin to reduce contact with the crew or other passengers.
---
During the Flight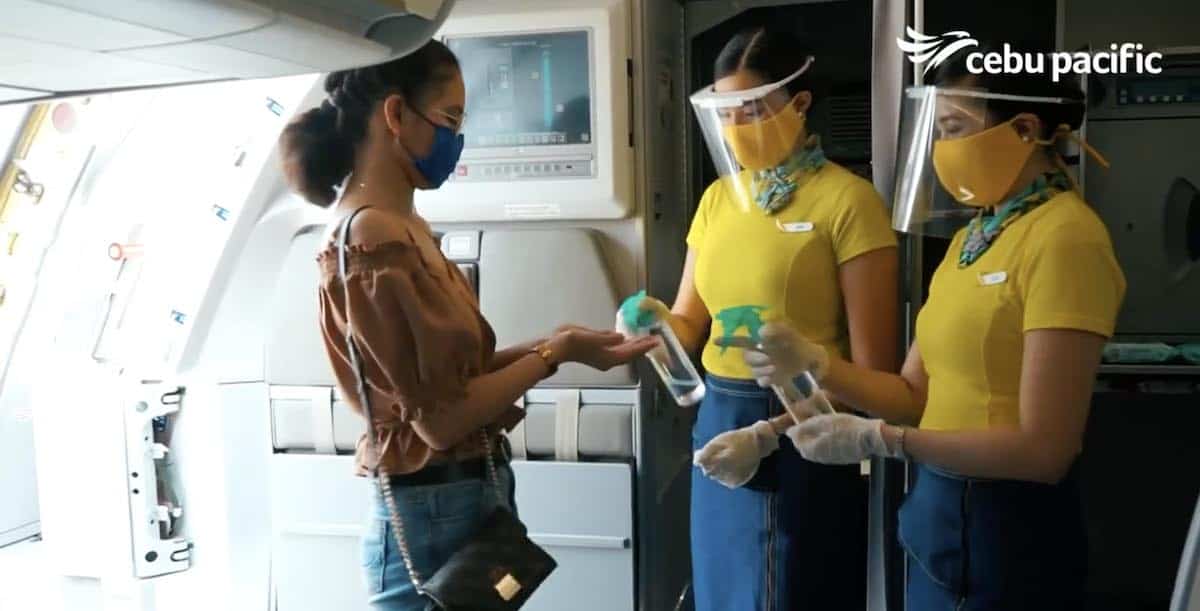 All passengers must follow physical distancing markers. Middle seats may be kept vacant when possible.
All passengers must wear face masks for the duration of the flight. We suggest bringing multiple so you have replacement in case you lose or ruin your mask.
Alcohol-based hand sanitizers will be provided for all passengers on the flight.
All lavatories will be sanitized every 30 minutes during a flight. This is on top of the disinfection in between flights.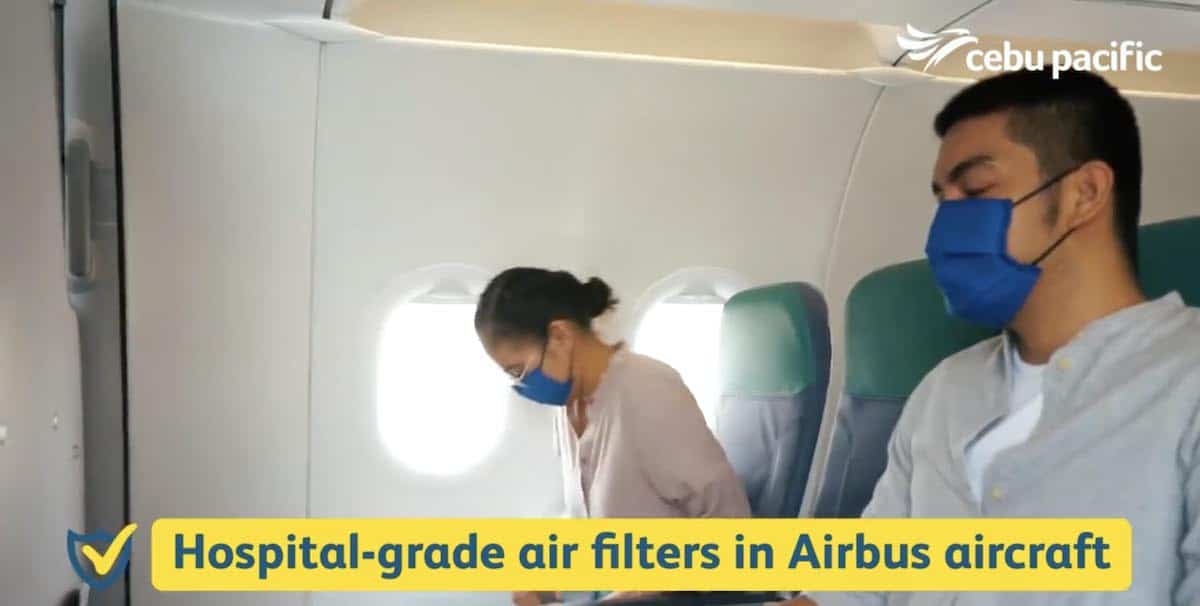 In addition, Cebu Pacific's fleet of Airbus jets are equipped with High Efficiency Particulate Arrestor (HEPA) filters, which can filter the novel coronavirus (and other virus and bacteria clusters) with 99.99% efficiency.
Here's a quick infographic released by Cebu Pacific!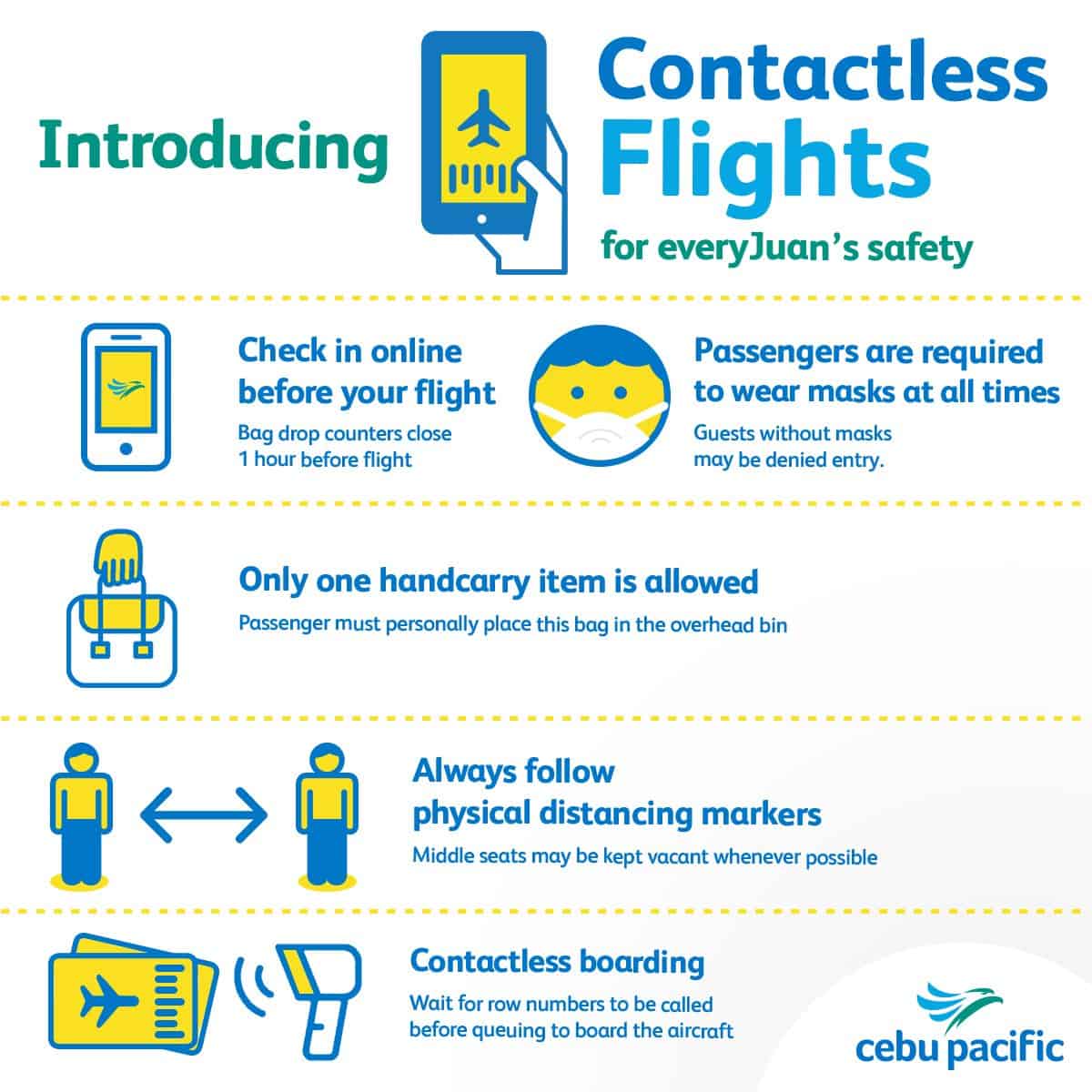 "Please rest assured that we will continue to review these processes and continue to deliver the warm, friendly service Cebu Pacific is known for," added Iyog.
---
Updates Log
2020 May 13 – Cebu Pacific also canceled all flights from May 16-31
---
All images above courtesy of Cebu Pacific.
---