Update: For passengers from Manila, here's the new list of requirements: NEW CEBU CITY TRAVEL REQUIREMENTS!
As one of the biggest hubs in the Philippines, the Mactan Cebu International Airport (CEB) was one of the airports that reopened when local airlines resumed operations in early June. It serves as a main gateway to country and serves Cebu and neighboring provinces.
The airport is on Mactan Island, part of Lapu-Lapu City, which is currently under General Community Quarantine (GCQ). Only Cebu City is under the stricter Enhanced Community Quarantine (ECQ), which means only essential workers and authorized individuals are allowed into the city. The rest of Metro Cebu and the province is NOT under ECQ.
If you're flying to the Mactan Cebu International Airport (Cebu Airport), it is important that you are aware of the documents that you will be required to present before your flight or upon arrival. Philippines AirAsia recently created a quick infographic summarizing these requirements.
Note that travel for leisure remains prohibited.
In case the image above is hard to read:
WHAT'S COVERED IN THIS GUIDE?
Locally Stranded Individuals (LSI)
Medical certificate from the city or municipal health officer of the local government where you are stranded
Confirmation letter from the local government of residence in Cebu
Travel authority from the Joint Task Force COVID Shield (JTF-CV) of the Philippine National Police (PNP). This can be obtained from the City or Municipal Chief of Police if traveling between provinces within the same region or from the Provincial Director if traveling between regions.
In order to obtain a Travel Authority, you may also need to present a Barangay Certification proving that the traveler has no COVID-19 symptoms for 14 days prior to travel date.
Note that Locally Stranded Individuals are not allowed in Cebu City only.
---
Business Travelers (Authorized Persons Outside Residence)
Confirmed roundtrip ticket
Company ID
Certificate of Employment (COE)
Certification from the Cebu provincial government
Travel authority from the JTF COVID Shield. This one's not on the AirAsia infographic but included in Mactan-Cebu Airport's list.
---
Health & Emergency Hotline Personnel
Confirmed roundtrip ticket
Professional Regulation Commission (PRC) license
Official ID
Hospital ID
Any proof of occupation
---
Persons Traveling for Medical Reasons
Confirmed roundtrip ticket
Certificate from the local government's chief executive that has jurisdiction over your residence
Medical certificate
Certificate from the Cebu provincial government
---
Professionals
Confirmed roundtrip ticket
Proof of profession and document reflecting the purpose of travel
Certificate from the Cebu provincial government
---
Persons Traveling for Humanitarian Reasons
Confirmed roundtrip ticket
Certificate from the Cebu provincial government
---
Important Reminders
Before your flight, contact the local government of your origin and Cebu to check for possible additional requirements or updates in policy.
Passengers are required to wear face mask at all times when at the airport or inside the aircraft.
For more information about traveling with AirAsia, visit their FAQs page: AirAsia Frequently Asked Questions!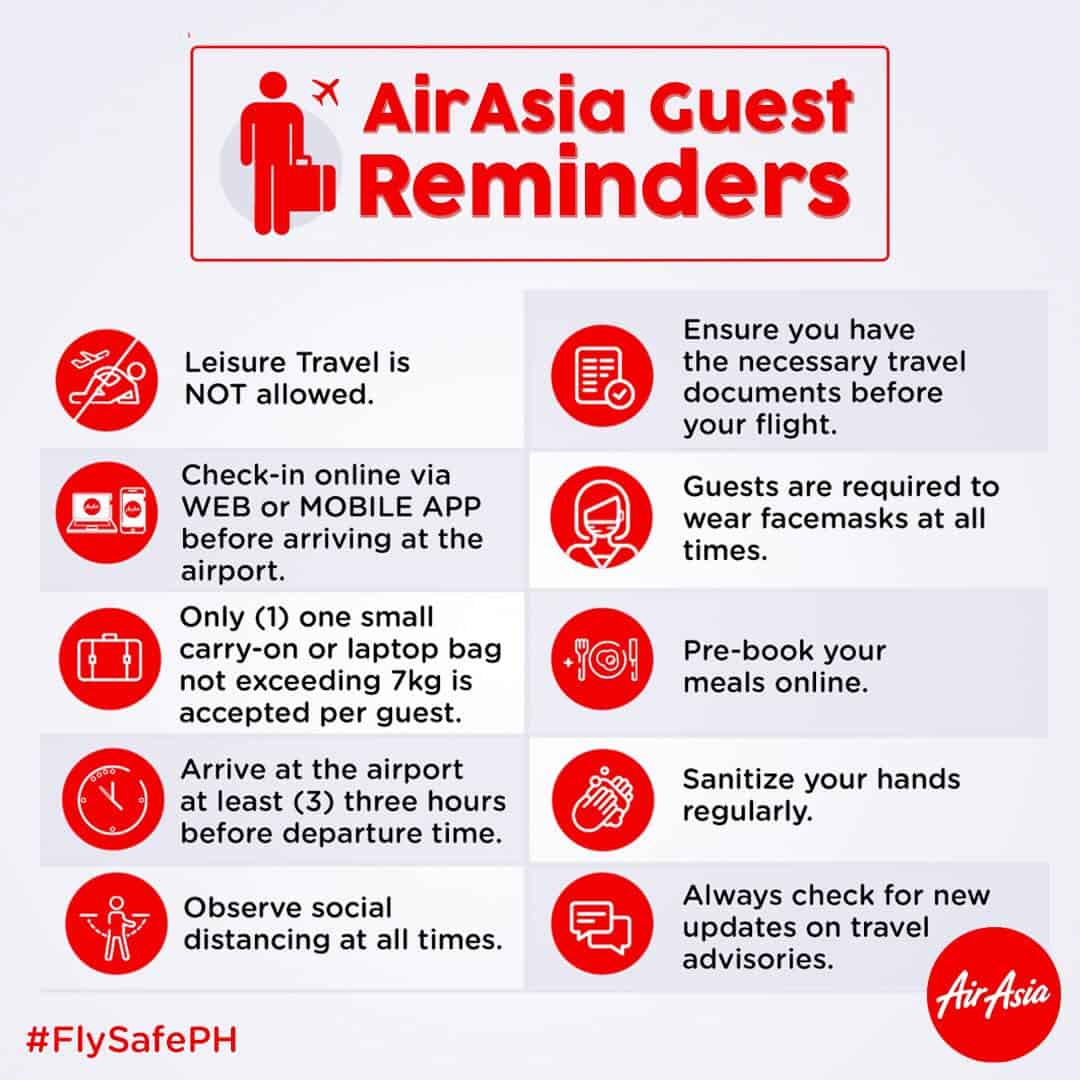 ---
Related Posts
---
More Tips on YouTube ⬇️⬇️⬇️