❗️ A more updated version of this article can be found here:
BORACAY & KALIBO TRAVEL REQUIREMENTS!
---
Published: 29 June 2020
Domestic flight operations have resumed at the Kalibo International Airport this July. In line with this, AirAsia Philippines has published an advisory containing the new travel guidelines in accordance with the policies of the local authorities of Aklan.
WHAT'S COVERED IN THIS GUIDE?
Who can travel to and from Kalibo Airport?
Entering Kalibo:
Locally stranded individuals (LSI)
Returning Overseas Filipino Workers of Aklan
Authorized Persons Outside of Residence
Going Out of Kalibo:
All travelers with a medical certificate and travel pass
Leisure travel is still NOT allowed. This advisory is for essential travel purposes only. If you plan on flying to Kalibo to enjoy Boracay as a tourist, it is not the right time. Not yet.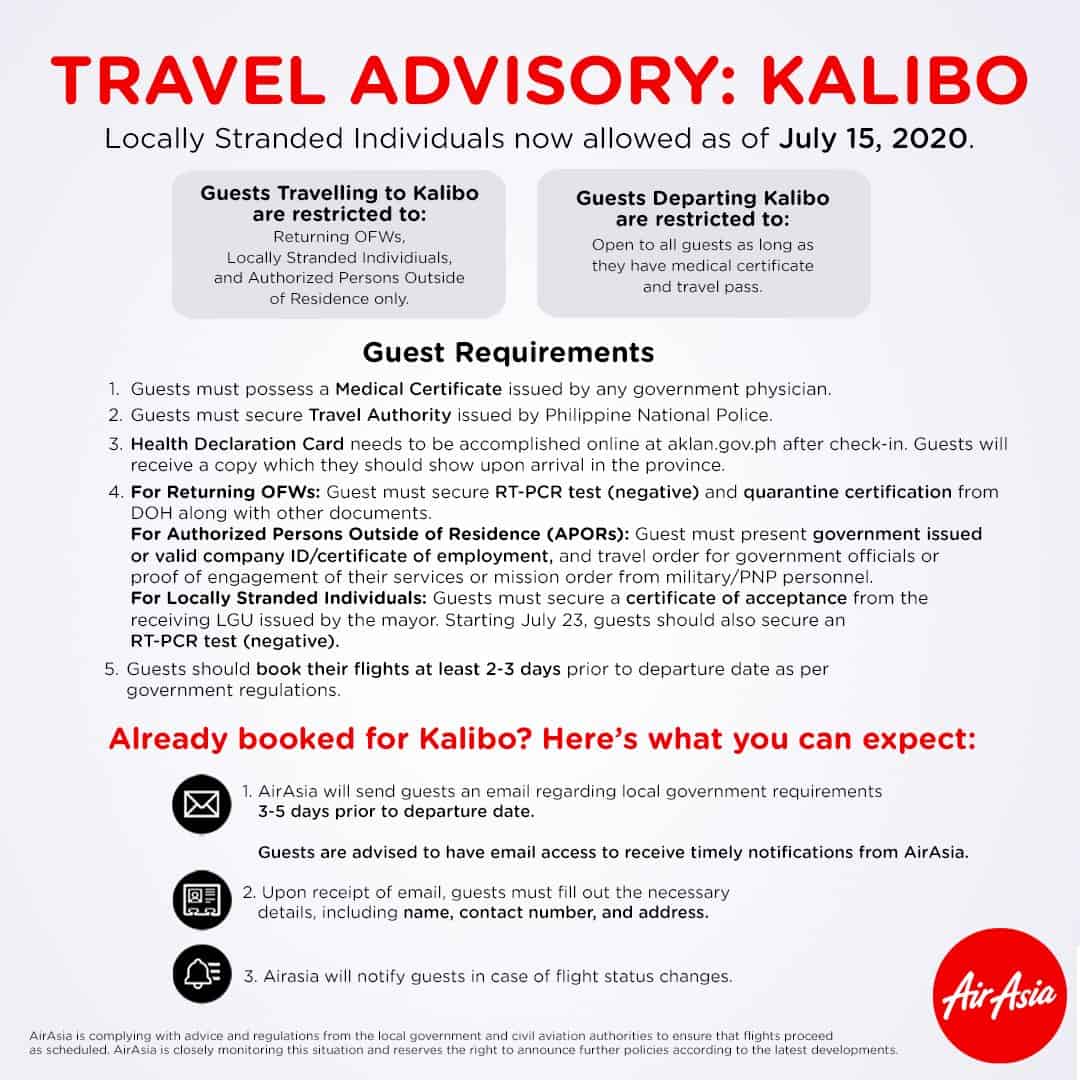 ---
What are the Travel Requirements?
Medical certificate issued by a government physician
Travel authority from the Joint Task Force COVID Shield (JTF-CV) of the Philippine National Police (PNP).
Health declaration card, which can be accomplished at the official Aklan government website (www.aklan.gov.ph) after check-in. A copy of this form must be presented upon arrival in Aklan.
For Returning OFWs: RT-PCR test (negative result) and quarantine certificate from DOH.
For Authorized Persons Outside Residence: government ID or valid company ID or certificate of employment; travel order for government officials; proof of engagement or mission order from the military or PNP personnel
For Locally Stranded Individuals: Certificate of acceptance from the LGU, issued by the mayor; and RT-PCR test with negative result (starting July 23).
If you plan to fly to Kalibo, you need to book your flight 2-3 days before your date of departure, in compliance with local government policies.
On top of these, we highly encourage that you get in touch with the local government of Aklan and your origin or destination to see if there are additional documents needed or changes in the regulations. These are extraordinary times, and policies can change quickly.
---
What to expect if you have an AirAsia Kalibo flight?
If you have already booked a flight to or from Kalibo, here's what you should do.
Check your email. AirAsia will send confirmed guests an email containing the local government requirements 3-5 days before the departure date.
Fill out the form that is in the email sent you by AirAsia. Necessary details include your full name, address, and contact number.
Watch out for flight updates. Check your email inbox regularly for notifications on flight status changes or any other updates.
---
Important Reminders
Before your flight, contact the local government of your origin and destination to check for possible additional requirements or updates in policy. We mentioned it before, but this is very important so we just have to reiterate.
Passengers are required to wear face mask at all times when at the airport or inside the aircraft.
For more information about traveling with AirAsia, visit their FAQs page: AirAsia Frequently Asked Questions!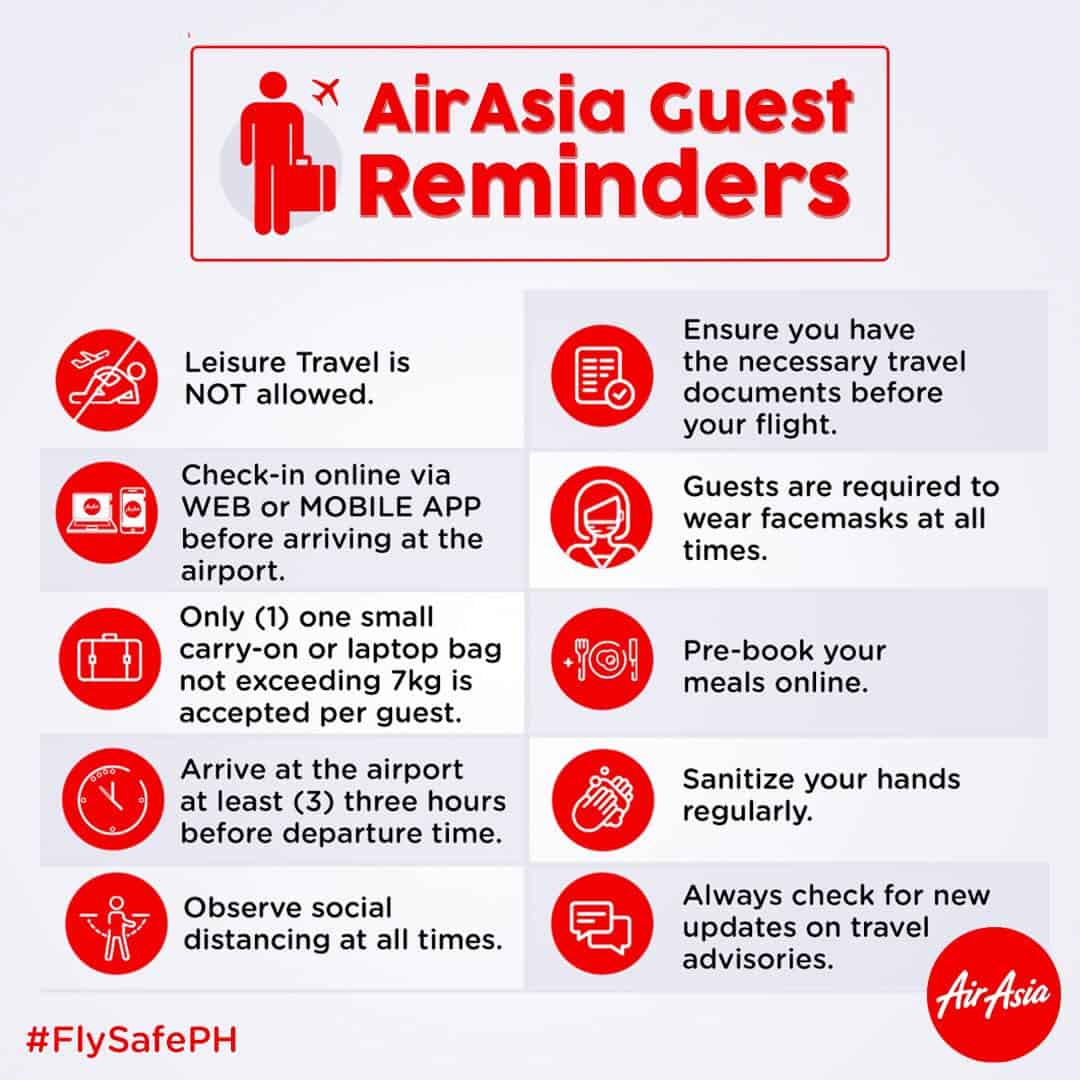 ---
Related Posts
---