Last updated: 15 August 2020. For the latest guidelines and protocol, visit PAL's official website.
---
Philippine Airlines has released an image album enumerating the additional health and safety measures that it has been implementing to protect passengers and the crew alike.
Earlier this June, the country's flag carrier resumed operations of selected domestic and international routes for essential and business purposes, as Metro Manila and much of the Philippines have been put under a more relaxed General Community Quarantine (GCQ).
If you're flying with Philippine Airlines soon, it is important that you are familiar with the new guidelines that have to be observed at the airport and inside the aircraft. Here's what to expect!
UPDATE: Effective 15 August 2020, wearing a face shield (together with a face mask) is mandatory. The face shield must be clear and with a snug fit, covering the entire face.
WHAT'S COVERED IN THIS GUIDE?
When Booking Flights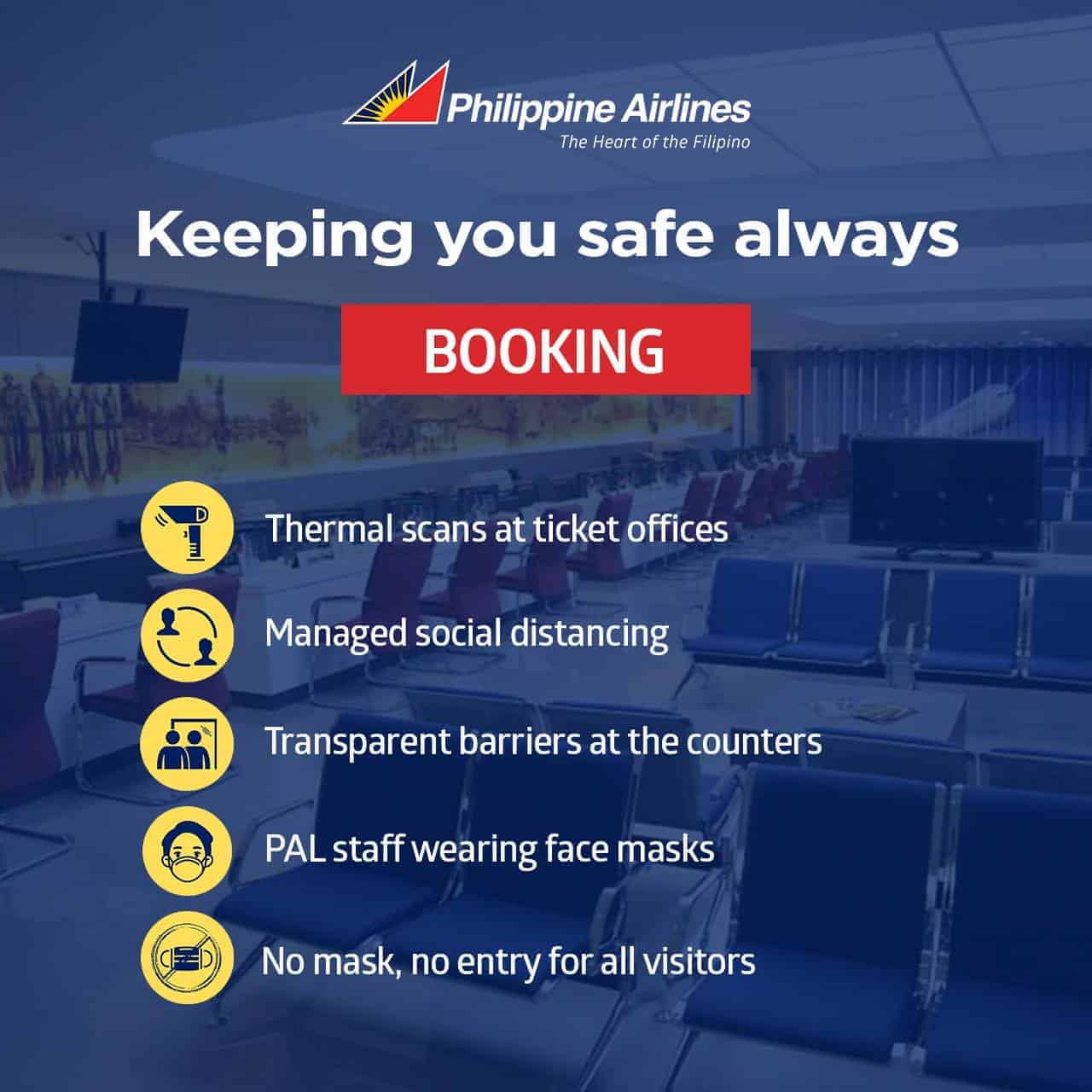 Thermal scans are done at ticket offices.
Social distancing is implemented.
Transparent barriers are set up at the counters.
Philippine Airlines staff wear face masks.
"No mask no entry" policy for all visitors.
---
Before the Flight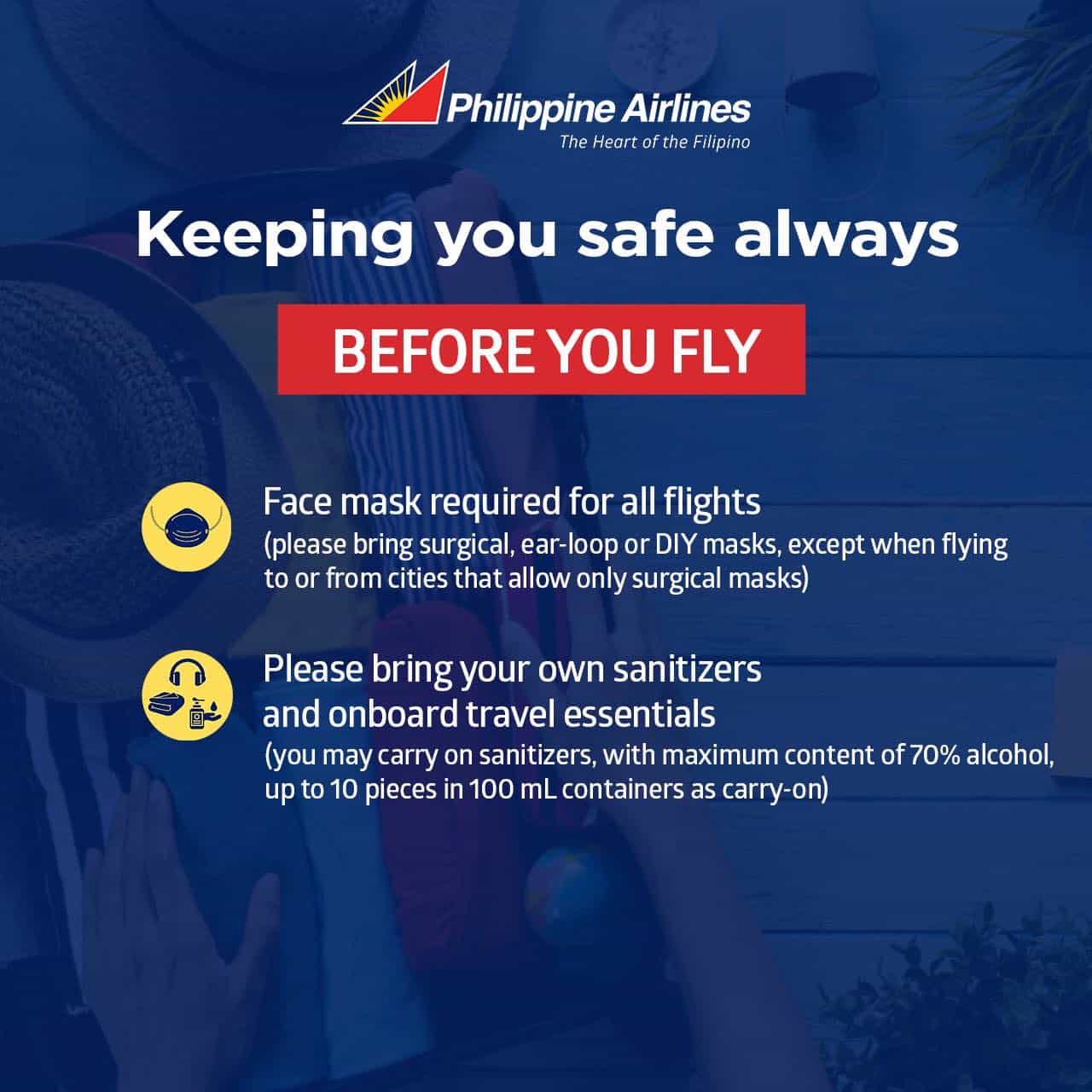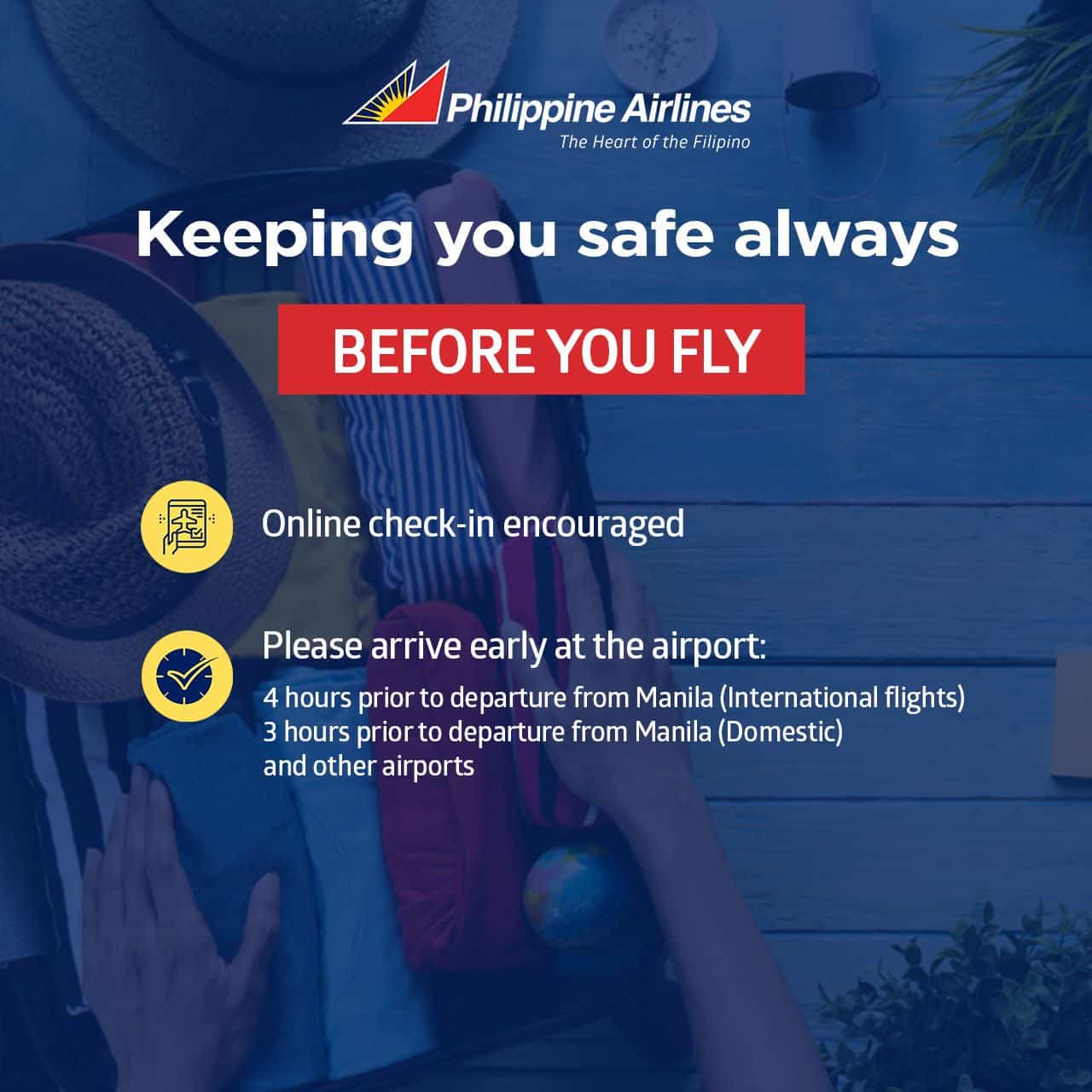 Face mask is required for all flights. You must bring surgical, ear-loop or DIY masks, except when flying to or from cities that allow only surgical masks.
Only small personal items up to 7kg allowed for carry-on.
Please bring your own sanitizers and onboard travel essentials. You may carry on sanitizers, with maximum content of 70% alcohol, up to 10 pieces in 100mL containers as carry-on.
Online check-in is encouraged. You can do this on the PAL website before your flight.
Please arrive early at the airport.
– 4 hours prior departure from Manila (International flights)
– 3 hours prior to departure from Manila (Domestic) and other airports
---
Upon Airport Check-In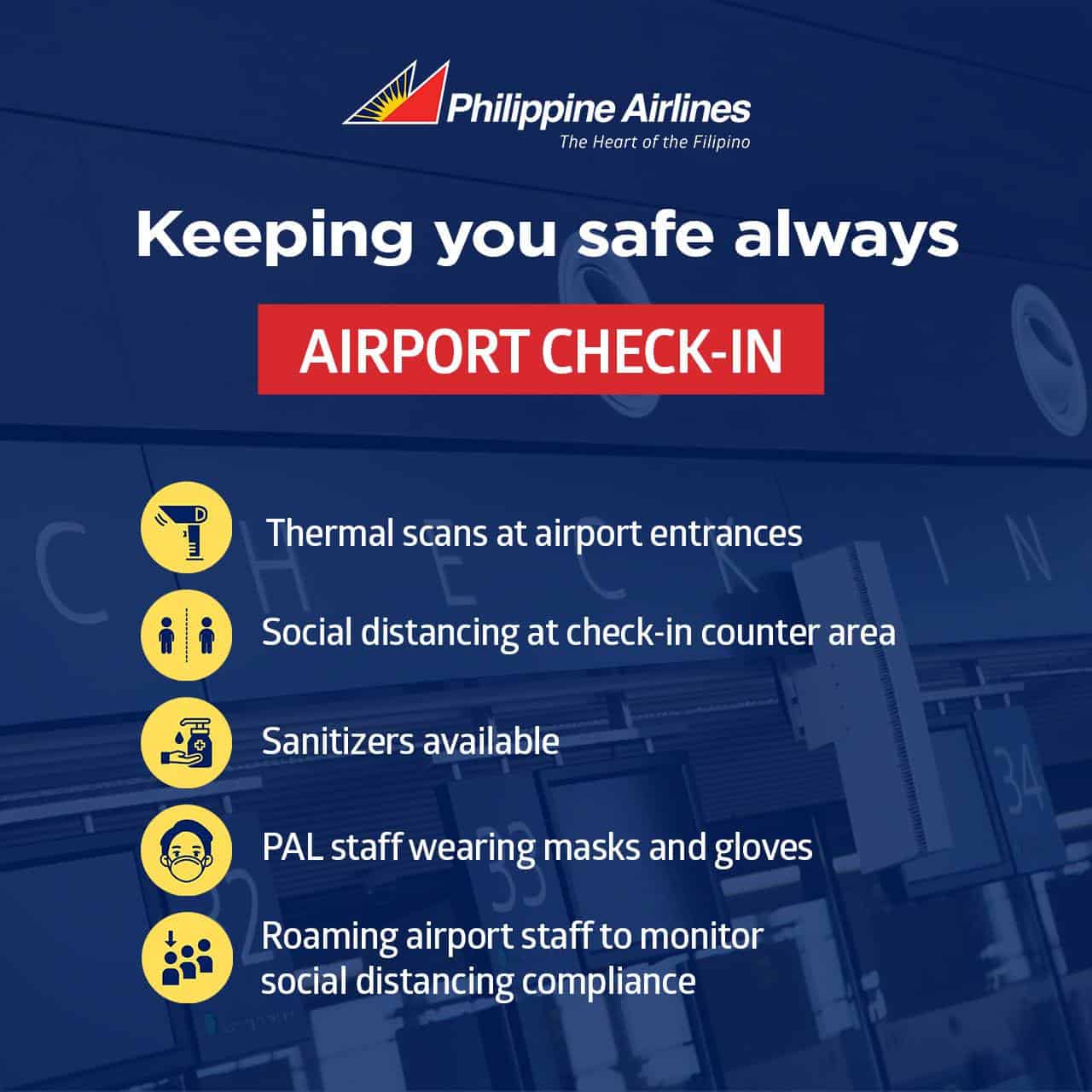 Thermal scans are done at airport entrances.
Social distancing at check-in counter area.
Sanitizers are available at the check-in area.
PAL staff members are wearing masks and gloves.
Roaming airport staff monitors and ensures that everyone observe social distancing.
---
At the Mabuhay Lounge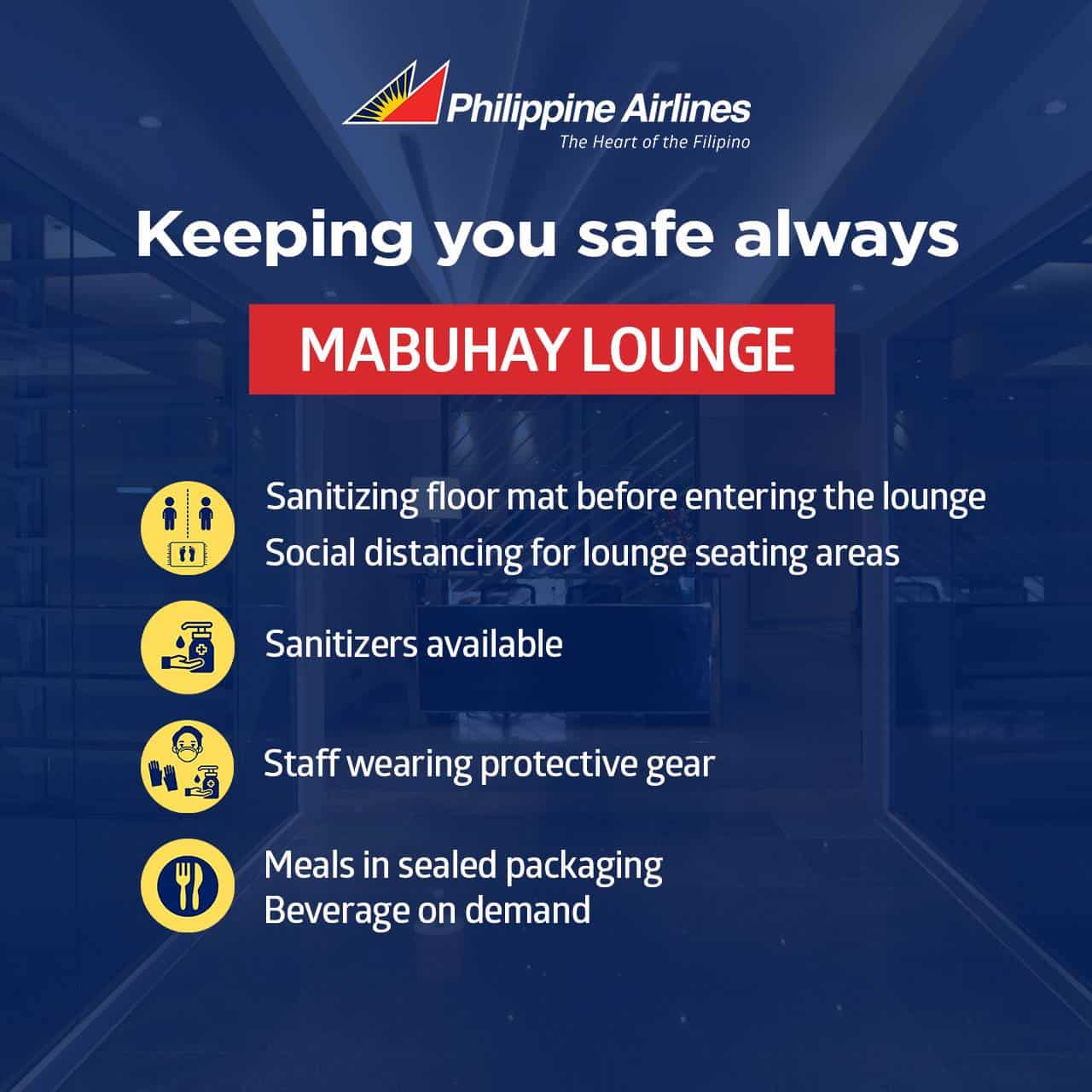 Sanitizing floor mat is installed at the entrance to the lounge.
Social distancing is imposed at lounge seating areas.
Sanitizers are available around the lounge.
Staff members are wearing protection gear.
Meals are served in sealed packaging.
Beverage is served on demand.
---
Pre-Departure and Boarding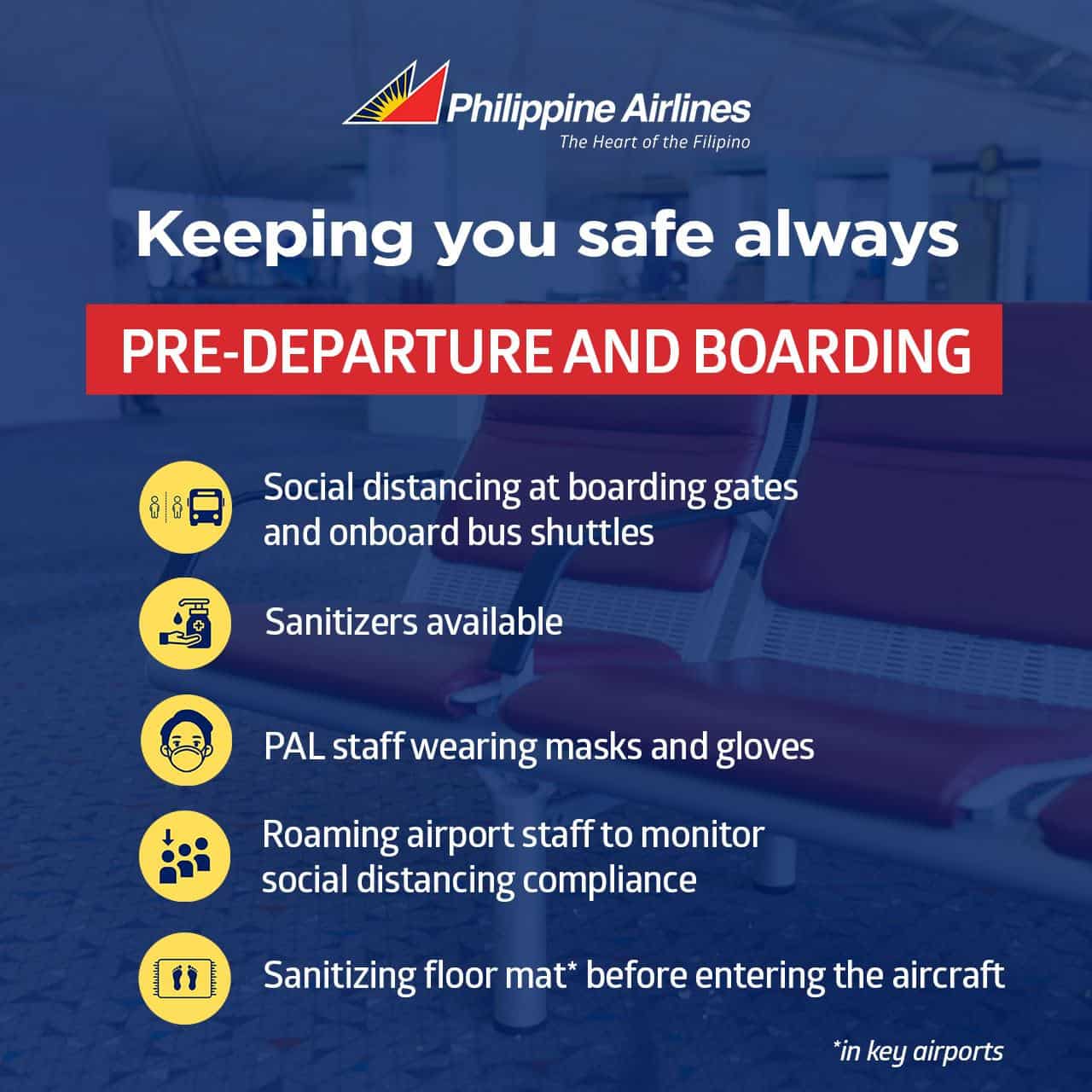 Social distancing at boarding gates and onboard shuttles.
Sanitizers are available.
PAL staff members are wearing masks and gloves.
Roaming airport staff to monitor social distancing compliance.
Sanitizing floor mat is placed before the aircraft door (at key airports).
---
Inside the Cabin & During the Flight
Before the flight, rigorous cabin cleaning and disinfection are done.
Cabin crew are in full Personal Protection Equipment (PPE)
Simplified meal or snack is served.
HEPA Filters and fresh cabin air to protect against viruses
---
Arrival at the Airport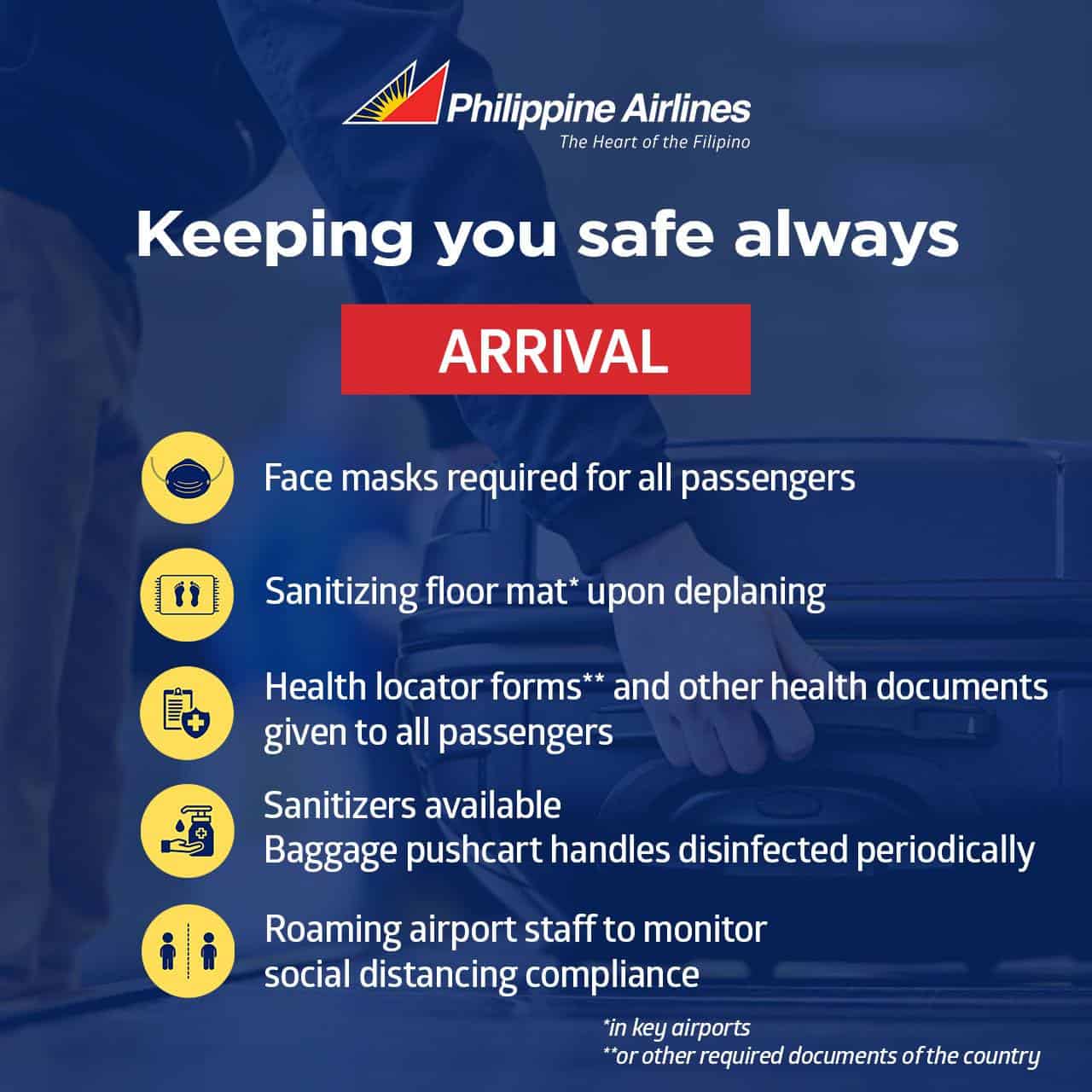 Face masks are required for all passengers.
Sanitizing floor mat is set up upon deplaning (at key airports).
Health locator forms and other government-required documents are given to all passengers. These vary from country to country.
Sanitizers are available.
Baggage pushcart handles are disinfected periodically.
Roaming airports staff monitors and enforces social distancing.
---
Updated Log
2020 May 12 – PAL increased the handcarry allowance from 2kg back to 7kg.
2020 June 27 – Updated the tenses to match the current time.
2020 August 15 – Added mandatory face shield requirement.
---